We test and review fitness products based on an independent, multi-point methodology. If you use our links to purchase something, we may earn a commission. Read our disclosures.
If you're trying to choose the best treadmill for your home gym, you've come to the right place. Our team of expert product testers are fitness professionals and have tested everything from high-end machines to budget treadmills. Plus, we've written dozens of in-depth treadmill reviews on top brands like Bowflex, NordicTrack, and Sole.
I'm here to put ProForm vs Horizon treadmills head-to-head and see which budget-conscious brand lands on top. Stick around because both brands have a lot to offer for runners and walkers alike.
ProForm vs Horizon Treadmills Comparison Chart
| | | |
| --- | --- | --- |
| | Horizon Fitness | ProForm |
| Price range | $649-$1,999 | $599-$2,299 |
| Treadmill models | 6 | 6 |
| Weight capacity range | 300-375 lbs | 250-300 lbs |
| Foldable | Yes | Yes |
| USB port | Yes | No |
| Bluetooth-enabled | Yes | Yes |
| Deck cushioning | Yes | Yes |
| Running surface lengths | 55"-60" | 45"-60" |
| Interactive programming | Connectivity with third-party apps like Peloton, Zwift, Studio, etc. | iFIT |
| Warranty | Lifetime frame and motor, parts and labor varies | 10-year frame, parts and labor warranties vary |
Quick Look: ProForm vs Horizon Treadmills
When shopping for either ProForm or Horizon treadmills, it's good to know the main differences. For example, most ProForm models are equipped with built-in HD screens, while none of the Horizon models offer that high-tech feature. This is a pretty major difference if you're tech-savvy and seeking an all-in-one interactive machine.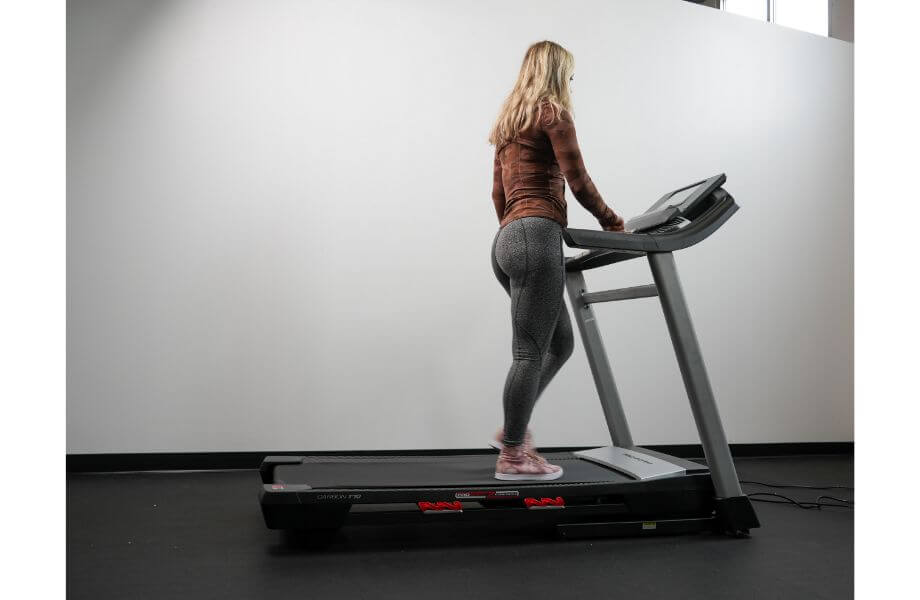 Secondly, something that our product testers have noticed is the fact that Horizon does not disclose the HP motor type on any treadmill model. We like the fact that ProForm does offer that information right in the spec charts on the website. Knowing what the motor power is is important because your goals might require a more high-powered machine.
Who Should Buy ProForm Treadmills
Tech-savvy folks
People who want interactive workout programs
Individuals who don't mind the additional fees for an iFIT membership
Who Should Buy Horizon Treadmills
Anyone looking for a straightforward LCD display console
Folks who don't want to be locked into just one fitness app
Individuals who want the peace of mind behind a lifetime frame and motor warranty
Key Similarities Between ProFrom and Horizon Treadmills
Budget-conscious and mid-tier treadmills
Bluetooth connectivity
Folding treadmills 
Both brands offer financing options
Important Differences Between ProFrom and Horizon Treadmills
ProForm has two treadmills can decline—the Proform Pro 9000 and 2000
ProForm treadmills are set up to stream the iFIT app only, while Horizon treadmills allow you to connect with a variety of fitness apps
Most ProForm treadmills come with integrated smart HD touchscreens, while Horizon treadmills have more basic consoles with tablet holders for your own device
Horizon treadmills feature 60-inch-long running decks (with the exception of the T101)
Horizon Fitness does not disclose CHP motor rating
Treadmills Offered By ProForm and Horizon
Both brands are known for affordability and a selection of treadmills that won't cost you much more than $1,000. That said, both ProForm and Horizon have more expensive treadmills, too. Because these brands are both known for budget-conscious fitness equipment, I think most home gym owners are probably shopping these brands for the entry-level machines.
Based on that, I'm going to compare two budget models offered from each brand: The Horizon T101 and the ProForm Carbon T7. Both are solid machines and popular options for home use. We have in-depth treadmill reviews on both products if you're curious about reading more details on either model.
Before we get into the specs, I want to mention that ProForm is running special pricing on the Carbon T7 through its ProForm+ program, which gets you the machine for free with a 3-year iFIT membership commitment. Without that special pricing, this model has a price tag of just under $1,000 MSRP.
ProForm Carbon T10 vs Horizon T101
| | | |
| --- | --- | --- |
| | Horizon T101 | ProForm Carbon T7 |
| Footprint | 71″ L x 34″ W x 57″ H | 66" L x 33.5" W x 57" H |
| Weight capacity | 300 lbs | 300 lbs |
| Top speeds | 10 MPH | 10 MPH |
| Incline range | 0-10% | 0-10% |
| Motor | 2.5 HP (not confirmed by Horizon) | 2.6 CHP |
| Cushioning | 3-Zone Variable Response Cushioning | ProShox Cushioning |
| Display | 3 LED windows | 7" touchscreen |
Horizon T101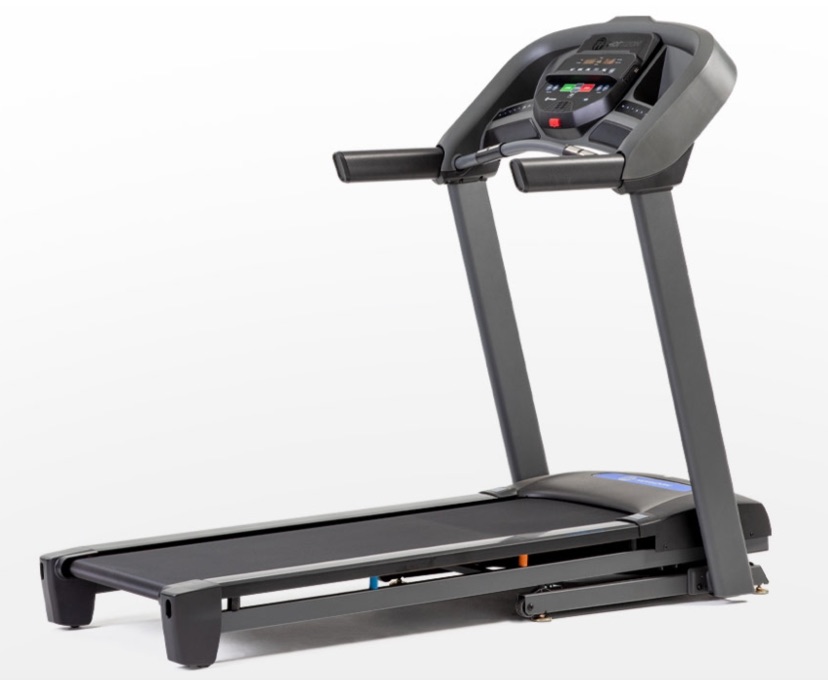 GGR Score: 3.83
Community Score: 2
Product Highlights
Foldable treadmill

Best suited for walkers, joggers or cardio newbies

Compact, sturdy and easy to use

Console fan, Bluetooth speakers, device holder, and a rapid-charge USB port
Pros & Cons
Pros
Easy assembly
One touch keys to quickly shift speed and incline
Integrated Bluetooth speakers
Device holder
Affordable
Easy to use
Great for beginners
Financing available
Cons
2.5 continuous horsepower motor will not support heavy running
Smaller running surface is not ideal for tall runners
Bottom Line
The Horizon T101 Treadmill is a compact, durable and quiet no-frills folding treadmill ideal for walkers or joggers offered at an unbeatable price.
ProForm Carbon T7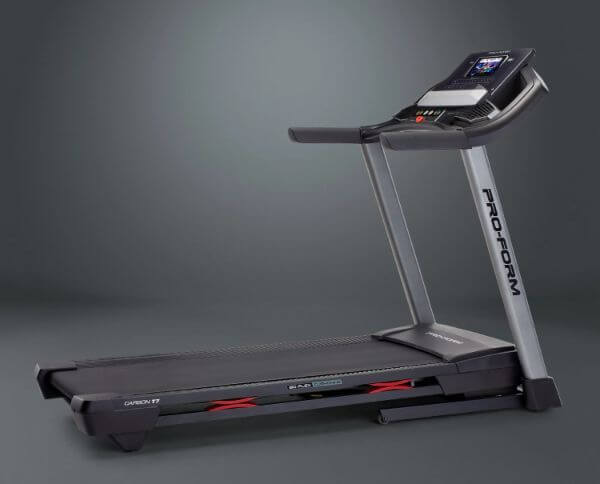 GGR Score: 3.83
Product Highlights
Compact and foldable
Cushioned running deck for longer runs
Integrated speakers
Cooling fans
Pros & Cons
Pros
Compact
Foldable
Cushioned running deck
Integrated speakers
Cooling fans
Free 30-day iFIT membership
Financing available
Cons
No onboard pre-programmed workouts
Smaller running surface
Bottom Line
The ProForm Carbon T7 is an affordable folding treadmill with nice cushioning. Its folding design, added conveniences, and optionality for interactive programming are attractive to those with limited floor space.
Other treadmills from ProForm:
Interactive Programming
Both brands give you the option to utilize interactive programming. Horizon Fitness allows you to choose from a wide variety of popular fitness apps, while ProForm is built to run iFIT programming. Here are more details on both options:
ProForm and iFIT
With the exception of the brand's base model (City L6), all ProForm's treadmills have a built-in smart HD touchscreen. The touchscreens featured on ProForm treadmills have Android processing systems that are specifically designed to run iFIT and nothing else. What does that mean for you? You won't be able to toggle between iFIT and other apps or stream entertainment like Hulu and Netflix.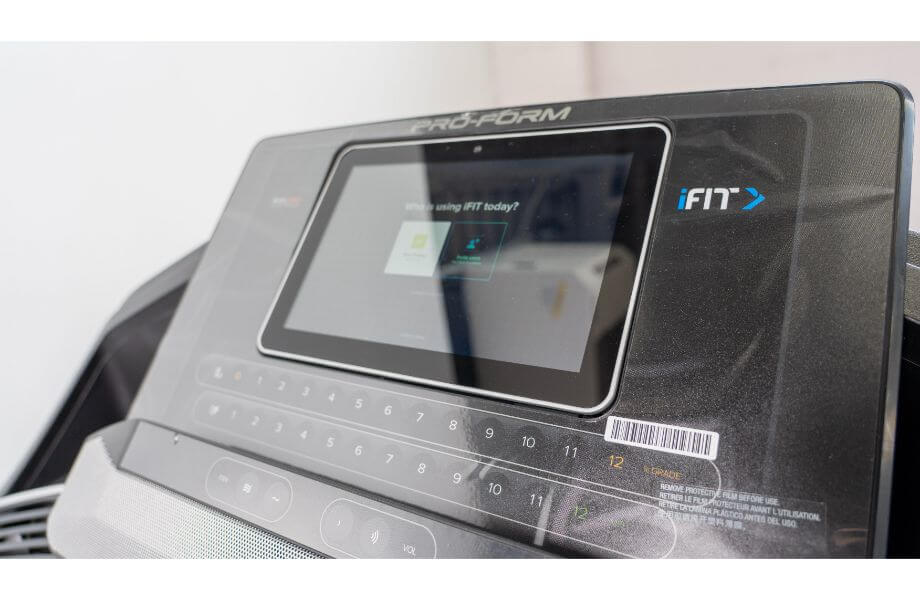 However, I wouldn't let that intimidate you too much—iFIT offers a vast library of on-demand workouts for fitness equipment including treadmills, ellipticals, exercise bikes, rowers, and strength equipment.
ProForm treadmills have the unique capability of automatic speed and incline controls based on your personal trainer's cues, which means you'll experience a hands-free workout. Not only will you have personal trainers to guide you through cardio sessions, you'll also have the ability to choose scenic outdoor venues or studio classes.
If you like the idea of outdoor workouts, you'll like using Google Maps technology to drop a pin nearly anywhere in the world and virtually scout a running route. While using this feature, the incline of the treadmill will automatically adjust with the natural grade of the route you choose.
Horizon Connects With A Variety of Fitness Apps
Horizon has an impressive lineup of apps you can connect with using Bluetooth including Peloton, Studio, Zwift, Daily Burn, Nike Run Club, and Kinomap. For app streaming, you will need your own smartphone or tablet but each model comes equipped with a device holder.
Fitness app subscription fees are not included in the price of a Horizon treadmill—all apps are sold separately. I will mention that you can use Horizon treadmills without an additional subscription—each model comes with at least five built-in programs.
It's worth noting that the three entry-level models in the Horizon Go Series offer Bluetooth connectivity for syncing your device with the built-in speakers.
The Horizon Studio Series—which comes with a higher price point—is designed with advanced Bluetooth features to not only connect to the built-in speakers, but also transmit your workout metrics to your fitness app and transmit data from the included heart rate monitor directly to apps like Peloton.
Company Policies
Each brand has different policies when it comes to warranties, returning products, and financing options. Here is a closer look at both Horizon and ProForm:
Horizon Warranty
Horizon Fitness backs up treadmills with a lifetime warranty on both the motor and frame. The warranty also covers parts and labor, but the terms vary on each model. For example, the most expensive treadmill the brand offers (Horizon 7.8 AT) is covered under a five-year parts and two-year labor warranty, while the least expensive (Horizon T101) only has one year on parts and labor.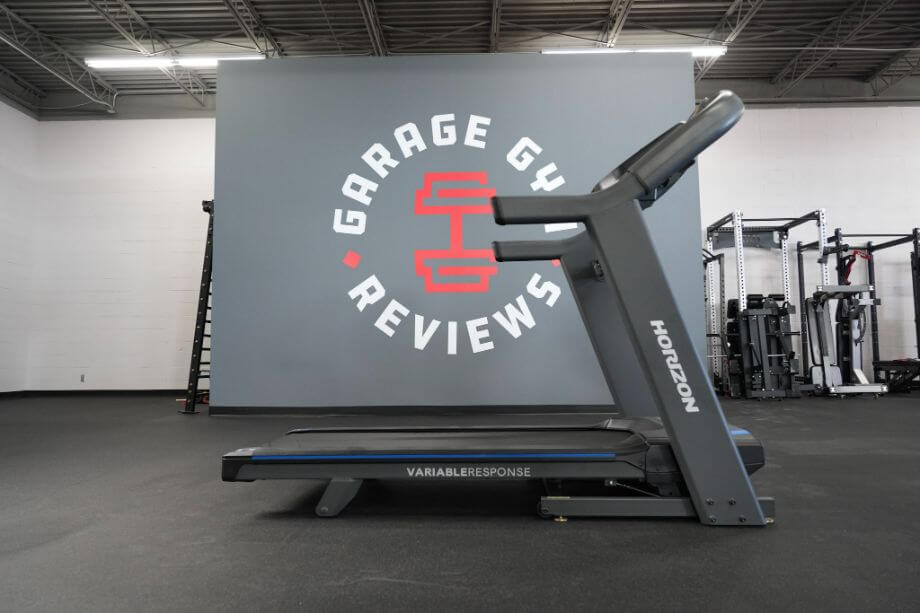 That said, the brand allows you to purchase a Warranty Boost package to extend the coverage of your parts and labor warranty.
Horizon Returns
You will have a 30-day guarantee from the delivery date to make returns if you're not fully satisfied with your Horizon treadmill. The website states it will refund (or credit you) the full product price but you will be on the hook for return shipping fees. You will not be refunded if you opted for in-home assembly.
Additionally, all returns must be authorized by calling customer service or by filling out a return form. The website states products returned without authorization will not be accepted for restocking.
Horizon Financing
Horizon Fitness partners with third-party lenders Citizens Pay and Genesis Credit. If you qualify, you can receive 0% APR and choose terms between 12 to 36 months. The website notes that if you don't qualify for 0% financing, there are other options ranging up to 29% APR based on your credit history.
ProForm Warranty
ProForm has a 10-year warranty on the frame, two years on parts, and one year on labor (with the exception of the City L6, which only has one year on parts versus two years). Our product testers like to see warranties that cover at least 15 years on the frame to meet industry standards, so it's a little disappointing ProForm comes in under that mark.
ProForm Returns
If you decide to return your ProForm treadmill, you'll have a 30-day window to request return authorization from the brand's customer service. Returning a treadmill to ProForm will cost you a flat $250 fee for return shipping and an additional 10% processing fee.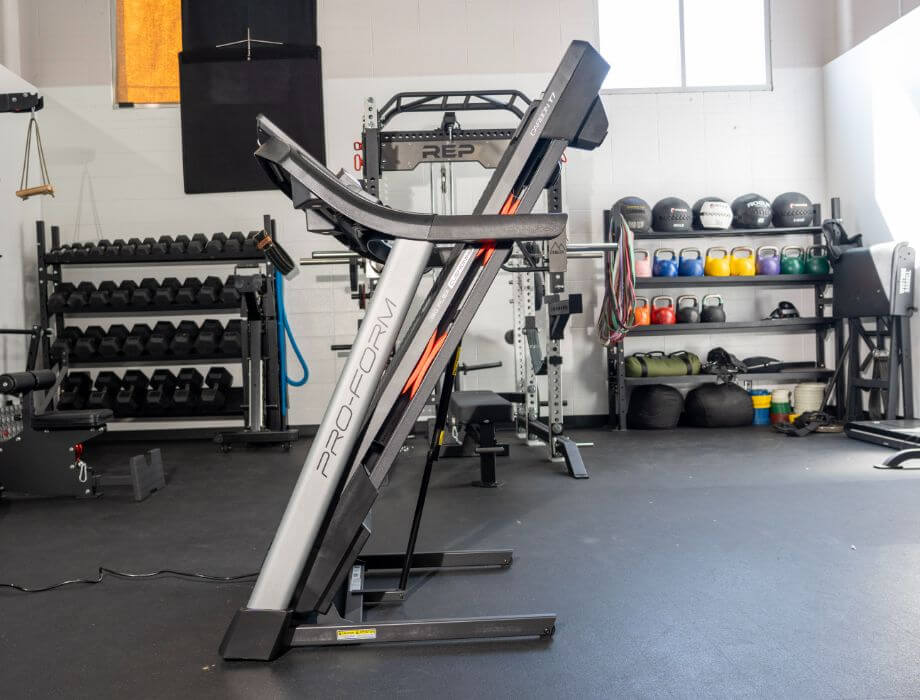 It's worth noting that if you return a piece of equipment, you will not be refunded for iFIT monthly membership fees if you already paid for the month. However, you can get refunds on an annual membership if you cancel within the first 30 days of the original purchase (or within the first 30 days of your iFIT trial).
ProForm Financing
ProForm works with TD Bank to provide financing options starting at 0% APR with terms of 12, 36, or 39 months. ProForm also boasts no money down on the day of your purchase. You will have to apply to qualify for these terms based on your credit score.
Final Thoughts on ProForm Vs Horizon Treadmills
Both ProForm and Horizon treadmills offer a lineup of models that range from budget-friendly to mid-tier treadmills. Between the two brands, you'll likely find a match for your home gym. Both brands manufacture foldable treadmills with Bluetooth speakers and a smattering of other tech features.
Here are some of the main differences between these two brands:
Horizon treadmills do not have built-in smart touchscreens, while nearly all ProForm treadmills do (with the exception of the City L6).
ProForm treadmills are set up to stream iFIT only, while Horizon treadmills allow you to connect with a variety of fitness apps (and entertainment streaming services).
All Horizon treadmills can handle a user weight of at least 300 pounds, while some ProForm treadmills are maxed out at 250 pounds.
FAQs on Proform vs Horizon Treadmills
Is Horizon or NordicTrack better?
Which brand you find better will be dependent on your budget, fitness goals, and your personal space. If you want to read more about Horizon vs NordicTrack in a head-to-head battle, check out our full comparison.
Who builds Horizon treadmills?
Horizon is manufactured by Johnson Health Tech, which is headquartered in Taiwan.
What are the top 5 home treadmills?
Our GGR product testers have curated an entire roundup to the 11 best treadmills for home gyms. It's no surprise that the ever-popular NordicTrack Commercial 1750 comes in at the top of this list.