We test and review fitness products based on an independent, multi-point methodology. If you use our links to purchase something, we may earn a commission. Read our disclosures.
Horizon Fitness is becoming a household name for cardio equipment. The brand has several lines of ellipticals, exercise bikes, rowing machines, and treadmills.
Part of the reason Horizon is risin' in popularity is because its products are budget-friendly without sacrificing the quality features you'd want in home fitness equipment. In our Horizon Fitness T101 Treadmill review, we'll break down everything you need to know about this base model (but not basic) machine.
Treadmill Experts
Our team knows a little about treadmills. Actually, we know a lot about them. As endurance athletes and certified personal trainers, we have put more than three dozen of these machines through our in-depth, hands-on testing regimen. Beyond that, we have personally used countless more, whether for our own marathon training, as part of a warm-up, or for getting in our daily steps.
Horizon T101 Treadmill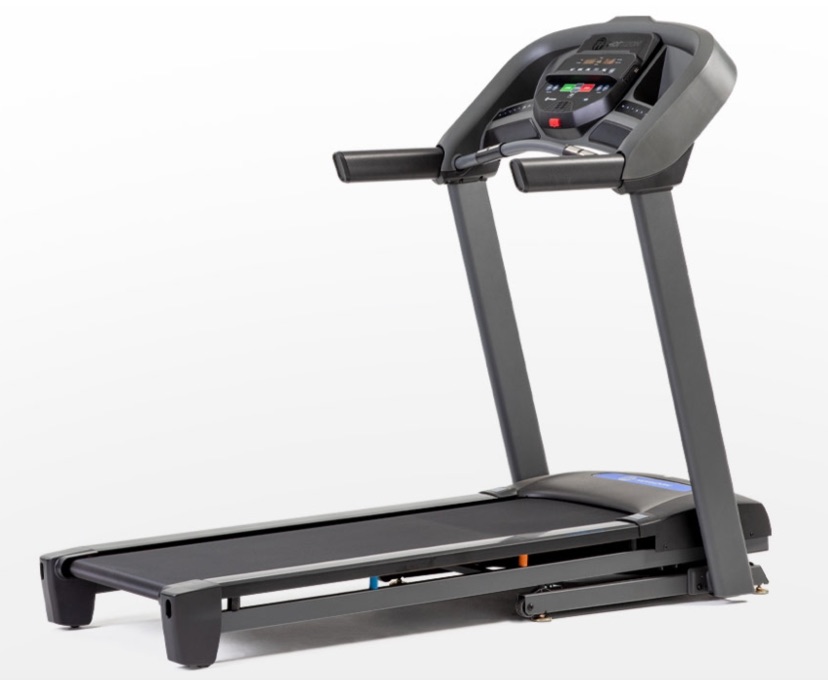 Horizon Fitness T101
The Horizon Fitness T101 is a great no-frills treadmill equipped with all the basic features needed to do some walking or light jogging. Simply hop on the treadmill, choose from one of the five on board workout programs and get going. Stay connected and entertained by plugging in your device and workout to your favorite music, TV show or workout program. With convenience in mind, the T101 allows you to quickly shift speed and incline automatically with one-touch keys. The Horizon T101 does not have a traditional display. Instead, there are digital number boxes that display your most important workout metrics: time, calories, speed/incline, distance and heart rate. While the 2.5 continuous horsepower motor may not be as powerful as some, it sure is quiet. Reviews state that this durable motor is surprisingly quiet. Horizon claims that noise is minimized as the motor runs at a lower RPM which also increases efficiency. As with most folding treadmills, the Horizon T101 running surface runs on the smaller side measuring 55 inches by 20 inches which may be a limiting factor for taller individuals. While the running surface may fall on the small side, it still features a three-zone cushioned deck to protect your joints and spine. The compact nature of the T101 makes it easy to fold using a one-step hydraulic folding system to store your treadmill when not in use.
A Quick Look at the Horizon Fitness T101 Treadmill
Horizon currently has two lines of treadmills: the Go Series and the Studio Series. The T101 is the base model (and Horizon-declared "most popular" model) in the Go Series, followed by the T202 and T303. We haven't gotten to personally use the machines in the Go Series, but we have tested and reviewed the Horizon Fitness 7.4 AT Treadmill, which is part of the brand's Studio Series.
What we know from our use of Horizon products is that you can expect to find affordable prices on high-quality machines. In fact, Horizon is a mainstay on our best treadmill lists because of the brand's consistent value proposition.
Here's what we know from looking at the T101 specs.
Pros:
Priced under $700
Folding
Up to 10% incline
Bluetooth speakers
Fan
Tablet holder
USB charging port
Outstanding warranty
Financing available
Cons:
Running surface is 55", which may be short for some
Top speed is 10 MPH
2.5 HP motor not ideal for serious runners
Limited technology
Just 6 built-in workout programs
Is the Horizon T101 Worth It?
When it comes to treadmills under $1,000, you can expect to see machines that make sacrifices in areas like technology and high-powered motors. The T101 is no different. This is an affordable treadmill with some nice extras, but it isn't built to withstand heavy training from serious runners.
How do you know if it's right for you? Here are our recommendations:
Great for:
Recreational joggers and walkers
Those who need a folding treadmill
Beginners
Not recommended for:
Serious runners
Those looking for app-based interactive programming
Tall runners
Horizon T101 Specs
| | |
| --- | --- |
| Price | $649 |
| Footprint | 71″ L x 33″ W x 57″ H |
| Folded Footprint | 46″ L x 34″ W x 61″ H |
| Weight | 180 lbs |
| User Weight Capacity | 300 lbs |
| Motor | 2.5 HP |
| Walking Belt | 55" L x 20" W |
| Display | 3 LED windows |
| Incline | 0-10% |
| Speed | 0.5-10 MPH |
| Programs | 6; Calorie, Distance, Fat Burn, Hill Climb, Intervals, Manual |
| Warranty | Lifetime warranty on frame and motor; 1-year warranty on parts and labor |
Customer Reviews
There are more than 2,500 reviews on the Horizon Fitness website, averaging a 4.6 out of 5 stars. Most people recognize that this is a basic treadmill that is good for people looking to walk or jog a few times a week.
Some people noted that after a few years of use, you may start to experience mechanical issues. This is where the lifetime warranty could come into play, especially if the issue is with the motor.

The negative reviews mostly expressed concern with shipping and assembly issues. However, some people commented on shaky construction or issues with technology.
This isn't surprising, given the price point of this machine.

Using on the T101: Breaking Down the Features
Though we haven't used the Horizon T101 Treadmill, we can give you an idea of what it would be like to run or walk on it by simply looking at some of the specifics. Because we have extensively used another treadmill from Horizon, we can also share what some of the T101's features are like in use.
Running Surface
The best treadmills for runners have a long, wide belt, measuring 20 to 22 inches wide and 60 inches long. This is key for accommodating the longer stride you have when transitioning from walking to running.
The T101 has a treadmill belt that is 55 inches long. That likely won't keep you from running. However, tall runners may have to shorten their strides in order to safely move swiftly on this machine. The product testers on our team who are 5 feet, 9 inches or taller have commented on the discomfort they experience running hard on machines with belts at 55 inches or shorter.
Motor
Horizon Fitness doesn't disclose its machines' motor sizes for some reason. However, after doing some research, we found that the T101 has a 2.5 horsepower (HP) motor. For a treadmill that costs less than $700, this doesn't surprise me. Powerful treadmill motors are often responsible for a higher price tag (and heavier product weight).
Why does the size of the motor matter? Because it's an indication of how much training the treadmill can support without needing maintenance. Frequent runners should look for a 3.0 CHP motor or higher.
A 2.5 HP motor means that this treadmill can definitely tolerate some jogging, but it isn't meant for serious running. If you just want a treadmill for walking, however, this is a safe bet.
Programming
There are six built-in workouts on the T101. They target different goals such as calorie burn, distance, intervals, hill climbing. You can also put the machine in manual mode and run/walk at your own pace and incline.
Despite the T101 having some Bluetooth capabilities, from what we can tell, it isn't compatible with fitness apps like iFIT or Peloton. You can certainly stream those workouts from your own device as you use the machine, but it won't control the treadmill's settings.
Speed and Incline
The ranges for speed and incline are on par with other treadmills in this price range. The max speed on the T101 is 10 MPH, which equates to a 6-minute mile. For most recreational runners, that's more than fast enough. However, runners who need more intense speedwork may want to look for a machine with a top speed of 12 MPH or higher.
The incline range on the T101 goes to 10%, which is ideal for just about any kind of incline training you might need.
Horizon does have a fairly unique speed and incline control feature attached to a pair of fixed handlebars near the console. There are two dials that spin, enabling you to quickly adjust how fast the belt is moving or how steep the belt is.
Size and Portability
It might sound odd to call a 180-pound treadmill light, but it's definitely on the lighter side compared to 300-plus-pound machines from brands like NordicTrack. Actually, Horizon's own 7.4 AT Treadmill, which we have used, is a whopping 318 pounds. Our testers found it difficult to move.
The T101, however, reportedly moves with ease, thanks to a pair of transport wheels. It also features a pretty impressive 300-pound weight capacity.
The 71-inch-long-by-33-inch-wide footprint isn't compact, but it also isn't enormous. Because the T101 is a foldable treadmill, it will take up slightly less room when you lift and lock the deck into place. The T101 features the same hydraulic folding mechanism as the 7.4 AT. Our testers found this so-called "one-step" folding process to be fairly simple to do.
The Ergonomics
Horizon uses what it calls "3-Zone Variable Response Cushioning," which means that the level of cushioning depends on which "zone" you're in on the deck. The "impact" zone—where your front foot strikes the deck—has ample cushioning, and the "push-off" zone at the back of the machine is firmer. There is also a "transition" zone in the middle of the machine, which we assume has medium cushioning.
The 7.4 AT Treadmill we tested from Horizon also has this type of cushioning. Our team reported that it makes the machine quite comfortable to use, even at high speeds.
Technology and Conveniences
The T101 offers more in the way of technology than you would think for a treadmill at this price, but it still isn't much. Whereas high-end treadmills stream workout apps from large touchscreens, this treadmill has three basic LED screens that display your workout metrics. Also, the treadmill has a pair of built-in speakers with Bluetooth connectivity. Therefore, you can pair your own device to stream music, workouts, or shows.
The extra treadmill features you'll find on the T101 include the following:
Device holder
Water bottle holder
Fan
A "rapid charge" USB port
Heart rate monitoring via pulse grips in the handles
Horizon T101 vs Sunny Health and Fitness SF-T4400
Sunny Health and Fitness Treadmill (SF-T4400)
Sunny Health and Fitness Treadmill SF-T4400
The Sunny Health & Fitness Treadmill is a space-saving and affordable treadmill perfect for general trainees who may not have specific athletic goals, such as becoming better runners. It's foldable and comes with a soft drop feature, a top speed of 9 miles-per-hour, and 9 preset workout programs.We think this is perfect for the person who may just want to get more steps in during their day, or just wants a low-impact way to improve their cardiovascular fitness. While the tread is a little shorter than most, it does feature shock absorption technology for those who can find their stride on it.
If you're looking for a budget treadmill, both Horizon and Sunny Health and Fitness will likely come up in your search. These brands are both known for making affordable machines.
Both the T101 and the SF-T4400 fold, have incline, and feature a handful of workout program options. The Sunny is more affordable at under $500, it's lighter, and it's more compact. Our testers liked it for people who are looking to walk or perhaps jog once in a while.
RELATED: Sole F63 Treadmill review
If you want to save money or need a smaller machine, the Sunny might be the better fit. If you want something more durable with a more spacious running surface, then the Horizon is the way to go.
| | | |
| --- | --- | --- |
| | Horizon T101 Treadmill | Sunny SF-T4400 |
| Price | $649 | $383 |
| Footprint | 71″ L x 33″ W x 57″ H | 62" L x 25.5" W x 50" H |
| Folded Footprint | 46″ L x 34″ W x 61″ H | 36" L x 25.5" W x 58" H |
| Weight | 180 lbs | 103 lbs |
| Weight Capacity | 300 lbs | 220 lbs |
| Motor | 2.5 HP | 2.2 Peak HP |
| Running Area | 55" L x 20" W | 15.5" W x 49" L |
| Display | 3 LED windows | LCD screen |
| Incline | 0-10% | Manually adjustable to 4.3% |
| Speed | 0.5-10 MPH | 0.5-9 MPH |
| Programs | 6; Calorie, Distance, Fat Burn, Hill Climb, Intervals, Manual | 9 |
| Warranty | Lifetime warranty on frame and motor; 1-year warranty on parts and labor | 3-year frame, 180-days parts |
Customer Experience
Horizon's policies are on par with most other big names in cardio. In fact, its warranties are among the best.
Warranty
Horizon's warranty on the T101 is lifetime on the frame and motor, and 1 year on parts and labor.
A lifetime warranty on both the frame and the motor of a treadmill is nothing to sneeze at. Having to replace a motor on a treadmill at this price point would typically force you into just buying a new machine.
If you want, you can boost your warranty to a 3-year coverage on parts and labor for $119, or a 5-year warranty for $149.99.
Returns
Horizon's return policy is also fantastic for home gym owners. If you don't like your machine, you can return it within 30 days for a full refund. Some big retailers won't allow you to return a machine that has been used, but Horizon says, "No problemo!" You may end up having to pay a restocking fee, depending on why you are returning the treadmill.
Financing
You can choose to finance the treadmill through Horizon's program with Citizens Pay. There are six-, 12-, 18-, and 24-month financing plans available.
Ordering and Assembling the Horizon T101
Horizon Fitness does offer white glove assembly for an additional cost of a whopping $300. This includes putting the treadmill in the room of your choice as well as setting up the machine. It's worth noting that this is one of the most expensive white-glove assembly services we've seen.
The brand states that setup of the T101 only takes about 30 minutes, if you want to do it on your own. This is a 180-pound machine, so based on our experience, we can pretty much guarantee that you might need help putting this treadmill together, even if it's just to move it to where you want it.
Final Verdict of Our Horizon Fitness T101 Treadmill Review
If all you want is an entry-level treadmill that comes with a few upgrades, then the T101 is a good fit. It's ideal for those looking for something to use for walking or jogging on various incline levels. If you're a serious runner, then we advise looking for something with a longer running deck and higher-powered motor.
Horizon Fitness T101 Treadmill Rating
Horizon Fitness T101 Treadmill
Our Horizon Fitness T101 Treadmill Review goes deep into this budget-friendly home running machine.
Product Currency: $
Product Price: 699
Product In-Stock: InStock
Horizon Fitness T101 Treadmill FAQs
Is the Horizon T101 treadmill good?
As evidenced in our Horizon T101 Treadmill review, this is a great machine for people who are interested in walking or jogging occasionally. It does not have a high-powered motor, so it won't support the training demands of serious runners. However, it is backed by a lifetime frame and motor warranty. Plus, its price tag is under $700, so it's not a huge investment.
Does the Horizon T101 treadmill fold up?
Yes, the T101 has one-step, "FeatherLight" hydraulic folding, intended to prevent people from having to take on the brunt of the lifting.
How much does the Horizon T101 treadmill weigh?
The T101 weighs 180 pounds.