We review free products that we receive and participate in affiliate programs, where we may be compensated for items purchased through links from our site.
See our disclosures page for more information.
The Yoak is one of the most fun, and also versatile pieces of training equipment I have ever used. After doing every movement they've recommended on their website, along with many others, I can confidently say that if you're looking to add chaos training to your regimen, as well as increased strength in otherwise unstable positions, The Yoak is a great tool to use; albeit at a high price.
The Yoak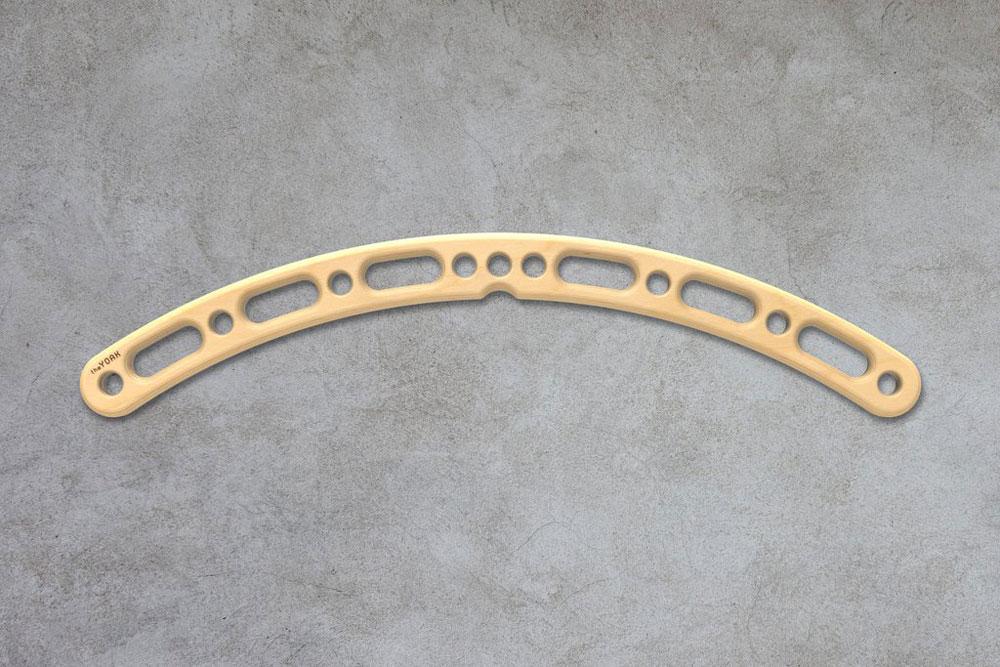 The Composite Yoak
Designed around the concept of strength symmetry and pendular movement, the Composite Yoakâ"¢ gives athletes a dynamic new tool equally equipped for suspension training, bar/squat, and parallette mode. Each Yoak measures just under 4' in length and is manufactured in Ontario, Canada–using aircraft-grade aluminum + your choice of a natural birch or burnt walnut. The result is a highly durable but lightweight and maneuverable system for pushing, pulling, squatting, yoke walking, and more. Fully portable and weighing 5.5LB (without attachments), 400LB load capacity (250LB dynamic suspended)–making it a great option for athletes who are on-the-go a lot or for gyms that are short on space. The unit's proprietary C-Notchâ"¢ limits compression and creates room for the cervical spine when loading the device for squats/lunges/yoke walks, and the patent-pending curved bar shape and hand-holds improve ergonomics for those with tight shoulders/biceps or upper backs, enabling better scapular retraction and depression. Paired with slings, the Composite Yoak can be loaded with kettlebells, plates, loading pins, just about anything. The internal anchor points also allow full range of shoulder motion when connected to rings and serve as friction points for a standard 1.25" dowel when connected in Parallette mode. Specifications:Made in CanadaMaterials: Aircraft Grade Aluminum + Premium Birch Ply or Burnt Walnut. (appearance of Burnt Walnut may vary slightly by batch)Portable Design for ease of travel and storageLength: 46.5"Height: 9.5"Width: 1.5"Weight: 5.5LB (without attachments), 400LB load capacity (250LB dynamic suspended)Weights and Bands not includedApplications: Rehab, Prehab, Stability, Strength, Balance, Flexibility, Endurance Training, and more
Unboxing
Is there anything more exciting than seeing a box of new gym equipment sitting on your doorstep?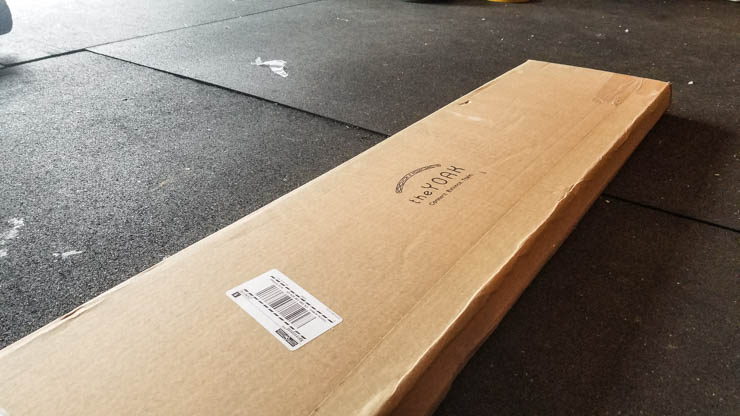 The Yoak is a new company, but they're doing a lot of things right.
One thing they've done well that is too often overlooked is branding their packaging. It's a small touch, but as I often say, if a company does the little things well, it often means the big things are done right as well.
The Yoak showed up in small (compared to the barbell tubes) box with no significant damage, something I'm always happy to see.
I cut open and emptied the box and out came a bunch of goodies.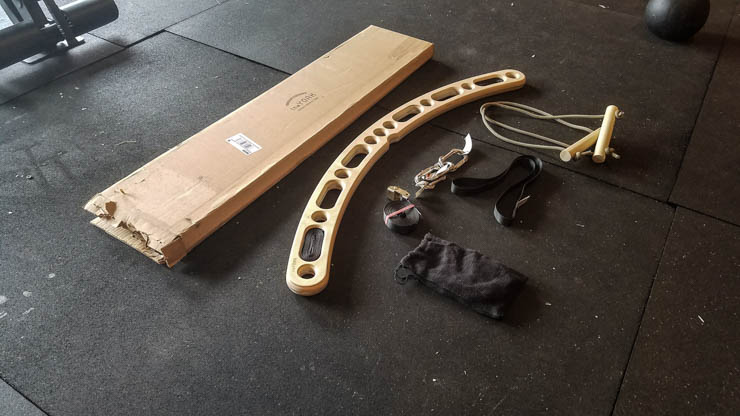 The guys at The Yoak sent me the "Total Package" to review which features:
The Yoak
1 x 12′ Cam Strap
2 x 48″ Industrial Slings
1 x 24″ Industrial Sling
2 x 8″ Dowel Handles with 7mm static climbing cord
3 Omega Climbing Carabiners
Accessories Carrying Bag, Exercise Poster, and a User Guide
There's also two other packages with fewer accessories available.
The Yoak Review
I'm going first to review the actual construction and build of The Yoak and then go into how you actually use the thing. Unlike with barbells, there isn't enough going on to warrant my typical lengthy review style for something made so simple (which is a good thing in my opinion.) That said, there are lots to talk about that hasn't yet been explored regarding how to maximize its functionality.
To be completely honest, The Yoak is as much a piece of artwork as it is training equipment.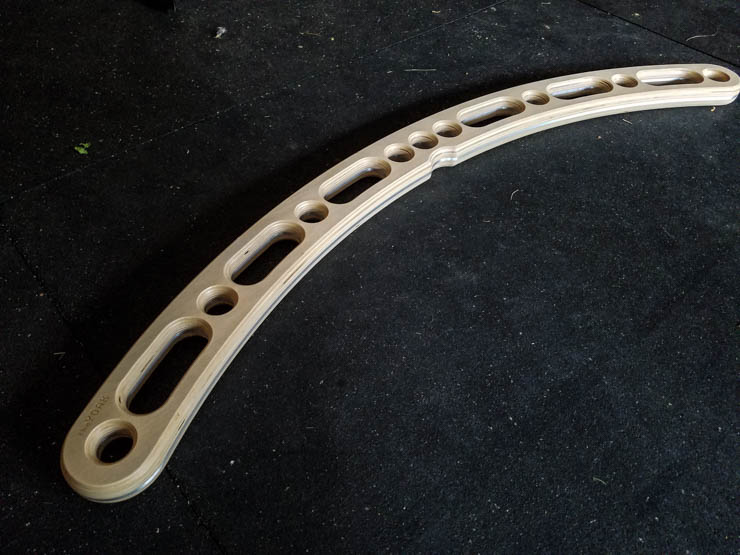 The basic idea is that you hang weights off the sides in either equal or unequal amounts of weight and everything becomes harder. Trust me, trying to stabilize this on pressing or walking is DIFFICULT. I'll show videos later on in the review.
The Yoak is made of three separate pieces. One piece of CNC-cut aircraft grade aluminum is sandwiched between two pieces of birch.
That's it.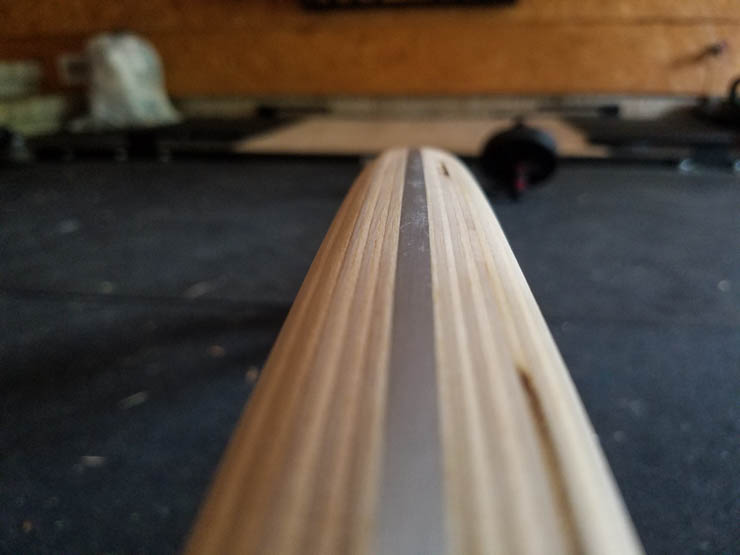 Being the woodworker I am, (I'm basically Ron Swanson in real life) I appreciate a properly cut and routered piece of birch. Although everything I make is by hand (I use tools, just not precision CNC machines,) it's pretty obvious based on the uniformity of every angle that this is largely machine-made. Which is what you want.
You see, if I'm going to be spending upwards of $300 on a piece of equipment that will hold hundreds of pounds on my back, I want to make sure that it's engineered in a way to support that weight and much more.
And, the Yoak holds hundreds of pounds quite well: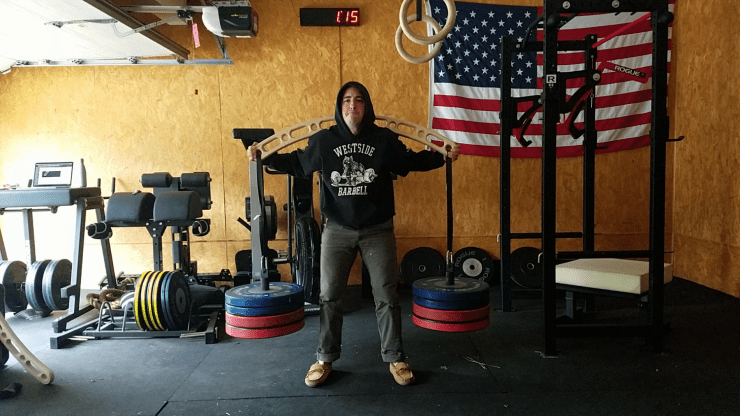 Although the guys who created The Yoak advise a maximum loading capacity of 400 lbs, I would have no worries of adding much more. That said, unless you're just doing partial squats (which this is perfect for), then you're not going to be using much weight at all.
Walking with this thing is DIFFICULT. It requires laser focus and an absolute rock solid mid-section. If you don't know how to brace, this will teach you (as will this great video by Chris Duffin.)
Initially, I wondered why wood was chosen outside of the aesthetics, but if using wooden gymnastics rings has taught me anything, it's that wood takes chalk really well. So, whenever doing yoke walks or pull-ups, make sure to chalk up.
Oh wait, I forgot to tell you that lending to the versatility of The Yoak is the fact that you can do pullups with it.
One use I found for The Yoak that may not have been thought of yet is in using it in my quest to do a one-arm chin up. I do lots of archer pull-ups on my rings, but The Yoak allows me to place one arm wide, and one close simulating an archer pull-up on a more static implement.
Along with the hand holds, the designers behind the Yoak put a notch so as to avoid putting pressure on your cervical spine. I don't think it was entirely necessary, but it's a nice touch that allows the Yoak to rest comfortably on your yoke (see what I did there?)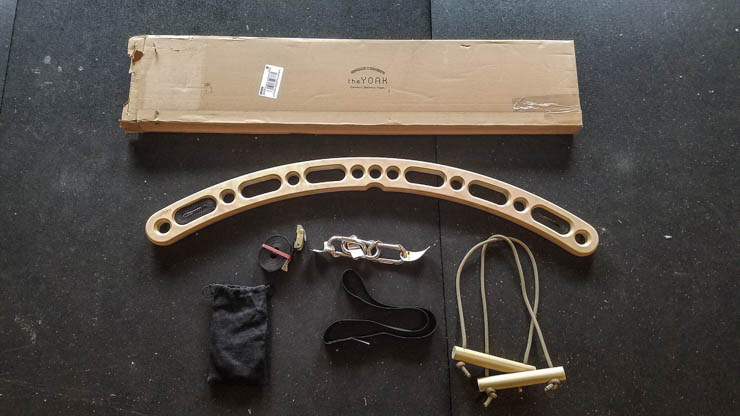 In addition to the Yoak, if you choose to purchase the "Total Package" you'll get some cords that you'll need, carabiners (Omega, the ones I always recommend), as well as two handles for things like dips.
The handles are made well, but I'd suggest purchasing middle tier package that doesn't include the handles. It's not that I don't use them, it's' just that I personally would be more than capable of making them myself.
Whether you decide to make them or purchase them, you will want them as they are the most difficult variation of dips I've ever done. If you struggle you're proficient with real ring dips (turning the rings out at the top), then you'll love dips on The Yoak.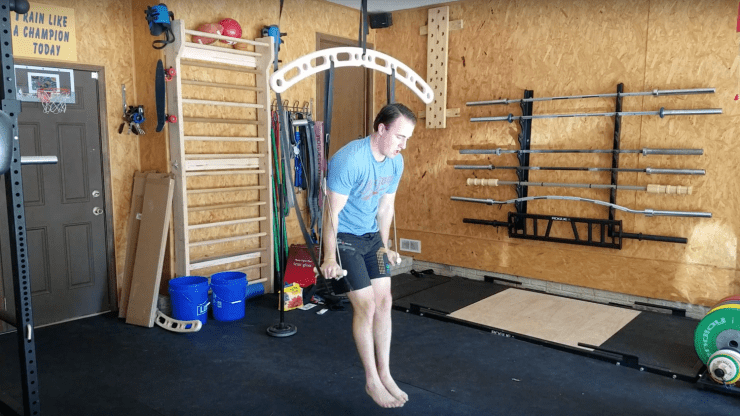 The aluminum spine allows The Yoak to remain rigid and prevent twisting but still keeps it very light. So light, in fact, it weighs in at just under 6 lbs.
For something to be so light, yet hold the amount of weight it can is really quite remarkable.
One downside to The Yoak being mostly made of wood is the fact that it can dent pretty easily.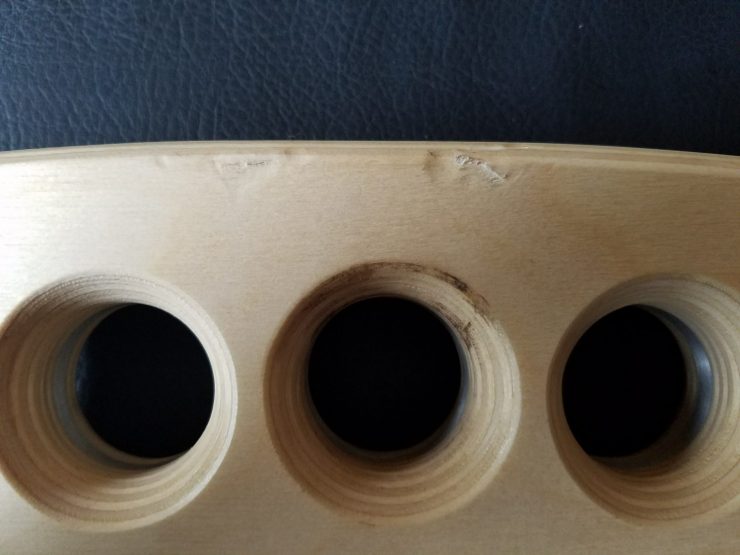 I don't think it will ever dent enough to actually harm the functionality of the product, but it is something to be aware of.
One other worry I had regarding the construction is how the wood and aluminum were attached. In my mind, there would definitely be a fear of separation, but the guys at The Yoak assured me that detachment would not occur, and if it ever did, they would just allow an exchange.
Here's how The Yoak is constructed in case your engineer-minded like myself: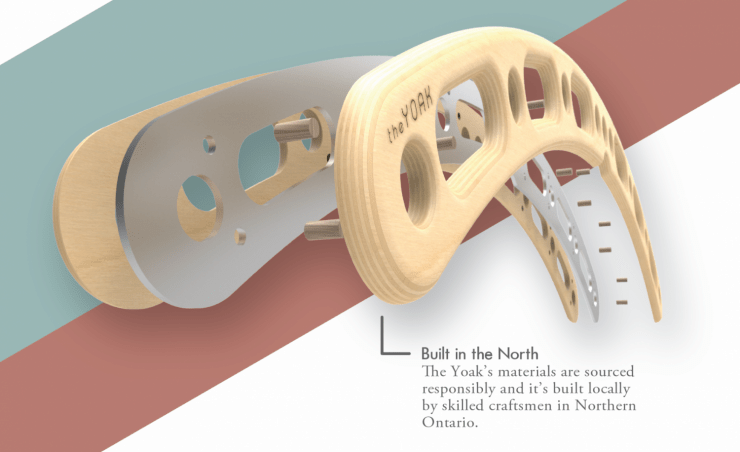 The Yoak is an impressive piece of equipment that when combined with a bit of creativity can do just about anything you'd want.
If you grab two Yoaks, you can use them as parallettes which is a cool feature if you happen to be a commercial gym that has multiple Yoaks, but I wouldn't buy two simply for this purpose.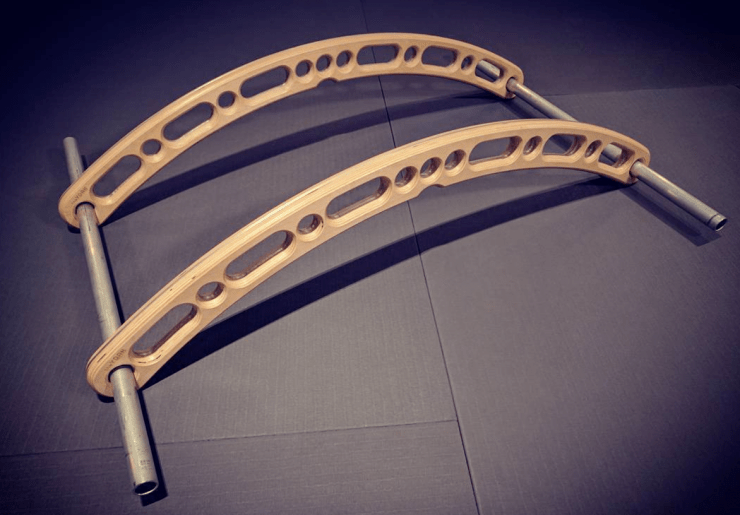 Finally, if you're not adding some sort of instabilityin your training, you're really missing out on a great opportunity to get stronger. I'm a big fan of the Bamboo/Earthquake Bar, but The Yoak can do just about everything it can (seriously, try throwing some bands on it) as well as many other things.
Also, as if it couldn't do enough, curl are also possible; which, let's be honest, does any other movement even matter?
Suggested Improvements
There are a couple of areas that I think could not only get the Yoak in more hands but also improve it.
The first one is to offer variations of the material. Right now, the only options available are light birch and dark birch. I love the use of aluminum and wood as it is very appealing to the eye, but I would like to see other options at different price points.
UHMW Plastic or possibly even a complete aluminum body would be great options.
The final thing that I believe needs to be addressed and I'm sure is something they're working on is the price. $300 is a bit steep in my opinion. I think even lowering the price $50, would not only lead to more people using the product and thus increasing purchase volume, but also put it more in line with the cost that I think it's worth.
Full Rating
The Composite Yoak
The Yoak is one of the most fun, and also versatile pieces of training equipment I have ever used. After doing every movement they've recommended on their website, along with many others, I can confidently say that if you're looking to add chaos training to your regimen, as well as increased strength in otherwise unstable positions, The Yoak is a great tool to use; albeit at a high price.
Product Brand: The Yoak
Product Currency: $
Product Price: 350
Product In-Stock: InStock
Where to Purchase
The Yoak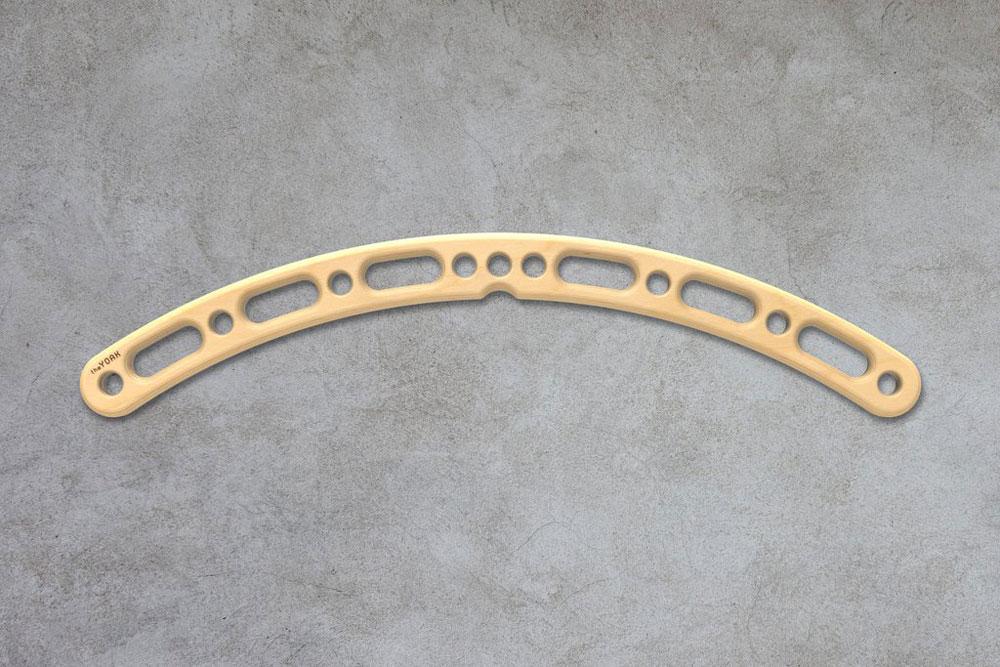 The Composite Yoak
Designed around the concept of strength symmetry and pendular movement, the Composite Yoakâ"¢ gives athletes a dynamic new tool equally equipped for suspension training, bar/squat, and parallette mode. Each Yoak measures just under 4' in length and is manufactured in Ontario, Canada–using aircraft-grade aluminum + your choice of a natural birch or burnt walnut. The result is a highly durable but lightweight and maneuverable system for pushing, pulling, squatting, yoke walking, and more. Fully portable and weighing 5.5LB (without attachments), 400LB load capacity (250LB dynamic suspended)–making it a great option for athletes who are on-the-go a lot or for gyms that are short on space. The unit's proprietary C-Notchâ"¢ limits compression and creates room for the cervical spine when loading the device for squats/lunges/yoke walks, and the patent-pending curved bar shape and hand-holds improve ergonomics for those with tight shoulders/biceps or upper backs, enabling better scapular retraction and depression. Paired with slings, the Composite Yoak can be loaded with kettlebells, plates, loading pins, just about anything. The internal anchor points also allow full range of shoulder motion when connected to rings and serve as friction points for a standard 1.25" dowel when connected in Parallette mode. Specifications:Made in CanadaMaterials: Aircraft Grade Aluminum + Premium Birch Ply or Burnt Walnut. (appearance of Burnt Walnut may vary slightly by batch)Portable Design for ease of travel and storageLength: 46.5"Height: 9.5"Width: 1.5"Weight: 5.5LB (without attachments), 400LB load capacity (250LB dynamic suspended)Weights and Bands not includedApplications: Rehab, Prehab, Stability, Strength, Balance, Flexibility, Endurance Training, and more