We test and review fitness products based on an independent, multi-point methodology. If you use our links to purchase something, we may earn a commission. Read our disclosures.
Whether it's neighbors above your garage, not wanting to wake your children, or living in an apartment—it's vital to keep the noise down in your home gym. This will probably send you looking up some of the best home gym flooring options for you and your gym, as well as other equipment that can help dampen sound.
To help you in your search, our team of certified personal trainers, coaches, and athletes at Garage Gym Reviews have done our due diligence in research and testing. We've looked into these mats to compile our picks for the best soundproof exercise mats on the market. We've made sure to include mats for every reason, whether it's general gym flooring, heavy lifting, plyometrics, or storing a loud treadmill.
RELATED: Best Quiet Treadmill
We have you covered with this list, and soon, you may have your gym covered with these mats!
The Best Soundproof Exercise Mats
Best Overall Soundproof Exercise Mats: Tractor Supply Horse Stall Mats
Good for: Those looking for a budget-friendly, durable exercise mat that'll dampen sound
You may find yourself asking how a horse stall mat can be our pick for the best overall soundproof mat, but if you've been in the fitness world for a bit, you know rubber stall mats work great for gym flooring. Tractor Supply in particular uses recycled vulcanized rubber to make their mats, and they are durable enough for heavy lifting—or constant horse hooves.
The three-quarter-inch thickness helps dampen sound, absorbing the impact of a barbell dropping as well as some of the noise…but you'll still hear it. One side of the thicker mat has raised bumps, which are ideal to add non-slip grip for areas where slipping may be a concern. The other side is a flat surface, sometimes slightly textured, that is ideal for cushioning. I'd recommend laying these mats down with the flat surface up for your garage gym use.
These rubber mats are used for commercial and CrossFit gym flooring all the time; I've used them in the CrossFit gyms my family has owned over the years, too. They are inexpensive, durable, and at 94 pounds each mat, they will stay put when you lay them down. Also, with 4-feet-by-6-feet dimensions being a common size in floor mats, these can combine with other workout mats pretty easily.
Also, at nearly 100 pounds, these mats are big and bulky, probably some of the bulkiest mats we have on this list. Also, if you are trying to use these stall mats for your entire home gym, the mat thickness makes cutting these mats down to size a chore. Still, if you're okay with a bit of manual labor to lay down this rubber gym flooring, it's a great and inexpensive mat that is sure to help in reducing noise.
| | |
| --- | --- |
| Price | $56.99 |
| Dimensions | 6' L x 4' W |
| Mat thickness | 3/4″ |
| Weight | 94 lbs |
| Material | Recycled vulcanized rubber |
| Warranty | 5-year limited |
Best Noise-Deadening Interlocking Exercise Mats: Living.Fit Gym Mats
Good for: People needing multiple mats that'll absorb sound and also fit together easily
Built with heavy-duty rubber, the Living.Fit Gym Mats are sure to help with your home gym's noise reduction. With a 0.4-inch thickness, it'll be able to absorb noise and vibrations of some heavy loads. Also, these mats have interlocking edges, looking like puzzle pieces.
GGR's Head of Content Kate Meier has these in her gym, and says the puzzle exercise mats have great grip and stay interlocked through weights dropping: "We dropped about 300 pounds on these from a tall-boy's shoulder height (which is practically my overhead), and the mats didn't come unhooked."
With square dimensions of 40 inches by 40 inches, these mats only cost about $50 a mat with free shipping, making them an inexpensive mat for flooring. The extra heavy-duty rubber used also makes these mats spike-resistant and self-healing. This means that it'll be difficult for anything to pierce these mats, plus any piercing damage to the mats will close up on itself and almost look like nothing ever happened. This will certainly provide great floor protection.
The flat rubber surface has versatile use: it can be used for floor exercises, storing gym equipment like rowing machines and exercise bikes, or lifting and dropping some heavy weights. Rubber will also give you enough grip to be an anti-slip surface.
With that said, the 40-inch-by-40-inch dimensions can be a little awkward in combining with other gym flooring. Additionally, if you are laying out your entire gym flooring with these mats, you'll most likely have to cut down pieces, or have some flooring not covered. Still, the interlocking pieces and inexpensive price make this a great option for soundproofing your gym. Be ready for that fresh rubber smell though.
| | |
| --- | --- |
| Price | $49.99 |
| Dimensions | 40" L x 40" W |
| Mat thickness | 10 mm (0.4") |
| Weight | Not disclosed |
| Material | Heavy-duty black rubber |
| Warranty | 3 years |
Best Soundproof Mats for Deadlifting: Bells of Steel Deadlift Pads
Good for: Lifters needing some soundproofing pads to drop a heavy barbell
While rubber flooring is a great way to deaden noise, sometimes you need something to further reduce the noise of a max deadlift. For those heavy days, there are the Bells of Steel Deadlift Pads, 6-inch thick foam mats made for shock absorption and noise reduction. Another bonus on these pads is that they can help protect your flooring (and weights) if you do not want to drop a loaded barbell on it.
With each pad being 30 inches long and 23 inches wide, they are large enough to catch your weights on a drop. Just make sure to aim if you're dropping from overhead! The noise-reducing foam will absorb the impact, and the 600-Denier polyester outer cover protects the foam from premature wear and tear.
The most common way these thick mats are used is placing them just in front of the barbell and then dropping them forward onto the pads when the lift is finished. The pads can also be low blocks and can have the Olympic barbell start raised off the floor, although Bells of Steel warns to not leave a loaded barbell resting on the pads, as it will cause the pads to wear down faster.
Speaking of wearing down, some reviews talk about the stitching of the outer cover wearing down prematurely; if this happens, Bells of Steel should have you covered, as they provide a one-year warranty with this product.
| | |
| --- | --- |
| Price | $179 |
| Dimensions | 30" L x 23" W x 6" H (each pad) |
| Mat thickness | 6" |
| Weight | 20 lbs per pad |
| Material | Polyester outer cover, noise-reducing foam inner |
| Warranty | 1 year |
Best Soundproof Mats for Weightlifting: Titan Fitness Silencer Drop Pads
Good for: People needing a solid soundproof pad to drop a weight from overhead
If you are looking for a good silencer pad for a variety of lifts—including ones of the overhead variety—then the Titan Fitness Silencer Drop Pads are a solid solution. With a hefty vinyl outer cover and dense foam on the inside, these drop pads will absorb the shock and impact of heavy lifts, reducing the overall noise and making your neighbors happy.
As an Olympic weightlifter myself, I've broken down concrete in my garage gym through years of heavy lifting. When that has happened, I'll use drop pads, not even for the noise reduction, but for the shock absorption. These are great for protecting your floors, too. I've seen some people lift on kitchen floors and drop the weights on these pads…while I wouldn't recommend doing that, it's a true testament to their shock absorption.
RELATED: Best Bumper Plates Guide
These pads are versatile, too, and can be used for more than silencing noise. The height can be used by lifters for block work, or the pad can be used for plyometric movements like jumps.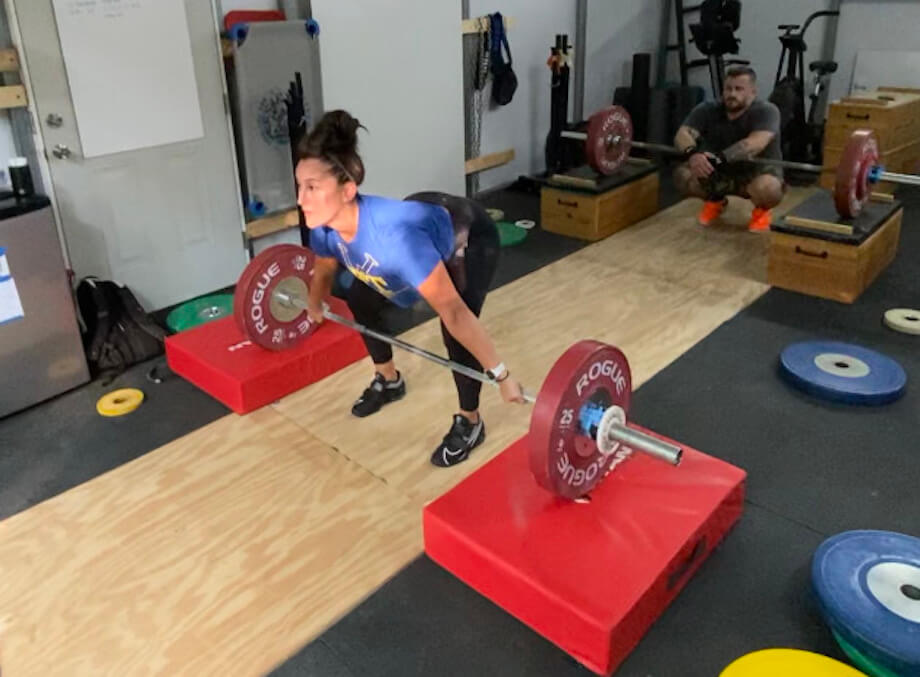 Kate uses these at her gym with her personal training clients for jumps and step-ups. "Just be aware your feet will sink a little," she says, as the pads are not completely rigid. Also, she uses these for her lifters at early or late hours to help deaden sound and not upset any neighbors.
There have been some reviews on Amazon that have complained about the stitching coming apart on the vinyl cover on one or both pads after only limited use. Purchased from their website, though, Titan will provide a one-year warranty on the silencer pads, and should be able to help you out.
| | |
| --- | --- |
| Price | $161 |
| Dimensions | 30" L x 24" W x 6" H (each pad) |
| Mat thickness | 6" |
| Weight | 22 lbs per pad |
| Material | Vinyl cover, dense foam inner |
| Warranty | 1 year |
Best High-End Soundproof Mats: Eleiko Dampening Floor Tile
Good for: Home gym owners wanting high-end sound dampening mats for their workouts
Our pick for the best high-end soundproofing mats is the Eleiko Dampening Floor Tile. These rubber tiles have a slip-resistant surface and can be used in both wet and dry environments. With a thickness of just over an inch, these 2-feet-by-2-feet tiles are designed for longevity and sound dampening.
These floor tiles come in two colors: Swedish Steel and Nordic Night. As gnarly as the color names sound, it's basically a choice between gray speckled with black, or black speckled with gray. Each tile weighs 26 pounds and is built to last; Eleiko backs thes tiles with a staggering 15-year-long warranty. You won't find many companies providing that much confidence in their products.
The tiles are given an interlocking, modular design, and can be used with other Eleiko tiles and flooring. These tiles are a versatile solution for both smaller home gyms and large commercial gyms.
With a high-quality product like these dampening floor tiles, there also comes a high-end price tag. At $79 per tile, you are purchasing each tile for nearly $20 per square foot. If you are wanting to outfit your entire home gym with this flooring, the cost will rack up very quickly. Even lining the sides of a lifting platform with these tiles can be pricey. However, if you have the budget for these tiles, the noise reduction and durability of these tiles are worth it.
RELATED: DIY Weightlifting Platform with a Squat Stand Attached
| | |
| --- | --- |
| Price | $79 |
| Dimensions | 24" L x 24" W |
| Mat thickness | 30 mm (1.18") |
| Weight | 12 kg (26.46 lbs) |
| Material | Rubber |
| Warranty | 15 years |
Best Mat for Plyometrics: Gorilla Mats Shock Absorbing Exercise Mat
Good for: Fitness lovers wanting a durable mat for a variety of bodyweight and plyometric movements
If you are keeping your workouts indoors and with lighter weights or bodyweight movements, then the Gorilla Mats Shock Absorbing Exercise Mat is an excellent choice. Supporting a wide range of movements—push-ups, burpees, jumps, and more—this exercise mat is fantastic for getting in a quick workout in your home.
Coming with storage straps, the mat can be rolled up when not in use; think of it almost as an oversized yoga mat you can roll up and out. Also, the mat's bottom is patterned, designed to prevent sliding on slick surfaces like hardwood floors. The high-density ProFoam used on the mat helps absorb shock and noise, but it also helps support your joints during a strenuous home workout.
The price is substantial, at $139, but these mats are backed by a lifetime warranty, meaning they are going to last you for years to come; and if they don't, then Gorilla Mats should help you out.
While ideal for workout programs with no weights or light dumbbells or kettlebells—Pilates, P90x, or dance workouts, for example—the thinner mat thickness and foam material won't make these fitness mats a great option for barbell lifting. If you want to lift some heavy weights, there are better options than Gorilla Mats. Still, if you are looking for a mat to perform a variety of plyometric exercises, this is a solid pick.
| | |
| --- | --- |
| Price | $139 |
| Dimensions | 6' L x 4' W |
| Mat thickness | 6 mm (0.25") |
| Weight | 14 lbs |
| Material | ProFoam |
| Warranty | Lifetime |
Best Treadmill Mats: Supermats Solid PVC Mats
Good for: Those needing a durable exercise mat to place cardio equipment on
At a length of 90 inches and a width of 3 feet, the Supermats Solid PVC Mat is a great choice as an exercise equipment mat. Ideal for treadmills, stationary bikes, and ellipticals, the dimensions of this mat will be able to hold most any piece of fitness equipment. The vinyl mat has a non-slip surface, ideal for protecting your home's floors, as well as prolonging your fitness machine's life.
With its non-slip surface and weighing about 23 pounds, it will stay in place, especially once a heavy machine is placed on it. The mat also dampens vibrations, which will reduce noise and prevent excessive wear on your machine.
At just over $50 dollars, this mat can be a solid budget-friendly option for a mat. However, the mat is very thin—only 0.13 inches thick. Some reviews also claimed that the thin mat did not adequately protect carpeting; additionally, there is a chemical smell at first. These reviews are definitely worth considering, but if you are looking for a good mat to lay underneath your treadmill or cardio equipment, this is a good choice for great value.
| | |
| --- | --- |
| Price | $51.84 |
| Dimensions | 90" L x 36" W |
| Mat thickness | 0.13" |
| Weight | 23 lbs |
| Material | Vinyl |
| Warranty | Not disclosed |
Other Soundproof Exercise Mats We Researched
When making lists with our top picks, not everything we look at makes it on the list. Here are a couple other mats we've looked at and liked, but didn't break into our list:
ProSourceFit Puzzle Exercise Mat: These interlocking puzzle mats are made with a high-density EVA foam, have a non-skid texture, come in different colors, and are pretty inexpensive. Still, the puzzle edges pull apart easily, making them not ideal for fast, powerful exercises.
Second Skin Stomp Mat: Made of black recycled rubber, these 4-feet-by-6-feet mats come in two thicknesses: 0.25 inches or 0.5 inches. While providing good noise reduction, these mats are also expensive, at nearly $200 for the half-inch mat.
How We Picked and Tested
In deciding the best soundproof exercise mats, we researched common and top brands, looking at materials used, durability of these mats, and the dimensions. Our team of personal trainers and competitive athletes has used most, if not all, of these mats at some point in our career, so we were able to draw from that experience to decide the worth and value of these mats. After our research and experience, we were able to provide you with the list you see now.
Benefits of Soundproof Exercise Mats
There are two main benefits with soundproof exercise mats, and they go hand in hand: noise reduction and flooring or equipment protection.
Soundproof mats and silencer pads are made to absorb shock, impact, and vibrations, which will lessen the amount of noise a machine or exercise makes. Additionally, this shock absorption will also absorb the impact made to your floor, whether it be a concrete floor or hardwood.
Over time, this will protect your floor as well as the equipment you're using. Protecting equipment will improve its longevity, saving you money and heartbreak when your favorite equipment breaks down before it should.
What to Look for in Soundproof Exercise Mats
There are several things to consider when looking into the right soundproof mat for you. The first thing is to know what workouts or exercises you're going to use an exercise mat for. Then, you can go from there.
Dimensions
First, you'll need to know the dimensions of the mat you're looking at, and how much floor you are looking to cover. If you are looking to completely cover your home gym, then a larger or cheaper option might be better; if not, maybe some smaller interlocking mats will suffice. If you're wanting a mat for a treadmill, you'll also need to make sure the mat will fit the treadmill on top.
RELATED: The Best Budget Home Gym Equipment
Thickness
Thickness is also important here. If you are wanting to do some high-impact weightlifting on this flooring, a thicker mat will be needed to properly absorb the impact and reduce noise. If you are using your mat for mostly bodyweight exercises or plyometrics, then a thinner mat should be sufficient.
Materials
What kind of materials should your exercise mats be made of? It depends on the use. Rubber is most common for gym flooring, as well as heavy lifting. However, plyometric mats will use an EVA foam or similar material for noise reduction as well as helping reduce joint impact.
If you are considering silencer pads, they should have a heavy-duty outer cover to protect the inner, which should be a dense, noise-reducing foam.
Best Soundproof Exercise Mats FAQs
Do exercise mats reduce noise?
Some exercise mats certainly can. Exercise mats may not completely silence a bar dropping, but they can absorb some of the impact of you or a barbell, which will absorb some vibrations and reduce noise along with it.
What type of mat is best for soundproofing?
What are the benefits of exercise mats?
Exercise mats are great for reducing noise in certain movements. Upon impact, the mat is made to absorb some of the shock, which will help reduce the amount of noise made. Additionally, reducing the impact will help protect your flooring underneath the mat, as well as protect the gym equipment you're using.