We test and review fitness products based on an independent, multi-point methodology. If you use our links to purchase something, we may earn a commission. Read our disclosures.
Garage Gym Reviews readers can save big on artificial intelligence workout equipment!
It's still unclear whether we'll one day have robot personal trainers, but there's no denying that smart home gym equipment is the future of the fitness industry. And Hygear is at the forefront of incorporating artificial intelligence into common workout equipment like jump ropes, resistance bands, and suspension trainers.
And with the best Hygear coupon code on the internet (spoiler alert: it's ours), you can experience the future of fitness without having to find a time machine. We'll show you our other favorite ways to save money on their AI workout gear, tell you everything we love about the company, and why we trust a virtual workout program to deliver physical gains.
How to Save Money on Hygear Products
Here are our favorite ways to save money on Hygear products.
GGR discount code: Garage Gym Reviews has secured an exclusive promo code that saves you 15 percent off your entire order.
Financing: Qualified customers can break their purchases into monthly installments. 
Partnership Programs: First responders, nonprofits, and other organizations can work with Hygear to secure partnership deals on certain products.
How to Apply the Hygear Coupon Code
Step One: To apply the Garage Gym Reviews coupon code, simply add the products you want to your cart and enter "GGR" at checkout. You'll have 15 percent taken off Hygear on your pre-tax total.
Step Two: At the checkout page, select "Affirm" to split the cost into monthly payments. You'll have to undergo a credit check to see if you qualify.
Step Three: Visit Hygear's Partner page and fill out the contact form with your organization's name and contact information, and a customer service representative will respond within a few business days.
When Do Hygear Products Go on Sale?
Like most other fitness companies, Hygear often runs promotions and offers the best coupons during major holidays. We track what most major companies offer on those days, and you can find all our handy guides here:
What We Love About Hygear
Futuristic Fitness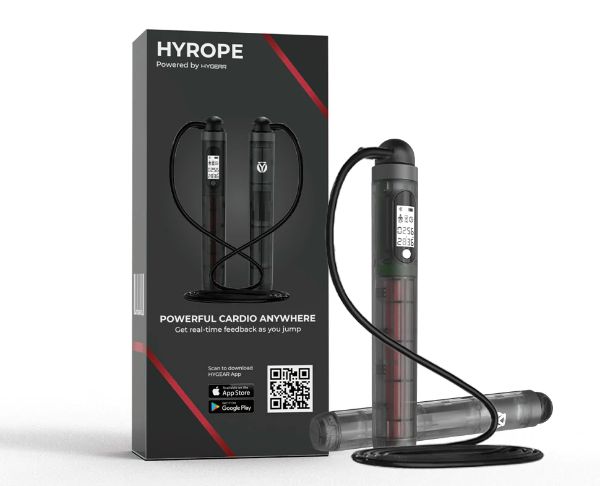 Hygear Hyrope Smart Jump Rope
The Hyrope Smart Jump Rope is another product in the world of virtual interactive training designed to provide more effective cardio workouts. Using AI technology, the Hyrope offers personalized workouts based on workout performance as well as personal fitness goals. AI adjusts workouts mid session using real-time fitness metric feedback. The Hyrope comes equipped with two handles, three AAA batteries, three meters of PVC covering on a steel rope, two anti-slip rope locks, and two rope ties. A one-month membership to the Hygear app, an online fitness platform, is included in your purchase. This provides access to an extensive interactive workout library of sessions for cardio health, weight loss, and full-body fitness. Additionally, users are able to monitor real-time fitness stats. Hygear's technology measures several key fitness performance metrics including calories burned, jump count, pace kept, total exercise time, average time per exercise, number of sets completed, and more. Hyrope is extremely portable, which means you only need the rope, your phone, and some sneakers to get in a solid training session anywhere, anytime. This smart rope has received overwhelmingly positive reviews from users who report it is an effective, fun, and versatile way to workout. It does, however, require a paid subscription after the 30-day trial to access workouts, which may impact those looking to stay within a certain budget. It is only $4.99 per month, so it's affordable, but worth noting. 
Although it can be a little gimmicky at times, AI training can have real-world benefits for those looking to build muscle and gain strength. In Hygear's case, the equipment syncs up to an app that learns your fitness levels and adjusts workouts based on how you progress.
So if it notices that a certain movement, let's say double-unders, are becoming too easy for you, it'll instruct you to either do more or perform them at a faster pace.
The app requires a $4.99 monthly subscription to activate and use all the features, though you get your first month free with most purchases.
You can also track your workout statistics over time, and get real-time feedback from the AI system as you train. New workout classes and programs are added to the app every month.
Why Buy From Hygear?
These are our top reasons for recommending Hygear products to home gym owners.
Free month of all-access membership to Hygear app
AI training program adjusts workouts based on your progress and fitness levels
Budget-friendly prices on most products
Financing options available
Hygear coupon code GGR saves you 15 percent off your entire purchase
Hygear Coupon Code FAQs
Is the Hygear Gear 1 worth it?
We haven't personally tested the Hygear 1 suspension trainer just yet, but the reviews on hygearfit.com and retailers like Dicks' Sporting Goods and eBay are positive for the most part. It does only offer up to 44 pounds of resistance, which may not be enough for some lifters. 
Is there a Hygear promo code?
Yes, and it just happens to be ours! Use promotional code "GGR" at checkout to save money on products sitewide.
Does Hygear offer free shipping?
Hygear only has free shipping offers for first-time customers.