We test and review fitness products based on an independent, multi-point methodology. If you use our links to purchase something, we may earn a commission. Read our disclosures.
The Bowflex TreadClimber TC5000 was among the first TreadClimbers but was discontinued in 2011 to be replaced by more modern TreadClimbers with additional features. Now all TreadClimbers have been discontinued by Bowflex as they have transitioned to offering traditional treadmills and a new combination machine, the Max Trainer. The Max Trainer features a 2-in-1 design combining an elliptical and stair stepper.
The TreadClimber was a cardio machine with a unique design, specifically for low-impact walking workouts. Bowflex advertised the TreadClimbers with the phrase "all you have to do is walk to better fitness." TreadClimbers combined the benefits of treadmills, ellipticals, and stair climbers.
Even though the TC5000 has been discontinued you can still find them on the secondhand marketplace. Is it worth it? Find out with our Bowflex TreadClimber TC5000 review.
We Know Cardio
The Garage Gym Reviews team loves testing fitness equipment so you can build the best home gym. We've tested every cardio machine you can think of from treadmills, ellipticals, bikes, climbers, and combo machines. We'll need all that experience in this review since the TreadClimber TC5000 has a unique 3-in-1 design.
We have not personally tested the TreadClimber TC5000 since it has been discontinued, so we'll use our knowledge as certified personal trainers (CPT), weightlifting coaches, athletes, and home gym owners to come to a conclusion based on specs and online customer reviews. By the end of this review you'll know whether to pursue the TC5000 on the secondhand market or get one of our suggested alternatives.
Looking for an Alternative to Bowflex TreadClimber TC5000?
Best Alternative to Bowflex TreadClimber TC5000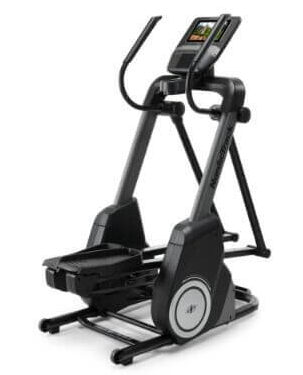 GGR Score: 4
Product Highlights
Low-impact and delivers high-intensity workouts

Combination of a stepper, elliptical, and treadmill.

375-pound weight capacity

32-inch auto-adjustable stride

Up to 10% incline
Pros & Cons
Pros
Low-impact
3-in-1 unit: stepper, elliptical and treadmill
Long auto-adjustable stride
iFIT compatibility
Good warranty
High weight capacity
Auto-incline
56 on-board workouts
Incline options
Cons
20-pound flywheel is not enough for more advanced cardio-lovers
Adjustable stride is a bit tricky to do mid-workout
Small screen
Bottom Line
The NordicTrack FS10i is a solid, versatile trainer with a strong, connected training package via iFIT. Anyone looking for a quality but low-impact workout would benefit from this machine
The TreadClimber TC5000 has been discontinued so we'll present a variety of alternatives. We suggest the NordicTrack FS10i elliptical for the closest comparison. The FS10i also combines the treadmill, elliptical, and stepper. Plus, the FS10i has a 10-inch smart HD touchscreen which can be used to access thousands of guided workouts via iFIT.
We also recommend you check out our favorite incline ellipticals, which will provide a similar stepping and incline-based workout to the TC5000. You can also replace the TreadClimber TC5000 with a traditional treadmill like Bowflex did in their product line. The benefit of using a traditional treadmill is that you have the option to progress to running.
If you're not sure which machine to go with, we've compared treadmills versus ellipticals to help you decide.
A Quick Look at the Bowflex TreadClimber TC5000
TreadClimbers were designed to help you "walk your way to improved fitness," that's why the TC5000 has a top speed of just 4.0 MPH. The TreadClimbers signature was the unique design featuring two individual treadmill belts, one for each foot, which Bowflex called "treadles."
The TC5000 had a simple LCD display that included a climb indicator, along with more traditional metrics. The machine also had different intensity levels and wireless heart rate monitoring. Since you can still find some TC5000s on the secondhand market, let's see if this machine is worth the search.
Pros:
Compact design
Included chest strap wireless heart rate monitor
Simple display
Customers like that the workout is easy on joints
3-in-1 design for versatility
Cons:
Expensive
Reviews share that product is not reliable
Poor warranty
Exclusively for walking
Complicated assembly
Bowflex TreadClimber TC5000 Specs
Due to the fact that the Bowflex TreadClimber TC5000 is off the market, our team had trouble finding reputable sources for some of these specs.
| | |
| --- | --- |
| Dimensions | 46" L x 30" W x 55.25" H |
| Weight | 185 lbs |
| User Weight capacity | 300 lbs |
| Speed range | 0.7-4.0 MPH |
| Intensity Levels | 0-12 |
| Belt dimensions | 2 individual treadles 46.5 L x 8.5 W |
| Heart Rate Monitor | Wireless chest strap heart monitor included |
| Motor | N/A |
| Display | LCD display |
| Workout Programs | Manual includes beginner workout plan; nothing included in console |
| Warranty | 5-year motor, 3-year parts and electronics, 2-year hydraulics, No labor warranty |
Key Features of the Bowflex TreadClimber TC5000
When released, the TC5000 was an upgrade option to the TC3000. However, they were extremely similar machines. They both featured 12 intensity levels, a max speed of 4.0 MPH, and the same footprint. The TC5000 improvements included a longer warranty, climb indicator, and heart rate monitoring.
Footprint, Portability, and Durability
The Bowflex TC5000 has a smaller footprint than most treadmills and ellipticals at 46 inches long by 30 inches wide, making it easier to fit into your home gym. Unfortunately, it does not fold for storage while not in use. It features front-mounted transport wheels, although it is heavy at 185 pounds, so we wouldn't recommend moving it much.
The TC5000 doesn't have a very long warranty, and there is no labor warranty. So if something breaks, you can get parts but not help. The short warranty makes us question its durability. Additionally, many customer reviews complained that the machine was constantly having problems and breaking down, requiring them to reach out to Bowflex. This machine did not prove to be very durable.
Technology Benefits and Conveniences
There isn't much technology included in the TC5000, especially when compared to modern machines with built-in interactive screens. The TC5000 is a much older machine, discontinued in 2011, so it isn't really a fair fight.
The TC5000 did have wireless heart rate monitoring (Bowflex included the chest strap with your purchase). Bowflex also updated the console from the TC3000 to include a climb indicator. This would display the total height of your workout in feet. The console also included more traditional workout stats like time, calories, heart rate, speed, and total steps. There are two water bottle holders, as well.
Customer Reviews
The general consensus from reading reviews on the Bowflex website and Amazon is that the TC5000 provides a good, low-impact workout but the machine itself is frustrating. The TC5000 required a lot of repairs and upkeep for many customers who complain of frequently having to call Bowflex and get new parts or repair instructions.
When the TC5000 worked, customers enjoyed the unique workout. Many people used the TC5000 to start exercising again. They also shared that they could walk on this exercise machine without increasing their joint pain.
Final Verdict of Our Bowflex TreadClimber TC5000 Review
The Bowflex TC5000 was one of the earlier TreadClimbers. Like all TreadClimbers, the main draw was the unique design featuring two individual treadles. While you can find TC5000s on the secondhand market, we'd recommend avoiding it. People had a lot of issues with the durability of the product even before it was discontinued. Cardio machines have come a long way in the past decade, so you can find something better for cheaper.
Bowflex TreadClimber TC5000 Rating
Bowflex TreadClimber TC5000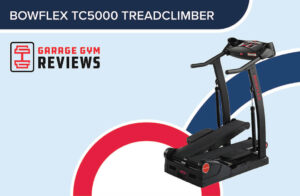 Curious about this unique piece of equipment from Bowflex? Find out more about it with this Bowflex TreadClimber TC5000 review.
Product Currency: $
Product Price: 1999
Product In-Stock: InStock
Bowflex TreadClimber TC5000 FAQs
Why did Bowflex discontinue the TreadClimber?
Bowflex discontinued the TC5000 in November of 2011 as the company made room for new TreadClimbers. They have now discontinued the entire TreadClimber line in favor of their new product, the Max Trainer.
Can you run on a Bowflex TreadClimber TC5000?
No, the TreadClimber has a top speed of 4.0 MPH and was designed specifically for walking workouts. If you want to run, check out the best treadmills for running.
Does a Bowflex TreadClimber really work?
That depends on what you mean by "work." According to reviews, many people started exercising and achieved fitness goals using a TreadClimber. However, the TreadClimbers did not work as Bowflex initially advertised.
Bowflex claimed that you could just walk your way to weight loss with the TreadClimber. The National Advertising Division (NAD) found these claims to be lacking evidence and misleading. Bowflex subsequently stopped their "all you have to do is walk" advertising.
Does Bowflex still sell the TreadClimber?
No, Bowflex has discontinued the entire TreadClimber line. They now sell traditional treadmills and a new combination machine, the Max Trainer, instead.