We test and review fitness products based on an independent, multi-point methodology. If you use our links to purchase something, we may earn a commission. Read our disclosures.
If you have achy knees, it's probably pretty easy to talk yourself out of exercising—especially if you're not sure what equipment to use or what movements to do to prevent pain. In this guide, I'll walk you through selecting the best exercise equipment for bad knees. Also, our expert panelist Dr. Mike Masi, doctor of physical therapy, provides some additional insight on training with knee pain, injuries, or conditions.
Why You Should Trust Us
Our team of product testers and fitness professionals have tested all of the items you'll find in this guide. We've scoured the specs of various treadmills, ellipticals, exercise bikes, and more to discover the best exercise equipment for bad knees. We've also tapped into our panel of experts to better understand what, exactly, makes a piece of equipment safe and beneficial for exercisers with bad knees.
Best Exercise Equipment for Bad Knees
Video Review: Best Exercise Equipment for Bad Knees
Best Elliptical for Bad Knees: Horizon EX-59 Elliptical
Horizon EX-59 Elliptical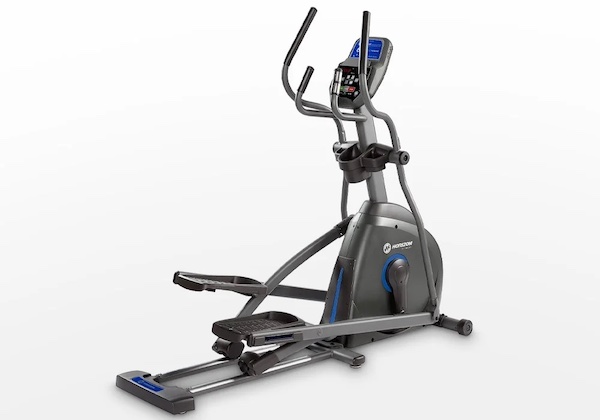 Good for: affordable and effective elliptical training.
Pros:
Lifetime warranty on the frame
Super sturdy; no shaking even on carpet
10 levels of resistance
18″ stride length
Cons:
Assembly requires two people
Large footprint
Basic display
Elliptical training is a go-to for people with bad knees. Healthcare providers often recommend elliptical training for individuals with knee problems, says Dr. Mike Masi, a doctor of physical therapy on our Garage Gym Reviews expert panel. "An elliptical machine allows you to break a sweat and get your heart rate up without suffering through impact on the ankles, knees, and hips," she says.
We love this Horizon Fitness elliptical in general, but find it especially helpful for people who struggle with achy knee joints due to its long stride length and superb stability. The Horizon EX-59 Elliptical moves smooth beyond measure—there will be no shaking, grinding, or bumping during your cardio sesh.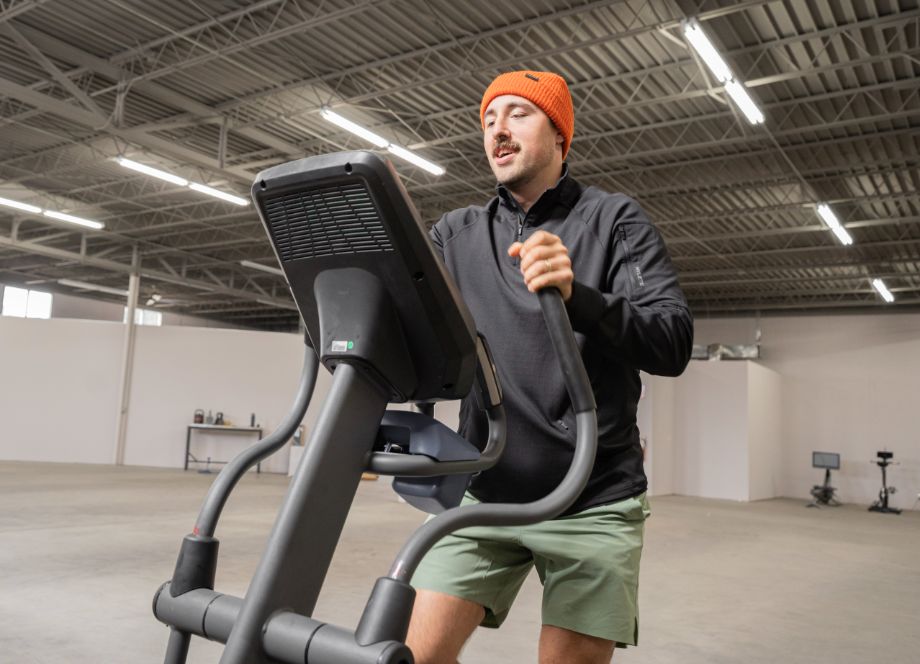 Plus, the EX-59 Elliptical boasts a 18-inch maximum stride length, which is on par for the industry standard. Of course, stride length differs from person to person, but more length means this elliptical can comfortably accommodate more exercisers.
A step above other best ellipticals on the market, the EX-59 also has 10 incline levels, which means you can granularly adjust your workout to get the best sweat, even on a day when your knees feel particularly achy.
Read our full Horizon EX-59 Elliptical review.
Best Exercise Bike for Bad Knees: NordicTrack Commercial S22i Studio Cycle
NordicTrack Commercial S2i Studio Cycle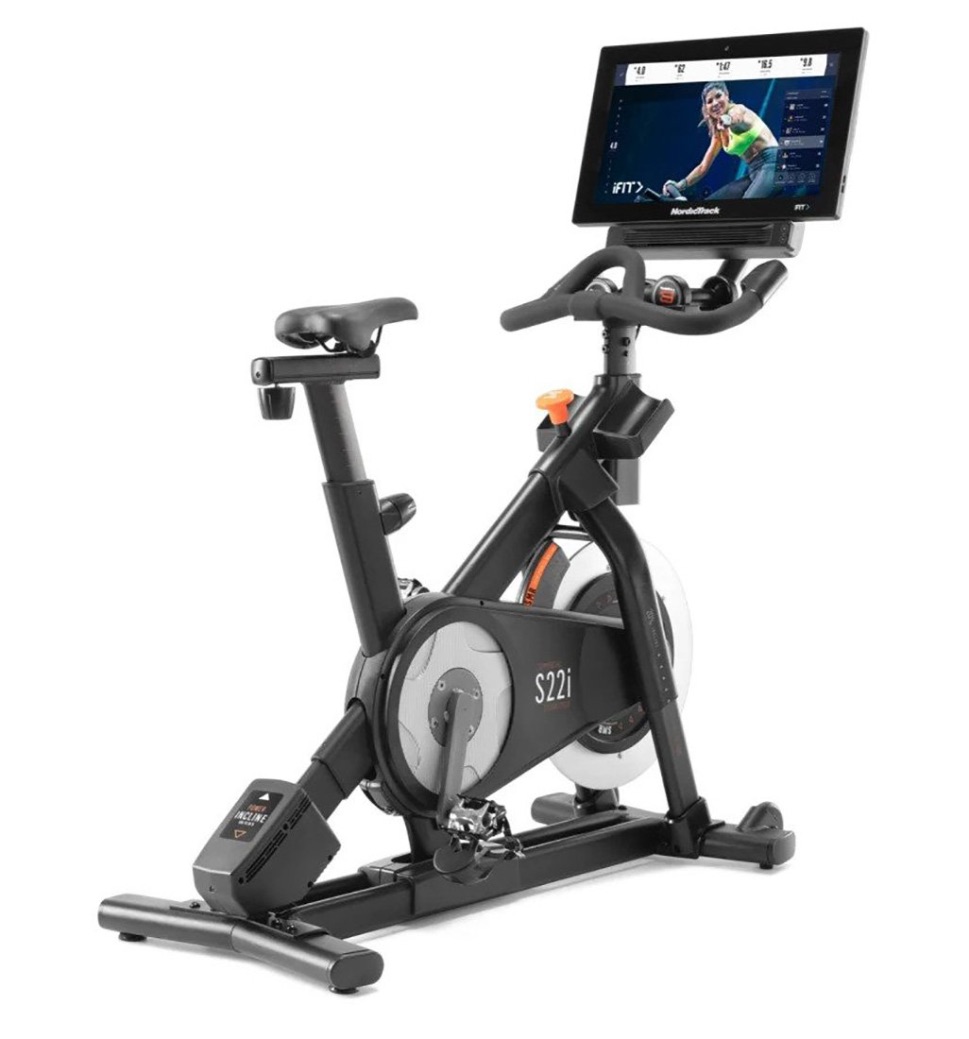 NordicTrack S22i Studio Bike
Join high energy studio classes, mountain bike rides in Moab, or ride a Tour de France stage all from the comfort of your home. Access on-demand classes with the world's best personal trainers for beginners or the hard-core cyclist. Interactive Personal Training comes to life as your personal trainer controls the incline, decline and resistance of your ride, a truly Interactive Experience.
Good for: interactive programming and variety.
Pros:
22" rotating touchscreen
Has incline and decline training
Ample seat and pedal adjustments
Works with iFIT for immersive workouts
Cons:
Difficult to move (weighs over 200 pounds)
Requires a paid subscription to access workouts after the first year
Assembly is time-consuming
Cycling is probably second to elliptical training if we're talking about the best exercise for bad knees. Biking is a great form of low-impact exercise, but it can still take a toll on your knees if you don't size or adjust your bike properly, says Dr. Masi, because it could put you in an awkward position that stresses the joints.
That's one big reason I recommend the NordicTrack S22i exercise bike for people with bad knees: The seat is supremely adjustable and allows riders to find the perfect seat height for their frame. The S22i accommodates riders from 4'10" to 6'10" tall.
RELATED: Best Treadmill for Bad Knees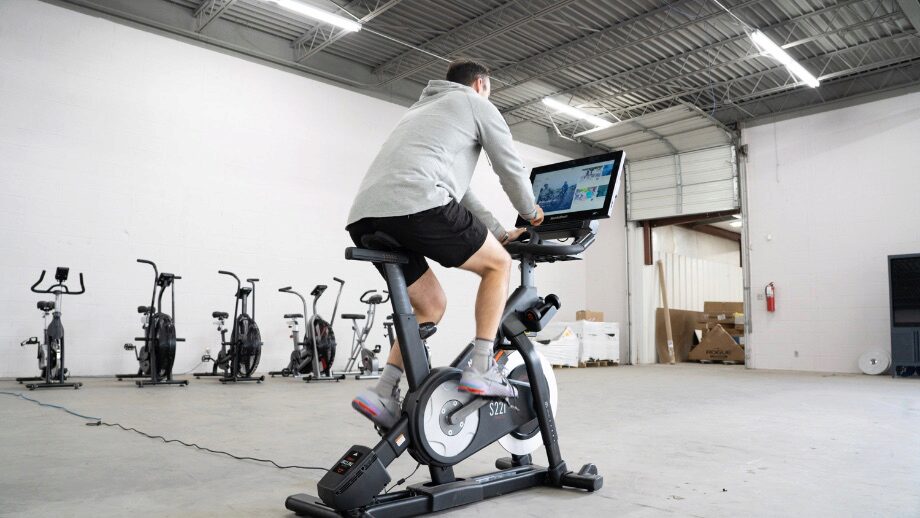 I also love the S22i for its rotating touchscreen and the fact that it has caged pedals that allow riders to wear their normal tennis shoes. This means you can quickly pivot from streaming a bike session to a lower-body strength or mobility routine to improve your knee health.
When you buy the S22i, you'll get a free one-year membership to iFit, which our whole team loves for interactive and effective workouts. After a year, the membership costs $39 per month for a family membership or $180 per year for an individual membership.
Read our full NordicTrack S22i review.
Best Treadmill for Bad Knees: NordicTrack Commercial 1750 Treadmill
NordicTrack Commercial 1750 Treadmill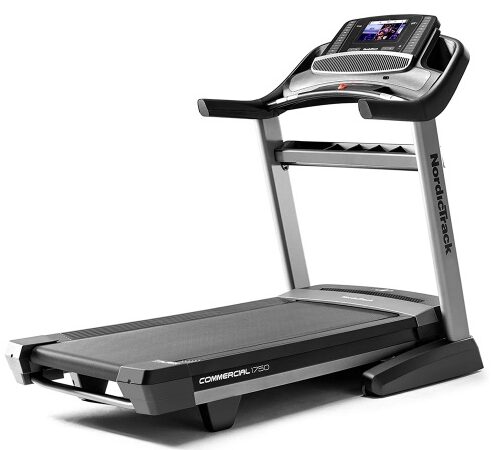 NordicTrack Commercial 1750
The NordicTrack 1750 treadmill features a 14-inch HD adjustable touchscreen with which you can stream iFIT programming on (sold separately). The under $2,000 machine can be financed through the NordicTrack website where you can get deals as low as $49 per month with 0% for 39 months.Models from 2013-2021 of the 1750 had adjustable cushioning, but the 2023 model no longer has this feature.iFIT workouts incorporate Automatic Trainer Control, which allows your trainer to digitally adjust your incline, decline, and speed. This is a nice feature to have because all you have to do is focus on the workout at hand versus frantically switching the controls.
Good for: trainees with knee pain who don't want to give up walking.
Pros:
Comfortable deck cushioning
Incline and decline training
No jostling or shaking when walking or running
Cons:
Big footprint, but is foldable to save space
Requires two people to assemble
Requires an electrical outlet
Yes, I am recommending a treadmill in this guide to the best exercise equipment for bad knees. (Gasp!). In fact, weight-bearing exercise such as walking is a great way to strengthen bones and improve joint function. You can totally walk as tolerated with bad knees, despite what the internet may tell you—assuming you're cleared to do so by your doctor, of course.
The NordicTrack Commercial 1750 Treadmill regularly tops our various guides to the best cardio equipment (check out our guide to the best treadmills). It's got a lot of good going for it, but I want to talk about why it's specifically great for exercisers with bad knees.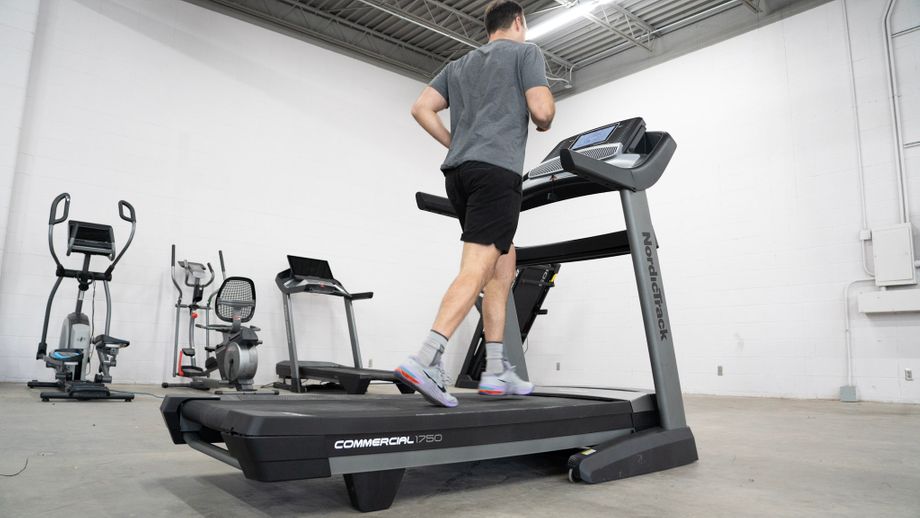 This treadmill has a large running belt (22 inches wide by 60 inches long) to accommodate runners and walkers with various stride lengths. On previous editions prior to 2023, the 1750 had adjustable cushioning options. It is unfortunate they did away with this feature for the most recent rendition.
Finally, the NordicTrack Commercial 1750 is a great choice for people with bad knees because it's sturdy beyond belief. You'll experience zero shaking or jostling from this absolute behemoth of a treadmill, a solid gold factor for people worried about impact.
Read our full NordicTrack Commercial 1750 review treadmill
Best Rowing Machine for Bad Knees: Ergatta Rower
Ergatta Rower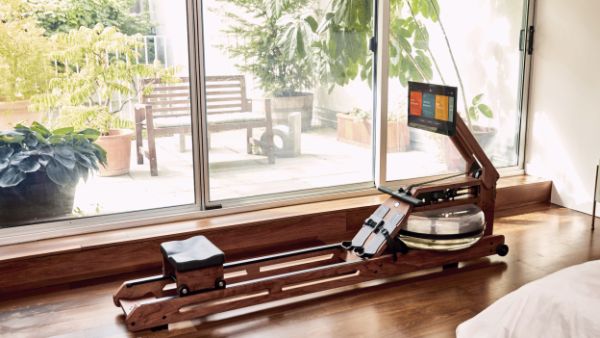 Ergatta Rower
For those who like the latest and greatest in technology-based fitness equipment, the Ergatta Rower will likely be a big hit. This rowing machine is designed with data and unique programming at the forefront. Plus, it is crafted using cherry wood to give it a streamlined appearance (for those of us who might have to store our rowing machine in our living room).Even better? The Ergatta is accommodating for a variety of heights and weights. This makes it an ideal choice for a wider range of people. Plus, if you're familiar with WaterRower, you'll find the Ergatta to be quite similar. This is because the Ergatta is actually simply a WaterRower with an attached touchscreen to view programming. It has the technology today's cardio machines demand with the quality you may be already familiar with due to the WaterRower components.
Good for: people who want a stylish piece of cardio equipment that's easy on the knees
Pros:
Super smooth rowing experience
Aesthetic design fits with home decor
Gamified programming for fun workouts
Cons:
Resistance isn't adjustable
Water has to be changed periodically
Requires a monthly subscription for programming
Another form of low-impact exercise, rowing can be a golden ticket for exercisers with bad knees—with a caveat.
"Individuals with knee pain, arthritis, or an injury must take care to row with proper form," says. Dr. Masi. "If performed correctly, rowing is a phenomenal way to increase cardiovascular fitness and muscular endurance without adding the stress of gravitational impact to the knee joints."
The Ergatta Rower is a great choice for people with bad knees because it's a water-powered rower, so the resistance is smooth and consistent. The Ergatta also has a 40-inch inseam, which surpasses that of most rowers on the market. It can accommodate people up to 6-foot-8.
RELATED: Best Rowing Machine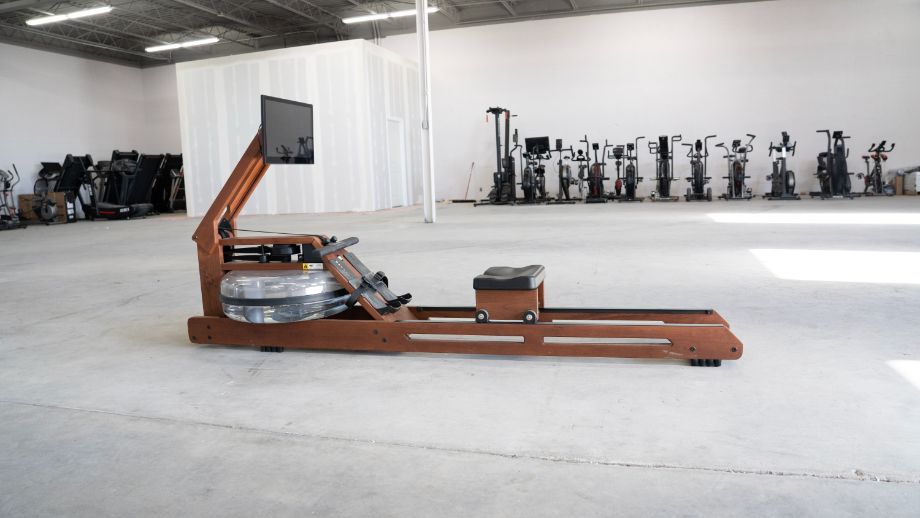 This rower's angled foot platforms and durable forefoot straps secure the individual's feet in an optimal position that should prevent undue stress on the joints.
The Ergatta Rower offers four workout modes: open rowing, skill-based rowing, arcade-style workouts, and race workouts. It doesn't have adjustable resistance like rowers with magnetic flywheels or fans, which could be a drawback for some, but our product testers don't feel that it minimizes the workout experience.
Read our full Ergatta Rower review.
Best Strength Training Equipment for Bad Knees
Cardio exercise has its place, for sure, but if you hadn't noticed, our team at Garage Gym Reviews consists of many strength training enthusiasts. Science supports strength training as an effective method to reduce pain and immobility in the knees (and all other joints, while we're at it).
Even those with arthritis can benefit from strength training. However, it's important that people with knee pain pay special attention to their technique during resistance training, Dr. Masi says, and those with severe arthritis or other conditions may want to work with a movement professional.
All that said, here's a quick look at some resistance training methods for bad knees.
Resistance Bands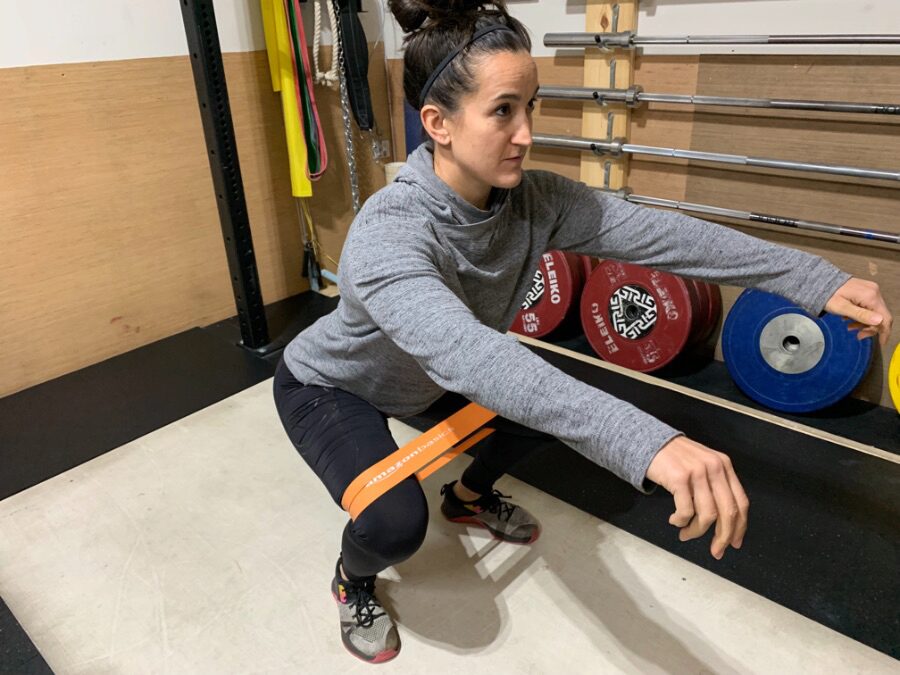 Physical therapists often prescribe resistance bands for clients because they're generally safer than using dumbbells and the like, and they offer a variable amount of resistance without taking up a lot of space or costing a lot of money.

Resistance bands can also safely be used for a number of exercises in standing, sitting, and lying positions; and, they allow exercisers to easily isolate muscle groups, such as the knee extensors and flexors (the leg muscles that move your knee joint).
Free Weights
Barbells, dumbbells, and kettlebells still reign supreme when it comes to functional weight training. Free weights are extremely versatile and can help people with knee pain strengthen the muscles involved in knee movement.
"If a person's knee joints are healthy enough to handle external loads, adding free weights to certain movements can expedite the muscle-building process and, in turn, strengthen and stabilize the knee joint," Dr. Masi says.
Bodyweight Training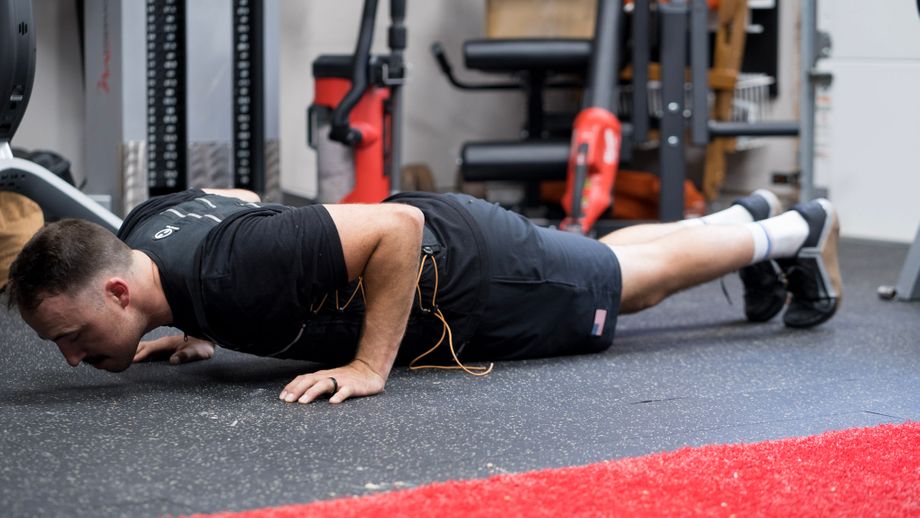 You don't necessarily need equipment to do strength training, particularly if your focus is strengthening the muscles involved in knee movement.
In fact, bodyweight exercise—especially isometric work (such as squat holds) and slow, controlled tempos—often prove best for people whose knees can't handle heavy loads through full range of motion.
"Simple lower-body exercises such as glute bridges, air squats, and straight leg raises can go a long way in improving knee health," Dr. Masi says.
How We Picked the Best Exercise Equipment for Bad Knees
Our team of product testers and reviewers has been hands-on with each piece of equipment recommended in this guide. We've spent hours testing cardio equipment for various purposes, and we narrowed down our experience with ellipticals, treadmills, rowers, and exercise bikes to find those that are best for exercising with bad knees.
Specifically with the consideration of knee health, we paid extra attention to specs that make a difference in impact and stride. For example, our choice for the best treadmill for bad knees has adjustable cushioning that reduces impact. And our top elliptical pick has a stride length that's longer than the industry standard.
We also made a point to test these pieces of equipment for stability during use. We wouldn't recommend a treadmill that shakes and trembles to anyone, but especially not to someone who has a knee problem.
RELATED: Treadmill Benefits
What to Look for in Exercise Equipment for Bad Knees
If you experience aches and pains in your knees, make sure to account for these special considerations when selecting exercise equipment for your home gym.
Smooth Operation
Anything that catches or grinds won't be ideal for someone with bad knees. Flywheels and running belts should move smoothly. This factor is hard to determine from product specs, so read some customer reviews and look for key phrases that mention flywheels, gears, and belts.
Cushioning
This factor applies mainly to treadmills. A cushioned running deck will prove important for anyone with bad knees who wants to walk or jog. If a company claims their cushioning reduces impact by a certain percentage, click around for more information on that and consider asking customer support for proof of trials or studies.
Adjustability
Regardless of what type of cardio equipment you want to purchase, check for things like stride length, inseam, seat height, and other adjustability specs. The greater the adjustability on a machine, the more likely you are to find a position that is comfortable for your knees.
FAQs About Exercise Equipment for Bad Knees
What kind of exercise equipment is best for bad knees?
Cardio machines, including exercise bikes, ellipticals, rowing machines, and even treadmills are good pieces of exercise equipment for working out with bad knees. Strength training tools, such as resistance bands and free weights, also provide good workouts. 
"It's less about the equipment and more about what the exerciser does with it," says Dr. Mike Masi, doctor of physical therapy. "For example, dumbbells are great for strengthening the muscles around the knee, but null if the exerciser is doing jumping lunges with them. Likewise, treadmills provide cushioned opportunities for walking, but it wouldn't be smart for most people with bad knees to run on one."
RELATED: History of Treadmills
Which is better for bad knees: treadmill or elliptical?
One piece of equipment isn't necessarily better than the other. It more so comes down to personal preference and tolerances—whichever piece of equipment provides you with the best workout with the least amount of pain is the best choice for you. Ellipticals are the better choice for anyone who strictly needs to avoid impact exercise.
What type of exercise can I do with bad knees?
"In general, low-impact exercise is best for people who have knee pain, injuries, or conditions," says Dr. Mike Masi, physical therapist. "Walking, swimming, and light resistance training are great ways to strengthen the muscles, ligaments, and tendons of the knee joint."
It's best to talk to an appropriate healthcare provider about your knee pain to determine what specific type of exercise is safe and beneficial for you.
What exercises should I avoid with bad knees?
Dr. Masi recommends avoiding high-impact activities, such as plyometric exercises, jumping, and running, unless your healthcare provider clears you to perform high-impact movements.
Is walking good for bad knees?
Walking is great low-impact exercise for anyone, and it can be a great way to get moving if you have bad knees. However, you should make sure to clear it with your doctor to make sure walking for exercise is safe for you.