We test and review fitness products based on an independent, multi-point methodology. If you use our links to purchase something, we may earn a commission. Read our disclosures.
The Concept2 BikeErg is just as good as the Concept2 Rower and SkiErg. To put it plainly, nobody is creating conditioning equipment with the attention to detail, quality, or performance of Concept2. The BikeErg is a shining example of what a company can do when they focus on quality over quantity of products.
In this Concept2 BikeErg review, we'll examine exactly what makes this stationary bike so great and why we believe it would be a great fit in many people's home gyms. And just because we like this bike, that doesn't mean there aren't things we'd like to see improved. You'll get a true look at the good, bad, and the ugly.
Why You Should Trust Us
We not only look at a specific product in and of itself when writing a review, but we also compare it to other similar models. That's why you'll see the Concept2 BikeErg put up against some of the best air bikes on the market, such as the Rogue Echo and the Schwinn Airdyne Pro.
We do this because what works in our garage gym may not be the best fit for you, so we like to provide options. And we make sure that our team of expert product testers—filled with certified personal trainers and CrossFit coaches——actually evaluates every product we write about, so you can get the most thorough and unbiased review possible.
No Arms, No Problem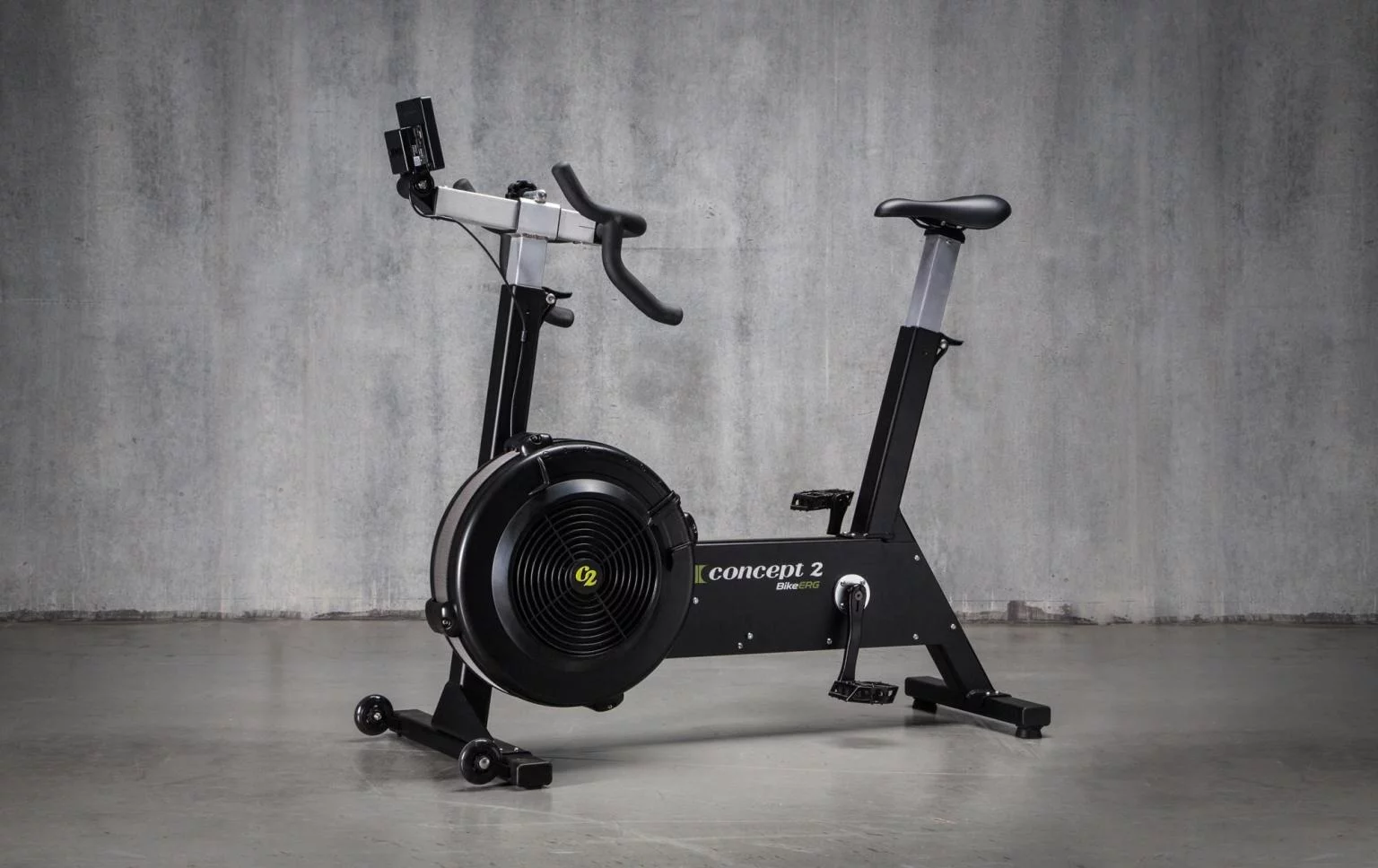 Concept 2 BikeErg
The Concept 2 BikeErg is an air bike popular in CrossFit gyms and among people who really want to feel the burn in their legs.  It uses air resistance generated by a fanned flywheel.  How much effort or power you put into pedaling affects how much resistance there is. The harder you pedal, the more resistance you will feel. For example, riding up a challenging hill.   The lighter you pedal the less resistance creating a smoother, easy ride.   Like the Concept 2 Rower, the BikeErg has damper settings that can be changed to adjust the resistance you would want on the bike.  The PM5 performance monitor allows you to see your pace, watts, rpm and calories in real time.  The PM5 Performance Monitor is Bluetooth-compatible, allowing you to connect to Concept2 ErgData app or hook up a wireless heart rate belt. The monitor is generated by the flywheel as soon as you start pedaling, however it still requires two D-cell batteries.  The Concept2 BikeErg is lightweight and easy to assemble making it easily portable.  The seat and handlebars are adjustable to fit any person. For the bike enthusiast, you have the option to  attach your own bike seat, handlebars, or even pedals.
A Quick Look at the Concept2 BikeErg
The release of the Concept2 BikeErg was a big deal when it came out in 2017. For those unaware, Concept2 is a company that has been dedicated to rowing since their founders, Peter and Dick, nailed a bicycle to the floor and attached a handle to the free end of the chain.
They've gone on to create many different iterations of their rowing ergs (erg is short for ergometer, which means an apparatus that measures work expended during exercise), and with each improvement have created something that every other company is simply trying to mimic.
In fact, Olympic rowers use Concept2's Model D rowing machine because it's the best at simulating the push and pull of actual water. So, it's safe to say they're really good at rowers.
Concept2 began releasing different products in recent years, such as the Concept2 SkiErg, but they were always focused on creating a few products and making them the best, rather than making hundreds of different ones like their competitors.
So when they released the BikeErg, there was a lot of anticipation and excitement to see if it would deliver. Almost five years later, it's pretty safe to say it did just that.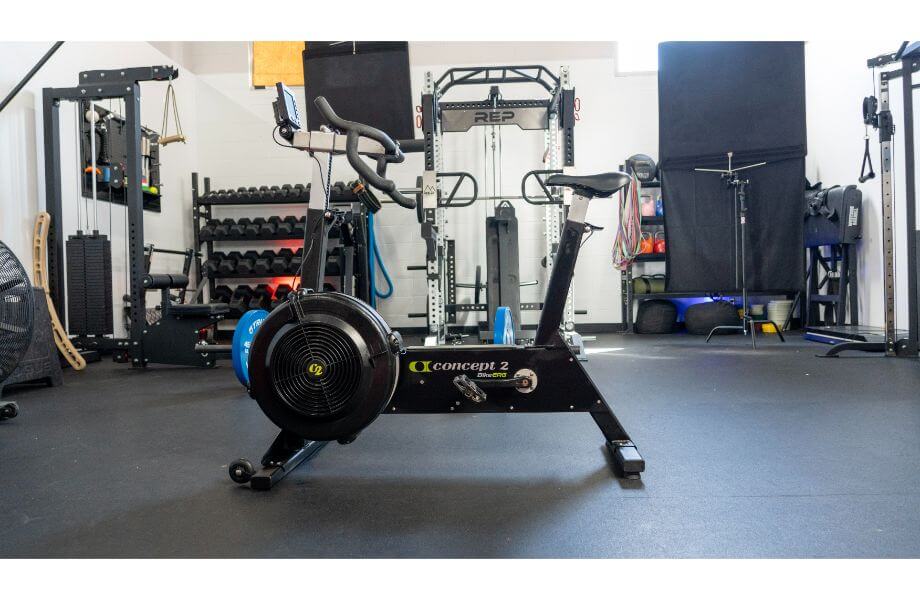 Coop's Tips
This feels more like a road bike than a traditional air bike, which may be an adjustment for some
The seat, handles, and pedals can be switched out for ones of your preference
Pros:
Low-maintenance flywheel and damper system
Bluetooth connectivity for heart rate monitoring and fitness apps
Easily adjustable seat and handlebars
Easy assembly and weighs just 68 pounds
Cons:
Basic LCD screen
No on-demand or interactive workout classes (there are about 10 built-in ones)
No water bottle holder
5-year limited warranty
Video Review
Is the Concept2 BikeErg Worth It?
With so much anticipation, it would be easy for the BikeErg to come up short. But, in defying the odds, the BikeErg exceeds expectations.
Well, let's actually break that down a little bit. Air bikes are widely used in the CrossFit world, but this isn't a piece of equipment made with CrossFitters in mind. It's actually more suited toward cyclists.
One of the reasons for this is because the arms don't move the way they do on air bikes; they're adjustable, but you can't really get the same full-body workout you could on an Echo, AssaultBike, or Airdyne.
This, however, means you're going to get the cardio and lower-body workout of a lifetime.
Great for:
Cyclists looking for an indoor cycling bike
Anyone who wants a high-quality piece of equipment that will last
Trainees who don't care for or need live workout classes
Not recommended for:
Those on a budget
People whose main focus is CrossFit
Those who prefer on-demand or live workout classes
Concept2 BikeErg Specs
| | |
| --- | --- |
| Footprint | 48" L x 24" W x 41" H (with seat at highest point) |
| Weight | 68 lbs |
| Weight capacity | 300 lbs |
| Construction | Welded aluminum frame; steel feet |
| Finish | Black powder coat frame/ gray anodized posts |
| Drive system | Polygroove belts with self-tensioning system |
| Monitor | PM5 |
| Power requirement | 2 D batteries |
Workout Experience With the Concept2 BikeErg
If you look at the front of the bike, there's the all-too-familiar fanned flywheel and damper that has caused many soul-crushing, floor-hugging naps. The damper on the BikeErg truly is special when compared to other fan bikes.
Similar to shifting on a bicycle, the damper can make it feel like you're strolling downhill or trudging up a steep vertical cliff. The damper setting affects how much airflow is allowed into the fan, and though it's similar to what's used on the Rower and SkiErg, each turn of the damper wheel causes a much more dramatic change to the feel of the ride than on Concept2's other ergometers.
Someone who cycles often will likely be used to a large amount of shifting options, but the general consumer likes simplicity. The damper Concept2 has used on the BikeErg is customizable enough to satisfy the enthusiast, yet simple enough to encourage the average user to jump on for a good sweat.
The internals of the BikeErg are yet another thing that places the BikeErg above traditional air bikes. If you've consistently used an air bike, you may have realized their shortcomings in quality control and complexity.
The BikeErg uses polygrooved belts, rather than the traditional chain seen on AssaultBikes and most Schwinn Airdynes (excluding the Schwinn Airdyne Pro), which makes for a quieter ride.
The BikeErg's belts are also self-tensioning, which means you should rarely, if ever, have to open up the chassis (aka there's less maintenance involved, which increases the bike's life expectancy).
Schwinn previously used a chain drive system before moving to belt drive, and I'm glad to see Concept2 insisted on the same.
In addition to the belts, the BikeErg utilizes a clutch that allows the flywheel fan to continue turning despite the pedals stopping. If you've ever done intervals with another person on an air bike, you know how frustrating it is getting on and off due to the pedals having to continue progressing. This is a big advantage of the BikeErg, and I hope Schwinn and Assault take notice.
It's All in the Legs
One of the biggest differences between the Concept2 BikeErg and most other air bikes is that the handles don't move. So even though it utilizes air resistance, it's more like an indoor cycling bike than an air bike.
This means you'll be using a lot more lower body movement than you would on an Echo Bike. Kate Meier, head of content for GGR—plus CrossFit coach and weightlifting coach—personally prefers the traditional air bike experience over the BikeErg.
"Your legs might like the BikeErg more, especially because you have some control over how hard you have to pedal," she says, "but in terms of fitness, I think the Echo or the Assault Classic air bike are better. Way more of a burn, and so much more painful."
Kate did warn that you'll feel your quads burn on this thing, but overall it's a little easier than the competition.
"You have to work a lot harder on the Echo for a calorie than you do on the BikeErg," she says.
But again, that comes down to preference. Kate's very much into CrossFit, whereas some of our writers like the classic cycling experience a little more.
Monitor
The BikeErg utilizes the PM5 Performance Monitor, which is the same thing used on the SkiErg and RowErg. It tracks metrics such as pace, watts, cadence (RPM) and calories. All of this information is stored in its memory, or you can use a removable USB stick to upload to your computer.
Also, if you'd like, the BikeErg connects to most wireless heart rate belts.
Pedals
The middle of the frame has two crank arms with black metal pedals. These can be changed out with any pedals you'd like, including clipless. We would've liked to see some sort of easy pedal replacement system to go from platforms to clipless depending on the workout; the current system prevents you from changing pedals very often. But, this isn't too big of a deal for most people.
Seat and Handlebars
Air bikes offer adjustable seats, but they're usually not intuitive or quick to change. The BikeErg makes it so adjustments are a breeze. Adjusting the height of the seat is as simple as pulling up or flipping a lever and sliding it down.
The handlebars do the same and can go up, down, forwards and backward. This allows for three points of adjustment that are quick and allow for a tailored ride.
The various adjustments are done through anodized aluminum tubes that slide well and stay in place.
Construction and Durability
The build of the BikeErg is as good as we've come to expect from Concept2. Starting at the feet, the frame sits on four pegs that screw into the feet for adjustability based upon the slope of the floor the bike is resting on. This is standard for air bikes, and I'm glad to see they've included them in the BikeErg.
To keep the bike grounded and stable, Concept2 uses steel feet that are bolted to the frame. On the front feet are two roller hockey wheels that are larger than what is used on the rower and provide for easy maneuvering.
Despite the feet being steel, the rest of the frame is actually lightweight, welded aluminum. This combination of steel and aluminum allows the bike to be stable enough for powerful sprints and light enough for easy movement and storage.
The aluminum frame is given the signature black powder-coat look that is hard-wearing and easily resists corrosion.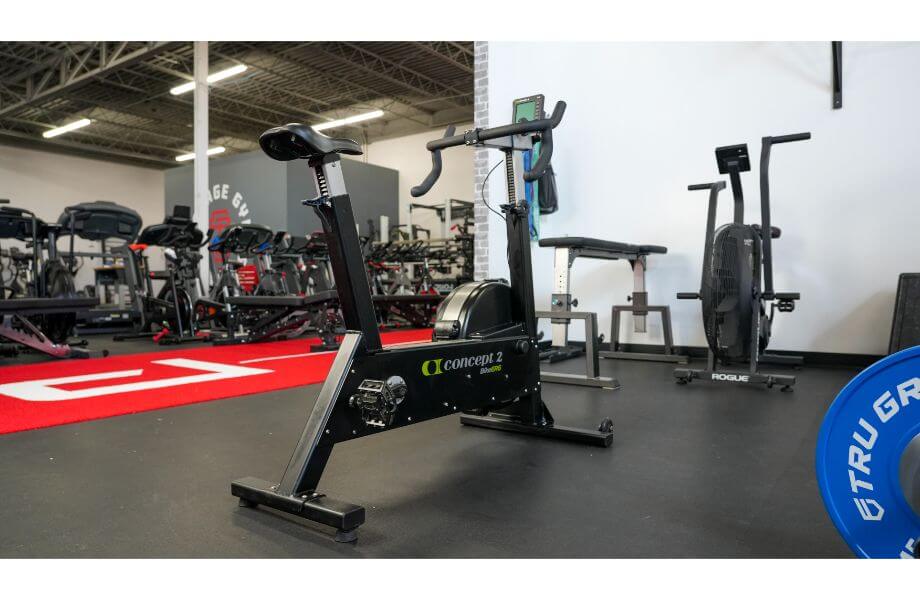 Footprint and Portability
The BikeErg tops the scales at only 68 pounds. The lightweight nature of the machine, in addition to the smooth caster wheels it comes with, help make it easy to move around your home gym.
As far as air bikes are concerned, the BikeErg is pretty compact: It's 48 inches in length and 24 inches wide, and at the seat's highest point it's 41 inches high. It should fit in most people's home gyms, or even apartments, with no problem.
Aesthetics
Despite the BikeErg having a great color scheme, it's not the most aesthetic piece of equipment in the gym. The housing that covers the internals could be a bit sleeker, however this is the least important part of the bike. Looks are very subjective, whereas quality and performance are not.
Customizations
Cyclists who want to customize their rides will love the Concept2 BikeErg. The seat can be replaced, as can the handlebars, and the aforementioned pedals. I haven't changed mine much because I find the handlebars and the seat are comfortable and versatile, while the pedals are simple metal platforms perfect for use in metcons.
Technology Benefits and Conveniences
The Concept2 BikeErg's monitor has Bluetooth connectivity and can be used with the company's free app, ErgData, or third-party apps like Zwift.
Suggested Improvements for the Concept2 BikeErg
Despite the Concept2 BikeErg being a fantastic machine, there are some things we'd like to see improved.
The first thing is the aesthetics. While the looks of a machine are very much secondary to the performance and construction, we can't help but think it could be made to look more appealing to the eye.
The second improvement we'd like to see is a way to adjust the damper on the handlebars. Bikes use gear shifters on the handlebars, so you don't have to bend down. One way it could be added is through the use of electronics, although that would take away from the simplicity and durability of Concept2 machines.
These are minor improvements, which speaks to how great the Concept2 BikeErg is. Concept2 BikeErg vs. AssaultBike Pro
AssaultBike Pro
AssaultBike Pro
If you're on the hunt for a high-intensity, low-impact piece of cardio equipment, the AssaultBike Pro easily provides one of the most taxing, full-body workouts. The AssaultBike Pro is the newest take on the original AssaultBike, which combines the state-of-the-art specs of the original with the top features of the Elite. Designed to automatically increase resistance as speed is increased, the AssaultBike Pro is completely athlete-powered. As such, it's a great training tool for athletes at every fitness level. The Pro comes with a beefier frame that's constructed from heavy-duty steel for maximum support and balance. Additionally, it comes equipped with four adjustable stabilizing feet for extra support. The Pro features a 25.25-inch steel fan, 20 sealed bearings, corrosion-resistant industrial powder coating and a sealed bottom bracket to protect against sweat, dust, and dirt. It's built for maximum comfort with 11 adjustable height settings, six front-to-back settings, a padded seat, supportive 3-millimeter-diameter handlebar grips, and well-placed foot pegs. The AssaultBike Pro is equipped with two high-contrast LCD screen displays to track watts, RPM, calories, heart rate, distance, time, and odometer. Additionally, the screen now comes with Bluetooth connectivity so you can pair it with your favorite smart device to track workouts. Customize your training by using one of the seven onboard programming options or the competition mode setting. Users love to hate the intensity offered in even the shortest program. The Pro is backed by a 7-year frame warranty and 3-year non-wear parts warranty. However, users report poor customer service so cashing in on that warranty may not be so easy. Additionally, the Pro stamps out a hefty footprint measuring 29.8 inches long, 24.1 inches wide, and 51.1 inches high so will need a dedicated space in your gym.
First off, the BikeErg is not a typical air bike, which is immediately evident when you realize there are no handles. However, despite it being different from the typical air bikes we see, that does not mean it's any less effective.
The goal of the original air bike design is to provide both a stimulus to the upper and lower body. One thing that is often overlooked, however, is the fact that the majority of users spend most of their effort pushing the pedals instead of the arms.
The Concept2 BikeErg does receive its resistance from air, but it has an entirely different feeling from the AssaultBikes. I say this because the damper has a wide range of resistance levels, from feeling like an AssaultBike to an exercise bike with lots of resistance.
One of the biggest things that separates Concept2 from the AssaultBikes is that the former uses a belt drive, rather than the chain drive. Belt drives just allow for quieter operation and require less maintenance over time.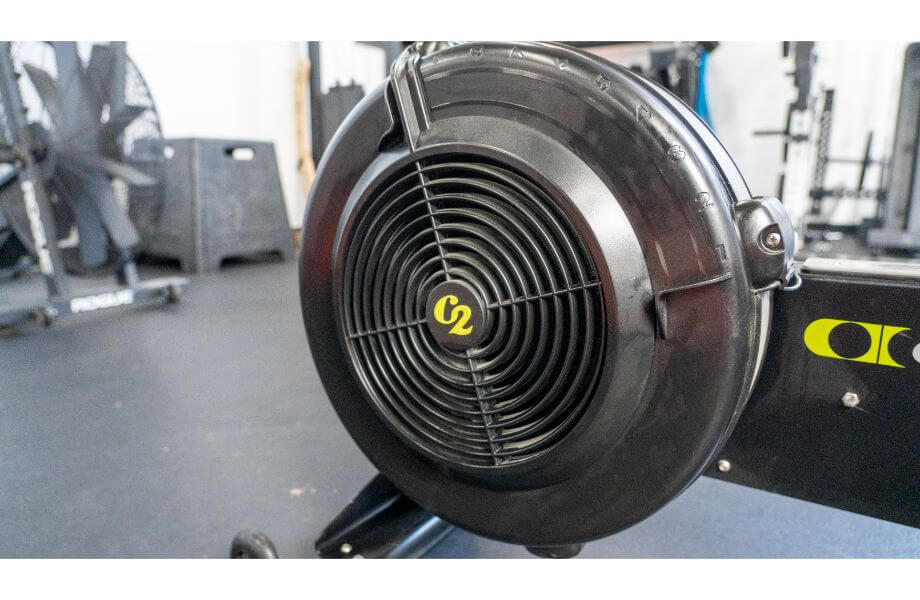 Concept2 BikeErg vs. Schwinn Airdyne Pro
Schwinn Airdyne Pro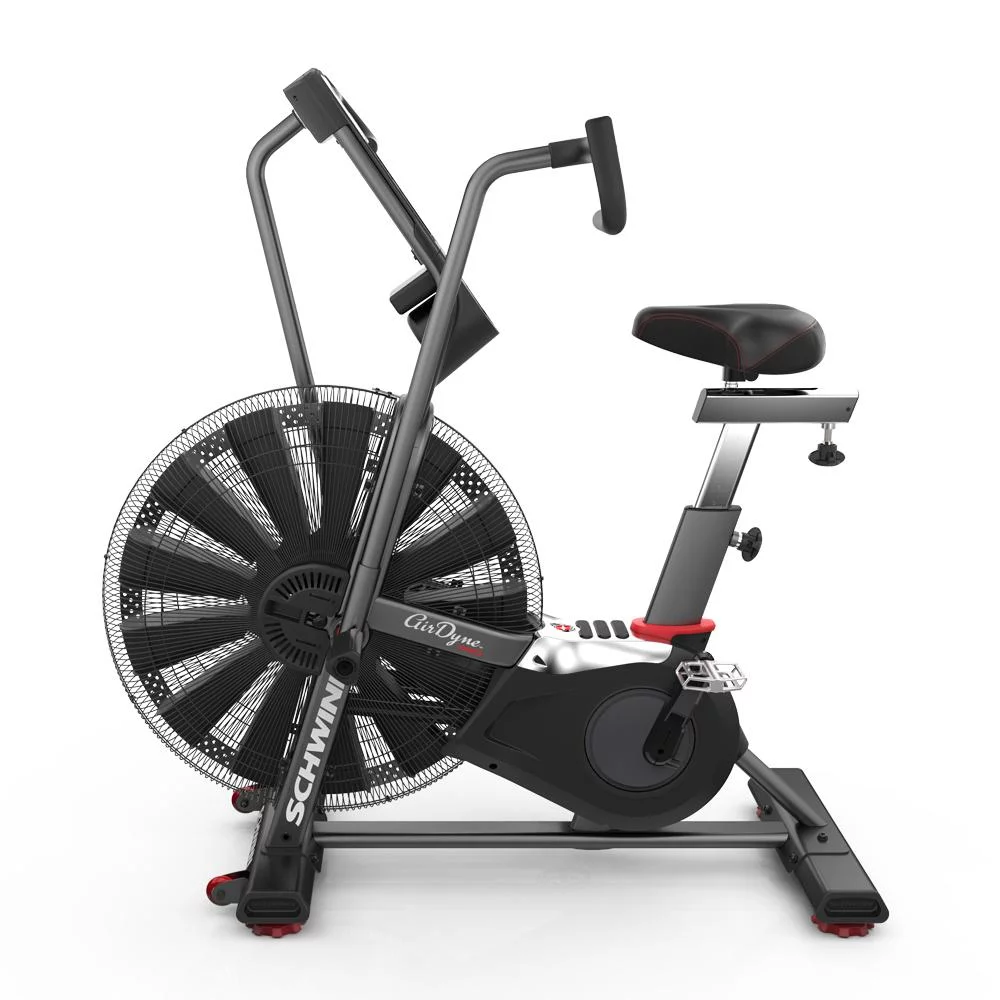 Schwinn AD7 Airdyne Pro Air Bike
SCHWINN AIRDYNE PROSchwinn has been manufacturing quality bikes for over a century, and in the fitness world, they've been a leading innovator in air resistance technology. With the Airdyne AD Pro, Schwinn has developed its most complete all-purpose stationary bike to date–with a perimeter-weighted flywheel design, powerful solid steel cranks, and doubled-coated steel body construction. Multi-position handles allow the rider to use a vertical or horizontal grip, redesigned foot platforms reduce slip and improve push-off, and a larger, padded seat offers optimal comfort. The universal rail and clamp system even lets users swap in their own customized seats if they choose.Not all fitness bikes are built the same. The Schwinn Airdyne AD Pro is uniquely designed to increase resistance to match the force you're exerting, and its drive belt system is not only durable and up to the task, but far quieter than most air bikes on the market. No matter your goals or the pace you want to set, the bike allows you to establish a program that works for you, tracking watts, time, calories burned, distance, and more. SPECIFICATIONS:Single stage belt drive air resistance system Dimensions: 42" L x 20" W x 52" H (106CM x 50CM x 132CM) 26 Blade Performance Fan + Progressive Wind Resistance Moisture-repellent steel construction 9 programmable workout options Multi-Grip Handle Bars LCD display screen with metrics for time, distance, calories, RPM, watts, pulse, and speed Oversized, padded seat for greater comfort Maximum user weight: 350LB (160KG) Warranty Info: Frame (10 years), Parts (2 years), Labor (6 months)
The Concept2 BikeErg is roughly $200 more than the Schwinn Airdyne Pro, and whether it's worth that cost is going to be up to you. If you're simply looking for a challenging cardio workout and want a durable machine, then Concept2 is the winner. The self-tensioning belt and higher-quality build will serve you well.
But if you have a focus in CrossFit, you'll want to pick Schwinn—or our next option. Concept2 BikeErg vs. Rogue Echo Bike
RELATED: How to choose an exercise bike
CrossFit's Official Air Bike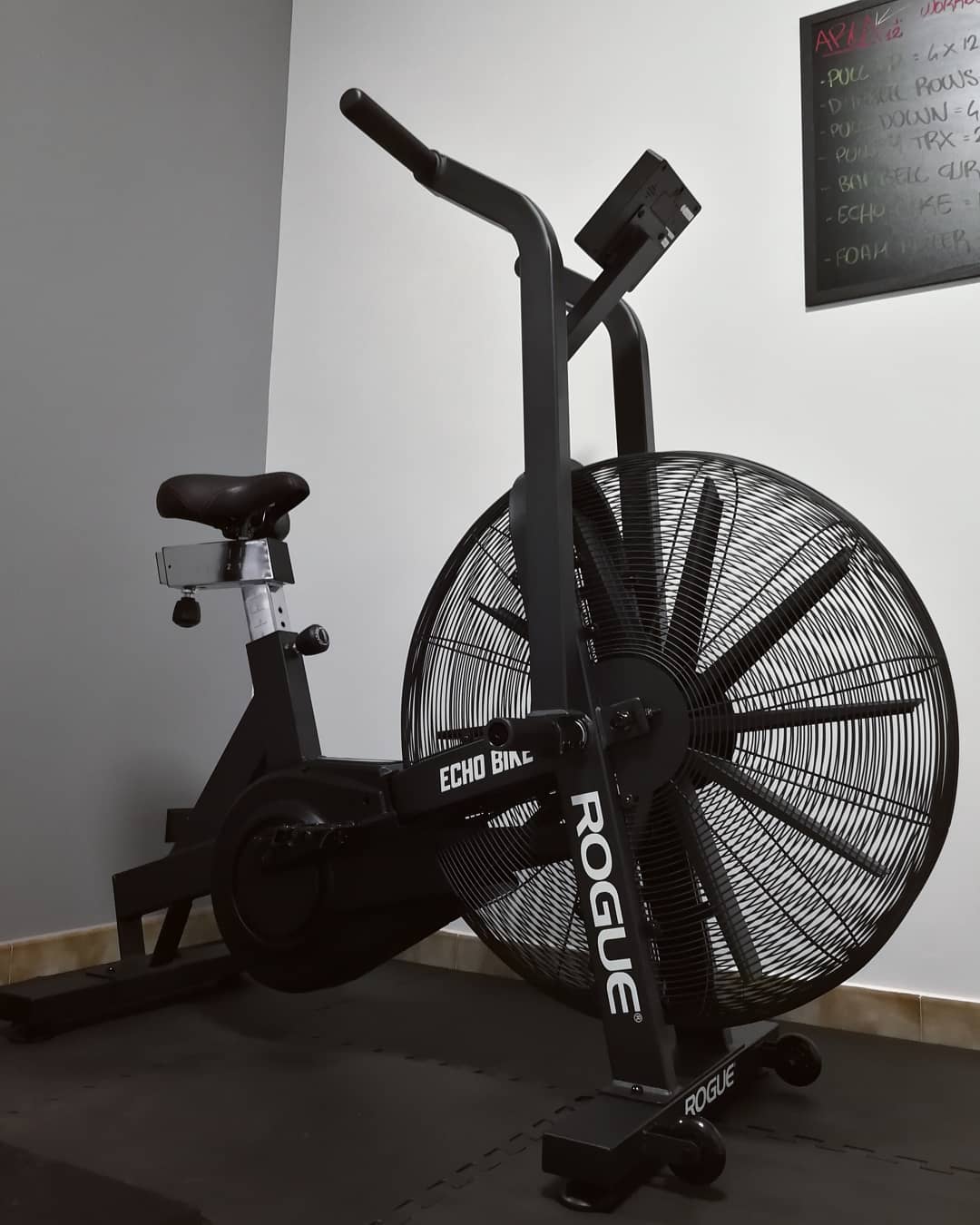 Rogue Echo Bike
The Rogue Echo Bike is durable due to its heavy-duty steel, high quality engineering, and customization that drives it to be stronger than the average fan bike. It is under warranty for up to two years from the date of purchase, assuming that the product is used under normal conditions per the User Guide. Since it is overbuilt, it creates a smoother ride. The Rogue Echo Bike is 127 pounds and has a 350-pound weight limit, which allows it to provide a sturdy foundation for max-outs and outbursts. The Echo Bike is quiet yet consistent due to its belt-driven steel fan blade. It is easily portable and has a battery powered LCD console that lets athletes track everything from distance to calories burned. Due to its weight, the Echo Bike stands sturdy and is not prone to wobbling. Its construct lends itself to balance even when pushed to max output bursts. To add to the stability, there are rubber leveling feet under each base tube that adapt to the ground and create balance even if the floor is not level. The 6.375-inch by 6.37-inch LCD console provides the athlete with a variety of modes. These include different types of intervals, target, and heart rate tracking. The crystal clear console uses two AA batteries, which come with the purchase of the bike. The Echo Bike is finished in a black powdercoat and the steel tubing is 2-by-3 inches, 1.25-by-3 inches, and 1.625-by-3.12 inches. The seat is easily adjustable and padded. It locks into eight different heights and five different front-to-back settings. The grip handles, which are made of rubber and are 1.5 inches in diameter, are a part of the bike's arms. There is a plate that is provided along with 4.5 inches long rating foot pegs and pedals. You do have to assemble the Echo Bike, but the tools you need are included with your order and align with easy to follow instructions. The fully constructed bike may sound overbearing, but Rouge has included a 1-inch wide set of wheels at the front of the unit, which allows it to easily be rolled around the gym. 
Again, if you're a CrossFitter you can't do much better than the official air bike of the CrossFit Games. The Concept2 is built more for a general audience than those who are looking to excel in a specific sport, but you really can't go wrong between either of these bikes.
Customer Experience
Concept2 can be reached via an online form on its website, and has options for international customers as well. They can also be reached through email, telephone, or social media.
Returns, Financing, Warranty
Concept2 offers a 30-day money-back guarantee, so you can try out the BikeErg for a month and see if you like it. If you don't, you can return it for a full refund.
The frame is covered by a five-year warranty, and all parts come with a two-year warranty.
Concept2 does not offer any financing options on its products.
Ordering and Assembling the Concept2 BikeErg
Ordering the Concept2 BikeErg was simple through the company's website. My neighborhood UPS Driver pulled up and with a half-friendly/half "why do you receive so many heavy packages" honk and beckoned me to help him with the box.
Thankfully for him, I love getting packages and have no problem helping him out. After dragging the box into the garage, I looked on with wonder at all the meters that were to come.
I quickly disassembled the flesh-colored corrugated fiberboard shell that wrapped the bike, and after smashing the foam to bits and tearing the saran wrap with the same intensity a showman does in slicing a phonebook in half, the partially constructed BikeErg appeared.
With the quick turn of a wrist using Concept2's diamond driver (that's also branded with Concept2's logo) and a handful of stainless steel screws, the Concept2 BikeErg was assembled and ready to punish anyone's central nervous system who underestimates it.
Customer Reviews
Concept2 doesn't have any customer reviews listed on its website, but the BikeErg is available on Amazon and it has a 4.9 average rating with more than 260 reviews as of this writing. Of those, more than 90 percent are 5-star reviews.
Many people compared it to a Concept2 rower, in terms of functionality and durability.
The few negative reviews centered around the bike arriving with some damage, or instructions missing from the box.
Final Verdict of Our Concept2 BikeErg Review
Concept2 has proven time and time again that they know how to build a high-quality machine, and they've done it again with the BikeErg. Although it's not your typical air bike, the BikeErg has just about everything you'd want in a good piece of cardio equipment: quiet operation, durable construction, and a stellar workout experience every time you hop on it.
To reiterate, this bike wasn't built for anyone interested in CrossFit. This is for the people who are into cycling, want to improve their cardiovascular fitness, or want a high-quality machine that will last in their home gym for many years.
Concept2 BikeErg Rating
Full Rating
Concept2 BikeErg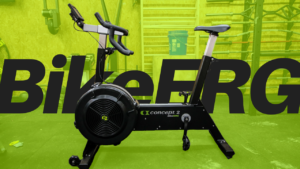 Can a company known for its rowers make a good exercise bike? Our Concept2 BikeErg review will let you know our thoughts.
Product Brand: Concept2
Product Currency: $
Product Price: 1379
Product In-Stock: InStock
Concept2 BikeErg FAQs
Is the Concept2 BikeErg good?
If you've never used an air bike before, it's a good idea to try one out first to see if you enjoy it—some people prefer the steady resistance of a regular exercise bike. Overall, I believe the BikeErg is a well-made bike providing high-quality and good exercise.
What are Concept2 button sequences?
Button sequences are given to assist you in configuring your PM3, PM4, or PM5 computer. In terms of ferocity: Because these exercises are intended to be adaptable to a wide variety of skills and experiences, they do not define a specific speed, power, or heart rate zone.
How loud Is the Concept2 BikeErg?
Noise levels can rise if the amount of energy produced by it gets up to 500-600 watts. However, with regular training wattage (200-300), it is quite quiet.
Can you connect Concept2 BikeErg To Zwift?
Yes. Choose the "Turn Wireless ON" option. If you're using Bluetooth, look for your trainer. Select the Connect with ANT+ button if you're using ANT+. Search for your PM5 in Zwift's power menu to link it with any sensors you choose.