We test and review fitness products based on an independent, multi-point methodology. If you use our links to purchase something, we may earn a commission. Read our disclosures.
Rich Froning, the 4-time CrossFit Games Champion and owner of CrossFit Mayhem has one of the most decked-out home gyms in the world. Combining top-of-the-line Rogue Fitness Equipment with a barn makes for one amazing place to workout.
Rich Froning has quite possibly more places to workout than anyone in the world. He owns one of the largest CrossFit Affiliates, has a gym at his dad's house, has a gym in his basement, has an outdoor rig, and now has a completely separate barn filled with more equipment than you could dream of.
Now, Froning is obviously in a unique position where his career is based on his fitness, but my goodness that's a lot of gyms.
Being a Rogue Fitness Athlete, Rich Froning's home gym is filled with exclusively Rogue equipment. Although he could have a wide array of equipment, Froning keeps to the staples of CrossFit and fills his gym with multiples of them so he can have legions of people workout alongside him.
Here is Rich Froning's Barn Gym and the equipment that fills it…
The Barn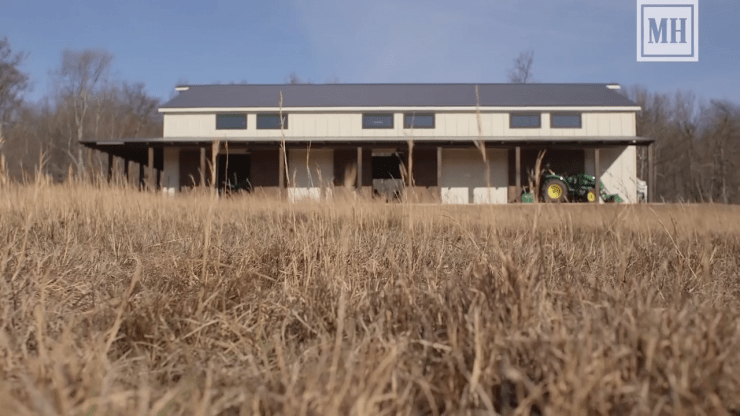 The Barn that Rich Froning has his home gym located in is in Cookeville, Tennessee. I don't know the exact dimensions, but for something that is pretty much entirely dedicated to working out, it's pretty big.
Although the gym is mostly for working out, it does have a separate section for farm equipment.
One of the coolest features of the barn is the many different doors that allow for lots of light and air to move throughout during workouts.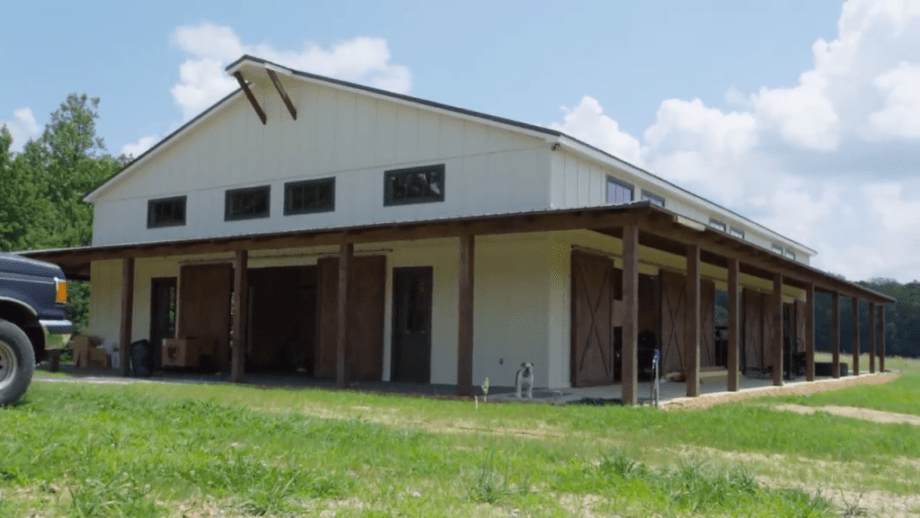 The walls use plywood instead of drywall that wears well and allows for just about anything to be screwed to them.
There is also an abundance of garage doors and flags. Froning is openly very patriotic to the beautiful red, white, and blue and displays it proudly.
Finally, what's a world-class home gym without world-class athletes?
Enough said.
Strength Equipment
Strength Equipment is what makes up the majority of anyone's home gym, and this is especially true if you train for CrossFit.
Rich Froning has a combination of many different strength training tools to allow him to be as fit as possible.
Rogue Fitness Monster Lite Rig 2.0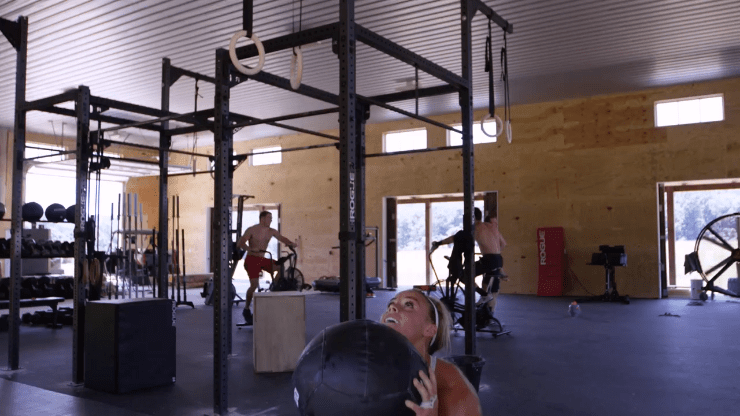 The centerpiece of just about every home gym is the Squat Rack. In Froning's case, because everything seems to be larger in Cookeville, Tennessee, the centerpiece of his gym is a Rogue Fitness Monster Lite Rig 2.0.
Froning's Barn Gym features an absolutely massive 3×3, 11-gauge steel rig that is larger and more expensive than many CrossFit Affiliates. The Monster Lite Rig 2.0 features a light gray powder-coating with many different pull-up bars, Shrimp Trawlers for gymnastic rings, and J-Cups all over.
The Monster Lite 2.0 Rig has changed up quite a few features since it's the first introduction, most notably with more holes on the uprights and stabilizer bars at the top. Stand-alone Rigs are known to be unstable, but with extra stabilization at the top of the rig, the new ones are much more rigid.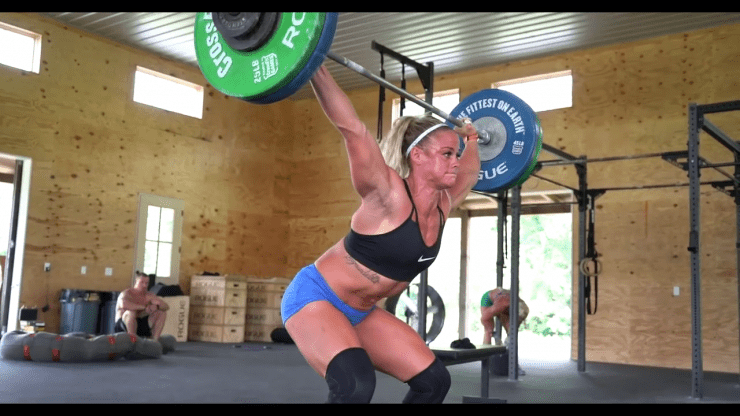 There aren't many stand-alone rigs with the stability that the new Rogue Monster Lite 2.0 Rigs has, and I'm sure Rich Froning and Team Mayhem Freedom put it to the test often.
Bumper Plates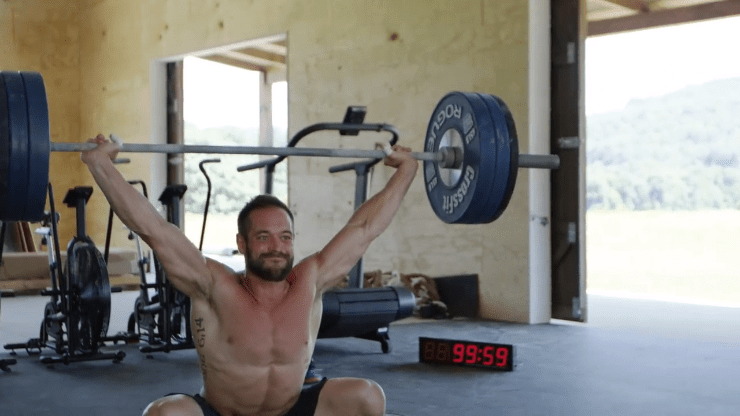 If you're going to have some of the fittest people in the world over to your gym and you all want to workout at the same time, you're going to need quite a few bumper plates.
The plates that Froning has are a mix of Rogue Fitness Competition Bumper Plates and Hi-Temp Crumb Rubber Bumper Plates.
The Rogue Fitness Competition Bumper Plates are what's used in the CrossFit Games as well as many Olympic Weightlifting Competitions. In fact, many of the plates that Froning has are ones that were actually used in the Games and then sold after for a discount. I'm sure after winning so many different times, he's been given quite a few as well.
Not only are they colorful to allow for easy weight identification, but they're also much thinner than the standard black rubber bumper plates. To have anywhere near the amount of weight that Froning's Barn Gym has, expect to pay a pretty penny.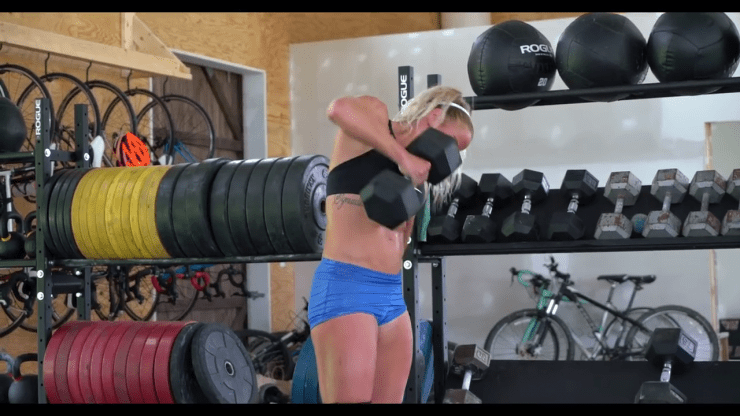 In addition to the Competition Bumper Plates, Froning also has many Hi-Temp Crumb Rubber Bumper Plates. Hi-Temp Bumper Plates are one of the only plates that are still made in the USA and they're made compressing recycled tire rubber.
Hi-Temp Plates are known for their durability, however, they're also some of the thickest plates on the market. The max amount of 45's that can fit on a standard barbell is four on each sleeve. If you want a plate that will last though, there aren't many better options (especially at their price point.)
Barbells & Dumbbells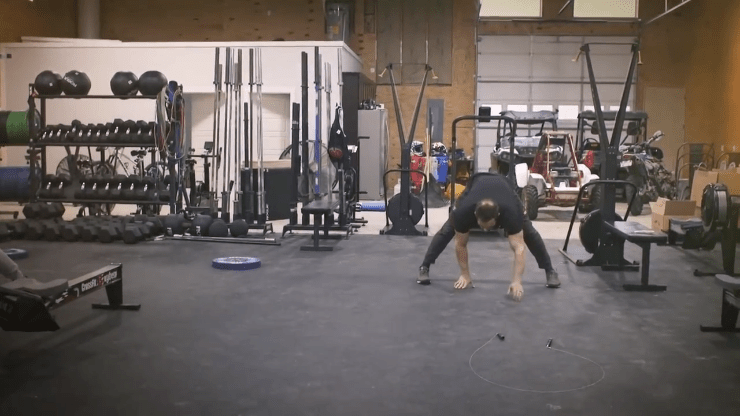 The Barn Gym has an array of barbells.
Although I don't know every single Barbell Froning has, I would assume they're pretty much all Rogue Bars, and most likely the following:
In addition to the Olympic Barbells, I've seen him use axle bars as well as farmers handles. Despite having so many bars, I haven't seen many specialty bars, but that's likely because they're not often used in the CrossFit Games.
The holders Froning uses to hold his bars is the Rogue 10 Bar Holder.
Froning uses the standard Rubber Hex-Head Dumbbells from Rogue.
Although these are good dumbbells, it must be said that they're not anything special. In fact, the dumbbells Rogue sells are actually pretty much the same as everyone else, except for the fact that they add their logo.
I've used Rogue dumbbells as well as many others with the same design and there is no difference; likely because they come from the same Chinese factories.
This said, if you're wanting dumbbells like Froning, I would look for this proven design and see which company is selling them for the lowest price.
Flat Bench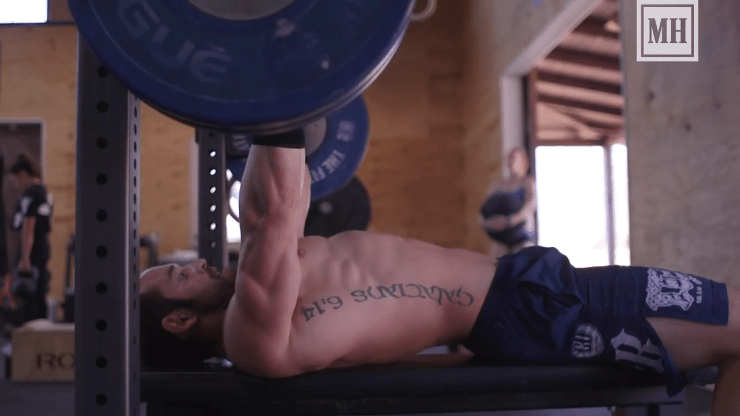 It's no secret that there isn't much benching in CrossFit. However, based on Froning's "What's Rich Doing?" programming, he actually does it quite a bit.
The bench Rich uses is no surprise, the Rogue Flat Utility Bench. Although the benches that Rich has in his barn gym are no longer made, the updated version is even better and the ones we most often recommend.
Using 2×3, 11-gauge tubing that is similar to the Infinity Line of Rigs at Rogue for the bench frame, this bench can take just about anything you can throw at it without any issues. The top uses firm foam wrapped in a vinyl covering that sticks well to the shirt when pressing.
Yoke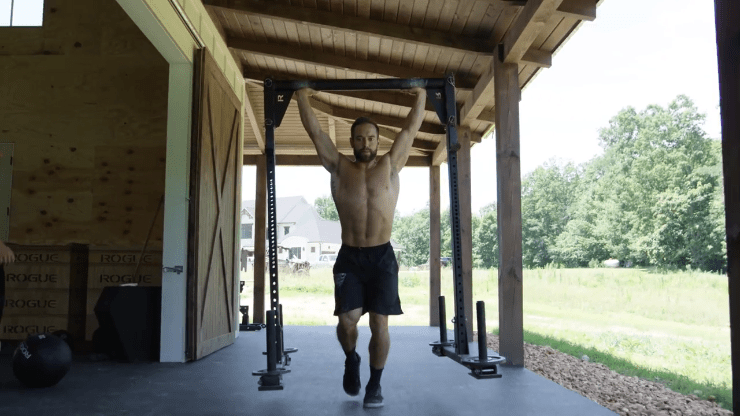 The Rogue Y-1 Yoke is one of the most versatile pieces of gym equipment a home gym owner could have.
Here are a few of the things you can do with one:
Yoke Walks
Sled Pushes
Squat Rack
Overhead Carries
Sled Drags
And that's just a portion of the options available. Rogue was the first company to come out with a Yoke in this style and since then many companies have caught on. The Y-1 Yoke features 2×3 uprights with a fat crossmember and two sled-style legs. Many people use the Yoke as squat rack when not being used as a sled, and before Rich built has barn gym, this is what he used in one of his old home gyms.
If you're looking for versatility in a small space, this is the squat rack to buy.
Glute-Ham Developer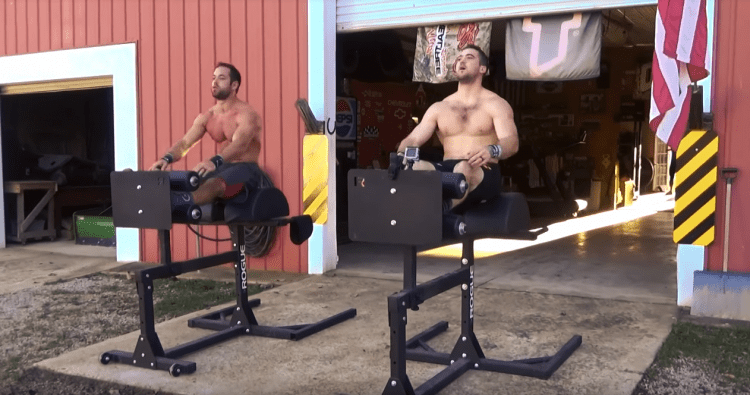 One of the pieces of equipment that Rich uses more than any other in his barn gym is the Glute-Ham Developer, also known as the GHD.
I have a buddy that trained with Rich a few times when asked what one movement Rich does most often, he replied, "GHD situps." In fact, Rich does GHD situps more days out of the week than he doesn't which helps build a strong trunk and increase stability in other movements.
Although the GHD in CrossFit is most often used for situps, it's even more effective more building the posterior chain through glute-gam raises. Without question, glute-ham raises will make you stronger in the squat and deadlift.
Although I'm not sure if Rich Froning does glute-ham raises, I am sure that he does many, and I mean many GHD Situps.
The GHD that Rich uses is the Rogue Abram 2.0. This GHD is an absolute beast and is the one we most often recommend. Everything from the stability of the machine to the firm and durable padding is made to take abuse and keep on kicking. Although the Abram 2.0 GHD is overkill for most home gyms, it is a machine that will last for as long as you plan to use it and will have incredible resale value when you decide to get rid of it.
Reverse Hyper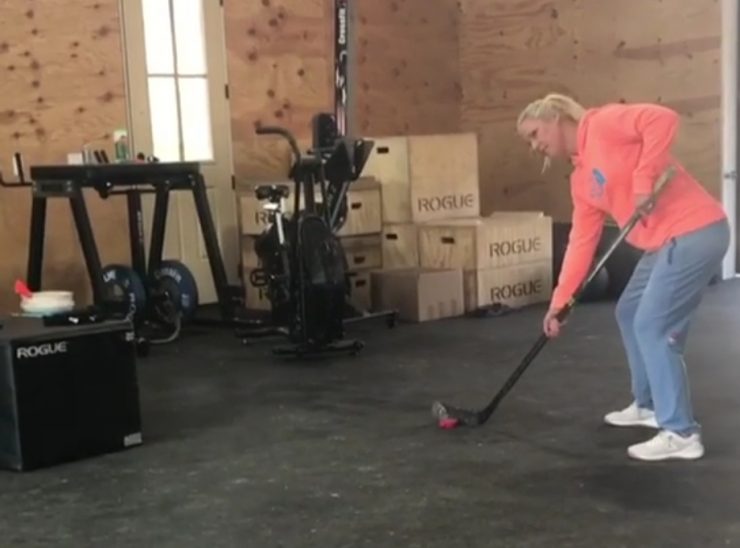 This is actually the piece of equipment that I was most surprised to see in the Froning Barn Gym. Although Reverse Hyper's are popular among powerlifters, they still haven't gained mass popularity among CrossFitters, AND I've never seen a video of Froning using it.
However, Froning is someone who is constantly trying to improve and probably realized the benefits of having such a machine as specialized and effective as the reverse hyper.
The reverse hyper's primary emphasis is on the lower back and secondarily with the glutes. Its original invention by Louie Simmons of Westside Barbell came in an effort to rehab himself back from multiple broken backs. Simply put, the reverse hyper works and the thousands of gyms and chiropractic offices across the country can attest to its effectiveness.
The reverse hyper that Rich Froning uses is the Rogue RH-2. This model is the best value reverse hyper available, although it's still pretty pricey. Featuring Rogue's signature black powder-coat, overbuilt design, and thick foam top, the RH-2 is a great option for anyone wanting to improve back function and posterior strength.
Conditioning Equipment
In order to be the fittest person in the world, you're going to have to spend a lot of time moving. Rich Froning has invested a substantial amount of money into every type of conditioning equipment that has shown up in the CrossFit Games.
Whether it's a rower, bike, SkiErg, or even treadmill, Rich Froning's Barn Gym has it and most likely multiple.
Concept 2 Rower, SkiErg and BikeErg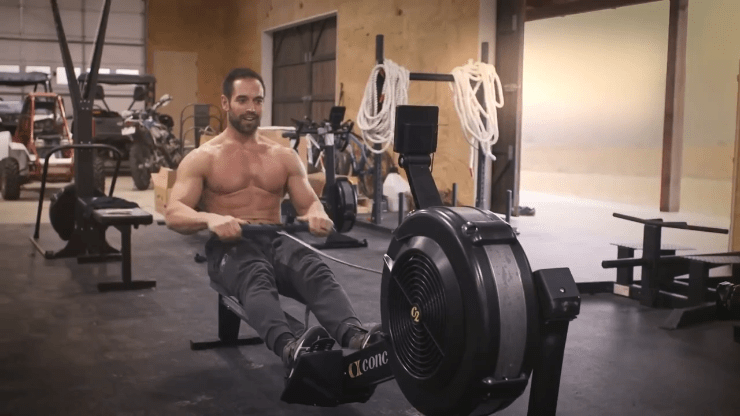 The Concept 2 Rower is the original piece of conditioning equipment that gained popularity among CrossFitters. It does an incredible job of keeping accurate metrics while being able to take any abuse you can throw at it.
In our breakdown on the best rowing machine, we chose the Concept 2 Model D Rower as the best rowing machine on the market and for good reason. Rich Froning, whether through his CrossFit Affiliate CrossFit Mayhem or his many different gyms probably owns over 50 Concept 2 Rowers and I would imagine very few have had to have any maintenance.
Froning also puts a ton of time on the Rower, accumulating 1,000,000 meters on the machine in less than 11 months. That is just insane to think about, but if you ever wondered what it takes to be the best, there you go.
In addition to the Model D Rower, Froning is a big fan of every Concept 2 machine including the SkiErg and BikeErg.
The SkiErg is my personal favorite conditioning machine because of its ease of use and ability to suck the life out of you. The SkiErg is awesome for short sprints, but does equally well for longer, more grueling sessions.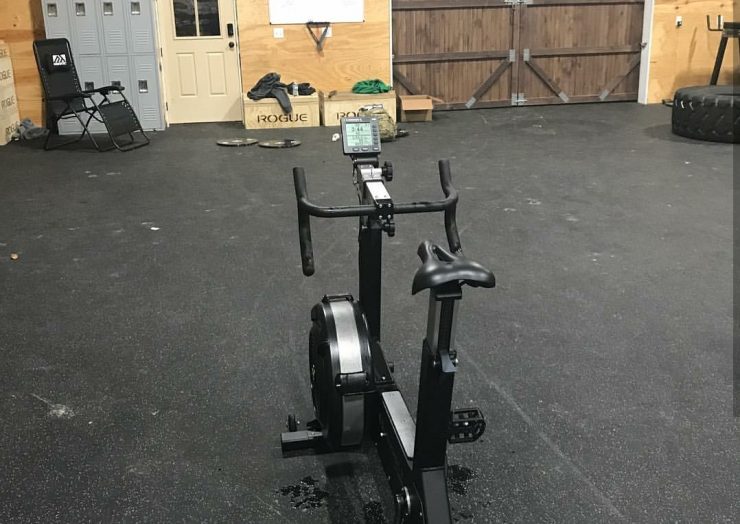 The BikeErg is a machine release this year and one that we reviewed very favorably. Froning has shown many photos using the BikeErg and has I assumed started to make it a more integral part of his training routine.
It doesn't matter if you go with one or all three of the Concept 2 machines, you'll be satisfied and your fitness will thank you. If they're good enough for Froning, they're probably good enough for you.
Assault AirRunner Treadmill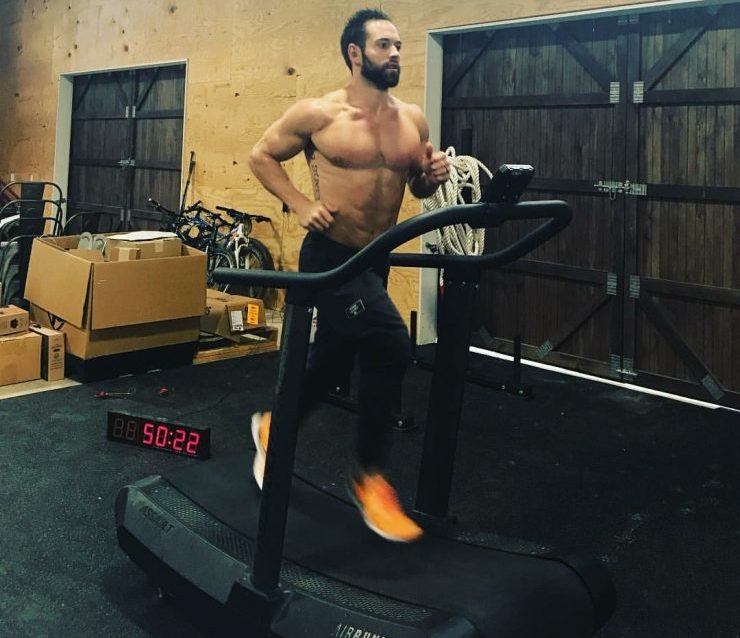 Although treadmills weren't very popular among CrossFitters just a couple of years ago, they definitely are now. With many different options like the TrueForm Treadmill and now the Assault AirRunner, CrossFitters can train their running indoors on a self-propelled machine that tracks all different metrics.
Froning has worked with Chris Hinshaw from Aerobic Capacity for a few years now and I'm sure Hinshaw programs quite a bit of running for Froning. In fact, it appears that Froning prefers the Assault AirRunner over the TrueForm Treadmill as he's replaced all of the treadmills in his gym with them.
The Assault AirRunner is one of the best-priced options among non-motorized treadmills and will likely be used in the upcoming CrossFit Regionals and Games. With this said, if you're training specifically to compete in the CrossFit Games, then this is probably your best option and a reason Froning trains on it.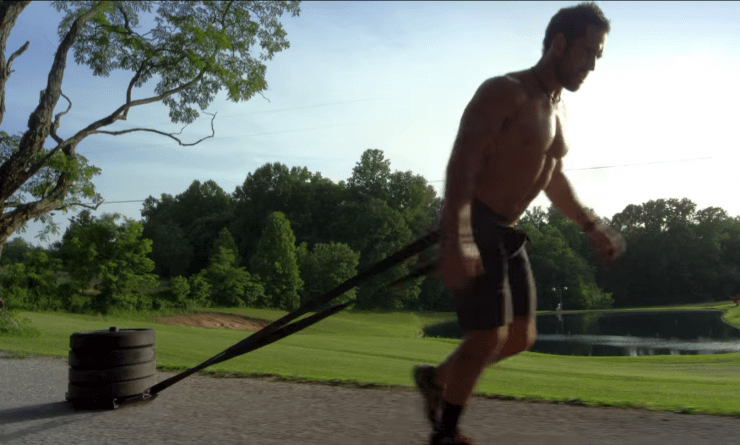 Sleds can be some of the most versatile pieces of equipment in any gym.
Rich Froning has a variety of sleds in his barn gym including ones you can pull behind like the Rogue S-25 "Fat Boy" Sled and the Rogue Dog Sled. These sleds can be used for pulling, pushing, sprinting, or long, treacherous walks.
The sleds that Rogue makes are all made of steel and come in a variety of sizes. The ones we most often recommend are the E-Sled and the dog sled from Rogue Fitness due to their versatility and build quality. Although I don't see Froning program sled work often, it's a great way to build capacity and get a great workout in without overloading the CNS.
Miscellaneous
When you have a gym as large as Froning's Barn Gym, you're likely to accumulate a lot of different odds and ends.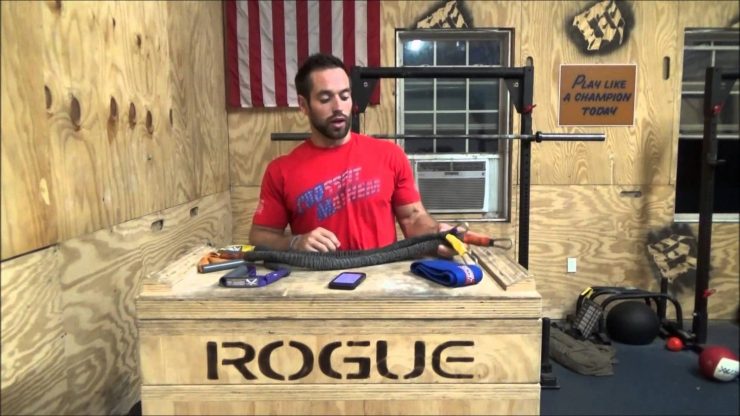 One piece of equipment that I've seen Froning use often in videos is Crossover Symmetry. We reviewed Crossover Symmetry in the past and found it to be an awesome program and set of tools for building strength in the scapula and shoulders.
Overhead athletes need to strengthen all of the various muscles that help to stabilize and Crossover Symmetry does an excellent job in that area.
In addition to the Crossover Symmetry bands and protocol, Froning uses Jerk Blocks to work on overhead movements like the overhead squat and jerk. Rogue Wooden Jerk Blocks are heavy-duty and made to last. They can be stacked in any number of combinations and although difficult to move, are incredibly stable.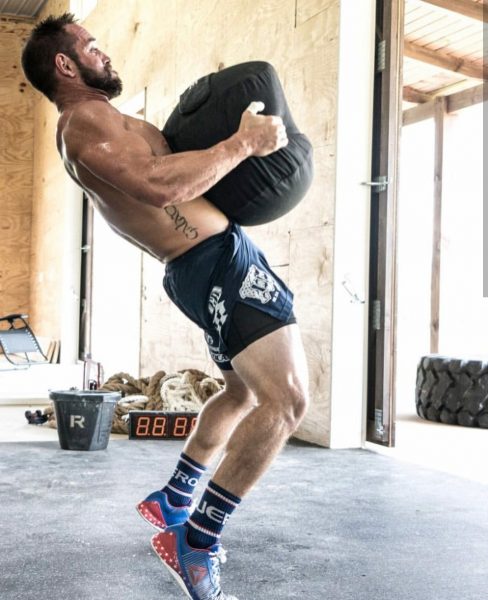 Lastly, a piece of equipment I've been seeing Froning and many others use more and more and that is the Rogue Strongman Sandbags.
The Rogue Strongman Sandbags allow people to train like they would with atlas stones or slamballs, but without the expense of having to ship heavy materials. The Rogue Strongman Sandbags use thick Cordura in multiple layers to hold sand in various weight increments. I've seen many different videos and photos of Froning using the bags, so I'm guessing they're a staple of his training.
Full Equipment List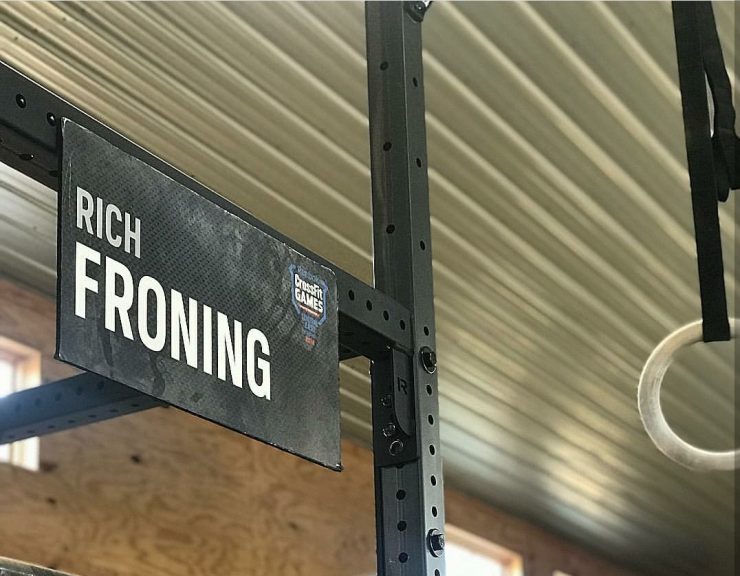 Due to Rich Froning having such a large amount of equipment, we feel it would be easiest to simply list all of it. So, here is the entire list of equipment that we've seen Froning use in his barn gym. This certainly isn't exhaustive as he likely has equipment stored away, but this is what he for sure has:
Strength Equipment
Rogue Froning Bar (discontinued)
Conditioning Equipment
Miscellaneous