We test and review fitness products based on an independent, multi-point methodology. If you use our links to purchase something, we may earn a commission. Read our disclosures.
The Sole SB900 is Sole's top-of-the-line exercise bike. Sole Fitness enjoys a deserved reputation for bikes (and other fitness equipment) with strong, solid design and construction. The SB900 falls in line with that reputation. It's an excellently built bike for spin enthusiasts and cyclists who don't need or want an exercise bike for home use that requires WiFi. With the SB900, you trade integrated programming and a built-in touchscreen for an excellent warranty, high build quality, and a smooth ride.
In this Sole SB900 review, we'll cover the important specs, including resistance levels, dimensions and more, along with how this bike holds up to the competition. The SB900 can hold its own against more tech-heavy models like the Peloton and Bowflex VeloCore. However, you'll have to decide if it's the right model for your next ride based on your goals, available space, and training preferences.
We've Read and Ridden for Miles
Our team at Garage Gym Reviews is comprised of certified personal trainers, nutrition coaches, CrossFit Level 1 Trainers and athletes of all levels. We've spent many hours on exercise bikes, treadmills, ellipticals, and most other types of cardio machines. While we haven't tested the SB900 ourselves, our testers have done their homework and tested several models within the same class, including the NordicTrack S22i, CAROL Bike, and the Concept2 BikeErg to name a few. We're also very familiar with Sole as a brand, testing its treadmills and ellipticals extensively. We take our reviews, but not necessarily ourselves, seriously as a devoted group of fitness enthusiasts who want you to find the best home gym equipment possible.
GGR Score: 4
Product Highlights
Upright stationary exercise bike featuring an adjustable seat

Handlebars that move up and down as well as fore and aft

Optional use of toe clip or clipless as the pedals are SPD compatible

48-pound flywheel with magnetic braking system

Eddy current magnetic resistance 

Water bottle holder, tablet holder, compatible wireless heart rate chest strap
Pros & Cons
Pros
Great warranty
Durable
Clipless pedal option
Magnetic resistance
Customize seat and handlebar settings
Cons
No programming
Resistance may not be challenging for some
Bottom Line
The SB900 is a basic but high-quality stationary exercise bike backed by an impressive warranty.
A Quick Look at the Sole SB900
The SB900 is currently Sole's top exercise bike, but they're rolling out a new line in the near future. It could end up taking a back seat to a newer model.
The SB900's sturdy build, which includes heavy-duty steel tubing and a high-quality aluminum shroud, includes an impressive lifetime frame warranty. It also comes with an adjustable seat and handlebars to get a comfortable fit that's closer to a road bike. This indoor cycling bike also features variable manual resistance and a tablet holder so you can watch workouts on a separate device or stream your favorite shows to keep you entertained while you ride.
This bike's strengths lie in the quality of the construction and the simplicity of the design itself. It's free of tech upgrades, which always have the potential to malfunction. Instead, there's a simple LCD display that can connect to a separate heart rate monitor via Bluetooth. If you want a true cycling experience, you can remove the display altogether and simply ride the bike.
Before You Buy
Assembly is easy, but it's even easier if you have a partner to hold the heavier parts in place while you tighten screws.
You can detach and attach the display if you want a pure boutique cycling experience.
There are no markings or discernible resistance levels on the manual resistance adjustment knob. Listen to your body when it comes to finding the right resistance level.
Pros:
Relatively lightweight thanks to sturdy steel tubing with a lightweight aluminum shroud
Heavy, 48-pound flywheel weight offers a smooth ride
Four adjustment points—two on the handlebars and two on the seat
Does not require WiFi or an electrical outlet
Lifetime frame warranty
Cons:
No preset workout programs
Small LCD screen might be hard for some to see
No heart rate chest strap included
Difficult to find resistance level after someone else uses the bike
Is the Sole SB900 Worth It?
The Sole SB900 is a quiet but powerful bike that's ideal for some riders and cyclists. However, it's not perfect for everyone, of course. It's a better option for those who are short on space and would rather skip big screens and periodic tech upgrades.
Great for:
Riders who prefer a bike that doesn't require WiFi
Riders who have a device (tablet or phone) on which to watch workout programs
Riders who value construction quality over tech upgrades
Not recommended for:
Riders who prefer preset workout programs
Riders who want to use an integrated fitness app for programming
Riders who want a built-in touchscreen
Sole SB900 Specs
| | |
| --- | --- |
| Footprint | 20" L x 21" W x 42" H |
| Weight | 160 lbs |
| Maximum user weight capacity | 300 lbs |
| Display | LCD display |
| Resistance | Multilevel turn dial |
| Frame | Steel with aluminum shroud |
| Flywheel weight | 48 pounds |
| Drive | Magnetic resistance |
| Pedals | SPD/toe cage |
| Seat | Adjusts vertically and horizontally |
| Handlebars | Adjusts vertically and horizontally |
| Programming | None |
| Warranty | Lifetime frame, 3 years on electronics and parts, and 1 year on labor |
Customer Reviews
There are only 12 reviews of the Sole SB900 exercise bike on its website, and it has a 5-out-of-5-star rating with users praising its sturdiness and ease of use.
"Was looking for a bike without a lot of electronics, but wanted a commercial quality heavy-duty bike," says customer ATXProud. "After extensive research I decided to go with the Sole 900. Extremely happy! Highly recommend!"
However, on Amazon, this bike has a 4-out-of-5-star rating, with some customers complaining about the electronics.
Reviewer crwebb7 described it this way: "I didn't want a computer screen/subscription bike, just simple speed, distance, calls, etc. However the 'computer' it comes with is beyond useless. The 'instructions"' how to change from km to miles are futile at best. Whomever wrote any of the manual was a functional illiterate."
This person adds: "I was not able to change anything on it despite a half hour of attempts. It should be so simple but you're stuck with the factory presets and that's that. Allegedly, one can connect to Zwift. I wouldn't hold my breath seeing you can't even change from km to mph. That is the reason for my 4 star rating. I was tempted to say 3 because the computer is so bad. If not for that it would've been an easy 5 stars."
Footprint, Portability, Durability, Construction, etc.
The SB900 is 40 inches long by 21 inches wide by 42 inches high, which is fairly compact for a cardio machine. Ellipticals and treadmills often reach 60+ inches long and 24 inches wide. Transport wheels under the front of the frame let you move this bike around the room. It weighs 160 pounds, which isn't lightweight, but that's relatively mobile for an exercise bike. You probably don't want to move it from room to room, but you can certainly move it around a room without too much trouble.
Durability and construction are where this bike takes the spotlight. Sturdy steel tubing covered in an aluminum shroud is strong and long-lasting but maintains the SB900's mobility. A belt-drive system is smooth, and will also require less maintenance over time than a chain-drive system.
The best exercise bikes often have heavy flywheels because they create a smoother ride. With a a chrome-plated flywheel that weighs 48 pounds and magnetic resistance, the SB900 is both a smooth and quiet ride. Magnetic resistance is a big plus because it doesn't cause any wear and tear on the flywheel, extending the overall life of the bike.
The Ergonomics
Adjustable handlebars that move both horizontally and vertically help riders get a good fit. Additionally, the handlebars have several hold options, all covered with comfortable, durable foam. The adjustable seat also moves horizontally and vertically. It might take some trial and error to find the right adjustments for the handlebars and seat, but users that fall on the shorter and taller end of average can both find a comfortable riding position.
The ergonomics allow you to easily see a device placed in the tablet holder, and water bottle holders beneath the display are easy to access while you ride.
The only less ergonomic feature worth mentioning is the hand brake. The heavy flywheel will keep spinning when you stop pedaling. To counter that motion, Sole includes a hand brake underneath the resistance adjustment knob. It's not a super ergonomic design but a nice feature that's not included on all exercise bikes.
Technology Benefits and Conveniences
This bike is definitely tech light. All it really has as far as tech is the three-inch-by-four-inch LCD display. The display can sync with a Bluetooth heart rate monitor to show your heart rate while you ride. Other than that, the display shows your distance, RPMs, time, and speed.
Please note—there are no visible resistance levels on the manual resistance knob or on the display. Resistance with the SB900 is all by feel.
Comparison to the Schwinn IC4
The SB900 exercise bike review wouldn't be complete without comparing the bike to a peer. The Schwinn IC4 and the Sole SB900 fall into the same price category. Their similarities include a three-year warranty on parts and electronics and one-year labor warranty. Neither bike has a built-in screen, with both having an LCD metric console. These bikes also both have dual-sided pedals for toe clips or you can use them with regular gym shoes and toe cages. The handlebars and seat of the IC4 both adjust horizontally and vertically like the SB900's.
However, they have a few important differences. First, the Sole BSB900 has a lifetime warranty on the frame, while the IC4 has a 10-year frame warranty. However, the biggest difference between these two is that the IC4 can integrate with many common fitness apps like JRNY, Peloton, Zwift, and MyFitnessPal to name a few. It comes with a one-year JRNY membership, which gives access to on-demand and live classes, Explore the World and adaptive workouts that are adjusted to your performance and progress. JRNY also includes music options.
Another couple of differences worth mentioning are the IC4's 100 resistance levels, which are labeled, and the three-pound dumbbells included with the bike. This model also has dumbbell holders built into the frame.
If you want to use an integrated fitness app, the Schwinn IC4 is an excellent option that's made of equal quality as the Sole SB900. The difference is that the Schwinn can connect directly with apps to record metrics in the apps, whereas you can only view your metrics on the Sole SB900's LCD screen. If you don't want any app integrations and want the lifetime frame warranty, the SB900 is probably the better option.
Schwinn IC4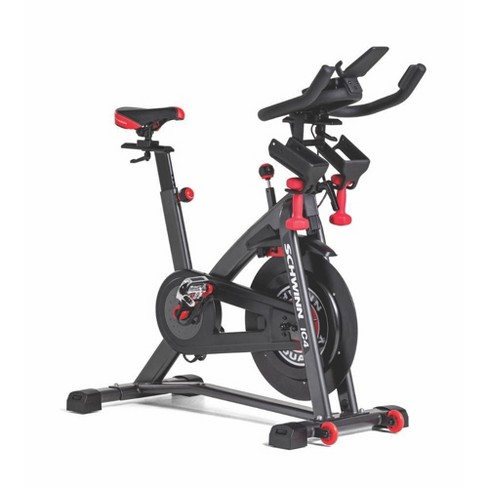 Product Highlights
Connects to Peloton and Zwift apps
100 levels of resistance
Sturdy and doesn't shake while exercising
Pros & Cons
Pros
Connects to Peloton and Zwift apps
100 levels of resistance
Sturdy and doesn't shake while exercising
Cons
LCD display is bare bones
Android users may notice a lag in metrics shown
Parts note clearly labeled to help with assembly
Bottom Line
For under $1,000, the Schwinn IC4 is a solid purchase and one of the best exercise bikes if you're looking for a cheaper alternative to Peloton.
Customer Experience
Sole offers an excellent warranty that includes a lifetime frame warranty, three years of parts and electronics coverage, and one-year labor coverage. You can opt to extend the parts and electronics coverage to five years for an additional $94. You have 30 days to try out the bike and return it for a full refund. After that, any issues will fall under the warranty.
Overall, customer service seems responsive and helpful as stated in a review on SoleFitness.com, "Ordering was easy, customer service answered all my questions, and delivery was quick and easy. My wife and I love it."
However, there can be delays in getting replacement parts as reported by an Amazon reviewer, ". . . wanted to share that my wife has ridden the bike and says the lowest resistance is much more than she expected. I called Sole and was told that they could order a replacement part and send someone out to fix it. Very professional and courteous. That was Wednesday last week, and I still have not received the tracking number for the part. I also received an email on Wednesday telling me who was going to do the repair and that I should be contacted within 2 days, which I haven't."
Ordering and Assembling the Sole SB900
When ordering directly from Sole Fitness, the process is fairly straightforward. Once you've added the bike to your cart, you have a few other options to add (or not). At purchase, you'll be asked if you want a Studio membership, the fitness app supported by Sole Fitness. It costs $199.99 per year with a 90-day trial period. Curbside delivery is included with the purchase. For an additional $199, you can have the bike delivered to your room of choice or add $299 for room of choice delivery and assembly.
Financing is available through Citizens Pay with advertised monthly payments around $48, though that could vary depending on your credit history.
As far as assembly, the vast majority of reviews mention how easy it is. For example, one Amazon.com review said, "The bike is very easy to assemble. It would be helpful to have a second person with you just to hold it or position it while you attach the floor supports [stabilizer]." The frame and shroud come completely assembled. Users have to install the periphery parts like the clip pedals, display and handlebars. You'll be faster (and probably happier) with someone to help, but it's possible to do it on your own.
Final Verdict of Our Sole SB900 Review
The Sole SB900 stationary bike has a solid build and strong warranty that make it a worthwhile investment for the right user. If you don't want a built-in screen or a tech-heavy exercise bike, the SB900 should give you everything you need. It also offers:
Excellent handlebar and seat adjustability
A lifetime frame warranty
SPD pedals or toe cages
Tablet holder
Sole SB900 Rating
Sole SB900
In this Sole SB900 review, we'll go over the details of this solidly built cycling bike to help you decide if it's right for your home gym.
Product Currency: $
Product Price: 899
Product In-Stock: InStock
Sole SB900 Review FAQs
Does the Sole SB900 have Bluetooth?
The Sole SB900 can connect to a chest strap heart rate monitor via Bluetooth.
Can you take classes on the Sole SB900?
You can take classes on a separate device held in the SB900's tablet holder. However, the classes cannot be connected to the bike for direct integration or to record metrics.