We test and review fitness products based on an independent, multi-point methodology. If you use our links to purchase something, we may earn a commission. Read our disclosures.
Schwinn Fitness is a trusted name. For over one hundred years, they've innovated and released some of the best exercise equipment that the world has ever seen. From elliptical trainers to exercise bikes, you can't go wrong with a Schwinn—or can you?
The Schwinn A40 elliptical machine seems to offer a lot on paper, but it boasts a budget price point because the hardware, put bluntly, just isn't up to snuff. From the wobbly frame to the antiquated display to the slapdash user experience features, there's a lot to not love about the Schwinn A40. Perhaps that's why they discontinued it.
What else made it so bad, and what should you buy for your home gym instead?
All this and more below in our Schwinn A40 elliptical review.

RELATED: How To Use An Elliptical: Expert Tips For A Safe, Effective Workout
Taking It in Stride
Our expert reviewers are CrossFit-L1 trainers, certified personal trainers, nutrition specialists, fitness gurus…the list goes on. We've run hundreds of commercial ellipticals through the wringer over the years in order to provide you the best and most factual information out there, so you have what you need to make a good and informed purchase for your home gym and fitness needs.
Looking for an Alternative to the Schwinn A40 Elliptical?
Best Alternative to Schwinn A40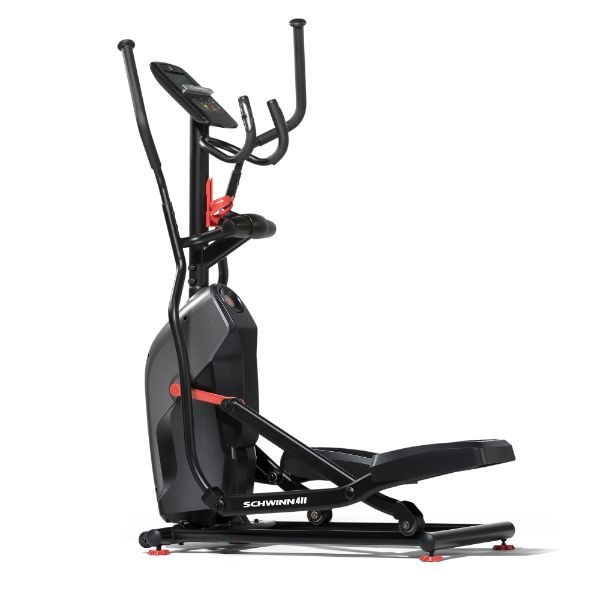 GGR Score: 3.3
Product Highlights
Compact, lightweight, and budget-friendly elliptical offering a low impact cardio workout

16 levels of magnetic resistance to vary the intensity 

18-inch stride with a pedal height of 17 inches

300-pound user weight capacity

Equipped with moving and fixed handlebars with contact grips

The console displays time, speed, distance, calories, and heart rate

Syncs with Explore the World to explore 19 locations and 27 routes
Pros & Cons
Pros
Compact
Budget-friendly
16 levels of resistance
Easy to assemble
Connect heart rate strap wirelessly
Syncs with Explore the World
Cons
Resistance may be too strong at lowest level
No pre-programmed workouts
Shorter stride length
Bottom Line
The Schwinn 411 elliptical is a budget-friendly choice for smaller home gym spaces but still offers 16 levels of challenging resistance.
You might not realize the blessing in disguise you've received if you went looking for a Schwinn A40 elliptical and discovered it was discontinued. Save yourself the hassle and buy yourself the bigger, badder, better buy—the Schwinn 411.
It has more built-in workout programs. It has more resistance levels. It has a sturdier frame with stationary handlebars. It has the option for Bluetooth wireless heart rate monitoring. It has a better display. Everything the Schwinn A40 could do, the Schwinn 411 does it better. And it's the same price range as the A40. The Schwinn 411 is undoubtedly your better option.
A Quick Look at the Schwinn A40 Elliptical
The Schwinn A40 elliptical trainer is a budget-friendly option intended for beginners or light cardio. It features a perimeter weighted flywheel, a high speed, high inertia drive system, quiet ECB resistance, and eight levels of resistance.
The Schwinn A40 is a decent piece of entry-level fitness equipment, but it's far from the best elliptical machine for its price range and leaves out a number of features that would have made it a better buy.
Pros:
Quiet ECB resistance
Lightweight and portable
Battery-operated
Cons:
Low weight capacity
Primitive display
No stationary handles
Schwinn A40 Elliptical Specs
| | |
| --- | --- |
| Footprint | 59" L x 23" W x 64" H |
| Weight | 90.4 lbs |
| Weight Capacity | 275 lbs |
| Type of Resistance | ECB (Eddy current brake) |
| Resistance Levels | 8 levels |
| Flywheel | Undisclosed |
| Display | 5" LCD console |
| Stride Length | 17.5" with Precision Path Foot Motion technology |
| Programs | 7 preset programs |
| Warranty | 3-year frame, 1-year mechanical, 1-year electrical, 60-day labor warranty |
Key Features of the Schwinn A40 Elliptical
Schwinn Fitness endeavored to offer something competitive at an affordable price, but it was clear they passed on premium hardware when constructing this barebones basic elliptical cross trainer.
The Schwinn A40 elliptical includes some standard features like a 5-inch LCD display, 17.5 inch stride length with Schwinn's Precision Path Foot Motion technology, ergonomically placed moving handlebars, and articulating footplates for a smooth, low-impact ride. The ECB resistance system helps ensure quiet operation, too.
It's when you really start recognizing what's missing and where it falls short that the A40 gets poor marks on our elliptical machine review. The low weight of the fully assembled product makes their claim of 275 pounds as a max user weight a questionable and potentially inflated figure. Plus, the console would've looked good in 1985 but there are too many better options available today, even if you don't consider a high-contrast touchscreen a must-have.
At least it has a water bottle holder.
Footprint, Portability, and Durability
Starting off on a high note, the Schwinn A40 elliptical has a conservative footprint and fits nicely into most spaces. You'll want to mostly look out for the vertical clearance, as taller users might feel cramped if your ceilings are low, but at 64 inches in height, and accounting for 12 additional inches for good measure, you'll still wind up with more than a foot to spare if you're an individual of average height with an average 8-foot ceiling.
A great perk of the Schwinn A40 is its battery operation, which eliminates the need to be near an outlet. The elliptical does come with an adapter if you prefer to plug and play, but the fact that you could place it literally anywhere combined with its slick transport wheels means the Schwinn A40 wins big in terms of portability.
It's the Schwinn A40's durability that we have an issue with, and we find the category significantly more important considering the implications. The Schwinn A40 weighs a modest 90.4 pounds. That's great for when you're moving it around, but it's not so great when you pick up the pace during your workout.
Schwinn recommends a max user weight of 275 pounds, but the A40 feels wobbly at higher speeds. If you're a lean 150 pounds, you might be able to get away with a little more, but users above 175 pounds are going to feel its constraints firsthand.
Ergonomics
You might have your own complaints regarding the machine's performance, but you won't get any noise complaints from your neighbors while using the Schwinn A40 elliptical. That eddy current brake resistance system is smooth and nearly silent.
The fixed 17.5-inch stride length is usually comfortable as well, but there's no way to adjust it based on your actual stride length. For this reason, some users will find it very comfortable, while others might find it a little short.
Technology Benefits and Conveniences
The Schwinn A40 wanted to provide an impressive exercise machine at a low price, but it left out a lot of bells and whistles to get the job done. We'll start with what the elliptical does have—a 5-inch LCD display that shows standard exercise metrics, a reading rack, a water bottle holder, heart rate grips, a two-speed fan, and seven preset workout programs.
So, what's it missing?
For starters, we found the LCD display and paltry seven workout programs to be inferior to what other ellipticals, even similarly priced ones, were offering. In addition, the Schwinn A40 elliptical has no speakers or plug-ins for entertainment, no app integration like NordicTrack's iFIT, no Bluetooth or wireless connectivity features, and, quite possibly our biggest gripe, there are no stationary handles.

Stationary handles help beginners, as well as those focused on lower-body workouts, stabilize themselves during exercise. Combine this with the already suspect lightweight frame that tends to wobble and shake, and all-around you'll feel your heart rate elevate from fear and not from the great cardio workout.
Schwinn can do better than this; they already have.
Final Verdict of Our Schwinn A40 Elliptical Review
Sometimes a manufacturer discontinues an excellent product and it's worth it to scour the internet in search of one still for sale. The Schwinn A40 is not that product. In this scenario, it's good riddance, and we're happy that Schwinn has already come out with better options like the Schwinn 411, Schwinn 430, and Schwinn 470.
The results are in for the Schwinn A40 elliptical, and we're recommending you pass on this one.
Schwinn A40 Elliptical Rating
Schwinn A40 Elliptical
Need to know everything about the now-discontinued Schwinn A40? Here's a full Schwinn A40 Elliptical review, as well as an alternative for your home gym!
Product Currency: USD
Product Price: 599
Product In-Stock: InStock
Schwinn A40 Elliptical FAQs
What is the weight limit for the Schwinn A40 elliptical?
Schwinn says the max user weight for the Schwinn A40 is 275 pounds, but we strongly advise caution if you're more than 175 pounds due to the A40's flimsy frame.
What is the stride length for the Schwinn A40 elliptical?
The Schwinn A40 elliptical has a 17.5 inch stride length, and it is not adjustable.
Where can I buy a Schwinn A40 elliptical?
It is discontinued, so it is no longer available to purchase directly from Schwinn or from other online retailers like Amazon. You may find some at local stores that sell fitness equipment and exercise machines, or possibly a used one at a yard sale.
Instead of hunting one down, though, we recommend passing on the A40 and purchasing a better, similarly priced option like the Schwinn 411.
What is the lifespan of an elliptical machine?
Most manufacturers estimate the lifespan of an elliptical machine to fall between 10 and 20 years of operation.