We test and review fitness products based on an independent, multi-point methodology. If you use our links to purchase something, we may earn a commission. Read our disclosures.
The Schwinn 430 elliptical is the mid-tier offering from the fitness brand. Schwinn currently sells three ellipticals: the 470, the 430, and the 411.
We have not tested the 430 elliptical in our facilities, but we have been able to test the 470. Using our experience with the 470, a review of online specs, and user commentary, we will give you a complete look at this budget-friendly elliptical in our Schwinn 330 Elliptical review.
We're SCHWINN-ing the Elliptical Game
Our team at Garage Gym Reviews uses our knowledge as certified personal trainers and fitness professionals to systematically test fitness equipment to help you build your home gym. We've personally tested dozens of the best ellipticals to determine which one belongs in your home gym.
Schwinn 430 Elliptical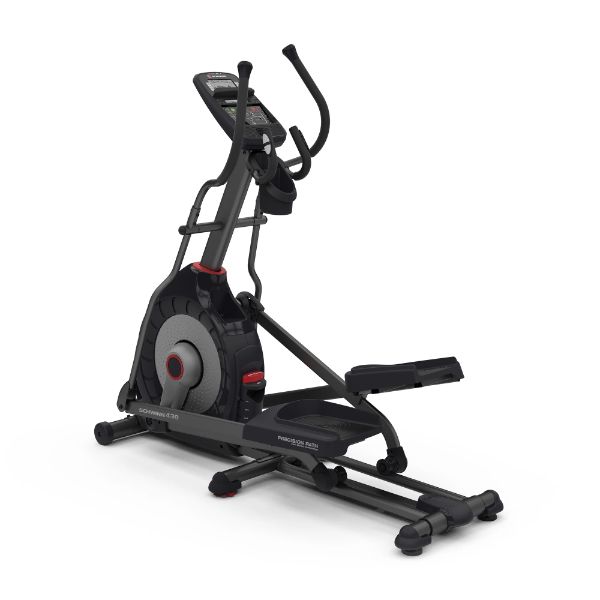 Schwinn 430 Elliptical
The Schwinn 430 elliptical comes with a lot of great features that help you get the most bang for your buck. It has a 20-inch stride, large footplates, and 20 levels of resistance. You're also able to track your heart rate on the contact grips that are part of the handlebars. While there are six levels of incline available, it's manually adjustable, which is something to note.The Schwinn 430 Elliptical comes with dual screens to easily view the pre-programed workouts, or you can use the media shelf to view your own device or reading material. There is also a charging USB port and MP3 input so you can listen to podcasts, books, and music through the speakers. Typical with Schwinn, this product is built to last. The frame has a 10-year warranty.
A Quick Look at the Schwinn 430 Elliptical Machine
Schwinn started as a bicycle company and has been creating indoor home exercise equipment since 1965. They pride themselves on creating affordable cardio equipment for home use and have three different ellipticals available in their line: the 470, the 430, and the 411.
Each of these elliptical trainers has a high-speed, high-inertia, perimeter-weighted flywheel, a large number of pre-programmed workouts, and various levels of resistance. The models differ on the number of levels of resistance, incline ability, and number of pre-programmed workouts.
The Schwinn 430 elliptical is under $1,000, priced at around $900 on Amazon. Here's what we can tell you about this machine: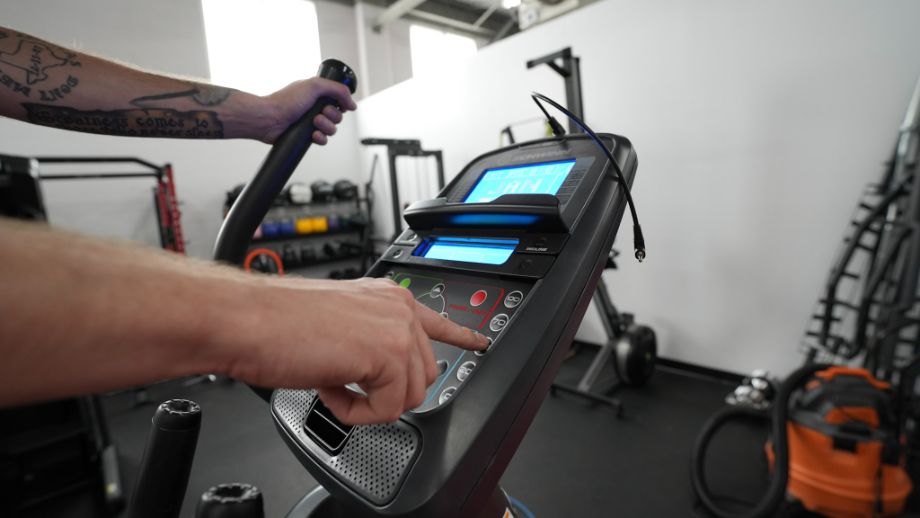 Pros:
20 resistance levels
6 manually adjusted incline positions
22 preset workout programs
20" stride length
Front transport wheels
Media shelf with USB charger for devices
100% satisfaction guarantee with 6-week return period
Cons:
Large footprint
$199 shipping charge
No Bluetooth connectivity
No telemetry heart rate monitoring
Incline requires manual adjustment
Schwinn recommends you unplug device between uses
Is the Schwinn 430 Elliptical Worth It?
The Schwinn 430 is priced around $900 dollars on the Schwinn website. Financing is also available for $50/month for 18 months. The 430 has a lot of features of more expensive elliptical machines such as incline ability, 20 resistance levels, and a 20-inch stride length. But is it right for you?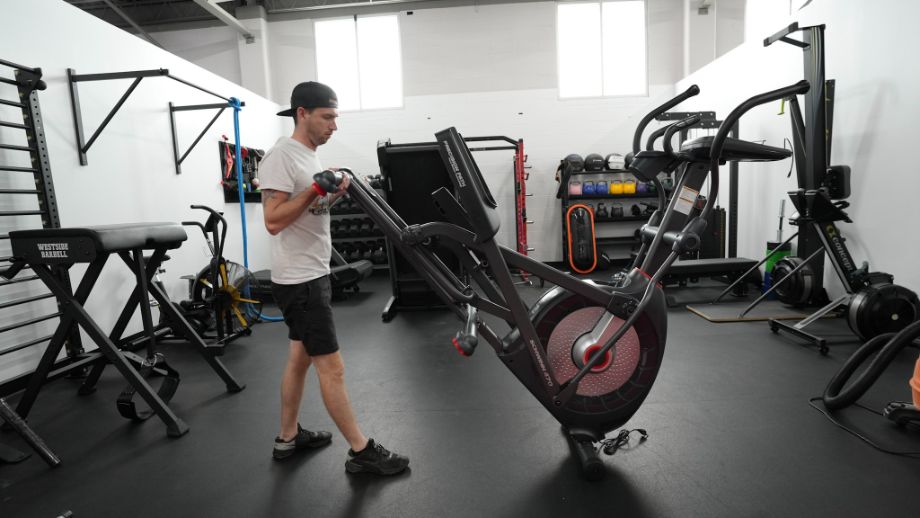 Great for:
People looking for an affordable elliptical with a longer stride length
Users looking for a basic elliptical with both resistance and incline
People with a large space for exercise equipment
Not recommended for:
People searching for compact exercise equipment for their home gym
Users who want to monitor their heart rate while they workout
People who want to change the incline during their workout
Tall people using the elliptical in rooms with low ceilings
Schwinn 430 Elliptical Specs
| | |
| --- | --- |
| Footprint | 70.1" (L) x 28.2" (W) x 63.2" (H) |
| Weight | 168.7 lbs |
| Weight Capacity | 300 lbs |
| Resistance Levels | 20 levels of magnetic resistance |
| Incline Levels | 6 incline positions (adjusted manually) |
| Flywheel | High speed, High inertia perimeter weighted flywheel |
| Preset Workouts | 22: Heart rate control, Custom user defined, Quick Start, Fitness Test |
| Screens | 2 DualTrack LCD displays |
| User Profiles | 2 |
| Pedal Length | "Large" (size not specified) |
| Step-Up Height | Max pedal height: 26" at full incline and 21" at lowest incline |
| Stride Length | 20" |
| Transport Wheels | Yes; front mounted |
| Bluetooth-Enabled | No |
| Built-in Fans | 3-Speed Fan |
| Heart Rate Monitor | Grip contact on static handlebar |
| Warranty | 10 year frame, 2 year parts, 1 year electronics, 90 day labor |
| Return Policy | 6-week return period if you are not 100% satisfied. You need to call customer service at (800) 605-3369 for a Return Merchandise Authorization (RMA) number. Refund is price less all shipping and handling |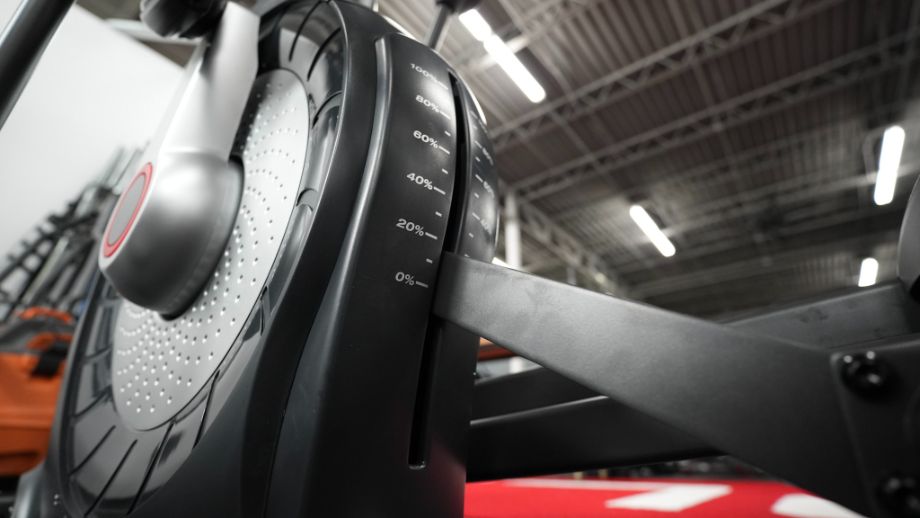 Our Take on Working Out With the Schwinn 430 Elliptical
We have not personally worked out on the Schwinn 430 Elliptical, but we have used another machine in this lineup, the Schwinn 470. We imagine the 430 will be a pretty similar experience to the 470 due to them having the same stride length, magnetic resistance, and so-called Precision Path Foot Motion technology.
We like that the 430 offers incline options; however, it's important to note that you have to manually make those changes while you're off the machine. You cannot adjust the incline digitally during your workout the way you can on other machines. However, many budget ellipticals don't offer any incline at all, so it's nice to see the option here.
If you're looking for a lot of workout guidance, like you'd find in the immersive programming on a NordicTrack elliptical, this may not be the machine for you. There are some great built-in workouts, but it's not the personalized level of programming you find on some of the best elliptical machines on the market today.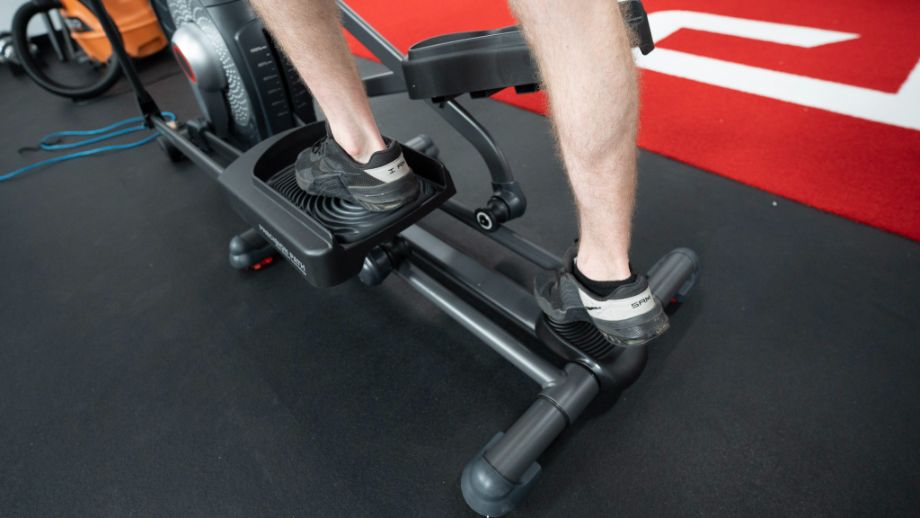 Some users found the screen to be difficult to read due to lack of backlighting. However, one thing our product testers noticed on the 470 that rings true on the 430 is that while the device holder is in use, it doesn't block the workout metrics on the console. Therefore, you can stream workouts or watch entertainment on your device and still check on workout data.
Customer Reviews
Customer reviews for this machine have been mostly positive. They share that the Schwinn has a straightforward assembly and use. They also share that the elliptical feels very sturdy and solid. They have not had issues with wobbling or shaking when in use.
There were mixed reviews on whether the elliptical was quiet. Some reviewers found they were able to use the elliptical while watching television without cranking up the volume. Other reviewers found the elliptical to be loud.
Even positive reviews noted that there is often a squeaking sound when in use. Reviewers noted that it was resolved with silicone lubricant on the rails where the wheels travel. The manual and assembly instructions indicate that the lubricant was included in the box, but some customers did not have any included in their box.
Negative reviews noted that even the lowest resistance level is pretty difficult; with even self-reported experienced elliptical users being surprised by the high minimum resistance. Many users also complained about the odometer and calorie tracker being inaccurate and the screen being dark and difficult to read due to not being backlit.
Footprint, Portability, and Durability
The Schwinn 430 has a large footprint at 70.1 inches long by 28.2 inches wide by 63.2 inches tall. Taller users do need to be careful about using this machine in rooms with lower ceilings. There were customers who had to move the elliptical to a different room in their home due to lack of clearance. If you do have to move the elliptical, it does come with front transport wheels.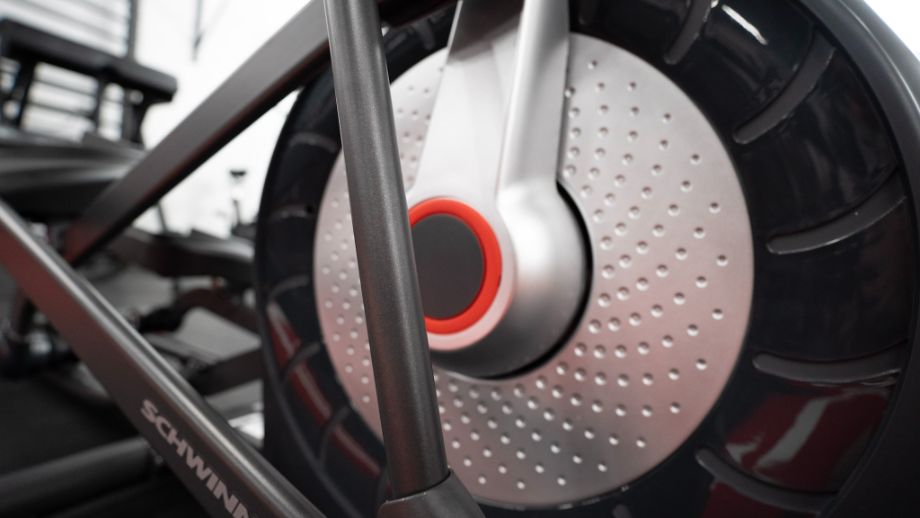 We like that the machine has a 300-pound weight capacity. However, we have read that multiple reviewers had issues with the durability of the elliptical, having to contact customer service multiple times for help and repairs.
The Ergonomics
Schwinn utilizes a variety of features to create a comfortable, low-impact workout. One of the biggest contributors is the 20-inch stride length, which accommodates users of just about any height.
Schwinn states that their Precision Path Foot Motion technology simulates natural running motion, and the large, cushioned footplates create a comfortable workout. Additionally, there are ergonomically placed moving handlebars.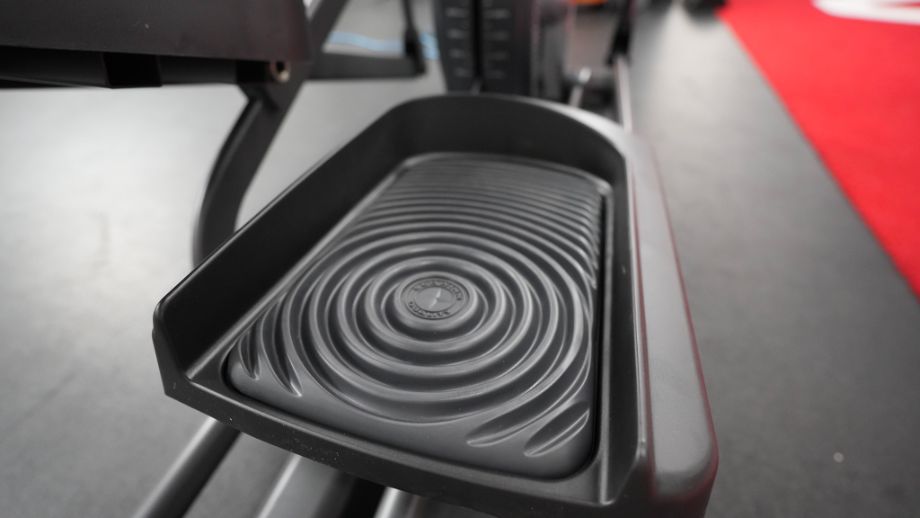 The elliptical also has a three-speed fan, a water bottle holder, and a device holder for comfort while working out.
Technology
The Schwinn 430 has minimal technology, especially compared to high-end ellipticals. Interestingly, the brand advertises that the other two machines in this line sync with the Explore the World app, but the 430 does not appear to. It looks like the 2017 models of the 430 had Bluetooth connectivity, but this newest model does not.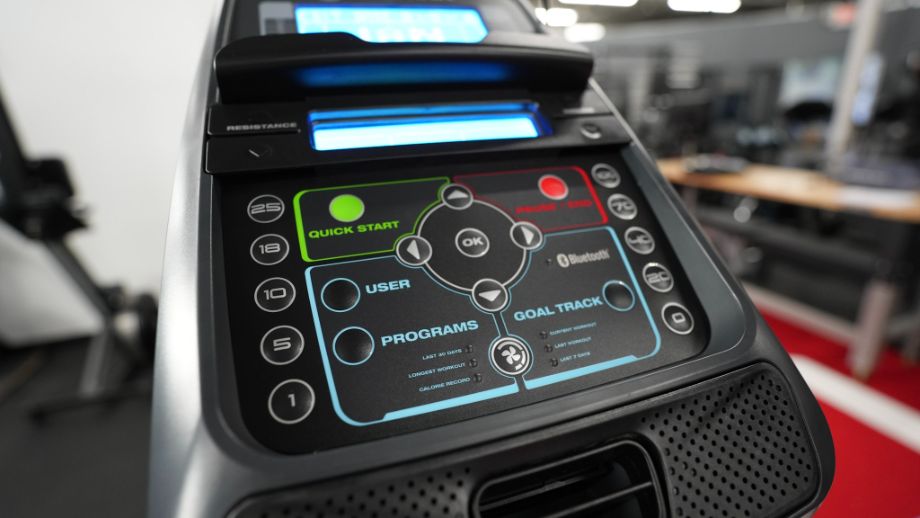 The console has been updated to have two DualTrack LCD screens that allow you to view programs and goal tracking. There is also a media shelf so you can view your device without blocking the tracking information. Schwinn has included a USB port for charging your device as well as an MP3 input that connects to the console's speakers.
Brand Policies
The Schwinn 430 comes with 10-year frame, two-year parts, one-year electronics, and 90-day labor warranties. In order to utilize the warranty, you need to notify Schwinn within 30 days of detecting an issue with the machine.
If you are not 100% satisfied with the Schwinn 430 elliptical trainer, you can return it within six weeks of the original delivery date. In order to receive a refund minus all shipping and handling costs, you must contact customer service and receive a Return Merchandise Authorization (RMA) number. The product must be postmarked within two weeks of receiving the RMA number. Products returned without an RMA number will not be refunded. Products must also be returned in their original condition.
Assembling the Schwinn 430 Elliptical
The Schwinn 430 weighs 168.7 pounds. While we didn't assemble the 430, we did assemble the 470, which is a comparable machine. We found that having two people there to do the job was key because there are large, heavy pieces involved. Schwinn provided the tools you will need to assemble to elliptical; however, many users found it easier to use their own tools.
Many users reported having to open the box and bring their elliptical into their home piece-by-piece because of the large and heavy box. Some customers received or paid for professional assembly and had mixed reviews; some reviewers had trouble with their elliptical making noises and not working after having professional assembly.
Final Verdict of Our Schwinn 430 Elliptical Review
The Schwinn 430 is an affordable elliptical with features similar to more high priced machines, like the 20-inch stride, 20 resistance levels, and incline ability. While you cannot change the incline while working out, it is rare for machines at this price point to have any incline ability at all.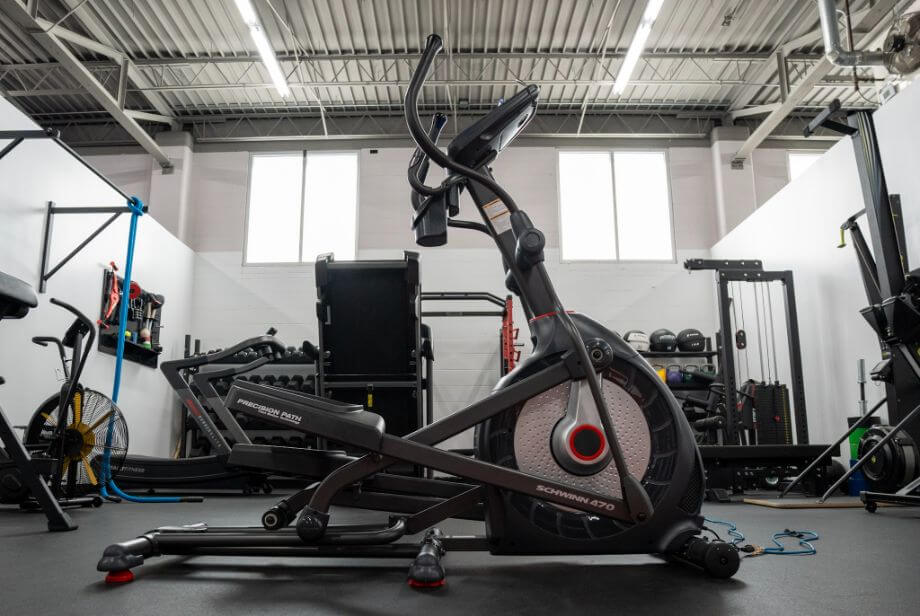 Schwinn 430 Elliptical Rating
Schwinn 430 Elliptical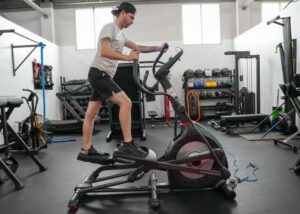 In our Schwinn 430 Elliptical Review, we assess the value of this under-$1,000 cardio machine.
Product Currency: $
Product Price: 999
Product In-Stock: InStock
Schwinn 430 Elliptical Review FAQs
Is the Schwinn 470 a good elliptical? 
The Schwinn 430 has a lot of features that are not found on similarly priced ellipticals. The 20 levels of resistance, incline and longer 20 inch stride length. However, it is not the most durable elliptical available.
How heavy is the Schwinn 470 Elliptical?
The Schwinn 430 elliptical has a product weight of 168.7 pounds.
Does Schwinn make good ellipticals?
Schwinn aims to make solid, affordable indoor cardio equipment.