We test and review fitness products based on an independent, multi-point methodology. If you use our links to purchase something, we may earn a commission. Read our disclosures.
Elliptical trainers offer a full-body workout without straining your joints. That's why you will see people of all ages and fitness levels looking to jump on one at the gym.
Bringing an elliptical into your home gym gives you more opportunities to reap the benefits of this machine every day while minimizing your excuses not to train. Even better, there are some very affordable ellipticals on the market. Our team of expert product testers has personally used the best ellipticals under $1,000 to give you our expert, unbiased opinion on which might be best for you.
We've Spun Our Wheels on Dozens of Ellipticals
Our passion for fitness equipment goes beyond ourselves. At Garage Gym Reviews, we seek to help others discover the life-changing benefits of fitness and help those already engaged in training further their performance and goals.
Our testers have studied the ins and outs of the best ellipticals on the market. We write from experience as certified personal trainers, CrossFit-L1 Trainers and nutrition coaches who want to help others using honest knowledge we are proud to share.
The 6 Best Ellipticals Under $1,000
Best Overall Elliptical Under $1,000: Horizon 7.0 AE Elliptical
A well-built, sturdy machine that has lots of built-in conveniences and extras.
Best Overall Elliptical Under $1,000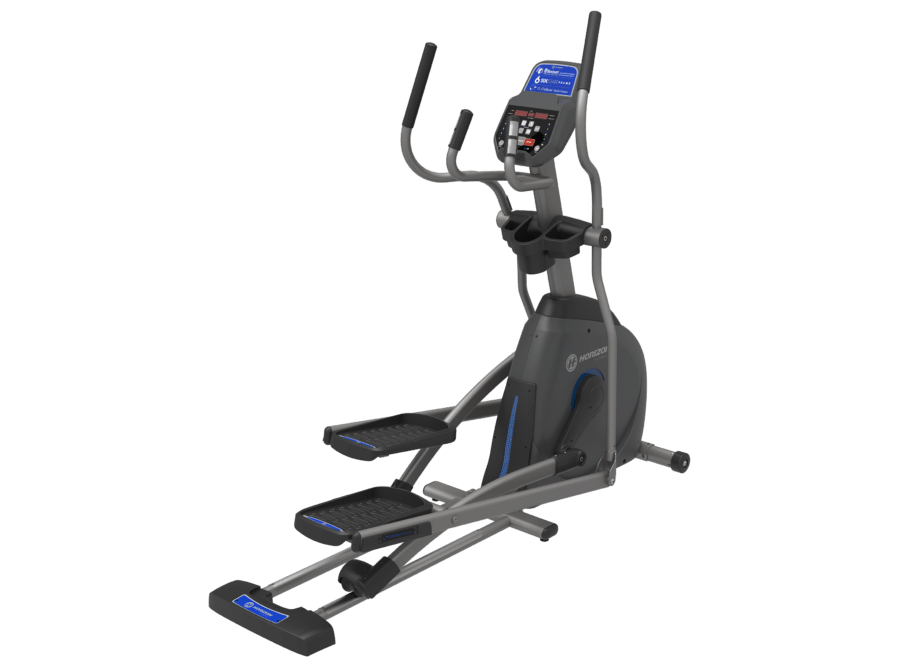 Horizon 7.0 AE Elliptical
Bring your fitness classes, music and entertainment to your workouts with advanced Bluetooth speakers. Smart fitness technology pushes data to your favorite tracking apps. Ergonomic Six-Star Frame encourages ideal body position and movement for a more efficient and comfortable workout. Achieve better muscle tone and burn more calories with advanced power incline.Read our full Horizon 7.0 AE Elliptical review.
Pros:
Quality build
Heavy weight capacity
Rapid-charge USB port
Works with interactive programming app
Lifetime warranty
20-inch stride length
Cons:
LCD display is 7"
Heavy machine with complicated setup
Large footprint for people with limited space
The Horizon 7.0 AE Elliptical is an easy-to-use, simple, and sleek home cardio machine that offers a lot of features for just under $1,000. Immediately, there are three "20s" we like: 20 levels of resistance, 20 incline levels, and a 20-inch stride length—all features you don't often see on budget-friendly machines. It also touts Bluetooth speakers, a heart-rate monitor in the handles, and a USB port you can use to charge your devices.
If you're someone who needs a little guidance in workouts, the 7.0 AE has eight on-board programs as well as compatibility with an app that can push your workout data to other fitness apps you might use. One note: Our testers did say the app is a little underwhelming (we're fans of programs like iFIT).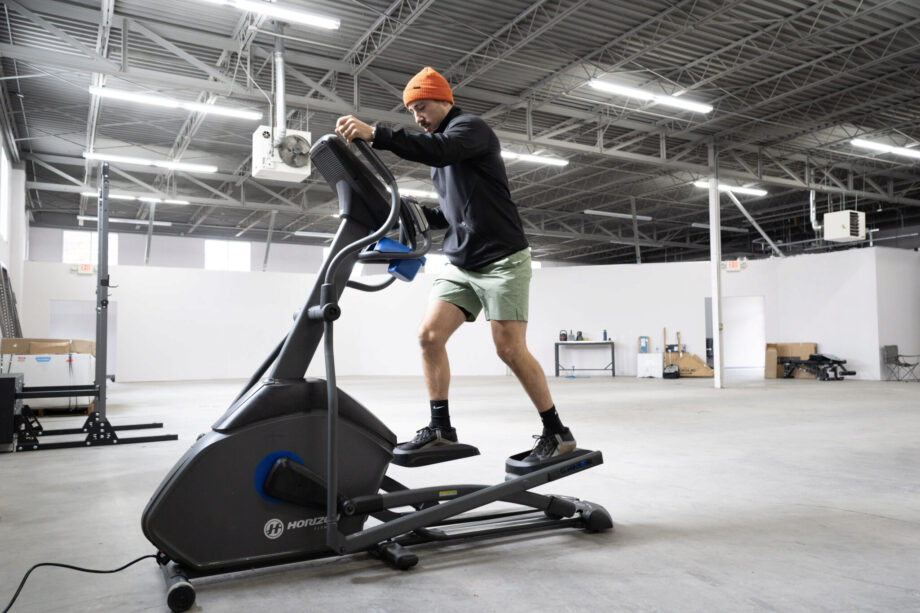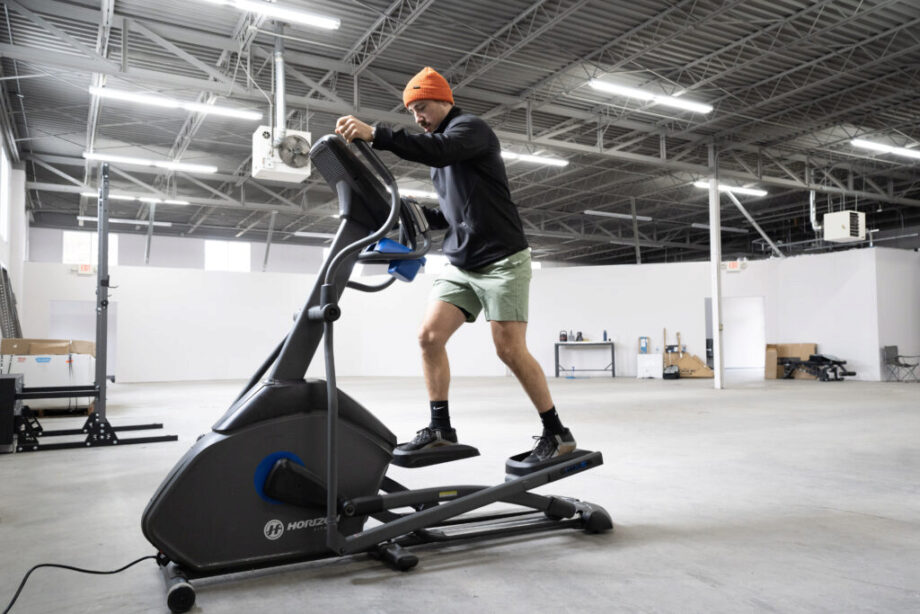 As far as the actual exercise experience goes, the Horizon 7.0 operates with smooth precision and delivers a total body workout. Our testers reported a sturdy foundation when training. It didn't shake or feel imbalanced, even when training on a carpet. Furthermore, Horizon offers a lifetime warranty on the elliptical's frame and brake.
It's worth noting that while sturdy, the elliptical is a bit heavy at 194 pounds, making assembly a likely two-person job. It also means that portability-wise, this isn't the easiest machine to move around your home.
For more on our take, check out our Horizon 7.0 Elliptical review.
| | |
| --- | --- |
| Footprint | 76″ L x 24″ W x 65.5″ H |
| Built-in Workouts | Eight |
| Resistance Levels | 20 |
| Extra Features | Cooling fan, integrated speakers, USB port |
Best Elliptical Under $1,000 for Beginners: Sunny Health & Fitness Magnetic
Good for: Those looking for an elliptical machine that's easy to use
Best Elliptical Under $1,000 for Beginners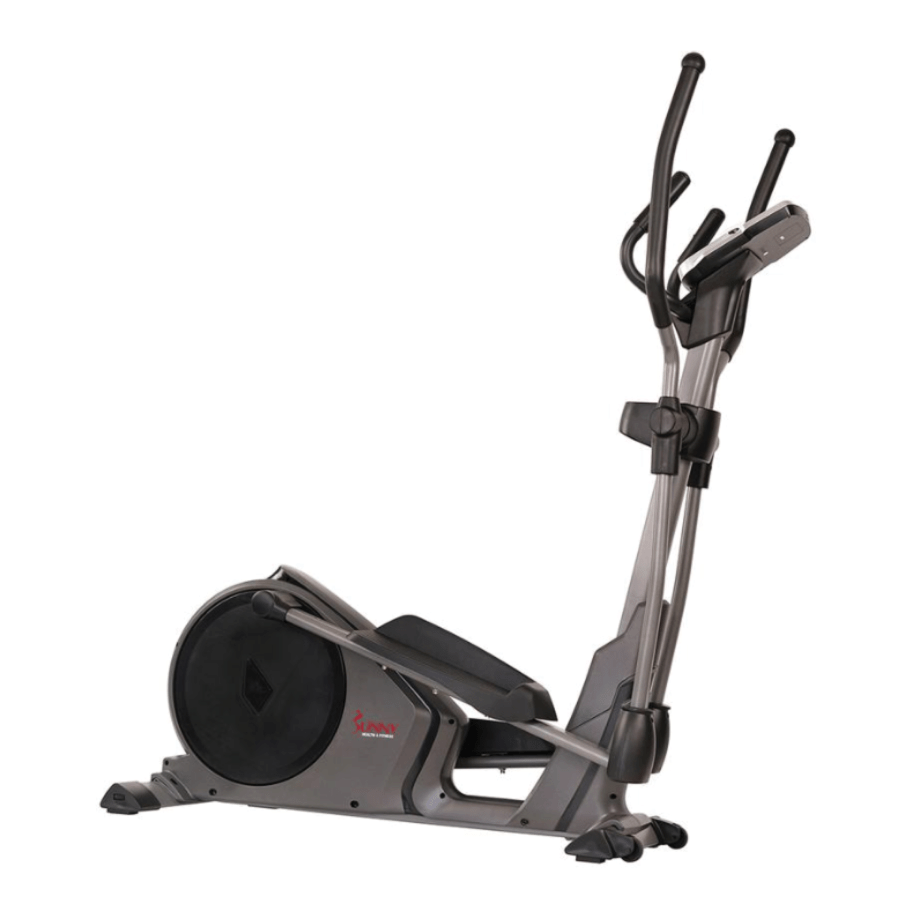 Sunny Health & Fitness Magnetic Elliptical
Pack a cardio workout in the comfort of your home with the SF-E3912 Pre-Programmed Elliptical Trainer by Sunny Health & Fitness. Stride 15.5 inches when you step onto the wide and textured foot plates. Grab onto the handlebars to engage muscles in your upper body and maintain balance during your exercises. Grip the pulse sensors to keep tabs on your heart rate as you stride. Alternatively, you can link a compatible wireless heart rate belt to this cardio trainer to take advantage of heart-rate targeted workout programs and features. Maintain stability on any ground surface when you adjust the front and rear stabilizers on this elliptical cross trainer. Control workout resistance when you increase and decrease the 16 levels of programmable magnetic resistance when the elliptical is plugged in to a power source (adapter included).
Pros:
Easy-to-use technology
Lightweight and easy to move
High weight capacity at 330 pounds
24 pre-programmed workouts
Two sets of handles for better accessibility
Price point under $500
Cons:
Subpar warranty
Shorter stride
Assembly instructions may be confusing
If you are just starting to experiment with elliptical training, you may want a machine that is straightforward and accessible. The Sunny Health & Fitness Magnetic Elliptical is ideal for beginners looking to learn the ins and outs of this type of training.
First, there are a whopping 24 easy-to-follow programs, so you don't have to come up with your own elliptical workout. The backlit display is basic but reports the essentials like heart rate, speed, calories burned, and distance. Also, if you need more from your monitor, the machine's built-in media shelf helps you to safely incorporate your devices for additional training guidance or entertainment.
RELATED: Elliptical Workouts for Weight Loss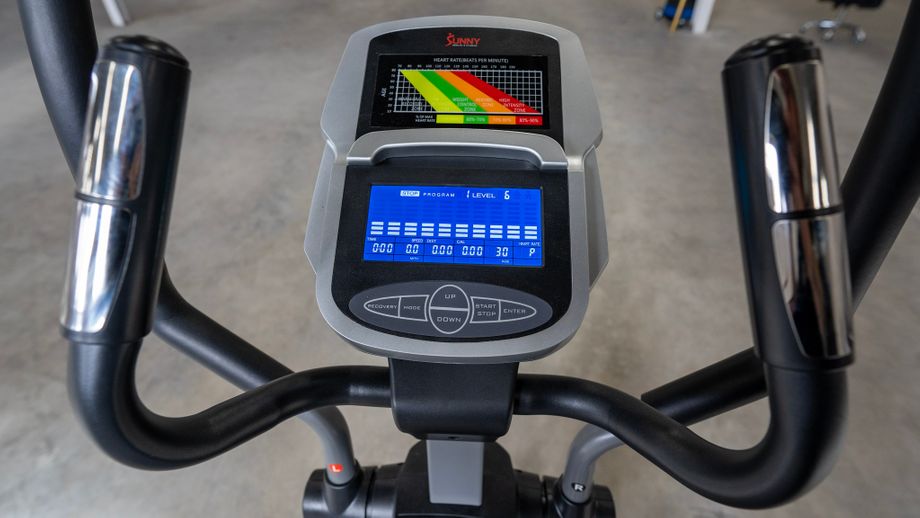 We like that this machine offers both stationary and moving handlebars. This provides stability for those just getting used to an elliptical as well as an upper-body workout for when you're ready to progress. Unlike similarly priced ellipticals, the Sunny can also accommodate heavier users with a 330-pound weight capacity.
With an electro-magnetic system, the Sunny Magnetic Elliptical offers 16 levels of resistance. Our testers found this elliptical to have a sturdy build, reporting stable support when training. The Sunny is compact, light at just 104.8 pounds, and has transport wheels to make moving this machine a breeze.
Note that the stride length of 15.5 inches is on the short side, so taller users may not be quite as comfortable. Also, our testers found the assembly process to be a little complicated. While the warranty on this machine is just three years on the frame and 180 days on the parts, we aren't surprised, as most budget machines come with shorter warranties.
For more on our take, check out our Sunny Health and Fitness Magnetic Elliptical review.
| | |
| --- | --- |
| Footprint | 55" L x 23" W x 64.5" H |
| Built-in Workouts | 24 |
| Resistance Levels | 16 |
| Extra Features | Tablet holder, pulse-monitoring, water bottle holder |
Most Portable Elliptical Under $1,000: Body Rider Body Flex
Good for: Those looking for a lightweight elliptical that can be easily moved
Most Portable Elliptical Under $1,000
Body Rider Fan Elliptical Trainer
While fancy extras on a fitness machine are nice, they certainly are not necessary to get a good workout. The Body Rider Fan Elliptical Trainer exemplifies this point. It's a basic, but highly-efficient elliptical machine designed to work both your upper and lower body. Dual-action handlebars keep your core and arms engaged while your legs pedal away on this non-impact elliptical.This Body Rider elliptical is very compact, measuring about 25 inches long, 9 inches wide, and 36 inches high making it a viable option for anyone living in small spaces. The compact size does compromise the stride length, so it's less than ideal for taller individuals.Equipped with transport wheels and weighing less than 60 pounds, this machine is easily transported out of the way when not in use. If you're new to the world of cardio, this elliptical has you covered as it comes with an instructional workout video to help you get started.A chain-driven fan wheel drives this elliptical. The belt-tension control knob increases or decreases resistance and, as you increase your speed, air resistance is built up which contributes to a more challenging workout.While the Body Rider Fan Elliptical Trainer may not provide a workout difficult enough for a seasoned cardio fanatic, it could be a great choice for beginners and those with knee or joint pain. There are reviews that state the pedals are angled too far forward, which creates unnecessary stress on the knee for some. That said, there were recommendations for some DIY fixes to combat this problem.A basic computer tracks fitness metrics including calories burned, speed, time, and distance displayed on a small monitor. The display is a bit lackluster but, for less than $150, it provides all you would expect and need in a machine at this price point.
Pros:
Lightweight at just 58 pounds
Does not need to be plugged in
Small footprint
Transport wheels
Under-$200 price tag
Cons:
Short stride of 12"
1-year warranty
Limited weight capacity
An elliptical at home allows you to work out without the extra time needed to get to the gym. If you have limited space, you may want an elliptical that is both compact and easy to move. The Body Rider Flex is affordable and compact exercise equipment ideal for small spaces.
RELATED: Best Compact Elliptical
Made from steel and plastic, the Body Rider is incredibly light, coming in at just 58 pounds. Furthermore, its two transport wheels make moving it around even more manageable. And we love that the Body Rider doesn't need to be plugged into the wall to work! This makes finding the space to use it far easier and set up way less annoying.
The Body Rider Flex offers a small and basic LCD monitor that shows the essentials such as distance, calories, speed, and time. Unfortunately, there are no built-in workouts. However, Body Rider offers a tutorial video, and with such ease of movement, you can quickly move this elliptical to any nearby screen for entertainment or elliptical guidance.
The size, weight, and price tag of this machine make its limited features no surprise. Our testers did find it surprisingly stable and easy to train on. The Body Rider has a maximum weight capacity of 250 pounds, which is a little lower than we'd like to see, but unsurprising for such a lightweight machine.
For more on our take, check out our Body Rider Flex review.
| | |
| --- | --- |
| Footprint | 38.58" L x 9.06" W x 24.8" H |
| Built-in Workouts | N/A |
| Resistance Levels | Unmarked knob-based resistance |
| Extra Features | Tutorial DVD |
Best Durable Elliptical Under $1,000: Horizon Fitness EX-59
Good for: People looking for an elliptical with a high weight capacity and smooth experience
Best Durable Elliptical Under $1,000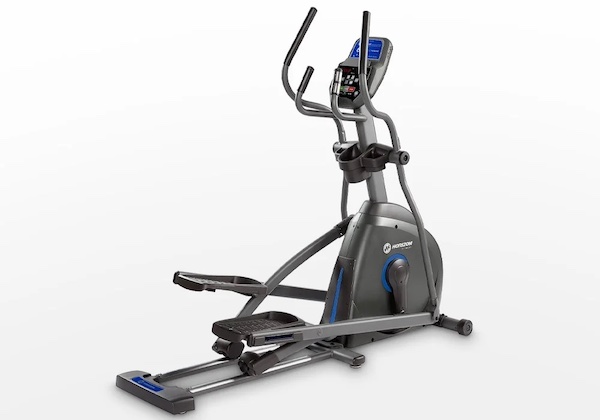 Horizon EX-59 Elliptical
The Horizon EX-59 is a front-drive elliptical that was ergonomically designed to provide ease of use. A step-up height of 10.75 inches, as well as pedals that are closer together than a standard elliptical, allow for more of a natural range of motion that mimics walking. The stride length is 18 inches, which is smack dab in the middle of the range you want to see on ellipticals, plus it comes equipped with 10 levels of magnetic resistance. Other positives include the tech capabilities, namely Bluetooth connectivity and speakers, plus a built-in device holder and USB port to charge your phone or tablet while you're working out. The LCD display shows metrics including calories, distance, heart rate, program level, speed, time, and watts, and the machine comes with five pre-programmed workouts: Calorie, Distance, Intervals, Manual, and Weight Loss.With a footprint of 74 inches by 25 inches by 64.5 inches, the EX-59 is not a very compact machine. While a weight capacity of 300 pounds and a 14-pound flywheel points to less durability for long-time use, the machine does have a lifetime warranty on the frame, which is a definite plus. There's a one-year warranty on parts and labor.
Pros:
Weight capacity of 300 lbs
Incredibly sturdy
Under $500
Bluetooth-compatible
18" stride
Lifetime frame warranty
10 levels of magnetic resistance
Cons:
No incline options
Pedals may be high for some
Large footprint
Despite being priced under $500, the EX-59 has an impressively quality build. Further reassuring is Horizon's lifetime frame warranty, something that even the best elliptical machines don't have.
The 145-pound elliptical has a durable construction that supports up to 300 pounds. In addition, our testers found that you will have a smooth and stable experience wherever you train. Textured foot pedals help to lock you in place as you exercise, and an 18-inch stride length means this machine is great for users of just about any height.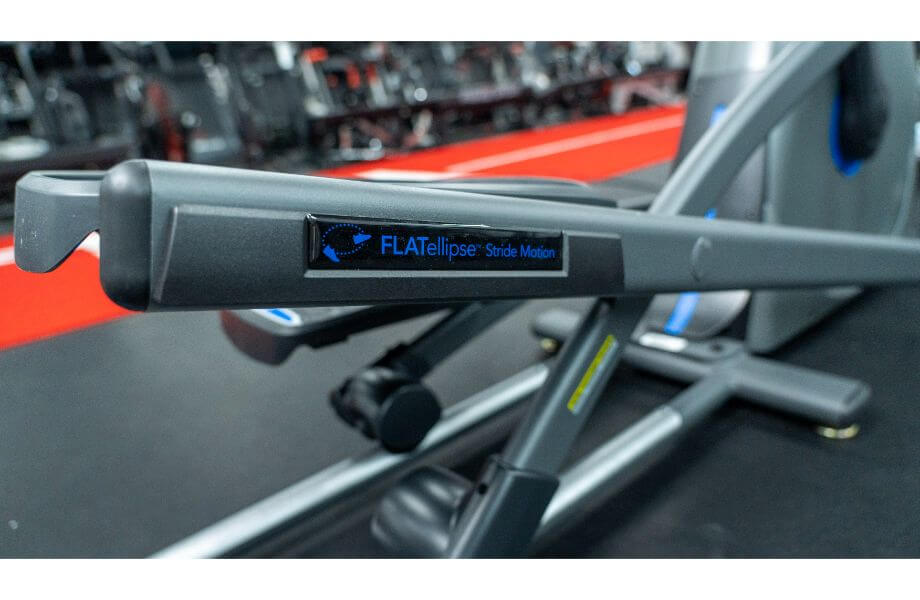 The 4.5-inch LCD monitor on the EX-59 is relatively basic. However, our testers found it very user-friendly. The monitor reports on essential metrics such as speed, calories, and distance. Additionally, there are five built-in workout programs. If you prefer streaming workouts, the EX-59 has convenient Bluetooth connectivity, built-in speakers, and a practical device holder above its LCD screen.
The elliptical comes with 10 resistance levels but no incline options. Our testers found moderate mobility in the EX-59, as it weighs almost 150 pounds. The front transport wheels do make moving possible. Still, we suggest having a long-term space for use and storage with the EX-59.
For more on our take, check out our Horizon Fitness EX-59 review.
| | |
| --- | --- |
| Footprint | 74″ L x 25″ W x 64.5″ H |
| Built-in Workouts | Five |
| Resistance Levels | 10 |
| Extra Features | Bluetooth speakers, device holder |
Best Under-Desk Elliptical Under $1,000: Cubii JR1 Under-Desk Elliptical
Good for: Those looking for a small elliptical to keep them moving during the workday
Best Under-Desk Elliptical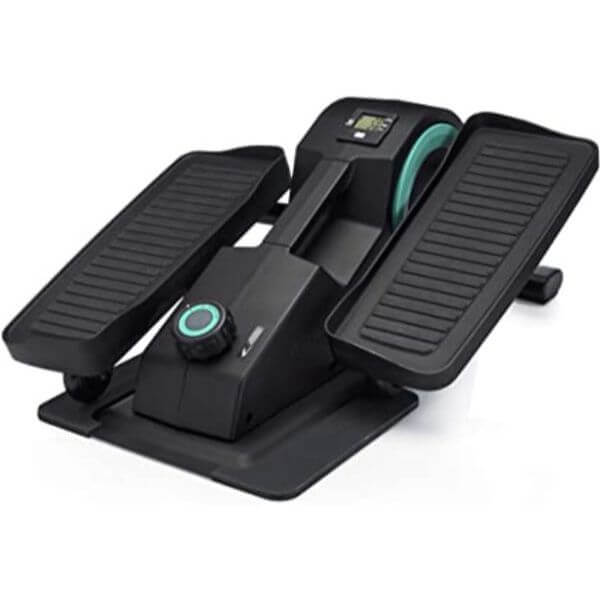 Cubii JR1 Under Desk Elliptical
If you are looking to get your legs moving while at work, you're in luck. The Cubii JR1 is an under-the-desk mini elliptical with eight levels of resistance that allows you to keep your legs active while seated. Whether you are at work or at home, the smooth gliding motion is designed to be quiet so no need to worry about disturbing those around you.The Cubii JR1 is lightweight and portable so can be brought to and from work with ease. All users are able to access the Cubii Studio+ fitness platform where you can join live or on-demand classes. Track your progress on the small LCD screen, which displays calories burned, distance traveled, RPM, and minutes active. Looking for motivation? Join the Cubii Comunitii to connect with others on their fitness journey.This machine is not intended for any high-intensity training, so if you're looking to jack up your heart rate and get on a good sweat, you will likely be disappointed. The resistance is mediocre but it certainly is a convenient way to keep your legs moving when they'd otherwise be sedentary.
Pros:
Quiet
Lightweight
Small footprint
Free streaming workouts
Under $300
8 levels of resistance
Cons:
No built-in workouts
Not for intense training
Must be plugged in to an outlet
The consequences of a sedentary lifestyle can be immense, both physically and psychologically. The Cubii JR1 uniquely offers some relief, as it is designed to be used while sitting down. There are eight levels of resistance, which is great for stimulating muscle throughout the workday.
At 27 pounds, the Cubii JR1 is light and portable. For those who have co-workers or simply don't want to hear the loud whirring of a machine, the Cubii is very quiet. And despite its small footprint, it does have an LCD screen reporting basics such as calories burned, strides, and distance.
This under-desk elliptical is not only great for people stuck behind a desk, it can be considered a go-to for people recovering from injuries. The Cubii allows for low-impact exercises while sitting, stimulating your body without disrupting your recovery.
Setup is a matter of a few screws, our testers found, as the machine comes pretty much ready to go. You will need to plug this machine into an outlet for power.
| | |
| --- | --- |
| Footprint | 23.15" L x 17.56" W x 10" H |
| Built-in Workouts | N/A |
| Resistance Levels | Eight |
| Extra Features | Basic LCD display |
Best Freestyle Elliptical Under $1,000: Gazelle Freestyle
Good for: Those looking for a stability challenge on an elliptical
Best Freestyle Elliptical Under $1,000
Gazelle Freestyle
Looking for a non-impact and joint-friendly piece of fitness equipment that provides both good cardio and muscle building? If so, consider the Gazelle Freestyle glider, with which you can perform exercises that both build muscle and improve cardiovascular endurance. A basic yet functional monitor allows you to track speed, distance, and time. Equipped with pulse grips, the Freestyle also records heart rate and calories burned allowing you to stay on top of your fitness goals.The Freestyle glider is a solid option for the beginner and advanced athlete alike. The large range of motion enables you to move at any speed seamlessly without putting unnecessary stress on your joints. The Gazelle Freestyle glider has an impressive max user weight capacity of 300 pounds with a relatively compact footprint. If you are short on floor space, the Freestyle can be folded and stored out of the way when not in use. A free nutrition guide, two workout DVDs, and an exercise manual is included with your purchase. The machine is comfortable, equipped with extra-wide and non-skid platforms as well as high-density foam handlebars. There are some users who report this newer model feels less sturdy than previous ones and that the monitor is disappointing. But, the vast majority of consumers were impressed with its ease of use and effective workouts. 
Pros:
Free-stride cross-trainer offers intense workout
Foldable
Light
Small footprint
High user weight capacity at 300 lbs
No electrical outlet necessary
Under $200
Cons:
No built-in workouts
May not be ideal for people with balance issues
Not easy to get on/off machine
The Gazelle Freestyle is compact, simple, and cheap. This cross-trainer machine offers a low-impact workout where you are in complete control. There is no adjustable resistance, no set movement pattern. You are responsible for the balance and stride as you move.
The Gazelle is exceptionally light at 46 pounds, has a small footprint, and is foldable, making it great for anyone short on space. Shockingly, it touts a weight capacity of 300 pounds. However, our testers felt that might be an overshot based on the mostly-plastic construction.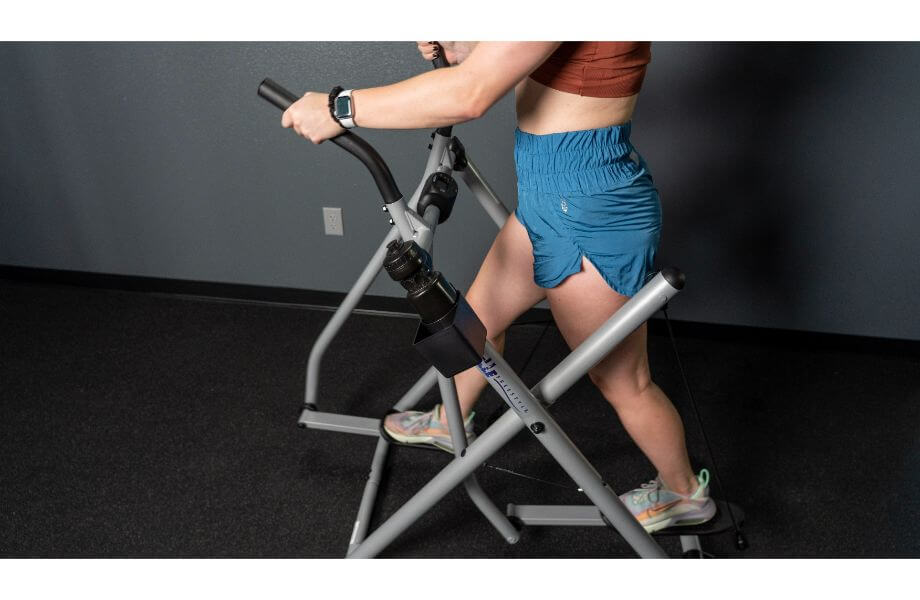 As far as features go, this is a pretty basic elliptical: The Gazelle has an easily accessible square-shaped water bottle and a small LCD screen that reports basic metrics. One thing we do like is that you don't need an electrical outlet to use it.
The biggest callout here is that users who struggle with balance may feel stressed on this simple machine. Also, our testers found that extra attention is needed in getting on and off due to the instability of the pedals.
For more on our take, check out our Gazelle Freestyle review.
| | |
| --- | --- |
| Footprint | 44″ L x 33.5″ W x 53.5″ H |
| Built-in Workouts | None |
| Resistance Levels | None |
| Extra Features | Water bottle holder |
Other Ellipticals Under $1,000 We Researched
ProForm Hybrid Trainer: This hybrid provides both a recumbent bicycle and elliptical option for your training. I'm always a fan of having more versatility on a workout machine. However, what stood out most about this bike/elliptical hybrid is that it offers an adjustable screen with interactive programming via iFIT.
Exerpeutic Elliptical: Despite the price range, the elliptical is pretty sturdy. However, our testers found it to be very loud.
Schwinn 411: This elliptical offers an industry-standard 18-inch stride, 16 levels of resistance and adequate support for upwards of 300-pound users. We have yet to test this machine, though we have read that some people find it difficult to use.
Niceday Elliptical: This exceptionally quiet and affordable elliptical has a durable build with a weight capacity of 400 pounds, though we found the handles to be a little wobbly.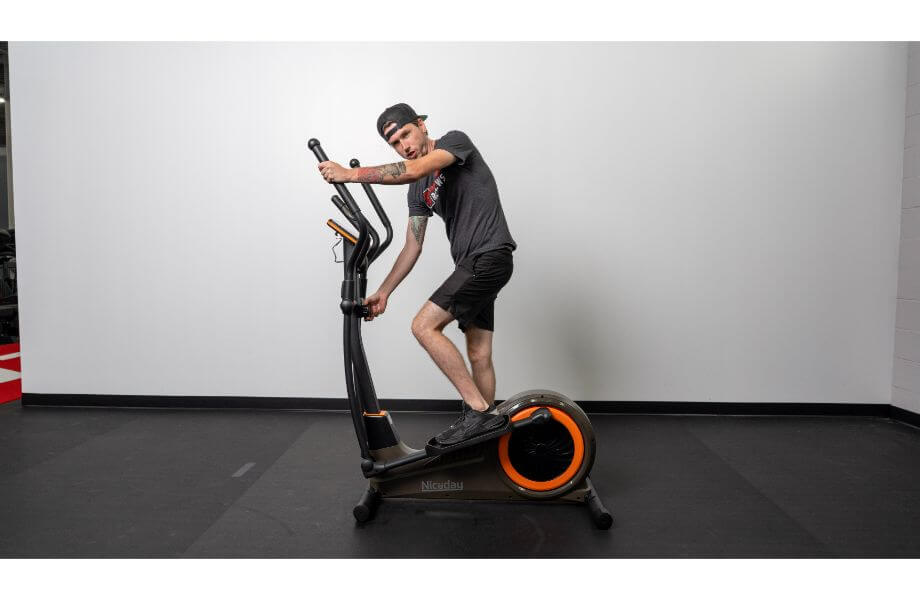 How We Picked and Tested Ellipticals
When testing the best elliptical trainers, we cover every factor. Not only do we approach each elliptical based on our fitness experience, we analyze accessibility, practical use, durability, and more.
A few things we look at:
Value: We consider the price vs. what it has to offer.
Durability: Did we have a sturdy foundation to train?
Monitor features: We measure how advanced it is, if it's a touchscreen and what capabilities it has.
Footprint: Is it compact, and is it portable?
Warranty: Does the company stand by its product?
Resistance and incline levels: Can the machine give you the workout you need? Does it have an adjustable incline and multiple resistance levels?
Assembly: How complicated is it to do on your own?
Programs: Are there built-in options for HIIT, interval training, hills, and more?
Stride: How long is it, and does the elliptical feature an adjustable stride?
Construction: The quality of general materials used are something we want to understand fully (so you can too).
The extras: We keep our eyes peeled for extra features such as Bluetooth or USB compatibility and built-in speakers.
All this is part of our bigger goal of helping you determine precisely if the elliptical's price, features, and construction are right for you.
Benefits of Ellipticals
There is no shortage of elliptical benefits. We love this low-impact cardio exercise for a number of reasons:
Like swimming, ellipticals provide a full-body workout that hits all your major muscle groups with considerably less stress on your joints than running.
For those who can't stop training but are injured, ellipticals offer a high-intensity feel that is more delicate and safe to engage in when undergoing recovery. Generally, they are great tools when transitioning back to pre-injured workout routines.
Ellipticals help to build both your cardio and strength. Offering speed, incline, and resistance adjustments make ellipticals great for people who are looking to build muscle and advance their stamina.
Ellipticals can give you a high-intensity workout that burns calories.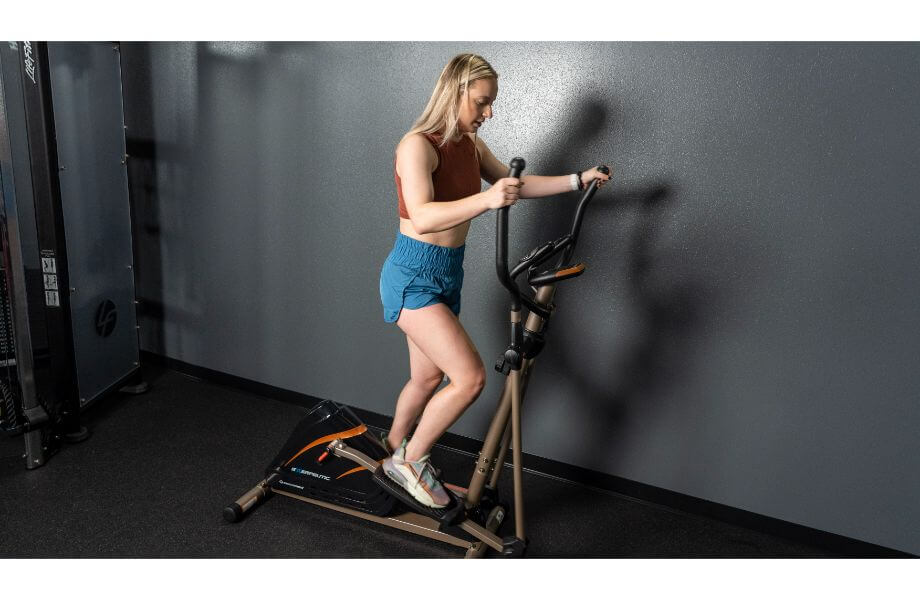 What to Look for in a Budget Elliptical
We have a comprehensive elliptical buying guide, but here are a few things we can say if you're in the market for a budget-friendly machine to help you meet your fitness goals:
Footprint
If you have limited space in your home, you want a machine that is easy to move, foldable or leaves a small footprint. Budget ellipticals often come with a smaller footprint than other machines. Keep in mind that this usually means a shorter stride, which can be uncomfortable for taller users.
Incline and Resistance
One area where more affordable ellipticals often make sacrifices is with resistance levels. You might find fewer options on these machines. The same goes for incline: In order to offer incline levels, a machine would need a motor to power those changes, and that would mean a higher price tag.
So when looking at the best ellipticals under $1,000, keep an eye out for these features and make sure you're still getting what you need for an effective workout.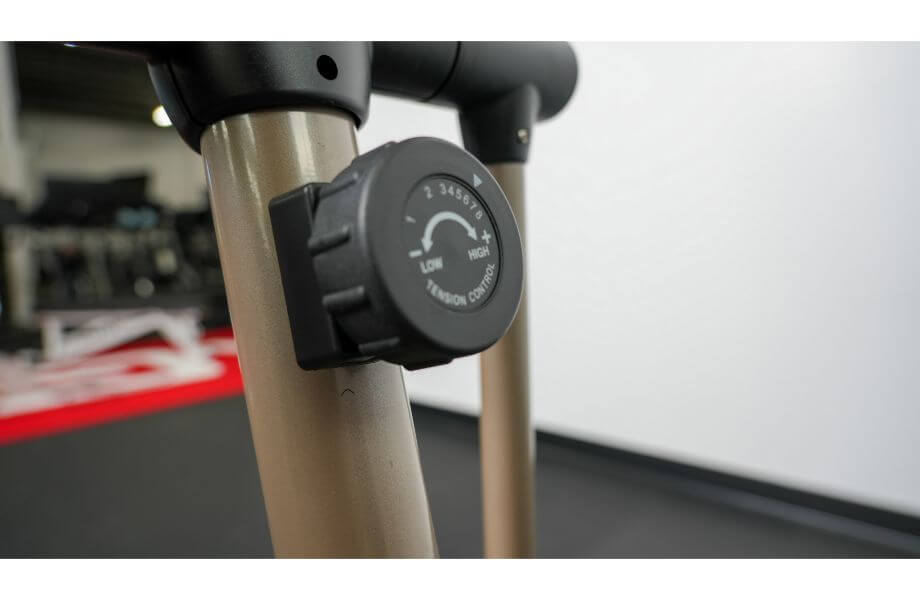 Durability
Will the elliptical be able to support your weight? Does it shake while in use? You can glean weight capacity from product specs, but understanding how sturdy it is might be difficult to do if you don't have access to the machine. Check out reviews before buying.
Technology
Maybe you don't mind a simple monitor that records the basics (calories burned, distance, speed, heart rate, etc.). However, many people today desire more advanced interactive fitness programs built into the machine's interface.
Expect steeper prices as tech features become more advanced, but some models available today offer quality preset programming and interactive training at an affordable rate.
Furthermore, when shopping on a budget, DIY solutions such as incorporating external devices for viewing are a great solution before investing in higher-end ellipticals. And while not standard, many machines in this price range offer USB and Bluetooth technology.
Best Ellipticals Under $1,000 FAQs
What are the top-rated ellipticals?
Will an elliptical burn belly fat?
Nothing will spot-burn fat on your stomach. However, an elliptical can strengthen your core while simultaneously delivering a powerful calorie-burning cardio-based experience. Incorporating your elliptical training into a broader health regimen that includes a healthy diet is the best way to burn belly fat and keep it off.
Which is better, a treadmill or an elliptical?
Running is likely one of the most efficient exercises you can do to get results (weight loss, tone, stamina, etc.), but this depends on your desired results. 
Furthermore, running can cause considerable strain on your joints. If you are injured or prone to chronic pain, forcing yourself to run on a treadmill may cause you to halt your training due to inflammation or worsened injuries.
Additionally, an elliptical can deliver a more evenly distributed strength experience for your upper and lower body due to the motion and resistance of the machines. 
It isn't a matter of better or worse. It is a matter of determining your goals and needs and comparing them to what each machine offers to achieve them most safely and efficiently. Check out our guide on treadmill vs elliptical for more.