We test and review fitness products based on an independent, multi-point methodology. If you use our links to purchase something, we may earn a commission. Read our disclosures.
When I'm looking to get some heart-healthy cardio in, the last thing I want to do is cause unnecessary pain for my joints. Ellipticals generally provide less impact than running. I decided to hunt for an elliptical that could deliver a lower-impact workout for an affordable price.
The Sole E25 is the base model of six elliptical trainers offered by Sole. In this Sole Fitness E25 elliptical review, I'll give you the lowdown on the footprint, features, and overall value. There's a reason this machine-made my list of the best ellipticals on the market. I rigorously test each product to give you the honest information you need to know to make your best purchasing decision.
My Favorite Things:
350-pound weight capacity
Heart rate chest strap included
High-quality heavy-duty steel frame
My Callouts:
Difficult assembly with unclear instructions
20-inch stride length does not adjust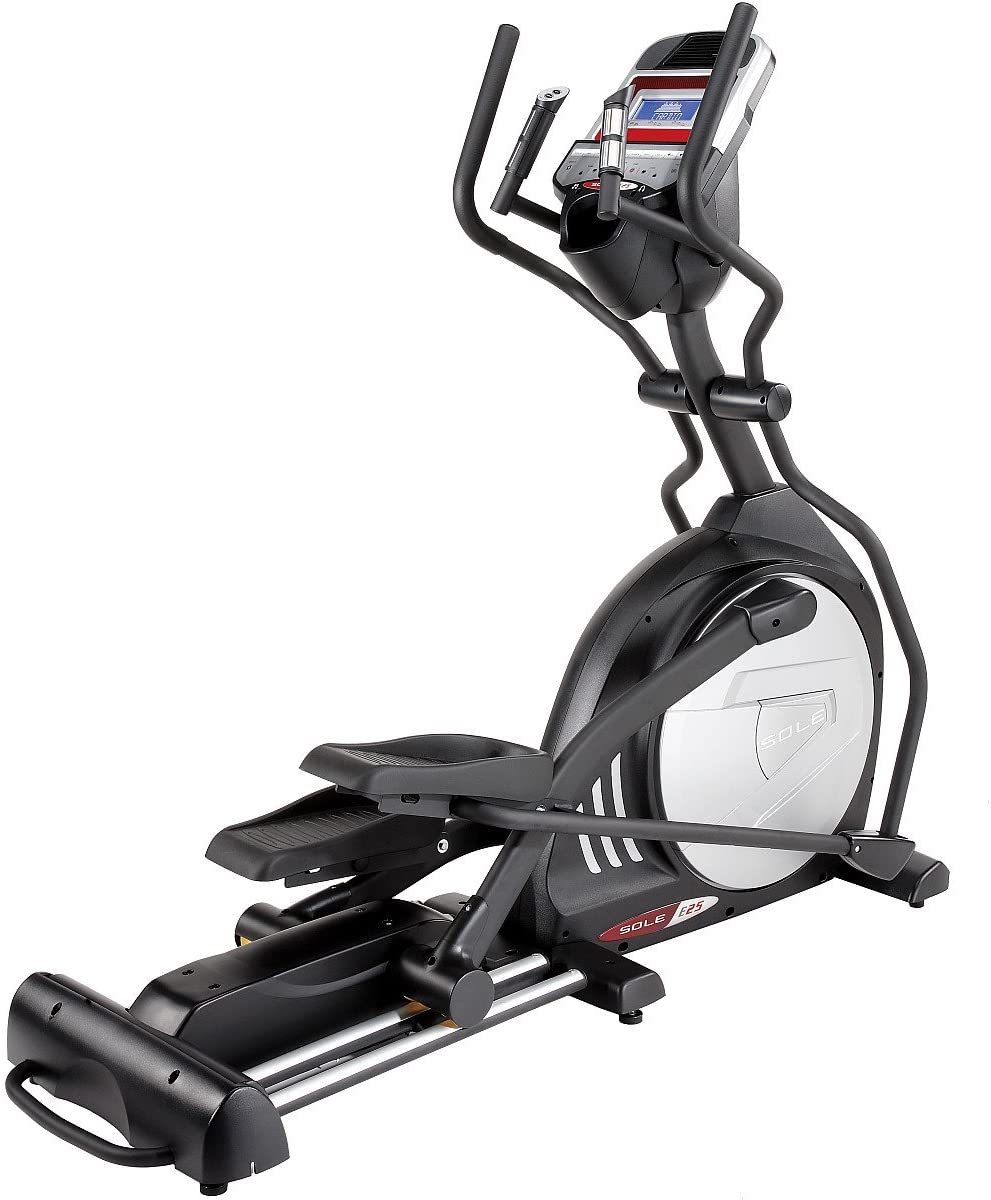 Sole E25
The SOLE E25 Elliptical provides effective workouts through its use of comfort and natural feel. The quiet front drive system, inward foot pedal design, and heavy duty steel frame all create a smooth, effective workout. In addition to the challenging workout programs, the E25 also now includes blue tooth audio and technology. Plus, enjoy a 30-day free trial of STUDIO with the purchase of a a SOLE machine. STUDIO is $19.99 per month and allows users to view a variety of workout classes on-demand.
Is the Sole E25 worth it?
Although I love a well-priced piece of equipment, I care more about the overall value of the product. It is important to me to invest in the best cardio machines that are high-quality.
Great For:
People interested in tracking their heart rate while working out
Those who want a quiet machine
Not Recommended For:
Individuals who want a small or portable machine
Technology gurus who need the latest advancements
People who want a luxury elliptical
Ordering and Assembling the Sole E25
I was happy with the free shipping that Sole Fitness offers on all orders within the U.S. When purchasing, you'll have four different options to choose from in terms of delivery – curbside, garage, room of choice, and assembly. I chose to receive my E25 curbside because it didn't cost any extra money. For $59, Sole Fitness will deliver your elliptical machine inside your garage.
There are also two other options that are currently unavailable due to COVID safety protocols. These include delivery into a room of your choice or full assembly so you don't have to lift a finger. Personally, if the assembly option had been available, I would have paid $239 to not struggle with these instructions.
Assembly
If you can help it, I would not recommend putting this elliptical together yourself. The instructions are confusing and each step is actually asking you to do quite a few other things. The tools and pieces are not labeled well and you'll need to use your own socket wrench and a screwdriver with a magnetic tip.
I wish there had been more instruction provided to help me follow the order of operations. Luckily, I figured it out after two frustrating hours but once it is safe to do so, opt for in-home assembly if you can.
Financing
Don't want to pay for the elliptical in one go? You're in luck! Through Citizen's Pay, you can finance your purchase at 0% APR for the first 12 payments and 29.99% APR for the remaining 12 payments. I like this option because it makes home gym equipment more accessible to a variety of people who have different budgets.
Footprint, Portability and Durability
With a footprint of 71" H x 70" L x 24" W, the E25 is a large elliptical. If you're looking for a compact machine for your apartment, this probably isn't it. Not only is it heavy for one person at 212 pounds, but it's an awkward shape and hard to get a good grasp of. There are included wheels to help move the machine but you'll probably still need extra help unless you're particularly strong.
RELATED: Best Compact Elliptical
The E25 has a user weight capacity of 350 pounds, which is on par with more expensive ellipticals. However, I did notice it moved ever so slightly when I used it even though I don't come close to the weight limit. I think this is probably because there are no included floor stabilizers. For the price, I'm not surprised there are none included, but it would have been nice.

Related: Read our Horizon 7.0 AE Elliptical review.
The Ergonomics
Comfort is key to an enjoyable workout. Although it's great to push yourself, you don't want the machine itself to get in the way. The foot pedals on this elliptical were designed with minimizing joint impact in mind. Sole states on their website that physical therapists designed the pedals to have a 2-degree inward slope to reduce ankle and knee pain.
For user comfort, the footbeds themselves articulate and are adjustable. I found the pedals to be comfortable and not much different than a typical elliptical. It is nice to have the ability to make adjustments because everyone doesn't step the same way. I appreciate customization options, especially on a machine that is fairly inexpensive. On the E25, the handlebars are stationary with built-in pulse sensors for monitoring heart rate.
Conveniences
A few of the things you can expect to see on the E25 include a tablet and water bottle holder plus a cooling fan. Although I like the idea of the cooling fan, I didn't find it to be super powerful. It didn't tilt down enough to really feel like it was getting the job done during my workout.
RELATED: Best Elliptical Workout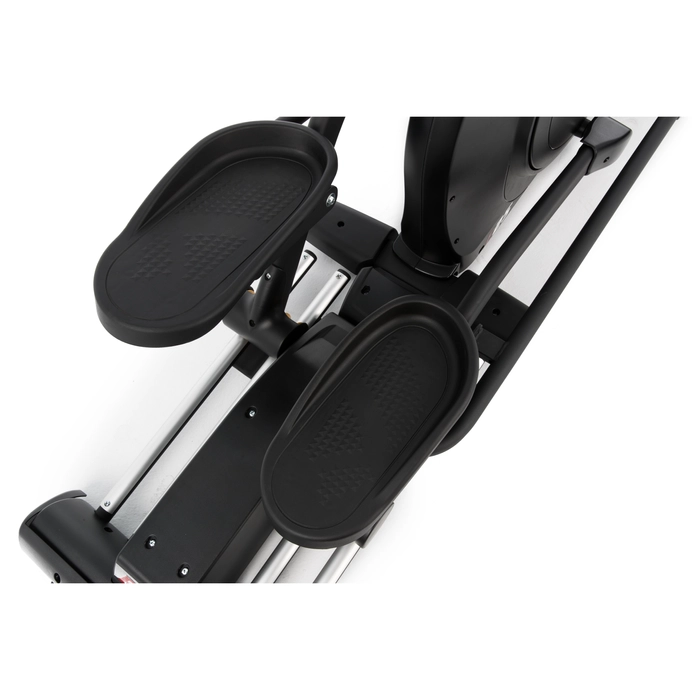 Technology Benefits
Although not the most technologically advanced elliptical I've ever seen, the E25 does have a few nice extras. There is a USB charging port and a spot to plug in your headphones to listen to music via the integrated tablet holder option. Plus, as of 2023, Sole has released STUDIO, a workout programming service with thousands of on-demand classes for $19.99 per month.
Bluetooth Speakers
With an Android or iPhone, you'll be able to connect your smartphone to the included Bluetooth audio speakers. I actually used it to play my own music while I did my workout on this machine.
App Connectivity
Here's the thing – Sole Fitness does offer an app that can connect to the E25 (called the Sole Fitness App). It's free to download and use. However, it doesn't offer any additional programming or data for that matter. The only thing the app shows at all is the information already available on the display. I personally don't see any reason to bother with this app, especially since it is inconsistent about synching and isn't very user-friendly.
Heart Rate Monitor
I love that the E25 comes with an included chest strap heart rate monitor. Here's the simple process of getting it going:
Place the monitor directly under your pecs with the Sole logo in the center. (You can wear it both over a shirt or directly against your skin.)
Secure the end peices so the strap is comfortable snug.
Make sure the monitor is within range of the elliptical.
Press the heart rate button on the console.
Wear the monitor for a few minutes prior to your workout to make sure the device is correctly reading your heart rate.
Start your workout and view your heart rate on the display.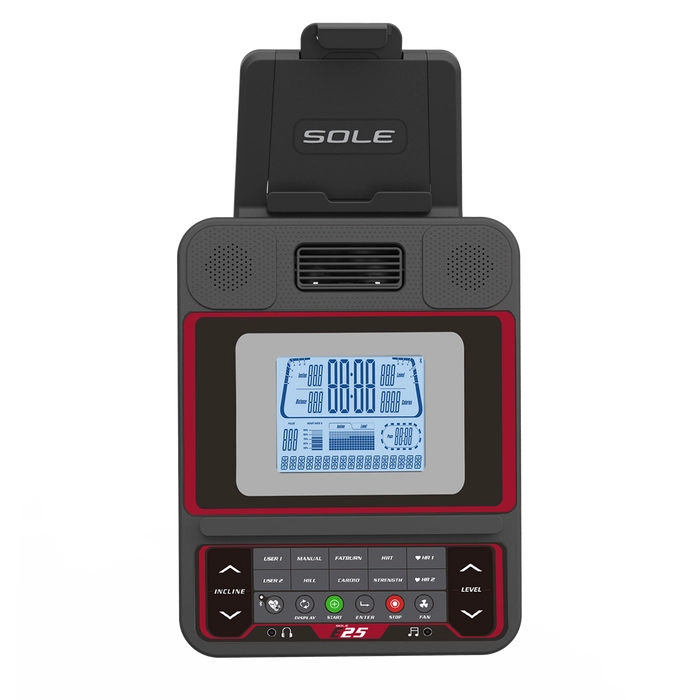 Convenient To Use
I used this elliptical multiple times and determined that the fat-burning workout program was my personal favorite. I like that the LCD display shows animations through the workout intensity graph to let you know when the difficulty is about to change.
Ease of Operation
The E25 does require an outlet to work, so that is something to keep in mind when deciding where to put your elliptical. Once plugged in, the E25 powers up and you can select your desired workout. If the elliptical isn't touched for 20 minutes, it goes into standby mode. If you want to fully power off the elliptical, you'll have to unplug it.
Buttons
The buttons on the console of the E25 are easy to see and use. There isn't a lot of confusing technology so if you prefer things simple and to the point, you'll appreciate the uncomplicated nature of the elliptical.
Here are all the buttons on the console:
Cardio
Manual
Hill
Fat burn
Strength
HIIT
Start
Stop
Fan
Enter
Change display
User 1
User 2
Heart rate strap activation
Heart rate 1
Heart rate 2
Incline (up or down)
Level (up or down)
Level Up (or down)
This elliptical is good for most people because of its wide range of both power incline and resistance levels. Both have options to customize your workout to your desired intensity from 1-20. Simply hit the up or down arrow on the console to change either the resistance or incline.
Noise Levels
Another positive to this machine is how quiet it is due to the whisper-quiet drive system. This is a great option for people trying not to disturb others early in the morning or late at night.
Sole E25 Specs
| | |
| --- | --- |
| Footprint | 71" H x 70" L x 24" W |
| Weight | 212 pounds |
| Weight capacity | 350 pounds |
| Resistance levels | ECB |
| Drive | Front |
| Preset workouts | 10 |
| Pedals | 15″ |
| Display | 6.5″ LCD white back-lit |
| WiFi | No |
| Built-in wheels | Yes |
Customer Experience
Sole Fitness doesn't have the most up-to-date methods in terms of customer service. On the website, there is no option to do a live chat in order to get quick answers to questions. You either have to call 866-697-6531 or email service@soletreadmills.com. There is also an option to send in a query via a form able to be submitted on the website. If you contact Sole Fitness via email or the form, expect to wait a few business days for a reply.
Warranty
The warranty for the Sole E25 is impressive. You get a lifetime frame warranty, a 3-year warranty for the parts, and a 1-year warranty for the labor. This is equal to or better than more expensive machines like the Bowflex M6 or the NordicTrack Commercial 14i elliptical.
Return Policy and Money Back Guarantee
Sole Fitness offers a 30-day money-back guarantee if you're not satisfied with your purchase. Even more impressive, they'll pay the return postage fee. This almost never happens with other brands and is a real testament to the quality of their products and how much the company stands behind them.

Customer Reviews
Overall, customers had favorable things to say about the E25. There were a variety of comments about how quiet the elliptical is, positive things about the price, and the overall durability. On the other hand, there were complaints about how difficult the instructions made putting this together. Others didn't appreciate how difficult it was to get in touch with customer service if they needed assistance or a part broke.
Final Verdict of Our Sole E25 Review
Overall, the Sole E25 is one of the best ellipticals for the price. It doesn't have crazy technology but it is a solid piece of equipment built to last. I would recommend this elliptical for most people.
Here are my main takeaways:
Great value at under $1000
Difficult assembly with confusing instructions
20 levels of resistance make this elliptical useful for a wide range of fitness abilities
Sole E25 Elliptical FAQs
Is the Sole E25 quiet?
The Sole E25 is a well-built, ultra-quiet elliptical. While it is larger than some of the other ellipticals, it is great for small spaces and home gyms.
How heavy is the Sole E25 Elliptical?
The Sole E25 weighs 212 pounds and its weight capacity is 350 LBS.
How long does it take to assemble the Sole E25 Elliptical?
The Sole Fitness E25 Elliptical comes with step-by-step assembly instructions, but most consumers say it's a bit time-consuming. All in all, it should take about 1-2 hours to put everything together.
How long will Sole E25 last?
The lifespan of this piece of exercise equipment all depends on how you take care and use it, just like any other piece of exercise equipment. With a lifetime warranty on the frame, one may expect a minimum of 10 years of trouble-free service assuming proper maintenance is performed.
Full Rating
Sole E25 Elliptical
The E25 is the base model of six elliptical trainers offered by Sole. In this Sole Fitness E25 elliptical review, I'll give you the lowdown on the footprint, features, and overall value. There's a reason this machine made my collection of the best ellipticals on the market. I rigorously test each product to give you honest information you need to know to make your best purchasing decision.
Product Brand: Sole Fitness
Product Currency: $
Product Price: 1799
Product In-Stock: InStock