We test and review fitness products based on an independent, multi-point methodology. If you use our links to purchase something, we may earn a commission. Read our disclosures.
Ah, cardio. Some hate it, and others are lying about loving it. Just kidding, doing cardio doesn't have to be equivalent to getting teeth pulled at the dentist. You may be asking, "Coop, how is this possible?" Reader, you have to pick a solid cardio exercise machine that doesn't make the process more painful than it has to be! Enter the Sunny Health & Fitness SF-E3912 Magnetic Elliptical.
If you're new to working out, picking the best cardio machine can feel really overwhelming. In this Sunny Health & Fitness Magnetic Elliptical review, I'll talk about why this piece could be a good option for you if you're a beginner or looking for a budget-friendly machine to achieve your fitness goals.
Why You Should Trust Us
I've tried plenty of ellipticals including the Sole E25, Bowflex M6, and the NordicTrack Commercial 14.9. I also compiled a list of the best elliptical machines for your home gym for a more comprehensive look on a few different machines. When judging the quality of an elliptical, I'll look at things like overall value, warranty, durability, and general adjustability.
Sunny Health & Fitness Magnetic Elliptical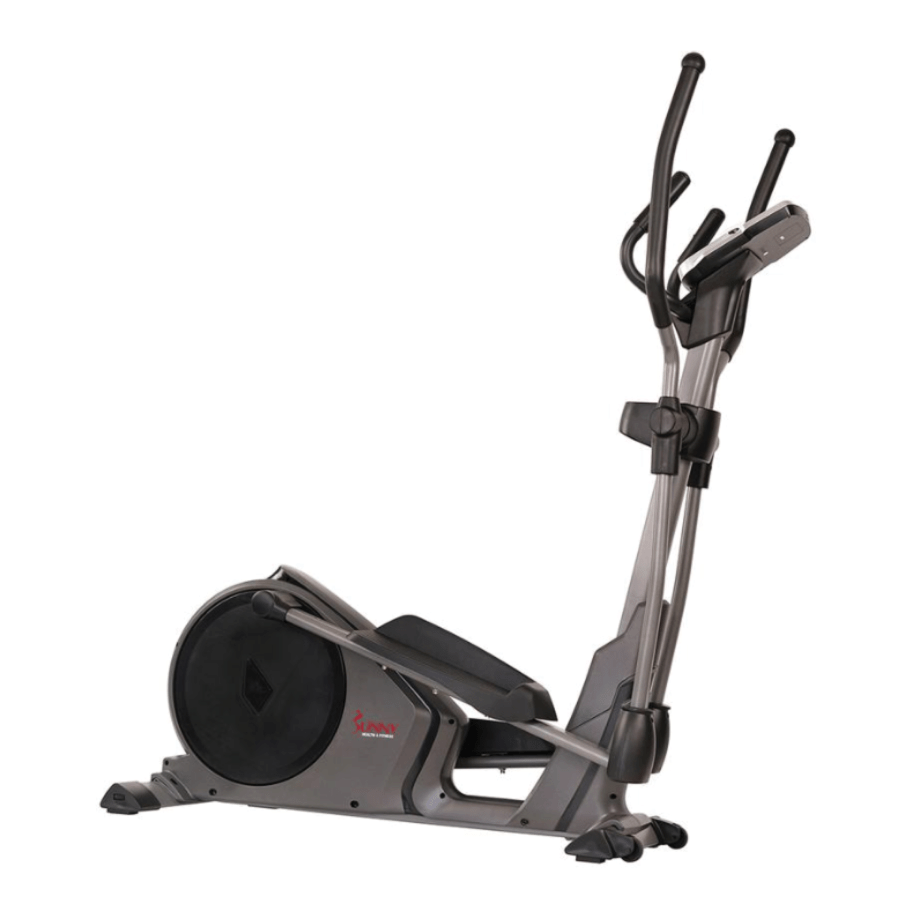 Sunny Health & Fitness Magnetic Elliptical
Pack a cardio workout in the comfort of your home with the SF-E3912 Pre-Programmed Elliptical Trainer by Sunny Health & Fitness. Stride 15.5 inches when you step onto the wide and textured foot plates. Grab onto the handlebars to engage muscles in your upper body and maintain balance during your exercises. Grip the pulse sensors to keep tabs on your heart rate as you stride. Alternatively, you can link a compatible wireless heart rate belt to this cardio trainer to take advantage of heart-rate targeted workout programs and features. Maintain stability on any ground surface when you adjust the front and rear stabilizers on this elliptical cross trainer. Control workout resistance when you increase and decrease the 16 levels of programmable magnetic resistance when the elliptical is plugged in to a power source (adapter included).
A Quick Look at the Sunny Health & Fitness Magnetic Elliptical
Sunny Health & Fitness started in 2002 and has been making cost-effective exercise equipment ever since. Some of their notable products include the Indoor Cycling Exercise Bike, Space Efficient Multi-Function Magnetic Rowing Machine, and the Exercise Fan Bike.
Coop's Tips:
Grab your own Phillips head screwdriver to make assembly go quicker.
In terms of footprint, this is a shorter elliptical and would be a good option if you have a low ceiling.
Make sure to adjust the rear and floor stabilizers before using the elliptical.
My Favorite Things:
Easy-to-follow built-in workouts
Under $600
Machine is smooth and doesn't shake
16 levels of resistance
My Callouts:
Warranty is below the industry standard
Unclear assembly instructions
Short stride length of just 15.5 inches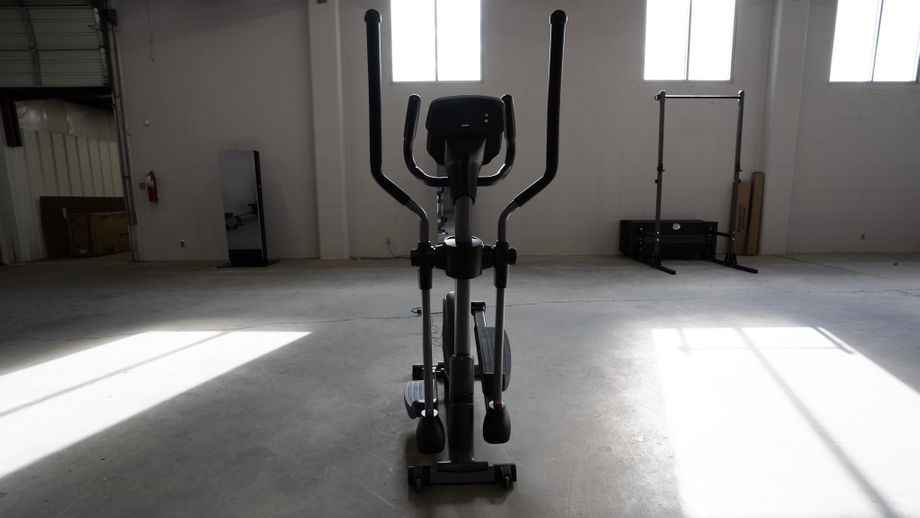 Is the Sunny Health & Fitness Magnetic Elliptical Worth It?
This entry-level elliptical is a great option for certain people, but I wouldn't say it is the best option for everyone. Take a look at who I think should purchase it and who is better off with a different elliptical cross trainer machine.
Great for:
Beginners who want a straightforward elliptical
People on a budget
Individuals who want a stable elliptical that won't shake while in use
Those who want heart rate pulse sensors on their elliptical
Not recommended for:
Someone who would prefer a different cardio machine like a treadmill or exercise bike for their home gym
People who are taller due to the short stride length
Individuals who want interactive programming
RELATED: Exercise Bike vs. Treadmill
Getting Started with the Sunny Health & Fitness Magnetic Elliptical
Exercising on this machine is incredibly easy to do, unlike higher-end machines that have you create user profiles and give the name of your firstborn child and swear a blood oath.
Anyway.
Once I wheeled the elliptical into my chosen room, I simply plugged the machine into the wall and hit the "Start/Stop" button. From there, I clicked the "Mode" button to view my 24 different pre-programmed options. After finding one I wanted to do, I clicked the 'Enter' button and got started. Although you can keep the exact settings the machine tells you to use based on the workout you select, you also have the option to change between 16 resistance levels.
There isn't much to be confused about with this elliptical. It hits the mark for an easy-to-use machine that doesn't have any fancy extras. Everything is very simple and straightforward to use. Regardless of the setting this elliptical was on, I was impressed with the smoothness of the workout. I didn't have any issues with shaking or loud squeaking. I think this would be a great option for someone who needs to be able to do a quiet, full-body workout without waking up others.
RELATED: Best Elliptical Workout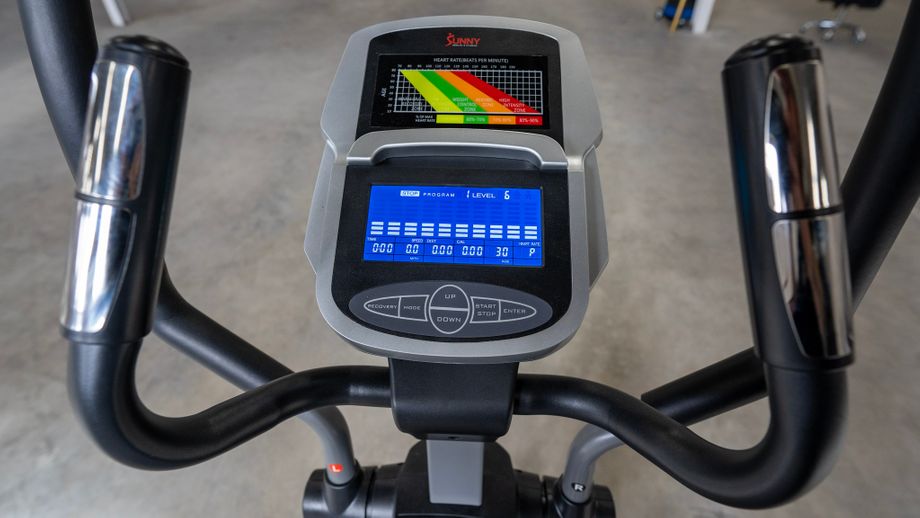 Portability and Durability
With a lot of budget ellipticals I have tried, the general stability of the machine isn't always the best. Sometimes they feel shaky and not well constructed. I don't feel this way at all about the Sunny Health & Fitness elliptical. Whether moving forwards, backwards or increasing resistance, I experienced no shaking. The weight capacity is 330 pounds, which is a really great weight capacity, especially for a budget machine.
With a footprint of 55" L x 23" W x 64.5" H, this magnetic elliptical trainer isn't exactly considered compact, but it is shorter than the average machine, both in height and length. It would fit well in a space with a lower ceiling. The shorter length means a shorter stride of just 15.5 inches, which isn't ideal for tall people.
As far as moving the elliptical around your house, there are wheels attached to the bottom. I found it to be manageable by myself but you could always grab someone else to help as well.
RELATED: Best Treadmill for Tall Runners
The Ergonomics
One of my least favorite aspects of the Sunny Health & Fitness Magnetic Elliptical is the short stride length I just mentioned. A typical elliptical has a stride range of 18-20 inches, while this machine only goes up to 15.5 inches. I don't think this is an ideal choice for a taller person who naturally has longer strides.
The foot pedals themselves are oversized but unfortunately aren't padded for a more comfortable workout. I do like that the moving handlebars have cushioned grips but it does make my hands more sweaty. Sounds like a me problem.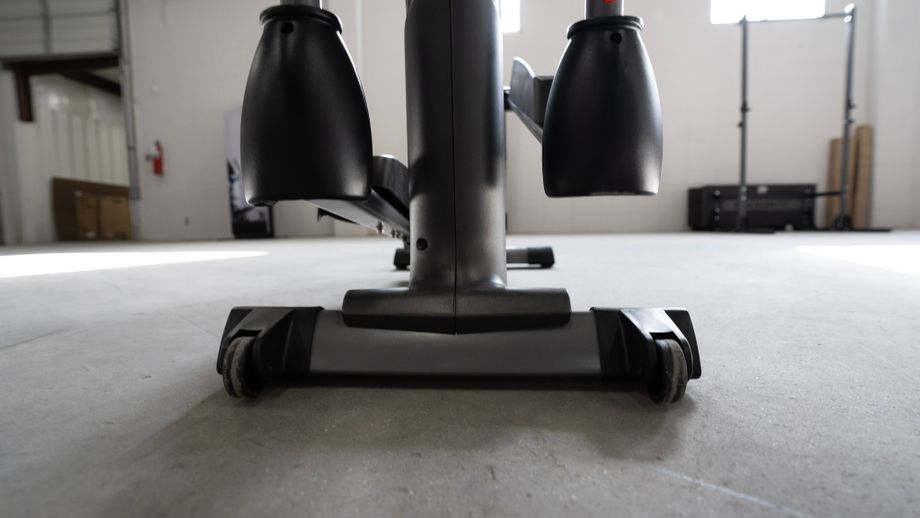 Technology Benefits
Like the Horizon 7.0 AE elliptical this one doesn't have interactive programming like you might find on NordicTrack ellipticals, it does have 24 different built-in programs. These each vary in terms of general resistance and interval periods. I like that there are options provided to change up your workout.
The screen itself is a basic LCD display. However, it does track a variety of stats, which I like. Here's what you can expect to see:
Speed
RPM
Time
Total distance
Odometer
Calories
Watts
Heart rate
Target heart rate
Workout programs
Level
Age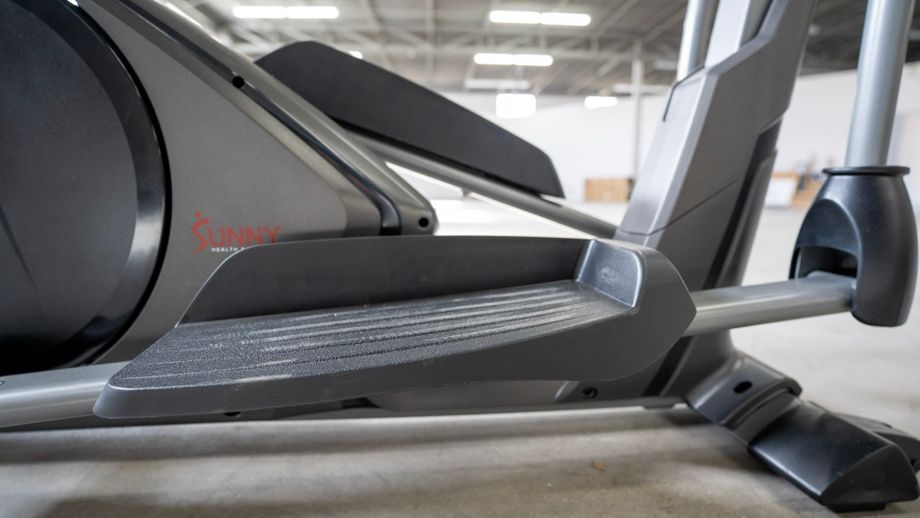 Conveniences
This elliptical has the conveniences you'd expect: a water bottle holder, media shelf, as well as static and moving handlebars.
A fun extra is the hand pulse monitoring system on the static handlebars. I like the option to quickly check my pulse while I'm working out.
Sunny Health & Fitness Magnetic Elliptical Specs
| | |
| --- | --- |
| Product weight: | 104.8 pounds |
| User weight capacity | 330 pounds |
| Stride length | 15.5 in |
| Product dimensions: | 55L x 23W x 64.5H in |
| Warranty: | 3 year structural frame 180 days other parts and components |
| Built-in programs: | 24 |
| Adjustable resistance levels: | 16 |
| Type of resistance: | Electro-magnetic resistance system |
| Performance monitor: | speed, rpm, time, distance, odometer, calories, watt, heart rate, target heart rate, program, level |
| Brand: | Sunny Health & Fitness |
| Flywheel weight | 13 pounds |
| Ship dimensions: | 50.4L x 12.4W x 26H in |
Customer Experience
On the Sunny website, there is no option to live chat customer service like you may be used to with companies like Rogue. They do provide an email to contact: support@sunnyhealthfitness.com. However, when I contacted them with a question, it took them over a week to respond, so don't expect anything to happen quickly.
Warranty
The warranty on this machine is disappointing. The industry standard for a typical elliptical is 15 years to life for the frame, 2 years for the parts, and 1 year for labor. On the Sunny Health & Fitness elliptical, the warranty is 3 years for the frame plus 180 days for parts and other components. This isn't super surprising for the price, but it isn't up to my regular expectations.
Returns
You have 30 days from the date of purchase to return your Sunny Health & Fitness elliptical. You must return the machine in the original packaging and in unused condition. The brand will pay for shipping if you are returning the elliptical for a reason that is related to an error on their end. Otherwise, the customer will foot the bill for shipping (which won't be cheap considering the weight of the elliptical).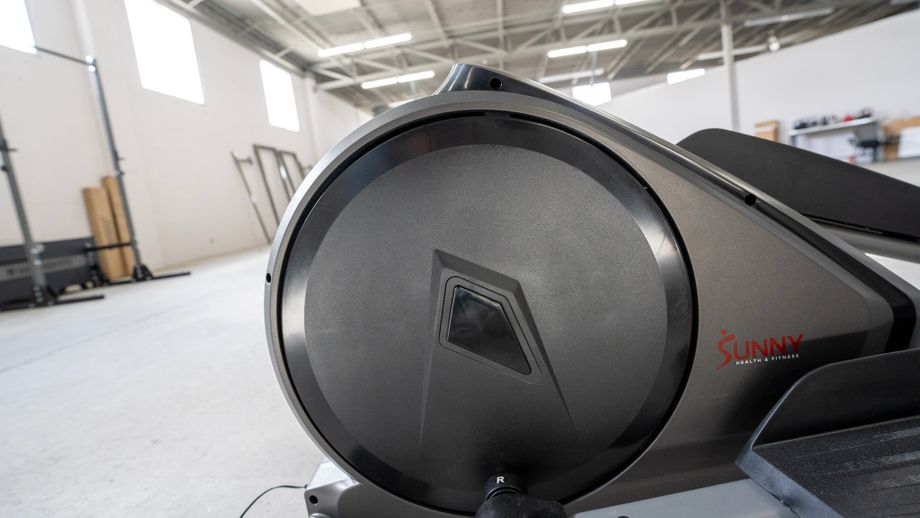 Customer Reviews
On Amazon, there are over 2,300 reviews on the Sunny Magnetic Elliptical trainer with a score of 4.1 out of 5. The same elliptical receives 4.7 out of 5 when you check out the Sunny website.
There are quite a few positive reviews. People seem to love how sturdy the machine is, the price, and how it doesn't take up too much space. On the negative side, others mentioned how irritating assembly was and some experienced squeaking of the pedals after using the elliptical for a few months.
Ordering and Assembling the Sunny Health & Fitness Magnetic Elliptical
If you choose to order on Amazon, you can get free shipping on your elliptical trainer. I like that Amazon gives you the option to pay for assembly, whereas the regular Sunny Health and Fitness site doesn't. After assembling it myself, I would've paid extra for someone else to do it. More on that later.
Here are the three options on Amazon:
Free shipping: delivered to your front door.
$19.99: delivered inside any room of choice.
$89.99: professional assembly of the elliptical.
Naturally, I wanted to give you an honest look at what it's like to assemble this beast, so I sucked it up and did it myself. Bringing the elliptical inside the house wasn't too bad as the actual machine weighs less than 150 pounds (not heavy for an elliptical).
Once inside, I took a look at the instructions, which recommended having two people on hand for the assembly. I decided to go at it alone, which is probably why it ended up taking me 2 hours to complete. In my defense, the instructions were unclear and the diagrams could use some work. There are tools included in the box, but I preferred to use my own and suggest you grab your own Phillips Head screwdriver too. It'll speed up the process.
Final Verdict
Sunny Health & Fitness Magnetic Elliptical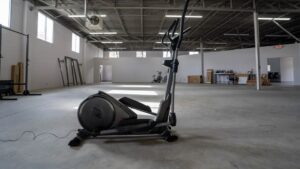 Overall, the Sunny Health & Fitness Magnetic Elliptical is a solid buy for the price. The real win with this machine is the overall stability and lack of shaking regardless of the resistance level you're using. I would recommend being aware of the short stride length and probably wouldn't recommend this elliptical to someone tall. However, if you're looking for a no-frills cardio machine for your home gym, this is a great option to consider.
Product Brand: Sunny Health and Fitness
Product Currency: $
Product Price: 499
Product In-Stock: InStock
Sunny Health & Fitness Magnetic Elliptical FAQs
Are magnetic resistance ellipticals good?
Magnetic resistance usually means the elliptical will be quieter when in use. I personally appreciate when the cardio machine I'm using is silent, so I would say it is indeed a good thing.
How do I use my Sunny Health and Fitness Elliptical?
Simply plug the elliptical into the wall and press the "Start/Stop" button to get started.
What is the warranty of my elliptical machine?
The warranty is as follows: 3 year structural frame and 180 days other parts and components.
What parts of the body does an elliptical machine work?
An elliptical provides a low-impact, cardio workout that can work your entire body. I find my lower body is activated like it would be running or walking. I also feel like I get an upper body workout if I utilize the moving handlebars.
What is another budget elliptical option from Sunny Health & Fitness?

If you're on a really strict budget, the Sunny sf-e905 could be a good option for you because it is just over $200 and very compact (perfect for a home workout).
RELATED: Best Compact Elliptical