We test and review fitness products based on an independent, multi-point methodology. If you use our links to purchase something, we may earn a commission. Read our disclosures.
If you're anything like me, the workday goes something like this: You sit down at your desk with a cup of coffee and promptly start typing away. You go hours without getting up to stretch your legs, and before you know it, it's past lunch and you've taken 20 steps total. Not exactly the pinnacle of movement, I know. To solve this problem, some people who work from home have purchased things like under-desk ellipticals to get the ole' blood flowing in their legs.
In this Cubii Jr review, I'll divulge everything you need to know about one of the most popular under-desk ellipticals on the market. I'll give you information on things like delivery, warranty, and overall useability.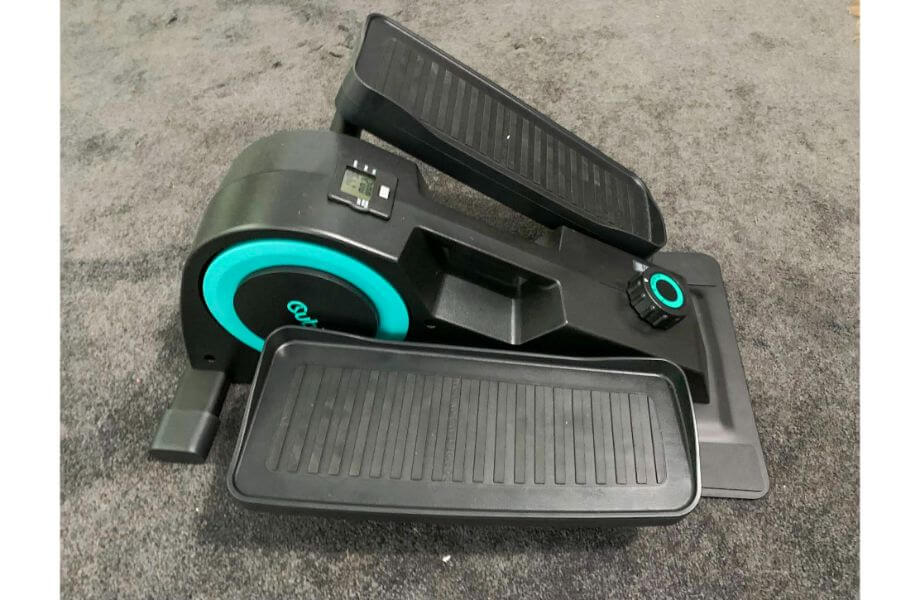 Cubiin' My Way Downtown
Whether you're looking for a commercial elliptical or just want something to keep you moving during the day, GGR has you covered. Our team of expert product testers and reviewers has tried dozens upon dozens of machines. Plus, we really know our stuff. After all, we're certified personal trainers, nutrition coaches, and former college athletes. It's safe to say we know a good machine when we see (er, use) one.
Looking for an Alternative to the Cubii JR?
Best Under-Desk Elliptical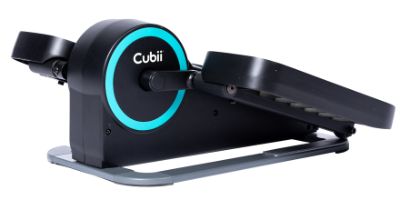 GGR Score: 3.79
Product Highlights
Lightweight and portable
Tracks stride count, mileage, duration, and calories burned
Great for under-desk use
6 levels of resistance
Pros & Cons
Pros
Lightweight
Great for under-desk pedaling
6 levels of resistance
Tracks stride count, mileage, duration, and calories burned
Cons
Does not provide a full-body workout
May wobble on carpet
No handle
Manual resistance only
Bottom Line
The Cubii move is a lightweight, portable exercise machine that allows you to seamlessly pedal while seated.
The new Cubii Move is very aesthetically similar to the Cubii JR, but it's lighter weight and less expensive at $200, which is $50 less than the JR. The Move doesn't have a handle for transportation but weighs about 17 pounds and should be easy to maneuver.
The Cubii Move is a "starter" seated elliptical, so there are only 6 levels of manual resistance, but you'll still have an LCD monitor tracking metrics like calories burned and access to the Cubii App with over 300 expert-guided workout classes.
So, if you were really hoping to try out the Cubii JR, know that the Cubii Move (and the other Cubii models) are well worth considering.
A Quick Look at the Cubii JR
Cubii JR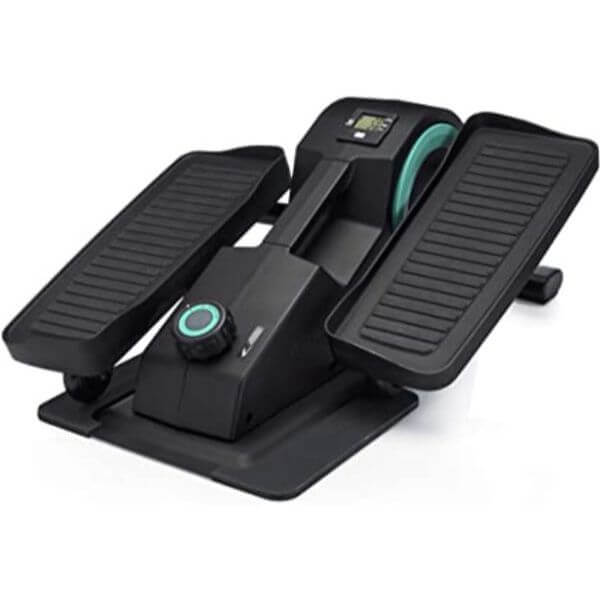 Cubii JR1 Under Desk Elliptical
If you are looking to get your legs moving while at work, you're in luck. The Cubii JR1 is an under-the-desk mini elliptical with eight levels of resistance that allows you to keep your legs active while seated. Whether you are at work or at home, the smooth gliding motion is designed to be quiet so no need to worry about disturbing those around you.The Cubii JR1 is lightweight and portable so can be brought to and from work with ease. All users are able to access the Cubii Studio+ fitness platform where you can join live or on-demand classes. Track your progress on the small LCD screen, which displays calories burned, distance traveled, RPM, and minutes active. Looking for motivation? Join the Cubii Comunitii to connect with others on their fitness journey.This machine is not intended for any high-intensity training, so if you're looking to jack up your heart rate and get on a good sweat, you will likely be disappointed. The resistance is mediocre but it certainly is a convenient way to keep your legs moving when they'd otherwise be sedentary.
Within the Amazon Cubii store, the brand offers a few different pedal exercisers for purchase––Cubii JR, Cubii Go, Cubii JR1, Cubii JR2+, and the Cubii Pro. All vary slightly, but for the most part, are similar in both looks and functionality. I chose the Cubii JR1, which is currently available for under $300.
My Tips:
Check out Cubii's Studio Plus on-demand classes for free!
If you get a Cubii Pro or JR2+, you can utilize the Bluetooth connectivity.
Pros:
Inexpensive
Portable and easy to move
Small display monitor with various metrics
8 resistance settings
Very stable
Can be used underneath a desk
Cons:
Weight capacity of 250 pounds
Limited warranty of one year
Need correct chair and desk height for proper usage
Is the Cubii JR Worth It?
The Cubii JR could be an excellent choice for someone and not a great option for another. Find out if I'd recommend this under-desk elliptical machine for you or if you should spend your money elsewhere.
Great for:
Those who have a desk job
Seniors
People on a budget
People with balance issues
Not recommended for:
People who are looking to burn calories out of the wazoo
Folks who want a traditional standing elliptical
Heavier individuals
Cubii JR Specs
| | |
| --- | --- |
| Footprint | 23.15" L x 17.56" W x 10" H |
| Weight capacity | 250 lbs |
| Resistance levels | 8 levels |
| Display | LCD monitor |
| Weight | 34 lbs |
| Warranty | 1-year limited warranty |
| Workout classes | Studio Plus |
Getting Movin' on the Cubii JR
I was excited to receive the Cubii JR to use during the workday. Although I'm in my 20's, I find myself getting more stiff by the day when I forget to move while working. The Cubii JR seemed like a good way to keep my lower body in motion without having to focus too much on the movement itself. I'm shamelessly bad at typing on an under-desk treadmill while working, so an under-desk elliptical seemed a little easier to use.
Luckily, I was right. The Cubii Jr provides an easy experience from start to finish. The box arrived at my doorstep at a light 34 pounds, roughly the size of a beagle. After unboxing the Cubii, I saw that the machine was already mostly pre-assembled. You are given a full-sized screwdriver to attach the pedals to the Cubii, which is really the only assembly component. You'll also get two stabilizers to stick under the pedals for a smoother workout experience.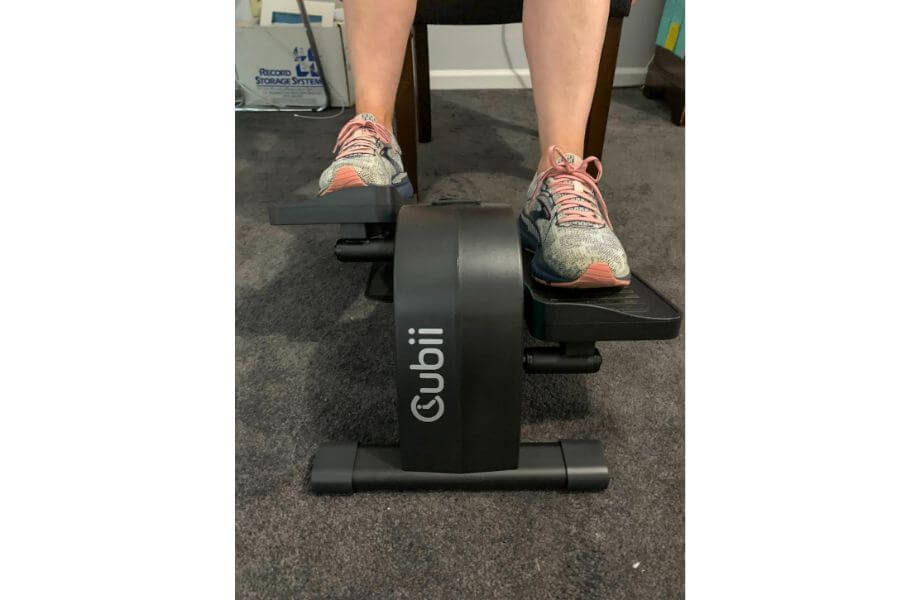 Getting started is simple, especially considering the Cubii doesn't require an outlet to use. This opens up a world of possibilities concerning where you can put your machine, but I chose to stick mine underneath my desk. It is worth noting that you need at least three inches of clearance space for your knees if you stick your Cubii under a surface of any kind, otherwise you'll bang your legs (which is what happened to me initially).
Although I used mine during the workday to keep my blood flowing, the Cubii is also an excellent option for seniors, those recovering from injury, or individuals with less than stellar balance. My grandfather routinely uses his Cubii while sitting in his easy chair and can use it without fear of falling. The Cubii is a great choice for people like my grandfather because it doesn't require the balance aspect that power walking or a traditional elliptical machine requires.
Cubii does caution users to not stand on their under-desk elliptical, as it will likely break, but this isn't much of a surprise since it is advertised as a seated elliptical.
Although I enjoyed having a way to get some rogue energy out, the Cubii definitely doesn't provide a high-intensity workout. You won't be burning thousands of calories during the day, but it does provide the user with a way to get some movement in. I enjoyed the eight resistance options but didn't find any of them to be particularly challenging.
I saw some users complain of squeaking noises coming from their Cubii, but I didn't experience anything similar (at least not yet). The brand advertises the Cubii as being "whisper-quiet", and I have to say I agree. You'd likely be able to use this machine while someone sleeps in the room next to you or while taking a conference call.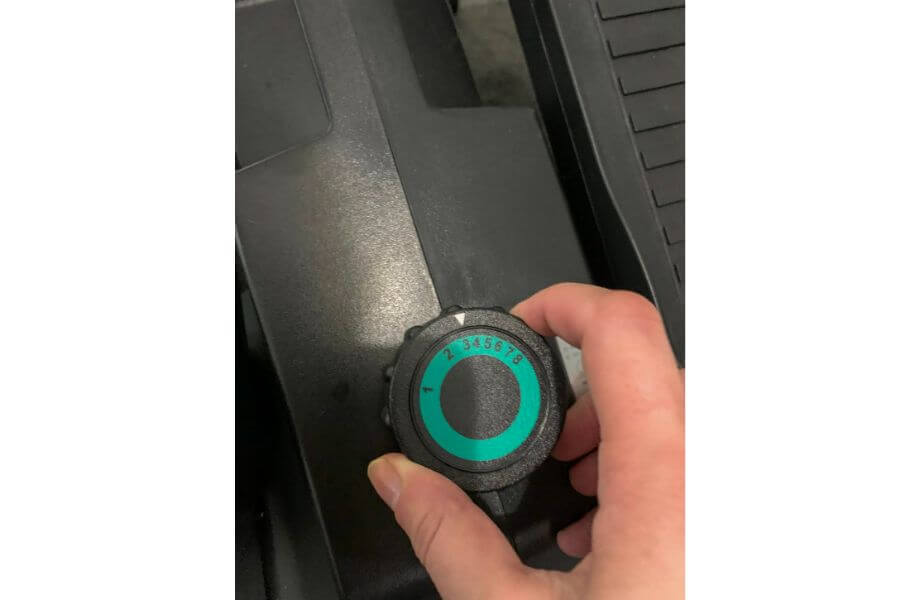 Footprint, Portability, Durability, Construction
At just over 30 pounds, the Cubii is really light and easy to move around a room or up a set of stairs. I like the portability of the machine and think it would fit well in most rooms.
When not being used, the Cubii is easy to store in a closet or underneath a desk. It is an inconspicuous piece of exercise equipment and isn't much of an eye sore.
The machine itself is constructed with nylon and plastic, so I'll be intrigued to see how it holds up with time. As for now, I don't have any concerns with the durability––the machine moved smoothly, didn't make any noise, and feels sturdy (even on carpet).
Technology Benefits and Conveniences
The Cubii doesn't exactly have Peloton-level technology, but there are a few extras to keep your eyes peeled for. Regardless of which Cubii under-desk elliptical you decide to purchase, each iteration has a small LCD screen to view a few stats. You'll be able to see calories burned, time elapsed, RPM, strides taken, and distance traveled. The screen itself is only a few inches big, so don't expect to be able to easily see the metrics available.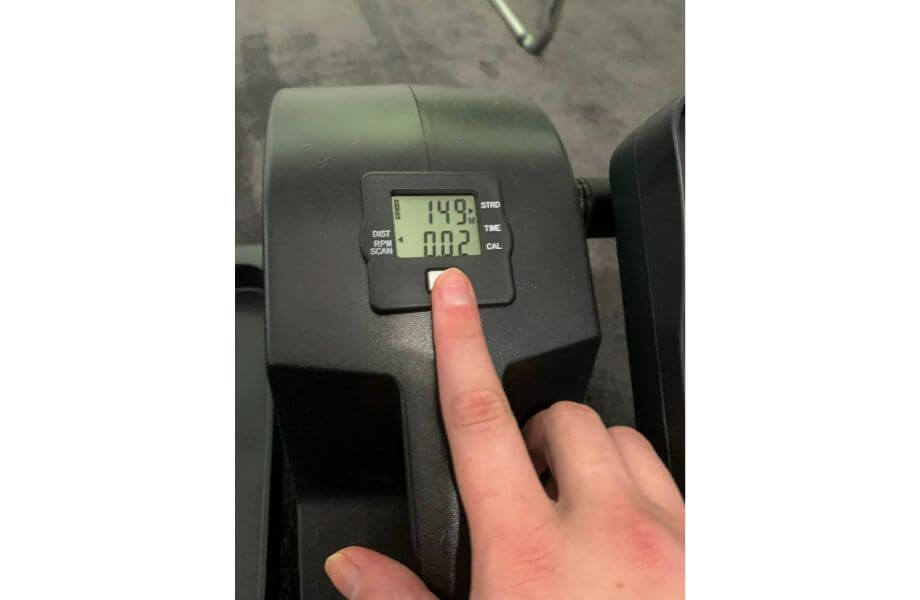 The Cubii brand also encourages customers to download the Cubii app, which gives you access to free, on-demand programming. In my opinion, you don't really need programming for any of the Cubii ellipticals since there is only so much you can do with the machines. However, there are also a few different strength-based classes as well as stretching and mindfulness videos to watch.
RELATED: Stretches Before Running
I do like the component of the app where you're able to keep track of your weekly metrics. This can be a useful tool to see how frequently you're moving on your Cubii and view progress made.
If you purchase the Cubii Pro or the Cubii JR2+, you'll get Bluetooth connectivity, which can sync to a compatible fitness tracker or Apple Watch.
Since the Cubii is a simple under-desk elliptical, you won't find conveniences like water bottle holders, accessories trays, or touchscreens.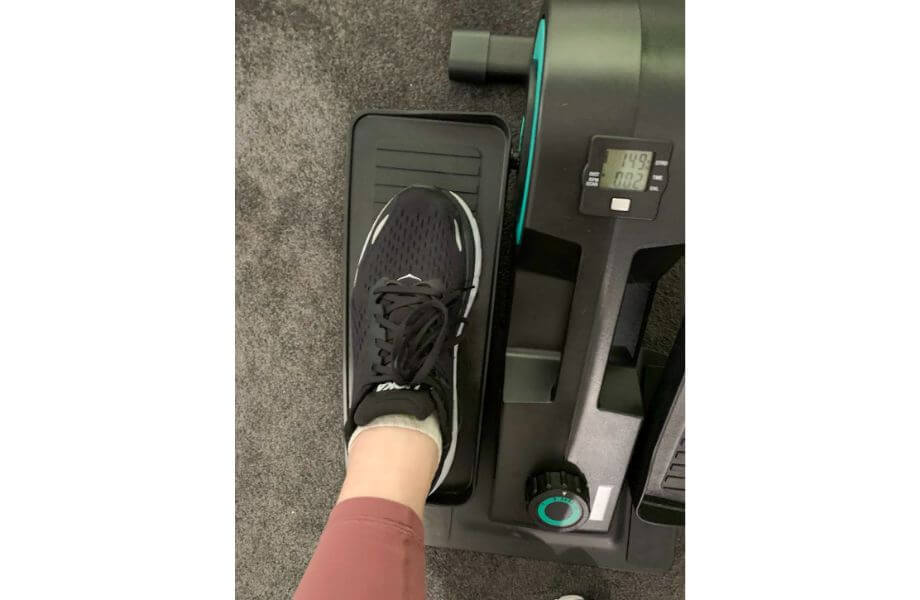 Customer Experience
All Cubii ellipticals come with a one-year warranty. However, if you register the machine within 90 days of purchase, you'll get an additional year added to your warranty. Although the industry standard for an elliptical frame warranty is at least 15 years, I wouldn't expect that for a budget option.
On Amazon, you can get free returns on a Cubii elliptical within 30 days of purchase. To get the return process started, simply click on the 'Returns and Orders' tab in the upper right corner of the website.
On the Cubii website, you can also return your machine for free within 30 days of purchase, although you will have to submit a return claim before doing so. It appears the brand will send you a return (paid) shipping label to send your machine back if they accept your claim.
Ordering and Assembling the Cubii JR
The Cubii JR is available for purchase on the Cubii website and on Amazon. I purchased mine on Amazon, as the machine is slightly cheaper than on the brand website. Plus, you get free delivery and returns on Amazon (even without an Amazon Prime membership).
I received my machine within a week of ordering. Although you can purchase professional assembly for $89, it really isn't necessary as the process takes less than 15 minutes. You have to screw the pedals onto the machine with the included tool, which is simple to do. It also comes with two small plastic circular pieces, which can be stuck under the pedals for more stability.
Although the Cubii JR is under $300, you can still finance the machine via Affirm (on Walmart) for less than $20 per month. It is worth noting that the APR is 10-30% over 18 months, depending on your credit score.
Customer Reviews
The Cubii JR has over 15,000 reviews (jeez) on Amazon with an average star rating of 4.6 out of 5. Happy customers love the portability, digital monitor, and easy assembly process.
"Got this for my wife who works at home," reviewer Steven revealed. "She needed something to help with her anxiety and keep her body going while having 8 hours of sitting. I noticed a difference the next day. Made her feel more positive and a little more energetic."
Others didn't love the price tag, spotty battery, and clunking noises the machine can sometimes make without the stoppers.
"Great idea and I love the concept," customer Ros shared. "But I used it for only one day and it's now clicking constantly. Go with another brand for this, not worth the amount of money to just have it be faulty. Disappointed."
Final Verdict of Our Cubii JR Under-Desk Elliptical Review
The Cubii JR is great for what it is meant to be––an under-desk elliptical. If you're looking to get some movement in during the workday or are a senior with balance issues, the Cubii JR could be an excellent low-impact exercise choice for you. However, if you're looking for a more traditional elliptical trainer that you can stand on—and one that can provide a sweat-inducing workout— the Cubii JR isn't the one for you.
Cubii JR Rating
Cubii JR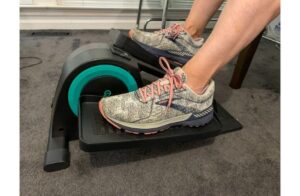 Check out our Cubii Jr review to see if this under-desk elliptical is a good fit for you or a loved one.
Product Currency: $
Product Price: 249.00
Product In-Stock: InStock
Cubii JR Review FAQs
Is Cubii as good as walking?
Although using the Cubii is definitely better than nothing, walking is preferable. This is because with walking, you're weight-bearing versus sitting while using the Cubii. Being weight-bearing is good for bone density and health, but this doesn't mean you can't add the Cubii to your daily routine. You'll still get your heart rate up slightly and burn a few extra calories.
Is Cubii good for seniors?
Yes, the Cubii is an excellent option for seniors. In fact, my elderly grandfather uses his almost everyday at the urging of his doctor. He doesn't have the best balance so this is a great way for him to still get movement in without falling.
Can I use the Cubii while sitting in an office chair?
Yes, you can use the Cubii while sitting in an office chair. In fact, it is actually preferable since you'll be able to adjust the height of the chair to accommodate your knees and mini strides.
What muscles will I work when using the Cubii?
The biggest muscle you'll be working is your heart, since the Cubii provides a cardio workout while sitting. You'll also be activating a few other muscles like your quads, glutes, and hamstrings. However, if you're looking to grow your muscles, strength training is the best way to go.
How many levels of resistance does the Cubii JR have?
There are eight different levels of resistance on the Cubii JR exercise machine.