We test and review fitness products based on an independent, multi-point methodology. If you use our links to purchase something, we may earn a commission. Read our disclosures.
As I pedaled on a Peloton bike, I thought to myself: Wouldn't it be great to get a cycle bike experience without paying the cycle bike price? And just like that, I spotted the YOSUDA indoor cycling bike and its $300 budget-friendly price point across the room.
OK, maybe it didn't happen quite that way, but I was excited to try out this Peloton alternative to see if it could hang with the luxury products at a fraction of the cost. This YOSUDA Indoor Cycling Bike review examines the deal and will help you decide if you should save up for something else.
More Than 30 Exercise Bikes Tested
I—along with the GGR team of fitness professionals—have tested and used many exercise bikes during my time as a Garage Gym Reviews staff writer, and even before I started here. In fact, I've written many reviews while pedaling on one. I point that out only to show that I know what I'm talking about when it comes to these types of machines and try to look at every part of them to give the most accurate and thorough review possible. 
And if there's a bike I haven't tried, there's a good chance one of my GGR teammates has. That's how we were able to compile lists such as the best exercise bikes, best air bikes, and best folding exercise bikes. 
YOSUDA Indoor Bike
GGR Score: 3.5
Product Highlights
Affordable at around $300
The bike is compact and easily portable
Comes with caged pedals for extra grip
Free replacement parts for a year
Pros & Cons
Pros
Affordable at around $300
Bike is compact and easily portable
Comes with caged pedals for extra grip
Free replacement parts for a year
Cons
Doesn't have built-in dynamic programming or any smart features
A lot of parts, from the device holder to the pedals, feel flimsy
Some reviewers claim the bike has fallen apart in a matter of weeks
Bottom Line
A budget-friendly exercise bike that provides a good ride, but lacks long-term durability.
A Quick Look At The YOSUDA Indoor Cycling Bike
YOSUDA is a California-based company that makes its products in China and specializes in exercise bikes. The YOSUDA bike we're covering in this review is like a Peloton or most other cycling bikes: it has a heavy flywheel, adjustable seat, adjustable handlebars, and a quiet belt drive system.
All things considered, I actually liked riding the YOSUDA bike and could see how many people out there would enjoy it. But as I'll get into later in this review, it's certainly one of those pieces of fitness equipment where you get what you pay for.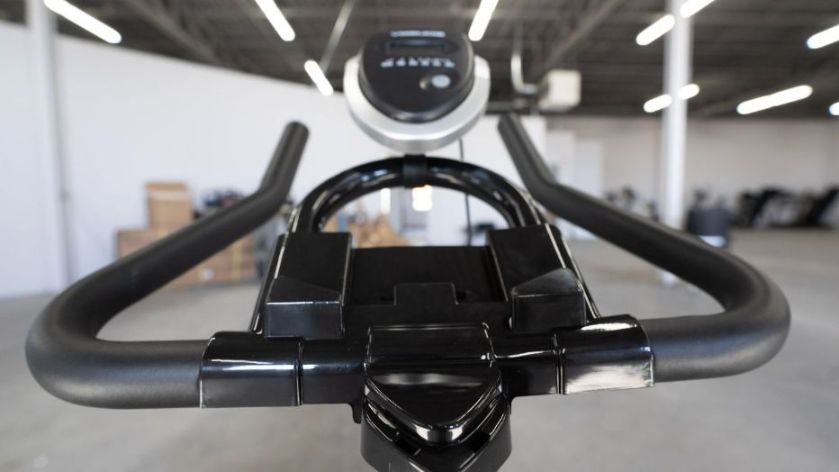 Before You Buy
There have been many complaints of missing parts, so check to see that you have everything before starting assembly.
Just know this bike will not last you for many years (ours is already showing some wear and tear).
You can always use the Peloton app and follow their training programs on this budget-friendly bike.
Pros:
Affordable at around $300
The bike is compact and easily portable 
Comes with caged pedals for extra grip 
Free replacement parts for a year
Cons:
Doesn't have built-in dynamic programming or any smart features
A lot of parts, from the device holder to the pedals, feel flimsy
Some reviewers claim the bike has fallen apart in a matter of weeks
RELATED: Best Compact Exercise Equipment
Is the YOSUDA Bike Worth It?
We know you're probably sick of hearing "it depends," but in the case of the YOSUDA bike, it really does depend on what you're looking for. Are you just looking for an inexpensive exercise bike that doesn't take up much space? If so, then I'd say at around $300, it's worth it. The same goes for if you're looking for something to use until you can afford a much more expensive cycling bike. 
But if you're a serious cyclist, looking for the best exercise bike for your home gym that can last for years in your home gym, or someone who enjoys the finer things in life, then I'd say the YOSUDA bike isn't worth it because this bike has limited tech capabilities and isn't made with the highest quality materials. 
Great for:
People who want a budget-friendly cycling bike 
Those in small spaces who want the best cardio machine 
Those who don't care for dynamic programming
Not recommended for:
Anyone looking for a piece of equipment that will last for years
Serious cyclers or trainees looking for high-quality cardio equipment
Anyone looking for a bike with pre-programmed workouts
YOSUDA Bike Specs
| | |
| --- | --- |
| Footprint | 40.16" L x 21.65" W x 46.06" H |
| Weight | 73 lbs |
| Weight Capacity | 270 lbs |
| Seat Adjustment | Up/down, front/back |
| Drive System | Belt |
| Resistance | Friction |
| Inseam Height | Minimum: 25" / Maximum 35" |
| Other bike features | 35 lb flywheel, brake pad, tablet holder, ergonomically designed seat, water bottle holder, adjustable cage pedals, transport wheels |
Yosuda Indoor Cycling Bike Performance
As someone who's usually too tall for most budget home gym equipment, I was actually happy to see that the YOSUDA bike worked with my 6-foot-3 frame. You're able to adjust the seat height (it has a maximum inseam height of 35 inches) and move it front and back, and the handlebars are also adjustable to help customize your riding experience.
The bike comes with a heavy-duty steel frame, which did a good enough job of keeping the entire thing stable when I started to pedal fast or stood up while pedaling. I never felt like it was going to fall apart on me or wobble to the point where I felt unsafe, which has actually happened to some other reviewers.
The adjustment knob uses a "manual micro-adjustment" system, which basically means there are tons of different levels between the minimum and maximum resistance levels (many exercise bikes have something exactly like it). That also means the knob has no markings, and while that's not the most necessary thing I do like it when cardio machines have that type of thing just because it makes it easier for different riders to set it to where they want it.
With that in mind, the adjustable resistance on this thing is no joke, and at its maximum, the ride starts to get very tough and will certainly get your heart rate up. On the other hand, if you're pedaling fast and all of a sudden need to stop your workout, the bike does come with a brake pad that you can activate by pulling on the adjustment lever.
RELATED: Benefits of Indoor Cycling
Although there are some parts that could be improved (more on that in just a second), I do have to say I was surprised at how quiet this thing was. I was actually able to use it while Coop was filming some other videos, and, thankfully, there was no noise coming from this thing during my smooth ride. As someone who's always lived with a roommate or a partner, I'm always conscious of those things.
Frame and Construction
When I first started riding, I noted that the bike had a comfortable seat, but that's only true for a short period of time. After a while the padded seat no longer feels comfortable, a sentiment other reviewers share. The seat cushion, though, isn't the only thing that doesn't seem to last, and I'll get into what I mean by that now.
As soon as I got off the bike seat, I noticed there was actually a small tear in it. Here's a shot of it:
The cushion on the handlebars also seemed to be indented, as if someone held onto them for dear life. This is odd since nobody tested the bike before me, and the only time it was touched was when it was moved across the gym a handful of times.
Lastly, the LCD monitor seemed like it could've fallen off if anyone bumped into it too aggressively. This appears to be due to the fact that it's connected to the handlebars by a thin piece of plastic. I actually tried tightening it for a little bit before giving up and deciding it wasn't worth it.
This, unfortunately, seems to be a regular occurrence as there are more than 700 Amazon reviews stating that the bike starts to fall apart after a couple of months. The main complaint seems to be the pedals breaking off, which didn't happen to me, but the clasp did come loose several times during my ride.
Other reviewers say the flywheel starts to make a grinding noise after a few months.
It seems as if YOSUDA is pretty aware of this problem, as they offer a year of free replacement parts with any order. I will say many of the reviews about faulty parts have been updated to mention that the company has stellar excellent service when such issues come up.
Resistance
The YOSUDA bike uses friction resistance, which is cheaper than magnetic resistance but that comes at a cost. For one, friction resistance is a little louder than magnetic (friction produces a whooshing sound, due to the brake pads coming in contact with the flywheel. Because of this, the pads tend to wear down over time and may require regular maintenance.
Features
Flywheel
The YOSUDA bike comes with a 35-pound flywheel, which makes it feel more like a road cycling bike because it requires more force to turn the flywheel. That, however, means it's a little harder on your joints so it may not be the best for people with bad knees.
RELATED: Best Treadmill for Bad Knees
Belt Drive System
The YOSUDA bike uses a belt drive system, which provides a smoother ride but it's generally less durable than a chain drive (which is made of metal). Belt drives need regular maintenance to ensure they're in good, working condition.
LCD Monitor
The YOSUDA bike comes with a very basic LCD display that features an odometer and tracks calories burned, speed, ride time, and distance. It only has one button to turn it on and off, as well as to toggle between different metrics. There are also no Bluetooth capabilities to connect it to an external fitness tracker.
I personally have no problem with this minimal approach, as I sometimes find digital monitors on some indoor exercise bikes to be distracting. And at this price point, it isn't surprising to see a very basic display.
The monitor runs on two AA batteries, a pair of which come with the bike.
Device Holder
As someone who likes to pedal while working on occasion, I like when a machine has a device holder such as the one on the YOSUDA bike. Well, in honesty, it's more of an iPad mount than anything else. My iPhone fit into it without a protective case, and my laptop could fit there, too. However, I didn't find it sturdy enough to ride and type at the same time.
It's worth pointing out this feature because if you do have an iPad or other tablet, you can stream Peloton classes (you could also do Zwift and iFIT classes as well) while riding on this bike.
Pedals
The YOSUDA exercise bike comes with toe cages similar to what you'd find on a Schwinn IC4 or a traditional road bike. On the one hand, it's pretty impressive that they were able to make these so that they could fit my size 15 shoes as well as other people's normal feet. The clasp kept coming loose during my rides, though, and I've seen similar complaints.
The pedals also can't be taken off unless you replace the entire crank, which is pretty easy and YOSUDA actually has a YouTube video on how to do that.
Comfort
The YOSUDA's upright design necessitates a more athletic and aggressive body stance than the sitting, relaxed recumbent variants. It has a similar sensation to a spin cycle or a regular bike that you could find at the gym. It can be ridden without hands, but most of the time the rider is sitting and breaking at the waist, with some of their weight resting on the handlebars. With plenty of padding and a pressure relief hole, we found the seat to be rather comfy.
Adjustability
The YOSUDA cycling bike model is a great option. This is due to the bike's adjustability. It will fit persons between the heights of 5'0″ and 6'0″. The handlebars can also be changed in two different ways, and the cushioned seat can be adjusted in four different ways, with a height range of 25 to 35 inches. The seat is cushioned and curved, and the pedals include an adjustable caged-toe design that accommodates a variety of foot sizes.
Ease of Setup
When compared to the heavier high-end versions with displays, the YOSUDA exercise bike was rather simple to put up. The assembly was simple, and it came with thorough instructions as well as all of the necessary gear and equipment to finish the work. Although it is rather hefty, moving it around can be a bother, it does have a tiny footprint that isn't too apparent in your home training room.
Portability
The YOSUDA indoor bike has two front-facing transport wheels and weighs 72 pounds, so it's easy for just about anyone to move it when needed.
Connectivity
The YOSUDA indoor stationary bike doesn't have Bluetooth connectivity so while you can watch cycling app classes on an external tablet or smartphone there is unfortunately no way to sync the bike to those classes.
YOSUDA Bike vs. Sunny Health & Fitness Synergy Series Magnetic Indoor Cycling Exercise Bike
Another Budget Option
GGR Score: 4
Community Score: 3
Product Highlights
49-lb flywheel
275-lb user weight capacity
Stable
Feels like road bicycle
Under $300
Pros & Cons
Pros
Priced under $400
49-pound flywheel provides a smooth ride
Hundreds of micro levels of resistance adjusted manually
Four-way adjustable seat and two-way adjustable multi-grip handlebars
Conveniences like water bottle holder and transportation wheels
Cons
Leather pad resistance will eventually require maintenance
No monitor or display at all
No tech compatibility
No preset workouts
Bottom Line
A budget-friendly exercise bike that provides a good amount of bang for not too much buck.
The YOSUDA bike is far from being the only budget-friendly Peloton alternative out there, and one that we've previously recommended is the Sunny Health & Fitness SF-B1002 Belt Drive Indoor Cycling Trainer. With a price tag at just over $400, it's about $100 more than YOSUDA but still in the same price range.
These are very similar bikes in that they have all the same features, utilize belt-driven systems, have similar user weight capacities, and are budget-friendly. The two differences are that the Sunny Health bike has a heavier flywheel at 49 pounds, and the bike itself is also about 40 pounds heavier than the YOSUDA.
If you're just looking for the least expensive bike that can get the job done, the YOSUDA should be your pick. But if you can afford an additional $100, the Sunny Health bike is worth it, in my opinion. In our experience, it seems more durable and has a slightly better LCD screen. Overall, we believe you'll have a better riding experience with the Sunny Health bike and it should last you longer.
RELATED: How to Choose an Exercise Bike
Customer Experience
YOSUDA can be reached via phone, email, or an online form via their website. I saw many reviews stating that the company has excellent customer service, and a representative usually responds to any issues within 24 hours.
Assembly
The YOSUDA Bike can be ordered directly via Amazon Prime (yay free shipping and returns).
The assembly is pretty straightforward, as you simply ​​attach the feet, seat, and handlebars to each other, and then connect the monitor. It is heavy so you may need two people to remove it from the box. While our team found it easy, though, there are some reviews that state it should take no longer than 30 minutes, while others say they had great difficulty in putting it together.
Warranty
The YOSUDA Bike only comes with a three-month warranty on the frame, and a one-year warranty for all parts. That's better than nothing, and for the price, you can't really expect more.
The bike can be returned within 90 days of ordering it, if you do it through Amazon Prime. One of the few downsides of Prime, however, is that you can't finance your order.
Customer Reviews
As of this writing, the YOSUDA Bike has a 4.4 average rating with more than 17,000 reviews. The vast majority are 5- and 4-star reviews, with many people praising it as a budget-friendly alternative to Peloton and other cardio machines.
As previously mentioned, the negative reviews for this bike revolve around its lack of durability.
Final Verdict: YOSUDA Indoor Cycling Bike Review
There's honestly a lot to like about the YOSUDA bike, including the sturdy steel frame, easy resistance adjustment, affordable price point, and small footprint. I'd recommend this to anyone who needs a simple cardio machine during a worldwide event that may cause gyms everywhere to shut down (not that that's ever happened…).
But if you're someone who's serious about cardiovascular fitness, cycling in general, or likes to buy one piece of equipment and use it for a long time, you'd probably be better off looking at another upright bike.
YOSUDA Bike Rating
YOSUDA Indoor Cycling Bike
Looking for a cycling bike but don't have the money for a Peloton? Our YOSUDA Bike review will let you know if this is for you.
Product Brand: Yosuda
Product Currency: USD
Product Price: 309.99
Product In-Stock: InStock
YOSUDA Indoory Cycling Bike Review FAQs
Is Yosuda a good brand for exercise bike?
YOSUDA exercise bikes are affordable, compact, and highly-rated cardio equipment great for casual trainees and those in small spaces. There are some concerns about durability, and there are limited tech capabilities on their bikes.
Where is YOSUDA manufactured
YOSUDA is based in Los Angeles, CA but manufactures its products in China.
How do I increase my Yosuda bike resistance?
You adjust the resistance via knob found on the bike's frame. Turn clockwise to increase the resistance and counter-clockwise to decrease the tension.
What is the weight limit on the Yosuda bike?
The YOSUDA bike has a weight capacity of 270 pounds.