We test and review fitness products based on an independent, multi-point methodology. If you use our links to purchase something, we may earn a commission. Read our disclosures.
Choosing a cardio machine, whether that's a treadmill or rower or elliptical, is a tough choice when there are so many options—many of which are eerily similar—available to choose from. That's where the Garage Gym Reviews team comes in: I'm glad you're doing your due diligence and reading a thorough Exerpeutic elliptical review before handing your credit card info over to your retailer of choice.
Over a Dozen Ellipticals Tested
Our roster of credentialed fitness pros knows cardio machines like National Geographic knows travel. We've tested more than a dozen elliptical trainers and have created a guide to the best elliptical machines, so you know we know our stuff.
Exerpeutic Elliptical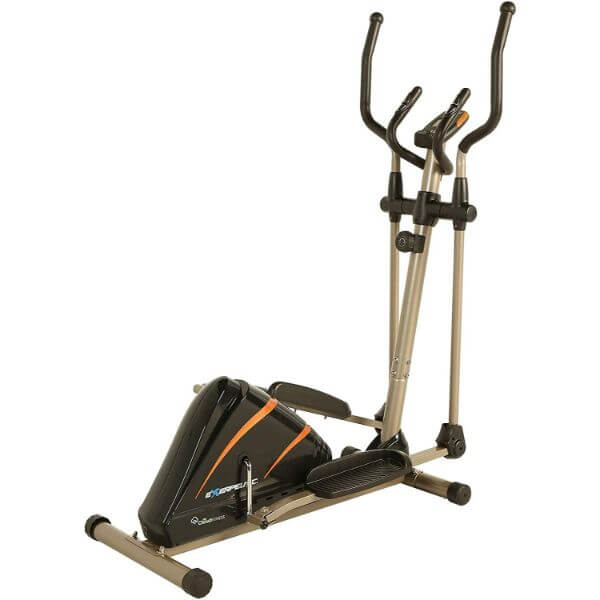 Exerpeutic Heavy Duty Magnetic Elliptical
One of the most affordable ellipticals on the market, the Exerpeutic Heavy Duty Magnetic Elliptical offers a lot of perks at a low price point. Measuring 23 inches wide, 54 inches long, and 63 inches high, this compact elliptical weighs only 74.5 pounds and is a good choice for smaller living spaces. If you are considering this elliptical, be sure to add 21 inches to the tallest user for proper ceiling height clearance.The Exerpeutic Magnetic Elliptical is basic but provides a solid workout with eight levels of magnetic resistance and Bluetooth connectivity to the MyCloudFitness app. With this app, users can track historical workout data and set workout goals based on calories, time, or distance. A 3.4-inch LCD monitor displays distance, calories burned, time, speed, pulse, and each stat scans through as you workout.Looking for more? Purchase a premium subscription to MyCloudFitness for access to personalized programs, coaching videos, and engaging scenic routes. Simply place your phone or tablet on the included device holder, connect via Bluetooth, and get moving.Assembly is reportedly time-consuming, however there is the option for expert assembly. There are some reviews indicating a squeaking sound. But, with proper assembly, lubrication, and maintenance, this issue can be resolved.
A Quick Look at the Exerpeutic Elliptical
The Exerpeutic elliptical, formally called the Exerpeutic 2000XL Heavy-Duty Magnetic Elliptical, is a budget-friendly elliptical machine with a small footprint and a suite of basic features like an LCD screen and adjustable handlebars.
Exerpeutic makes several models of ellipticals in addition to the 2000XL, including the 1000XL high-capacity elliptical, which we compare to the 2000XL later on.
This brand specializes in budget-friendly exercise equipment for home use, so keep that in mind as you read through this Exerpeutic elliptical review.
My Tips:
"You get what you pay for" is almost always true, and it's certainly true when it comes to cardio equipment. This is an under-$400 elliptical, so don't expect the high-end features of more expensive machines.
Take advantage of the smart device holder on this machine. Sign up for a free elliptical workout app to stream workouts; this machine doesn't have any built-in programming.
While ellipticals are generally regarded as large pieces of fitness equipment, this one is actually pretty compact (measuring 23 inches W by 54 inches L by 63 inches H), so it'll work even in smaller home gyms.
Pros:
Costs less than $400
Small footprint
Low-impact, full-body workout
Magnetic flywheel is quiet
Sturdy during use
Financing available on Amazon
Great entry-level purchase
Heart rate monitoring available on Bluetooth-enabled version
Belt drive is low maintenance
Cons:
No built-in workout programs
Handlebar pulse sensors are unreliable
LCD display is very small and basic
Transportation wheels aren't great
Is the Exerpeutic Elliptical Worth It?
This is an under-$400 elliptical, so you really shouldn't expect much from it. While our product testers rated it lower in many areas, the value is still pretty decent if you just want an elliptical to move on. It won't tell you what to do in terms of programming, the screen is really only useful for time, and it has a short stride, but if you just want a cheap workout, this isn't too bad.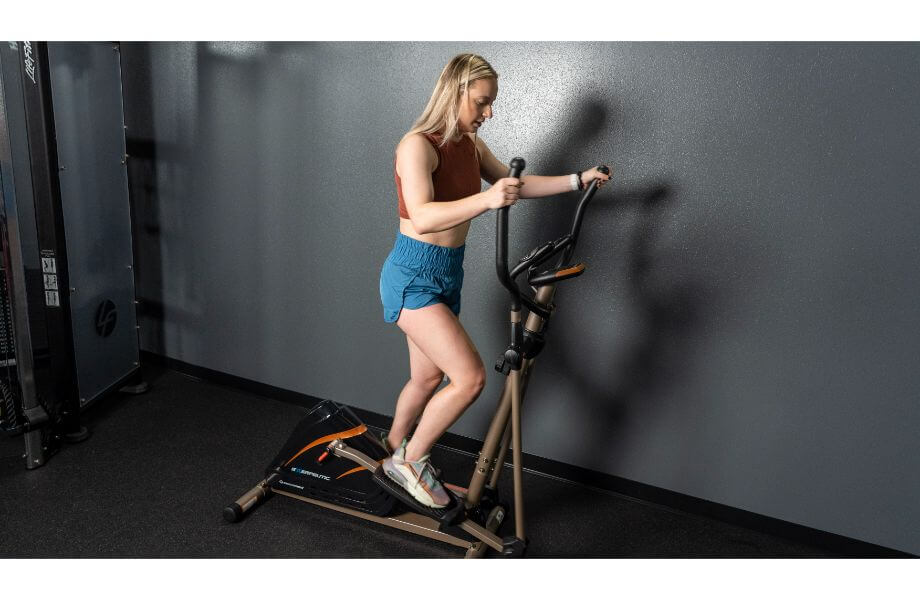 Great for:
People looking for an easy and simple way to move
Home gym owners with a smaller budget for an elliptical
Anyone who needs a relatively compact cardio machine
Not recommended for:
Trainees who want a challenging workout
People who want instructor-led programming
Home gym owners who want a lot of bells and whistles on their equipment
Exerpeutic Elliptical Specs
Material
Dimensions
Model Name
Product Weight
Warranty
User weight capacity
Brand
Color
Display
Resistance
Steel frame, some plastic parts
23″ W x 54″ L x 63″ H
2000XL Heavy-Duty Magnetic Elliptical
74.5 lbs
1-year limited
300 lbs
Exerpeutic
Gold
LCD display
Magnetic, 8 levels
Using the Exerpeutic Elliptical
Like on any other elliptical with moving arms, your upper body and lower body (and core!) all engage when using the Exerpeutic 2000XL. It has dual-action workout arms (which just means your arms push and pull when you're using it) and a device holder so you can stream elliptical workouts.
There are eight levels of magnetic tension resistance on this machine, and they're manually adjustable with a knob that is pretty loud as it clicks through the settings.
Our product tester and GGR Head of Content Kate Meier wasn't overly enthused with the workout experience on the Exerpeutic elliptical, but then again, it is a budget piece of equipment.
RELATED: Best Elliptical Workout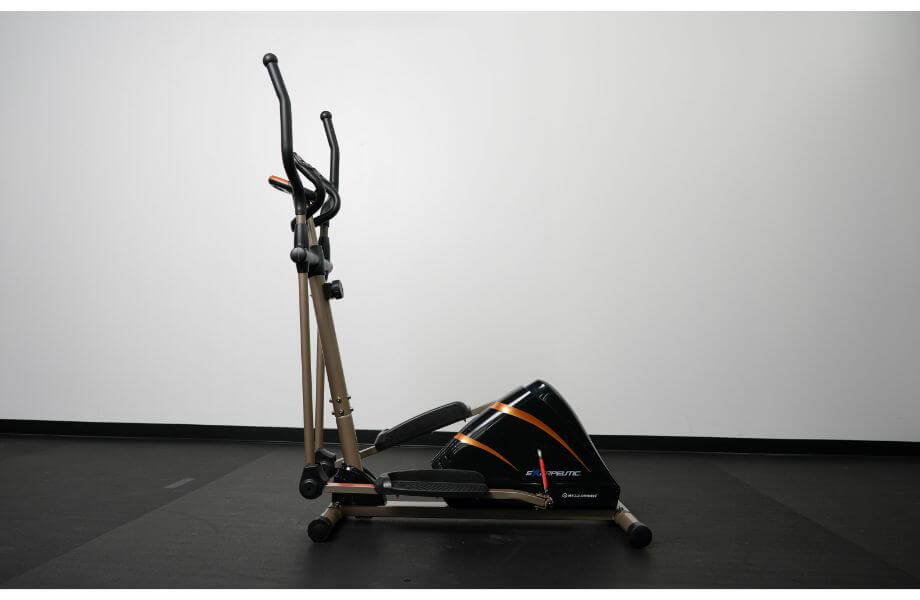 "I hopped on and did a 15-minute workout, just pedaling forward, pedaling backward (which was awkward because the stride is so short)," Kate says. "There's nothing noteworthy about it. In just 15 minutes, I didn't need water, but since there is no water bottle holder, it might be annoying if you are doing a longer workout and you have to get off your machine."
It's a pretty smooth workout experience overall, Kate says: You just get on and pedal.
"The manual resistance adjustment with the knob is fairly new to me," she continues. "I'd only ever been on one other machine that has that (the NiceDay Elliptical), and the Exerpeutic knob makes loud clicks. You notice a difference in the resistance, for sure, and the highest setting would definitely give you a good leg burn.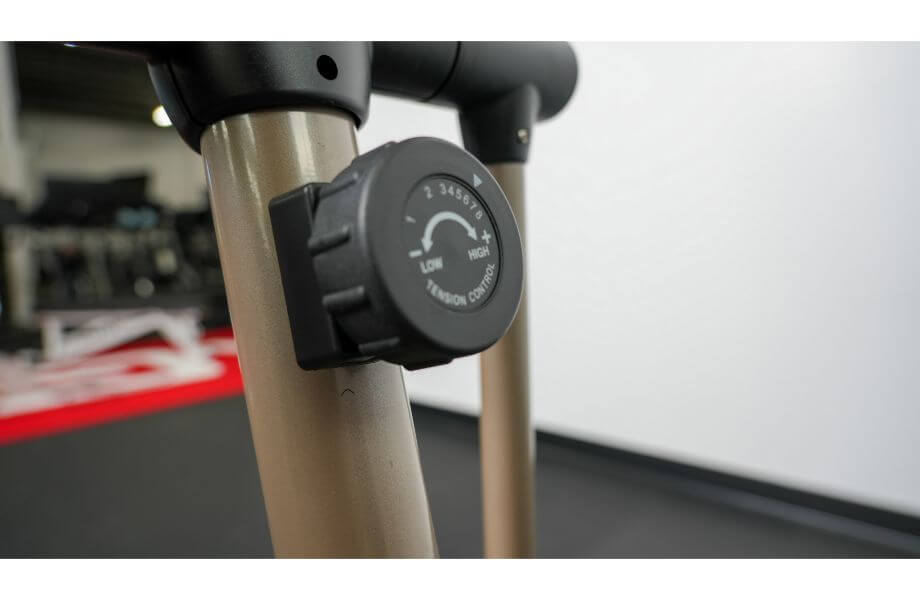 The lower resistance levels on this elliptical probably aren't challenging enough for very conditioned people. It's better suited to beginners, or those looking for a machine specifically to do low-intensity and low-impact workouts.
"There's really not much else to comment on with the experience," Kate says. "Not much shake or wobble, not much noise (aside from the clicks of the knob). It's about as basic of an elliptical (while still being an actual traditional elliptical) as you can get."
The Ergonomics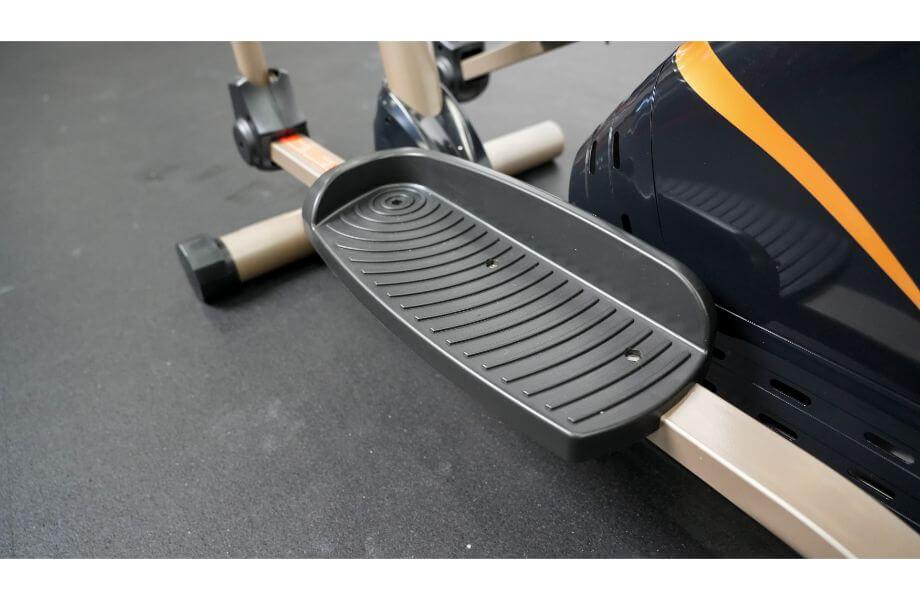 I couldn't find an exact stride length (other reviews say 13 inches), but according to Kate, it's pretty short—and she's 5 feet, 4 inches. This is a compact machine, which usually means a shorter stride length. If you're a tall person, this might be uncomfortable.
On the upside, the foot pedals have a texture to hold your feet in place, and the moving handlebars are cushioned, which is nice. The pedal design, according to some other Exerpeutic elliptical reviews, keeps your feet quite snug.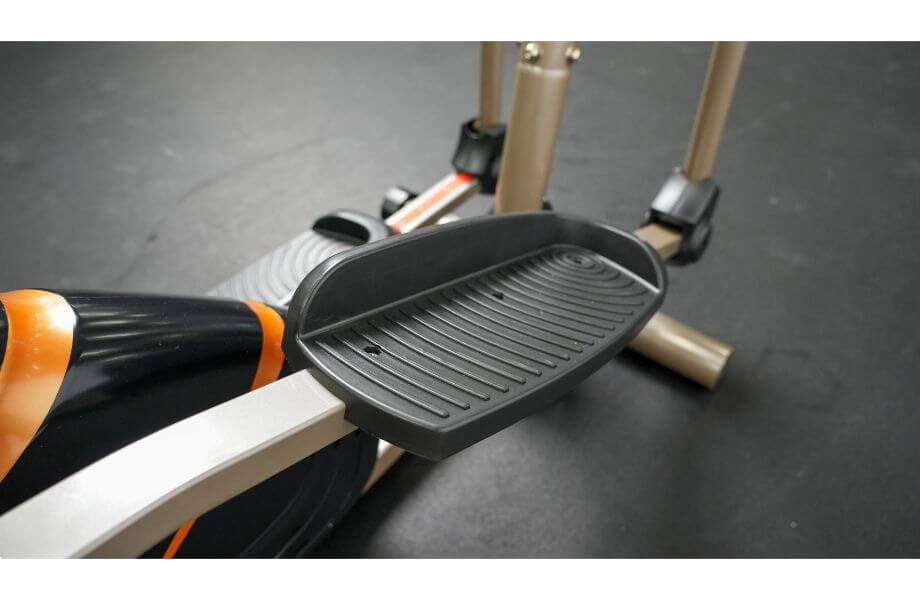 Footprint and Portability
This is a pretty compact machine at 23 inches wide by 54 inches long by 63 inches high. It weighs just under 75 pounds, which is pretty light as far as ellipticals go.
Unfortunately, it's still not very portable considering the wheels are on the back of the machine. It's wildly inconvenient for moving around.
Typically, on machines like this, the wheels are on the front so you can use the handles to tilt the machine toward you and then push. Wheels on the back mean you have to tilt the machine away from your body, which is much more unstable.
"Big time bummer here," laments our product tester and GGR Head of Content Kate Meier.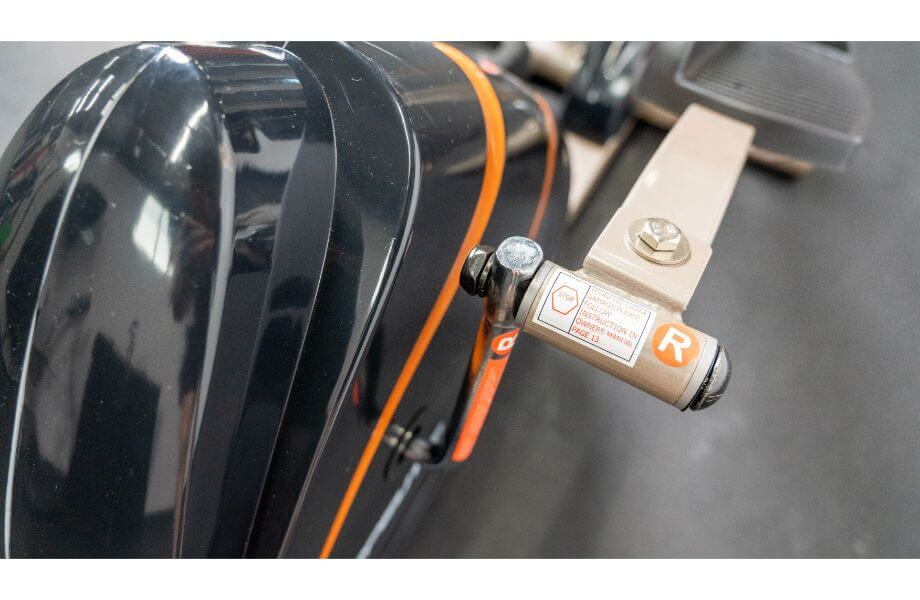 Durability and Construction
The Exerpeutic 2000XL meets the standard across elliptical machines with a weight capacity of 300 pounds. There is little to no wobbling while in use, and a good amount of steel used in the base construction, says Kate.
However, she mentioned that there is a slight clicking noise while the machine is in use. This could be a small issue with how it was assembled, and it's not super disruptive, but it's there and worth noting, we thought.
Technology Benefits and Conveniences
This isn't a high-tech machine like the NordicTrack Commercial 14.9, which boasts a massive touchscreen display and built-in dynamic programming.
But, the Exerpeutic costs a fraction of the price of the NordicTrack, so…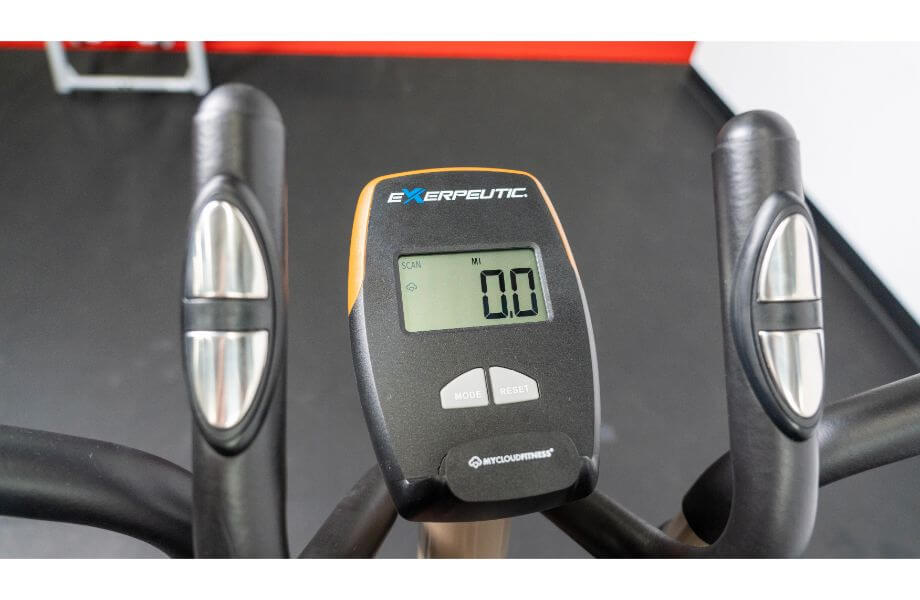 You have two options when buying the Exerpeutic 2000XL: With Bluetooth and without it. The one our product testers tried is supposed to be Bluetooth-enabled.
"You have to download an app called MyCloudFitness and then pair the machine," Kate says. "I tried for 20 minutes and couldn't get the machine to pair."
Other than that, the machine has an incredibly basic display that shows you time, distance, speed, and pulse. The pulse pad reading never matched up with what Kate's Apple Watch said, but that is in part due to the pulse reading coming from sensors on the handles, which are known for being unreliable.
There is only a smart device holder, and no water bottle holder or fan.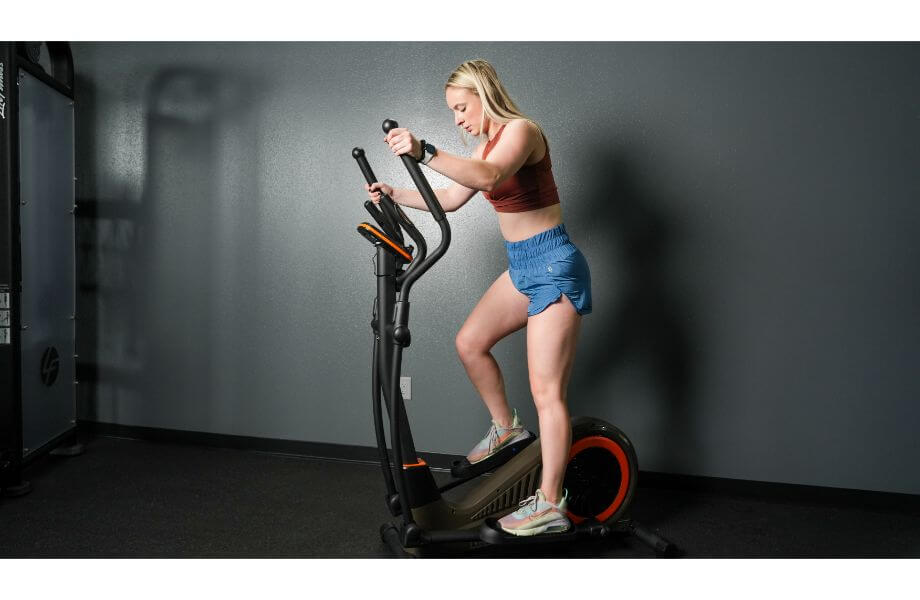 Finally, there is no fitness programming built into the machine. You can stream workouts from third-party platforms and use the device holder, though. MyCloudFitness, the compatible app, has tons of elliptical HIIT workouts to choose from.
Customer Experience
The Exerpeutic elliptical is sold through a variety of large retailers, including Walmart, Lowe's, Amazon, and Overstock. You're subject to the shipping and return policies of the retailer you purchase from.

We recommend buying this product on Amazon, since Amazon has a variety of financing options and a customer-friendly return policy. You can return the elliptical for a full refund within 30 days of delivery. Shipping for this product is free if you buy from Amazon.
The warranty on the Exerpeutic elliptical is less than ideal. You get a one-year limited warranty that covers manufacturer's defects.
Customer Reviews
On Amazon, the Exerpeutic 2000XL elliptical has an average rating of 3.8 out of 5 stars at the time of writing. Positive reviews praise the elliptical for its solid, sturdy build and budget-friendly price.
One buyer gushed: "This machine is so worth the money. It took me about two (curse-word-free) hours to put together… I love this thing for a quick workout. It's practically silent as well, which is huge."
There's no shortage of negative customer reviews, though. The top critical rating on Amazon mentions issues with assembly and customer service.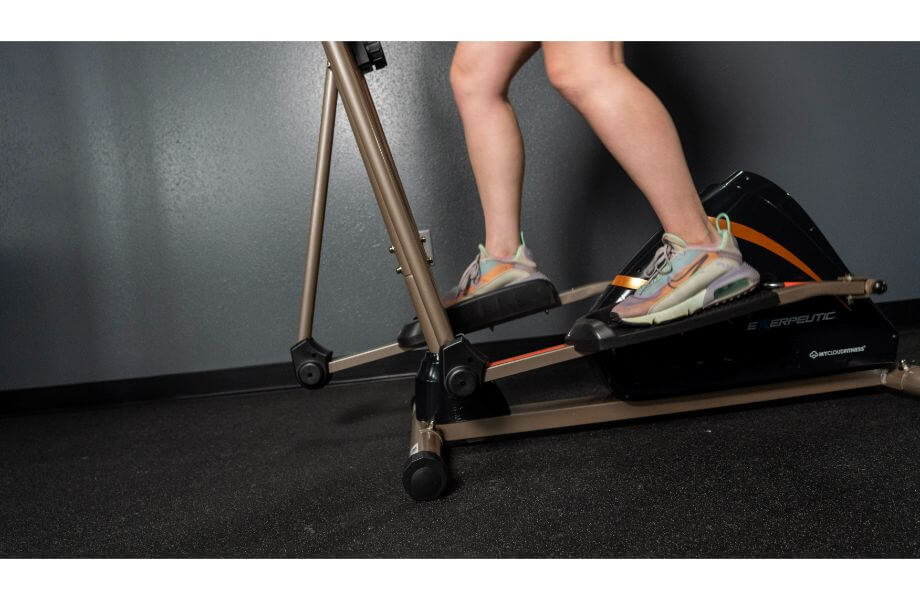 Assembling the Exerpeutic Elliptical
Sam Presley, GGR facility operations manager, assembled the Exerpeutic 200XL elliptical. Here's what he has to say:
"The Exerpeutic elliptical comes in a pretty small box packaged well with styrofoam. It is lightweight enough to where most people should be able to move it on their own to the location they are going to build it at," he says.
"Once you start building, there may be a few things you run into. One problem we ran into was that the wiring was very difficult to run up the main housing. Once we got past that, there were a lot more nuts and bolts than what you typically find in an elliptical of this size, making for more steps to get to the fully built point."
Finally, he says, "Overall, I would allow for about an hour to put this one together. If you take your time, you should be very happy with the finished product."
Final Verdict of Our Exerpeutic Elliptical Review
At the end of the day, this elliptical machine is just okay. It's not impressive, and nothing really jumps out aside from the price. It's pretty stable and appears to be fairly durable; you get what you pay for with something like this. Don't expect fancy programming or a lot of bells and whistles.
This is a budget-friendly and compact elliptical.
It's not great for very challenging workouts or high-intensity training, but it's a great option for beginners or people looking for a tool to do low-intensity cardio work.
Assembly is tougher than one might expect, but it should only take one hour if you read the directions carefully.
Full Rating
Exerpeutic Elliptical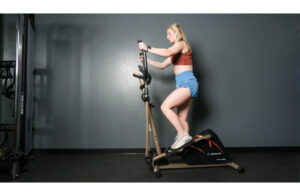 Our Exerpeutic elliptical review covers all of the need-to-know details about this budget-friendly cardio machine.
Product Brand: Exerpeutic
Product Currency: $
Product Price: 356.74
Product In-Stock: InStock
Exerpeutic Elliptical FAQs
Will I get a total-body workout on an elliptical machine?
Yep! Ellipticals are great exercise machines because they provide a whole-body cardio workout. Your legs, arms, and core will all be engaged when you work out on a magnetic elliptical trainer.
Which is better, an elliptical or an exercise bike?
One type of cardio machine isn't better than the other, but one might be better for you, specifically, than the other. Ellipticals are great for people who have injuries or conditions causing mobility limitations in the hip, since riding an exercise bike requires more than 90 degrees of both hip and knee flexion. Ellipticals may also be a better choice for people with lower back pain, since you remain in a more upright position than you do on a bike.
RELATED: Elliptical vs Bike
What is the difference between the Exerpeutic 2000XL and Exerpeutic 1000XL Heavy-Duty Magnetic Elliptical?
Exerpeutic manufactures several models of elliptical trainers. The one in this Exerpeutic elliptical review is the 2000XL. The Exerpeutic 1000XL elliptical is almost identical, and it actually seems like the 2000XL is simply a newer model of the 1000XL. 
What is the best elliptical machine?
Who makes the Exerpeutic elliptical?
Exerpeutic ellipticals are manufactured by Paradigm Health & Wellness.
What is the difference between an elliptical and a cross-trainer?
Ellipticals and cross-trainers are very similar, but they are not one and the same. Technically, ellipticals have static arms, so the Exerpeutic elliptical machine reviewed in this article is actually a cross-trainer, which has moving arms.