We test and review fitness products based on an independent, multi-point methodology. If you use our links to purchase something, we may earn a commission. Read our disclosures.
When I think about dumbbells, I usually think of some heavy metal, maybe wrapped in some dense rubber, clanging around in a weightlifting gym, bouncing off of rubber flooring. I don't often think about a piece of plastic that can load plates.
But after learning about the Kensui AdjustaBELL, I might have to change what I consider a good dumbbell. The founder of Garage Gym Reviews, Coop, tested these new dumbbells out, and thought they provided tremendous value. In our Kensui AdjustaBELLS review, we'll take a look at the strengths and weaknesses of these nylon adjustable dumbbells.
Adjusting Dumbbells Left and Right For Years
We have been testing and researching adjustable dumbbells for a while now. Coop has had an affinity for these pieces of equipment, mostly for their functionality in a home gym space. With all of these dumbbells tested between our team of certified personal trainers, CrossFit-L1 trainers, competitive athletes, and former gym owners, we know what to look for in quality-made dumbbells, adjustable or not.
To review the Kensui AdjustaBELLS, Coop tested the dumbbells himself, loading the handles with maximal loads to test aspects of their construction and durability. Additionally, he was able to try out some of the accessories to the dumbbells, like extenders and adapters. He was able to provide his insight on the value and quality of these dumbbells.
Kensui AdjustaBELLS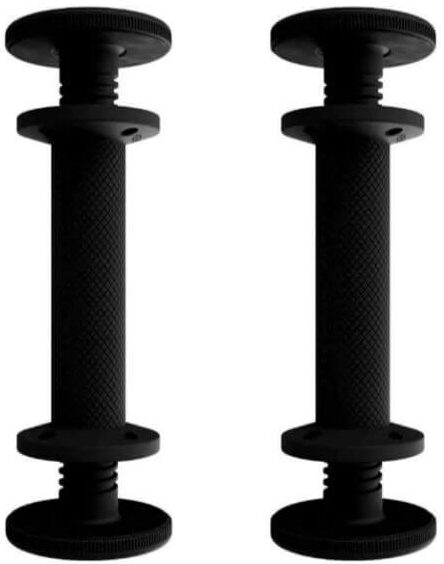 GGR Score: 4.3
Product Highlights
Loadable dumbbell 

Compatible with 1" and 2" plates 

Slip-resistant rubber guard 

No overhang
Pros & Cons
Pros
Money-back guarantee
No overhang when you add weights
Can use both 1" and 2" plates together
Lifetime warranty
Cons
Made of nylon
Customers complained using 2" plates could be tricky without adapter
Only available via company website
Bottom Line
The AdjustaBELL is a compact, affordable loadable dumbbell with a unique design that doesn't have any overhang.
A Quick Look at the Kensui AdjustaBELLS
Kensui Fitness is a recent fitness company focusing on innovative fitness equipment. The Japanese-born founder, Remy, named the company after the Japanese word for "pull-up."
The company is most well-known for their Kensui EZ-Vest, an adjustable weighted vest. The front of the chest has a nylon peg that can attach and secure weight plates, adding difficulty to bodyweight calisthenics like squats, push-ups, and lunges. Additionally, they make Kensui Swissies—hard, plastic hooks and handles that can attach to any straight bar to convert into a neutral grip like a Swiss bar.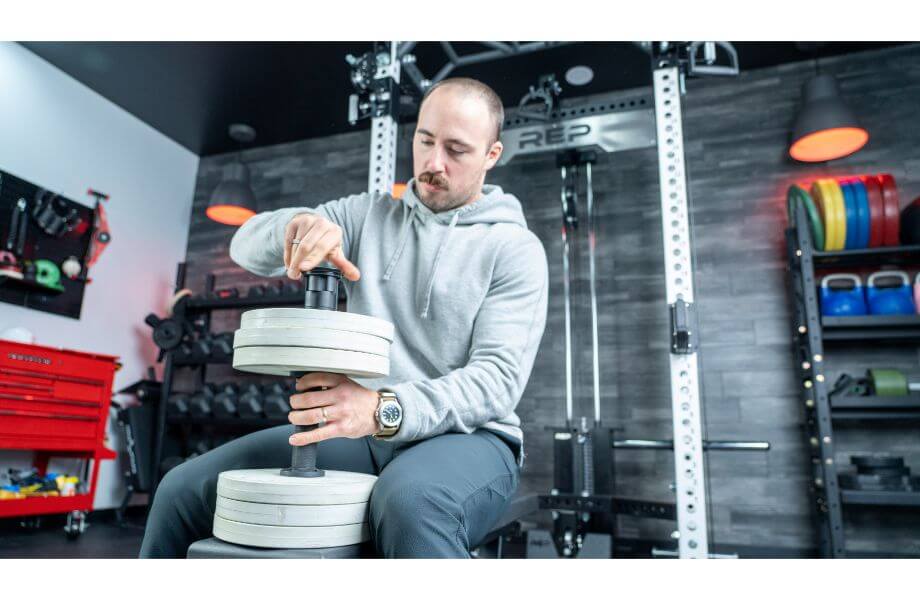 Their Kensui AdjustaBELLS are innovative adjustable dumbbells that keep a flat end no matter how much weight you add to the dumbbell handle. The flat end helps in your strength training more than traditional spin-lock dumbbells that have a fixed length, as the unused ends of the dumbbell handle can get in the way during curls and presses. In addition, they are compatible with both standard and Olympic plates, a rare feat in plate-loaded dumbbells.
Before You Buy
Don't let the plastic handles scare you. Although it is plastic, the hard nylon is very durable, and holds a good amount of weight, especially for its price.
This is a great budget option with very good value. However, it won't be as durable as high-end adjustable dumbbells like Nuobells or Powerblocks. If you have the budget, it might be worth looking into some other adjustable dumbbells.
Most higher-end adjustable dumbbells will change weights quickly, with just a turn of a knob, whereas the Kensui AdjustaBELLS are simple to change, but take a bit of time.
Are the Kensui AdjustaBELLS Worth It?
Coop said it himself that these have killer value. They are one of the least expensive adjustable dumbbells on the market, comparable to budget spin-lock adjustable dumbbells, but aren't sacrificing quality for the price. Made with a hard, durable plastic, the AdjustaBELLS will last pretty well so long as you take care of them. It's also an easy piece of equipment to travel with.
With that said, it's not for everyone, especially those wanting the feel of a metal handle with solid knurling. There are also higher-quality options available, just with a higher price tag to match.
Great for:
Home gym owners with weight plates, looking to incorporate dumbbell movements
People who travel a lot wanting a piece of equipment for on the go
Those wanting an ultra-budget option for dumbbells
Not recommended for:
People needing an adjustable dumbbell that can change weights on the fly
Anyone wanting a higher-end set of adjustable dumbbells
Those who like the feel of aggressive metal knurling
Kensui AdjustaBELLS Specs
| | |
| --- | --- |
| Dumbbell weight | 2 lbs |
| Weight capacity | 70 lbs per handle |
| Weight plate compatibility | 1" (standard plates) and 2" (Olympic plates) |
| Loadable space | 2.8" (7 cm) |
| Available accessories | AdjustaBELL extenders, Adjustable centering adapters, Hydroplates |
| Material | Hard nylon |
| Knurled handle? | Yes |
Workout Experience/Using the Kensui AdjustaBELLS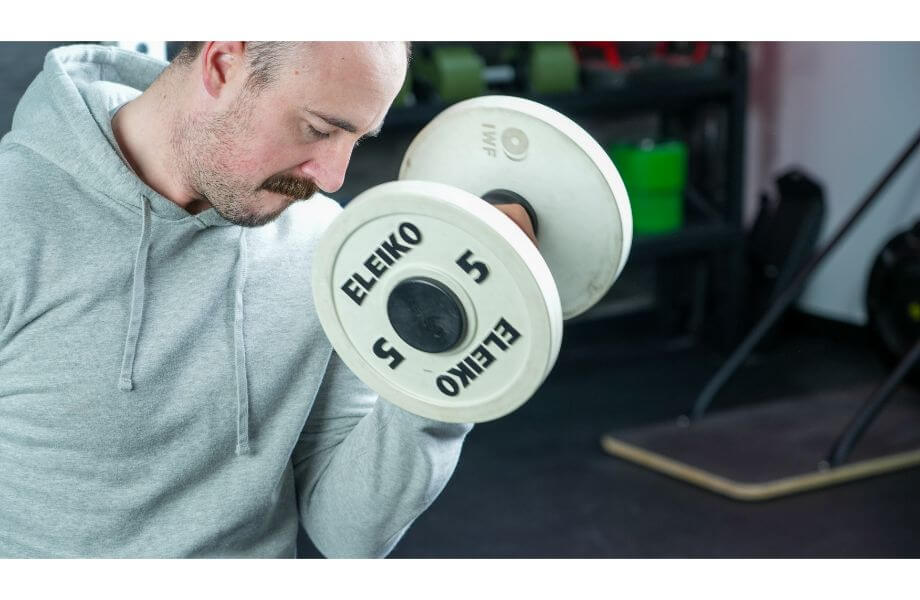 Using the Kensui AdjustaBELLS was pretty easy, as it has a simple design. The dumbbells can fit both standard and Olympic plates, although it can be challenging to center the Olympic plates properly without the center adapters, which are sold separately. The flat ends at any weight allows the dumbbell to have a full range of motion without the dumbbell getting in the way.
While loading and unloading the plates was simple enough, it isn't the fastest adjustable dumbbell to change. For this reason, Coop says that this is not a good dumbbell for supersets between large and small weights. It takes a bit of time to make adjustments, so it won't be ideal if you are wanting to make quick changes to weights during a fast-paced cardio workout or while supersetting different exercises.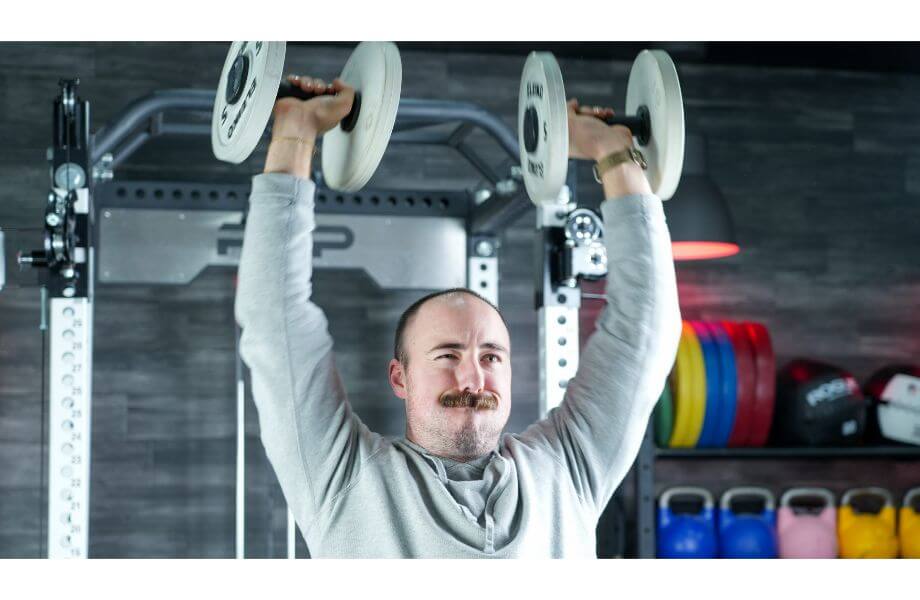 Construction
The design of the AdjustaBELLS is fairly simple, just a handle and end caps on either end. The end caps have an acme thread (like a really big screw) that tightens onto either end, securing the weights. Once secured, the dumbbell is flat on either end. This is nice, as typical dumbbells with spin-lock collars have a fixed length, which can get in the way on some exercises, like curls or bench presses, and decrease your range of motion.
The handles are made of a hard nylon, which is a fancy way of saying a strong, hard plastic. My initial thought is that plastic will be weak, but Coop assured me it was a strong and durable plastic. He has used pull-up bars made of this hard nylon that were able to support his entire body weight without an issue. He says it can probably get run over by a car and not have a problem, but I wouldn't test that out (we certainly didn't).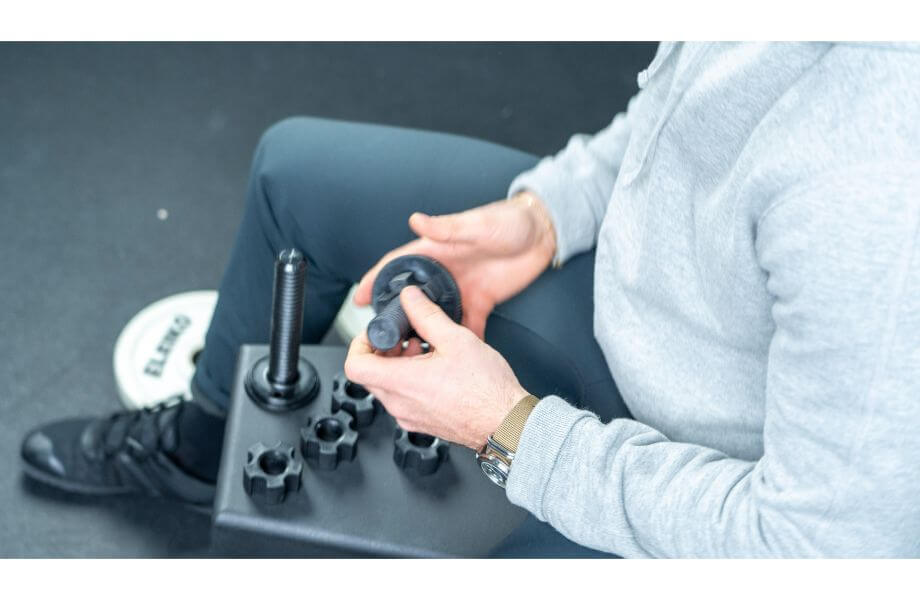 The caps have a rubber end which further secures the plates to the ends of the dumbbell. The dumbbell can fit 1-inch standard plates, as well as 2-inch Olympic weight plates. However, the Olympic plates have to be centered and can be a nuisance; for this, Kensui offers center adapters, making it much easier to center and load the plates.
There are also extenders available, allowing you to load thicker and heavier plates onto the dumbbell. These caps are a bit stronger, made of an aluminum alloy. Coop was able to super-load these dumbbells with the extenders and the dumbbells remained strong.
Durability
As said before, this nylon is pretty durable. Each dumbbell handle is rated to hold a maximum of 70 pounds each, but in Coop's testing, he loaded the dumbbells with over 100 pounds (using the extenders) and did not have any issue. He even dropped them a little bit with the heavy weights, and the handles were not damaged at all.
While we would recommend keeping the recommended weights on the dumbbells and to avoid dropping the weights, it's good to know that these dumbbells are pretty durable. It won't be as strong as a heavy-duty metal handle, but for its price, it has fantastic durability and value. Plus, it should be more durable than a cheap metal handle.
Portability
I recently reviewed the Kettle Gryp, which was a great portable piece of equipment that was easy to travel with. The Kensui AdjustaBELLS are no different; weighing about 2 pounds per handle, it is easy to throw the dumbbells into your luggage and be able to use them at hotel gyms with the plates provided there.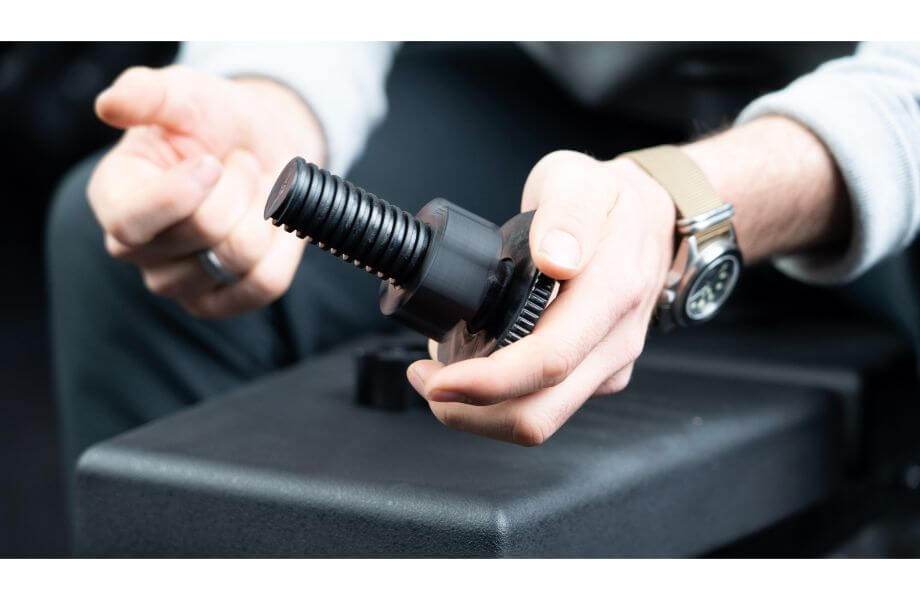 This is a great convenience as most hotel gyms are limited in how heavy the dumbbells go, but with the AdjustaBELLS, you can use the weight plates to go beyond the dumbbells at the hotel gym.
With the convenience of portability, it's also a fantastic way to begin incorporating dumbbell work for home gym users without breaking the bank. Most garage gyms already have some type of weight plate, so they can utilize those weights without needing to buy extra weights, or plan for taking up extra space. It has a ridiculous footprint at a very affordable price.
Knurling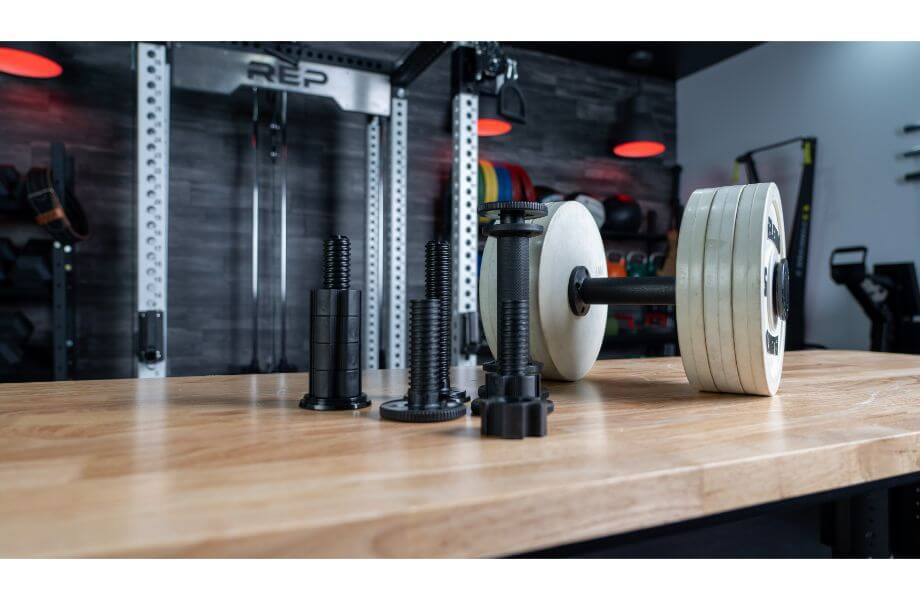 The Kensui AdjustaBELLS have knurling on the handles, which is a nice touch for most people. However, according to Coop, the knurling is very passive. You will get a rougher or more aggressive knurl on a metal handle, not the hard nylon.
Comparison to Pepin Adjustable Dumbbells
Pepin Adjustable Dumbbells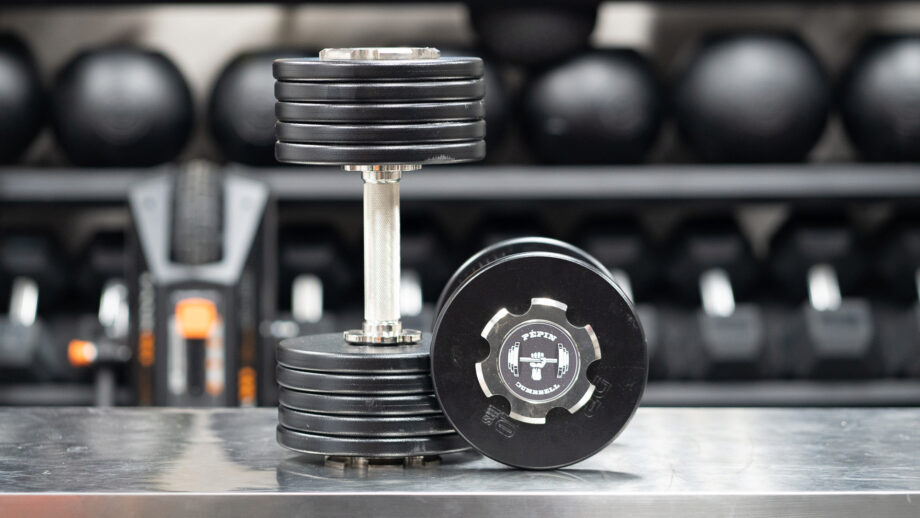 GGR Score: 4.3
Community Score: 5
Kensui is not the first company to make adjustable dumbbells with a flat end at any size; a couple other companies doing it are BAADASS and Pepin. The Pepin Adjustable Dumbbells are a high-end option. The two biggest differences between the two dumbbell handles are the price and the material.
Price-wise, the Pepin Dumbbells are more expensive than Kensui's AdjustaBELLS. Just a pair of handles and adapters for heavier weights (up to 120 pounds) will cost you just over $300. While the adapters and extenders start to add up, the Kensui AdjustaBELLS will still be less than $200 with all the bells and whistles.
However, although a similar design, Pepin constructs its handles from metal, which will be stronger than the nylon of the AdjustaBELLS. Even though the nylon is pretty durable, it won't be as durable as a good-old knurled metal handle.
The Pepin dumbbells do not have adapters for Olympic plates; 1-inch standard plates must be used. Conveniently, you can buy these plates with the dumbbells, although that will spike the price up more.
The Pepin dumbbells are a higher-quality product when compared to the AdjustaBELLS, but when it comes to adjustable dumbbells, the Kensui AdjustaBELLS are one of the best ultra-budget options out there.
| | | |
| --- | --- | --- |
| | Kensui AdjustaBELL | Pepin Adjustable Dumbbells |
| Dumbbell weight | 2 lbs | 5 lbs |
| Weight capacity | 70 lbs per handle | 120 lbs per handle |
| Weight plate compatibility | 1" (standard plates) and 2" (Olympic plates) | 1" |
| Loadable space | 2.8" (7 cm) | n/a |
| Material | Hard nylon | Metal handle |
| Knurled handle? | Yes | Yes |
Customer Experience
If you want to return the Kensui AdjustaBELLS, the company offers a 30-day return policy for unused products in their original packaging. You are responsible for the shipping costs on a return, and Kensui suggests making sure you can track larger returns. They also allow cancellations prior to the order being processed; if it is processed, you will have to go through the return process.
Kensui AdjustaBELLS also have a lifetime warranty for the handles, although what that entails is somewhat vague looking on the website. Typically, a lifetime warranty covers defects or damage done due to defects in the make of the product, for the lifetime of the product. Kensui can be contacted through email or phone, listed on their website.
Ordering and Assembling the Kensui AdjustaBELLS
The Kensui AdjustaBELLS can only be purchased directly from the Kensui website, unlike the Kensui EZ-Vest Lite and the Swissies, which can be found on Amazon. They are regularly priced at $67 plus shipping, although they are often marked down. They offer free shipping for orders over $90, which is nice, as more than likely you are going to want to buy the extenders and center adapters for the Olympic weight plates, as most people have Olympic plates already. As you add attachments, that price will begin to climb.
The AdjustaBELLS come fully assembled and ready to use. The only assembly you will have to do is adding your weight plates onto the handle. The ends of the caps have a bit of texture around the end to help with gripping as you loosen or tighten. Additionally, the rubber end keeps the weight secure enough to where you can loosen and tighten the weight by turning the plate, too.
Customer Reviews
As of this writing, there are 64 reviews on Kensui's website for the AdjustaBELLS. They are overwhelmingly positive, averaging 4.8 stars out of 5—with no review less than 3 stars.
Most complaints have been minor, including the weights being tough to tighten or loosen during adjustments, as well as questioning the durability of the handles, although no reviews have mentioned any real damage issues with them.
Final Verdict of Our Kensui AdjustaBELLS Review
The Kensui AdjustaBELLS are a pretty durable dumbbell handle that is easily portable and works with either standard or Olympic plates. Although getting additional accessories for this item can start increasing its price, it still presents killer value. If you are looking to get a pair of adjustable dumbbells but need an ultra budget-friendly option that can use your weight plates at home, do what Coop says: "Don't buy spinlocks; buy these."
Kensui AdjustaBELLS Rating
Kensui AdjustaBELLS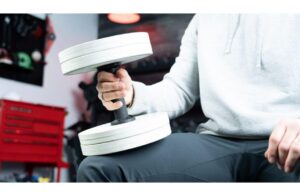 In our Kensui AdjustaBELLS review, we take a look at these nylon adjustable dumbbells and the killer value they bring.
Product Brand: Kensui
Product Currency: $
Product Price: 67
Product In-Stock: InStock
Kensui AdjustaBELLS FAQs
Are Bowflex adjustable dumbbells worth it?
Bowflex adjustable dumbbells present good value at a low price compared to other adjustable dumbbells. Although not always the best quality, if you take care of these dumbbells, they will last you for a good bit. Read our full review of the Bowflex SelectTech 552 Adjustable Dumbbells for more information on the value and quality of these dumbbells.
Are adjustable dumbbells durable?
The answer will always depend on which adjustable dumbbells we are talking about. With that said, generally adjustable dumbbells can have a lot of moving mechanisms in order to make them adjustable. Because of these moving parts, the dumbbells may be affected by dropping the dumbbells. So long as you take care of your adjustable dumbbells and do not drop them, they should last.
How much do adjustable dumbbells cost?
The cost of adjustable dumbbells will vary depending on the quality of the dumbbells, as well as how heavy the dumbbells go. They will generally be cheaper than purchasing an entire set of fixed dumbbells. They range from a few hundred dollars, to approaching $1,000, although there are also options outside that range. Check out our list of the best adjustable dumbbells to see if one fits your budget.