We review free products that we receive and participate in affiliate programs, where we may be compensated for items purchased through links from our site.
See our disclosures page for more information.
The Kensui EZ-VESTis a weighted vest that utilizes Olympic weight plates instead of vest plates to allow incremental loading on bodyweight movements as well as a tremendously high max load of 225 LB. After testing the PRO and MAX models for pull-ups, push-ups, sit-ups, dips, box jumps, and other movements over the past two months, we highly recommend the EZ-VEST. It's quite different from traditional weight vests and it's not great for every movement/workout (running wasn't great,) but it excels in areas where most weight vests don't.
Kensui EZ Vest Review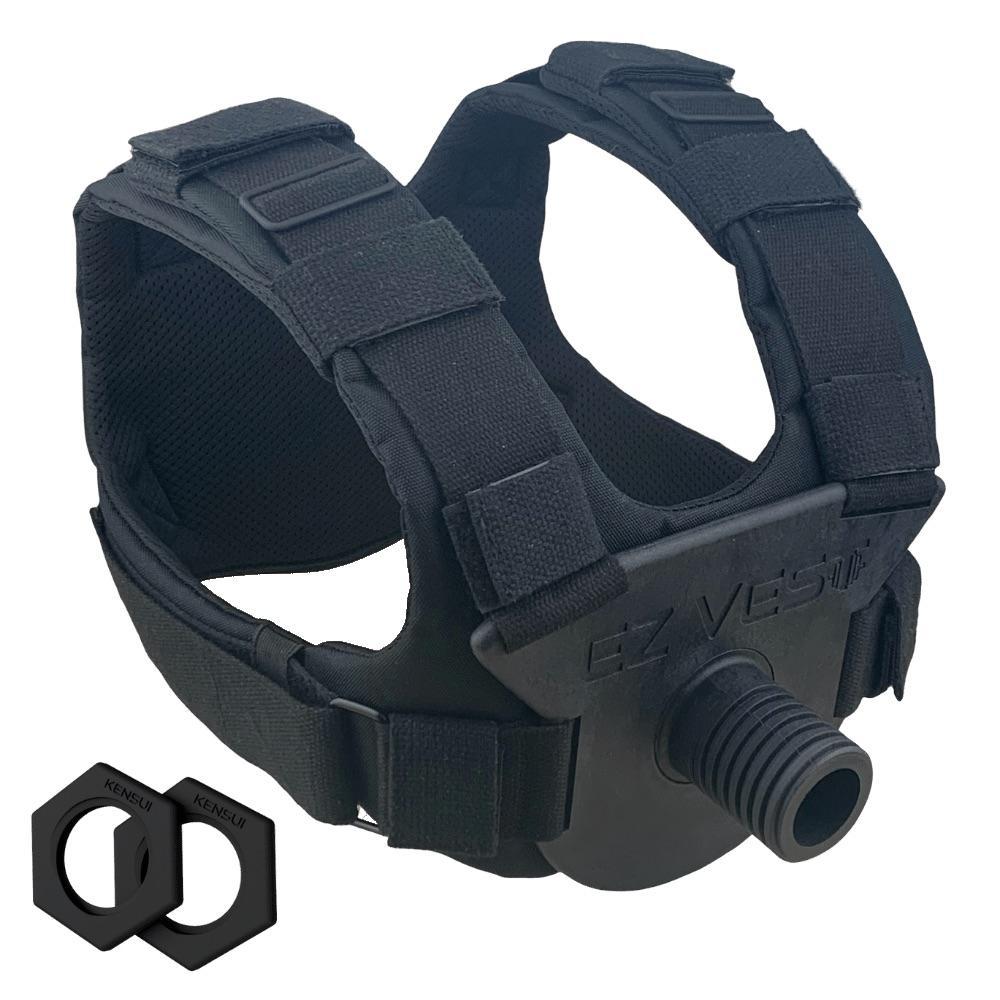 Kensui EZ-Vest
Our innovative patent-pending weight-loading vest compatible with all weightplates. The EZ-Vest® allows you to up the intensity and get more out of each rep. Perfect for weighted running, weighted pushups, squats, rows, pullups, dips, handstand pushups, jumps, planks, and many more exercises! • Removable & breathable leather lining • Machine-washable padding • Light-weight and Portable (4lbs) • Doesn't require custom weights • Weather Resistant Powder-coating • Aircraft Grade Aluminum • Heaviest weighted vest • Comfortable Seamless binding • Fits all weight plates • Adjustable Shoulder Strap • Heavy Duty 1680D Ballistic Nylon • Includes 2x Olympic spin-lock collars • Removable Sleeves for compactness • Training guide with 30+ workouts
The Kensui EZ-VEST Weight Vest is described as the 'World's Heaviest Weightvest'. With almost 600 5-star reviews on their own website and the dozens of people that have hounded me to give it a try to see if it's really one of the best weighted vests, it seems clear that the EZ-VEST has quite a few satisfied customers out there. However, to fully explore your choice, and to ensure you're not wasting money here, I've put together a full-length Kensui EZ-VEST Weight Vest Review below.
I feel quite confident in saying that the Kensui EZ-VEST is a true innovation in the gym equipment space, an industry known for copycats. It's the first vest of its kind and it's not just a unique idea with its ability to hold weight plates, but also one that has surprised me in its usefulness. Kensui Fitness has three different models of the EZ-VEST available coming in both leather and nylon versions and we've been testing the PRO and MAX both for a review.
What is the Kensui EZ-VEST?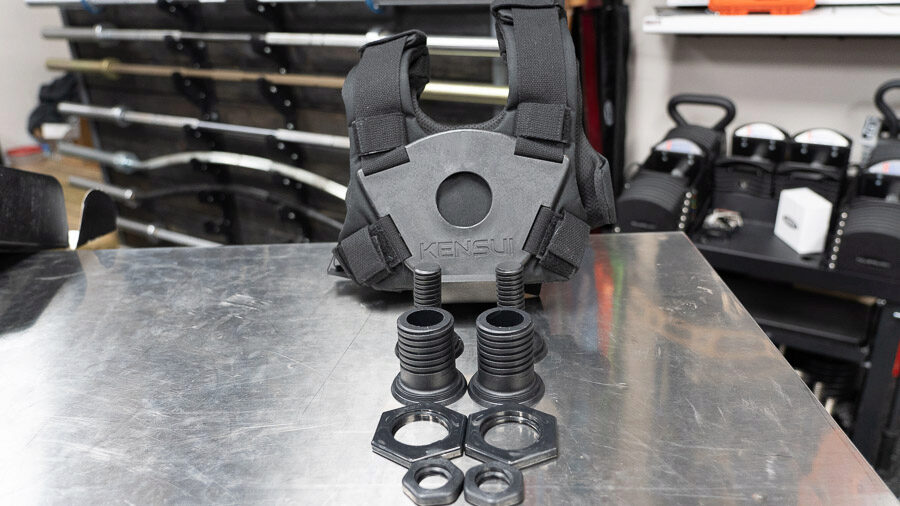 The EZ-VEST is designed, like all strength training equipment, to be used to build muscle and increase strength, but it's specifically designed to add weight to what are typically bodyweight based movements. Coming in 3 different weight categories, the Lite (60lbs), the Pro (110lbs), and the Max (225lbs), the EZ-VEST has an option for most budgets and strength levels.
Listed fully on the website, with 15 different points that are given special mention, the Kensui EZ-VEST boasts quite a few significant and beneficial features. Here's what grabbed my attention the most during training.
Unloaded, the EZ-VEST is an extremely lightweight vest, weighing in at only 4lbs without plates, and it's most remarkable feature is that it doesn't require custom plates like are typically seen in weight vests that can only be used in the weight vest.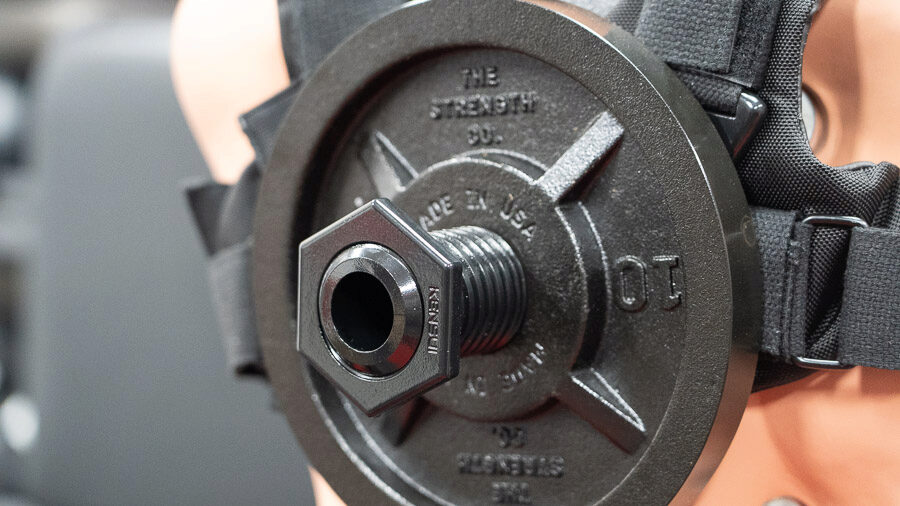 Instead, thanks to two 2" removable sleeves, the Kensui weight vests can take any Olympic weight plate. This means iron, bumper plates, 45's, 10's, even hundreds, although that would be a site to see.
There are many different details on the vests that make it different from the many competitors that pilfer the space, but the feature that most stands out is the ability to load weight plates and therefore, progressively overload your training.
This is one of the reasons barbell training is so effective. You can increase weight on the bar incrementally. There are no other weight vests that allow this at such high weight ranges and this one allows you to use the weight you already have in your home gym.
What We Like About the Kensui EZ-Vest Weighted Vest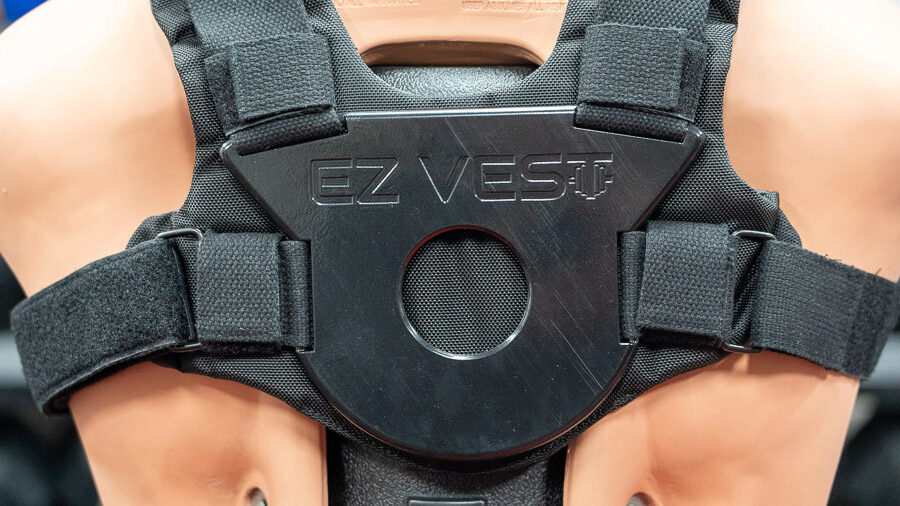 I've been shown ads from Kensui for over a year now. I was curious when I first saw them, but I was also a bit skeptical that it was a gimmick. Adding plates to a vest sounded novel, but it also sounded like a disaster waiting to happen.
After getting inundated with requests for a review of the vest by our readers, I finally bit, ordered a couple of their designs and after testing and reviewing them, I'm glad I did.
Having the ability to use plates that you already have lying around, incrementally load the vest, and use for max effort pull-ups, dips, and jumps turns what a piece of equipment traditionally used for conditioning into something completely different.
Here are the stand out features of the Kensui EZ-VEST that I really like (don't worry, there are things I don't like as well that I'll mention further in the review.)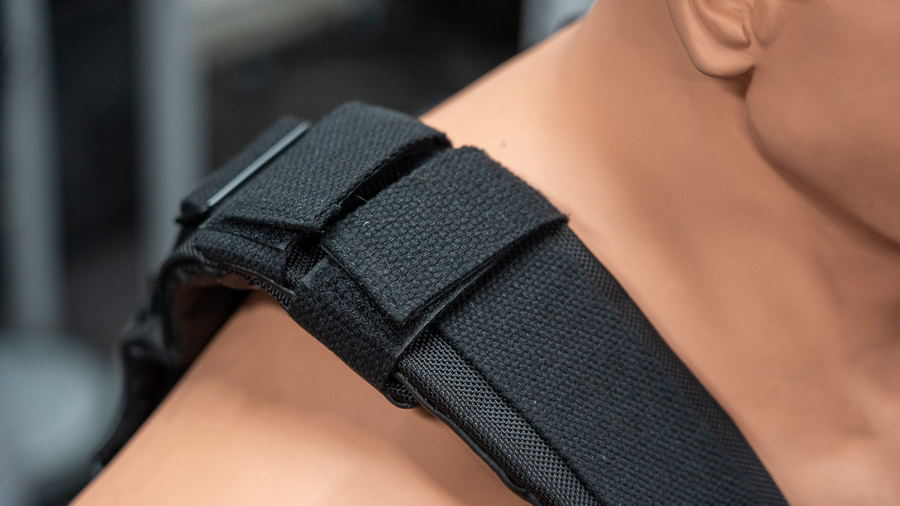 The Convenience
The Kensui EZ-VEST has a lot of inbuilt convenience for trainees. The EZ-VEST makes use of Olympic weight plates, which most home gym owners already have at hand. Similarly, changing the weights is quick, and can be done while wearing the vest too. This makes the weight quick to take on and off, with no velcro meddling required.
I also found that the Kensui vest doesn't bounce around as much as expected during running, although it is certainly not as comfortable as other vests like the 5.11 Plate Carrier or the Rogue Plate Carrier (review here) which are designed for that purpose.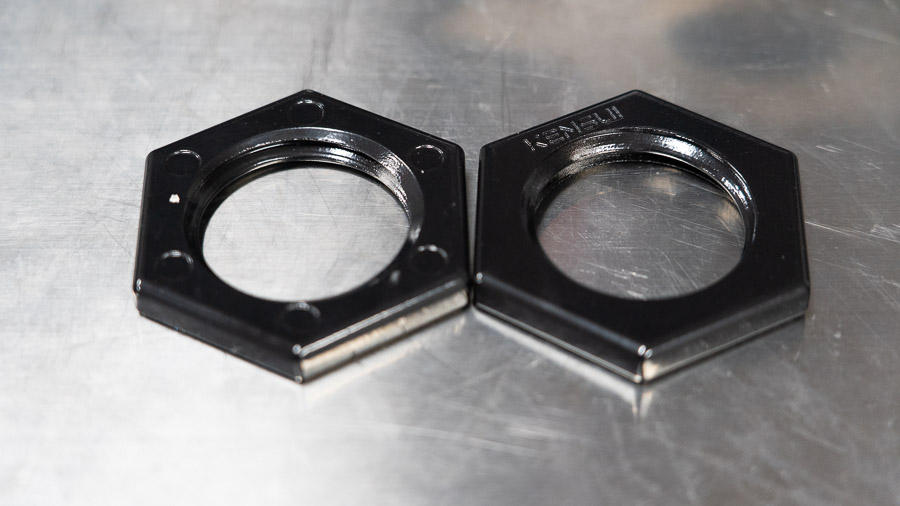 The plate sleeves feature a locking nut that is easy to hand tighten and stays pretty tight just by using your hands.
The sleeves are removable in case you are doing push-ups and want weight on the back, but not the front sleeve to get in the way when going chest to deck. This was a very thoughtful feature that could have easily been overlooked if the person who designed the product want's a user (we see this often.)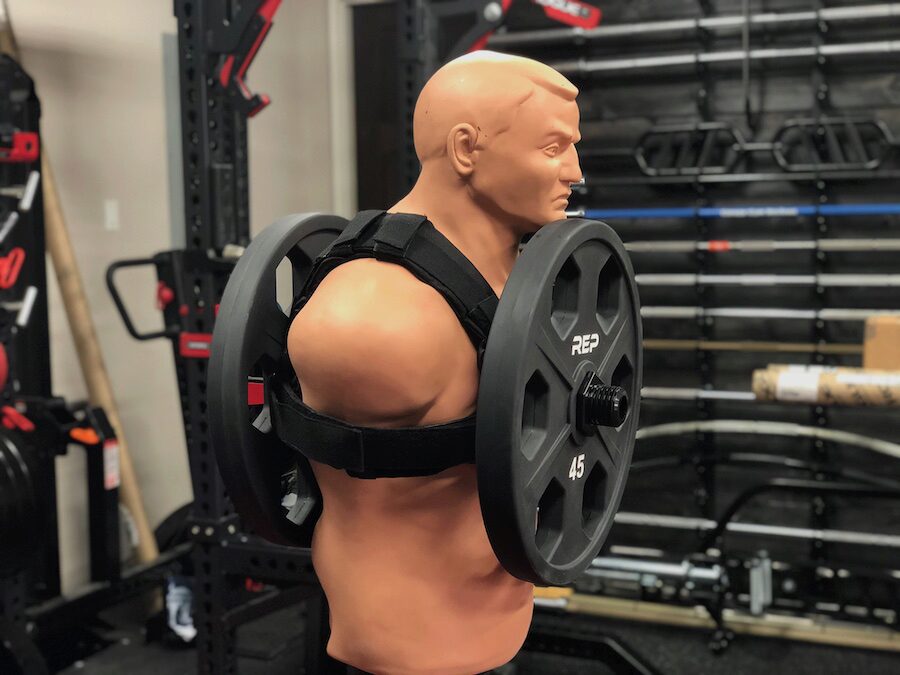 The Weight Capacity
The weight capacity of the Kensui EZ-VEST is higher than any other weight vest commercially available.
They have multiple options, but their Max vest goes up to a load of 225 LB.
This means for someone on a true budget or that wants a minimalist gym, they could technically use the vest for squats and hinge movements, not just pull-ups and dips.
That said, there are people out there with 225 LB pull-ups (at a max of 135 LB added weight for pull-ups, that's definitely not me.)
I will say, although the weight capacity is high, that doesn't mean it's incredibly comfortable at those weight increments, but we'll discuss more on that in a moment.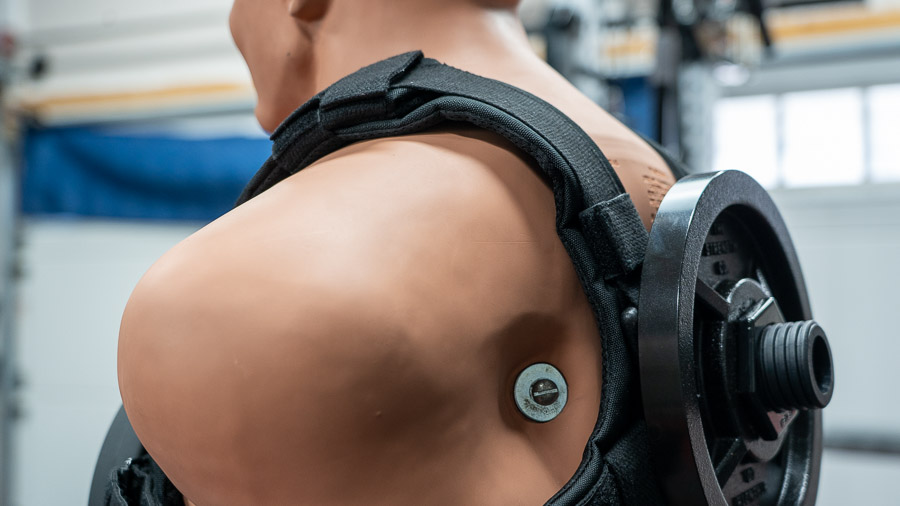 The Adaptability
The EZ-VEST is pretty adaptable to whatever kind of workout you've designed your home gym around. If you want to use it for bodyweight movements, it works well. If your goal is to use it for more dynamic movements like sprinting, bounding, and the like, it works well for that too, although I think it's best suited for things like pull-ups and dips.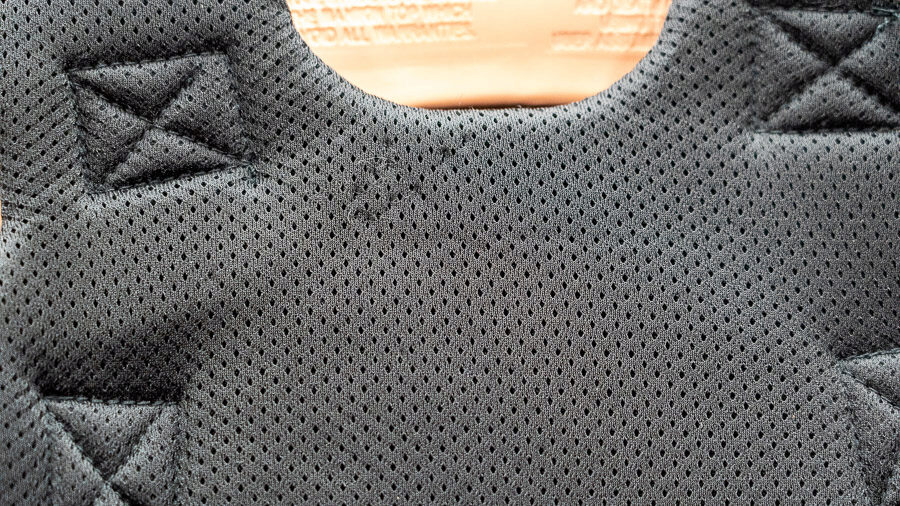 The vest is breathable and wicks sweat away as it comes out, so you can wear it for a long training session and in the heat. Similarly, if you buy the MAX version that is capable of holding up to 225 LB, it features PU Leather as the internal material and does breathe pretty well.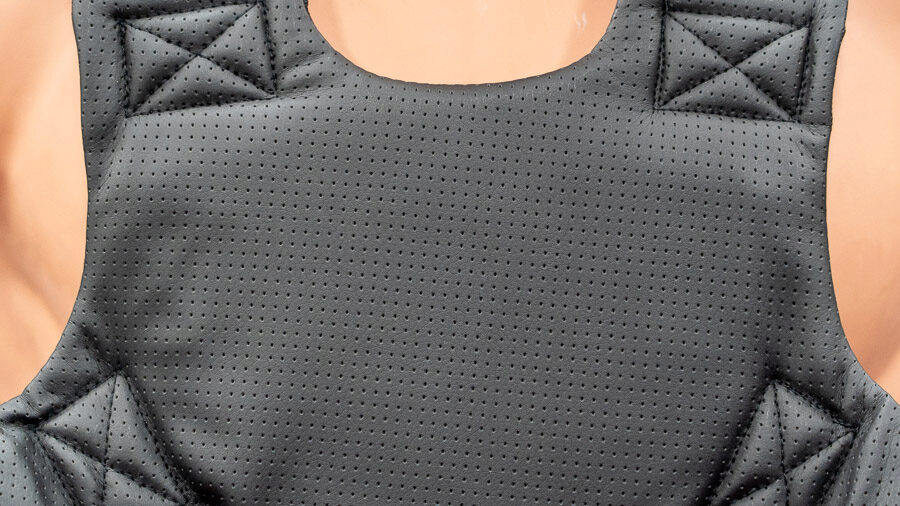 Personally, I prefer the Air Mesh that is featured on the Pro version. I think the PU Leather looks nice, but it feels a bit cheap and more for a luxury item than something used for heavy training. For this reason, I wish they would add the mesh as an option to the MAX version or just completely replace it.
The other positive is that no matter your size or sensitivity, the straps allow the vest to be tightened close to the body preventing a lot of bouncing around.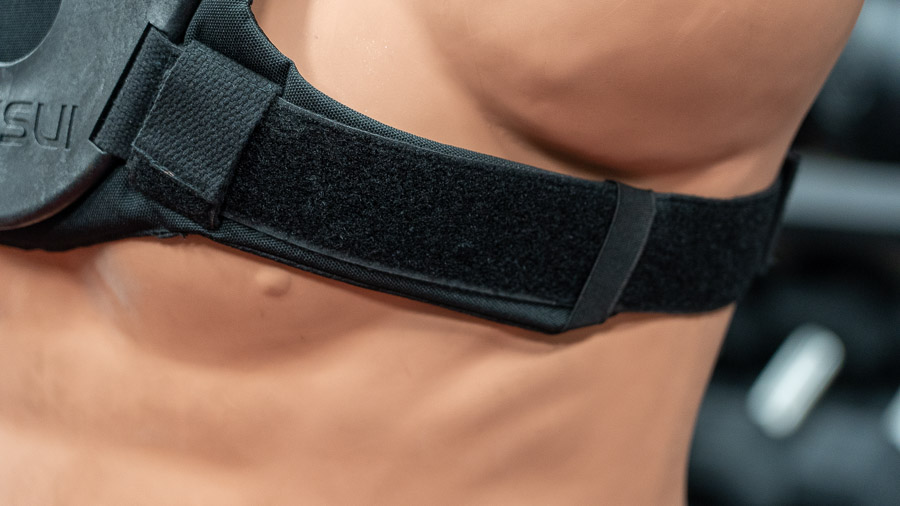 Lastly, for the adaptability portion of the review, the EZ-VEST also allows for progressive overloading, which is typically very hard to do for bodyweight movements, such as pull-ups, dips, push-ups, and the like. The straps are secure enough to keep you moving up and down without the associated drag from the extra weight.
For a budget home gym, something like this that offers so much versatility in a small package is a great buy.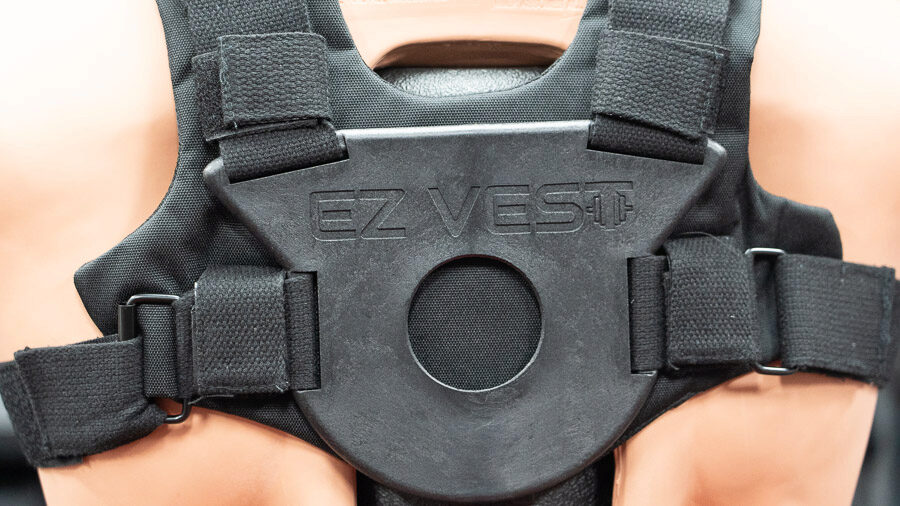 The Durability
The Kensui EZ-VEST is designed to be put through hard training. All of the materials are high abrasion and made to take a beating.
The sleeves on the MAX as well as the backing is made of aluminum which is lightweight, but still strong. The sleeves on their LITE and PRO vests use fiberglass, which will prove to be just as durable in actual use.
Things We Don't Like About the Kensui Vests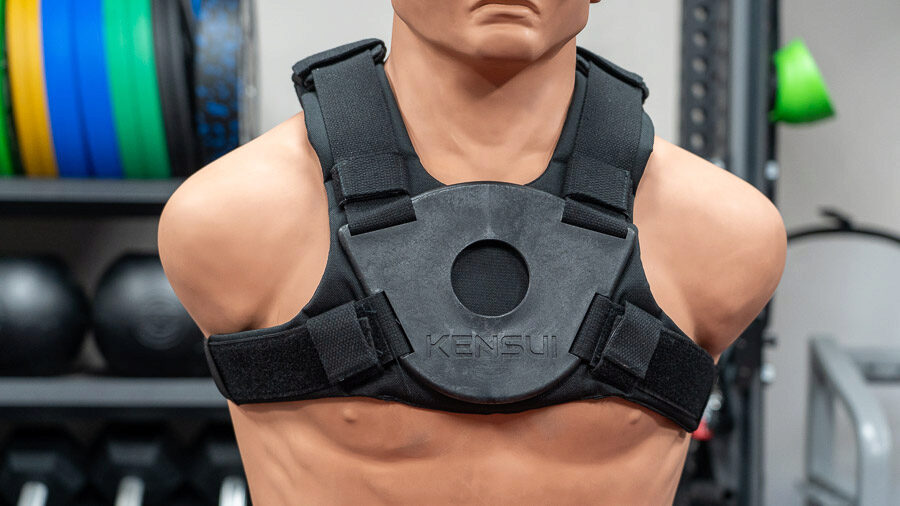 No weighted vest is perfect. Although the plate loaded design is smart and nice for loading, it also causes some downsides to the fit and feeling.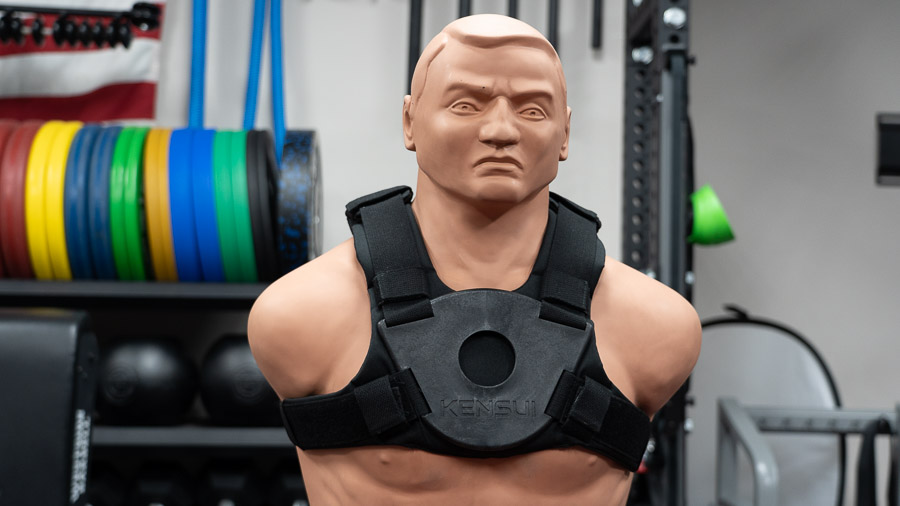 A Slightly Awkward Design
Even with all the adaptability and convenient elements, the design is still a little awkward. For example, it doesn't allow for chest-to-deck push-ups without taking the front post off, which may seem kind of obvious if you're experienced with weighted vests. The post doesn't take a ton of time to remove, but it is another step that isn't required by standard weight vests.
I also have to note that even with the less than expected exercise bounce, the weight plates, especially at heavier weights can bounce around more than their thinner plates weight vest counterparts. At the same time, when sliding in the 45 LB plates, upon wearing they can feel awkward due to their size. This is expected as 45 LB plates weren't designed for a vest, but for a barbell. However, I don't think it's bad enough to not ever use with that large of plates.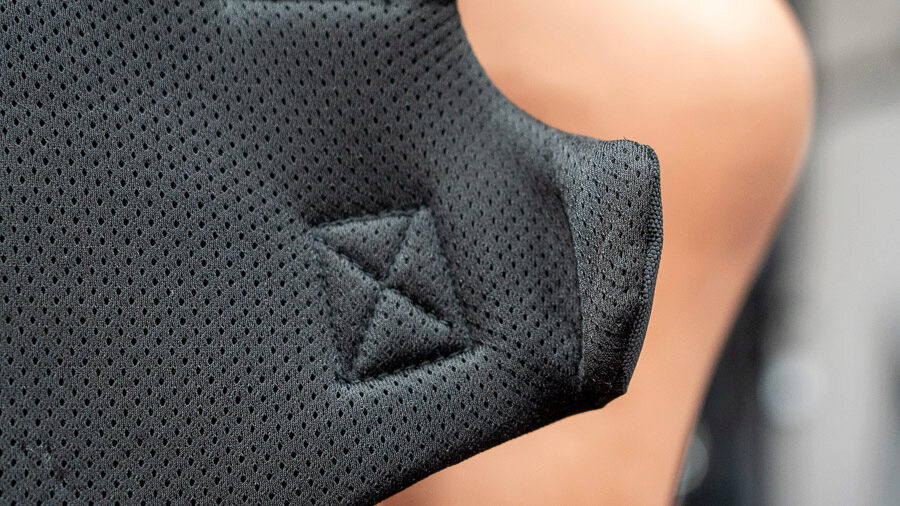 The Price
The pricing is rather high for a weight vest that doesn't include weight – like I said, it's suitable for Olympic plates which are sold separately. However, it is made with higher quality materials that should prove to last, although the velcro straps will eventually wear out as all velcro does.
Just to put it into perspective, at $229, the EZ-VEST Max is nearly as much as a 5.11 TacTec Plate Carrier Vest with weight included. I do think they're very different vests for different purposes, but it's worth the comparison.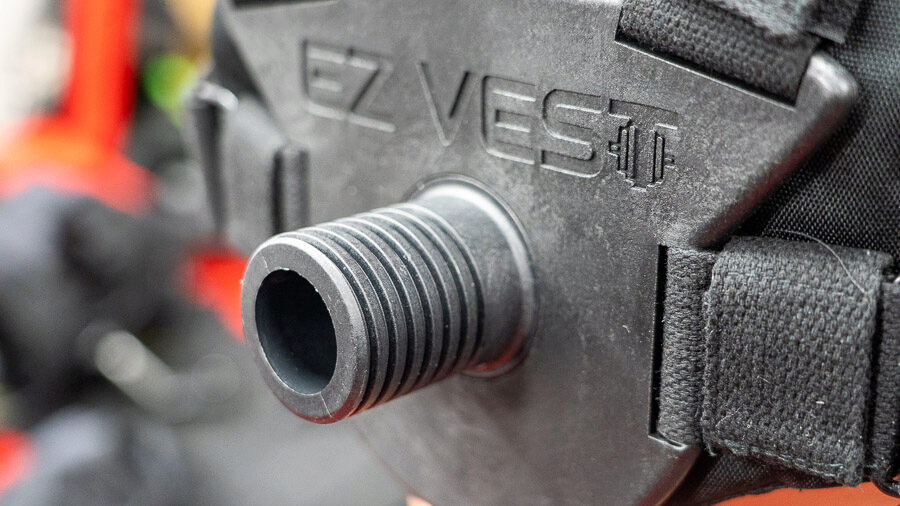 Only Right for Some Workouts
If you're someone looking to take your CrossFit or Metcon-type workouts to the next level, this vest isn't the ideal candidate for such purposes.
Doing workouts like Murph aren't really possible with the vest as it can bounce a bit on runs and if you have the weight even, the front post won't allow you to do push-ups.
If you're looking for a vest for metcons and CrossFit-type WOD's, I'd suggest going with the Rogue Plate Carrier that we've reviewed and was used in the 2020 CrossFit Games.
How Does the Kensui EZ-VEST Feel at Heavier Weights?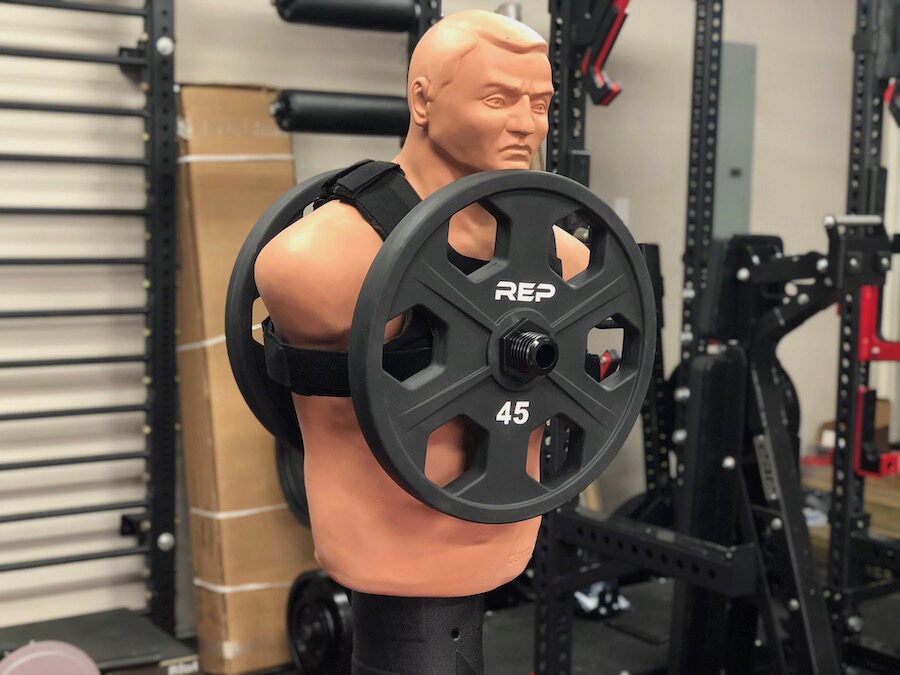 How Does the Kensui EZ-VEST Feel at Heavier Weights?
If you're someone looking to use the heavy weight capacity to the fullest, you're going to want to know how it feels to wear at max capacity, which I took the time to experience, both for the feeling and to take a goofy picture with 225 LB on my chest.
I'd say overall if you balance the front and rear weights, the vest feels pretty comfortable to wear. It's obviously heavy, and the top straps can dig into your traps a bit at higher weights, but that's to be expected, but due to the straps being wide enough, they don't cut into the shoulders too much.
I will say, with 225 LB on the vest, you need to make sure you're using thin plates so they all fit with the collars locked on.
Also, the 45 LB plates feel a bit awkward as they get near your chin and therefore I wouldn't recommend running or jumping with that big of a plate on the vest.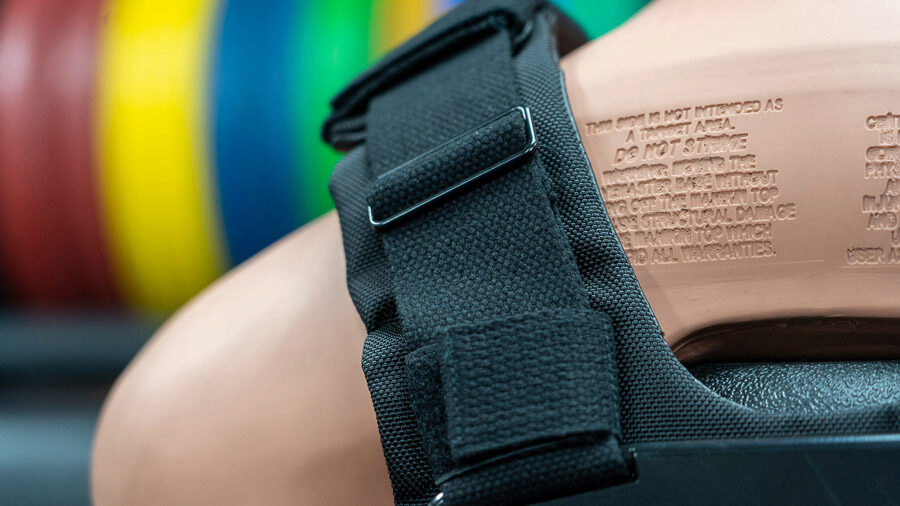 Kensui EZ-Vest Vs. The Competition
Of course, my Kensui EZ-VEST Weight Vest Review doesn't just end at exploring what we like and don't like about this particular vest. We have to compare it to other weighted vests on the market, to really see how it stacks up against the competition.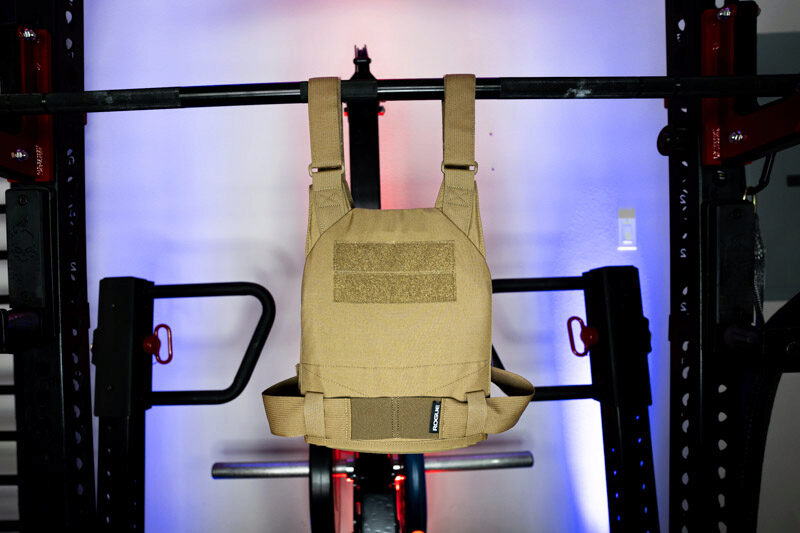 Kensui vs. Rogue Vest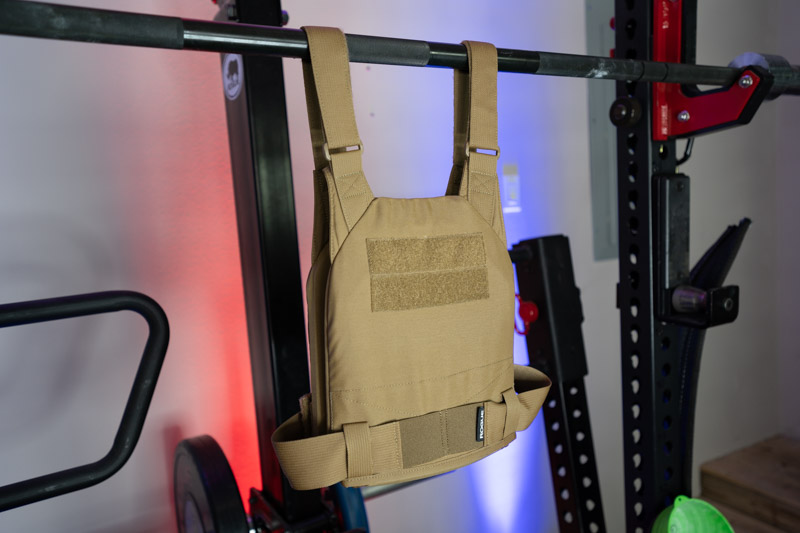 Rogue Plate Carrier
The Rogue Plate Carrier is an American-made, heavy duty weight vest optimized for use with our contoured USA Cast Plates and Echo Cast Plates (up to 20 LBS). This simple but robust design was co-developed with Dave Castro, and features a 1000D and 500D Cordura® construction with USA Velcro® straps/fasteners and X-box reinforced stitching. By delivering functional precision and a stabilized fit without the added bulk of unnecessary bells and whistles, the Rogue Plate Carrier offers high-performance athletes a uniquely streamlined, no-nonsense take on the modern tac-style training vest. We're currently offering the Rogue Plate Carrier in three adjustable sizes and four different colorway options: Black, Ranger Green, Coyote Brown, and Gray. The plate pockets on all versions measure 10.25" (outside width) x 12.25" (outside height), and include a 1000D Cordura® lining. Extra foam padding, stretch woven fabric, and minimized seams on the inside of the vest help prevent chafing and discomfort while on the move, and a short section of elastic at the back of the waist strap makes it easy to facilitate a consistent, snug fit. Specifications: Made In USA Patent Pending Design - Co-Developed with Dave Castro Material Type 1000D & 500D Cordura Weight (Unloaded): 1.12 LB (Medium Size) Size Options: Small, Medium, Large Plate Pocket Width: 10.25" (outside width) Height Plate Pocket: 12.25" (outside height) Compatible with Rogue USA Cast Vest Plates and Rogue Echo Vest Plates Color Options: Black / Ranger Green / Coyote Brown / Gray Care Instructions: Hand Wash, Line Dry USA Velcro fasteners and front/back loops for patches
Kensui EZ-VEST vs. Rogue Plate Carrier
In comparison to the Rogue Plate Carrier that we've reviewed, the Kensui EZ-VEST is a bit more pricey for what you get. With the Rogue Plate Carrier, you'll only have to pay $150 for the vest, whereas the EZ-VEST will cost you between $99 and $229. However, the Rogue's plates will require an additional cost, although you can use Olympic plates that most of you reading this will already have.
The Rogue Plate Carrier has a much simpler design and is designed more for metcon-type training. You can't add up a ton of Olympic Plates to increase the load like you can on the Kensui weighted vests, but it's also more minimalistic.
Honestly, I foresee many people using the Kensui EZ-VEST in a different manner and these vests are more apple to orange comparisons than direct competitors despite their product categorization.
Kensui vs. 5.11 Weight Vest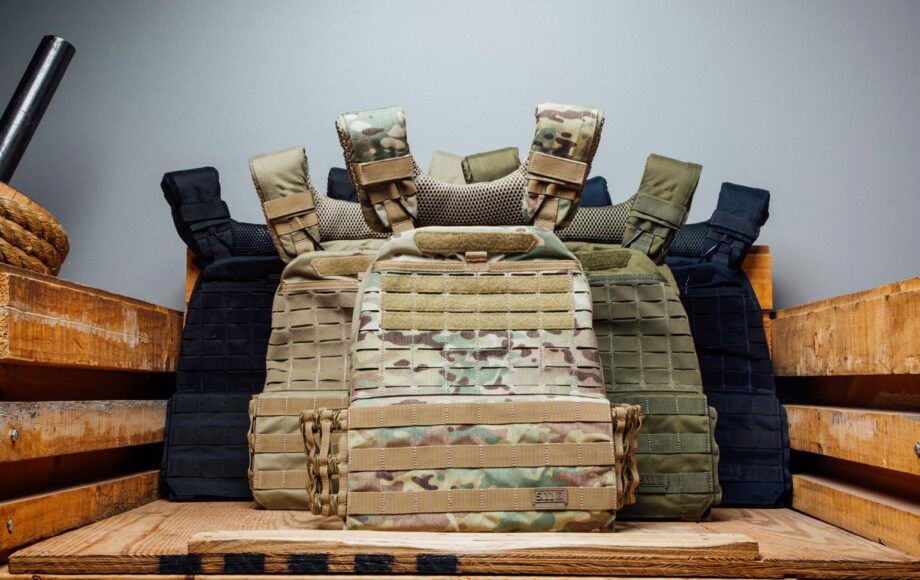 5.11 TacTec Plate Carrier
Made from an ultra-durable, water-resistant 500D nylon, the 5.11 TacTecâ"¢ Plate Carrier Vest is uniquely designed to give the wearer an increased range of motion with a lightweight feel and optimal breathability. Unlike some comparable weighted vests or flak jackets in the industry, the 5.11 Tactical Weight Vest can hold medium and large ballistic plates–front and back–without the restrictive bulkiness. Yoke shoulder pads reduce friction, adjustable tensional bands improve stability, and innovative air flow channels and aerospace mesh ensure sustained comfort. The 5.11 TacTec Plate Carrier Vest weighs 2.5LB on its own, and can be ordered as part of a package with a set of compatible plates–including your choice of the original Rogue Vest Plates or our new USA Cast Weight Vest Plates (you can compare options below). All weight vests come with durable Duraflex® hardware, a laser-cut micro-loop web platform, and an extended drag handle and quick release system. An athlete doesn't need to sacrifice comfort or mobility to get all the benefits of a top-tier weighted vest. 5.11 Tactical has created a uniquely lightweight and body-contoured plate carrier, weighing just 2.5LB unloaded, and capable of holding both medium and large ballistic plates, front and back. The carrier is made from durable 500D nylon, and features yoke shoulder pads to reduce friction, adjustable tensional bands for stability, and innovative air flow channels for sustained comfort.
Kensui EZ-VEST vs. 5.11 TacTec Plate Carrier
The 5.11 TacTec Plate Carrier is a similar vest as the Rogue Plate Carrier and offers similar benefits and disadvantages in comparison to the EZ-VEST.
The TacTec Plate Carrier is loadable up to 40 LB, total, which is much less than the EZ-VEST. It holds pretty tight to the body, but it can feel a bit big on women.
I prefer the 5.11 Weight Vest for those who want a do-it-all vest. It's not going to go as heavy, but you'll be able to do a lot of traditional weight vest movements that are more cumbersome with the Kensui Weighted Vests.
The Kensui EZ-VEST Weight Vest is just a different animal. It's in the product category of weighted vests due to its name, but it's a very different product.
The value of the vest is unmatched, with durability, convenience, and adaptability all taking a top spot in the design. It's an incredible weighted vest, and one I highly recommend.
Full Rating