We test and review fitness products based on an independent, multi-point methodology. If you use our links to purchase something, we may earn a commission. Read our disclosures.
Building a home gym can get expensive rather quickly. In this guide, we want to show you how to build the ultimate budget home gym for less than $1,000.
Building a home gym is often seen as an extremely expensive endeavor. However, most people could get away building a home gym for much less than they'd imagine. Although you could easily get away with spending tens of thousands of dollars, today we want to show you how we would build a gym if all we had was a $1,000 budget.
There's no doubt that equipment can be expensive and there are many different gadgets and gizmos vying for your hard-earned dollars, but if you stick to the basics you can save quite a bit of money and mistakes.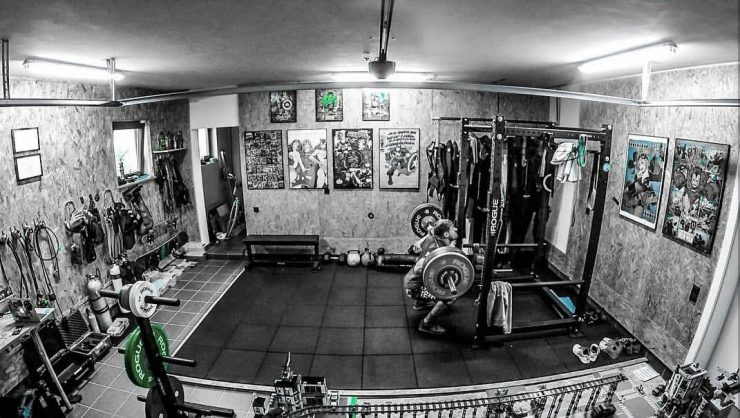 Thankfully, in addition to all of the supplemental garage gym equipment that is on offer from companies, there are even more basics available from more companies than you'd imagine. So, if you're tired of paying for your gym membership, number one, we don't blame you, number two, follow this guide to save some significant money.
If you're looking to build a budget home gym, this is a great place to start!
Video Guide
What Equipment is Essential?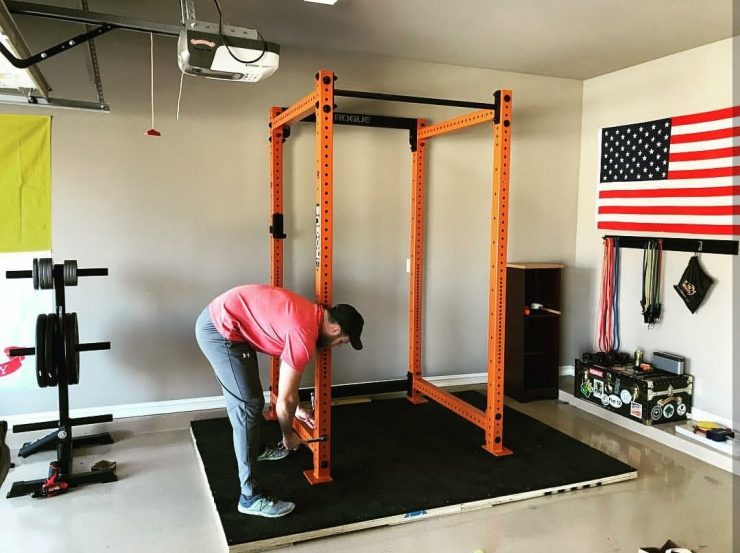 Before we dive into the various equipment recommendations, let's first take a look at what kind of equipment you'll need. Due to this being a budget home gym build with no specific purpose other than it being cheap, the training goals of the people reading this will be vast. Some want to get stronger, others simply want better health, and others will want to increase their conditioning. To accomplish all of these, we believe that barbell training is effective, and as such, will focus on equipment that accomplishes that task. Once you have the essentials to start, you can begin adding more equipment as your needs and income change. There are so many different options for training equipment that no matter how much your budget is, there would always be more things to buy. The best home gym equipment that we view as most essential for a starter home gym are:
All of these items can be purchased from various manufacturers, but we suggest avoiding the cheapest options. Not only does the equipment need to be strong enough to keep you safe, but it also needs to perform over a long period of time. There are many other items that you could add to your gym like some of the best adjustable dumbbells and best kettlebells, and even the best resistance bands but we wanted to focus on the basics. Just because you're on a budget, doesn't mean you buy cheap things.
In reality, you should just buy fewer, high-quality things to fill your garage gym. Because we believe in the idea of buy once, cry once, our recommendations are not going to be things that are disposable items, but equipment that you can inevitably pass down to your grandchildren. A budget home gym doesn't equal a cheap home gym. Just one that's well thought out and priced well. Check out my budget-friendly recommendations about dumbbells in the best budget home gym equipment.
An Olympic Barbell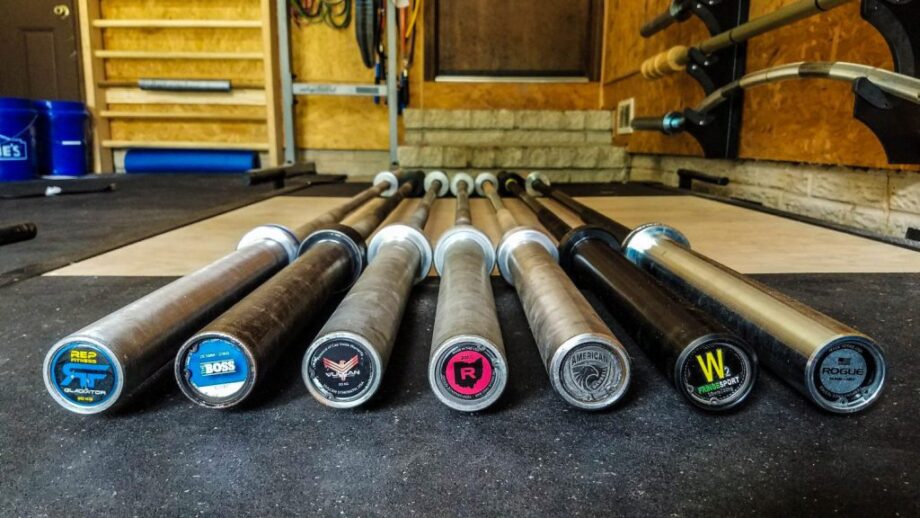 A barbell is one of the most important pieces of equipment in any gym. You'll end up using it in nearly every training session and a good barbell can provide a lifetime of use.
On the flip side, a bad barbell can be an absolute nightmare to use. Overly sharp knurling, pinned sleeves, and cheap bar stock can not only lead to limited use but possible injury. If there's one place to spend money on a home gym, this is the place.
Thankfully, due to the rise of barbell training and its use in home gyms, there are now more manufacturers than ever offering high-quality barbells at incredible prices.
The barbell we most often recommend is the Rogue Bar 2.0 from Rogue Fitness.
In our continuing series in choosing the Best Olympic Barbell for most people, the Rogue Bar 2.0 continues to outshine the competition on a value basis.
The Rogue Bar 2.0 is undoubtedly one of, if not THE most popular barbells in the world in both home gyms as well as commercial gyms, and for good reason. Combining Rogue Fitness' attention to detail, incredible customer service, and large manufacturing power, the Rogue Bar 2.0 easily performs well for any movement or training style. Whether you CrossFit, powerlift, Olympic Weightlift, or do none of those, this bar will get the job done.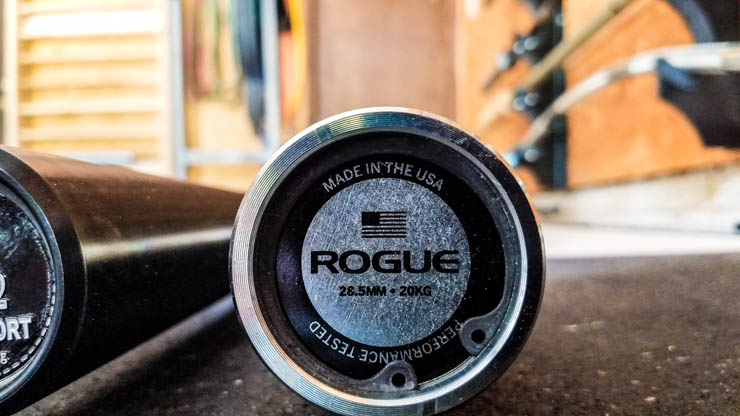 It wasn't long ago that a barbell featuring 190k PSI tensile strength steel, a composite bushing rotation system, and a high-quality knurl with a lifetime warranty would have cost you nearly $1,000. Thankfully, The Rogue Bar 2.0 can be had for less than $300.
If you'd like to spend even less than this, be sure to check out the Rogue Boneyard Barbell Section to find slightly blemished bars for less (although they don't have a warranty.)
If you plan on sticking mainly to the squat, deadlift, and bench and don't foresee yourself doing many Olympic lifts outside of the power clean, then we suggest the Rogue Ohio Power Bar.
The Rogue Ohio Power Bar is the best value power bar currently available. Not only does it feature our favorite knurl, but it also utilizes 205k PSI tensile strength steel in a 29mm diameter shaft perfect for the squat, bench, and deadlift. Without question, this is the best power bar for most people.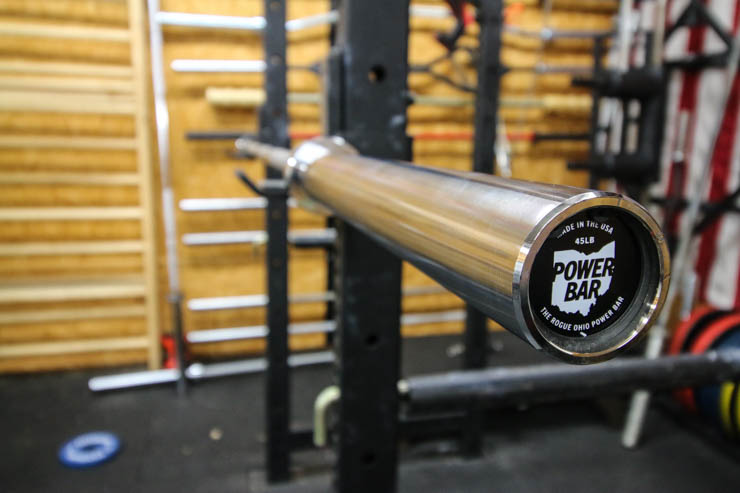 As with most Rogue Barbells, the Ohio Power Bar features a full, lifetime warranty against bending from a company known for making it right with its customers. One feature we like about the Ohio Power Bar versus the Rogue Bar 2.0 is the center knurl. This helps keep the bar on your back during squats and although it isn't absolutely necessary, it is a welcomed feature.
Not only is this our favorite power bar, but it's also the choice for many of the top powerlifters in the world and is IPF approved. I've used this bar in my home as well as some friend's home gyms and it still looks like it did on day 1.
If you want value out of your barbell, one of the cheapest bars we would recommend is the Living.Fit Barbell, at under $200 with a chrome coating (the cerakote is only $225, too). This will free up your budget for other equipment, and still provide you with a durable multi-use barbell.
At this price, the Living.Fit Barbell is a good barbell for beginners wanting a budget bar, but it's also a nice barbell if you're looking to have some versatile use out of your bar. With a tensile strength of 200,000 PSI, it'll withstand some heavy loads, as well as dropping the barbell from overhead.
Lindsay Scheele, our lead reviewer at Garage Gym Reviews Everything, likes the standard medium knurling. "It'd make a great training bar," she recommends. There's no center knurling, which means it won't scratch up your neck when you catch a heavy power clean. If you're looking for only powerlifting bars, this probably isn't it, but for a variety of training, including Olympic lifts, this is a solid pick.
In our testing, it held up great, with the cerakote bar showing a bit of scratching on the sleeves when rubbed against weight plates, which is pretty standard, especially at this price point. If you're looking for an inexpensive bar, though, you won't go wrong with Living.Fit's latest.
The Cap Barbell OB-86B features polished steel sleeves with a black oxide finished shaft. The black oxide will wear over time, but it's a rather reliable coating. The knurling is a bit aggressive, due to the cheap tooling they use on their machines and the spin is average at best, but it's what you'd expect for the price.
The OB-86B features over 500 Amazon Reviews with an overall rating of 4.5/5 stars, which should give you the reassurance that it's a decent enough bar. This is actually a popular bar in many gyms where you'd pay for a membership. Not great, but gets the job done.
If you want the absolute cheapest bar we would recommend, then pick this one up.
The Almighty Squat Rack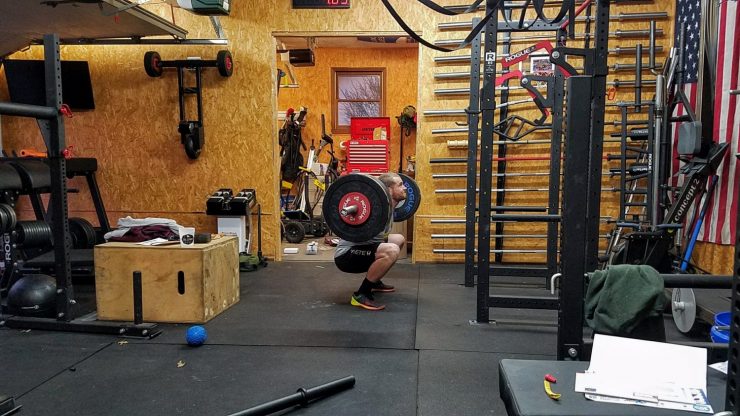 Outside of a barbell, the squat rack is the piece of equipment you will use most often.
In fact, you'll likely spend the majority of your time within the confines of your squat rack during your workouts. Because you'll be spending so much time in the rack during your workouts, it's important that you add a rack to your home that is going to be versatile enough for all of the different movements you'll need it for while also allowing you to perform them safely.
RELATED: Best home gyms
Training alone is something that can be very enjoyable, but also potentially dangerous. If you'll be training at home, you're going to want a cage with the ability to catch the bar in case of failed reps on both the squat and bench press. A squat rack should also have a pull-up bar for more versatility.
These are the budget racks we most often recommend.
The Titan Fitness T-3 Power Rack is one of the best value power racks available. We prefer power racks for most people due to the increased safety features such as pin-pipe safeties.
We did Titan T-3 vs Rogue Fitness R-3 review, and it stood up in the comparison quite well, especially considering the price difference.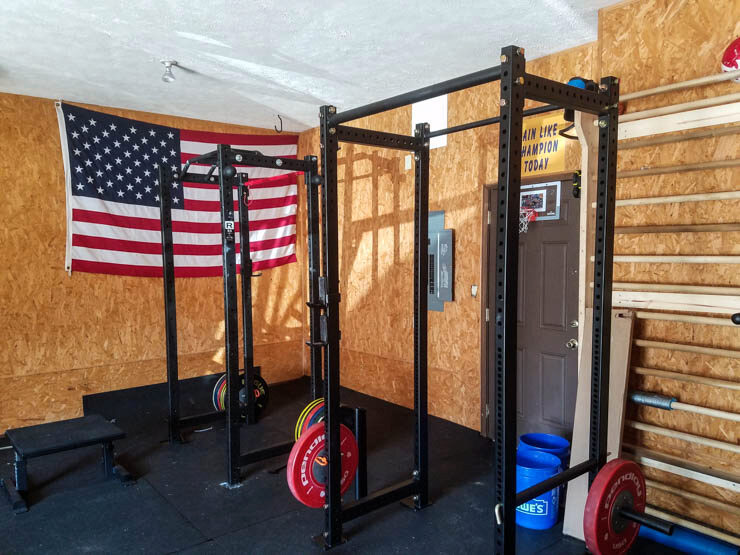 One reason we suggest the Titan T-3 for home gyms is due to all of the available attachments that can expand the versatility of the rack in the future. Although you may start out by just buying the rack, as your training develops and your budget increases, it's likely that you'll end up wanting more attachments. Thankfully, the attachments are also well priced.
In fact, it's pretty safe to say that if Rogue offers a popular attachment, Titan already has it, or likely will in the future. For instance, do you want mono-lift arms, landmines, or pull-up bars? They're all available here.
The Titan T-3 Power Rack is a great budget option for any home gym.
If you want a cheaper option than our first recommendation, then we suggest the Rep Fitness PR-1000.
The PR-1000 from Rep Fitness is a great option for those on a strict budget and who plan to train in a garage gym or at home. The biggest downside to the rack is that its recommended weight capacity is only 700 lbs (although I'm sure it could hold more.) This said the majority of people would never even get close to lifting that much weight.
Although the weight capacity on the PR-1000 is a bit low, its features make up for it. There are both thick and normal pull-up bars, numbered uprights (usually only offered on high-end racks,) plastic-lined j-cups, safeties, and weight storage all included.
The PR-1000 utilizes 2×2 steel uprights and large pin holes to keep the j-cups secure. Overall, although the Rep Fitness PR-1000 isn't our most given recommendation if you're on a strict budget, then we'd suggest checking it out. There's also a lat pulldown and low row attachment available for the rack at an additional cost.
Also, if you're going to be using the rack in a room with low ceiling height, check out the PR-1050.
If you'd rather have a squat stand instead of a squat rack for the space and cost savings, then we suggest the Rogue Fitness SML-2 Squat Stand.
The Rogue SML-2 Squat Stand is one of the most popular squat racks in the entire world. Not only is it built to take anything you can throw at it (1,000 lb squats and kipping pullups), but it's also one of the most economically priced options from Rogue Fitness.
The SML-2 features 3×3, 11-gauge steel that is within the Monster-Lite category with Rogue Fitness. What this means is any Rogue Fitness accessory within the Monster-Lite category can be used with this rack, and there are a lot of them.
There are many reasons we recommend Rogue Fitness Equipment, but we most like their attention to detail and warranty service. Their powder-coating is also some of the best in the industry.
After having used the Rogue SML-2 for over three years, we can confidently recommend it. If you'll be lifting by yourself, we suggest picking up a set of spotter's arms as well.
If you want a similar option that is a bit cheaper due to free shipping, then we suggest checking out the Fringe Sport Squat Rack with Pullup Bar.
The Utility Bench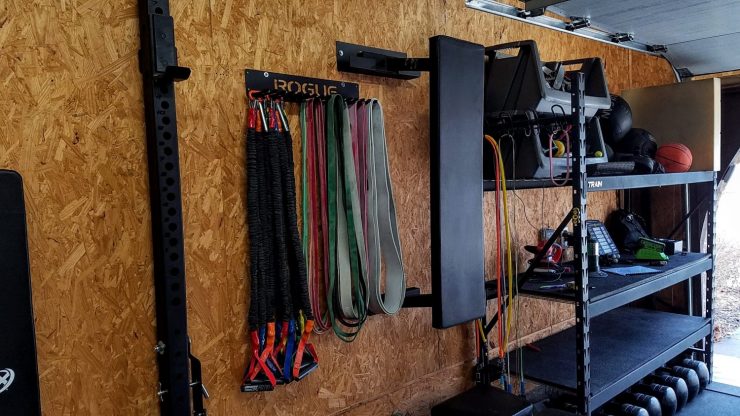 Although there are many workouts one could do without a bench, there's no doubt that the bench press is one of the most performed movements in any gym, probably among those that have a gym at home as well.
Although adjustable benches are nice for their versatility, most people could get away just fine with a standard flat bench. Flat benches allow the user to perform bench presses as well as various other chest movements and dumbbell rows.
Thankfully, as with most gym equipment these days, there are more options than you'd ever imagine. This can get confusing to wade through and decide upon, but we'll show you our top picks for almost any gym.
If you're looking for a solid, yet affordable bench with unique features, then the Rep Fitness FB-5000 Competition Flat Bench is one we would suggest.
The first thing you'll notice about the FB-5000 bench is the thick pad. Most benches up until a couple of years ago used a thin pad that provided little support. With the introduction of the Thompson Fat Pad from Rogue Fitness, many companies have copied the design and created their own version.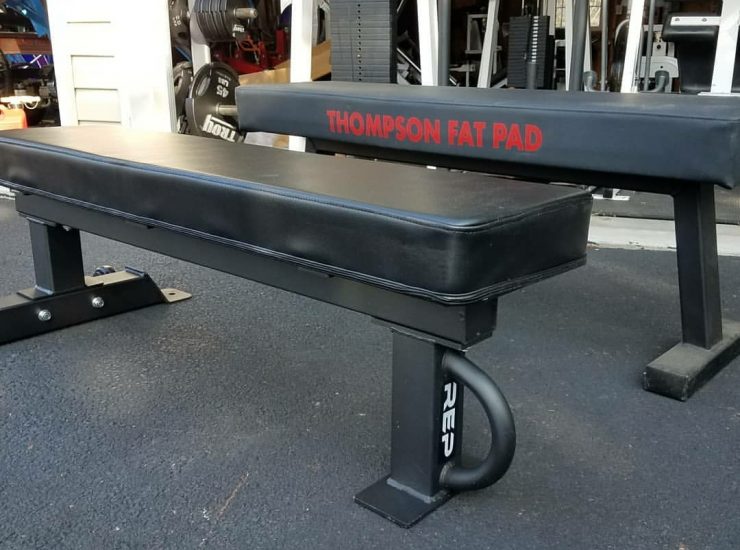 Although the thick pad is an outstanding feature that allows the shoulder to move in a more natural manner during the bench press, the height of the bench is also something Rep Fitness focused on. Rather than having a standard height frame with a thick pad that makes it much taller than competition standards, this bench sits at 17″ off the ground.
In addition to the bench being the proper height (something many have disliked about the Rogue Monster Bench), the front of the bench features a single post that allows those who bench with their legs under their body to get into proper positioning.
For the price, this is one of the best value flat benches currently available and has been featured in many both home and globo gyms we've reviewed.
The Rogue Flat Utility Bench 2.0 is a bench that we've given high marks more in the past and still believe it's one of the best options for most people. It's definitely not the cheapest bench available today (although we don't think it's overpriced), but it is one of the most solid.
Thanks to a fully welded frame, the Rogue Flat Utility Bench 2.0 is one of the most solid platforms to bench from we've ever used. Featuring a standard bench height of 18″ and angled 2×3 legs and spine made from the same 11 gauge steel as their racks, the Rogue Flat Bench has taken everything we've thrown at it without any issues.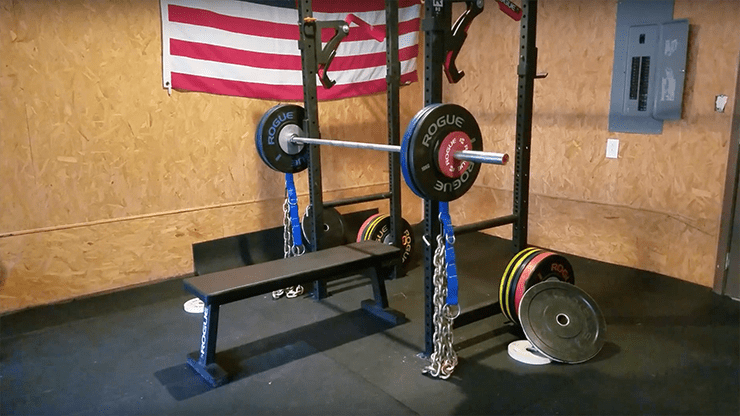 Although the Thompson Fat Pad is our favorite bench pad, the pad on the Rogue Flat Utility Bench 2.0 provides a firm foundation with a grippy covering that is superior to many of the import options available near this price point.
The Rogue Flat Utility Bench 2.0 is one of the few benches currently on the market to employ angled legs. This may seem like a small design element, but the slight angle increases stability without making the bench take up a lot more space.
The Rogue Flat Utility Bench 2.0 is one of the best portable benches currently available and it just so happens to be at a price point in reach for most.
If you'd like the versatility of an incline bench while on a budget, then we suggest the Rep Fitness AB-3100 Adjustable Bench V2.
We've reviewed the big brother of the AB-3100, the AB-3000 in-depth and gave it a great rating. The AB-3100 takes many of the same functionalities of the AB-3000 and removes some of the more fancy elements to create a highly functional, budget-priced incline bench.
Although the AB-3100 is priced cheaply, it's built to handle over 1,000 lbs. This means no matter what you're bench is, this can take it.
Featuring various angles from flat to fully upright, whether you'd like to bench or military press, the AB-31oo will be able to be used in your training. At the rear of the bench are two inline wheels for easy maneuverability without being unstable.
The top of the AB-3100 uses the same vinyl and foam as their other bench offerings which although isn't our favorite, gets the job done.
If you're in the market for a solid FID bench for your home at a great price, this is what we suggest.
Weight Plates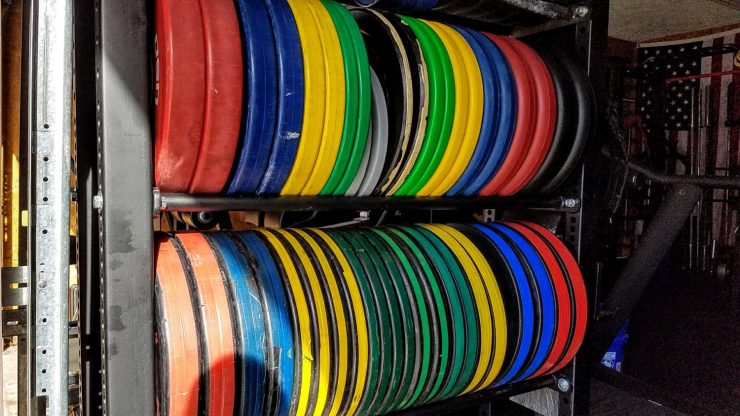 Although it's great to have barbells, racks, and benches, it's hard to use any of them without some sort of resistance. For most people, the best type of resistance to use will come from weight plates. These plates will be able to be used with most other things you have for your home gyms equipment.
There are a seemingly endless amount of options available for weight plates. Everything from bumper plates to steel and every price point you could think of.
When it comes to iron plates, we most often suggest seeking out the secondary market first, before buying new. Marketplaces like Craigslist and Facebook Marketplace can be loaded with all kinds of weight that can be had for extremely great bargains, which is really ideal for at-home gyms.
If you can't find plates on the secondary market or simply want to buy new ones, then these are our suggestions.
The best value for weight plates currently available on the internet is the Rep Fitness Iron Plates.
The most important parts when it comes to casting iron plates are that they feature a standard diameter, have a somewhat smooth finish, are at least close to their stated weight.
The Rep Fitness Iron Plates check all the boxes in these areas. Not only do they have the classic black with white writing look, but they're also all within 3% of the listed weight. If you've never weighed iron plates on a scale before, you'd be surprised to find how greatly they vary in weight. This is a huge benefit that used plates typically don't have and is an important feature when you're under resistance.
Finally, the price of these plates is pretty much impossible to meet for a new iron. At only $.89/lb, there isn't a better option available for the budget-conscious. In fact, if you own a gym or just have one for your home, these are a great buy.
If you'd like bumper plates instead of steel plates and are on a budget, then we recommend the Fringe Sport Bumper Plates.
When it comes to bumper plates, you often get what you pay for. Cheap bumper plates are known to have an awful odor that lasts for years, chip easily, crack, separate from their inner ring, and not be anywhere close to their stated weight.
Although the price differences between cheap bumper plates and ones like the Fringe Sport Bumper Plates is negligible, the quality is vastly different.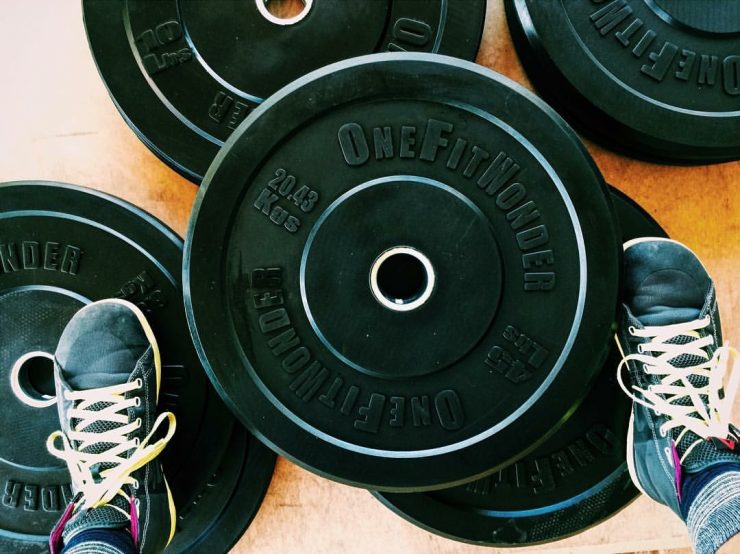 The Fringe Sport Bumper Plates are priced extremely well and are known to be some of the most durable bumper plates in the world. Thanks to the inner ring that is molded into the rubber, these will neither warp or crack easily.
If you want a set of bumper plates, we suggest buying quality. To start, we often suggest people purchase the 250 lb set, unless you know you'll be lifting a lot more.
The Humble Jump Rope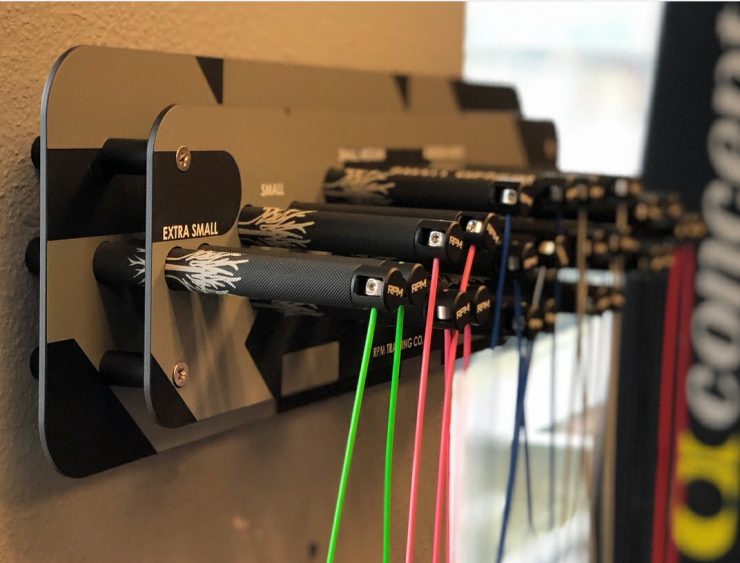 We're admittedly big fans of the jump rope. It's amazing how effective a simple piece of equipment can be for increasing conditioning, balance, and coordination.
There are many different options for jump ropes, but we'd suggest going with either a speed rope for double-unders or a standard PVC rope that works well for freestyle or any other type of jump roping.
If you're on a budget and need a tool for conditioning, there's nothing better than a jump rope.
One of the best-priced PVC ropes that is made to last is from Epitomie Fitness on Amazon.
We've used a similar style jump rope for over 3 years now without any issues. Not only will it take whatever you can throw at it, but it also performs much better than you'd expect for the price.
The gripped handles provide a solid platform for skipping and the pvc rope can be used for everything from double-unders to running.
If you want a speed rope specifically for double-unders, then the best value currently available is the Survival & Cross Speed Rope.
This speed rope features a timeless design that's been used by many manufacturers and it's also at a great price.
The design of the S&C Speed Rope spins extremely well, especially when you factor in the price, although the plastic handle will eventually give out.
If you want a cheap speed rope that should last for many workouts, then we suggest the Survival & Cross Speed Rope for any basic garage gym.
Additional Suggestions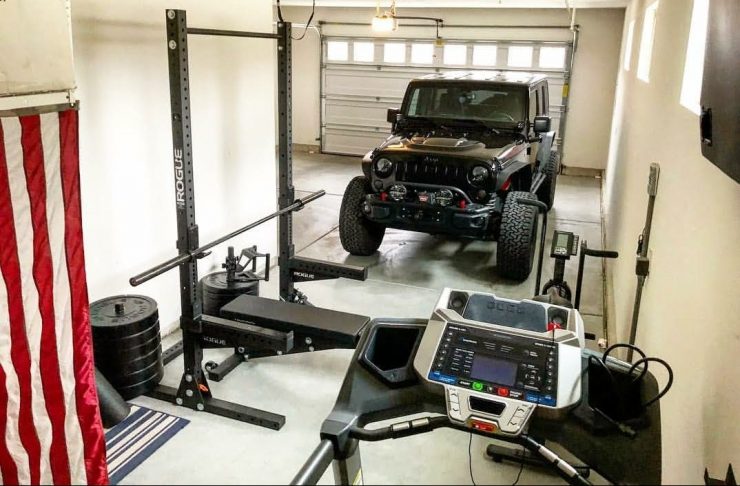 Although there are many different pieces of gym equipment that you'll eventually want to add to your home, this list is a good starting point.
What we don't suggest is going out and buying every shiny thing that seems attractive and immediately getting rid of your gym membership. You'll end up purchasing more than you'll use and eventually regret spending so much money, even if the offer seems good from some of these companies.
Building a home gym is a process and it should be respected, otherwise, you'll end up with empty pockets and a full gym with equipment collecting dust.