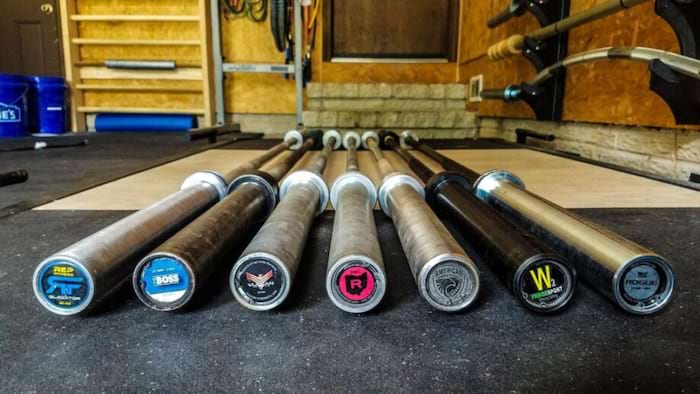 A barbell is one of the most important pieces of equipment in any gym. You'll end up using it nearly every training session and a good barbell can provide a lifetime of use.
On the flip side, a bad barbell can be an absolute nightmare to use. Overly sharp knurling, pinned sleeves, and cheap bar stock can not only lead to limited use, but possible injury. If there's one place to spend money on a home gym, this is the place.
Thankfully, due to the rise of barbell training and its use in home gyms, there are now more manufacturers than ever offering high-quality barbells at incredible prices.
The barbell we most often recommend is the Rogue Bar 2.0 from Rogue Fitness.
In our continuing series in choosing the Best Olympic Barbell for most people, the Rogue Bar 2.0 continues to outshine the competition on a value basis.
The Rogue Bar 2.0 is undoubtedly one of, if not THE most popular barbells in the world in both home gyms as well as commercial gyms, and for good reason. Combining Rogue Fitness' attention to detail, incredible customer service, and large manufacturing power, the Rogue Bar 2.0 easily performs well for any movement or training style. Whether you CrossFit, powerlift, Olympic Weightlift, or do none of those, this bar will get the job done.
It wasn't long ago that a barbell featuring 190k PSI tensile strength steel, a composite bushing rotation system, and high-quality knurl with a lifetime warranty would have cost you nearly $1,000. Thankfully, The Rogue Bar 2.0 can be had for less than $300.
If you'd like to spend even less than this, be sure to check out the Rogue Boneyard Barbell Section to find slightly blemished bars for less (although they don't have a warranty.)
If you plan on sticking mainly to the squat, deadlift, and bench and don't foresee yourself doing many Olympic lifts outside of the power clean, then we suggest the Rogue Ohio Power Bar.
The Rogue Ohio Power Bar is the best value power bar currently available. Not only does it feature our favorite knurl, but it also utilizes 205k PSI tensile strength steel in a 29mm diameter shaft perfect for the squat, bench, and deadlift. Without question, this is the best power bar for most people.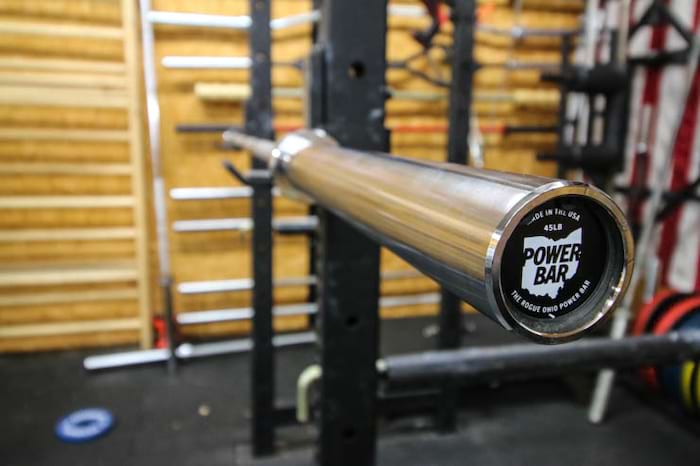 As with most Rogue Barbells, the Ohio Power Bar features a full, lifetime warranty against bending from a company known for making it right with their customers. One feature we like about the Ohio Power Bar versus the Rogue Bar 2.0 is the center knurl. This helps keep the bar on your back during squats and although it isn't absolutely necessary, it is a welcomed feature.
Not only is this our favorite power bar, but it's also the choice for many of the top powerlifters in the world and is IPF approved. I've used this bar in my home as well as some friends home gyms and it still looks like it did on day 1.
If you just want the cheapest bar we would recommend so you can spend more money in other areas, then we suggest the Cap OB-86B Barbell.
The Cap Barbell is generally regarded as the go-to barbell for beginners wanting a budget bar. The OB-86B definitely lacks in many areas, including the knurl, tensile strength, and warranties, but for a bar that costs under $200, it's a pretty good deal.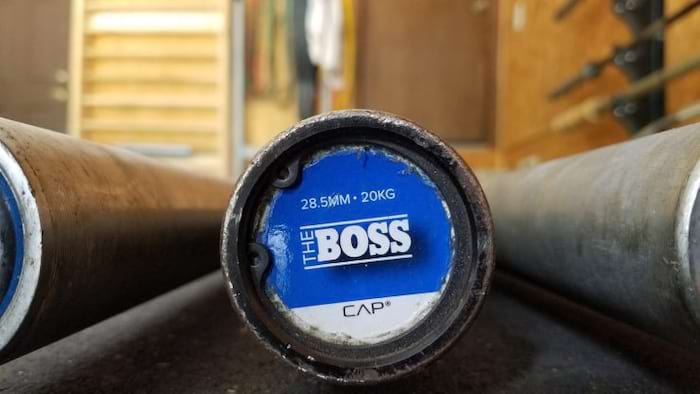 The Cap Barbell OB-86B features polished steel sleeves with a black oxide finished shaft. The black oxide will wear over time, but it's a rather reliable coating. The knurling is a bit aggressive, due to the cheap tooling they use on their machines and the spin is average at best, but it's what you'd expect for the price.
The OB-86B features over 500 Amazon Reviews with an overall rating of 4.5/5 stars, which should give you the reassurance that it's a decent enough bar. This is actually a popular bar in many gyms where you'd pay for a membership. Not great, but gets the job done.
If you want the absolute cheapest bar we would recommend, then pick this one up.