We test and review fitness products based on an independent, multi-point methodology. If you use our links to purchase something, we may earn a commission. Read our disclosures.
The Pepin Adjustable Dumbbells are a good-value adjustable dumbbell set that hits the mark in a lot of areas. The knurling is great, the machining is precise and consistent, the chrome plating is quality, and the plates are fantastic.
And now that Pepin has improved their dumbbell handles and plates, our Pepin Adjustable Dumbbells review can confidently state that we recommend these adjustable dumbbells for anyone looking for high-quality strength training equipment for their home gym.
20 Adjustable Dumbbell Sets Tested
In the quest to find the best adjustable dumbbells, the team of experts at Garage Gym Reviews has tested 20 sets and judged them based on their construction, weight range, ease of use, and how quick you can adjust the weights. Yes, that's a lot of dumbbells to test but how else are we going to give the best and most thorough recommendations for you to know which ones are the best for your home gym?
And as certified personal trainers and CrossFit coaches, we don't just use these dumbbells for one curling session and call it a day. We're using them for an extended period of time to see how they feel during strength and muscle-building workouts.
High-Value Loadable Dumbbells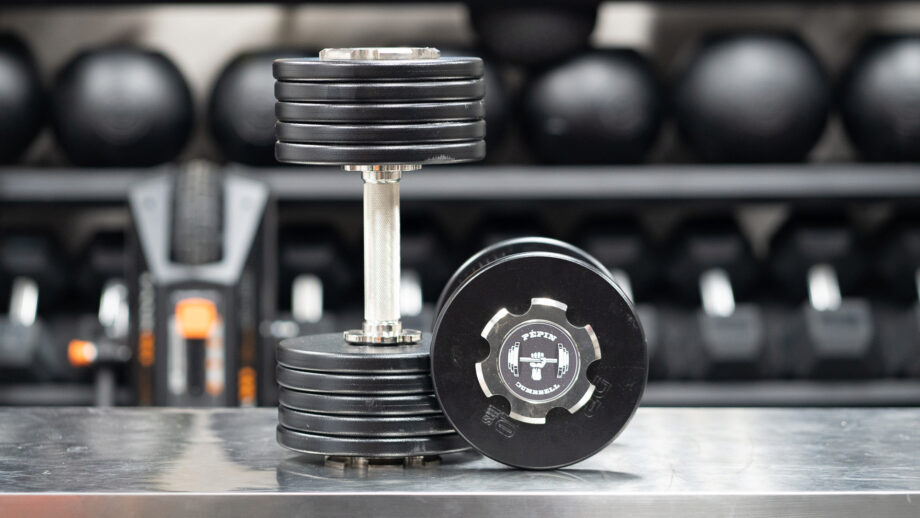 A Quick Look At The Pepin Adjustable Dumbbells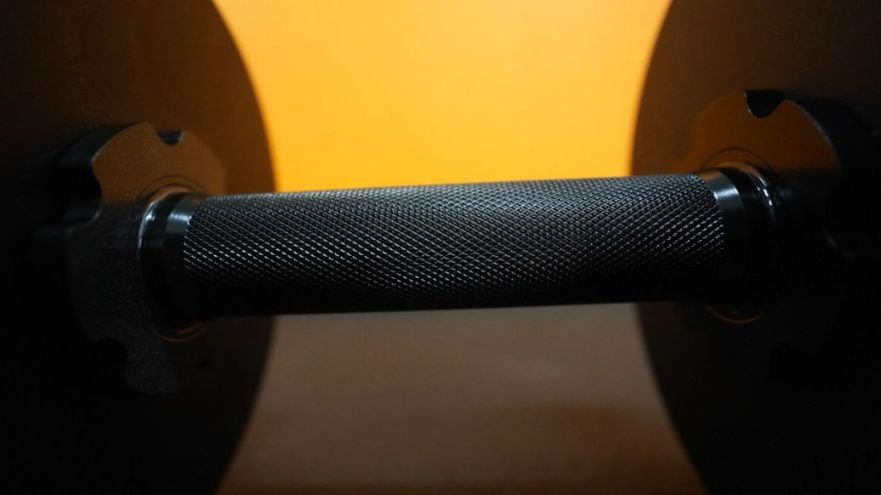 The Pepin Adjustable Dumbbells set includes two handles, with different plates ranging from 5 pounds up to 120 pounds per handle. You get the functionality of a full set of hex dumbbells, without the need to store them all, making them ideal for people trying to build a home gym in a small spare room or cluttered garage.
Adjusting the weight is relatively simple. You just need to unscrew the end cap, slide on the right plates, and screw it back up again. It may not be quite as intuitive and easy as some other adjustable dumbbells on the market, but it's easy enough and the mechanism is simple to work out. The bars are compatible with any plate with a 1-inch hole, so if you already have some at home, they're not wasted if you invest in the Pepin Adjustable Dumbbells.
Coop's Tips
Although Pepin has improved the durability of these dumbbells, we still don't recommend intentionally dropping them.
Already have some plates with 1-inch holes? You can use them with these dumbbell handles.
Want to save money on the Pepin dumbbell stand? Use code "GGR5" to save 5 percent.
Pros:
Same weight set as 24 pairs of fixed dumbbells, and takes up a lot less space
Goes up to 120 pounds per handle
Chrome plating on handles is excellent
Cons:
Knurling is on the passive side
Takes a while to load and unload plates
Quite expensive, even if it's less than an entire set of fixed dumbbells
Video Review
Are Pepin Adjustable Dumbbells Worth It?
Pepin Adjustable Dumbbells have gone through a lot of changes over the years, and at first we didn't recommend them for most home gym owners. However, thanks to the company listening to customer feedback, we can now say they're a high-value set of adjustable dumbbells.
Regarding price, you're looking at around $925 for the full set not including shipping, which might seem expensive but that includes all of the weights from 5 pounds up to 120 per handle, so they're actually pretty affordable. When you compare that to the price of buying a full set of standard dumbbells, it's a lot less.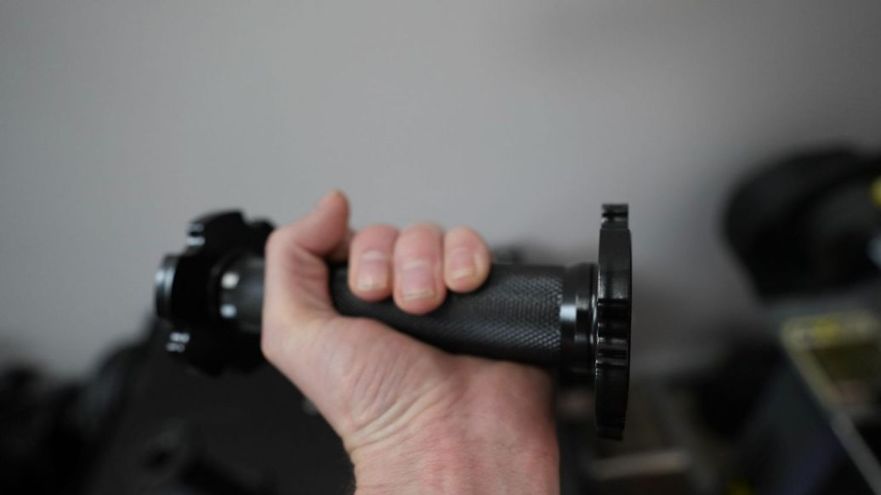 Plus, the company has improved the durability of the handles and plates, used engraved logos instead of stickers, and started using calibrated plates with a new powder coat finish. They're much nicer than the adjustable dumbbell sets we initially reviewed years ago, and while they're not the quickest to adjust, they still beat having to have an entire wall of dumbbells in your home gym.
Great for:
Those looking for compact exercise equipment
Anyone who already has 1-inch hole plates
Trainees looking for knurling on their adjustable dumbbells
Not recommended for:
Anyone who wants quickly adjustable dumbbells
People who are prone to dropping their workout equipment
Those looking for the best-of-the-best
Pepin Adjustable Dumbbells Specs
| | |
| --- | --- |
| Weight range | 5 to 120 lbs per handle |
| Weight increments | 5 lbs |
| Replaces | 24 pairs of fixed dumbbells |
| Plate size | 1" diameter holes |
| Construction | Metal handle, cast iron plate |
| Knurled handle? | Yes |
Lifting With The Pepin Adjustable Dumbbells
There are a lot of things we were impressed by in training with the Pepin Adjustable Dumbbells.
First off, the amount of weight you can put on these dumbbells is one of the biggest bonuses because you have the option of going all the way up to 120 pounds or down as low as 5 pounds. So, whether you're just getting started with your home gym and you've never lifted a dumbbell in your life, or you've trained for some time, this set should be adequate for most anyone's needs…unless you row or press or squat with dumbbells heavier than 120 pounds on the regular.
The time it takes to adjust the weight is one of the most important things to think about when buying a set of adjustable weights. If I'm in the middle of a workout, I don't want to spend half an hour messing around with fiddly mechanisms while I set up for my next set. The good news is, thanks to a simple mechanism, adjusting between weight increments isn't too laborious.
It's not as quick as Powerblocks or Ironmasters, but it's also not awful.
I would not suggest these for super sets as they take too long for that purpose, but for most, it should be fine.
Overall, the design and finish on the plates is great. All of the plates have the 5-pound increments engraved into them, so you don't have to do any guesswork when you're increasing the weight. Some of the competitors use stickers or paint, which either gets rubbed off or starts to peel and neither looks as good.
The finish on the plates should prevent premature corrosion. I'm not positive on the coating, but it feels like an E-Coat, which is used by quite a few in the industry including on the Rogue Deep Dish Plates and some of the best kettlebells, such as the Rogue Kettlebells.
The weight accuracy is pretty spot-on as well, so if you're swapping over from a different adjustable dumbbell or a set of standard dumbbells, you shouldn't notice too much difference.
Unlike a lot of other dumbbells, which use a rubber handle, the Pepin Dumbbells come with a metal, knurled handle, similar to what you find on a barbell. This is a huge plus and one of the biggest benefits to Pepin's.
The knurling has a medium depth. Not too aggressive or passive. I do wish they were a bit more aggressive, but with the chrome finish, it does make the knurling a bit less sharp due to the plating. If you're used to using barbells, you'll feel right at home with the well-knurled handle, which provides plenty of grip and is comfortable to hold. Many adjustable dumbbells use plastic or rubber, like Powerblock adjustable dumbbells, but there's little that replaces the feeling of a metal knurled handle.
Why We Now Recommend Pepin Adjustable Dumbbells
When we initially published our Pepin Dumbbells Review, we didn't recommend them. Here's why:
"I really like most everything about the Pepin Dumbbells. I think the price is reasonable. The knurling and machining on the handles and pins is great. The weight plates have etched weight increments and logos and a nice finish.
Previously, Pepin's handles would snap if dropped and that was a major safety concern.
Luckily, that is no longer a concern as Pepin has come out with a new handle design that won't break if and when (dumbbells will be dropped, even if it's not intentionally), you let go of them mid-workout.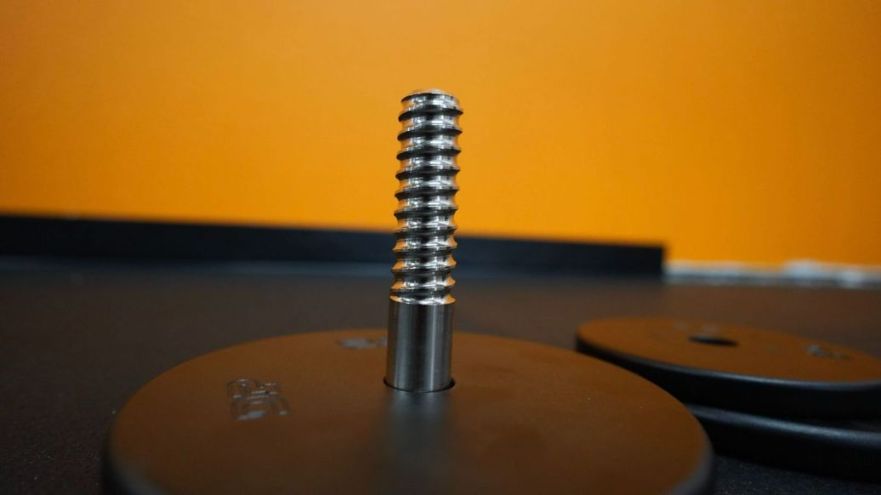 We still wouldn't recommend dropping them, but I don't think doing so is a major safety hazard.
Other Things We Dislike
There's a lot of good things to say about these dumbbells, but they do also have a few additional flaws that are worth mentioning.
Even though it's not that difficult to adjust the weight, it does take a few minutes, and if you're hoping to use these dumbbells for supersets, you will probably be disappointed. In that case, it may be better to look at some of the alternatives, like the NUOBELL Adjustable Dumbbells that use a quick-locking mechanism.
The set we used also has a lighter, passive knurling which, although still good, might not provide enough grip for some people. Having said that, I have been told that there's an aggressive option available as well. So, just be careful when you're ordering them and make sure you get the right one.
Pepin Adjustable Dumbbells vs. PowerBlock Elite Series
Pepin vs. PowerBlock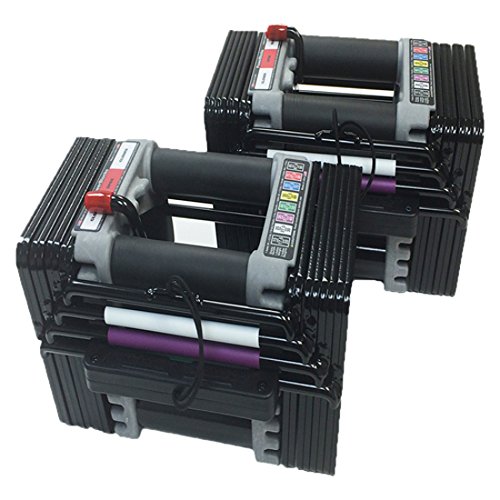 PowerBlock Elite Series Adjustable Dumbbells
PowerBlock was an innovator in this category and has been making adjustable dumbbells since 1991. This means they have had over 25 years of production and refinement to create the ultimately adjustable dumbbells set, and they truly have. The PowerBlock Elite dumbbells are one of the highest-rated and best-selling sets of all time. This is one of the last adjustable dumbbells sets to still be made in the USA, and PowerBlock uses only premium-quality materials. Thanks to their smart and economical design, the PowerBlocks are extremely tough and can withstand all sorts of regular gym abuse.Has a weight range of 5-50 lbs per hand and increments- 2.5 (adder weight), 5, 7.5, 10,15, 17.5, 20 25, 27.5, 30, 35, 37.5, 40, 45, 47.5, 50 pounds per hand Is expandable later to 70 and again to 90 pounds per hand. Made in USA 10 year home use warranty Replaces 16 pairs of dumbbells in the space of 1
When I first reviewed a set of PowerBlock adjustable dumbbells back in 2015, I said that they were the best set available on the market. Even though new contenders may have knocked them off the top pick, they're still one of the best options.
The standard set goes up to 90 pounds, so not as high as the 120 pounds you get with the Pepins, but if 90 pounds is enough for you, the PowerBlocks might be the better option. You can also get the Commercial Pro Series that goes up to 175 pounds, but they can be quite bulky to use.
The simple pin mechanism to fix the weights in place makes changing them over quick and easy compared to the screw mechanism on the Pepin. As long as you can get used to the rectangular shape, the PowerBlocks are a great option.
Check out our PowerBlock Adjustable Dumbbell review to learn more about one of our favorite pieces of home gym equipment.
Pepin Adjustable Dumbbells vs. Ironmaster Quick-Lock Adjustable Dumbbells
Pepin vs. Ironmaster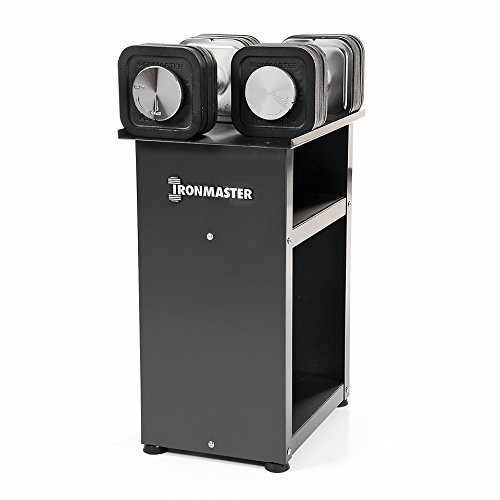 Ironmaster Quick-Lock Adjustable Dumbbells
The Quick-Lock Dumbbell system is the latest iteration of Ironmaster's adjustable dumbbells. The dumbbells can be quickly adjusted in under 15 seconds due to the Ironmaster quick-lock design. The dumbbells adjustable weights range from 5 to 75 pounds. With your purchase of these dumbbells, you also get the stand for no extra charge. These give you a complete set of free weight dumbbells that feel like traditional dumbbells without restrictions, rattling, or safety concerns. This set includes two handles with four locking screws. Each weight has 24 5-pound plates and 4 2.5-pound plates. Included with purchase is a dumbbell stand. Since the handles are 5 pounds when empty and the locking screw is 2.5 pounds, the starting weight is 10 pounds for each dumbbell before you add plates. You can load up to 65 pounds of plates to each handle. You can also purchase an add-on kit that goes up to 120 pounds for each dumbbell. The dimensions are 6.5 x 6.5 x 14.5 inches at the 75-pound size. The Quick-Lock design adjusts from 5 to 75 lbs in 2.5-lb increments They are constructed with welded steel and chrome-plated handles  The system has two adjustable dumbbells at 75 lbs each (150 lbs total) and a dumbbell stand  Space efficient design that takes up less than 2 sq. ft.  Limited lifetime warranty 
The Ironmaster Quick-Lock Adjustable Dumbbells are another heavyweight on the home workout scene. They have a great mechanism for switching weights and, even though their claim of being able to switch weights in 15 seconds might be a bit of an overstatement, you can still do it in 30 seconds to a minute.
One of the things that I really like about the Ironmaster dumbbells is that they feel like fixed dumbbells, which you don't get with most other adjustable sets. Compared with the Pepin Adjustable Dumbbells, the overall quality is pretty similar, but due to the Ironmasters being cheaper, more proven, and easier to adjust, I'd suggest them over the Pepins.
That said, the Ironmaster Quick-Lock Adjustable Dumbbells sell out quickly so if you need a pair of dumbbells like right now, Pepin might be the better choice.
For more, check out our full Ironmaster Quick-Lock Adjustable Dumbbell review.
Warranty, Financing, Returns
The Pepin Adjustable Dumbbells come with a limited lifetime warranty that covers the structural integrity of the dumbbells only–in other words, if your dumbbell handle breaks during regular use (again, you shouldn't drop these dumbbells). The coating and painting on the handles and cast iron plates are only covered for a year.
Pepin doesn't specify how long you have to return any of their items, but if you wish to send anything back it must be in new condition.
At checkout, you can select Sezzle to qualify for monthly installments to finance your purchase.
Customer Reviews
Pepin doesn't have any customer reviews on its website, and the products are not available on Amazon. If the website does add customer reviews in the future, we'll be sure to update this page.
Final Verdict Of Our Pepin Adjustable Dumbbells Review
At first, we were skeptical about the Pepin Adjustable Dumbbells due to their lack of durability and use of sticker logos. But since they've used higher-quality materials and switched to engraved logos, we're confident in recommending them to home gym owners. 
Are they our favorite adjustable dumbbells on the market? No, but they're pretty budget-friendly compared to buying an entire set of traditional dumbbells and if you already have 1-inch-hole iron plates, then you're halfway there. These are a great set of dumbbells for anyone looking to get a heavy-duty set of free weights without taking up too much room; for those who want knurling on their handles; and for those who don't mind taking a bit to adjust the weights.
Pepin Adjustable Dumbbells Rating
Pepin Adjustable Dumbells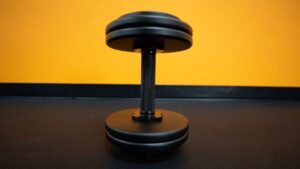 If you're wondering whether these adjustable dumbbells are for you, our Pepin adjustable dumbbells review will let you know if they belong in your home gym.
Product Brand: Pepin
Product Currency: $
Product In-Stock: InStock
Pepin Adjustable Dumbbells FAQs
Are Pepin dumbbells worth it?
The Pepin Adjustable Dumbbells have a lot to offer, such as a knurled handle, the ability to go up to 120 pounds per handle, and the ability to use 1-inch hole plates you may already have on hand. They're not the quickest to adjust, and they're not the most durable, but for most home gym owners they're a high-value pair of adjustable dumbbells.
Is it worth getting adjustable dumbbells?
Yes, for many reasons. For one, you'll probably spend a little bit less money than if you were to buy an entire set of traditional dumbbells. More importantly, adjustable dumbbells take up much less space than a whole rack of fixed weights.
What are the cons of adjustable dumbbells?
Most adjustable dumbbells are typically less durable than their fixed counterparts. So if you're someone who constantly drops their weights, first of all—stop it—but secondly, make sure any adjustable dumbbell you're considering is not made with a lot of plastic and has high-quality parts.