We test and review fitness products based on an independent, multi-point methodology. If you use our links to purchase something, we may earn a commission. Read our disclosures.
One of the main benefits of adjustable dumbbells is that they're more affordable than buying an entire set of fixed dumbbells, not to mention the fact that they take up less space. That said, they can still get a little too expensive for some home gym owners. What to do then?
Our FLYBIRD Adjustable Dumbbells review looks at one such budget-friendly solution that provides a good amount of weight at an agreeable price tag. But with so many choices out there, is this the best choice for those looking to add some strength training equipment to their home gym setup? We'll compare these to some of our other favorite affordable home gym equipment and let you know what we think.
More Than 20 Adjustable Dumbbells Tested by the Home Gym Pros
After testing and reviewing close to two dozen options, we narrowed down our picks for the best adjustable dumbbells. This list was the culmination of endless curls, presses, Romanian deadlifts, and adjusting many different weights to find the top picks for home gym owners with budgets both big and small. Who are we to decide that one weight is better than the other?
Besides Coop, who's been the authority on home gym equipment for several years now, we're a group of certified personal trainers, CrossFit coaches, athletes, and general fitness enthusiasts who have put our hands around more dumbbell handles than we could count. We've tried the best, and the worst, and we're always upfront with what we think about a product.
Budget Adjustable Dumbbells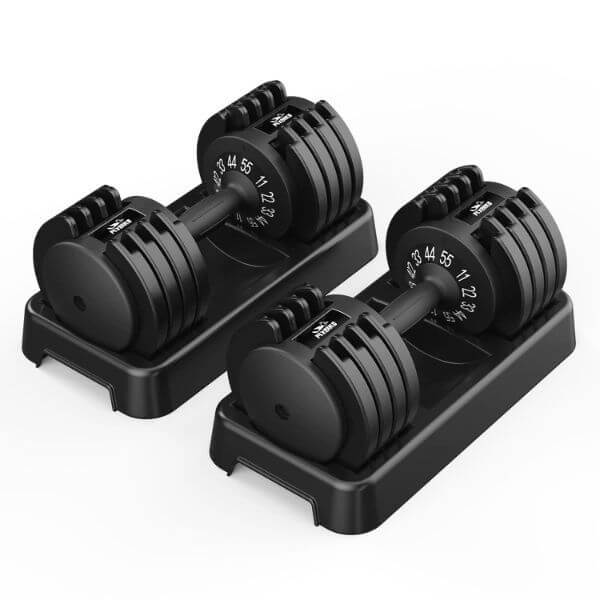 FLYBIRD 55-Pound Adjustable Dumbbells
The FLYBIRD 55-Pound Adjustable Dumbbells are a budget-friendly and space-saving addition to your home gym. Rather than purchasing multiple dumbbells, a FLYBIRD 55-Pound Adjustable Dumbbell allows for weights ranging from 11 to 55 pounds. These adjustable dumbbells come with cradles for convenient storage when not in use. When locked into their stands, the FLYBIRD 55-Pound Adjustable Dumbbell uses a special safety feature—a lock down design so it can only be adjusted on the weight tray. Buckle structures on the weight plates ensure they are securely loaded and safe to use.Made from aluminum alloy and cast iron, the FLYBIRD 55-pound Adjustable Dumbbell is well made. Their intuitive design features a dial to easily change weights to streamline your workout. There is an 11-pound incremental jump between weights; 11-, 22-, 33-, 44-, and 55-pound options. This is a rather large jump and likely will be too much for many. If you prefer smaller incremental weight changes, these dumbbells are not for you.
A Quick Look at the FLYBIRD Adjustable Dumbbells
FLYBIRD Fitness manufactures and sells budget-friendly home gym equipment, and when it comes to adjustable dumbbells, they have two options: 25 pounds and 55 pounds. We tested the 55-pound option, which is sold either individually or in a pair.
Right off the bat, one of the more unique features of the FLYBIRD dumbbell is the weight increment: 11 pounds. That's a big jump, and as we'll explain later in this piece, could have some impact on your strength training journey.
Other than that, they're pretty straightforward in that they're shaped like your everyday dumbbells, but made with cheaper material to help bring down the price.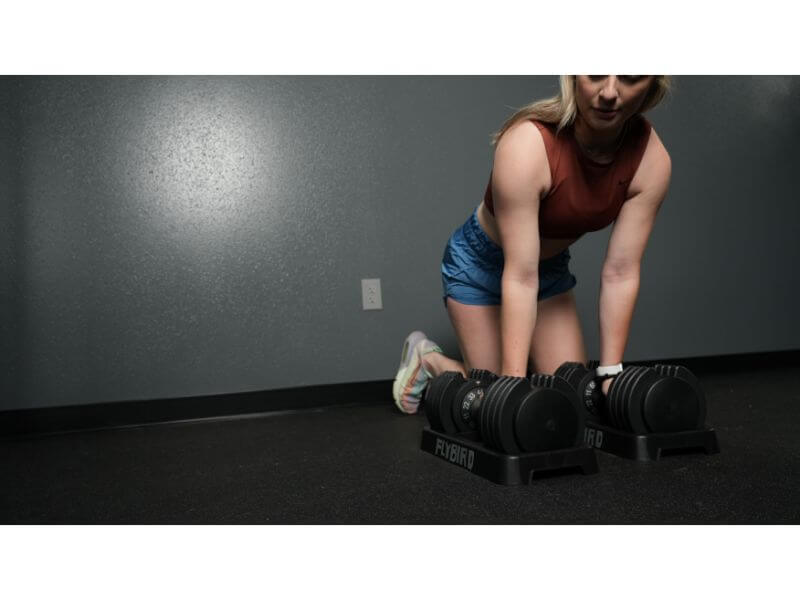 Our Tips
We don't recommend dropping any dumbbells, but since these are made with lots of plastic, you should make sure to never drop them from high heights.
Pros:
Easy-to-adjust dial
Inherently space-saving, replacing five pairs of dumbbells
Budget-friendly, at under $400 for a pair
Cons:
11-pound weight increment is a big jump
Not very durable
Only a 1-year warranty
FLYBIRD Adjustable Dumbbells Video Review
Are the FLYBIRD Adjustable Dumbbells Worth It?
The FLYBIRD Adjustable Dumbbells sell for $379 for a pair of the 55-pound dumbbells, and around $190 for a single dumbbell (you can find some pre-owned ones on Amazon).
For comparison, a pair of 50-pound PowerBlock Elite Dumbbells sells for more than $400, and a pair of Bowflex SelectTech 552 dumbbells is normally $429 (as of this writing, it's been marked down to $379 but we suspect it might go back up).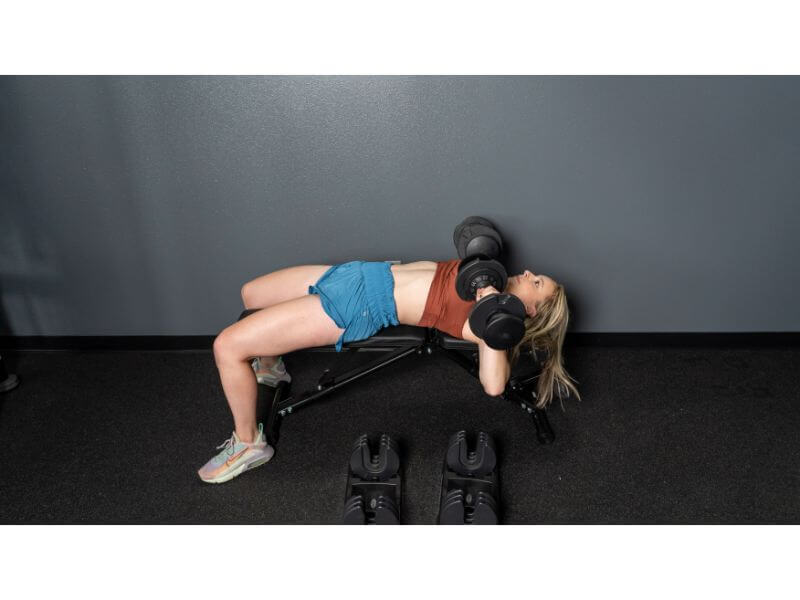 For the budget-conscious shopper, it may seem like a no-brainer to just go for FLYBIRD. And certainly many people would be happy with it, as it's a fine dumbbell that's capable of building muscle and strength. But, you only get five dumbbell weights out of it.
For just a bit more, you can get 16 weight sets out of the PowerBlock and 15 from Bowflex. In other words, you get much more value for not that much more money.
But some people may not need, or even want, that many weight options. And for some, $50 may be a make-or-break deal. So if you're simply looking for an affordable dumbbell you can use for a quick home workout, the FLYBIRD Adjustable Dumbbells are well worth it.
Not recommended for:
Trainees looking to focus on progressive overload
Anyone looking for an expandable set of adjustable weights
Those who look for high-quality knurling on their dumbbell handles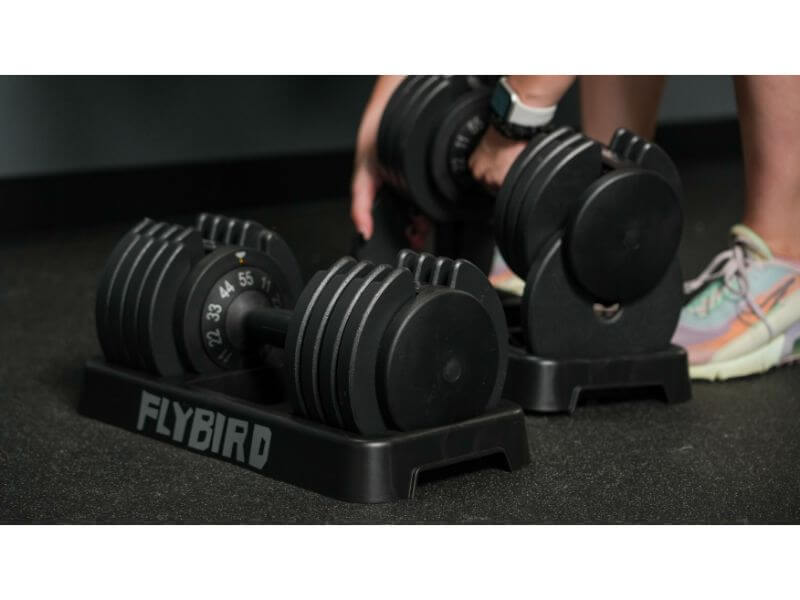 FLYBIRD Adjustable Dumbbells Specs
Footprint
Weight range
Weight increments
Construction
Adjustment system
Replaces
16.1" L x 7.9" W x 6.9" H
11-55 lbs
11 lbs
Plastic, iron
Dial
Five dumbbells
The Ups and Downs of the FLYBIRD Adjustable Dumbbells
In testing the FLYBIRD Adjustable Dumbbells, GGR Editor Nicole Davis found them to be a perfectly good budget option. They're shaped pretty much like any other dumbbell you'd find in a commercial gym, so there's no problem getting proper range of motion on just about any move.
Plus, the adjustment is pretty simple: You simply place the dumbbell in the tray, make sure all the plates are lined up, and twist the handle to pick the weight size you want to workout with at the time. Listen for the "click," then you're ready to work.
RELATED: Best Dumbbell Exercises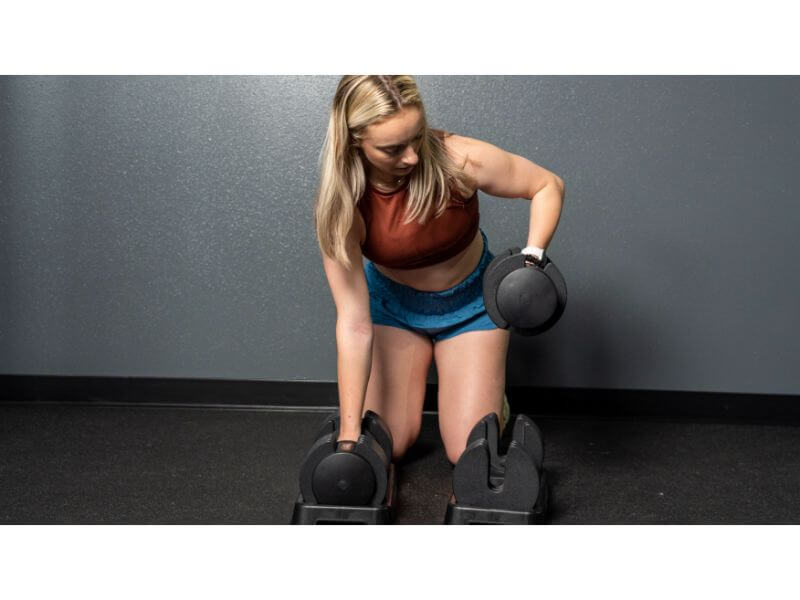 The one big issue with these dumbbells is the big jump in weight. The starting weight is 11 pounds, and it goes up by 11-pound increments all the way up to 55. That means you're only getting five dumbbell weights out of these. Again, brands like PowerBlock and Bowflex give you triple that for not that much more in price.
Value aside, the jump presents a problem for those looking to focus on progressive overload, or increasing the volume or weight of a workout in an effort to gain muscle or strength. "But 11 pounds isn't that much," you might be saying to yourself. And yeah, in the grand scheme of things, it's not, but when it comes to strength training, it can be.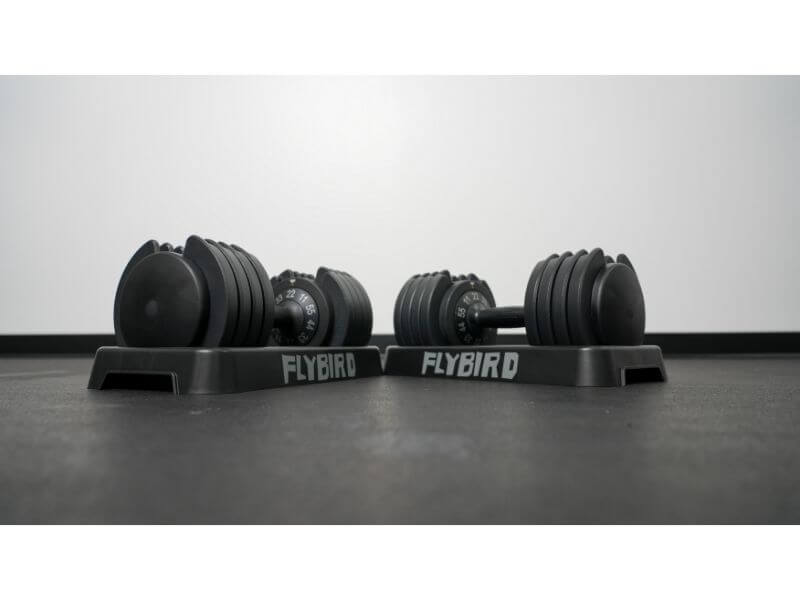 There are memes in the weightlifting world that a 2.5-pound weight plate can feel like the heaviest thing in the world when added to a loaded barbell, and there's some truth to that. If your body and central nervous system are used to lifting a certain weight, anything above that is going to feel like a challenge.
Plus, 11 pounds is just a weird increment. You won't find 22- or 33-pound dumbbells in a commercial gym, as most usually jump anywhere from 2.5- to 5-pound increments.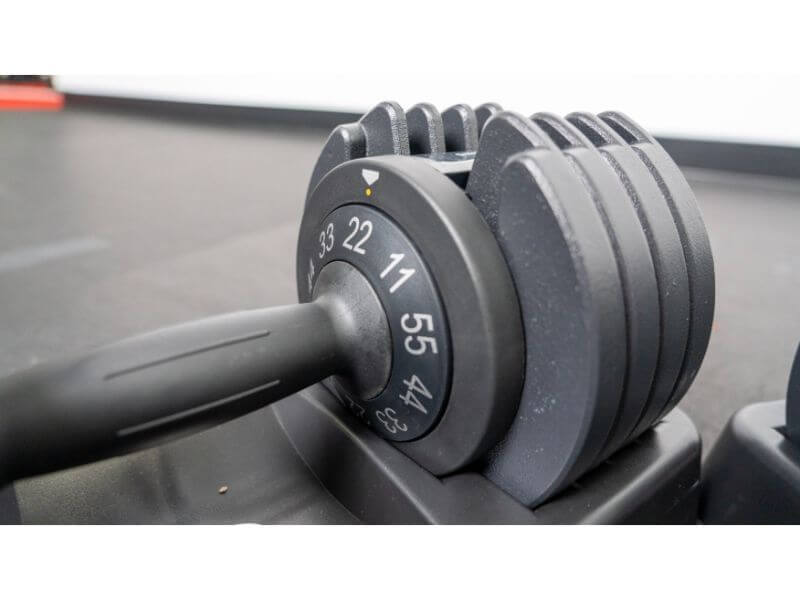 Handle
If you're expecting to feel like you're holding a commercial gym dumbbell when lifting these things, we have bad news for you. The handles are made of plastic, and in lieu of any knurling, there are notches that supposedly help provide extra grip. It's advertised as a non-slip handle, but we're not sure how accurate that is.
For some reason, the 25-pound adjustable dumbbell comes with an aluminum alloy handle that we feel (no pun intended this time) would be much better in the hand.
Nicole, who admits that she has smaller hands than most, also felt as though the handle was a bit bigger in diameter than other adjustable dumbbell sets (we couldn't find an exact measurement for the handle).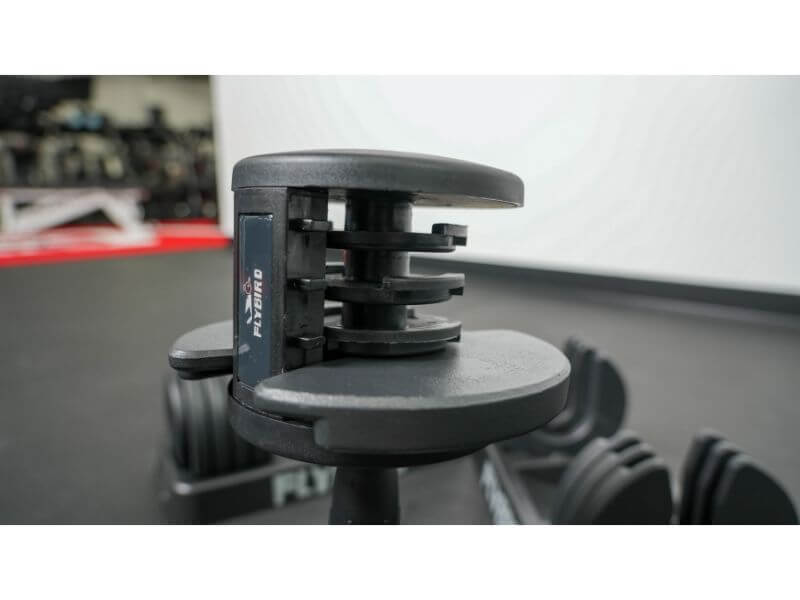 Adjustment
As we mentioned, adjusting the weight is as simple as placing the dumbbell in the tray and twisting the handle until your desired weight is selected. This is similar to how you change weights on the NÜOBELL Adjustable Dumbbells.
Nicole did notice the tray felt a bit flimsy, likely due to the fact that it's made of plastic.
Durability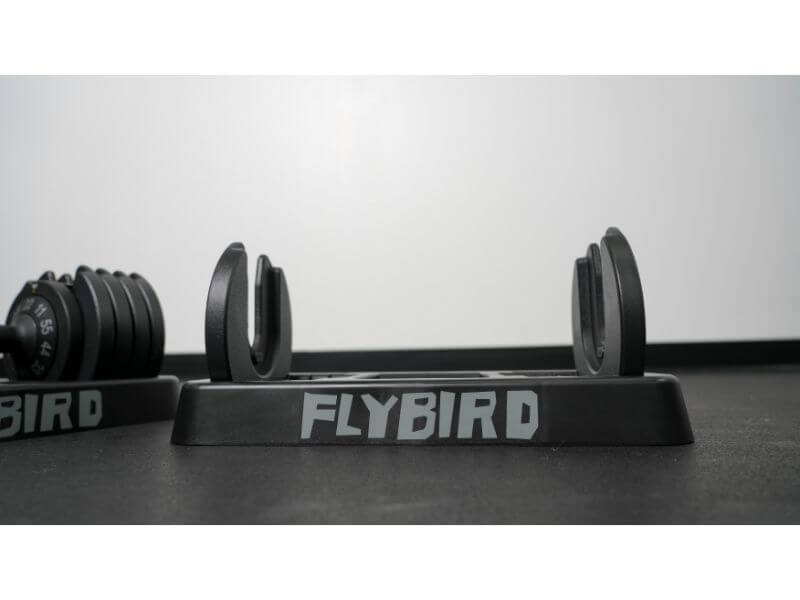 Speaking of plastic, the FLYBIRD Adjustable Dumbbells have a lot of it. The plates are made of durable cast iron, but the rest of the dumbbell is made of flimsy plastic that we suspect would break easily if dropped several times from high heights. And since these only come with a one-year warranty, we recommend treating these with care.
If you're looking for a pair of dumbbells that can take more of a beating, we recommend checking out our list of the best dumbbells.
FLYBIRD Adjustable Dumbbells vs. Bowflex SelectTech 552
Our Budget Pick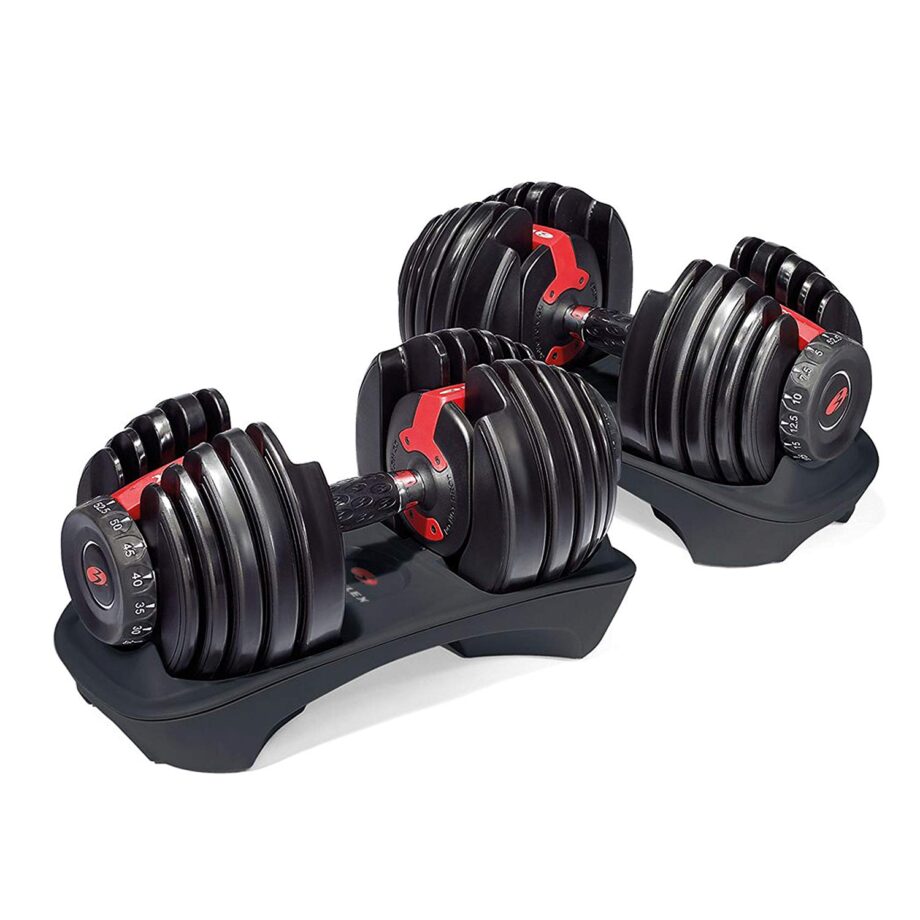 Bowflex SelectTech 552 Adjustable Dumbbells
These adjustable dumbbells replace 15 sets of weights. Weights adjust from 5 to 52.5 lbs in 2.5 lb increments up to the first 25 lbs. Easy-to-use selection dials for adjusting weights. They are sold as a pair. Easily switch from one exercise to next and with the turn of a dial you can change your resistance, enabling you to gradually increase your strength. Versatile workout for your legs, back, chest, abs, shoulders and arms. Compatible with the free Bowflex SelectTech® training App for iOS and Android.No more picking up 30 different dumbbells to give you the results you want! Say goodbye to 15 sets of dumbbells cluttering your workout space. With weight that adjusts from 5 to 52.5 lbs., you'll continue to see results as your fitness level improves. Durable molding around metal plates provides for a smooth lift-off and quieter workouts...no clanging metal plates! With the wider weight range you can do heavy exercises such as shrugs and lunges as well as lighter exercises such as curls and raises.
On the surface, the FLYBIRD Adjustable Dumbbells may seem like the more attractive option since they can go heavier than the Bowflex SelectTech 552 (which go up to 52.5), and they're cheaper. But since Bowflex replaces 15 sets of dumbbells, compared to FLYBIRD's five, it makes them a better value.
Plus, we've seen the Bowflex dumbbells fluctuate from a little under $400 to a little more than that depending on the time of year—if you time your purchase right, you could snag them for the same price as FLYBIRD's.
Both offer similar levels of durability, and are made with a lot of plastic, but the Bowflex dumbbells just feel a little more stable during use.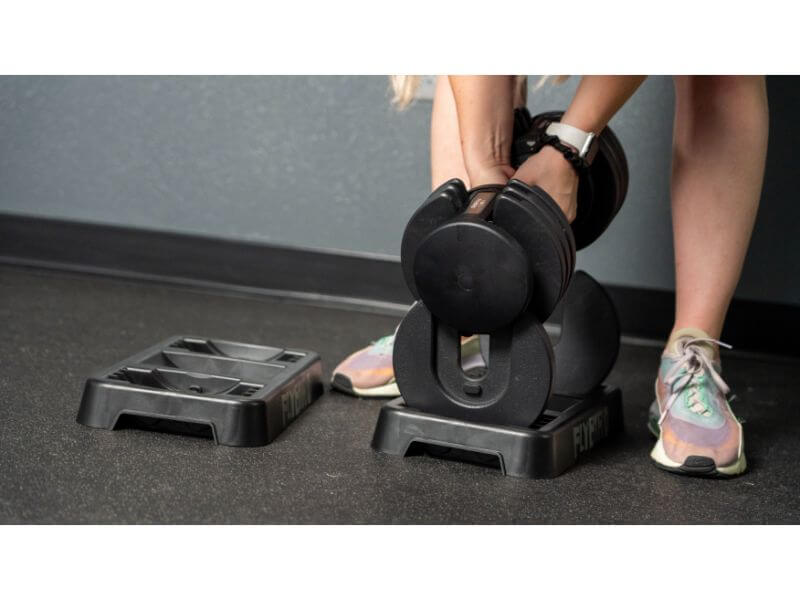 The Bowflex SelectTech are also one of the most easily adjustable dumbbells, and only require a twist of a dial found at the end of each weight.
Check out our full Bowflex SelectTech 552 adjustable dumbbells review for our full thoughts on these budget-friendly weights.
FLYBIRD Adjustable Dumbbells vs. PowerBlock Adjustable Dumbbell
A Great Adjustable Dumbbell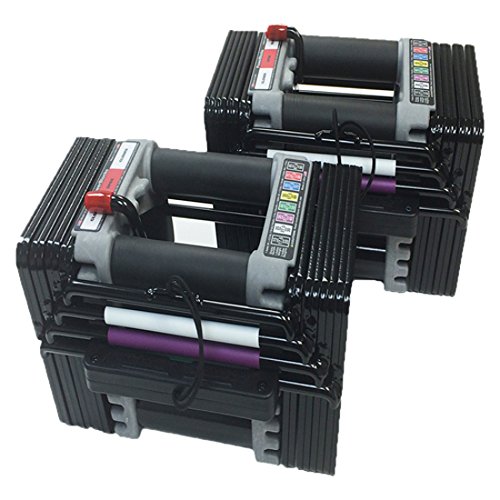 PowerBlock has been one of our favorite adjustable dumbbells for quite some time, and once you get your hands on one, it's easy to see why. They replace 16 sets of weights, have convenient color coding for easy weight selection, and can be expanded to up to 90 pounds per hand.
That's quite a lot of features for a product that's only about $40 more expensive than the FLYBIRD Adjustable Dumbbells.
Now, one big drawback of the PowerBlock dumbbells is that they have a more boxy shape and a handle that limits your range of motion on some moves. We wouldn't recommend them for beginners, but if you've been weight training for a while, we think they're worth the extra cost.
Check out our full PowerBlock adjustable dumbbell review for a comprehensive look at these weights.
Customer Service
FLYBIRD Fitness can be texted at (253) 733-1752 or emailed at service@flybirdfitness.com Monday to Friday from 9 a.m. to 5 p.m. Pacific Standard Time.
Warranty, Financing, Returns
You can finance FLYBIRD purchases through Klarna by selecting the service at checkout.
The FLYBIRD Adjustable Dumbbells has a one-year warranty, which is half the industry standard for most adjustable dumbbells.
FLYBIRD only gives you 30 days from the date of delivery to return a product for a full refund (you don't get shipping and handling back), but the product must be unopened and unused.
Ordering and Assembling the FLYBIRD Adjustable Dumbbells
Ordering the FLYBIRD Adjustable Dumbbells is simple: Just click "Add to Cart," wait for the box to ship, and the dumbbells arrive at your home gym with no assembly required.
Customer Reviews
The FLYBIRD Adjustable Dumbbells have a 4.9 average rating, with 45 reviews written as of press time. Of those 45 reviews, 43 are 5 stars.
The lone 3-star review was because the reviewer, like us, wished the increment jumps were less drastic.

Final Verdict of Our FLYBIRD Adjustable Dumbbells Review
Are the FLYBIRD Adjustable Dumbbells the best choice for those looking to become their strongest, most muscular selves? Probably not. But are they a great budget-friendly option for those looking to burn calories and get a full-body workout? Absolutely.
There are better options out there, but we can see how many people would be just fine using these in their day-to-day lives.
Our key takeaways on the FLYBIRD Adjustable Dumbbells are:
They're a great value for the price
They aren't super heavy, but heavy enough for many lifters
Don't drop them
They're easily adjustable
Weird weight increment jumps make us wonder though
FLYBIRD Adjustable Dumbbells Rating
FLYBIRD Adjustable Dumbbells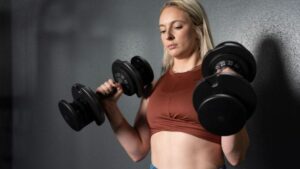 Our FLYBIRD Adjustable Dumbbells review looks to answer the question: Are these the best budget-friendly adjustable dumbbells on the market?
Product Brand: Flybird
Product Currency: $
Product Price: 109.99
Product In-Stock: InStock
FLYBIRD Adjustable Dumbbells FAQs
Are FLYBIRD weights good?
FLYBIRD weights are a great budget-friendly option for those looking to get some strength training work done from the comfort of their home. Our only complaint is that the weight increments jump by 11 pounds, which is quite a big change and also one you don't see in many other pieces of equipment.
Are adjustable dumbbells worth it?
Adjustable dumbbells are worth it for two main reasons: Price and space. You're going to spend just as much, if not a little less money, on a good pair of adjustable dumbbells as you would an entire set of fixed dumbbells. Plus, you only need two of them compared to several pairs of traditional free weights.
What are the cons of adjustable dumbbells?
Adjustable dumbbells tend to have a good amount of plastic, as seen on the FLYBIRD Adjustable Dumbbells, so they're not as durable as traditional dumbbells. And, depending on the brand, some adjustable dumbbells are shaped in a way that could limit range of motion on some movements.