We test and review fitness products based on an independent, multi-point methodology. If you use our links to purchase something, we may earn a commission. Read our disclosures.
The Rogue Deep Dish Plates are the first made in America cast iron weight plate that Rogue Fitness has released. Harkening back to York Milled Plates, the Rogue Deep Dish Plates are accurate, priced extremely well, and look as good as they perform on a barbell for squats, deadlift, bench, and any other movement you'd like to perform. If you like the aesthetics, they're one of the best value iron plates available.
USA Made Plates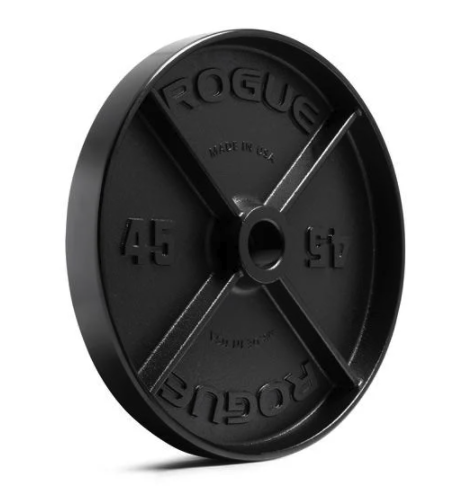 Rogue Deep Dish Plates
Rogue's exclusive Deep Dish Plates are directly adapted from the vintage-style machined plates we've used for the Elephant Bar Deadlift event at the Arnold Strongman Classic. Sold in pairs and available in four weight increments (25LB, 35LB, 45LB, 100LB), this line is 100% Made in the USA, bringing reliable cast plate production back home for the first time in years.The extra-wide "deep dish" design of these plates instantly harks back to the classic cast iron plates of the past, which were used for all Olympic lifts before the first bumpers were invented in the 1960s. Historically, deep dish plates were favored more for functionality than aesthetic, as their increased surface area minimized the damage to old-school wooden platforms and rubber mats when dropped—but over time, they grew to be equally prized for their vintage appearance. With Rogue's Deep Dish Plates, we have recaptured the iconic look and feel of that era while also utilizing the latest in modern casting, maching, and finishing methods, producing plates that are much more resilient than the ones that inspired them.We developed this series with Cadillac Casting, Inc., a Michigan-based foundry backed by nearly 100 years of history in metal casting and an unmatched reputation for quality. As with our E-Coat Kettlebells (which they also produce), Cadillac casts the Deep Dish Plates from ductile iron, which has a higher tensile strength and yield strength than standard gray iron, along with superior corrosion resistance. Precision machining on the entire back, center hub, and outer rim of each plate ensures a uniform diameter and secure fit on the bar, and the electrically applied E-coat finish goes on thinner than a traditional powder coat, allowing for a lustrous finish without losing the underlying texture of the casting. E-coat is also known for its excellent adhesion, even coverage, and overall toughness.
Rogue Fitness has been teasing us with their Deep Dish Plates for some time. As soon as they released them, I ordered a set of each size to give me a good idea for a review. After using them for quite a few training sessions including deadlifts, squats, bench press, and many other movements, it's pretty clear that these are a premiere plate. They weigh accurate on the scale, are smooth as glass on the back and edges (so smooth in fact that I was able to make a sunny side up egg on the back, not joking,) and look as good as they perform. There are some downsides to deep dish plates, but there's little question that these last for generations. Be sure to also check out the best bumper plates guide here.
What are the Rogue Deep Dish Plates?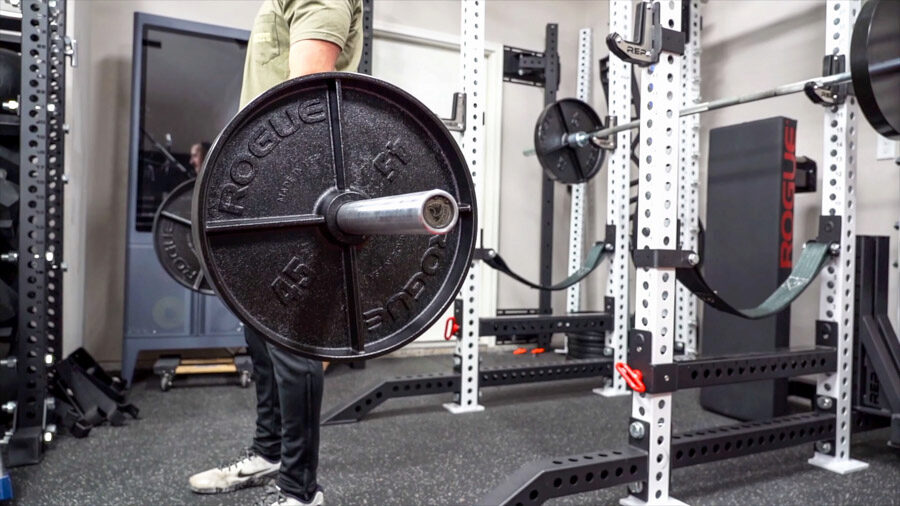 As one of the most anticipated Rogue Releases for 2020, I was super excited to finally get my hands on these. The Rogue Deep Dish Plates are one of the first products to be produced at Rogue's newly employed foundry in Cadillac Michigan alongside their new E-Coat Kettlebells that we've reviewed.
Loosely based on the Arnold Classic Plates, these E-Coat deep-dish style plates finally give every home gym owner the chance to own high quality, yet classic deep dish plates for a very pretty competitive price.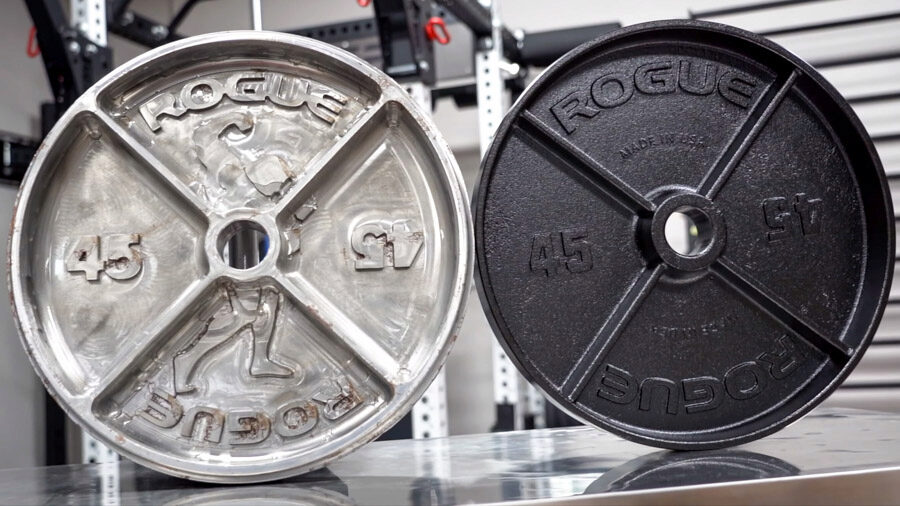 The Cadillac foundry casts the Deep Dish Plates from ductile iron, which has higher tensile strength and yield strength than standard gray iron, along with superior corrosion resistance. In fact, in our testing of the plates, we tried dropping them on their edge many times and they still didn't crack or break. Something that is done rather easily with Standard Barbell Plates. This, combined with the classic E-coat ensures that your Rogue Deep Dish plates will stay solid for generations to come.
Rogue promises these plates will be within 2% of stated weight; new level of accuracy for cast iron plates which have been known to range from 39 to 49 pounds.
Video Review
Unboxing & Shipping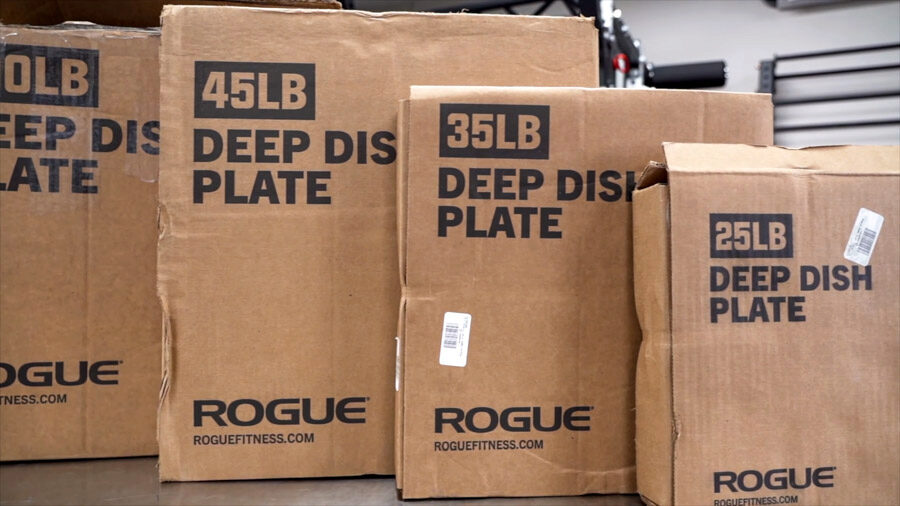 The Deep Dish Plates showed up in double-ply cardboard with the familiar Rogue branding and a Michigan stamp on the back showing where they're made.
Due to the amount we ordered, ours came on a wooden pallet, although we expect most to come without that.
We didn't notice much damage on the boxes during shipment, although this was mitigated by the fact that it was on a pallet.
What We Like About the Rogue Deep Dish Plates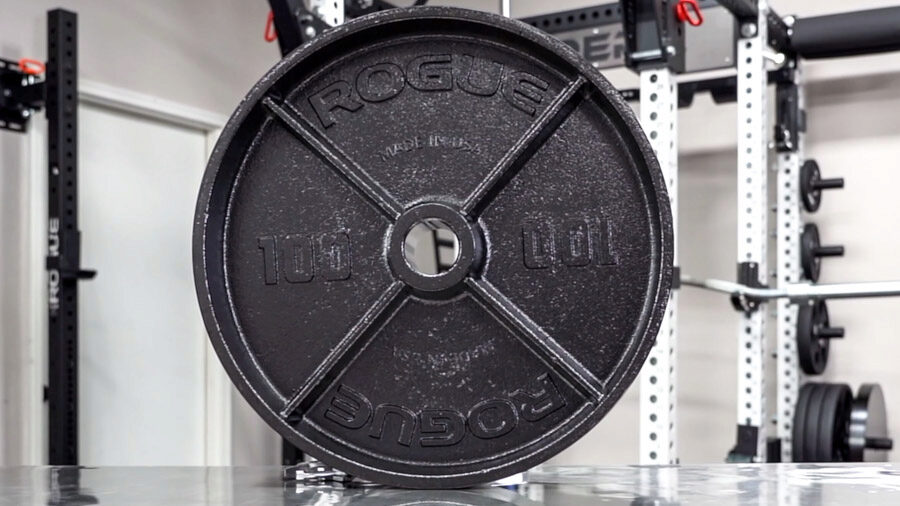 There is a long list of things that we like about the Rogue Deep Dish Plates. First and foremost, we have been waiting for Rogue to release a consumer version of the deep-dish plate for years now.
It's hard to beat the classic look of this style of plate. Some of the most collectible and desired weight plates are constructed in this signature shape; Rogue Arnold Deep Dishes, the Zuver Plates and the classic Ivanko OM are some that come to mind. Arguably long overdue, these Rogue Deep Dish plates live up to the hype. With smooth machine finishes along the back edge and both inner/out lip, these plates feel good in your hand and fit smoothly on the bar. The 50mm machined collar opening makes for smooth weight changes and will reduce the damage to Olympic bars, most notably the barbells with Cerakote sleeves that get scratched up quickly from exposure to rough iron. For a competitively priced iron plate, I believe that these are the single best option for someone looking to upgrade their home setup.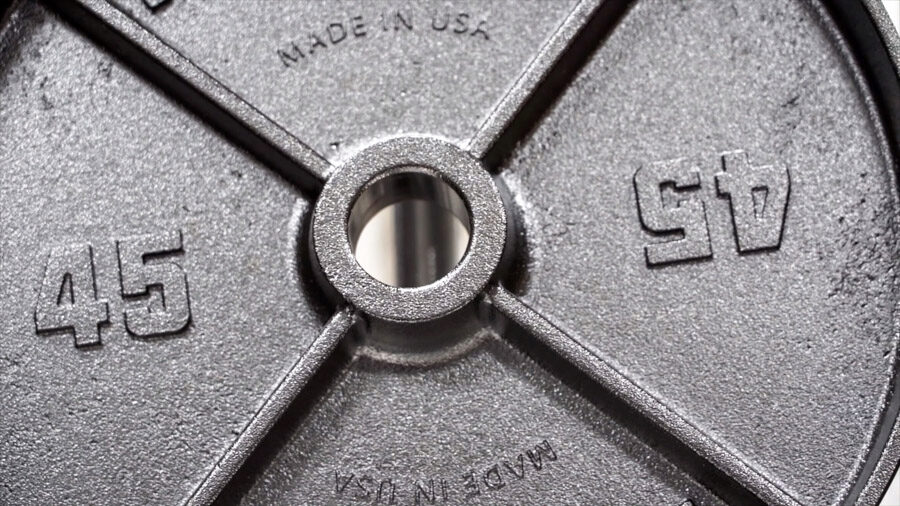 Not only do these plates look great, but they also have a long-lasting E-Coat finish. This finish will protect against corrosion and will overall reduce the amount of damage your plates take from banging into the floor, and into each other. This E-coat is not something that will take away from the classic look of the plates as Rogue factories apply it in thin even layers to keep the cast feel of their metal products. Combined with the mean-looking E-Coat finish, the extra-deep silhouette of these plates gives them a true vintage look and feel.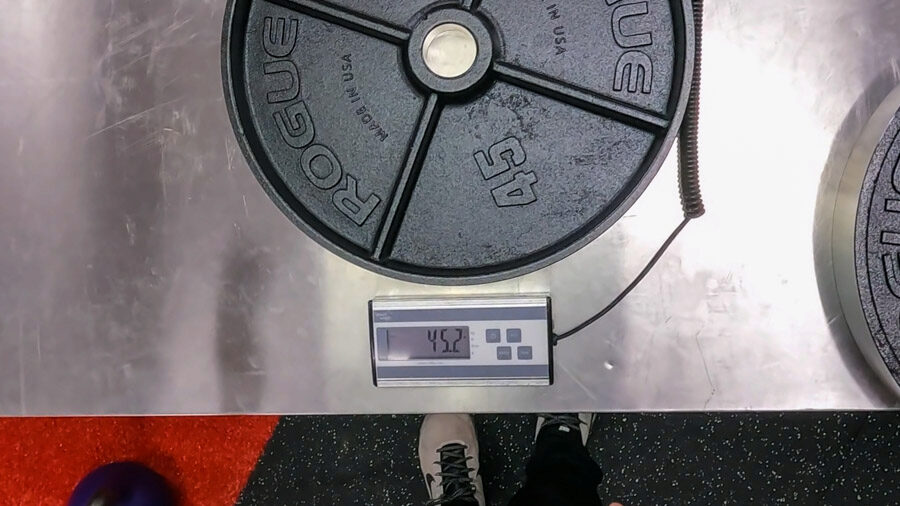 One significant advantage of these new Deep Dish Plates is the weight accuracy compared to most traditional cast iron plates. The plate weighing madness, fueled by our friend Alan Thrall's Youtube video in which he measured the accuracy of his 45lb plates, revealed that most cast iron 45's, are not in fact 45. It seems that most 45's are actually anywhere from 39-55lbs; a fact that could lead to massive discrepancies on each end of the barbell. Rogue's new Deep Dish Plates, However, promise a +2%/-0 rating. This highly accurate measure is new for cast iron plates, and we certainly are on board with it.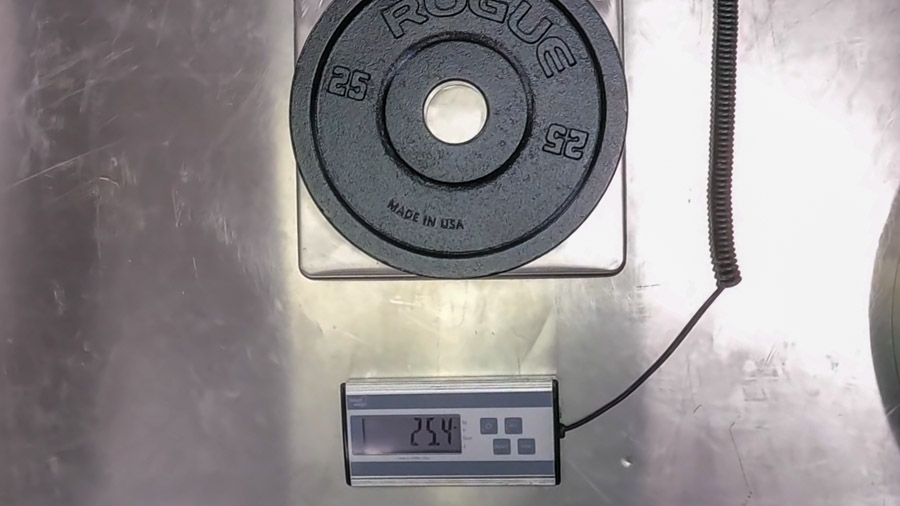 Although these plates share qualities with more expensive competitors, Rogue managed to keep the cost of these around $2/lb shipped. However, Rogue also included their well-loved Hundo Pricing which rewards you for buying higher quantities. As you buy more of these plates, the price gets closer to $1.5/lb, a solid price for iron, not to mention during the current pandemic. With regular cast iron plates seeing $2-3/lb during gym shut-downs, getting these Rogue Deep dish plates is a must.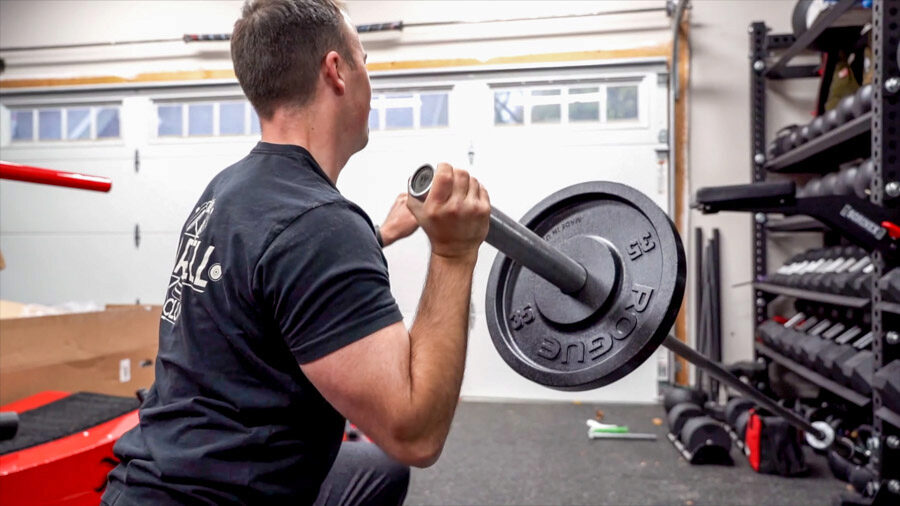 One reason Rogue is able to do this is because they are controlling as much of the supply chain as possible. They're also selling a higher volume of plates than most of their competitors which affords them cheaper shipping rates.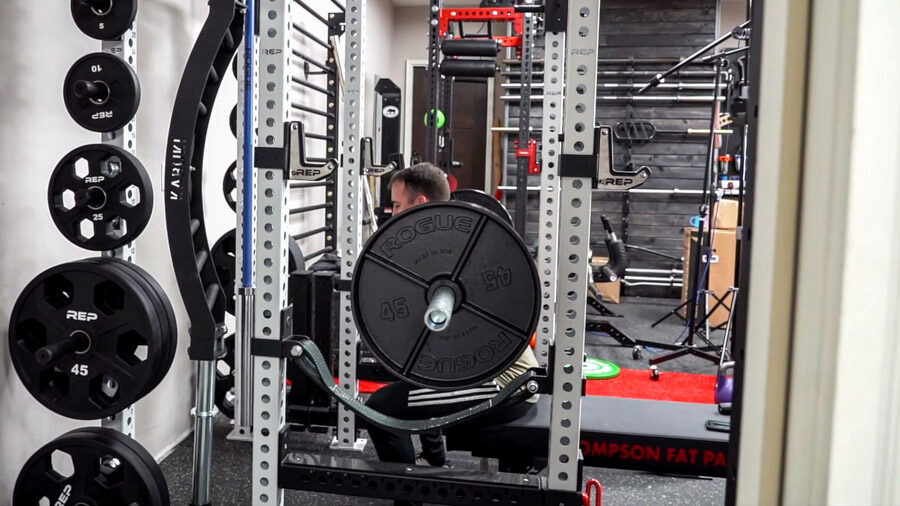 Last but not least, these Deep Dish Plates are as "Made in America" as you can get. The Rogue Deep Dish Plates and the E-Coat kettlebells are Rogues first two products from this new Foundry in Michigan. This is referenced on the packaging of these plates as you will see the familiar mitten shape of the northern state on the back of the box.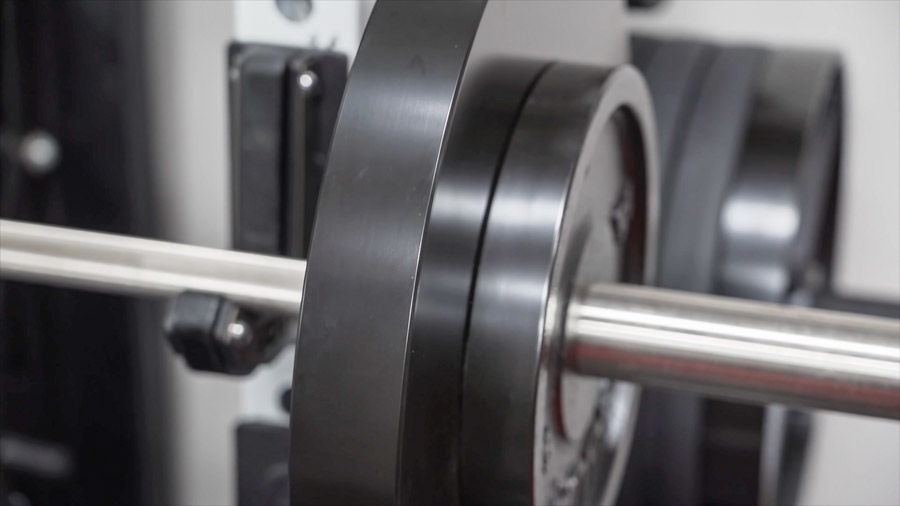 Overall, Rogue hit it out of the park on these plates. I would recommend these for literally any type of facility. Commercial, Private, semi-private, home gym you name it, these plates are a great bang for your buck, but most importantly, highly functional and great looking.
What We Don't Like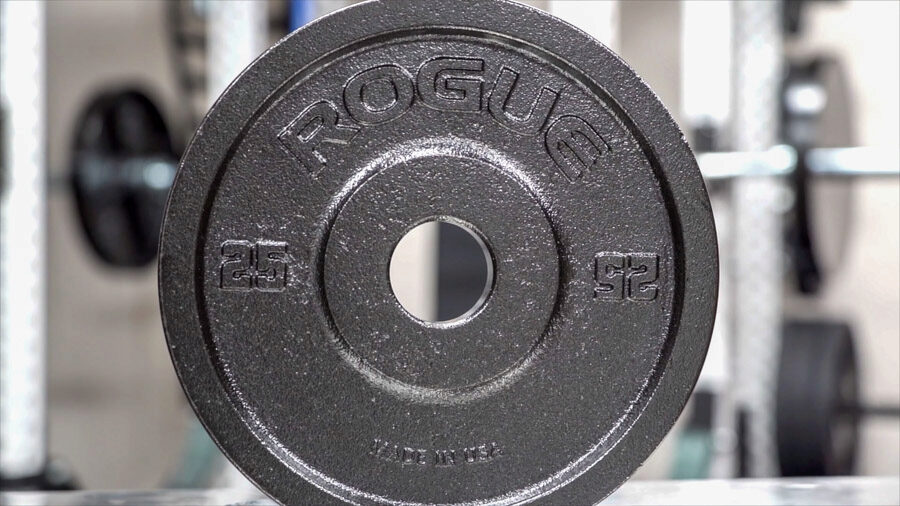 Regardless of how many likes we have, there are always flaws with products. The flaws with this product aren't life-changing but they certainly are worth noting. If you are after practicality first and foremost, these may not be the best plates for you. These plates are extremely thick, nearly half an inch wider than the other Rogue machined plates. If you are an extremely strong lifter or like to save space on weight trees and on your squat racks, these plates take up quite a bit of room. For lifters, this can cause extra whip on the bar which will completely shift feel during a heavy squat or bench. For benchers, be sure to check out the best weight benches here. For any legit powerlifters, this is not ideal to say the least. For reference, the 100lb plates are 3inches thick, nearly an inch bigger than most competitors. Besides being very hard to handle, 3 inches is a lot of space on a bar.
If you're a competitive powerlifter, we'd suggest Rogue's Calibrated Powerlifting Plates which we've reviewed here.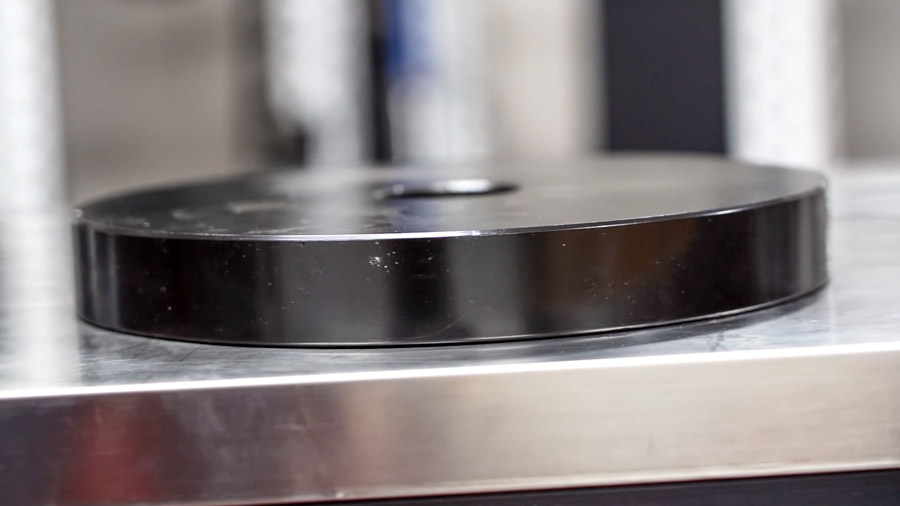 Another impractical part of these plates is that the smallest current weight increment available is 25LB. This means you cannot buy a set of these and will have to get unmatched change plates. It would be nice to see change plates in a similar style but I do not think they could offer as good a price on the smaller sized deep dish due to the cost of machining a plate. Although not currently available, I assume they'll have them available sometime in the near future.
We would suggest buying change plates from The Strength Co if you don't want to wait as they are very similar in looks and are also made in the USA.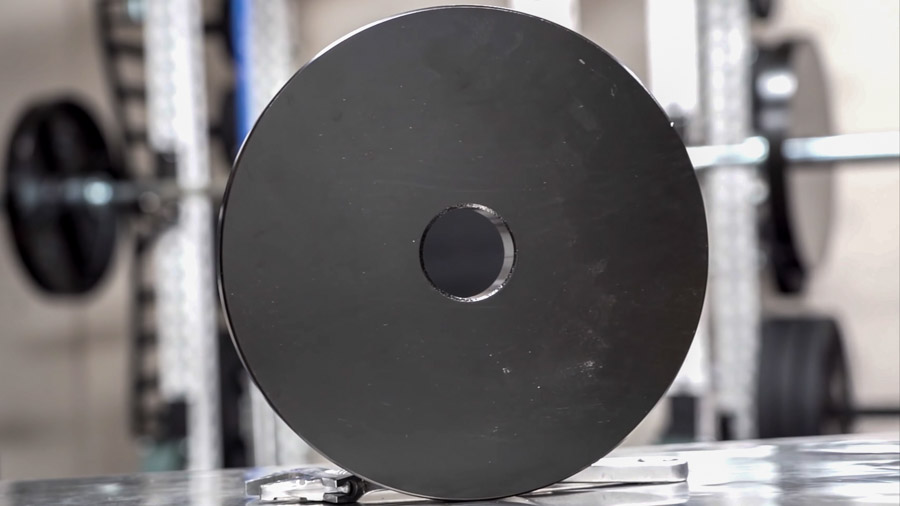 The only other issues I have with these plates are in relation to complications that are likely due to COVID-19 gym shutdowns. First, quality control. These plates are overall aesthetically perfect, however, there are quite a few dings and scratches on most plates. I got quite a few pairs so based off of my sample size, I doubt that all of the plates were flawless. This is an issue that many buyers of Rogue Equipment expect to not have to deal with. "If you pay for a new piece of equipment, you should get a new one" is a recurring comment in our Home Gym Community Facebook Group.
I wholeheartedly agree.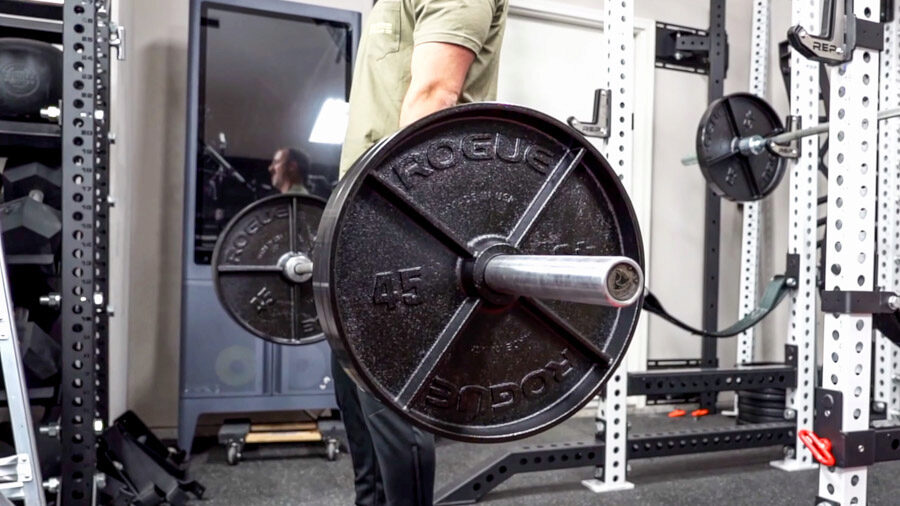 Rogue needs to make sure that their equipment is coming out as it looks in pictures. People don't pay expecting to get just an okay level of equipment. I have to say, this is most likely due to the overwhelming demand for home gyms. I think it is very clear that gym equipment demand per person has gone up and I understand that it is probably a massive struggle meeting this demand for Rogue. This can be shown in a quick peruse of Rogue's website, everything from plates to bars to power racks is currently "Notify Me" and not "Add to cart".
This gym equipment demand phenomenon is also responsible in part for the last gripe I have with these plates. Rogue is preselling these to try and meet demand. However, these plates still sell out in minutes and then Rogue takes weeks/months to ship out after they make all of the orders. This isn't ideal, but it is somewhat expected I suppose for the time period.
Rogue Deep Dish Plates vs The Competition
Deep Dish vs. 6-Shooters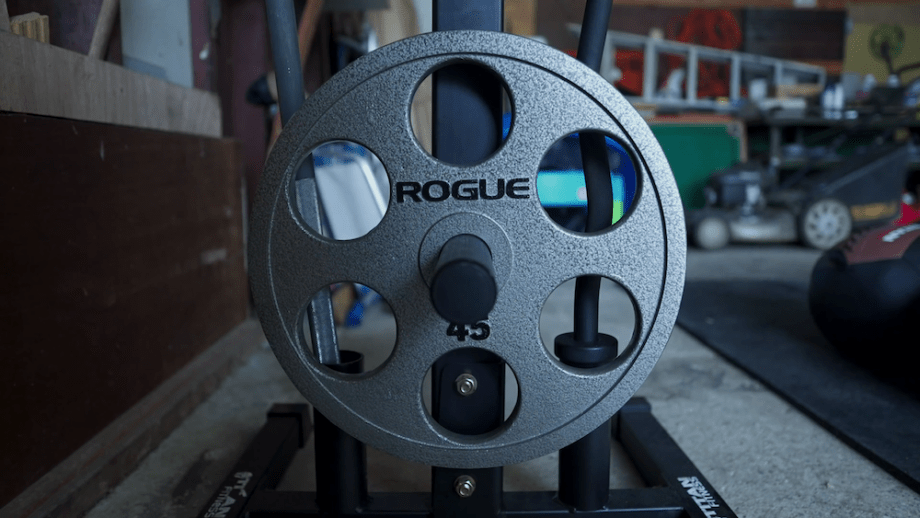 Rogue 6-Shooter Olympic Grip Plates
Our Rogue 6-Shooter Grip Plates feature a unique gray hammertone finish, black text, and six symmetrical grip holes spaced out around the circumference of each 25LB, 35LB, and 45LB plate (a Urethane Coated 6-Shooter is also available). The holes are precision-cut and in close proximity to the raised lip at the edge of each plate, offering athletes a comfortable grip and an easier way to lift, carry, or load a plate from any angle.Each 6-Shooter Olympic Grip Plate includes LB markings, exclusive Rogue branding, and a 2" diameter collar opening for compatibility on any standard Oly barbell. The smaller 6-Shooter change plates (2.5LB, 5LB, and 10LB) include a center hole only, without the additional six-hole pattern.6-Shooters are built for everyday, high-traffic use. Please note, however, that these are cast-iron, NOT bumper plates, and should not be dropped on the floor like a bumper.Specifications:Olympic Cast Iron Grip Plates Gray Hammertone Finish + Black Lettering Six grip holes for easier carrying, loading from any angle (only on 25LB, 35LB and 45LB plates) 50.6MM collar opening LB markings and Rogue branding Weight Tolerance: +/- 1% (25-45LB plates), +/- 3% (2.5-10LB plates) 5-Year Commercial Warranty against breakage (void if there is evidence of abuse or excessive dropping)Plate Diameter:45LB: 448MM 35LB: 376MM 25LB: 308MM 10LB: 228MM 5LB: 195MM 2.5LB: 162MM
Rogue Deep Dish vs. Rogue 6-Shooters
As Rogue is the only company to have really kept up with demand for metal plates at all during the length of the covid pandemic, the main competitor for these deep-dish plates would be other Rogue plates. I would consider the Rogue 6-Shooter plate to be a primary competitor to the Rogue Deep Dish line. Both are around the same price and both are very hard to get. However, for the practicality and overall use, I would recommend the 6-shooters over the Deep Dish Plates.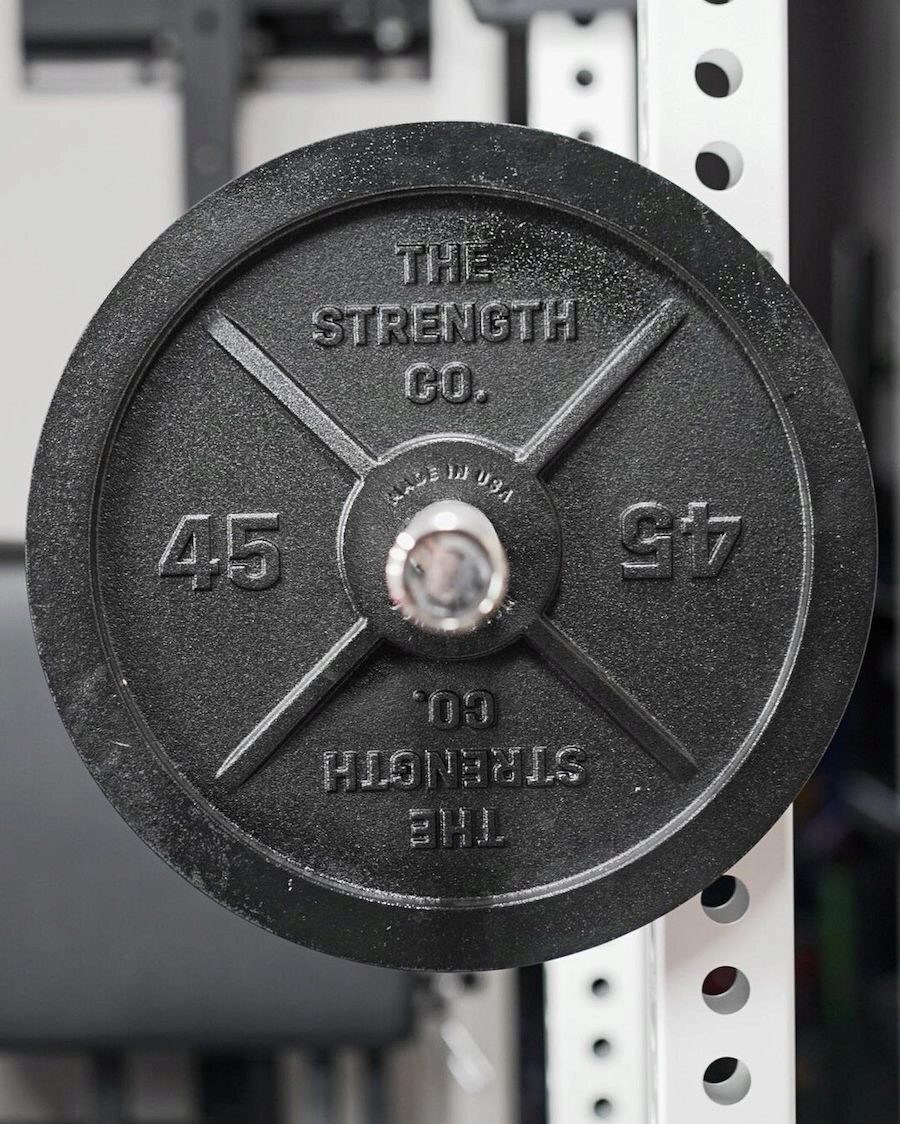 Rogue Deep Dish vs. The Strength Co Olympic Iron Barbell PlatesThe Strength Co is making excellent equipment in the USA. They haven't been around long, but our experience with their equipment, including their squat stands has been pretty positive. Their Iron Barbell Plates are more expensive than Rogue, but they are thinner and a similar level of quality, albeit with a back that isn't machined. Most people should go with Rogue's Deep Dish Plates as they're a better value. But Strength Co's offering is still excellent.
Rogue Deep Dish vs. Kabuki Strength Cast Iron PlatesRogue is again offering a better price per LB on their plates than the Kabuki Strength Cast Iron Plates. However, Kabuki is casting their plates in the Pacific Northwest (they're located in Oregon) and are making them in a carbon-neutral foundry, using an environmentally friendly coating, and pricing them still pretty affordably.We like the aesthetics of the Deep Dish Plates from Rogue, but Kabuki's are arguably a more practical plate due to how much thinner they are. However, Kabuki isn't machining the back like Rogue is, which is certainly an aesthetic difference. Honestly, you can't go wrong with either.
Full Rating
Rogue Deep Dish Plates
The Rogue Deep Dish Plates are the first made in America cast iron weight plate that Rogue Fitness has released. Harkening back to York Milled Plates, the Rogue Deep Dish Plates are accurate, priced extremely well, and look as good as they perform on a barbell for squats, deadlift, bench, and any other movement you'd like to perform. If you like the aesthetics, they're one of the best value iron plates available.
Product Brand: Rogue Fitness
Product Currency: USD
Product Price: 110
Product In-Stock: InStock
Rogue Deep Dish Plates FAQs
Are Rogue deep dish plates worth it?
Rogue Deep Dish Plates are precise, reasonably priced, and look as beautiful as they function on a barbell for squats, deadlifts, bench presses, and any other exercise. They're one of the greatest bargain iron plates available if you like the appearance.
Are Rogue cast iron plates good?
Rogue Olympic Plates feature a 50.6mm hole diameter, which easily supports Olympic-sized bars. They're not quite as tight as a 50.4mm plate, but this is a common hole size for iron plates. Durability — These are cast iron plates with excellent overall durability.
What is the purpose of a deep dish plate?
The hole opening on the Rogue Deep Dish Plates is roughly 50.4mm, resulting in a very snug and secure fit on the bar. Deep Dish – The 100LB and 45LB plates feature extremely deep flanges that not only look great but also make it much simpler to hold and handle the plates.