We test and review fitness products based on an independent, multi-point methodology. If you use our links to purchase something, we may earn a commission. Read our disclosures.
When the 2023 CrossFit Games kicked off in July, spectators noticed that a ton of athletes' feet were no longer adorned in their usual Reebok Nanos, Nike Metcons, or NOBULL Trainers. Instead, dozens of athletes took the competition floor wearing the new TYR CXT-1 Trainers.
The CXT-1 training shoes come from a brand most commonly associated with competitive swimwear—TYR outfits triathletes and Olympic swimmers in racing suits, swim caps, and goggles. But is their footwear as good as their chlorine-proof garb? In my TYR CXT-1 training shoes review, I'll let you know.
HysTYRical for TYR Gear
While "hysterical" is a bit of an exaggeration, I do love TYR. As a former semi-competitive swimmer and current recreational triathlete, I wear a lot of TYR gear. I've been wearing TYR since I was a wee one learning to swim, and I was excited to see if the CXT-1 shoes stood up to the brand's reputation of high-quality, durable, long-lasting products.
TYR CXT-1 Lifters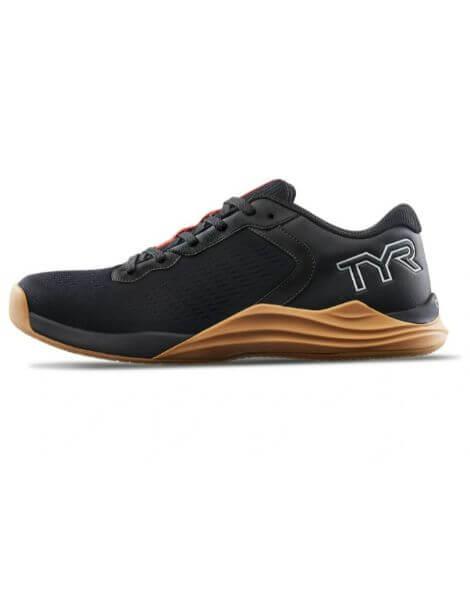 TYR CXT-1 Training Shoes
TYR made their debut into the realm of fitness in this year's 2023 NOBULL Crossfit Games. Branching out from their traditional triathlon-focused product line, TYR has created a cross-training shoe that boasts some unique and impressive specs.The TYR CXT-1 features a stability platform that is designed to offer a ton of support and contact with the ground. For additional stability, a wrap-around side gripper reaches around the heel.Thanks to the Surge NRG foam midsole, solid arch support, and the flexibility in the forefoot, the TYR CXT-1 works well with your dynamic or cardio training. Where these shoes stand out most is in their larger than typical heel-to-toe drop which measures 9 millimeters—a great feature for those who prefer a higher heel during their lifts.The CXT-1 is designed for breathability with a mesh upper construction intended to keep you cool during your next sweat sesh. While there is a toe guard, the mesh upper may not hold up against repeated rope climbs. If these shoes live up to TYR's well-respected reputation, they will be as durable as they are attractive. Towards that end, they come in a range of color options.
A Quick Look at the TYR CXT-1 Training Shoes
As I mentioned earlier, the TYR CXT-1 Trainers are a new pair of training shoes from sportswear brand TYR Sport, which previously focused heavily on swimming and triathlon garb and gear. TYR is known for its racing suits, goggles, swim accessories, and triathlon suits.
More recently, TYR began expanding its apparel line into training apparel, including shorts and shirts for running, training, and lifting weights. In mid-2022, the brand released its first pairs of training shoes and lifting shoes. The trainers are the CXT-1s and the lifters are called the TYR L-1 Lifters.
The CXT-1 training shoes look very similar (and feel very similar) to other popular training shoes on the market, such as the Nanos, Metcons, and NOBULLs. I suspect that the CXT-1s will quickly become one of the most popular CrossFit shoe options on the market—thanks to six of the brand's sponsored athletes finishing in the top 10 at the 2023 CrossFit Games.
My Tips:
Keep your eye on the website! For the last few months, these shoes have had no regular cadence of availability for purchase. At the time of publishing, the shoes are listed as sold out in every colorway, but I've seen them open for preorder a time or two in the last few months. I expect this pattern to continue until TYR can produce enough back stock to fulfill orders on an ongoing basis.
Pros
Bigger heel-to-toe drop (9 mm)
Insanely durable outsole and medial grips
Sticky on rope climbs
Breathable mesh upper
Highly reinforced toe box
Extremely stable heel clip
Can put them on and off without unlacing
Nice ankle and arch support
Great blend of responsiveness and stability in the midsole
Cons
Still on rolling preorder (hard to get)
9 mm heel-to-toe drop (can be a pro or con depending on your preferences)
Laces seem a little short
Tongue is a bit "fluffy" for my liking
Midsole may be too chunky/soft for athletes who prefer a minimalist shoe
Feels slightly heavier than other training shoes
Mesh upper could prove problematic for durability
Are the TYR Training Shoes Worth It?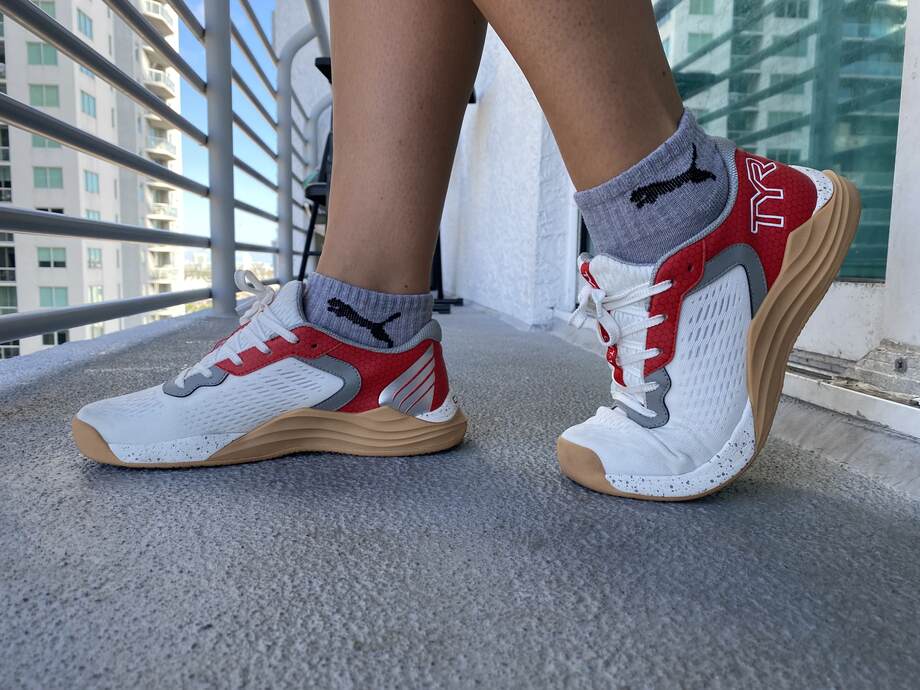 I don't often give an outright, enthusiastic "Yes!" when asked if a certain product is "worth it." As is the nature of my job, I never think it's that simple. Most products are good for only some populations, not all.
However, in the case of the TYR CXT-1 Trainers, I think yes, these shoes are—at the very least—worth a try for every CrossFit athlete. They are unlike any other CrossFit-specific shoes I've ever worn, largely due to the larger heel-to-toe drop and responsive-yet-stable midsole.
That said, there are some people who I expect will definitely like these and some who may prefer to stick to what they're used to.
Great for:
Athletes who need assistance with proper squat mechanics and receiving positions under the barbell
People who want more responsiveness during plyometric movements
CrossFitters who need more arch support than is given in other CrossFit shoes
Not recommended for:
Athletes who prefer a more minimalist shoe (particularly a smaller heel drop)
People who prioritize lightweightness over stability
Anyone who wants something more like a running shoe or weightlifting shoe
TYR CXT-1 Specs
| | |
| --- | --- |
| Price | $140 |
| Heel-to-Toe Drop | 9 mm |
| Colorways | Black/camo, black/gum, red/white/gum, black/gold, white/gum |
| Upper | Mesh |
| Midsole | Surge NRG foam |
| Tread | Rubber hex tread |
| Shoe weight | Not specified |
Wearing the TYR CXT-1 Trainers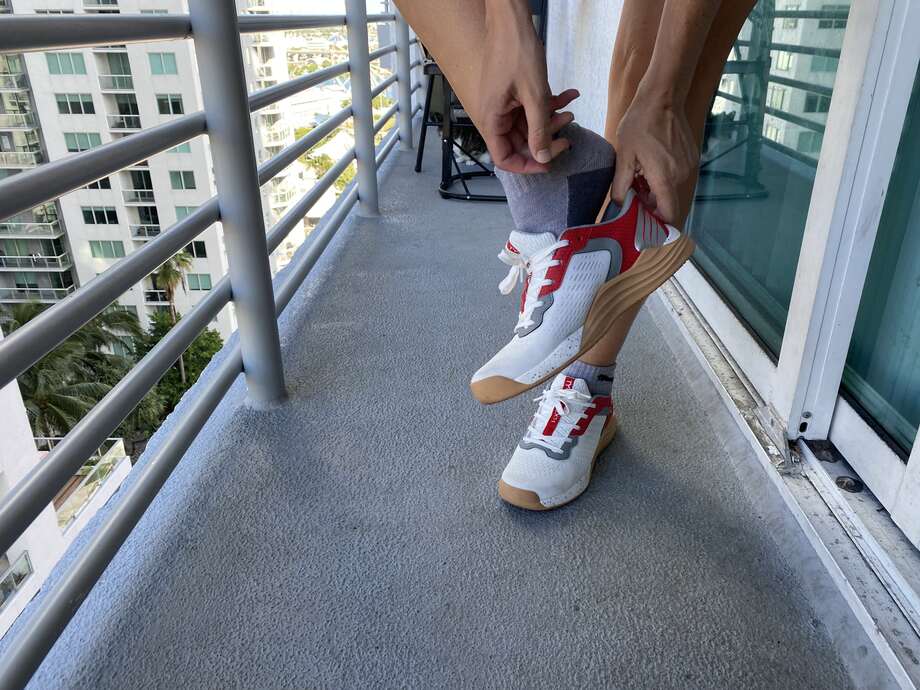 Here's a detailed glimpse at what it was like to wear the TYR CXT-1 Trainers during CrossFit workouts, cardio workouts, and lifting workouts.
Wearing the TYR CXT-1 Training Shoes for CrossFit Workouts
I have worn the TYR trainers for three CrossFit workouts per week for a month now—so 12 workouts. In that time, I have worn the new sneakers for a variety of training session types, including weightlifting, WODs, HIIT, and endurance workouts.
The TYR trainers have taken me through sprints, burpees, box jumps, squats, deadlifts, rope climbs, handstand push-ups, lunges, and much more.
Are these the best CrossFit shoes? Only time will tell for sure, but I must say I'm incredibly impressed with the versatility of these cross-training shoes. I very much appreciate the breathability in the upper for longer workouts, as well as the flexibility in the forefoot for more dynamic WODs.
Wearing the TYR CXT-1 Training Shoes for Lifting Weights
I wore the CXT-1 trainers for several lifting workouts with straight sets, supersets, and lightweight circuits. These were perfectly snug in the midfoot for heavy lifting; I felt like they were giving my arches a hug.
Plus, again, the extra lift in the heel makes receiving the barbell feel as smooth as butter.
My one callout is that they're a little heavy for high-volume barbell cycling, but anyone who is used to traditional weightlifting shoes probably won't even notice.
Wearing the TYR CXT-1 Shoes for Cardio
Thanks to the responsive midsole cushioning, contoured insole, and high heel-to-toe drop of 9 millimeters, the TRY CXT-1 is more similar to a running shoe than any other CrossFit-specific shoe. The mesh upper also makes them more comfortable for extended-duration cardio training; plus, the ultra-reinforced toe guard is there to protect should you scuff your shoe on a run.
I wore these for a couple of mid-distance runs, and while I wouldn't choose them over my Brooks (or any running-specific shoe for that matter), but I would choose them for WODs with a lot of running over another CrossFit shoe.
TYR Training Shoes Construction and Materials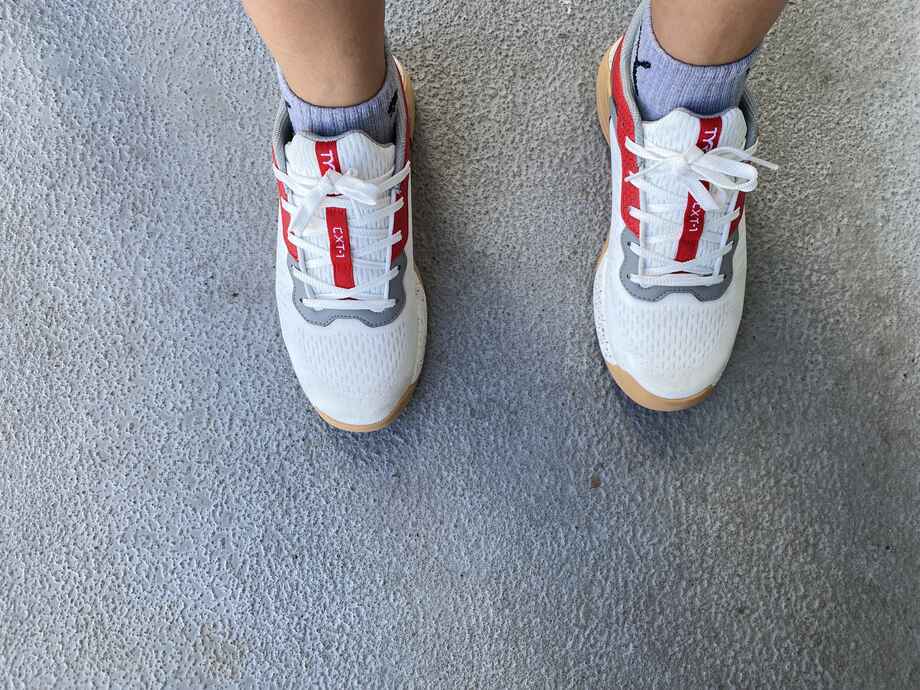 The most important quality in a CrossFit shoe is durability. Here's a detailed look at the various components of the TYR CXT-1 training shoes, from upper to heel clip.
Upper
The upper of the toe box is a breathable mesh. This is great for extended-duration training—but not so much for long-term durability. I can see this mesh upper being problematic in the long-term for athletes who do a lot of rope climbs and outdoor runs. So far, the upper has held up just fine for me, but I think it's right to call out that the toe box area doesn't seem quite as durable as other CrossFit shoes.
Midsole and Outsole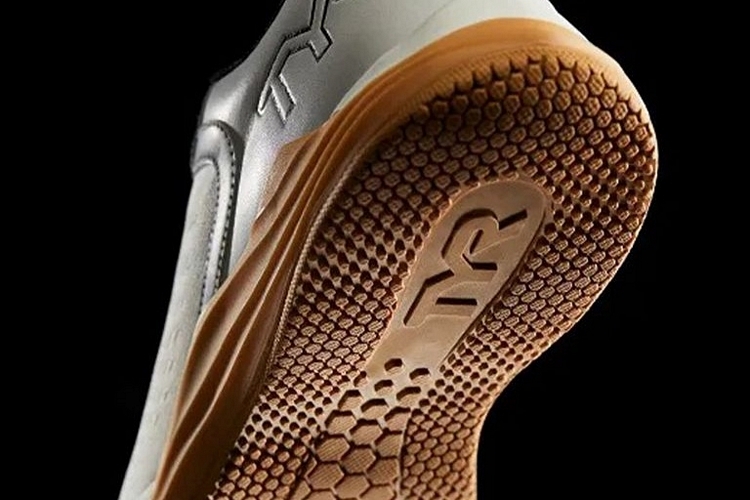 The midsole on the TYR CXT-1 is different from the midsole on all other CrossFit-specific shoes I've tried. For starters, there's a 9-millimeter heel-to-toe drop, which is the largest drop among CrossFit shoes that I know of. For context, the Nike Metcon 8 trainers feature a drop of just 4 millimeters, while the Reebok Nano X2s have a drop of 7 millimeters.
A 9-millimeter heel drop is pretty significant in a training shoe. I personally love it, as I have freakishly long femurs and need all the help I can get when it comes to squat form and squatting to depth. I also feel more stable in the receiving position under the barbell during cleans, jerks, and snatches.
However, athletes who prefer a more minimal shoe—or can already squat to depth with no pinching, forcing, or hunching—may find the 9-millimeter drop to be excessive. Such athletes may feel like they are being pitched forward in the squat.
The shoe features a Surge NRG foam midsole, which is a TYR's version of EVA foam. It's responsive, like other shoes with EVA, but the wider outsole and wraparound medial support means the shoes are also super stable. It's hard to come by both of these characteristics in one shoe!
Heel
The TYR CXT-1 Trainers feature an extended crash pad, which apparently is a "patent-pending stability platform" design. The outsole extends past the heel cup, which means that when you jump, lunge, or side-step, there's more room for error in your landing.
The heel cup itself is fine; I didn't have any issues with rubbing, chafing, or blistering. I want to also call out the heel tab, which is designed specifically for smooth gliding during handstand push-ups. If your heel has ever gotten stuck or caught on the wall while doing a handstand push-up, you know how important this is.
Toe Box
One of the main selling points of this shoe model is that it's designed with a more anatomical toe box to allow for more splay among the toes. Usually, this means the toe box is wider and flatter. While the toe box does feel flat and stable yet flexible, I did not feel that the toe box is anatomically wide in these shoes. They aren't narrow, but they aren't Altras, either. I would say these feel average in regard to toe box width.
TYR CXT-1 Colorways and Design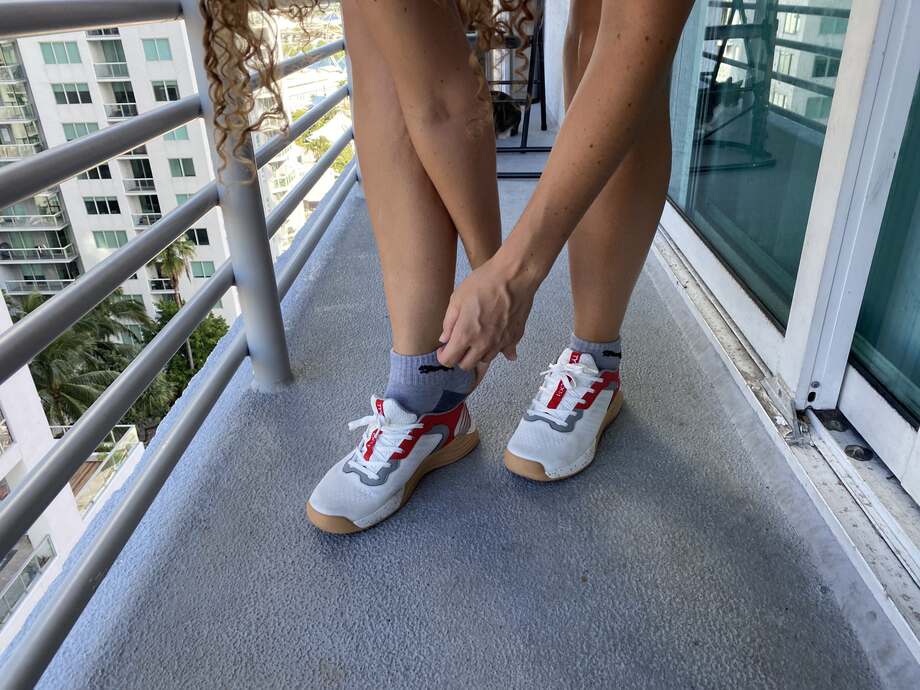 At the time of writing, the TYR CXT-1 training shoes are available in five colorways:
Black/camo
Black/gum
Red/white/gum
Black/gold
White/gum
Colors aside, these things look sick! The outer wraparound grip features a wave pattern that looks sleek, modern, and athletic. The extended crash pad and heel tab not only provide extra stability and smooth gliding on the wall during handstand push-ups, but they add to the slick geometry of the shoe.
TYR CXT-1 vs. Reebok Nanos
Reebok Nano X2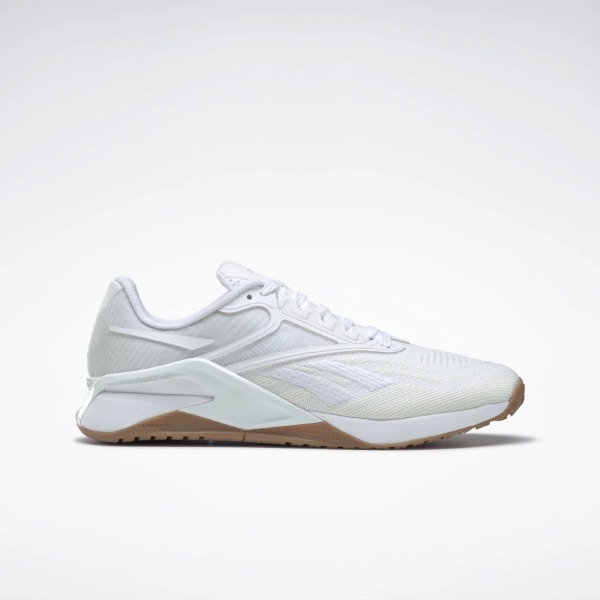 Reebok Nano X2 Women's Training Shoe
We were thrilled to see Reebok announce its latest update to the Nano line in April 2023. We named the Nano X1 as our favorite cross-training shoe last year, and we are pleasantly surprised to see a number of updates on this newest version:The improvements you'll see with the X2 include:A more breathable upper A more durable upper A lower heel clip, which is intended to provide more stability Added cushioning in the midsole A lower cut heel to prevent the rubbing that the X1 causedThere are still classic Nano attributes: For example, this remains a great shoe for cross-training, CrossFit, and many other types of exercise. The toe box is wide, giving your toes plenty of wiggle room, and the heel is still supportive enough to assist with heavier barbell movements. The X2 has a 7-millimeter heel-to-toe drop. The women's training shoe, as of this writing, comes in four colorways.
Is it really a CrossFit shoe review without comparing said shoe to the Reebok Nanos? Nope. So here's my take: Bluntly, I like the TYR shoes better.
The CXT-1s and Nanos are similar in a lot of ways, but I feel that the TYR shoes are more versatile overall, and I like the larger heel drop and ultra-stable crash pad.
The Nano X2s are lighter in weight than the TYR shoes. This makes sense considering there is less midsole material and the Nano's don't have some of the CXT-1's bulkier features, such as the wraparound grip and extended stability platform at the heel.
Read our full Reebok Nano X2 review.
TYR CXT-1 vs. NOBULL Trainers
NOBULL Trainers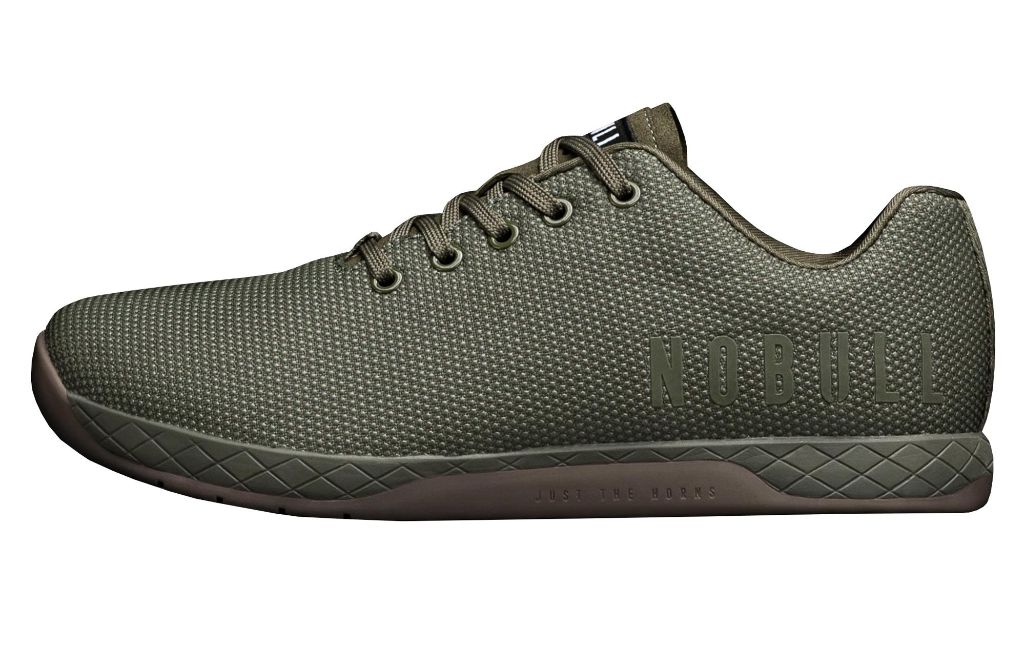 NOBULL Trainer
NOBULL is a footwear, apparel and accessory brand for people who train hard and don't believe in excuses. If you think gimmicks in your shoes make you a better athlete, NOBULL is not for you. NOBULL products perform with you when and where you need them. That's it.
NOBULL Trainers were my personal favorite CrossFit shoes before testing the TYR trainers—and they still are. (Nope, no plot twist today.)
The two main reasons I prefer the NOBULLs is that they have a slightly wider toe box and the upper (on the SuperFabric models) is much, much more durable than any mesh could ever be.
I also prefer the monochromatic aesthetic of solid-color NOBULLs; I've always found most CrossFit shoes to be a bit busy for my personal taste.
Read our full NOBULL training shoes review.
TYR CXT-1 vs Other CrossFit Shoes
On social media, I've seen a lot of people stack the CXT-1 up against other lesser-known (read: not Nanos, Metcons, or NOBULLs) CrossFit trainers, including the also new RAD One shoe from R.A.D. (Rally Against Destruction), the HAZE Trainers from Strike MVMNT, and the longtime favorite of many, the Inov-8 F-Lite. I have not personally tested any of these three shoes, but I can tell you that the Inov-8 F-Lite G300 made our list of the best CrossFit shoes.
Ordering the TYR CXT-1 Training Shoes
The TYR CXT-1 training shoes are currently sold out, but I imagine the ordering process is just like ordering any other item on the TYR Sport website: Add to cart and hand over your payment info.
The checkout process on TYR is easy, and you can check out with PayPal or a credit card which, admittedly, is lacking in comparison to other brands' checkout options these days.
Customer Experience
While I can't speak for the shoe experience specifically (because TYR sent us these shoes for review), I can speak to my past experience as a TYR customer of swimwear and triathlon gear. I've never had a bad experience with TYR.
Their customer support is prompt and accommodating: Once, a package of mine got lost and TYR support helped me sort it all out with the delivery service.
As for warranty, returns, and exchanges, TYR's company policies are pretty standard: You can get a full refund if you return products within 30 days of receipt. All TYR products, excluding customized products, are eligible for 30-day returns and exchanges.
Customer Reviews
There are no customer reviews of the TYR training shoes on the TYR website to my knowledge. I'm fairly certain that not much of the public has a pair of these shoes yet, so that's probably why. As TYR increases stock and can fulfill orders, I expect to see more reviews pop up online.
I did read a few other in-depth TYR training shoes reviews by people who were lucky enough to score some for review purposes (like me, heh). All in all, the feedback has been extremely positive. Reviewers are impressed with the brand's initial footwear line and are excited to hopefully see the brand release more footwear and continual iterations of the CXT-1s.
Final Verdict of Our TYR CXT-1 Training Shoes Review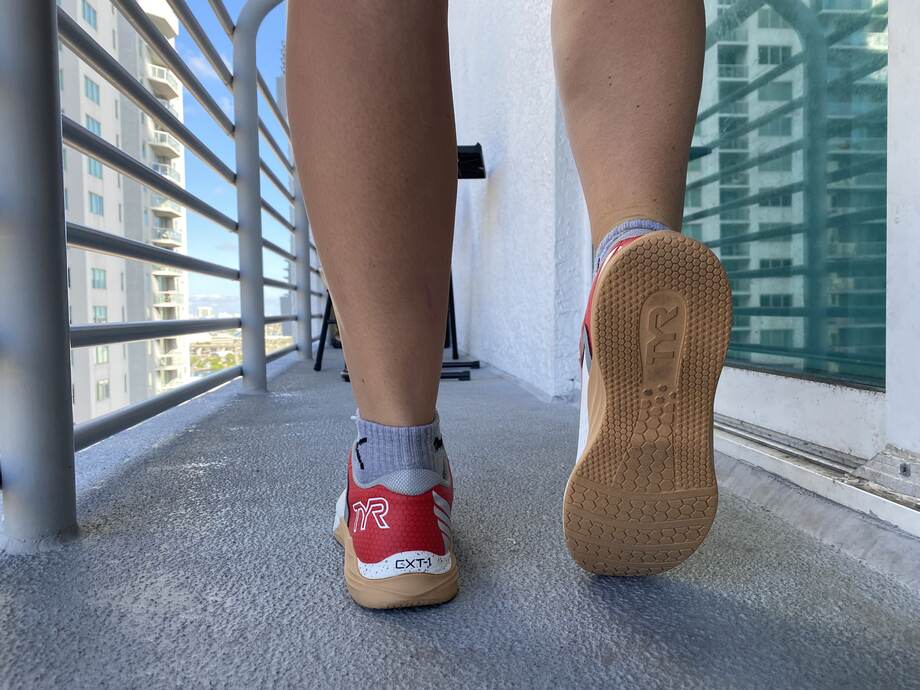 I am fully pleased with the TYR CXT-1s. For a first-generation shoe—and the brand's initial foray into training footwear—these have far surpassed my expectations. I would recommend them to just about anyone (as soon as they're available on a regular basis).
At the time of writing, the TYR CXT-1 shoes are only available on rolling preorder. If you go to the website, all of the shoes are currently listed as out of stock. I've seen TYR open preorders online at no regular interval.
The CXT-1s have a higher heel-to-toe drop than a lot of training shoes, which helps with squat mechanics and receiving positions under a barbell.
The upper is mesh, which is nice for breathability, but could pose long-term durability concerns, especially when rope climbs are involved.
TYR CXT-1 Training Shoes Rating
TYR CXT-1 Training Shoes
A breakout shoe at the 2023 CrossFit Games, the TYR CXT-1 Trainers have a larger 9-millimeter heel-to-toe drop and super durable outsole and medial grips.
Product Currency: USD
Product Price: 140
Product In-Stock: InStock
TYR Training Shoes Shoes FAQs
What shoes did athletes wear at the 2023 CrossFit Games? 
Athletes at the 2023 CrossFit Games wore many different shoes, including the usual suspects: Reebok Nanos, Nike Metcons, and NOBULL Trainers. However, several athletes were spotted wearing TYR CXT-1 Trainers, a new CrossFit shoe from a previously swim-focused brand.
What does TYR stand for? 
TYR is not an acronym; rather, the brand is named after Tyr, the Norse god of war, justice, valor, and sacrifice. The brand adopted this name based on its values of commitment and discipline.
Does TYR make shoes? 
Yes, TYR makes CrossFit shoes and weightlifting shoes.