We test and review fitness products based on an independent, multi-point methodology. If you use our links to purchase something, we may earn a commission. Read our disclosures.
When starting your own home gym, a power rack is a great place to start. Being a centerpoint for most home and garage gyms, you can build attachments off of a power rack, until you have fully assembled every want and need for your own space. However, starting a home gym can be expensive, so it might be better to go with a more affordable rack: that's where the REP Fitness PR-1100 power rack comes in.
In our REP PR-1100 review, I'll discuss our use of the power rack, mainly through GGR founder Coop's testing of the product, as well as the positives and negatives of this power rack that can bring great value to your home gym.
The Power of Testing Racks
Garage Gym Reviews founder and squat rack aficionado Coop was able to test out the PR-1100 extensively at GGR headquarters, noting aspects such as its stability, durability, and construction. He and the rest of the team have tested dozens of different racks over the years, so we understand what to look for in a good squat rack.
Our writers and testers have a pretty diverse background in fitness, ranging from certified personal trainers to competitive athletes, with CrossFit L-1 trainers and coaches in between. We are passionate about the fitness world, and are driven to bring you the best information through thorough research and product testing, to help you make smart decisions in building out your garage gym.
REP Fitness PR-1100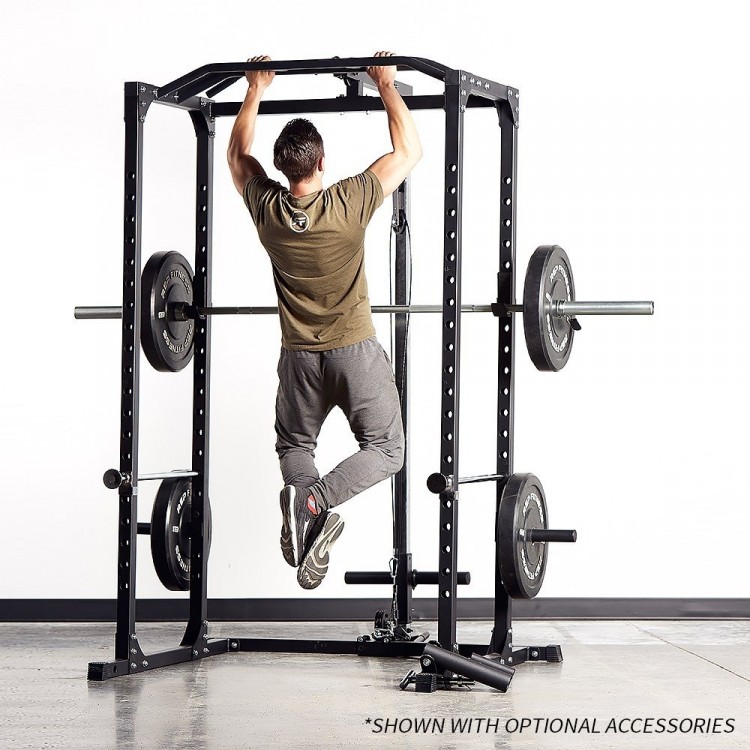 GGR Score: 4.5
Community Score: 4.4
Product Highlights
Rated at 700 lbs

Designed for home and garage gym owners 

Has professional features 

Compact and versatile 

Multi-grip pull-up arch
Pros & Cons
Pros
Good balance between value and versatility
Shown to exceed durability and weight capacity expectations
Budget-friendly
Has different color options
Multi-grip pull-up bar
Flat-footed rack base
Laser-cut numbers every five holes on uprights
Plastic-lined J-cups
Included chrome-plated safeties
Ability to add attachments
Cons
Competitors at this price range or less
Assembly can take some time as it is largely bolted together
14-gauge steel
700-lb weight capacity
Bottom Line
The REP Fitness PR-1100 is, in our opinion, one of the best value squat racks on the market for those just starting a home gym or squat/bench less than 700 LB. In our review, we've found that this is a stable power rack with many features taken from racks twice its price. This includes upright color options, a multi-grip pull-up bar, UHMW j-cups, and numbered uprights. If you're trying to build a budget home gym, this is an excellent option, just be aware that you may want to upgrade in the future.
A Quick Look at the REP PR-1100
REP Fitness is a fast-growing company in the fitness equipment industry. Starting in 2012 in Colorado, the company is now well-known and spans across multiple countries. There are three core points in REP's mission: innovation, customer service, and value.
The REP Fitness PR-1100 Power Rack leans heavily into the value category, providing an affordable power rack with a good amount of add-ons and attachments available. It's a great option for any beginners looking to start their own home gym, and will satisfy most people's needs. However, if you are looking for a heavier, more stable rack that can accommodate over 1,000 pounds of weight easily, this is probably not the right rack for you.
Before You Buy
The PR-1100 power rack does not bolt down and is not as structurally stable as heavier power racks. For this reason, REP Fitness recommends not using this rack for dynamic bodyweight movements like kipping pull-ups or muscle-ups. If you want a rack capable of supporting those movements, look into a heavier one, like the REP PR-4000 or 5000 for example.
Due to its price, this can be a great starting squat rack for home gym users. Also, the PR-1100 has an abundance of optional attachments and add-ons—including a lat pull-down, weight horns, dip bars, and a low row attachment—which is rare for a budget-priced power rack.
Although made with a 14-gauge steel, thinner than most heavy-duty racks, this power rack can hold some weight, having a weight capacity of 700 pounds. This lifting capacity should cover most garage gym owners, but any stronger powerlifters looking to squat or pull from the rack might consider a heavier, stronger squat rack.
Is the REP PR-1100 Worth It?
Long story short: it depends. The REP PR-1100 is one of the less expensive options on the market, but it also is lighter and therefore less stable than more heavy-duty racks. While the weight capacity will suffice for the majority of users, if you need a rack that can support a ton of barbells and weight plates, then you may want to consider other power racks with a stronger gauge steel.
Coop says on the value of the REP PR-1100, "It will be more than enough for most people. It's not the same level of quality or durability as their higher-end racks, but it's much cheaper and is a tremendous starter rack. I also like that they add colors."
Great for:
People looking for a budget-friendly squat rack with a good selection of attachments
Those wanting a starter power rack for their home gym
Anyone who is not looking to squat the world
Not recommended for:
Powerlifters who are looking to squat the world
Anyone wanting a rack to do muscle-ups or kipping pull-ups
Those not interested in color options in their squat racks
REP PR-1100 Specs
| | |
| --- | --- |
| Price | $379 |
| Rack depth | 48.5" (24" between uprights) |
| Rack height | 85" |
| Rack width | 58.1" (44" between uprights) |
| Rack weight | 130 lbs |
| Material | 2×2" 14-gauge steel |
| Weight capacity | 700 lbs |
| Hole spacing | 3" |
| Hole size | 1" |
| Color options | Black, red, blue, metallic black |
| Pull-up bar | Multi-grip |
| Warranty | Lifetime warranty on frame |
Using the REP PR-1100
In Coop's testing of the PR-1100, the main point of concern is its stability. REP Fitness built the power rack with the intention of providing value—decent quality at a reasonable price—but it will not be as stable as a higher-quality rack, like the REP PR-4000 or Rogue's RML-3. With the weight capacity at 700 pounds, though, it should be able to support weights and barbells for most lifters.
The multi-grip pull-up bar is great for a variety of different pull-up variations. Still, because the rack is constructed of a thinner gauge steel, and because it can't be bolted down, you shouldn't use the pull-up bar for dynamic movements, like muscle-ups. The rack is sturdy enough for strict pull-ups, however.
Footprint
The PR-1100 is not the largest power rack, although it has a pretty substantial base to counteract any wobble or stability issue. The base is 48.5 inches long by 58.1 inches wide, although the rack space between the uprights is only 24 inches by 44 inches..
With that said, the rack can be a space-saver still. With an abundance of attachments, the squat rack can consolidate multiple workout stations in one area, making it a one-stop home gym for a variety of exercises and movements. The weight storage horns stay on the rack's sides, and the lat pull-down attachment fits on the back of the power rack, keeping the footprint small as well.
The rack is 85 inches tall, with the pull-up bar extending a couple inches above the top of the uprights. If the height is of concern, the pull-up bar is adjustable; it can be inverted when attached to be a couple inches underneath the top of the rack.
Construction & Durability
If I haven't said it enough already, the REP PR-1100 is made with a thinner gauge steel (14-gauge) than heavy-duty, high-quality racks (11-gauge). This means that the power rack will be lighter and less stable than a heavier, stronger rack. However, as Coop says, "for 99% of people, it will do the job just fine." While it may not be the sturdiest rack out there, it will be sturdy enough for most people and what they would need a squat rack for.
REP takes measures in combating the possible weakness. The PR-1100 has corner plates on the tops of the uprights to help with instability, and the base is also made larger than the uprights to help prevent the rack from wobbling too much.
The rack has one-inch holes for attachments such as j-cups and dip handles; they are spaced every three inches. This won't allow you to adjust the height for a bench press as accurately as westside spacing, and you won't be able to adjust your attachments as much. However, you should be able to place any add-ons about where you want them. For convenience, there are numbered uprights; every five holes have laser-cut numbers to easily adjust your j-cups or safety bars evenly. The rack width is made to fit any Olympic barbell.
Versatility
The REP PR-1100 is not too flashy at first glance, but it does pack some good value. First off, there are some customization options in the color of the power rack, such as metallic or matte black, red, and blue. These colors can match any REP weight bench or other equipment you may have.
What lends itself to good versatility is the number of attachments available to the REP PR-1100. It comes with extended chrome-plated safety bars, which allow for a barbell to be placed on the outside of the rack, although a standard j-cup's plastic lining will be gentler on the bar.
It accepts rack attachments from REP's 1000 series, which includes a cable attachment and pulley system for lat pull-down and low rows, a landmine attachment, weight horns for plate storage, a dip attachment, and different safety attachments, including safety straps. Because of its versatility, this piece of gym equipment is great as a home gym power rack, especially if you are new to home gyms.
Comparison to Fitness Reality 810XLT and Titan T-2 Series
The REP Fitness PR-1100 brings a lot of value to the table, but how does it compare with other competitors? Let's compare it to two other budget power racks—the Fitness Reality 810XLT Power Cage and the T-2 Series Rack from Titan Fitness.
All three racks use a thinner gauge steel than heavy-duty 11-gauge steel racks, which is one reason these power racks are able to keep a lower price point. This is a trade-off, as these power racks are more affordable, but also cannot hold as much weight. One noticeable difference between these three racks is that the Titan rack has 12-gauge steel, a thicker and stronger steel than the REP PR-1100, which gives it a higher weight capacity at a still affordable price range.
The Fitness Reality 810XLT does not have the color options that REP Fitness offers, but also comes in at a lower price. This rack also has the option for a cable attachment for lat pull-downs, which makes it a solid option, too. Unless REP's colors are more appealing to you, the Fitness Reality power rack can save you a bit more money.
Ultimately, REP Fitness still provides value, but if color options are not necessary, there are some cheaper budget options available. Additionally, there are some stronger options available, too, without increasing the price too much.
| | | | |
| --- | --- | --- | --- |
| | REP Fitness PR-1100 | Fitness Reality 810XLT | Titan Fitness T-2 Series |
| Price | $379 | $299 | $399 or $419 |
| Rack depth | 48.5" | 50" | 30" |
| Rack height | 85" | 83" | 71" or 83" |
| Rack width | 58.1" | 46" | 46" |
| Rack weight | 130 lbs | 133 lbs | 130 or 140 lbs |
| Material | 2×2" 14-gauge steel | 2×2" square steel tubing | 2×2" 12-gauge steel |
| Weight capacity | 700 lbs | 800 lbs | 850 lbs |
| Hole spacing | 3" | Not disclosed | 2" |
| Hole size | 1" | 1" | 1" |
| Color options | Black, red, blue, metallic black | Silver | Black |
| Pull-up bar | Multi-grip | Multi-grip | 1.25" straight bar |
| Warranty | Lifetime | 5 years | 1 year |
Fitness Reality 810XLT Power Cage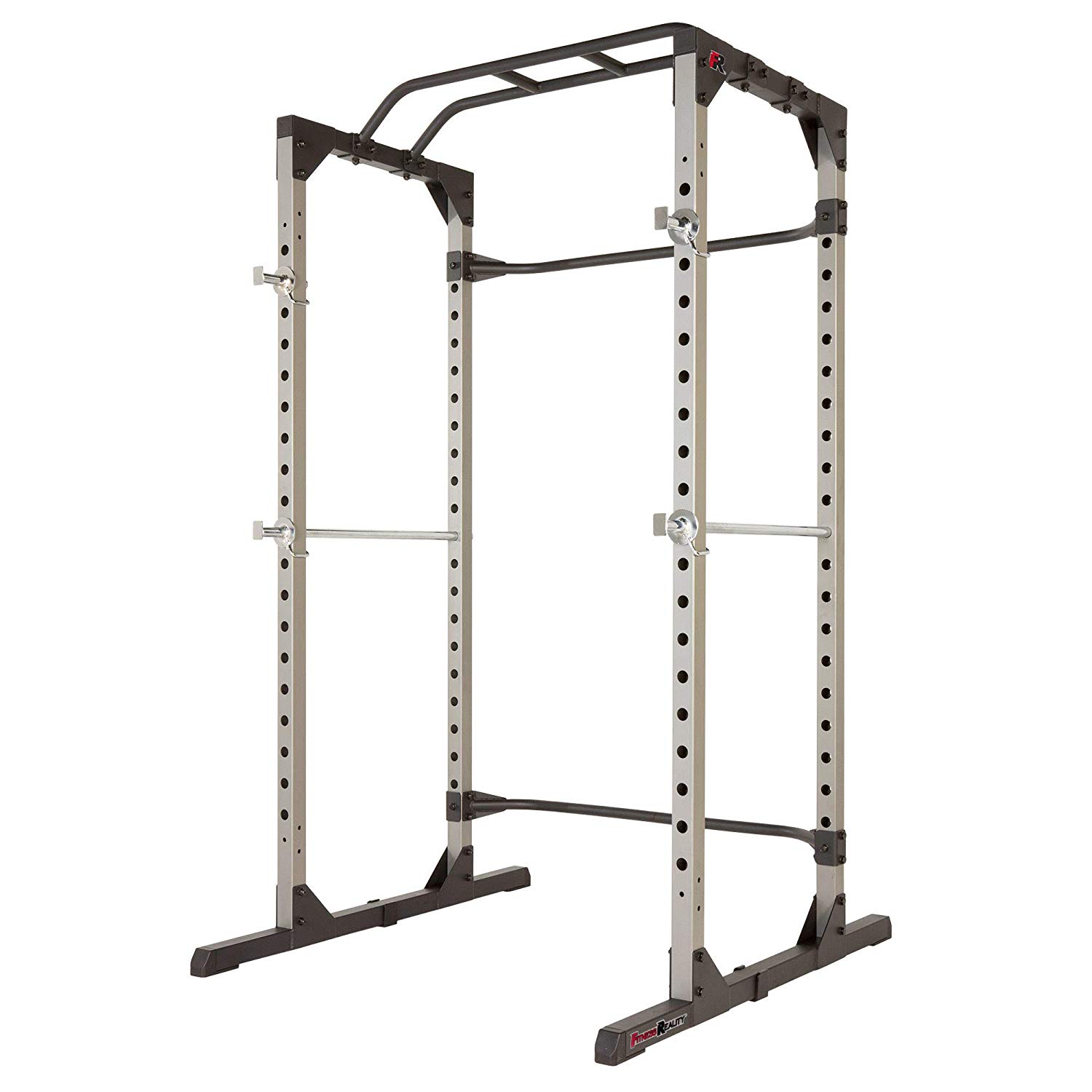 GGR Score: 4
Community Score: 4
Product Highlights
800 lbs weight capacity
2" x 2" 14-gauge steel frame
Comes with chrome plated safety hooks and bars
2" hole spacing
Multi-grip pull-up bar
Optional attachments for J-hooks, dip bars, weight plate holders, landmine, and cable attachments
Pros & Cons
Pros
Budget-friendly
Multi-grip pull-up bar
Comes with safety bars
Cons
14-gauge steel not the strongest
Chrome safety bars and hooks can be damaging to barbells
Bottom Line
The Fitness Reality 810XLT is a power rack with good value. Although not the sturdiest power cage on the market, it has a weight capacity and build that will satisfy the overwhelming majority of home gym owners.
Titan T-2 Series Power Rack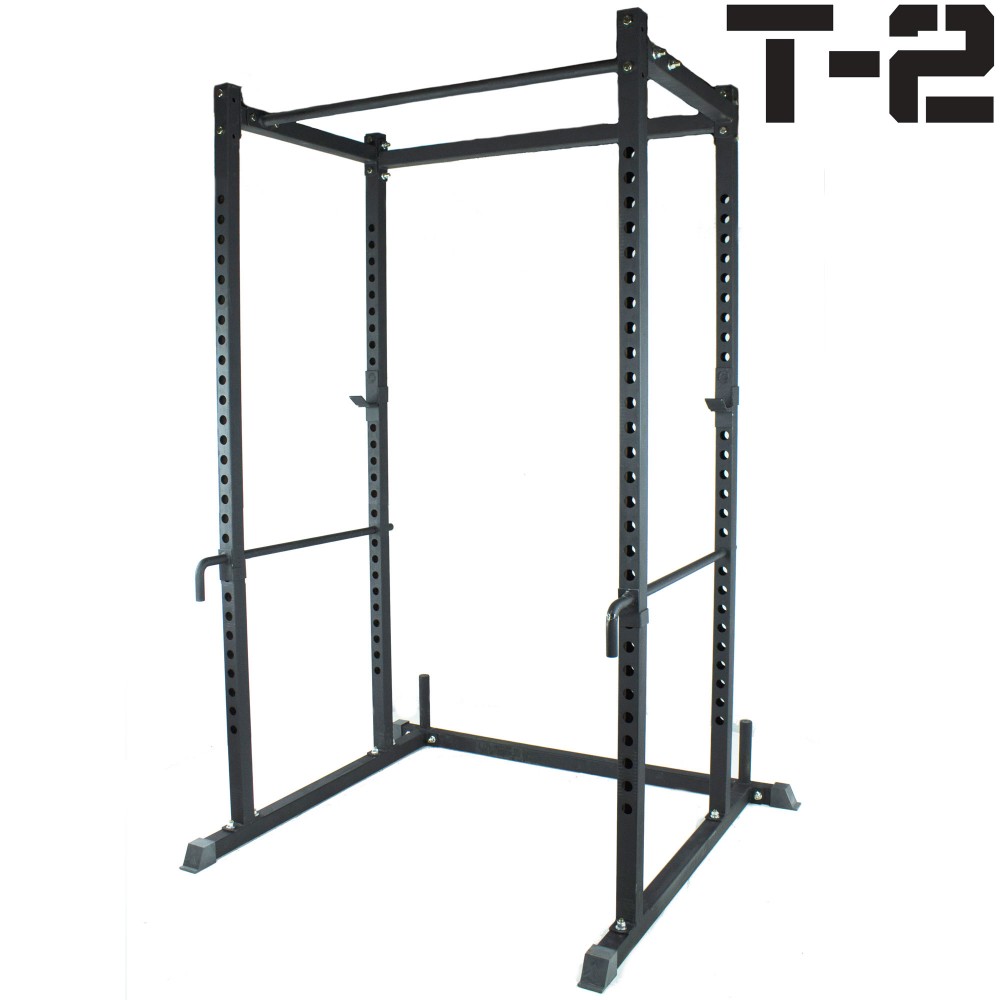 GGR Score: 4.38
Community Score: 3.4
Product Highlights
Affordable price
Walk-in design
Comes in either 71- or 83-inch height
Free shipping
2,200-lb capacity
Pros & Cons
Pros
Costs around $400
Comes in either 71- or 83-inch height
Free shipping
2,200-lb capacity
Comes with safeties and a pull-up bar
Weighs just 130 lbs
Cons
2x2" uprights wo't be compatible with all attachments
Should be bolted or weighted for maximum safety
Assembly required
Bottom Line
This is a true power rack that comes with pin/pipe safeties, weight horns and J-cups, all for around $400.
Customer Experience
REP Fitness offers a lifetime warranty on rack frames for the original purchaser. It's extended for the lifetime of the rack, meaning until the product becomes unusable from normal wear and tear.
Orders can be canceled prior to the order being processed. Additionally, there is a 30-day return policy on products received. REP Fitness will take in used products not in their original packaging for a 15% restocking fee. To initiate the return process, the customer must contact REP Fitness. They can be contacted through email and phone, listed on their website.
Ordering and Assembling the REP PR-1100
In our experience, the ordering process was pretty straightforward and simple. The PR-1100 can be ordered directly off of REP Fitness's website, and this power rack has free shipping, too—always a plus for a 130-pound piece of equipment.
Assembling the power rack is relatively easy as well. The rack comes in two boxes and is assembled through hardware. Because of it being a lighter rack, most pieces can easily be bolted together by yourself.
One recommendation from GGR Operations Manager Sam Presley, though, is to wait until the entire power rack is assembled, before fully tightening down the bolts. This allows the rack to settle to the floor first and help prevent it from excessively wobbling back and forth.
Customer Reviews
As of this writing, there are 156 reviews on REP Fitness's website and another 138 on Amazon, with average ratings of 4.9 and 4.6 stars out of 5, respectively.
Most of the positive reviews talk about the value of the PR-1100, noting that the rack is one of the best budget options available. Some of the common complaints included the lack of westside spacing, saying it made adjusting the safety bars while benching difficult. Another concern was it being a smaller rack.


Final Verdict of Our REP PR-1100 Review
The REP PR-1100 is a solid choice in power racks. This is not the strongest or the best power rack, but it does have some of the best value on the market. It is a great budget rack with a myriad of attachments, which is uncommon in budget power racks. There are some similar, less expensive racks, but with the versatility and color options available, the REP PR-1100 can be a fantastic option to start your home gym with.
REP PR-1100 Rating
REP PR-1100
Looking for a squat rack to begin your garage gym? Let's take a look at one of the best value options on the market in our REP PR-1100 review.
Product Currency: USD
Product Price: 379
Product In-Stock: InStock
REP PR-1100 FAQs
How much weight can the REP PR-1100 hold?
The REP Fitness PR-1100 Power Rack has a maximum weight capacity of 700 pounds.
Does the REP PR-1100 need to be bolted down?
The REP PR-1100 power rack does not have bolting options, so it cannot be bolted down. The 14-gauge steel should be suitable for lifting up to 700 pounds, and for bodyweight movements that do not require too much swinging. Due to it being free standing and only weighing 130 pounds, I wouldn't recommend doing kipping pull-ups or muscle-ups on it.
What is the difference between REP PR-1000 and 1100?
The PR-1000 and PR-1100 are very similar, but have a few small differences. The hole spacing is closer on the PR-1000 at two inches, allowing for a bit more customization in adding attachments than the PR-1100's 3-inch spacing. Also, the PR-1000 has a straight bar for pull-ups, unlike the PR-1100's multi-grip pull-up bar. Lastly, the PR-1000 has two more inches between uprights, allowing a little more space inside the rack for squatting
What gauge steel is the REP PR-1100?
The REP PR-1100 is constructed with 14-gauge steel.