We test and review fitness products based on an independent, multi-point methodology. If you use our links to purchase something, we may earn a commission. Read our disclosures.
When it comes to power racks, the Garage Gym Reviews expert product testing team is well rounded on everything from assembly to all of the attachments you can dream up. We've tested a lot of popular brands in the industry, too—from Rogue to Titan Fitness and everything in between.
REP Fitness is a reputable brand with solid racks that will suit all your heavy lifting needs. But with multiple rack options (and layers of customization), which squat rack is for you? In this REP PR-4000 vs REP PR-5000 power rack face-off, I'm going to lay out both the differences and the similarities so you make the best choice for your home gym.
REP PR-4000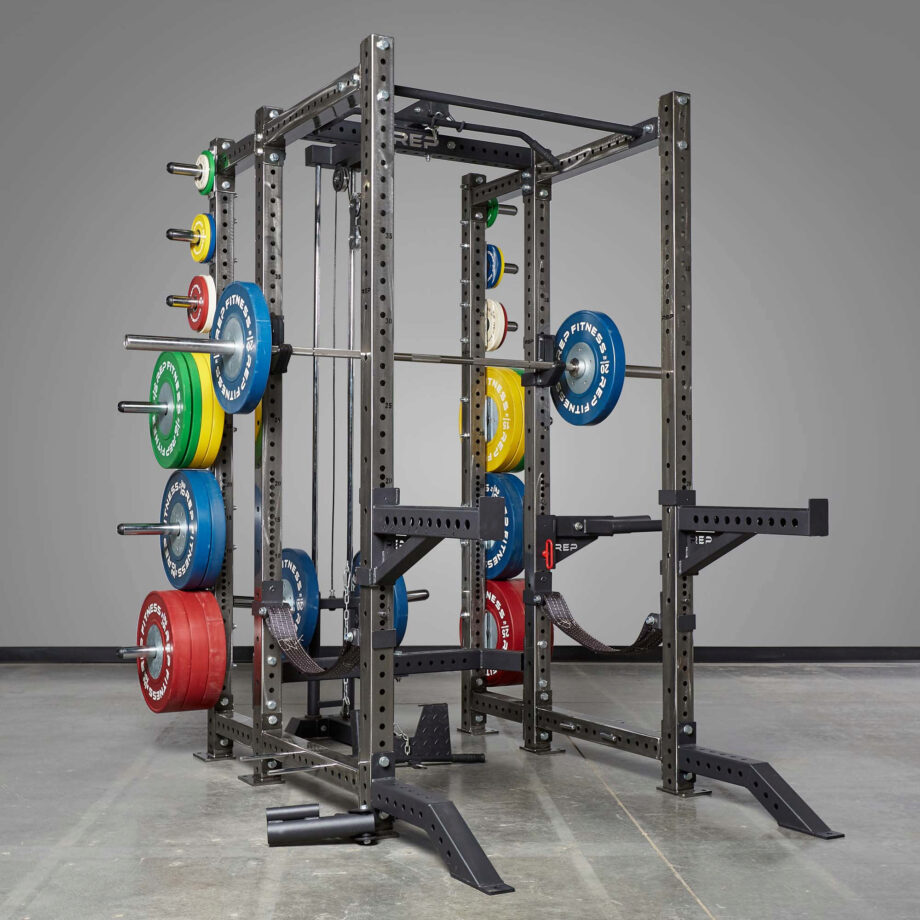 GGR Score: 4.4
Community Score: 4
Product Highlights
Heavy duty 11-gauge steel
3" x 3" uprights
Rated for 1,000 lbs
Pros & Cons
Pros
Affordable, high-quality rack
Several color options available
Laser-cut holes and logos
Uprights are numbered every 5 holes
Westside hole spacing
Can be built out to include weight storage, pull-up bar, strap safeties, etc.
3x3-inch 11-gauge steel
Cons
Accessories for the PR-4000 and PR-5000 racks aren't as good as the competition
Some of the welds and powder coating aren't up to par
Bottom Line
The Rep Fitness PR-4000 Power Rack is honestly one of the best value power racks on the market. This rack has garnered excellent reviews from us and others and it's largely due to how great it's features are for the price point. This is still a pretty expensive rack for those on a tight budget and trying to build a home gym, but this is the type of rack you never have to upgrade. Is it better than the Rogue Monster Lite? No, but it is cheaper and very similar quality, although it is imported. We are big fans of the PR-4000 and recommend it.
REP PR-5000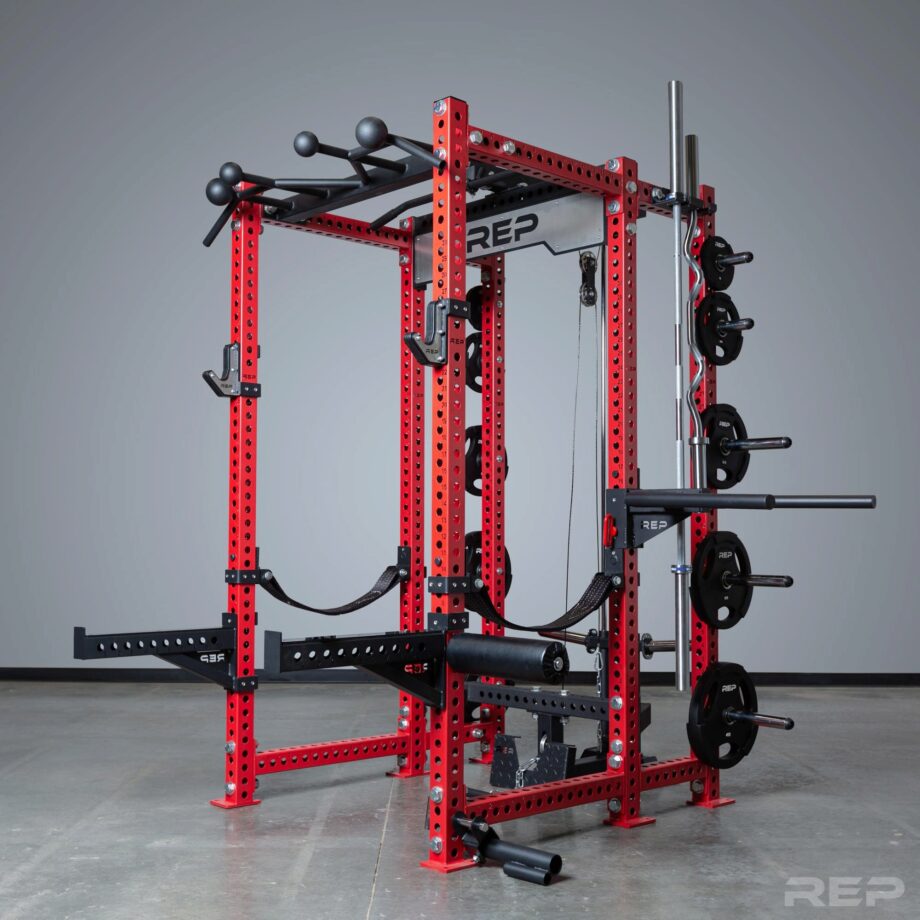 GGR Score: 4.5
Community Score: 3.8
Product Highlights
Virtually limitless configurations and attachment setups
3x3" 11-gauge steel
Oversize 1" diameter hardware
Pros & Cons
Pros
The Rep PR-5000 Power Rack V2 is Rep Fitness answer to the Rogue Monster and Sorinex XL Series Racks.
Despite the racks being imported, the quality and features are on a similar level as the USA made competition.
Due to the racks being imported, the prices are overall cheaper.
The racks use 1" hardware throughout the rack that look incredibly beefy and allow for a variety of attachments.
There's a seemingly endless amount of accessories and add-ons for the rack that can be purchased on-page, which is a great feature for easy checkout.
Coming in a variety of colors, there's a look that will suit anyone's taste, including stainless steel. If you want a rack that won't corrode, get stainless.
The arch logo stands out and adds a great look to a premium rack.
The width of the rack is 47" outside upright to outside upright. This makes racking the bar easier and is one reason people love Sorinex and don't like Rogue's Monster series.
There are strap safeties, flip-down safeties, and more available for the rack as well as over 5 different pull-up bar options.
There is optional weight storage available for the back.
The rack has an optional lat pulldown attachment that is reasonably priced as well as a future innovative belt squat option that we think will be rather popular.
If you want to never have to upgrade a rack again, this is an awesome option at a better price than the competitors.
Cons
Despite all of the great features and options, the rack is imported. We haven't noticed much of a drop in quality between Rep and Rogue lately, but it is something to be wary of if you want made in the USA equipment.
Although cheaper than competitors, it's still an expensive rack for what will essentially hold the same amount of weight as racks much less. Something to consider if you're just looking for functionality.
Bottom Line
The new Rep PR-5000 Power Rack V2 is one of the best value, high-end squat racks that we've reviewed. It features many of the same characteristics of racks like the Rogue Monster Series and Sorinex XL Series, but at a bit of a discount. Buying a rack at this level should take a lot of thought and consideration as it should be the last rack you'll ever have to buy. We'll hold off on suggesting one or the other until we have them all in-house to compare, but we are very impressed by the first look and features and foresee many trainees having this in their garage gyms soon.
REP Power Rack Comparison Chart
| | | |
| --- | --- | --- |
| | REP PR-4000 | REP PR-5000 |
| Price range | Starting around $800 | Starting around $850 |
| Rack depth options | 16", 24", 30", and 41" | 16", 30", and 41" |
| Upright height option | 80" or 93" | 80" or 93" |
| Rack width | 50.8" | 50.8" |
| Material | 3×3, 11-gauge steel | 3×3, 11-gauge steel |
| Weight capacity | 1,000 lbs | 1,000 lbs |
| Hole spacing | 1" spacing in bench area, 2" elsewhere | 2" spacing throughout |
| Hole size | ⅝" | 1" |
| Color options | Metallic black, matte black, red, blue, green, orange, white, clear coat | Metallic black, matte black, red, blue, green, orange, clear coat |
| Number of pull-up bar options | 5 | 5 |
Quick Look: REP PR-4000 vs. REP PR-5000
Here is the thing about the REP Fitness PR rack series: A REP power rack might not cost you as much as the Rogue Monster Series racks, but they are also not a budget piece of equipment. These racks are more heavy-duty than two-by-two-inch steel rack configurations from budget-friendly brands.
Both the PR-4000 and PR-5000 are rated for weight up to 1,000 pounds and can be customized to your space and preferences. You'll have the ability to build your rack from the ground up choosing your own colors, rack height, and depth. You'll also choose between building a half-rack, 4-post, or 6-post rack with weight storage.
The heavy-duty three-by-three-inch, 11-gauge steel construction will give your home gym a high-quality feel for all the lifts you perform inside the power rack including squats, bench press, and overhead press.
Both the PR-4000 and the PR-5000 are comparable racks with only minor differences. It's worth mentioning when you're on the REP website building your rack, each customizable option increases your bottom line.
I decided to fiddle with these customizations and watch the price fluctuate. After a few iterations, I picked the bare essentials on both racks and wound up with a price around $800 on the PR-4000 and about $850 on the PR-5000.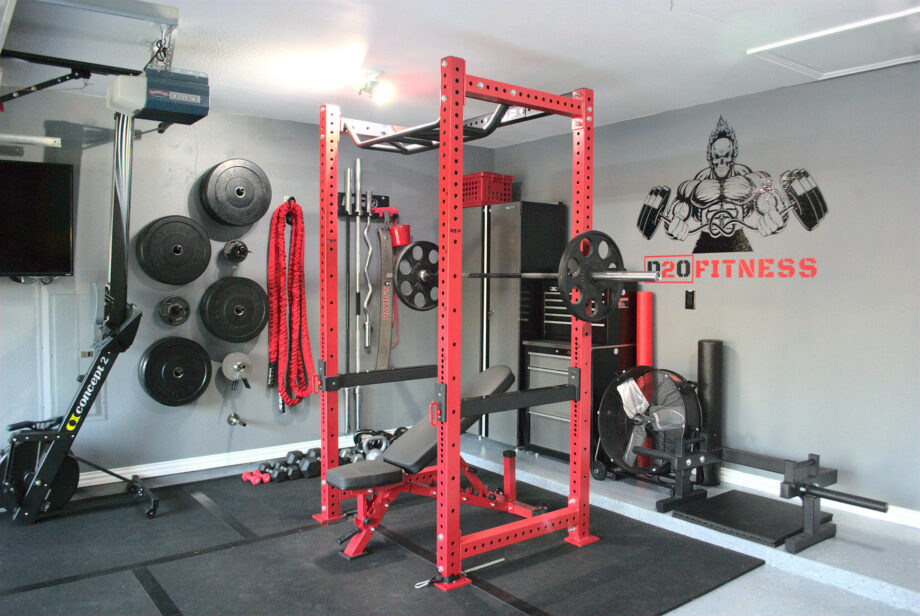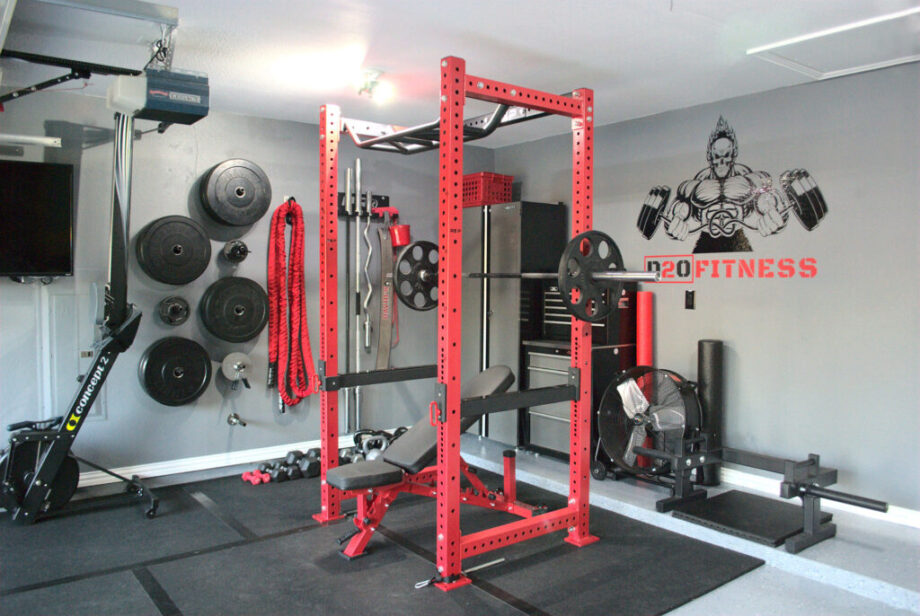 Who Should Buy REP Fitness PR-4000
Home gym folks who want to individualize a power rack
Anyone looking for Westside spacing in the bench area for optimal adjustments
Anyone looking for a heavy-duty power rack that is more budget-friendly than other top brand names
People who train primarily with a barbell
Who Should Buy REP Fitness PR-5000
Home gym owners who want the quality of a commercial gym rack, but at a better price than the competition (like the Rogue Monster rack)
Those wanting the option to add-on in the future with weight storage or swap out pull-up attachments
Anyone who is interested in compatibility with REP's endless attachment ecosystem
Folks who lift with bodybuilding, powerlifting, or CrossFit-style training
Key Similarities Between REP PR-4000 and REP PR-5000
These REP Fitness racks are very similar and each offer similar ways to customize each rack. Here are some of the things you'll see on both the PR-4000 and PR-5000:
Customizations in color, pull-up bar attachments, J-cup style
Multiple options for rack height and depth
Options to create a half rack, 4-post, or 6-post rack with weight plate storage
Both come standard with 50.8" rack width
Constructed from 3×3, 11-gauge steel
Weight capacity up to 1,000 lbs
Laser-cut numbering on the uprights for quick barbell adjustments
Both racks require you to choose a pull up option: standard 2" or 1.25" bar, raw 1.25" bar (with more intense knurling), multi-grip pull-up bar, or globe grip bar
You'll select one of three option for safeties: strap safeties, pin-pipe, or flip-down safeties
When customizing your rack, both offer a ton of attachment options like band pegs, dip stations, and a wall ball target just to name a few
On either rack, you can create a lat pulldown or low-row attachment to maximize your rack into fully functional cable machine
Important Differences Between REP PR-4000 and REP PR-5000
You'll notice there are quite a few similarities on the PR-4000 and the PR-5000. Although there are only a few minor differences, here is an overview of what I noticed:
REP PR-5000 has a logo plate crossmember selection, where the PR-4000 does not
Hole spacing narrows down to 1" spacing in the bench zone for the PR-4000, while holes remain consistent at 2" spacing on the PR-5000
Hole sizing is different on each rach (⅝" on the PR-4000 compared to 1" on the PR-5000)
PR-4000 uprights are numbered every fifth hole, while the PR-5000 is individually numbered at every hole
There are several rack attachments that are not compatible with the PR-4000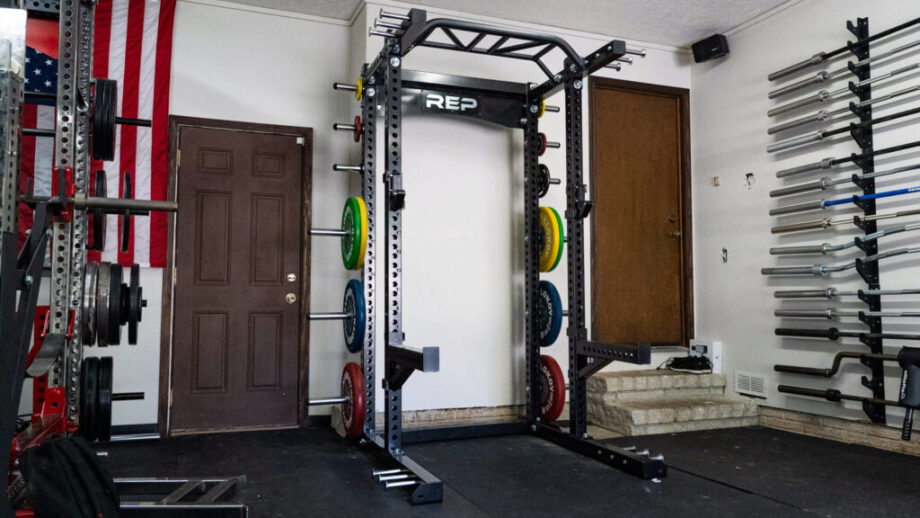 Attachments for the REP Fitness Power Racks
Both REP racks offer a lot of the same attachments, but here is a chart to lay out the differences:
| | | |
| --- | --- | --- |
| | PR-4000 | PR-5000 |
| Dip station | Yes | Yes |
| Landmine | Yes | Yes |
| Leg roller | Yes | Yes |
| Spotter arms | Yes | Yes |
| Front foot extension | Yes | Yes |
| Band pegs | Yes | Yes |
| Lat pulldown | Yes | Yes |
| ISO arms | Yes | Yes |
| Dual barbell hanger | No | Yes |
| Barbell tube stand | No | Yes |
| Belt squat pulley system | Yes | Yes |
| Wall ball target | Yes | Yes |
| Weight horns | Yes | Yes |
| Utility horn | No | Yes |
| Low-row cable attachment | Yes | Yes |
Customer reviews
Although the REP Fitness website only features 5-out-of-5-star reviews, all of the customer reviews report a promising investment to your lineup of home gym equipment. The PR-4000 has 42 reviews (all being rated 5-stars), while the PR-5000 only has 5 reviews total—all of which are rated 5-out-of-5 stars.
For both racks, customers raved about free (and quick) shipping in addition to timely customer service responses from the company—both important to the overall customer experience.
Here are two recent reviews on the PR-5000:

Here is a promising review from 2019 on the PR-4000:

REP Fitness Company Policies
Firstly, I'd like to point out that REP offers free shipping on all orders. This is a huge deal because the equipment REP sells is solid steel and heavy AF. You'll almost always find an additional $100 shipping fee (or more) when purchasing something large like a squat rack or functional trainer.
Financing Your REP Purchase
REP Fitness offers financing through two different third-parties companies. To navigate to these options, go to the top right-hand corner of the REP website and click the Financing button.

If you qualify, you can choose to make monthly payments through Affirm, which allows you to choose loan terms between six to 12 months with interest rates ranging from 0 to 30 percent APR. The other option is a Pay-in-Four plan from PayPal, where you make interest-free bi-weekly payments with a 25-percent down payment of your purchase.
Commercial gym owners also have an option to fill out an online form to finance gym equipment through a company called Lease Process. Additionally, REP's website encourages gym owners to contact customer support for discounts on bulk orders.
REP Power Rack Warranty
Both the REP PR-4000 and the PR-5000 are covered under REP's limited lifetime warranty. All the brand's frames and structural welds on frames are covered under this warranty.
The REP Fitness website states that the limited lifetime warranty covers products with defects in material, functionality, and workmanship for the lifetime of the product.
The website also explicitly states that warranties may be voided due to negligent use. The brand defines negligence as an abusive amount of dropping of the bar. In the case of a squat rack, this might mean excessively dropping a loaded barbell on the spotter arms or pipe safeties to the point the rack becomes damaged.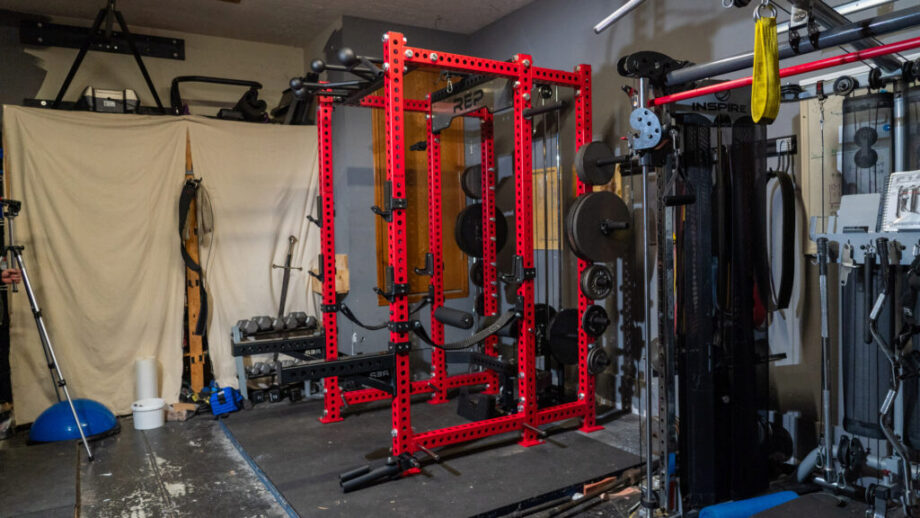 Final Thoughts On Our REP PR-4000 vs REP PR-5000 Power Rack Review
At the end of the day, both the REP PR-4000 and the REP PR-5000 give you nearly the same construction and customizable options (and free shipping). The biggest differences are the fact the PR-4000 features narrowed, Westside spacing around the bench zone while the PR-5000 stays consistent at 2-inch hole spacing on the entire upright.
The PR-5000 does have a few more add-on features than the PR-4000, which Coop (GGR's founder and OG product tester) says allows more possibilities for expansion in the future. In addition, the bigger 1-inch holes on the PR-5000 give you a chance to use attachments from Rogue's Monster Rack series, opening the door for even more attachments.
The other key differences are the fact the PR-4000 is numbered on every fifth hole and the PR-5000 is individually numbered at every hole. The PR-5000 also comes with a larger nameplate.
Ultimately, both racks will provide a sturdy place for all your barbell training from safety bar squats and bench press, to rack pulls and overhead press. The PR-5000 is more expensive but will allow seasoned lifters continued options for add-ons, attachments, and overall personalization.
REP PR-4000 vs REP PR-5000 Power Rack FAQs
Is REP better than Rogue?
REP and Rogue offer a comparable lineup of strength and conditioning equipment. Both brands are reputable and offer heavy-duty, long-lasting fitness equipment. 
Although REP is highly customizable, you can find a lot of the same type of equipment on the Rogue website. For example, the Rogue Monster Lite rack is the half-rack equivalent to the one you can build on the REP website. 
Rogue is also an American-made brand and will often cost you a little more on each product. REP manufactures globally, which generally brings down the price. REP also offers free shipping on all orders, which is a huge bonus over Rogue.
How wide is the REP PR-5000?
The width on the PR-5000 is 50.8 inches and is the same for the PR-4000.
Does REP PR-4000 need to be bolted down?
In our experience, the REP PR-4000 power rack without the weight plate storage option will need extra stability. I recommend either bolting the rack down or utilizing the front foot extension attachment to increase the stability of the rack. 
How deep should a power rack be?
With several options for depth on REP power racks, it depends not only on how much space you have, but your preference on how you want to use the rack—some people prefer squatting and benching outside the rack rather than inside the cage. The PR-4000 power rack and the PR-5000 can be built into half racks, 4-post racks, or 6-post racks with weight storage.
What height power rack should I get?
REP Fitness offers two rack heights on the PR-4000 and the PR-5000 series: 80 or 93 inches. Your preference on which one you choose will depend on the overhead clearance in your home gym and what works best for your height and activities.