We review free products that we receive and participate in affiliate programs, where we may be compensated for items purchased through links from our site.
See our disclosures page for more information.
The Strength Co is a former gym that decided to transition to selling equipment due to the COVID-19 Pandemic shutting down gyms.
The Strenth Co "The Captain" Squat Stands
is a basic squat rack designed to be affordable, long-lasting, and made in the USA. This is not the best squat rack in the world and I do think there are better options, even at lower prices. However, I love the ingenuity and am excited to see is to come. To be honest, their story is starting off a lot like Rogue Fitness did.
Strength Co Squat Stands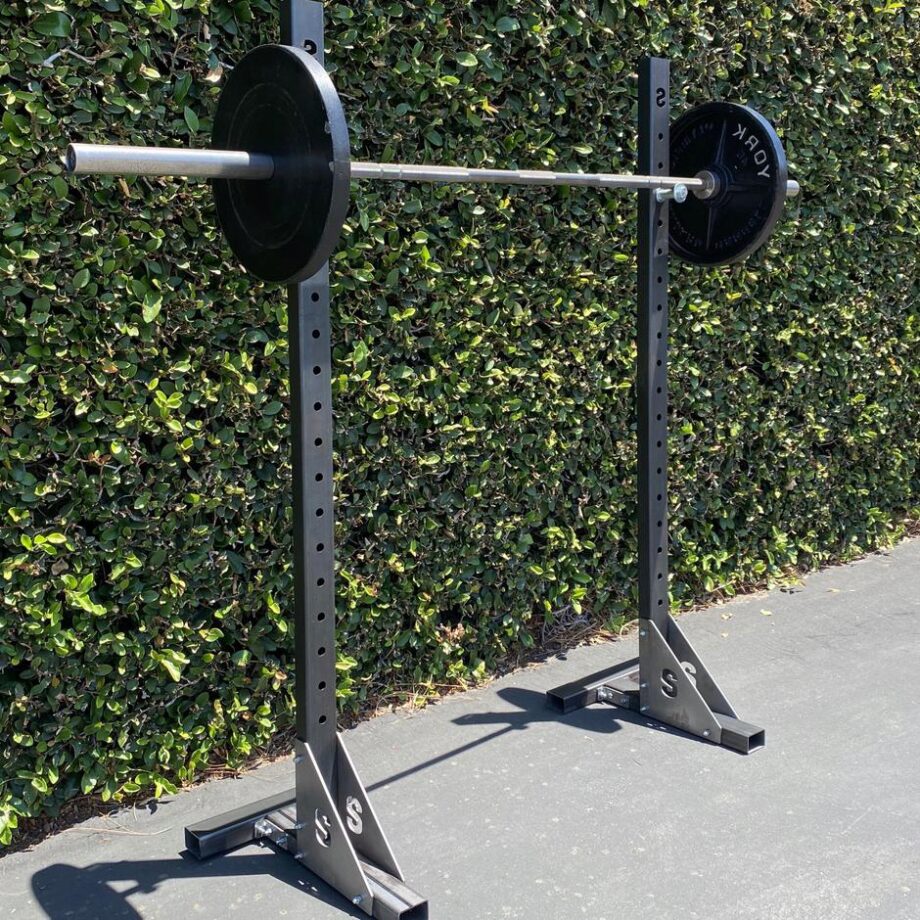 Strength Co The Captain Squat Stands
"The Captain" Bolt Together Steel Squat Stands. We offer two types of stands: one with two standalone stands optimized for space saving and one with a connecting bar as stabilizer that holds the two stands together. The ultimate space saver home gym set up that can be used for the squat, press, and bench press. Each stand is 36lbs making it easy to move around and store in tight areas. We have tested the stands up to 750lbs. Specs: Each stand is 72" tall with a 16" x 23" base. With the Stabilizer the squat stands are 54" wide. Holes begin 7" from the top of the stand and are spaced every 3" until 11" from the bottom. There are (18) total throughout the rack. Barbell Bolts (pins for barbell) are 3/4" x 6" long with a 1" washer for the bar stop. (2) are included with purchase. (5) bolts (included with purchase) required for assembly, 14mm or 5/8". Built in Orange County California with USA Steel.
Who is The Strength Co?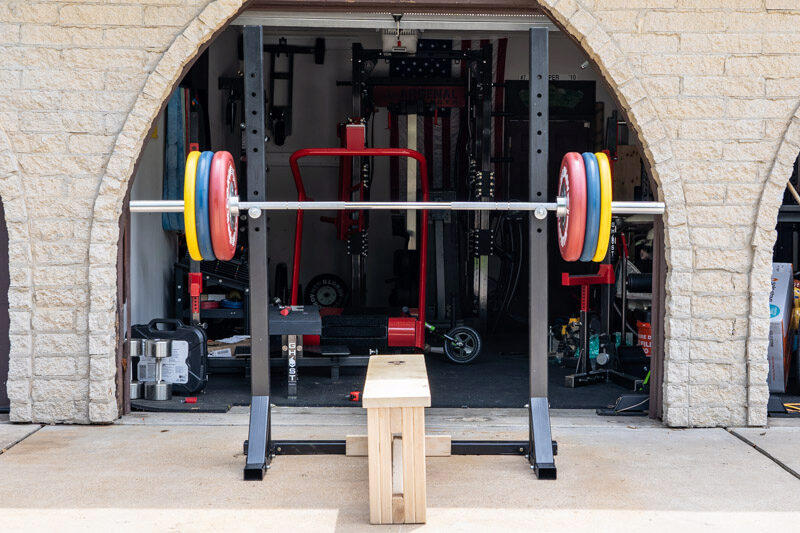 The Strength Co has a bit of a unique story. Although they've begun selling gym equipment focused on the home gym market, they actually own a Starting Strength Affiliate Gym.
Grant is a Marine (once a Marine, always a Marine) and Mike is a former athlete who teamed up to start The Strength Co after attending a Starting Strength Seminar. When the COVID-19 pandemic forced gyms to shut down in their area in California, they decided to start making equipment to help their members continue to train at home.
So, they started with squat stands that used 2×4's in home depot buckets filled with concrete. In fact, they're who I got the idea from for this video:
In addition to their DIY Racks, they started to rent out equipment to members as well. They saw so much demand, they figured, "why don't we just start manufacturing racks and selling them?"
Thus, The Captain TSC Bolt Together Steel Squat Stands were born.
What is The Strength Co "The Captain" Squat Stands?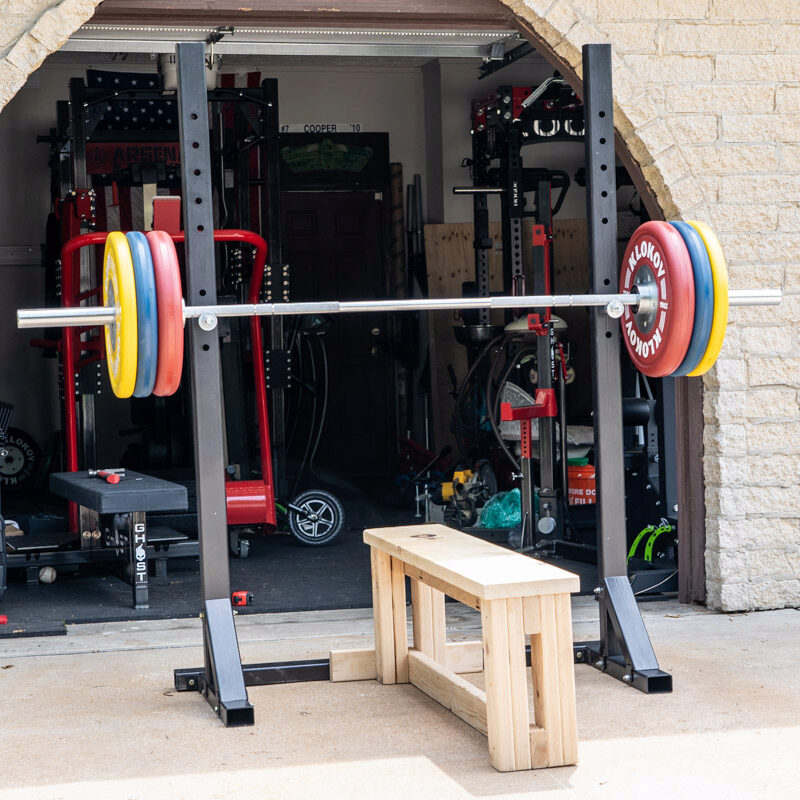 They're "no-frills" for the fact that they offer no attachments, are not powder-coated, and are a very simple independent stand design. However, with a capacity of 750 LB, they should be strong enough for most people.
The platform is said to be modular. This means, as you get more money, more space, or both you can still use some of the existing parts of your squat stands and turn them into the best power rack.
What We Like About "The Captain" Squat Stands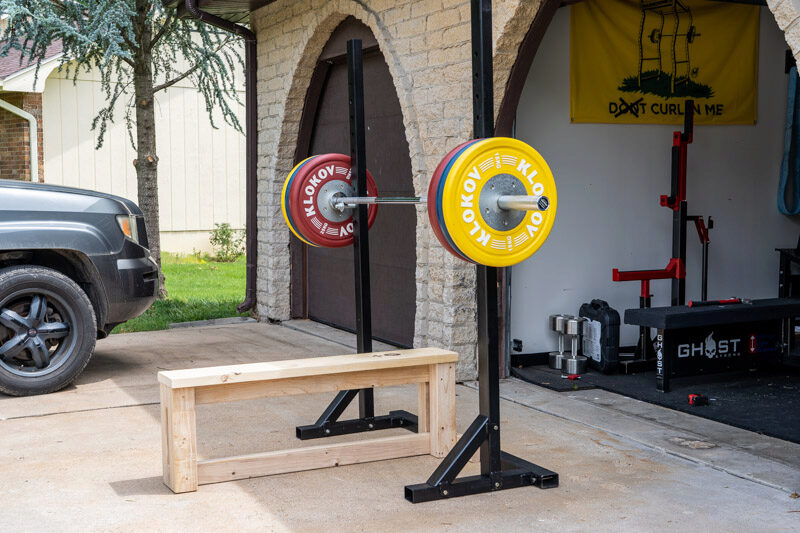 As previously stated, the Captain Squat Stands are a very simple piece of equipment. They harken back to the original squat stands that originally came to market before the invention of the power rack and still, to this day pilfer weightlifting halls all over the world.
Here's what must be said, I do not think these are the best squat stands of all time. I do not think these are an amazing, extremely innovative solution. But, given the context of our current environment when equipment is scarce and people are trying to continue to train, these are an option that will work for most people's basic needs.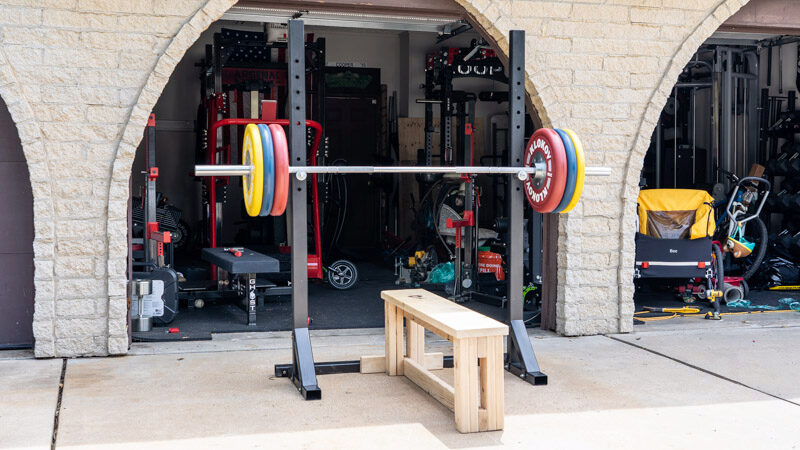 What I like most about the Captain Squat Stands is the "let's just get it done" attitude shown by the owners of The Strength Co to see a need in the marketplace and create a solution to fill said need. Not only were members of their gym needing equipment, but so was everyone around them, so, to keep their business afloat while gyms were shut down and to help others continue to train, they began selling equipment. This is entrepreneurship and has in many ways been the makeup of America's great successful business stories.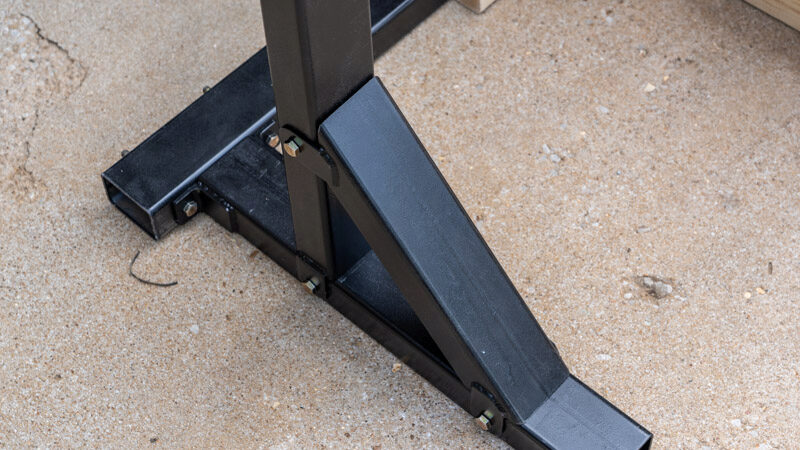 Now, to the stands themselves. Being independent squat stands, they're obviously not as stable as what you'd find with a power rack. But this disadvantage does have a positive in that it makes them easy to move around. This is one reason squat stands are so popular among the Olympic Weightlifting Community. They're easy to change height and can be moved on and off the weightlifting platform with ease. A power rack is pretty much permanent wherever you decide to place it. This is one reason they can have stability, but for those in a temporary space, this definitely poses a problem.
Seeing as many of The Strength Co's members were creating temporary spaces to train, these types of squat stands were a good option.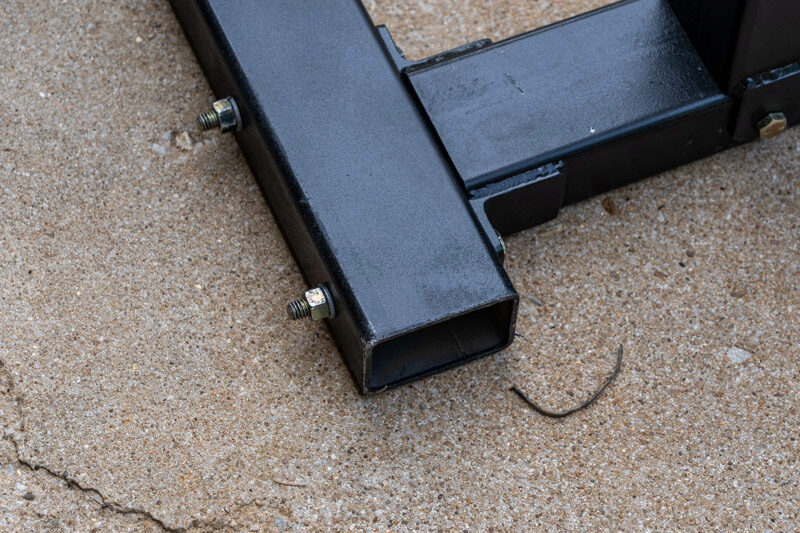 The uprights and crossmembers of The Captain Squat Stands use 2"x3" 11-gauge steel pieces of US-sourced steel. The uprights feature holes (they appear to be punched, not laser-cut) 2" on center and instead of j-cups, they use ¾" x 6" long bolts with washers. These won't have near the weight capacity as typical j-cups and because there's no UHMW plastic, they can damage the knurling on your bar, but again, this is a basic squat stand.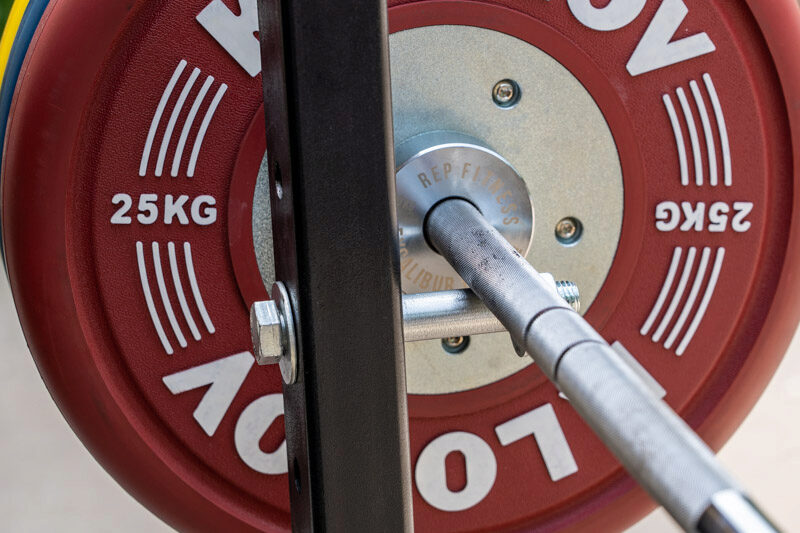 In addition to the squat stands, The Strength Co offers an optional bottom stabilizer bar that joins the independent stands together and makes them more stable.
Lastly, the joints use flat pieces of steel with laser-cut logos for a cool look and to increase the stability of the uprights. The version we received used tubing with tabs. I much prefer the newer triangle gussets.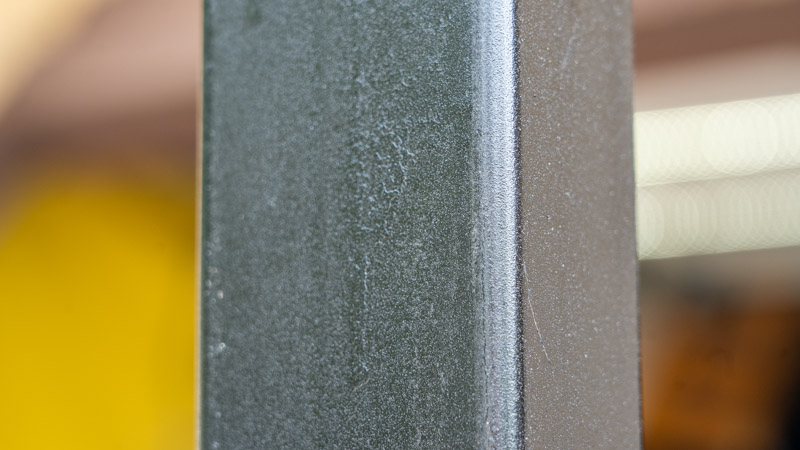 The laser-cut logos provide a nice touch and are definitely preferred over a sticker, in my opinion. These aren't laser-cut logos on the version we received, but I'm guessing it's because it was an earlier prototype.
All in all, if you're unable to get a rack and want to start a home gym or want to support a small, made in the USA company, then this is an option worth considering. I don't think it's the last rack you'll ever buy, but it's priced affordably and will get you back to training.
What We Don't Like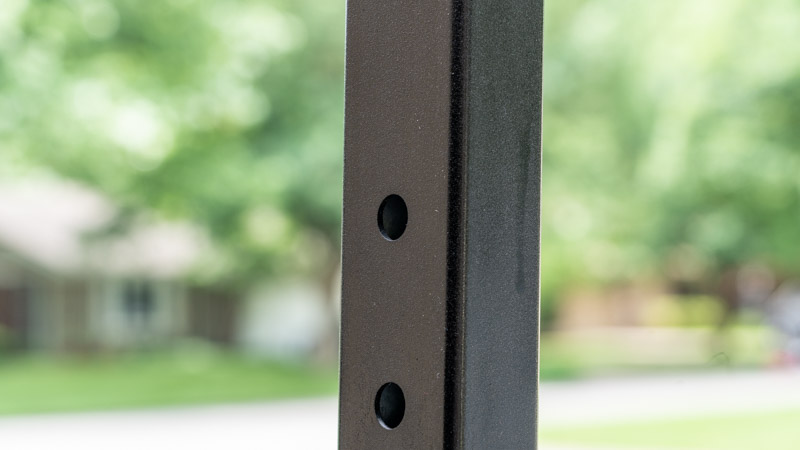 This is a difficult rack to compare. It doesn't have the expandability like a lot of racks we review, it's not made by a large company, and it's designed to fill a need in the marketplace that hasn't existed for as long as I've been alive.
Outside of the things already mentioned, my biggest dislike is the lack of j-cups or plastic to protect the knurling on a barbell. All independent squat stands lack stability, but with people spending hundreds on barbells to last them a lifetime, I do like to see protection from flattening the knurl where the hands would be for the snatch.
Full Rating