We test and review fitness products based on an independent, multi-point methodology. If you use our links to purchase something, we may earn a commission. Read our disclosures.
Editor's Note: The ProForm 415 Crosswalk Treadmill is no longer in production. We suggest viewing the ProForm City L6 as the best alternative, or view our Best Budget Treadmills roundup for more options.
The ProForm 415 Crosswalk treadmill is a machine designed to satisfy walkers who want a little extra pep in their step. This machine allows walkers to crush an upper-body and lower-body workout at the same time.
The uprights of the treadmill feature a pair of moving handlebars with resistance that can be manually adjusted. The handlebars can be moved back and forth to activate the arms, shoulders, and upper back—much like an elliptical machine.
The ProForm Crosswalk series is no longer in production, but that doesn't mean you can't score one secondhand. In this ProForm 415 Crosswalk treadmill review, I'll help you decide if the Crosswalk is right for you. I'll also provide a few alternatives to the Crosswalk if you determine it's not worth the effort to track down this discontinued machine.
We're ProForm Pros
Our expert product testers have assembled and used dozens of treadmills. We also have a lengthy history with ordering and testing a variety of equipment from both ProForm and sister company, NordicTrack.
Plus, our team has years of relevant industry experience including personal training, nutrition coaching, and college athletics. Our hands-on experience paired with our collective knowledge helps us deliver the most relevant information you need to outfit your home gym with everything from dumbbells to treadmills.
Looking for an Alternative to the ProForm 415 Crosswalk Treadmill?
If you are intrigued by the Crosswalk series because of the moving handlebars, you'll be hard-pressed to find a similar machine on ProForm or NordicTrack's website (or other top fitness brands for that matter). For this reason, I'm going to suggest two different products from ProForm:
One is the ProForm City L6, which is a budget-friendly, lightweight, and folding treadmill. It's priced around $600 and is mainly designed for walking, much like the ProForm 415 Crosswalk—just without the walking arms.
Best Alternative to ProForm 415 Crosswalk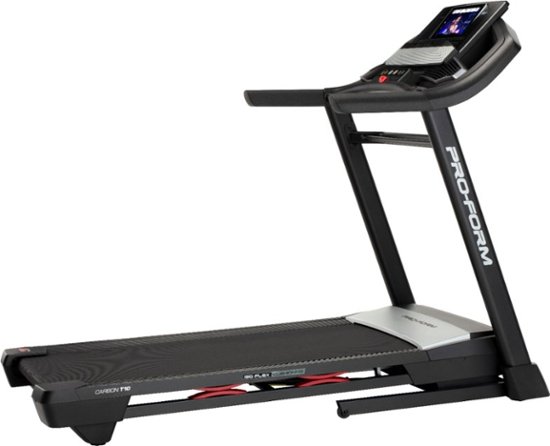 GGR Score: 4.2
Product Highlights
Cushioned running deck

3.0 horsepower motor

Free three-year iFIT family membership

10" HD smart touchscreen 

Built-in workout fans

Dual audio auxiliary port speakers

EKG grip heart rate sensors
Pros & Cons
Pros
3 year iFIT family membership included with purchase
Interactive smart screen
Incline ranges from 0-12 percent with quick incline one touch button
Speed ranges .5-12 miles per hour with quick speed on touch button
Cushioned running deck
Foldable
30 day return policy
Cons
Smaller running belt: 20" x 55"
A 3.0 horsepower motor does not match price point
Returns will be charged a $250 shopping fee and 10% restocking fee
Bottom Line
Is the ProForm Carbon T10 a good treadmill? It really depends on your fitness goals. If you prioritize performance and durability over technology then this is not the treadmill for you. But, if you are looking for a tech savvy machine and trainer led program optionality, you will be hard pressed to find another treadmill with an interactive touchscreen and three years of iFIT membership at this price.
However, if the walking arms were what really got you interested in the 415 Crosswalk first place, you might consider an elliptical instead. The ProForm Carbon EL offers a low-impact, smooth stride similar to walking. The handlebars move in sync with the foot pedals so you can work your upper body and your lower body together. It's also a budget-friendly machine, priced around $800.
Best Alternative to ProForm 415 Crosswalk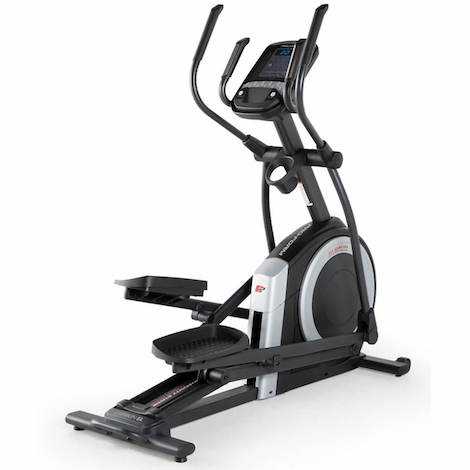 GGR Score: 4.3
Product Highlights
18 levels of silent magnetic resistance 

0 to 20 degrees of manually adjustable incline 

5" high-contrast multi-color display 

Tablet holder 

iFIT-compatible with SmartAdjust technology 

Steel frame 
Pros & Cons
Pros
18 levels of silent magnetic resistance
0-20 degrees of incline
SmartAdjust technology allows iFIT trainer to adjust resistance
Free 30-day iFIT membership
Free shipping
Cons
Incline adjusted manually
275-lb user weight capacity
Long assembly process
Bottom Line
The ProForm Carbon EL elliptical is an affordable machine with both resistance and incline abilities if you're looking for guided workouts. If you don't think you'll use iFIT, there's probably a better machine for you.
A Quick Look at the ProForm 415 Crosswalk Treadmill
The moving arms on this treadmill make it feel like it has extra features, but at its core, the Crosswalk is a very basic machine. Basic isn't bad—it just depends on what you're after.
If you're looking for an iFIT-enabled machine, this won't be the right ProForm model for you. Not only is the display a simple LCD screen, it doesn't have Bluetooth options to connect your own device to the machine. Additionally, this treadmill is certainly meant for walkers and won't be the best cardio machine for anyone who plans to regularly run indoors.
Pros:
Moving arms
Budget-friendly price range
Hand-grip heart rate monitor
Incline training options
Cons:
Basic display, no touchscreen
No Bluetooth connectivity
Does not include auxiliary cord for speakers
Motor not intended for consistent runners
ProForm 415 Crosswalk Treadmill Specs
Due to the fact the ProForm Crosswalk series is no longer in production, the following specs have not been confirmed by ProForm. This is our best estimate on specs based on research:
| | |
| --- | --- |
| Price | Ranges from $400-800 on various websites |
| Footprint | 65" L x 33" W x 56" H |
| Weight | 155 lbs |
| Weight capacity | 300 lbs |
| Bluetooth | No |
| Max speed | 10 MPH |
| Motor | 2.0 CHP |
| Foldable | Yes |
| Incline | 10 levels |
| Preset workouts | 16 |
Key Features of the ProForm 415 Crosswalk Treadmill
The standout feature on this cardio machine is the upper-body resistance arms. The arms are attached to the uprights of the treadmill and move completely separate from the walking belt, which is good news because that means your arms don't have to keep up with the same cadence as your legs.
The upper body arms can be adjusted to increase or decrease resistance by using the knobs on the attachment point on the treadmill uprights. Although the user manual doesn't mention this, I would highly recommend not adjusting the resistance of the arms unless the treadmill belt is at a full stop.
Although the 2.0 CHP motor doesn't meet the industry standards we like to see for running, this treadmill is a fine option for walking. The Crosswalk even reaches top speeds of 10 miles per hour and can elevate up to 10 percent incline.
A Space -Saving, Foldable Treadmill
The Crosswalk is certainly not a small machine—it measures 65 inches long, 33 inches wide, and 56 inches tall. Although this treadmill will occupy a solid amount of space in your home gym or exercise area, the treadmill uses ProForm's space saver design to fold the deck up away from the floor, leaving the walking belt in a vertical position when locked.
New ProForm treadmills feature an automatic locking system, however with this older model you'll have to use a latch located on the left upright to keep it locked. According to the user's manual, you will need to pull the pin out and reinsert it into the platform cushion to lock the deck into place.
Ergonomics of the ProForm 415 Crosswalk
The Crosswalk was certainly designed with walkers in mind, hence the catchy name. The motor power is more favorable for walkers as is the 50-inch walking belt (we like to see 60 inches for a full running gait). Walkers can also rejoice in the fact this treadmill features deck cushioning, which can help reduce impact on your ankles and knees.
Although one of the defining features on this treadmill is the Crosswalk arms, I didn't find much for customer reviews on the ease of use or how natural the moving arms felt. However, with the ability to manually dial in the resistance of the arms and the fact that they move separately from the walking belt, I have to assume the movement pattern feels fairly natural.
Bare-Bones Technology
Unlike other ProForm models, the Crosswalk is not Bluetooth-enabled for streaming the iFIT app and its library of on-demand workouts. The no-frills machine does however feature 16 built-in workouts to keep your cardio training more interesting than just manual mode.
The ProForm 415 Crosswalk may not have much when it comes to high-tech features, but if you want to listen to music there is a built-in sound system. However, according to the owner's manual, you'll need your own auxiliary cord to connect your phone or MP3 player to the audio system.
Conveniences of the Crosswalk
The console is a small and basic LCD display. It shows the fundamental metrics you'd want in any basic treadmill including speed, incline, distance, and even your heart rate if you decide to use the EKG heart rate monitor, which is located in the handrail below the console.
Also featured on the basic console of the Crosswalk are "quick speed" and "quick incline" options that let you select whole integers in the middle of your workout. You can also use the up and down arrow keys for a more refined selection.
Additionally, this Crosswalk model features two large water bottle holders and a sizable media shelf that won't cover your workout metrics.
Final Verdict of Our ProForm 415 Crosswalk Treadmill Review
Although our product testers have not had hands-on experience with this discontinued treadmill, research shows that this is an entry-level machine designed for walkers.
Yes, the moving handlebars are a cool feature, but an elliptical trainer might be a little more your speed if you're looking for a full-body, calorie-burning cardio workout. If the moving handlebards don't get you excited for a cardio workout, I'd suggest sticking to a basic walking treadmill like the ProForm City L6.
ProForm 415 Crosswalk Treadmill Rating
ProForm 415 Crosswalk Treadmill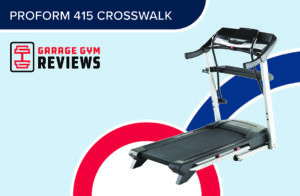 If you're interested in an alternative to the ProForm 415 Crosswalk Treadmill, check out the ProForm City L6.
Product Currency: USD
Product In-Stock: SoldOut
ProForm 415 Crosswalk Treadmill FAQs
Can you run on a ProForm CrossWalk treadmill?
Although you can reach top speeds of 10 MPH, we suggest reserving repeated running workouts for treadmills with at least a 2.5 CHP motor.
Is a ProForm treadmill worth it?
Deciding if ProForm treadmill is worth it will be highly subjective to your budget, space, and fitness goals. Although ProForm treadmills have a lot of desirable features, the brand's lineup won't be for everyone. ProForm treadmills have made it in several of our treadmill roundups including best treadmills for seniors and best folding treadmills.
How much does a ProForm CrossWalk treadmill weigh?
The ProForm 415 Crosswalk is estimated to weigh about 155 pounds, however that has not been confirmed by ProForm.
Does the ProForm CrossWalk LT treadmill have an incline?
Yes, both the ProForm 415 Crosswalk and the Crosswalk LT are incline treadmills.
Is ProForm better than NordicTrack?
ProForm products are often similar to NordicTrack because they are both manufactured by parent company, iFIT. However, ProForm offers more budget options.