We test and review fitness products based on an independent, multi-point methodology. If you use our links to purchase something, we may earn a commission. Read our disclosures.
Prices of ellipticals run the gamut from a few hundred dollars to over $2,000 for a commercial-grade, high-end machine. Each price point comes with different pros and cons.
For example, budget machines may not be as sturdy as high-end ellipticals, but they're typically more compact so they stow away easier. If you're looking to add one of these machines to your home gym, it's helpful to know what you'll get within each price range.
If you've been wondering, "How much does an elliptical cost?", you came to the right place. Here, we'll go over the standard features of budget, mid-range, and high-end ellipticals and what you can expect to pay for each type. We'll also call out our favorites at each price point to help you make an elliptical buying decision.
Budget Ellipticals
Budget is relative, of course, but we define a "budget elliptical" as one that's less than $1,000. These are entry-level machines that are best for casual use. In other words, a budget model may not be the best for highly conditioned exercisers, but you can still get a decent cardio workout.
Budget ellipticals typically don't come with a lot of bells and whistles. You might get a display that has basic controls and shows some metrics, like calorie burn, resistance, and time, but some budget ellipticals don't have screens at all.
"They're also pretty limited in terms of resistance levels, incline range, and preset programs, and have lighter flywheels so they can be a little jerky when you pick up the pace," says Amanda Capritto, Garage Gym Reviews fitness writer, certified personal trainer, and health coach.
On the lower end of the price spectrum, you'll likely have to sacrifice extras like Bluetooth connectivity, but some budget ellipticals do have this capability.
Another important consideration: Lower-end ellipticals usually have a lower weight capacity than models at a higher price point. A budget elliptical should still come with a decent warranty, though, so you'll be covered if anything goes wrong prematurely.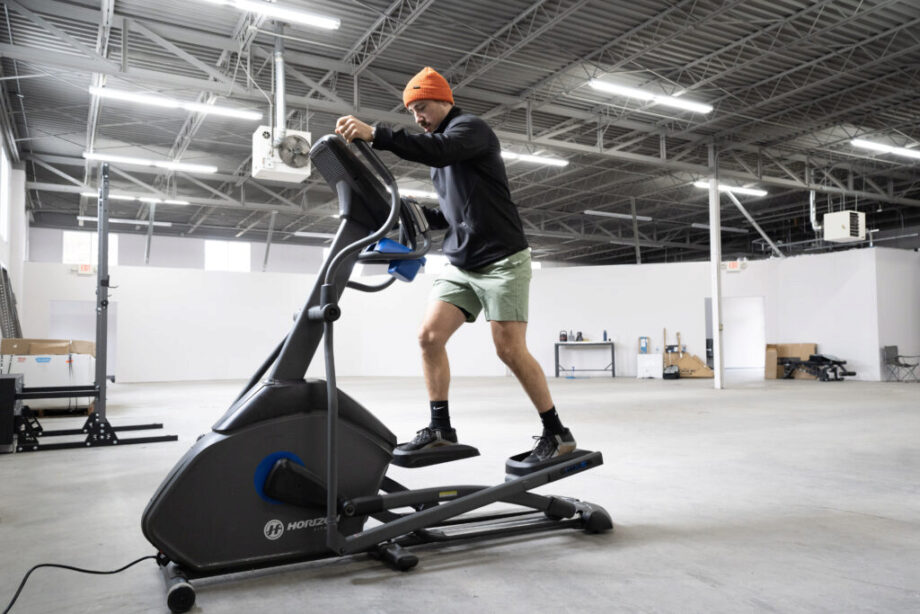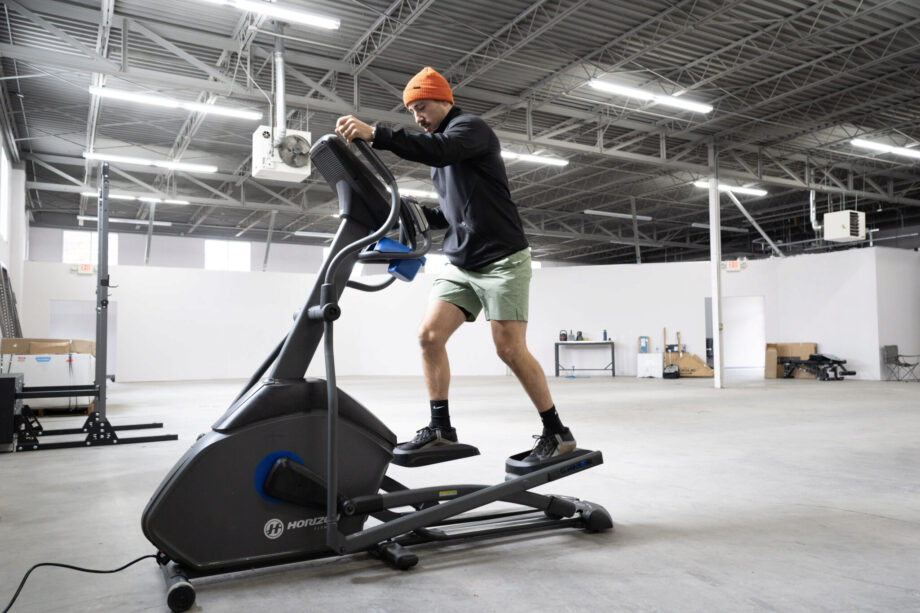 Our favorite budget elliptical is the Horizon EX-59 Elliptical, which has a lot to offer for the price. It has 10 levels of magnetic resistance, five preset programs, a basic display, and Bluetooth capabilities. It's currently priced at $599.
Brands that offer budget ellipticals include:
Horizon Fitness
Proform
BodyRider
Gazelle
Schwinn
Mid-Range Ellipticals
Mid-range elliptical trainers go for around $1,000 to $1,500.
"These machines are a good intersection of value and features," says Amanda. "They're not totally loaded, but usually have decent-sized screens, some preset programs, and varying resistance and incline levels."
Most people would be happy with a high-quality elliptical at this price point.
Some mid-range ellipticals have LCD screens that stream on-demand workouts (with a pay-per-month subscription), while others have basic consoles that show metrics and allow you to connect a heart rate monitor—it really depends which machine you get.
They also typically have heavier flywheels than budget machines, which means you'll get a smoother ride especially at higher speeds.
The Sole E25, which has a front-drive flywheel, is one of our favorite mid-range ellipticals. It has a basic LCD console with 10 preset programs, oversized pedals, and Bluetooth capabilities.
Brands that offer these:
Sole
NordicTrack
ProForm
Schwinn
Nautilus
High-End Ellipticals
If you want a high-end elliptical, expect to shell out over $1,500 for all the bells and whistles. These machines come fully equipped with interactive touchscreens, Bluetooth, and/or Wi-Fi, multiple resistance levels, a hefty incline range, oversized pedals, and other comfort features like water bottle holders and padded handlebars.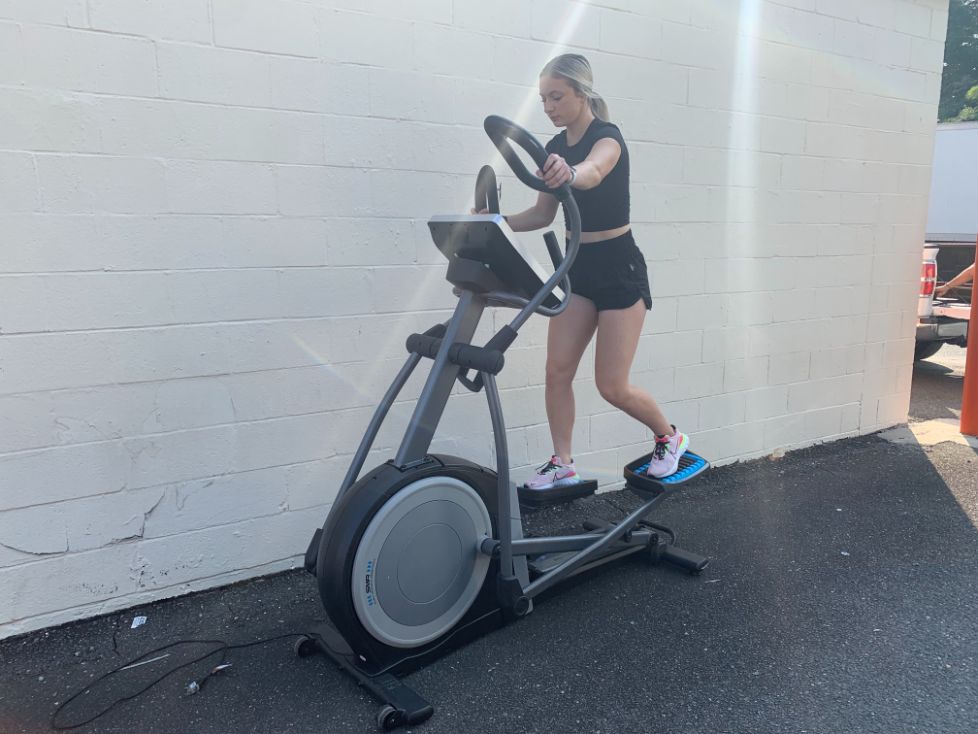 Most high-end ellipticals are compatible with the corresponding subscription service for that brand. For example, the NordicTrack Airglide 14.i, which is our pick for best elliptical overall, integrates with iFit so you can stream live and on-demand workouts on-screen (heads up: This comes with a separate subscription cost). 
In most cases, you'll also have the ability to watch Netflix, Hulu, and other streaming services directly on the screen.
These high-quality machines are best for people that plan to use the elliptical regularly and often, and/or people who want all the creature comforts a high-end machine can offer, according to Amanda.
The downside to these luxury machines is that they're usually much larger than budget models and have a heavy flywheel that makes them difficult to move. This might not be a problem if you have a dedicated space for your exercise machine, but it's something to keep in mind if you want to store your elliptical out of sight when not in use.
Brands that offer these:
NordicTrack
Sole
Life Fitness
Precor
How to Decide How Much to Spend on an Elliptical
Your personal budget is the biggest factor in deciding how much to spend on a home elliptical. You don't want to shell out more than you can afford, but it's a good idea to invest in as good of a machine as you can within your price range.
The product testers at Garage Gym Reviews stand behind the adage that you really do get what you pay for.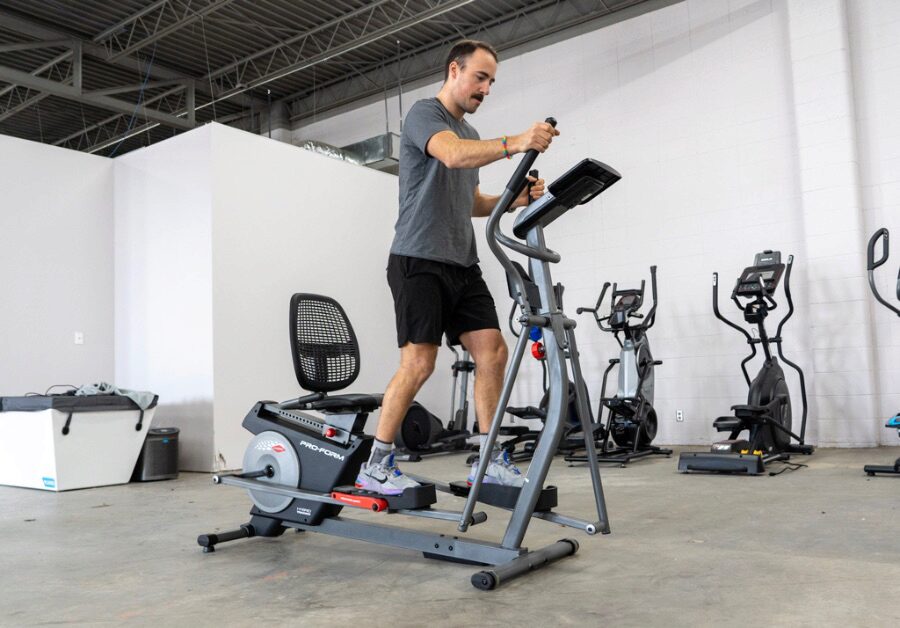 That doesn't mean that you have to pay thousands of dollars for a top-of-the-line elliptical with fancy features that you're never going to use. But you want to make sure you're choosing a quality machine that's within your allotted budget, rather than just going for the cheapest machine out there (which you would likely have to replace pretty quickly anyway).
Amanda points out that it's a good idea to consider your usage too.
"If you're only planning to use your elliptical once in a while and at lower speeds, you'll probably do just fine on a budget elliptical," she says. "If you want to use it every day and plan to do HIIT elliptical workouts or more fast-paced exercises, you'll likely want to upgrade to a sturdier machine."
Final Verdict
The short answer to "how much does an elliptical machine cost?" is that it really depends on the type of machine you get. Here's a more in-depth (but still quick) breakdown:
You can get a budget elliptical for under $1,000, but you'll have to sacrifice some features like fancy screens and adjustable resistance levels.
Mid-range ellipticals (around $1,000 to $1,500) work well for most home use. They have some upgrades, like larger screens, larger resistance and incline ranges, and preset programs.
Higher-end ellipticals ($1,500+) come fully equipped with LCD screens, adjustable stride lengths, and various workout programs, but they tend to take up more space than their cheaper counterparts.
FAQs
Is it worth it buying an elliptical?
Ellipticals are excellent pieces of fitness equipment to add to your home gym. They provide all the benefits of any other cardio workout, while still being low-impact.
Can an elliptical burn belly fat?
"You can't spot-train belly fat, but elliptical workouts can certainly contribute," says Amanda. "The key to fat loss is combining cardio with resistance training, an optimized diet, stress management, and enough quality sleep."
Which type of elliptical is best?