We test and review fitness products based on an independent, multi-point methodology. If you use our links to purchase something, we may earn a commission. Read our disclosures.
Ellipticals provide a fool-proof way to get a low-impact cardiovascular workout. If you're considering purchasing this piece of cardio equipment for your home gym, you may have come across Schwinn ellipticals in your research.
Schwinn is a long-standing brand in the cardio space and produces several elliptical machines in a few price ranges. In this Schwinn elliptical reviews article, I'll discuss the ins and outs of each model, plus why you should choose one over the other. Let's dive in.
Reviewing Equipment Since 2014
One might say our fitness equipment knowledge is the best out there. Don't believe us? From the best barbells, to the best squat racks, to the best exercise bikes and best ellipticals, we've tested and reviewed hundreds of pieces of exercise equipment since our start in 2014.
We've used the Schwinn 470 extensively, but haven't gotten hands-on with the 430 or the 411. However, we know a lot about Schwinn Fitness products, and given our experience with the 470, we feel confident in providing you with an honest, overarching review of Schwinn's elliptical lineup.
Schwinn Ellipticals Lineup
Which Schwinn Elliptical Should You Buy?
Schwinn currently offers three elliptical models for home use: the entry-level 411, the mid-level 430, and the more high-end 470. Besides a disparity in price, there are also differences in resistance and incline capabilities most notably.
The footprint of the 430 and 470 is exactly the same, while the 411 is more compact. They all have the same user weight capacity of 300 pounds, a front-drive system, moving and static handlebars, LCD displays, heart rate monitoring capabilities, and a number of preset workouts, plus matching warranties. So, your purchasing decision will really come down to your budget and workout goals.
RELATED: The Best Schwinn Coupon Codes 
Schwinn 411 Elliptical
Good for: Those looking for a compact, affordable option from a respected brand
Schwinn 411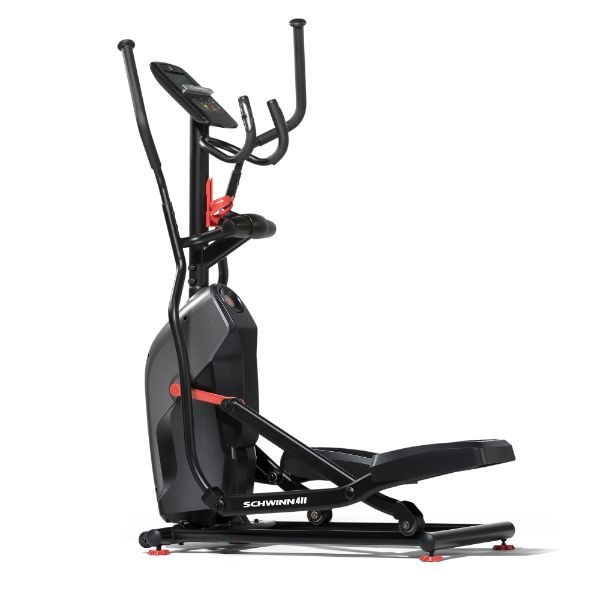 GGR Score: 3.3
Product Highlights
Compact, lightweight, and budget-friendly elliptical offering a low impact cardio workout

16 levels of magnetic resistance to vary the intensity 

18-inch stride with a pedal height of 17 inches

300-pound user weight capacity

Equipped with moving and fixed handlebars with contact grips

The console displays time, speed, distance, calories, and heart rate

Syncs with Explore the World to explore 19 locations and 27 routes
Pros & Cons
Pros
Compact
Budget-friendly
16 levels of resistance
Easy to assemble
Connect heart rate strap wirelessly
Syncs with Explore the World
Cons
Resistance may be too strong at lowest level
No pre-programmed workouts
Shorter stride length
Bottom Line
The Schwinn 411 elliptical is a budget-friendly choice for smaller home gym spaces but still offers 16 levels of challenging resistance.
Pros:
18" stride length
16 levels of magnetic resistance
More compact footprint
Syncs with Explore the World
Cons:
Metrics may be inaccurate
No incline
Display isn't backlit
Users complain it squeaks
The Schwinn 411 elliptical is the budget option of the brand's elliptical offerings, but it still has a lot going for it. It offers 16 levels of resistance, an 18-inch stride length, and a more compact footprint overall—it's over a foot shorter than both the 430 and 470—making this a better option for smaller spaces.
While the 18-inch stride length is still very much at industry standard, taller users will feel more of a walking motion with a 20-inch stride, like the 411's bigger siblings provide. And while this elliptical trainer doesn't offer incline, it's almost unheard of for a budget option to offer it, so no surprises there. Reviews are overwhelmingly positive on this machine, but some did mention a squeaking noise—it didn't seem like a deal breaker, though.
Although the 411's display is basic, you can sync with Schwinn's app Explore the World via Bluetooth, which is a nice added bonus. If you want to monitor your heart rate you can do that, too, but you'll need your own strap. Customer reviews do warn that the tracking is fairly inaccurate, so take the data with a grain of salt.
Schwinn 430 Elliptical
Good for: Exercisers who want a mid-level option with an adequate stride length
Schwinn 430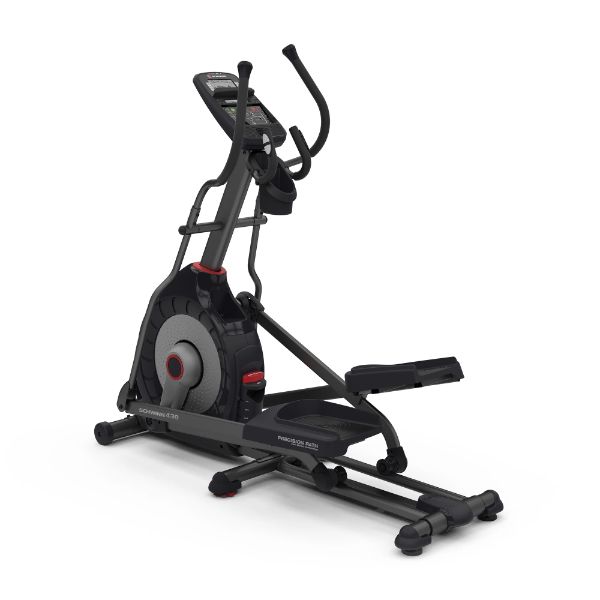 GGR Score: 3.2
Product Highlights
Front-drive elliptical

20" stride 

20 levels of resistance 

6 levels of incline

22 built-in programs 

Dual LCD screens
Pros & Cons
Pros
20 levels of magnetic ressistance
Cheaper entry price compared to other similar ellipticals
Longer stride length compared to other ellipticals in this price range
Manually adjustable incline levels
Cons
No Bluetooth connectivity
Big footprint
Bottom Line
If you're looking for an economical option for an elliptical, this could be a good choice. While it does not have all the bells and whistles of the higher-tech ellipticals, you'll still get a good workout in.
Pros:
20" stride length
20 magnetic resistance levels
6 incline positions
22 preset workouts
Cons:
Large footprint
Incline has to be manually adjusted
Extra $199 shipping charge
No Bluetooth capabilities
The 430 is the mid-tier option in Schwinn's elliptical roundup. It's got some similarities to the 470, including a 20-inch stride length, an impressive number of preset workouts (22 on the 430 vs 29 on the 470), and incline capability. A big callout here is that the 430 requires manual adjustment of the incline, meaning you'll have to adjust it before you get on the machine to work out. This is a mild annoyance, but incline capability at this price point is rare, so I view it as a positive thing.
Large, cushioned footplates, a water bottle holder, a three-speed fan, and a device holder add to the conveniences on the 430. While there are two LCD display screens to view your metrics, our expert product tester felt like the lack of a backlight made it hard to read. Also, unlike the 470, there is no Bluetooth on this machine, so you won't be able to transfer any workout data to your apps.
Because of this machine's size, assembly is a bit cumbersome and will be much easier with two people, so keep that in mind as well.
We've written an in-depth review of the Schwinn 430 elliptical if you're interested in learning more of our thoughts about this elliptical trainer. Overall, the incline capability on this machine gives it a good value at its price point.
Schwinn 470 Elliptical
Good for: Those looking for a quiet, high-quality elliptical trainer with nice specs
Schwinn 470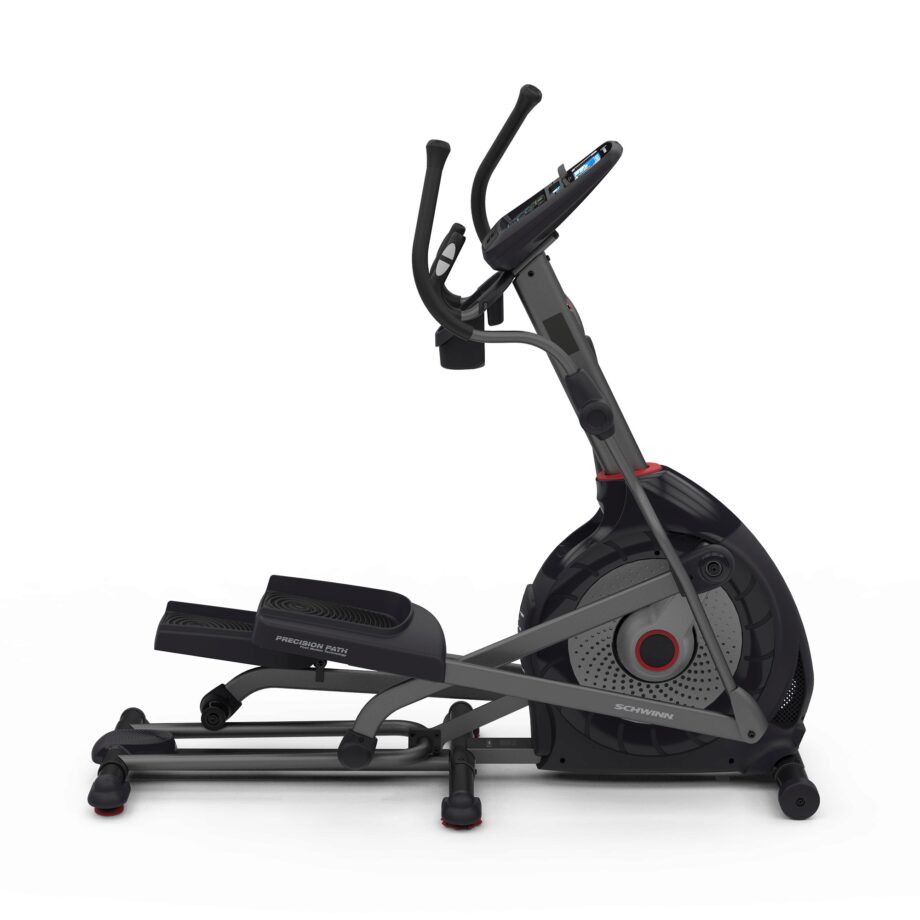 GGR Score: 2.9
Product Highlights
The Schwinn® 470 Elliptical is our top-of-the-line trainer, due to its premium quality, fluid motion and innovative features. Every inch of the Schwinn® 470 is designed to keep you inspired and motivated–from Explore the Worldâ"¢ compatibility to easy data tracking.
Pros:
20" stride length
25 levels of magnetic resistance
10 degrees of incline
29 preset workout programs
Large, ergonomic pedals
Cons:
Large footprint
Extra $199 shipping charge
Much easier to assemble with two people
No interactive programming capabilities
300-lb user weight capacity is a bit subpar comparatively
The 470 is Schwinn's top-tier elliptical offering, and it does have quite a bit going for it: 25 levels of smooth magnetic resistance and a 20-inch stride length—at the top end of industry standards and suitable for even tall exercisers—are at the top of the list.
This machine also offers power incline, which is a really nice feature and not one you're likely to see on cheaper models. There is limited Bluetooth capability for goal tracking on this machine: You can track certain metrics like time, distance, and calories and transfer them to several popular fitness apps like MyFitnessPal, Apple Health, and Schwinn's own Explore the World app. The machine doesn't communicate with your phone, however, or any interactive programming.
The other downside of this machine is that it's big—like 6-feet-long-big—and is definitely much easier to assemble with two people, just because of its size. This isn't necessarily a dealbreaker, as our expert product tester found that the machine felt sturdy. However, this also means you'll need a dedicated spot for this elliptical machine so those in small spaces may need to look elsewhere.
Read our full Schwinn 470 elliptical review for all the pros and cons of this machine with expert insight from our tester.
Schwinn Ellipticals Comparison Chart
| | | | |
| --- | --- | --- | --- |
| | Schwinn 411 | Schwinn 430 | Schwinn 470 |
| Price | $599 | $899 | $1,099 |
| Footprint | 53.8" L x 24" W x 62.5" H | 70.1″ L x 28.2″ W x 63.2″ H | 70.1″ L x 28.2″ W x 63.2″ H |
| Weight | 100 lbs | 168.7 lbs | 164 lbs |
| Weight Capacity | 300 lbs | 300 lbs | 300 lbs |
| Display | 5.5" LCD | Dual LCD windows | Dual blue backlit LCD windows |
| Incline | None | 10 degrees with 6 manually adjustable positions | 10 degrees, power-adjustable |
| Drive | Front | Front | Front |
| Flywheel | High-speed high-inertia perimeter-weighted flywheel | High-speed high-inertia perimeter-weighted flywheel | High-speed high-inertia perimeter-weighted flywheel |
| Resistance | 16 levels | 20 levels | 25 levels |
| Stride Length | 18" | 20" | 20" |
| Preset Workouts | 13 | 22 | 29 |
| User profiles | 1 | 2 | 4 |
| Warranty | 10-year frame, 2-year parts, 1-year electronics, 90-day labor | 10-year frame, 2-year parts, 1-year electronics, 90-day labor | 10-year frame, 2-year parts, 1-year electronics, 90-day labor |
| Bluetooth capability | Yes | No | Yes |
| Heart rate monitoring | Pulse and chest strap (Strap not included) | Grip contact | Grip/telemetry-enabled console |
| Fan | No | Yes | Yes |
What to Look For in Schwinn Ellipticals
If you're ready to make your purchasing decision, here are some of the factors you should consider when deciding which Schwinn elliptical is right for you.
Price
Budget should be your No. 1 criteria when deciding on a Schwinn elliptical purchase. You can spend as little as $600, or up to $1,100, so decide what your wallet can handle and then go from there.
Incline
Incline training on an elliptical can provide another challenge, recruiting your lower-body muscles in a different way and providing a way to spice up your training. Adding incline turns the elliptical into more of a stair-stepping motion than a walking motion. Some machines, like the 430, offer manually adjustable incline, while others like the 470 offer power-adjustable incline where you'll just hit a button. Other more budget elliptical machines don't offer incline at all.
Resistance
You'll want some resistance range on your elliptical so you can vary your workout and challenge yourself. Industry standard is at least 12 resistance levels, so all three Schwinn models well exceed that.
Stride Length
A good elliptical trainer has a 16- to 20-inch stride length. This provides an ample enough stride to mimic walking, while shorter strides will be more akin to a stair-stepper. Tall users especially will want a 20-inch stride length to avoid this feeling. Both the 430 and 470 have 20-inch stride lengths.
Footprint
By nature, ellipticals are not compact machines. But some are smaller than others. Budget options tend to be smaller—at four to five feet in length—while nicer machines can easily be 6-feet long. You'll also need a few feet of clearance above the machine as well, so typically 8-foot ceilings are ideal.
Conveniences
It's nice to have some extras on your elliptical machine, too. Consider if a cooling fan, water bottle holder, USB charging port, media shelf, or even a sound system could enhance your workout experience. Budget options typically won't have all of these things, but a mid-range or high-end model should.
Brand Policies
A brand's policies are almost as important as the product itself. Let's see how Schwinn stacks up.
Warranty
The warranty on all three Schwinn ellipticals is the same: 10 years on the frame, two years on parts, one year on electronics, and 90 days on labor. This falls a bit short of the best warranties offered in the industry, which typically are 15 years to life on the frame, two years on parts, and one year on labor.
Returns
If you're unhappy with it, you can return your Schwinn elliptical within six weeks of delivery for a refund, minus shipping and handling. This is a respectable policy that you can have confidence in.
Financing
Schwinn offers financing on its products, if you qualify, through a Schwinn Credit Card. Prices range from $34 a month for the 411 up to $62 a month for the 470, and you'll pay no interest if you pay it off in the first 18 months. We like to see 0% APR for at least 30 months, so this is a bit subpar.
Final Verdict of Our Schwinn Elliptical Reviews
The 411, 430, and 470 ellipticals each provide unique benefits.
The Schwinn 411 is a compact option at the most budget-friendly price point while still offering 16 levels of resistance and an 18-inch stride length.
The Schwinn 430 is more mid-range, and offers incline adjustability, albeit manual, as well as 20 levels of resistance and a 20-inch stride length.
The Schwinn 470 is top of the line, offering power incline, 25 levels of resistance, and a 20-inch stride length.
FAQs About Schwinn Elliptical Reviews
Is the Schwinn 470 a good elliptical?
Yes, the Schwinn 470 is a solid elliptical with respectable stats, including 25 resistance levels, a 20-inch stride length, power-adjustable incline, and a 300-pound user weight capacity.
Which brand is the best elliptical?
Are ellipticals good for losing belly fat? 
No cardio machine can help you spot reduce body fat. To lose belly fat—or any type of fat—you'll need to be in a caloric deficit, which ideally requires a healthy diet and a combination of strength and cardiovascular exercise.