We test and review fitness products based on an independent, multi-point methodology. If you use our links to purchase something, we may earn a commission. Read our disclosures.
If you're someone who has been lifting for a while now, you've probably gone through phases of full-boar commitment followed by periods of working out while sore, skipping your mobility exercises, and general lackluster enthusiasm towards training.
As a certified personal trainer (CPT), I've seen the same swing happen countless times to clients and coaches alike. Heck, I've been through the fitness ringer myself, too.
In this Functional Bodybuilding Persist Review, I'm going to share some insights with you about this workout program and how it offers a one-stop-shop for both training and active recovery (without the need for buying one of the best muscle recovery tools on the market).
I'll give you a glimpse into my experience and share both the good and less favorable aspects of this program (of which there are only a few).
24 Online Programs Tested And Counting
Garage Gym Reviews is staffed with a group of individuals that live and breathe fitness, with backgrounds ranging from certified personal trainers and nutrition coaches to Olympic athletes and gym owners.
To date, our expert product testers have used 24 online fitness programs. We've even curated a list of the best personal training apps, which includes nine of our top picks for complete-package online training. And being personal trainers and gym owners ourselves, we're tough critics.
For the Persist program through Functional Bodybuilding, I used the online program for three months and played around with two of the five tracks you can choose from.
Functional Bodybuilding Persist
GGR Score: 4.28
Product Highlights
Online strength training programming

5 different tracks to choose from

Vast library of demo videos

Community board

Weekly message from Marcus Philly
Pros & Cons
Pros
Clear instruction
Quality demo videos
Weekly emails to overview programming
Includes quality warm-ups
Mobility days worked into schedule
Cons
Website platform, no app
Not suited for beginners
4-5 lifting days might not work for everyone
Bottom Line
The Functional Bodybuilding Persist Program designed by Marcus Filly, former CrossFit games athlete, offers exceptional programming for folks looking to improve mobility and increase muscle mass at the same time. Mobility and recovery is built-in to the warm-ups, cool-downs, and addressed on non-lifting days.It's also appropriate for folks with limited equipment. There are five different tracks you can choose from and one offers minimal or no equipment and you can still see results.
A Quick Look at the Functional Bodybuilding Persist Program
Functional Bodybuilding (FBB) was born when founder Marcus Filly hit a metaphorical wall in his athletic career. The pivot point came when he was feeling completely burnt out and physically broken after competing in the 2016 CrossFit Games (also after being a longtime CrossFit affiliate owner).

This low point helped reshape his training methodology. He committed to helping himself and his fellow athletes train for longevity with a focus on movement quality (versus quantity) and high-caliber warm-up and cool-down protocols.
RELATED: Best Warm-Up Exercises
Before You Buy
If you sign up for the monthly billing option, you can get a free 2-week trial
Other than the Pump Lift track, you will have conditioning workouts programmed into nearly every session
Training cycles run 6 weeks, but when joining, you'll start on the current week of the program (not at the beginning)
While most workout tracks require a barbell and a pair of dumbbells there is one track that uses little to no equipment
Is the Functional Bodybuilding Persist Program Worth It?
Firstly, it's worth noting that Persist is a program that has five different tracks you can choose from within the umbrella of Persist (I'll break down each track a little bit later when I get into the details of using the program).
That said, if you're looking for personal training and a program tailored specifically to you, that does exist on the Functional Bodybuilding website, but that is not something I'll be diving into in this review.
Speaking as a personal trainer, I would highly recommend this program (specifically the Minimalist and Pillars tracks) if you have some (or a lot of) experience with free weights and barbell training and want a program that may help you get stronger and recover faster.
I think the Perform and Pump tracks are more suitable if you're an advanced lifter. These tracks will offer challenges even if you have years of experience and coaching under your belt.
I would not recommend this program for the true beginner (even though the Minimalist track does not require much equipment). I personally think the training volume is too high if you're just getting your toes wet with resistance training.
RELATED: What is Resistance Training?
Great for:
Folks with some lifting experience
Advanced lifters
People who need accountability to do mobility and active recovery
Not recommended for:
True beginners
Anyone who needs a specialized program
Folks who don't enjoy strength training
FBB Persist Program Specs
| | |
| --- | --- |
| Price | $39/month; $99/quarter; $325/year |
| Workout tracks | Pillars, Pump Lift, Pump Condition, Perform, Minimalist |
| Types of training | Minimal equipment workouts, hypertrophy, conditioning, and/or Olympic lifting |
| Extras | Weekly emails, video messages from Marcus Filly, vast library of demo videos |
| Gym membership required | No |
| Workout per week | 4-5 depending on track |
| Mobility sessions per week | 2-3 depending on track |
Using the Persist Program
During the initial sign-up process I answered a few questions about my lifting experience, type of equipment I have access to, and my goals. After becoming a member, I got an email from Atom Training. I then followed instructions to Atom's web-based app. There I signed in using the same credentials I used to sign up on the FBB website.
After logging in, the program automatically put me in the track best for me based on the information I provided during the questionnaire. I noticed it's easy to view the other tracks or change tracks using the main menu. From there, workouts are self-guided.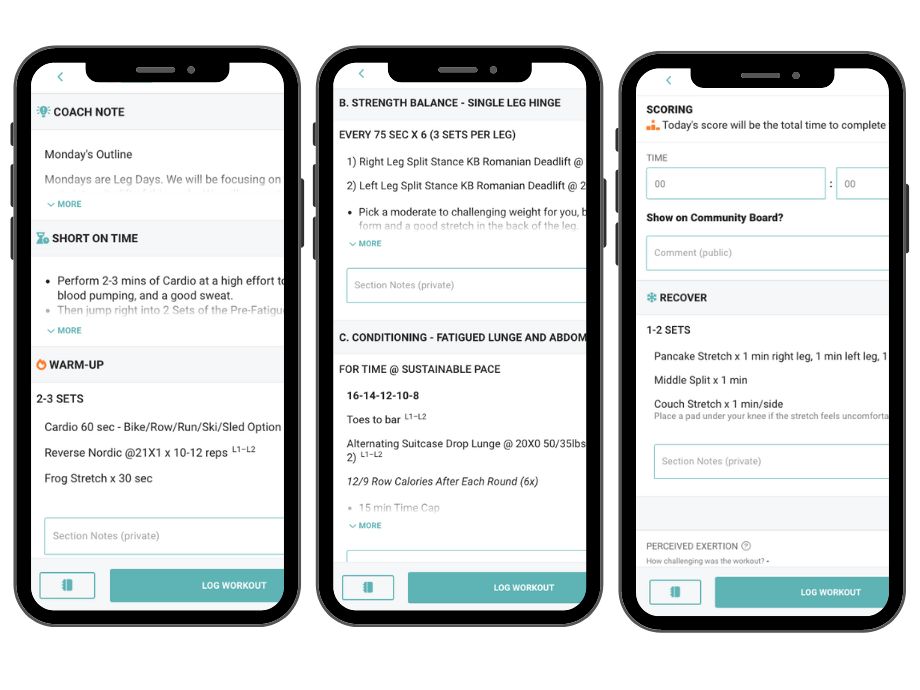 But don't let the term self-guided scare you off! Each workout has a quick coaches' note describing your focus for the day or preparing you for the hardest aspects of the workout.
Each workout is broken down into different parts, including warm-up, main movements, accessories, and cool-down (except the program uses much more awesome terms like pre-fatigue, strength balance, and recovery).
In each section, the exercises are not only listed by name; they feature a demonstration video for every movement pulled from the FBB YouTube channel (which has 1,000 demonstration videos!).
It's also worth noting that the videos don't seem to bog down the website at all. The videos quickly pop up and don't navigate you to another webpage (which I think is important because you'll be using a browser—not an app—to use this workout program). But I'll touch on the webpage stuff a little later.
However, one thing to note is the fact the demo videos don't offer any instruction, it's purely a visual aid. The video quality is fantastic, so you can clearly see what's happening, but I'm calling it out because, without a voiceover or explanation, it might not be ideal if you're brand new to lifting.
RELATED: 6-Week Beginner Workout Program
Additionally, all of the longer workouts that are longer than 60 minutes include a "short on time" note to help you prioritize your lifts and get it done in less time. This usually looks like less overall volume (performing two sets versus four sets) and sometimes will even be cutting out the finisher or conditioning section.
Methodology Behind Persist
At the core of the Persist training program, Marcus Filly and his team use principles of progressive overload to help you achieve muscle size and strength. Persist is a well thought-out program, it's not a kitchen sink workout randomly sprinkled with burpees.
But what is progressive overload? Simply put, it's a way to tweak the stimulus lifting has on your muscles so you can keep progressing in your strength journey. Essentially, you will also run into a metaphorical wall of your own (much like Marcus Filly did) if you try to add five more pounds to the bar or one more rep to your sets every week.
Progress isn't linear, and the Persit program from FBB addresses that head on. In all five tracks of the program, you will see nearly all of the principles of progressive overload show up, including load, repetitions, volume, rest period, range of motion, tempo, frequency, and degree of difficulty. 
In a welcome video from Marcus Filly, he notes that there is a fine line between "Getting a great training session and feeling like you didn't work hard enough."
"Or pushing it too much and sacrificing form—potentially increasing your injury risk," he adds. "We typically don't use percentages of one rep maxes (1RM), but instead, we go by feel so that you can adapt to how you're feeling on a given day, as well as the workout at hand."
That said, some exercises will challenge you with a simple increase in weight from the week prior. Other movements will vary—either from week to week or build progressions into the next training cycle—by range of motion, rest time, or tempo.
I was able to record your weights, time for conditioning exercises, and the way I felt at the beginning and end of the workout. So, just because the program is not based off of your 1RM doesn't mean it's without progression.
For example, let's say the barbell back squat was featured in the last 6-week cycle and showed up again in the next 6-week cycle. But instead of increasing the load, the program adds a tempo to the movement.
RELATED: How to Squat Heavier
If the program calls for tempo, it will be listed next to the name of the exercise. The website provides a cheat sheet for reading tempo programming (and any other training modification) which is super helpful.
For example, if a back squat calls for "32X1" tempo, here is what to expect:
3 – Moving smoothly, use 3 seconds to squat to full depth
2 – Hold for 2 seconds at the bottom of the squat
X – Explode up as quickly as you can
1 – Start the next repetition after 1 second
The order of the TEMPO numbers always goes as follows: Down, hold, up, pause.
RELATED: Benefits of Squats
Functional Bodybuilding Persist Program Setup
I think it's worth noting that the setup is not as easy as just downloading a new app. The Persist program from Functional Bodybuilding runs on a web-based app, so you won't find it in the Apple app store or Google Play.
Once you sign up with your email address and choose your billing cycle (monthly, quarterly, or annually), you'll get an email from the web-based app host called Atom Training.
Although you'll be using Atom through a webpage browser, I didn't find it that cumbersome once I got started. During the setup process, Atom suggests saving the web address to your favorites so you can easily navigate the website, which I found helpful.
I thought the lack of a traditional app was going to be annoying, but I really didn't have a problem with it. The one thing I noticed is that when I start my workouts, I almost always forget it's saved on my Safari browser, so I inadvertently browse through my apps at least once before I remember. I don't personally think this should be a dealbreaker for the program quality.
Persist Offers Five Different Tracks To Choose From
There are five different tracks to choose from within the Persist program. All programs run on 6-week training cycles that typically build on movements and skills from the previous cycle.
In an introduction video to the program, Marcus Filly encourages athletes to stay on one track during the cycle to get the most benefit from the programming and progression. I did toggle a bit between tracks, but I mainly used Pillars.
Here is what to expect from each training track:
Pillars Track: Four, 60-minute workouts per week, focusing on functional fitness and compound movements like squat, bench, deadlift, and overhead press (plus conditioning finishers like EMOMS, AMRAPS, and burnout sets)
Pump Condition Track: Five, 75-minute muscle-building and hypertrophy-style sessions with conditioning added at the end of most workouts
Pump Lift Track: Five, 75-minute hypertrophy-style sessions without conditioning
Perform Track: Five, 90 minute sessions that includes Olympic lifts and other functional fitness
Minimalist Track: Five, 60-minute little-to-no equipment hypertrophy-style workouts with bodyweight cardio drills like sprints and jumping jacks
I personally used the Pillars track for most of the workouts I did during my 3-month testing cycle. However, I moved while I was testing the program, and being able to toggle between Pillars and Minimalist training programs was a clutch.
As my moving date got closer, my home gym dwindled down to nothing more than a kettlebell and bands, so the Minimalist track was literally all I could handle (both equipment-wise and mentally).
RELATED: Best Resistance Bands
Weekly Email Previews and Video Messages
Another thing you can expect from the Persist program (that you don't often see from even the best online workout programs) is a weekly email on Sundays that provides a preview of your upcoming week of workouts. You can always look back on old workouts, but future workouts are only released one week at a time. I personally think it's a little annoying that I can't see the entire 6-week cycle upfront, but I'm not sure everyone will have that same opinion.
Within the email Marcus Filly also gets in front of the camera for a message to the members almost every week. It's usually a little pep-talk and a look ahead on what to expect (if there are new exercises or newly added blocks of conditioning). It's like a little pat on the back before you get into your week.
Functional Bodybuilding vs Juggernaut AI
JuggernautAI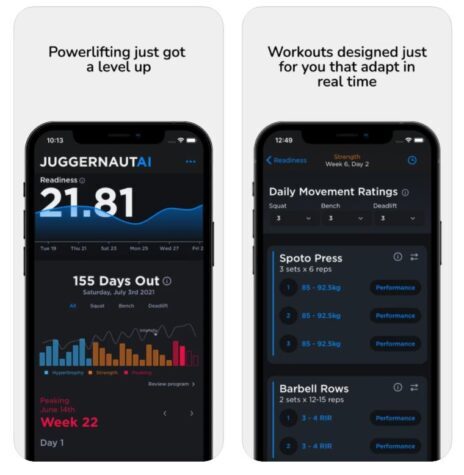 GGR Score: 4.0
Product Highlights
Use code "GARAGEGYM" for a discount on JuggernautAI training.
Smart powerlifting and powerbuilding program from Chad Wesley Smith, an accomplished strength athlete and owner of Juggernaut Training Systems.
Uses information such as your weight, training history, current fitness level and training load, personal records, goals, and ideal training schedule to create strength and hypertrophy blocks to prepare you for powerlifting or bodybuilding meets.
Pros & Cons
Pros
Extremely intuitive app experience
Super smart and responsive AI
Offers a two-week free trial to see if you like it
Cons
Not the same as working with a real coach
Dashboard is a little confusing at first
Only for strength training (no cardio workouts)
Bottom Line
JuggernautAI compiles your information to create a personalized powerlifting and powerbuilding workout experience.
In this comparison, we're comparing the FBB Persist program to Juggernaut AI. Many of the other programs we've tested are either for general exercise (like iFIT or Peloton) or are legit actual personal training apps where you work one-on-one with a coach (like Future).
RELATED: Future App Review
Juggernaut AI is comparable to FBB Persist in the sense that they are similarly priced and self-guided workouts without a live coach. However, the focus of Juggernaut is powerlifting and the big three lifts (squat, bench, deadlift), while Persist has a broader approach to exercise selection and movement patterns. Persist also tackles recovery and mobility by seamlessly adding it to the end of every workout in addition to two or three sessions dedicated to mobility, not lifting.
While both programs are going to help you get stronger, I think that Persist Training has a human element from Marcus Filly's personal burnout experience that can't be matched with a program designed by AI.
RELATED: JuggernautAI Review
| | | |
| --- | --- | --- |
| | FBB Persist | Juggernaut AI |
| Price | $39/month | $35/month |
| Type of training | Functional movement, Olympic lifts | Powerlifting, powerbuilding |
| Format | Web-based app | App |
| Live coach | No | No |
| Workouts per week | 4-5 | Custom |
Functional Bodybuilding Customer Experience
FBB offers a live chat function in the bottom sign corner of your browser. Although I didn't have any pressing questions, it only took a few minutes to get a response on some simple membership questions.
You can also send emails to customer service at support@functional-bodybuilding.com.
And if you're running into training questions or need more understanding about movements (maybe a certain lunge variation or the strict pull-up), you can always go to the FBB YouTube page, which is packed with resources.
Functional Bodybuilding Customer Reviews
While the FFB website doesn't feature a traditional 5-star rating reviewing system, FBB does have a few glowing written testimonials feature on the website. In addition to that, the YouTube videos I've personally browsed on the FBB channel have also been overwhelmingly positive and all pretty much all tie back to the Persist programming.
Final Verdict of My Functional Bodybuilding Persist Review
In the age of technology, there are endless ways to get coaching—whether you're looking for form review on your power cleans or guidance to lose body fat.
That said, not all coaching and programming are created equal. There are plenty of folks on your social media feed selling wellness programs and workouts that will leave you spinning your wheels. Here at GGR, we're committed to helping you avoid those traps and guide you to find programming that is based on the core principles of strength training.
All this to say, the question is not: Is the Functional Bodybuilding Persist program any good? It's a high-quality program and will be enjoyable for a wide range of home gym owners and gym-goers alike.

The question is more, is Persist the right program for you? If you like the sound of what you've read so far, here are some things I'd keep in mind before you sign up:
You can go through the prescribed workouts at your own pace throughout the week, but I think it's worth noting that all tracks on the Persist program have you lifting four to five days per week, which might be a lot for some folks.
Most tracks include conditioning as part of the programming, something to keep in mind for anyone coming from a non-cardio background (like me!).
I personally wouldn't recommend this program for true beginners, but I do think that if you've had some dumbbell and barbell lifting experience, you'll be just fine!
Functional Bodybuilding Persist Rating
Functional Bodybuilding Persist Program
Read our honest take on this hybrid programming in our Functional Bodybuilding Persist review.
Product Brand: Functional Bodybuilding
Product Currency: $
Product Price: 39
Product In-Stock: InStock
Functional Bodybuilding Persist: FAQs
What is the difference between functional bodybuilding and bodybuilding?
Functional Bodybuilding (aka FBB) is a program and training resource founded by Marcus Filly. While there are aspects of bodybuilding with techniques to focus on peak muscle contractions like supersets, burnout sets, and AMRAPs, the program is a blend of functional training and muscle building together.
From our experience, classic bodybuilding is less dynamic and doesn't focus on the same level of recovery as the FBB Persist program. 
What is the functional bodybuilding method?
The Functional Bodybuilding method (founded by Marcus Filly) blends traditional compound movements, unilateral strength, hypertrophy, and recovery into one program. Filly often says to Persist members that the goal is to "look good, move well." 
How many times a week should I do functional training?
The Persist program through Functional Bodybuilding has members train with resistance four to five times per week, one or two supplemental mobility sessions, and one full rest day.