We test and review fitness products based on an independent, multi-point methodology. If you use our links to purchase something, we may earn a commission. Read our disclosures.
If you're new to working out, looking to lose weight, and want a budget-friendly treadmill, you might wonder what your options are. Fortunately, there are several treadmills out there that'll help you with weight loss that come at a decent price point. One of those treadmills is the Gold's Gym Trainer 410.
Although it's now discontinued by Gold's Gym, you might still see it around at different retailers, like Wal-Mart or Amazon. You could even run across it at an estate sale, so it helps to know how this treadmill would measure up.
Now we must admit that you won't find jaw-dropping features on this piece of fitness equipment that you might find on a ProForm or NordicTrack. However, if you want something for beginners that'll let you get a cardio session in without breaking the bank, this might be the machine for you.
We've Got Standards When It Comes To Treadmills
Our team of testers has literally tried out hundreds of treadmills from different brands, and the number is growing by the day. Thanks to all this testing, we've gotten really good at identifying which treadmills are top-notch and which are not so hot.
We can determine a lot about a treadmill by evaluating features like deck cushioning, tread belt size, and the entire drive system. But, seriously, whenever we check one out, we ask ourselves who would benefit the most from using this treadmill and who should steer clear of it.
Even when a treadmill is on the cheaper side, like this Gold's Gym treadmill, we still believe it should uphold certain standards so that it can help you reach your fitness goals. Otherwise, what's the point in spending your hard-earned money in the first place if it can't help you achieve weight loss? Fortunately, our team of certified personal trainers, CrossFit coaches, nutrition specialists, and more have your back (and without the marketing fluff).
Looking for an Alternative to Gold's Gym Trainer 410 Treadmill?
Best Alternative to Gold's Gym Trainer 410 treadmill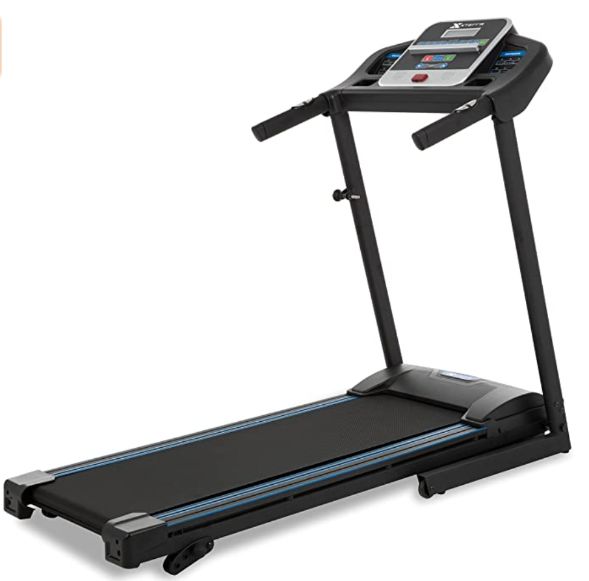 GGR Score: 3.5
Product Highlights
Simple to use
Lifetime warranty on the frame
Easy to build
12 preset programs
Deck has sub-par cushioning
Pros & Cons
Pros
Foldable
Portable with transport wheels
Ideal for beginner walkers to speed walkers
Lightweight
Great warranty
Easy-to-read 5-inch LED display
12 preset programs onboard
Cons
Only 2.25 horsepower motor
Some reviewers report it is noisy
Water bottle holders on console reportedly do not fit normal bottle sizes
Users claim they received an error code after one use
Several reviews reported that the dimensions provided are inaccurate
Not suited for experienced and heavy users
Bottom Line
The XTERRA TR150 is a starter treadmill available on the lower end of the budget scale offering a commendable lifetime frame warranty and features comparable to competitive models. If you are just beginning your fitness journey, this is a great option for you.
If you continue reading this review and feel like the trainer 410 treadmill isn't going to meet your needs, we've got a suggestion for you. The XTERRA Fitness TR150 Folding Treadmill is very similar and is priced affordably at under $400.
Those who are looking for a machine that'll let them walk leisurely or speed walk will appreciate this treadmill. It's made for walkers, given its 2.25 HP motor and 18-inch-by-50-inch tread belt. However, the width is honestly a bit restricting, considering that it's 2 inches thinner than what is recommended, even for those walking on a treadmill. Most will be OK with the 50-inch-long running belt, though. But, once again, if they're just walking.
The XTERRA Fitness TR150 also offers a lifetime warranty, which is almost unheard of in the treadmill world, but it's a very nice perk! You'll be glad to know that it's easy to put together and won't take up a lot of room if you're short on space. It's foldable, lightweight, and has portable transport wheels, which makes a huge difference when it comes to moving the machine around.
The 5-inch LED display on this treadmill is straightforward to read, and while that should be expected, it's a feature you only sometimes find on budget-friendly treadmills. Beginners will especially like the 12 preset workout programs since it's not always clear what to do when you're new.
You can learn more about this treadmill by checking out our XTERRA Fitness TR150 Folding Treadmill review.
A Quick Look at the Gold's Gym Trainer 410 treadmill
Not everyone wants to spend a ton of money on treadmills, and that's alright! You shouldn't have to when you want to better yourself. Most of us just need a treadmill that lets us do whatever activity we need to do, and that's precisely where this treadmill comes in.
If you need a walking treadmill and you want something in the less than $1000 price range, you'll find it here. However, the adage, "you get what you pay for," isn't just a random saying. If you get this treadmill, you'll like the price, but don't expect longevity or superb quality. This is very much a starter treadmill for those who are beginning their calorie-burn journey and don't want to invest a whole lot.
So let's go ahead and get into the details about the Gold's Gym Trainer 410 treadmill.
Pros:
Foldable
SpaceSaver Design
Attractive price point
Dual-grip PowerPulse heart rate monitor
Comes with weight set (two 2-lb hand weights)
Cons:
Made with cheap parts
Basic console area
2.0 CHP motor
Cramped running area
Gold's Gym Trainer 410 treadmill Specs
| | |
| --- | --- |
| Footprint | 70.0" L x 33.0" W x 53.0" H |
| Weight | 156-lbs |
| Weight capacity | 300-lbs |
| Display | LCD 5″ x 7″ workout matrix display |
| Foldability | Yes |
| Motor | 2.0 CHP G-Force Motor |
| Belt size | 18″ x 50″ |
| Incline options | 0 – 10% |
| Speed range | 0 – 10 MPH |
| Preset programs | 8 Workout Apps |
Key Features of the Gold's Gym Trainer 410
The key feature of this treadmill is most definitely its price, but there are a few other things that stand out too. For instance, it's got QuickSelect speed control and QuickSelect incline control, so you don't have to mess around with a bunch of buttons just to adjust your settings.
Sometimes, lower-priced treadmills require you to get off the machine and manually adjust the incline level, which can get annoying quickly—and essentially means you must commit to one incline level for your run if you want to avoid changing it manually. Even more bothersome is when you only get three incline levels. Thankfully, that's not the case here. Instead, you get a 0-10% incline range that'll automatically adjust with the click of a button.
The max speed on this treadmill is 10 MPH, which isn't bad since six or more miles per hour is considered running. Yet, this still isn't really a runner's treadmill, especially not a serious runner—the deck size and motor limit this machine's capabilities.
The max user weight on this treadmill is 300 pounds, which is standard for treadmills in this price range. However, once again, the motor and deck size limits this machine, so it likely wouldn't comfortably support a heavier or taller user.
Footprint, Portability, and Durability
When you don't have a lot of space in your home, you need a treadmill with a compact frame that can be stored away when not in use. The Gold's Gym Trainer 410 offers that, thanks to its smaller footprint. In addition, the patented SpaceSaver design allows you to fold it vertically, and you can use the wheels to transport it around conveniently.
As with all treadmills, a smaller overall footprint will result in a smaller tread belt, which is what you'll find here. It's only 18 inches wide and 50 inches long, but that should work if you're just walking.
In terms of durability, you're not getting a treadmill built with top-quality parts. Therefore, if you plan on using it frequently, don't count on it working forever. In addition, many customers have complained that the motor is loud and the parts squeak when in use, but it's to be expected at this price point.
When it was in production, the warranty plan only offered 90 days of coverage on parts and labor and five years on the frame. That alone is a sign that the parts used in this machine won't hold up for too long.
Ergonomics
Budget treadmills aren't necessarily focused on making working out more comfortable. Instead, their goal is to allow you to work out without breaking the bank. Nonetheless, the trainer 410 treadmill does offer AirStride Plus (TM) Cushioning to provide some extra support and stability for your joints. Therefore, you won't feel like you're running outside on the pavement.
Technology Benefits and Conveniences
Tech-wise, you're not going to get too much out of this treadmill. There's a 5-inch-by-7-inch workout matrix with a priority display. You'll find a RaceTrack display on it as well. That's convenient if you want to check out the progress of your workout in the track style. In addition, on the LCD window, you'll be able to see essential stats like calories burned, speed, incline level, time, and more.
This treadmill has a dual-grip heart rate monitor built into the handlebars, which is nice so you can see if you're in the correct training zone for your fitness goals. There are also eight built-in workout programs on this treadmill. Four are weight loss workouts, and the other four are performance workouts.
In terms of convenience, the treadmill comes with a pair of 2-pound dumbbells, so you can get some upper body toning in. But it's definitely lacking cup holders, a cooling fan, a tablet/phone rack, and audio options. These things could be a deal breaker for some.
Related: Best Treadmills With TV Screens
Final Verdict of Our Gold's Gym Trainer 410 Review
Anytime you're looking for the best treadmills under $500, you have to be okay with it not having some things. These starter treadmills are there to give people access to working out conveniently in their homes, but they're going to lack some of the conveniences you might actually like.
The Gold's Gym Trainer 410 isn't a terrible treadmill, as it can still help someone reach their fitness goals. However, there's a chance that the machine might not last long. Therefore, you have to ask yourself, should I save until I can get something a little better? Ultimately, it's up to you.
It's a foldable treadmill that can meet the needs of someone who wants the option of walking indoors. But if jogging or running is your goal, we'd recommend looking for a treadmill with a more powerful motor, a larger running surface, and more durable parts.
Full Rating
Gold's Gym Trainer 410
If you're interested in an alternative to the Gold's Gym Trainer 410 treadmill, check out the XTERRA Fitness TR150 Folding Treadmill.
Product Currency: USD
Product Price: 384.99
Product In-Stock: InStock
Gold's Gym Trainer 410 treadmill FAQs
How Much Does a Gold's Gym Treadmill Cost?
Since Gold's Gym treadmills are primarily sold in discount retailers like Wal-Mart and Sam's Club, you will find them in the budget treadmill category. Their price range is $400 to $600. 
Which Treadmill is used in Gold's Gym?
Some Gold's Gym facilities carry TechnoGym products. 
Is ProForm the same as Gold's Gym?
Their brands are different, but they're both manufactured by the fitness equipment production company, ICON. 
What's The Best Treadmill For The Money?