We test and review fitness products based on an independent, multi-point methodology. If you use our links to purchase something, we may earn a commission. Read our disclosures.
If you're in the market for the best treadmill under $1,500, you're at the right place. Many people believe that machines in this price range will have little to no technical capabilities. Others assume that the workout experience will be subpar at best and they won't be able to comfortably meet their fitness goals.
However, let me be the one to tell you that you can get a good treadmill for your home gym without spending $2,000 or more. On this list, we've included some options from top brands that are known for producing high-quality, durable, and yet still affordable treadmills. We're pretty confident that you'll be able to identify one that fits your cardio needs at a price point you like. So, let's get started!
We Know Treadmills Like The Back of Our Hands
We know that there are hundreds of treadmill reviewers out there, but why should you listen to us? What makes us so different from every other person out there who steps on a treadmill?
Well, our testers include personal trainers, competitive athletes, CrossFit-L1 trainers, and more. As you might imagine, these fitness gurus spend a lot of time trying out treadmills and have learned exactly what to look for. They know how to look past the marketing tactics and really dive into what makes a treadmill worth buying.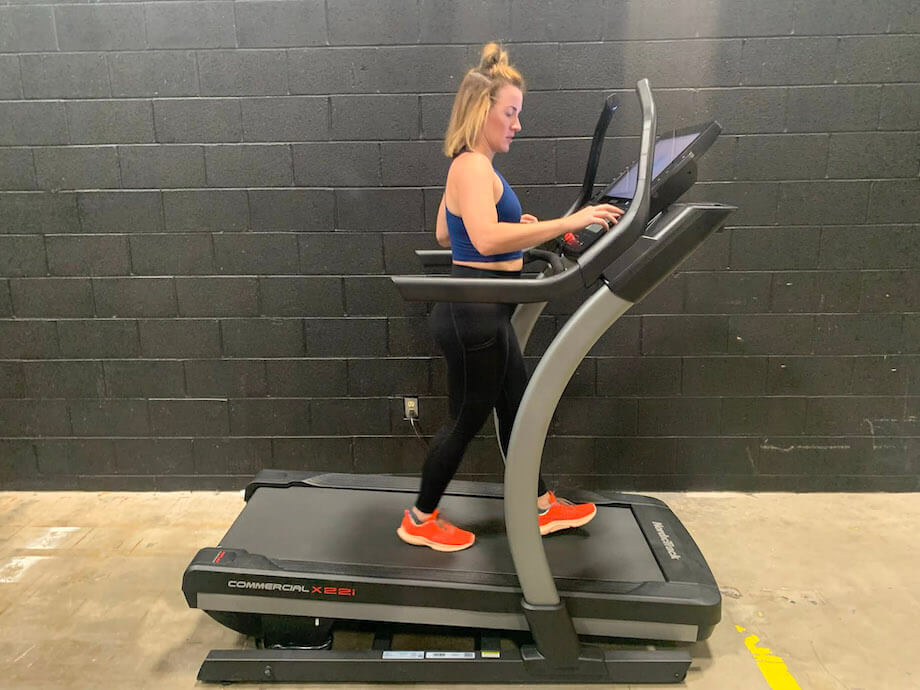 In addition, their years of experience have taught them how to identify which treadmills would best meet a person's needs. For instance, if you're a tall runner, you likely would dread getting on a treadmill with a short running deck. Or if you've got limited space in your apartment, you probably would hate having a treadmill that you can't fold and stow. Our experts consider these things to help you get what you need at the right price.
The 6 Best Treadmills Under $1,500
Best Treadmill Under $1,500 Overall: NordicTrack EXP 7i
Good for: Runners who want a foldable machine equipped with a touchscreen display and adjustable deck cushioning
Best Treadmill Under $1,500 Overall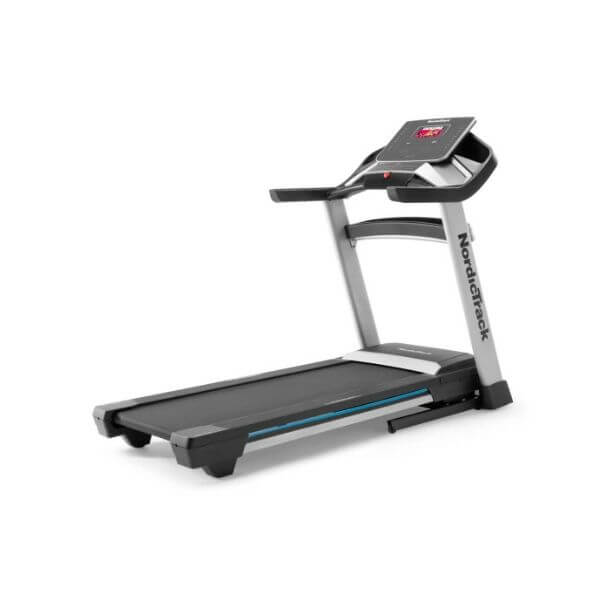 NordicTrack EXP 7i
The NordicTrack EXP 7i offers the reputable NordicTrack-quality build and virtual training experiences at an affordable price. Powered by a 3.0 CHP, the EXP 7i reaches speeds up to 12 miles per hour and supports incline ranges up to 12%. Featuring a folding design, compact footprint, cushioned running deck, and a 7-inch interactive touch screen, the EXP 7i could be a good option for those with limited space.The roomy 20-by-60-inch running deck has a FlexSelect cushioning to reduce impact to joints and back. Training for a road race? Simply turn off the cushioning for a road running experience. And, with membership to the iFIT training platform, you can mock any global terrain and immerse yourself in the virtual images. Or, choose from over 16,000 live and on-demand videos to be guided by elite personal trainers. AutoAdjust technology on the EXP 7i allows these trainers to virtually change your speed and incline so you can focus on your workout.There are also some added conveniences that add a nice touch to this treadmill. The console is equipped with two digitally amplified speakers, a console fan, and a storage tray. There is no tablet holder, but the storage tray has the capability to hold whatever you may need. Bluetooth connectivity makes it easy to sync headphones for a wirefree experience.The 7-inch screen does sit high on the console which may make it hard for shorter individuals to see it clearly. Some users have disliked the smaller screen size, but for the price and its capabilities, it is more than you would find on comparable treadmills.
Pros:
Priced under $1,200
7" HD touchscreen
3.0 CHP motor
Includes up to 12% incline
Compatible with iFIT
Adjustable cushioning
Cons:
May be noisy during speed and incline changes
Small screen on large console
Shorter 10-year frame warranty
It's hard to think about treadmills without NordicTrack coming to mind. They're a leader in the home treadmill space, and easily one of the top picks among beginners and experts alike. As you might imagine, the NordicTrack EXP 7i doesn't disappoint either, which is why it's our best treadmill under $1,500 overall.
Coming through with the quiet 3.0 CHP motor, 7-inch touchscreen display, and easy-peasy hydraulic folding, it's top tier in its price range. You can follow iFIT training programs that'll auto-adjust speed and incline to mimic your on-screen iFIT personal trainers. Plus, you'll be able to protect your knees and more by adjusting the deck cushioning to your liking.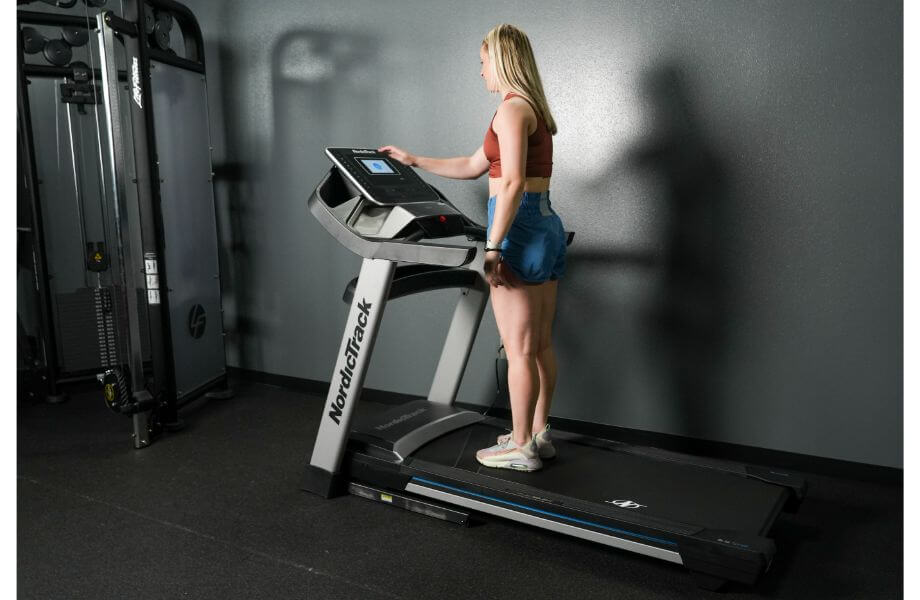 I like that it comes with a running deck suitable for runners at practically any height, as it is 60 inches long. Bluetooth connectivity comes in handy, too, especially if you don't want to use the speakers. You can swiftly connect the instructor-led training to your Bluetooth headphones so you don't wake the kids during your morning run. Incline settings go up to 12% paired with up to 12 MPH speed capabilities will give you plenty of workout options to meet your fitness goals.
Some reviewers noted that the machine gets a little noisy during changes. Also, the 7-inch touchscreen may feel very small on the large console. Overall, however, I'd say the NordicTrack EXP 7i would be a quality treadmill to add to your home gym. It offers many of the specs found in the NordicTrack Commercial 1750 but at a more affordable price point.
For more, check out our full NordicTrack EXP 7i review.
| | |
| --- | --- |
| Price | $1,199 |
| Programming | iFIT |
| Speed and Incline | 0-12 MPH, 0-12% incline |
| Other Key Features | Automatic trainer control, FlexSelect cushioning, Bluetooth connectivity, two amplified speakers, OneTouch controls, workout fan |
Best Treadmill Under $1,500 for Runners: Horizon Fitness 7.0 AT
Good for: Beginner and budget-conscious runners who aren't pressed for tech features
Best for Runners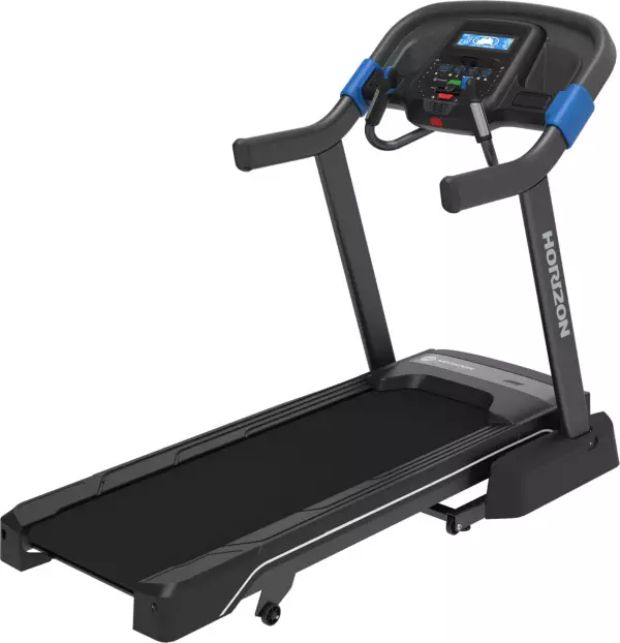 Horizon 7.0 AT Treadmill
Tired of searching for a budget treadmill that'll support your running habits? Look no further than the Horizon 7.0 AT Treadmill. This machine has a well-cushioned deck to aid in a more comfortable indoor run as well as a 60-inch deck (which is what we'd recommend most for running). I also enjoy the QuickDial adjustment feature, which allows users to change their speeds and incline up to "33% faster than other treadmills." This is useful if you love doing HIIT or sprints where you may need to quickly adjust the speed or incline.I would recommend shelling out the extra cash to get professional assembly. The 7.0 AT is a weighty cardio machine, and would best be completed with another helper (or a professional).
Pros:
Priced around $1,000
20" W by 60" L running deck
Up to 15% incline range
325 lb user weight capacity
Quiet motor
No fitness subscription required
Cons:
No touchscreen
7-inch LCD screen
No automatic trainer control with third-party apps
Who says you can't get a spacious 60-inch running deck and Bluetooth connectivity on a treadmill under $1,000? The Horizon 7.0 AT may not come with a touchscreen, but it has many other features that serious runners are looking for.
It's got a max user weight capacity of 325 pounds and supports tall and short runners alike. The frame is built solid, so you'll get a durable treadmill that can handle heavy foot traffic. Unfortunately, the tread belt is thinner than what you'd find in similarly priced treadmills. However, the deck cushioning should help with this flaw.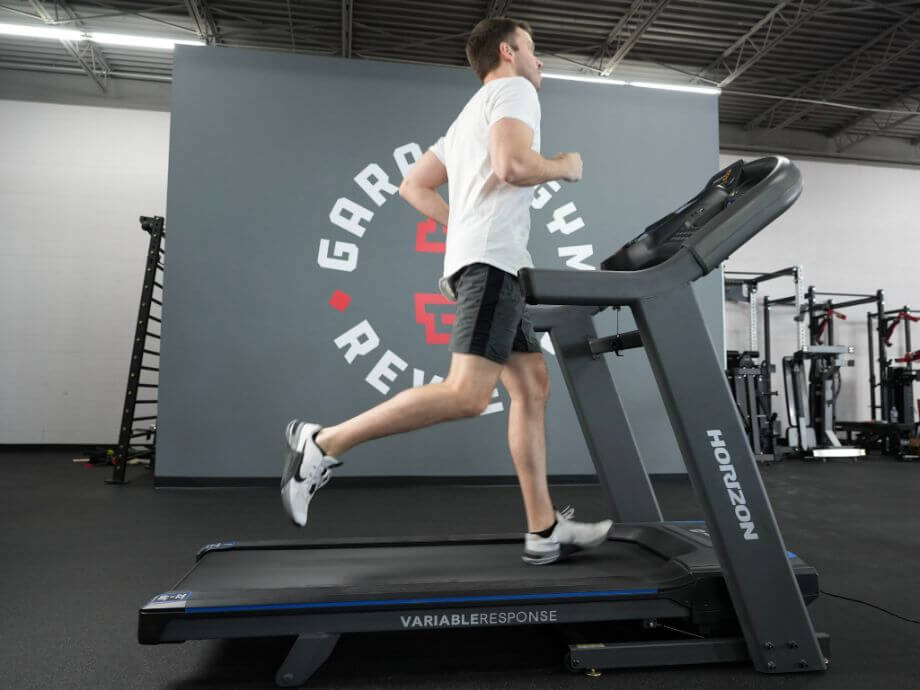 Runners will appreciate the Horizon 7.0 AT's powerful motor that transitions effortlessly when inclines and speeds change. Speaking of incline, this treadmill's max incline is 15%, which is pretty significant. Most machines, including the expensive treadmills, tap out at 12%. This incline will give runners the ability to target different muscle groups and burn additional calories while simultaneously challenging themselves.
The Horizon 7.0 AT doesn't come with its own interactive programming, but that doesn't mean you don't have choices. You can connect it to the Peloton App, Apple Fitness+, Zwift, and more. The treadmill also has some preset workout programs if you choose not to use third-party apps. You should be aware, though, that you're not going to get automatic trainer control. However, the machine does have convenient QuickDial controls for quickly adjusting the speed and incline.
To learn more, check out Horizon 7.0 AT review.
| | |
| --- | --- |
| Price | $999 |
| Programming | Third-party apps, such as Zwift and Peloton |
| Speed and Incline | 0-12 MPH, 0-15% incline |
| Other Key Features | QuickDial controls, Bluetooth connectivity, USB-A port, tablet shelf, deck cushioning, foldable, Lifetime frame and motor warranty |
Best Treadmill Under $1,500 for Walkers: ProForm City L6
Good for: Walkers and joggers who enjoy iFIT and need an affordable, super space-saving treadmill
Best Treadmill Under $1,500 for Walkers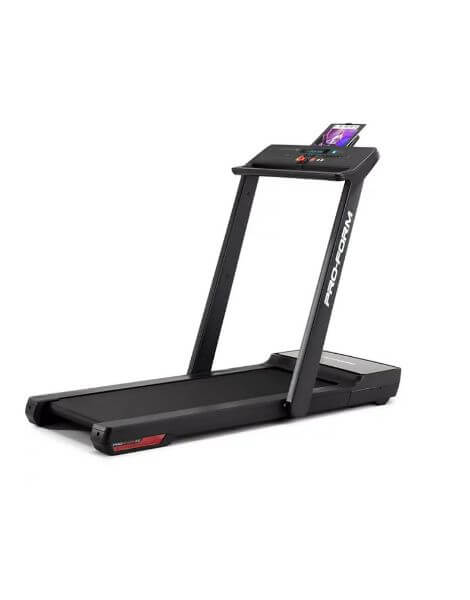 ProForm City L6 Folding Treadmill
The ProForm City L6 Folding Treadmill is the currently most affordable treadmill offered by ProForm. The L6 does not come with a built-in screen, instead it has a device holder for your table or phone. Similar to the other ProForm models the L6 utilizes iFIT programming with trainer-controlled speed, but you will have to stream classes from your phone or tablet.The L6 has a tread belt size of 17.5 by 45 inches, which is on the smaller side, but this treadmill is built to be compact. The overall footprint of this treadmill is 29 inches wide by 70.25 inches long and 44.5 inches tall. The treadmill handlebars fold down so it can be stowed away. The 1.6 CHP motor can achieve speeds of 0-8 miles per hour.There are limited online reviews of the L6 treadmill. Most users had positive experiences, enjoying the quick and easy assembly and compact design. One user did have the treadmill arrive broken and had difficulty with customer service. At the time of publishing, there are no user reviews about using iFIT with the L6 treadmill.
Pros:
iFIT-compatible
Priced under $600
Great deck cushioning
Compact for small spaces
Easy assembly
Built-in tablet holder
Cons:
1.6 CHP motor only suitable for walking
No incline or decline capabilities
Short tread belt at 45"
Top speed is 8 MPH
250 lb max user weight capacity
ProForm is another popular and reputable brand for individuals looking for treadmills for home use. The ProForm City L6 specifically is great for those who don't have a lot of space in their dwelling but still want to get in steps at home. This compact walking treadmill can be folded in half and stored in your closet or under your bed after use.
However, anytime you introduce compact, you also have to be okay with what that typically means. You're looking at a machine with a considerably small running track and a 1.6 CHP motor. For taller people who plan on doing some heavy-duty running, this would not work well.
RELATED: ProForm Pro 2000 Review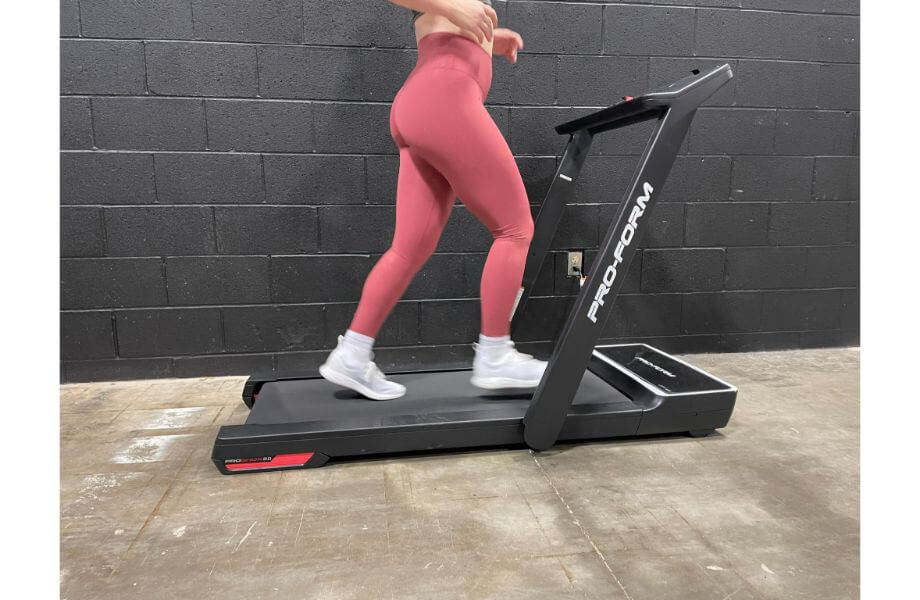 The ProForm City L6 is a good machine for walking and some jogging, as it goes up to 8 MPH. The treadmill has no incline or decline options, but this may not be a big deal if you're not looking for uphill/downhill training. Given that it's iFIT-enabled, you'll still have plenty of scenic workouts to choose from that are guided and controlled by iFIT coaches. Since it doesn't have a screen, you'll need to add your own tablet to the device holder to access your favorite workouts.
In general, the ProForm City L6 will still get the job done and is a very beginner-friendly treadmill. Although it's small, it's still mighty given that it comes with an impressive 250-pound user weight capacity.
To learn more, check out our in-depth ProForm City L6 treadmill review.
| | |
| --- | --- |
| Price | $599 |
| Programming | iFIT |
| Speed and Incline | 0-8 MPH, no incline/decline |
| Other Key Features | Tablet holder, trainer control, foldable, Bluetooth enabled |
Best Cushioned Treadmill Under $1,500: Sole F63
Good for: All walkers, joggers, and runners wanting an affordable, well-built treadmill with an extensive warranty
Best Cushioned Treadmill
Sole F63
Named "Best in its Price Range" by Fit Rated, Run Reviews, Treadmill Reviews, and many others. Easy Assist Folding Deck Design makes storing your treadmill easy and convenient. High-end rollers create a static free motion leading to a long lifespan. Smoothest treadmill when making adjustments mid-workout. LCD screen provides real-time statistics to monitor progress towards goals.Plus, Sole has recently released its own version of Peloton-esque programming: STUDIO. You can access a variety of on-demand classes for just $19.99 per month.
Pros:
3.0 CHP motor
2–ply tread belt
Comfortable workout
15 incline levels
Foldable
Lifetime warranty
Cons:
6.5" LCD display
325-lb machine is heavy
Shakes with heavy running
Although not decked out with technical features, the Sole F63 is still considered a high-quality treadmill. Why? Because it's got a good build quality, which you don't always see on the more affordable treadmills. Consider how their tread belt is 2-ply instead of 1-ply. A 2-ply tread belt is commercial grade, so you're getting a thicker belt that's also of better quality. Advanced runners will appreciate speeds up to 12 MPH, a max incline of 15%, and deck cushioning to protect the joints.
The Sole F63 treadmill is also packed with 2.5-inch rollers, which is what keeps the running belt turning. This matters because larger rollers will put less stress on the Sole's 3.0 CHP motor and will help the tread belt last longer. Did we also mention that it comes with a lifetime warranty on the motor and frame? Knowing that Sole Fitness not only gives you quality parts but will also fix them for the lifespan of the treadmill makes this machine very attractive.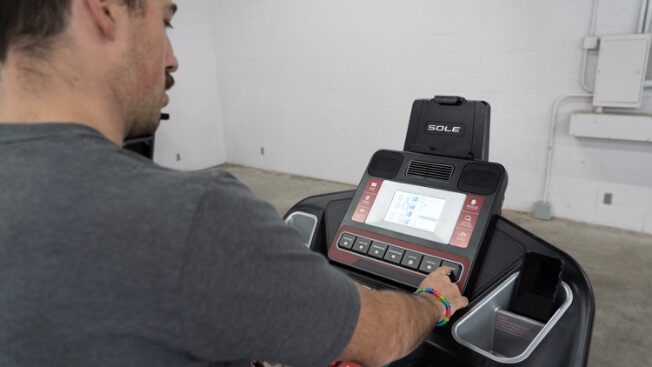 Although the 6.5-inch display isn't a touchscreen, it works for the Sole F63 treadmill. You'll be able to easily see important data like distance traveled, speed, incline, calories burned, and more. (If you want a larger white backlit LCD display, consider the Sole F80.)
Beginners will appreciate having a straightforward machine that more than gets the job done in the workout department. You can access the preset workouts if you're unsure what to do, and the treadmill will adjust to the correct speed and incline accordingly. Sole Fitness is also an app you can download, and it'll sync your treadmill data to the app.
To learn more, check out our in-depth review on the Sole F63.
Price
$1,199
Programming
STUDIO, 10 preset workouts
Speed and Incline
.5-12 MPH, 0-15% Incline
Other Key Features
Lifetime warranty on frame and motor, Bluetooth speakers, phone and tablet holder, heart rate monitoring strap, cushioned deck,
standard-sized running surface, USB charging device, cooling fans
Best Budget Treadmill Under $1,500: ProForm Carbon T10
Good for: Beginner runners who want iFIT trainer-led workouts on a technologically-savvy compact treadmill
Best Budget Treadmill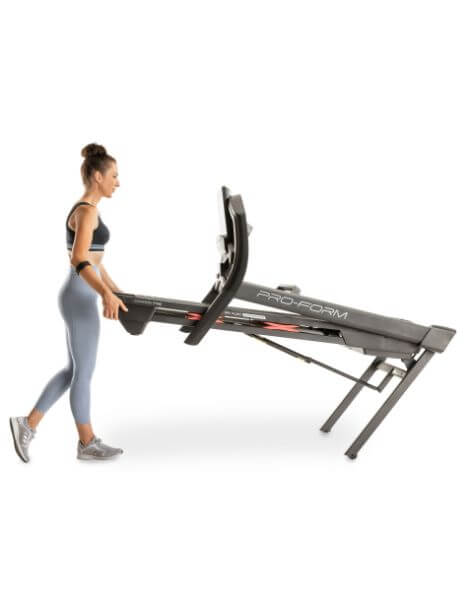 ProForm Carbon T14 Treadmill
The ProForm Carbon T14 is the top-tier treadmill in ProForm's Carbon series which has three treadmills: T14, T10 and T7. The Carbon T14 has a 14 inch HD touchscreen used to stream interactive iFit workouts.iFit is a virtual training program that syncs with your treadmill. When using iFit workouts the iFit trainers can adjust the speed and incline of your machine so you can focus on your workout. You can also use iFit without your treadmill with strength training, yoga and HIIT classes.The T14 has a 2.75 CHP motor, which is not as strong as other treadmills at this price-point. This weaker motor leads to a speed range of 0-10 MPH which is also not as good as other similarly priced treadmills. The T14 has an incline range of 0-12 degrees and the belt is 20" x 55". The 55" long belt is a little shorter than competitors and may not be ideal for taller users. The tread belt also has IsoFlex cushioning for a comfortable ride. The T14 folds up for storage using EasyLift assist.At the time of publishing there are no customer reviews online. So we cannot speak to how users feel about the product.
Pros:
10" HD touchscreen
Compact for small areas
Easy to fold and unfold
Quick touch speed and incline
iFIT capabilities
300-lb weight capacity
Cons:
Compact running area
223-lb machine
2.75 CHP motor
Small rollers
For many people, the ProForm Carbon T10 checks lots of boxes. It's a compact treadmill with an HD touchscreen, easy to fold and unfold, and iFIT-compatible. You could honestly say it's one of the most affordable streaming treadmills out right now. Users can enjoy a practically hands-free workout as iFIT personal trainers control their speed and incline. And if you're not using iFIT, the QuickSpeed button controls for incline and speed will come in handy too.
Since this treadmill is compact, it does have a smaller running deck at 55 inches long, which isn't ideal for taller folks. The ISO Flex cushioning is a nice feature, though, especially for individuals with sensitive joints.
The max speed on the ProForm Carbon T10 goes up to 10 MPH, which is plenty fast for most people. It also comes with a 2.75 HP motor that will support a max incline of 12%. Serious runners will likely want a more powerful motor, but this works fine for the avid walker or jogger. In addition, our testers found that the machine does tend to shake as you get closer to the max speed.
If you're really into iFIT and want a compact treadmill, you'll probably like this treadmill. However, if iFIT isn't something you particularly need or like, this might not be the machine for you. It lacks preset workouts, so you're pretty much stuck having to use iFIT or coming up with your own activities.
To learn more, check out our in-depth review on the ProForm Carbon T10.
| | |
| --- | --- |
| Price | $1,199 |
| Programming | iFIT |
| Speed and Incline | 0-10 MPH, 0-12% incline |
| Other Key Features | Trainer-led workouts, built-in cooling fan, deck cushioning, Bluetooth connectivity, audio auxiliary port, 2" speakers, 2.75 CHP motor, heart rate sensors on inner handlebars |
Best Compact Treadmill Under $1,500: Echelon Stride
Good for: Users of all fitness levels who want an easy-to-use treadmill with auto-fold capabilities
Best Compact Treadmill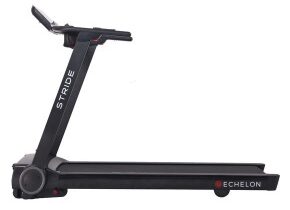 Echelon Fitness Stride
Functionality and technology meet intelligent design in the newest addition to the Echelon product family. Designed with convenience in-mind, the Echelon Stride features auto-fold technology to make heart-pumping workouts more accessible than ever before.
Pros:
69" L x 31" W X 49" H
Auto-fold feature
Folds flat
Lightweight at 156 lbs
Simple to use
0-12 MPH and 0-12% incline
Cons:
1.75 CHP motor
Requires tablet or phone to stream
Short 1-year warranty
Short running deck
The Echelon brand may not be a household name for treadmills (yet), but we know them for making top-notch rowing machines and exercise bikes.
The Stride is admittedly cleverly designed. When folded, it's only 10 inches tall, so you might be able to place it under your bed when you're not using it. That's pretty neat if you're in a tight space and need to make the most out of it.
You're not going to find a touchscreen display on this bad boy, but you can use your tablet to integrate with the Echelon United app. It has a built-in tablet holder, so your device won't block various buttons and controls inconveniently. The Echelon United app offers live streaming and thousands of solid training sessions that you can access on other Echelon equipment. However, you won't get automatic trainer control. Instead, the instructors will tell you when to increase or decrease your speed/incline, and you'll have to do it yourself.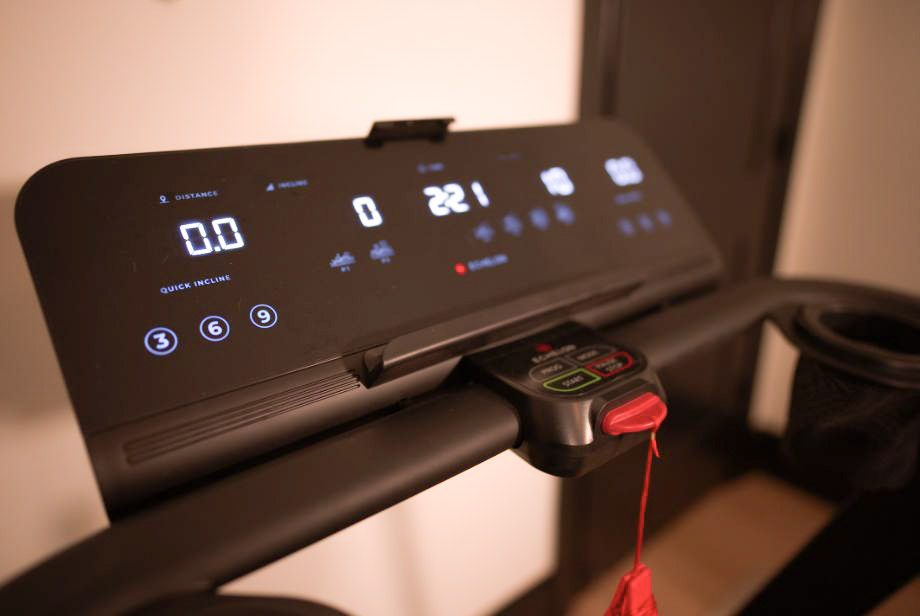 Given its compact design, this treadmill doesn't have a large running deck compared to its competitors. It also comes with a 1.75 horsepower motor, which is quiet, but likely not supportive of those wishing to do heavy and frequent running. The motor allows for a max speed of 12 MPH and a max incline of 10%. The top speed on this treadmill is standard, but more advanced runners may prefer a 12 to 15% incline.
To learn more, check out our in-depth review on the Echelon Stride.
| | |
| --- | --- |
| Price | $1,299 |
| Programming | Echelon United |
| Speed and Incline | 0-12 MPH, 0-10% incline |
| Other Key Features | Built-in tablet holder, heart rate monitoring, two water bottle holders, Bluetooth connectivity, USB port |
Other Treadmills Under $1,500 We Tested
The treadmills above made our best treadmill list, but that doesn't mean there aren't other quality treadmills under $1,500. Here's one that didn't quite make the official cut, but that's worth the mention.
Sunny Health & Fitness SF-T4400: Priced under $500 on Amazon, the Sunny treadmill performs well if you just want something for walking.
UREVO 2-In-1 Under Desk Treadmill: If you want to walk while you work, we love this machine.
How We Picked and Tested
Our in-depth testing process begins with us conducting heavy research on treadmills priced under $1,500. If they meet specific criteria, we'll move them to the next stage, which is actually testing them. Different members of our expert panel will try each treadmill to see how it performs while walking, jogging, and running. We assess the ease of use and evaluate who the machine best suits, as we recognize that every treadmill isn't for everybody.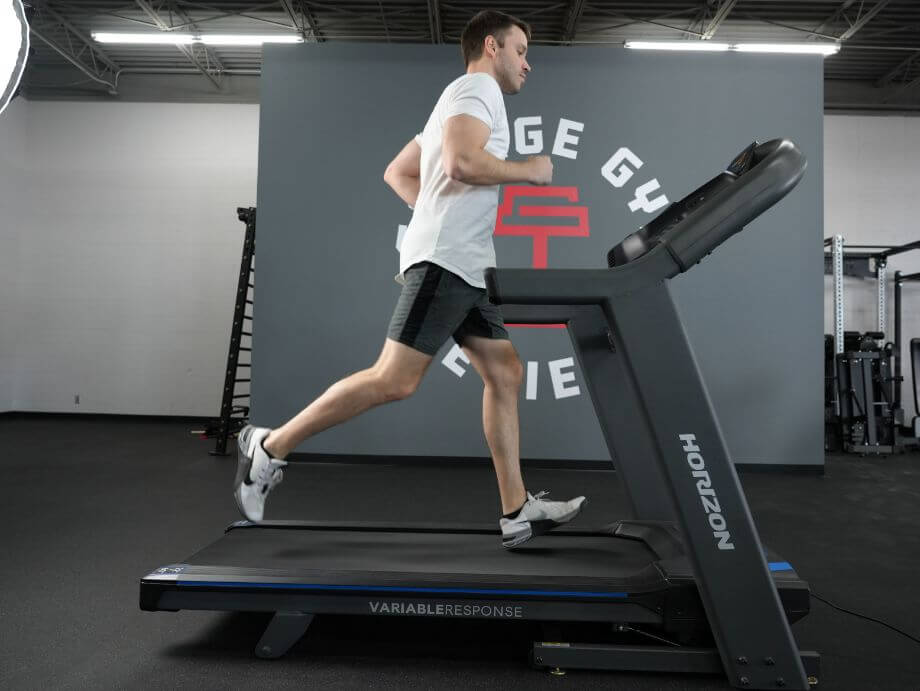 Every time we step foot on a treadmill, these are the criteria we're considering:
Footprint: Does it take up a lot of space in a room, or is it more compact?
Foldability: If the machine folds, does it really save much space? Can it be stowed under a desk or bed when not in use? Does it fold in half, or does it fold flat? How complicated is the process of folding?
Portability: Is the treadmill easy to move around or challenging to navigate around a room? Does it include transport wheels?
Assembly: Is it a one or two-person job? Is it challenging to assemble, and will you have to pay an expert to do it?
Roller Size: Do they feel cheap? Are they very small? Smaller ones place more wear and tear on the motor and track.
Speed/Incline/Decline: What's the max speed and incline? Does it have a decline option?
Motor: What is the horsepower of the motor? Is the motor loud? Does it struggle to transition when the speed and incline change?
Display: What size is the display? Is it LCD, touchscreen, or something different?
Additional conveniences: Will you find a water bottle holder, heart monitor, USB port, or built-in tablet holder on the treadmill?
Interactive programming: If it includes it, is it live or on-demand? How much does the subscription cost every month/year? Do you receive a free trial?
Deck cushioning: Does the treadmill have deck cushioning? If so, can you adjust it? Does it actually make the activity more comfortable?
Max user weight: Will the treadmill accommodate a heavier individual?
Warranty: Is the warranty at least 15 years on the frame or motor?
Benefits of Treadmills Under $1,500
Treadmills under $1,500 honestly give you the best of both worlds. You're not spending an arm and a leg, yet you're still getting a good quality machine. Machines at this price range will allow you to adequately work out 30 minutes per day, five days per week, as recommended by the U.S. Department of Health and Human Services.1 Here are some of the benefits of treadmills under $1,500.
Warranty That's (Sometimes) Worth It
Treadmills around this price range often come with better warranty options. We look for lifetime warranties on the frame and years-long warranties on the motor and parts.
Great Technology
You don't need to spend an arm and a leg to get nice touchscreens, easy-to-use consoles, and Bluetooth speakers. You'll find many machines on this list tout high-end features without the overwhelming price tag.
Incline and Speed Ranges
Most of the machines on our list offer a generous speed range of up to 12 MPH and great incline ranges to mix up your training. Super-budget treadmills won't always give you that kind of versatility.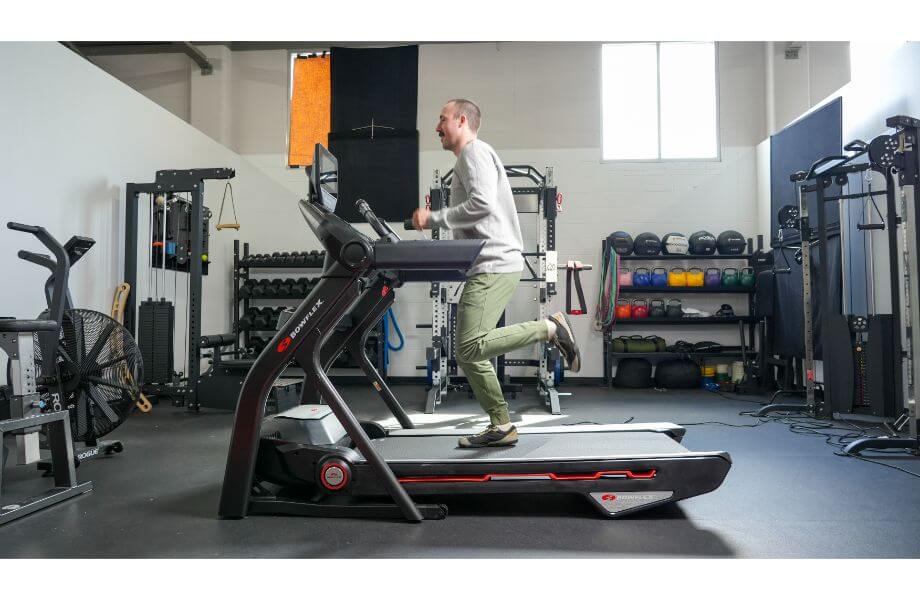 What to Look for in Treadmills Under $1,500
Can you expect much from a $1,500 treadmill? Of course! Once you get into this price range, you're getting access to much better quality machines that offer various perks and conveniences. Here's what you can expect:
Greater Horsepower
Usually, treadmills in this price range have a motor that's 3.0 CHP. Motors like that can better handle frequent runs at top speeds and incline/decline changes. However, anything lower than 3.0 horsepower is better suited for walking and jogging.
Better Build Quality
When the price tag is around $1,500, you're looking at treadmills that are built with better-quality parts. You may get bigger rollers, a 2-ply tread belt, and a solid frame.
Additional Technological Options
Not all treadmills around this price range will be decked out with a 10-inch HD touchscreen display. However, many machines in this price range have LCD screens and Bluetooth connectivity. These convenient technical features allow you to take your workout to a new level.
RELATED: History of Treadmills
FAQs About Treadmills Under $1,500
What is a good treadmill at a good price?
What are the top 3 treadmills?
What is the most popular brand of treadmill?
NordicTrack and ProForm are two popular brands in the treadmill space. 
References:
How much cardio should you do? Harvard Health. https://www.health.harvard.edu/heart-health/how-much-cardio-should-you-do#:~:text=The%20Physical%20Activity%20Guidelines%20issued,even%20the%20elderly%20and%20disabled. Published February 19, 2020. Accessed October 20, 2023.