We test and review fitness products based on an independent, multi-point methodology. If you use our links to purchase something, we may earn a commission. Read our disclosures.
Budget cardio machines can be a dangerous game. You have to ask yourself tough questions: How much am I willing to sacrifice? Which features are important to me?
Exercise bikes are no different. Don't get me wrong, there are great budget options out there, you just have to know where to look.
In this Echelon Smart Connect Bike EX-3 review, I'll take you through the brand's budget bike, and I'll tell you whether it's worth the cost. While we haven't tested the EX-3, we have several expert product reviewers who have used the Echelon Smart Connect EX-8s, which gives us a great idea of what you can expect from this model.
Dozens of Exercise Bikes Tested
We love our cardio here at GGR, and we understand how important it is to reach your fitness goals. That's why we've spent hundreds of hours testing some of the best exercise bikes from brands like NordicTrack, Peloton, Schwinn, Echelon, and more.
Our staff of dedicated testers examines every aspect of these machines so we can provide you with everything you need to know so you can make the right exercise bike choice for you and get right to reaping the benefits of your indoor cycling workout.
Echelon Connect EX-3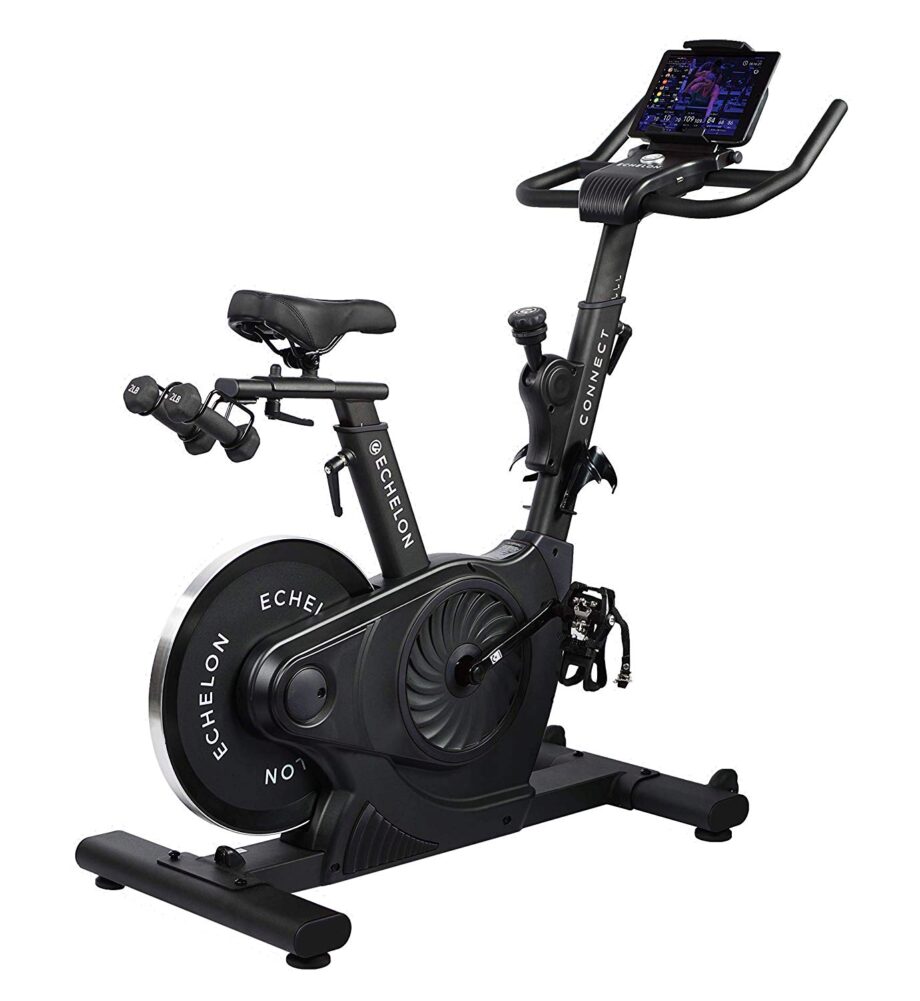 Echelon Smart Connect EX-3 Bike
14 DAY TRIAL INCLUDED. The Echelon Fit APP provides totally immersive fitness in the comfort and convenience of your own home. Access to Live, On Demand classes, Scenic rides, Yoga, Stretching, and a host of additional classes using with your trainer of choice It's like having your own home studio. PEDAL YOUR WAY TO NEW HEIGHTS: The all new Connect EX3 has all the great features of the original Connect bike with new advanced technologies. New and improved stabilization handles and seat post adjustments including a competition seat with 6' lever-style adjustment, 2.4-volt advanced device charging usb, and a precision resistance motor are just a few of the exciting new features you only get with the EX3. EFFICIENT, COMPACT AND POWERFUL: The Echelon Smart Connect Bike EX3 is designed with thirty-two resistance levels with new indexing resistance adjustment and easy to use resistance knob, this smart exercise bike stays in one place as you pedal, but it'll take your at-home workout to new heights. This bike is designed for anyone and every home. With a modern design and a footprint of just 3ft 5in x 1ft 10in, the Connect Bike provides a high intensive work out without taking over your space. NEVER RIDE ALONE: Rise with other rides from all over the world. Ride live or on demand and scenic rides with the Echelon Fit App. High energy live classes with certified cycle instructors, keep you motivated from our studio in Chattanooga, Tennessee. Or take a trip without leaving the comfort of your own home. The Echelon Fit App works for any device with Google Play or Apple Store. 100% MONEY BACK GUARANTEE: We fully stand behind our product. If for any reason you are not satisfied with our quality or your experience, you are covered for the first 30 days with our satisfaction guaranteed policy and 5-star customer service. We also offer a 1-year warranty. Simply reach out to us and we will make it right!
A Quick Look at the Echelon Smart Connect Bike EX-3
Echelon is widely regarded as a high-quality fitness brand, producing equipment like fitness mirrors, rowers, and, of course, exercise bikes. Their bikes are all under the "Smart Connect" product line, which includes the EX-3. Other models include the EX-5s, EX-8s, and EX-15.
The EX-3 is listed at under $800 on the Echelon site, making it one of the more affordable options the brand has to offer. The footprint is small, making it a solid option for those dealing with a space constraint in their home gym.
By nature, the Echelon EX-3 is a budget exercise bike because it's under $1,000. However, I'm not convinced that it's everything it should be at this price range.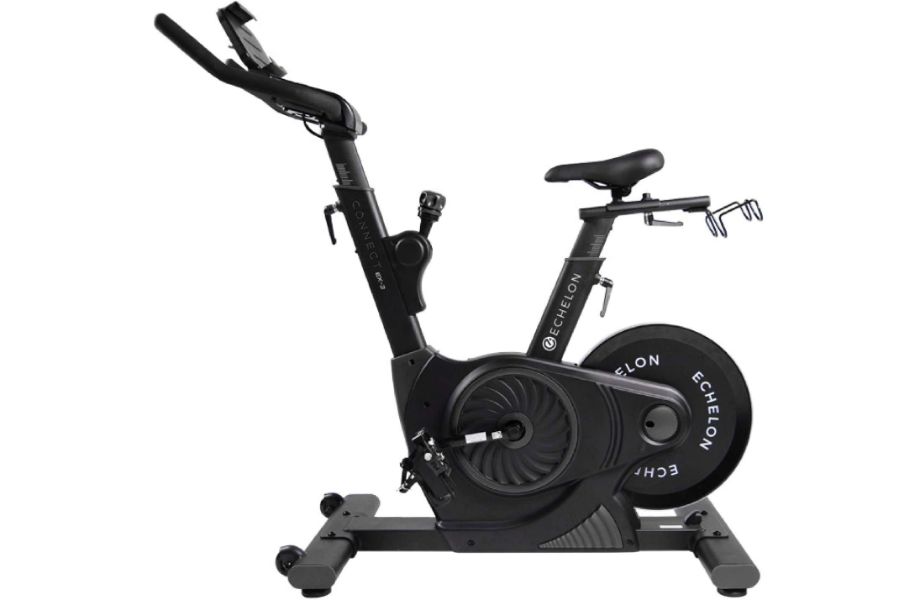 My Tips
You get a 30-day free trial to Echelon Premier if you buy through Amazon.
The EX-3's device holder rotates 180 degrees for off-bike workouts
Pros
32 levels of resistance
Access to Echelon interactive programming
Small footprint
Built-in device holder
Dual-sided pedals
Adjustable seat and handlebars
Dual dumbbell holders
Cons
No water bottle cage
Some users complained the seat was uncomfortable
No touchscreen monitor included
Light on features for being $800
Extended warranty plans are expensive
Workout content requires monthly subscription
Is the Echelon Smart Connect Bike EX-3 Worth It?
The EX-3 seems to have a bit of an identity crisis. While it has a number of great features, like adjustability, interactive programming, and a good device holder, I don't think you're getting anything you couldn't get from a cheaper budget option. Plus, the interactive programming sits behind a paywall, so you're actually paying more than the list price if you want access to those features.
Great for:
People facing a space constraint in their gym
People who enjoy interactive workout programming
Not recommended for:
People looking for add-ons like touchscreen or water bottle holders
People looking for a luxury bike
People looking for a cheap extended warranty plan
Echelon Smart Connect Bike EX-3 Specs
| | |
| --- | --- |
| Footprint | 55" L x 20" W x 55" H |
| Weight | 104 lbs |
| Weight capacity | 300 lbs |
| Resistance | 32 levels |
| Pedals | SPD clips and adjustable toe cages that work for both regular sneakers and cycling shoes |
| Interactive Programming | Live and on-demand workouts available through Echelon Premier membership. Accessed by connecting your device to the machine via Bluetooth and using the Echelon Fitness app. |
| Adjustability | Adjustable seat+handlebars can be moved up and down |
| Flywheel Weight | 28 lbs |
| Seat | Vented Competition Seat |
Workout Experience on the Echelon EX-8s
Though we haven't been able to get our hands on the Echelon Smart Connect EX-3, staff writer Caroline Lubinsky did spend a lot of time using a product from the same line, the Echelon EX-8s. The two Echelon bikes are similar from a functionality standpoint, featuring the same number of resistance levels, the same seat, similarly sized frames, and access to the same interactive workout programming.
Caroline noted that the frame of the EX-8s felt sturdy during use and that the seat was "not particularly comfy but not terrible." Her experiences seem to align with everything I encountered while researching customer reviews.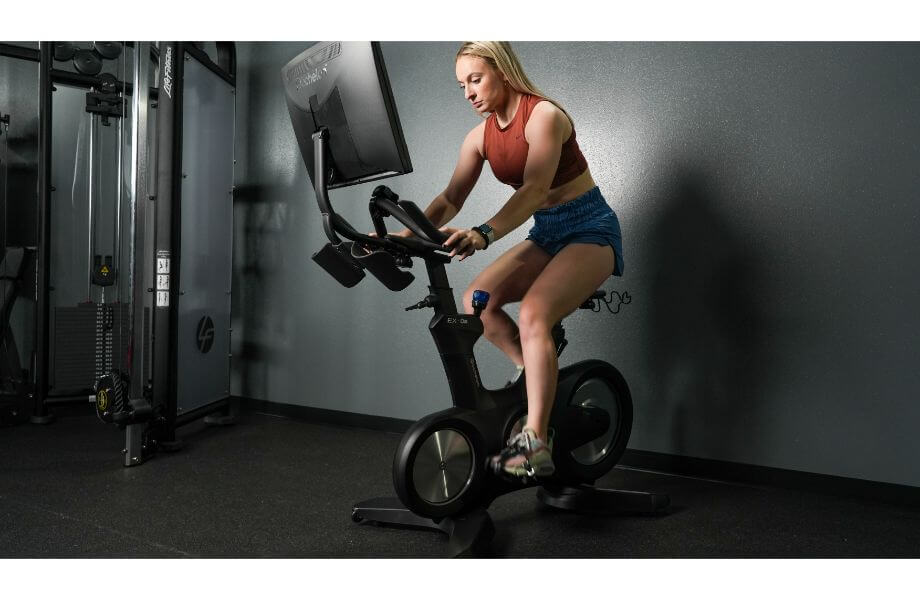 Customer Reviews
Generally speaking, people seem to be pretty high on their EX-3s. You can find a slew of positive reviews on both the Echelon website and Amazon, although some did report negative experiences with the product.
I'm always skeptical of reviews on brand websites, and sure enough I found it difficult to find anything critical on the Echelon website. On the positive side, user "Randy" said the bike was helpful for him as he prepared for a major surgery.
"This is one of THE finest investments I have ever made" Randy says. "I am waiting for a knee replacement, and this bike is helping me with my prehab goals! This bike is built like a tank!!! I enjoy all of the workout programs that come with the bike. Also, their customer service has been most excellent. I highly recommend this product and company."
The critical reviews I did find were short and sweet, with many of them criticizing the nature of the bike's seat.
"I found the bike to be very uncomfortable," user Jodi M. said.
On Amazon, however, it was much easier to find a more detailed mixture of both critical and positive reviews. Most positive reviews I saw like the one below praised the EX-3's easy assembly and interactive content, although even this user complained that the seat caused them discomfort.
Those who criticized the EX-3 seemed to struggle with the Bluetooth connectivity function, slow customer service responses, and had a difficult time getting replacement parts shipped to them. Poor Harold M. seemed to have a particularly rough experience.
Though you can find users who both loved and hated the EX-3, it's worth mentioning that the majority of users were satisfied with the product. Though the critics are very outspoken, the most users who chose to leave reviews expressed positive experiences.
Footprint and Durability
The EX-3 is pretty comparable to the other bikes on the Smart Connect line when it comes to footprint. It's a little shorter than some of the pricier models since it doesn't come with a touchscreen monitor, but the frame of the bike is essentially the same as the others on the line, making it a good compact option.
Most of the reviews for the EX-3 said it was easy to put together and fairly sturdy, and I also saw some users comment that it didn't make a ton of noise during use.
There were, however, some reviews that criticized the bike's durability and felt the need to order replacement parts within a few months of purchase. This is something to keep in mind when considering Echelon's extended warranty plans, which cost extra to purchase.
The Ergonomics
From what I've seen, the bikes in Echelon's Smart Connect series all seem to excel in this area, and the EX-3 is no exception. The presence of 32 resistance levels is a nice touch that allows you to adjust the intensity of your workout with ease, making it a great option for HIIT workouts.
The pedals also allow for cycling shoes and regular sneakers, providing users with a little more leeway in that area as well.
The seat and handlebars can also be adjusted to maximize comfort while you work out. That said, there seems to be a common theme that the seat is somewhat lacking in the comfort department.
Using the Echelon Fit App
While there's no built-in touchscreen monitor, you can connect your tablet or phone to the machine via Bluetooth and access the interactive programming through the Echelon Fitness app which is designed to be a Peloton alternative. The Echelon Fit app can also track workout metrics like heart rate, and the tablet holder allows you to use your iPad or iPhone whenever you'd like.
To get access to the app, you need to have an Echelon Premier membership, which is required with purchase if you buy through the Echelon brand site. Payment options include a monthly subscription ($34.99 per month), an annual subscription ($33.99 per month), and a 2-year subscription ($29.16 per month). While the features might be useful, this paywall adds yet another expense to an already-overpriced product which I think is a major callout. Though if you buy an EX-3 through Amazon, you get a free 30-day trial to the platform.
The downloadable content available on the app is one of the main calling cards of this line of bikes, and Caroline was able to experience it firsthand when she was testing out the EX-8s. The app itself offers a lot, including access to dozens of instructors, live classes, leaderboards and more. Lubinsky was a fan of these features, but doesn't think the service is in the upper echelon (see what I did there) of interactive programming compared to the Peloton app.
"They are doing a great job, but the production quality isn't quite there yet," she said.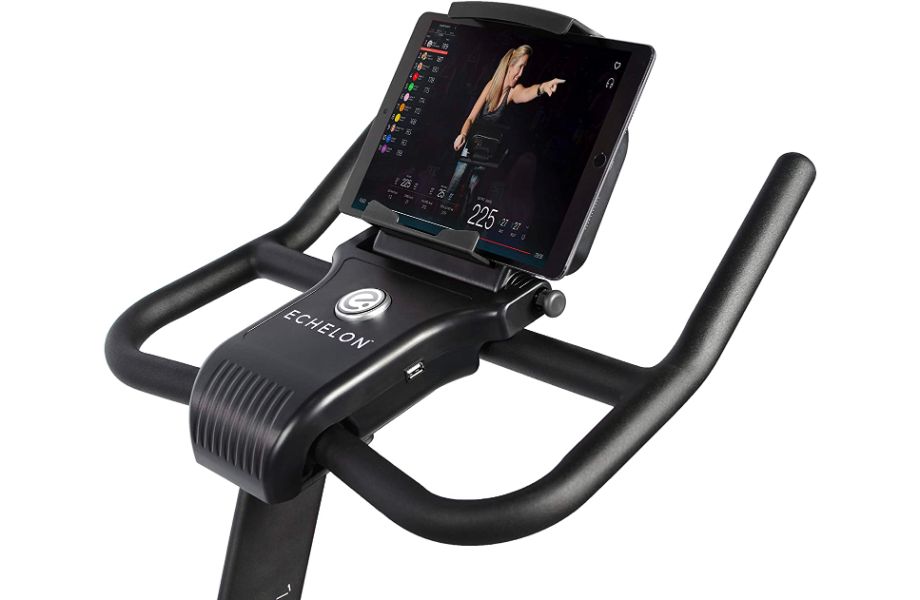 Echelon EX-3 vs Echelon EX-8s
Echelon EX-8s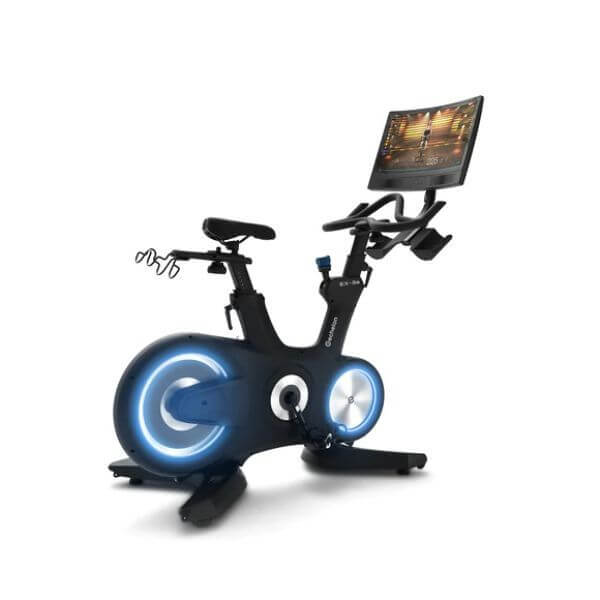 Echelon EX-8s
Exercise bikes have become much more than just a bike, taking on an entirely new immersive experience that branches out beyond cycling. Smart exercise bikes are taking the at-home workout experience to the next level offering a connected, high-tech, interactive, and motivating fitness routine. The Echelon EX-8s is a premium smart bike designed to add to user's motivation and to enhance the immersive nature of the entire experience.The EX-8s features a 24-inch curved interactive HD screen that not only mimics the feeling of being in a cycling studio, but also enhances the entire experience. While a curved screen may not seem like a big deal, trust us when we say it is. What's more, this screen swivels 180 degrees, which allows users to jump off the bike and into another workout by just flipping the screen.This bike is incredibly cool-looking as well. Its sleek design is highlighted by the dual-ring design that includes illuminating wheels. These wheels rotate through 15 LED color variations synced to your live fitness metrics. You can literally watch the colors change based on the intensity of the workout, which is very motivating. The EX-8s is equipped with some impressive specs including adjustable handlebars that  maximize comfort and enable good form. These handlebars have control buttons that allow users to change resistance levels even when out of the saddle, a feature not seen on many other smart bikes. Other notable features are the Bluetooth 5.0 connectivity, a fast processing speed, 32 levels of magnetic resistance, and water bottle holders to keep you hydrated throughout the workout. The EX-8s does require a membership to Echelon's online fitness platform, which costs $35 per month. Without it, the bike really cannot be used, which is a bummer. That said, the platform is stacked with live and on-demand workouts, a ton of music and playlists, and over 60 world-class instructors. 
When you compare these two models side-by-side, it's clear that the EX-3 is meant to be a budget option. The EX-3 doesn't come with any of the fancy features of the EX-8s: no touchscreen, no water bottle cages, no dumbbell holders. The rub here is that $800 for few add-ons doesn't really make much sense, as there are budget options for around $500 that have much of the same functionality as the EX-3.
However, it doesn't seem like you sacrifice much fundamental performance with the EX-3. The bike gives you 32 resistance levels, SPD-compatible pedals, and access to the same workout programming if you use your own device, you just won't be blown away by the presence of glamorous add-ons.
RELATED: How to Choose an Exercise Bike
Echelon vs Sunny Health & Fitness
Sunny Health & Fitness SF-B1002
Sunny Health and Fitness SF-B1002 Belt Drive Indoor Cycling Trainer
STATIONARY BIKE: The sturdy steel frame, heavy 49 lb weighted flywheel and 275 maximum user weight gives this bike a rock solid build that will keep it moving ride after ride. RESISTANCE: Resistance system gives you the experience of a realistic, real-road feeling. Push down emergency brake will bring the bike to an immediate stop. SILENT RIDE: Experience a smooth and quiet ride with the maintenance free belt drive system which allows you to workout without interrupting your workout or anyone around you. CUSTOMIZABILITY: 4-Way adjustable seat and 2-way adjustable handlebars adapt to any user type. Use the toe clip pedals with straps to keep your feet in place. BOTTLE HOLDER: Stay hydrated throughout your workout. This convenient bottle holder is built into the frame for easy access.FOOT PEDAL STYLE: caged
In terms of functionality, one of the comparable models we've tested was the Sunny Health & Fitness SF-B1002 bike. This model is priced at under $450 and has magnetic resistance, an adjustable seat, and even add-ons like dumbbell holders and a water bottle cage. Right off the bat, you're getting more value than the EX-3, and paying a great deal less at the same time.
You don't have access to the same interactive programming as you would with the EX-3, which is why the Sunny is more affordable. So it really comes down to, do you want to pay more money for a bike that has access to that kind of programming, or pick the Sunny bike and save a few hundred dollars but miss out those workouts?
Echelon vs Peloton
Peloton Bike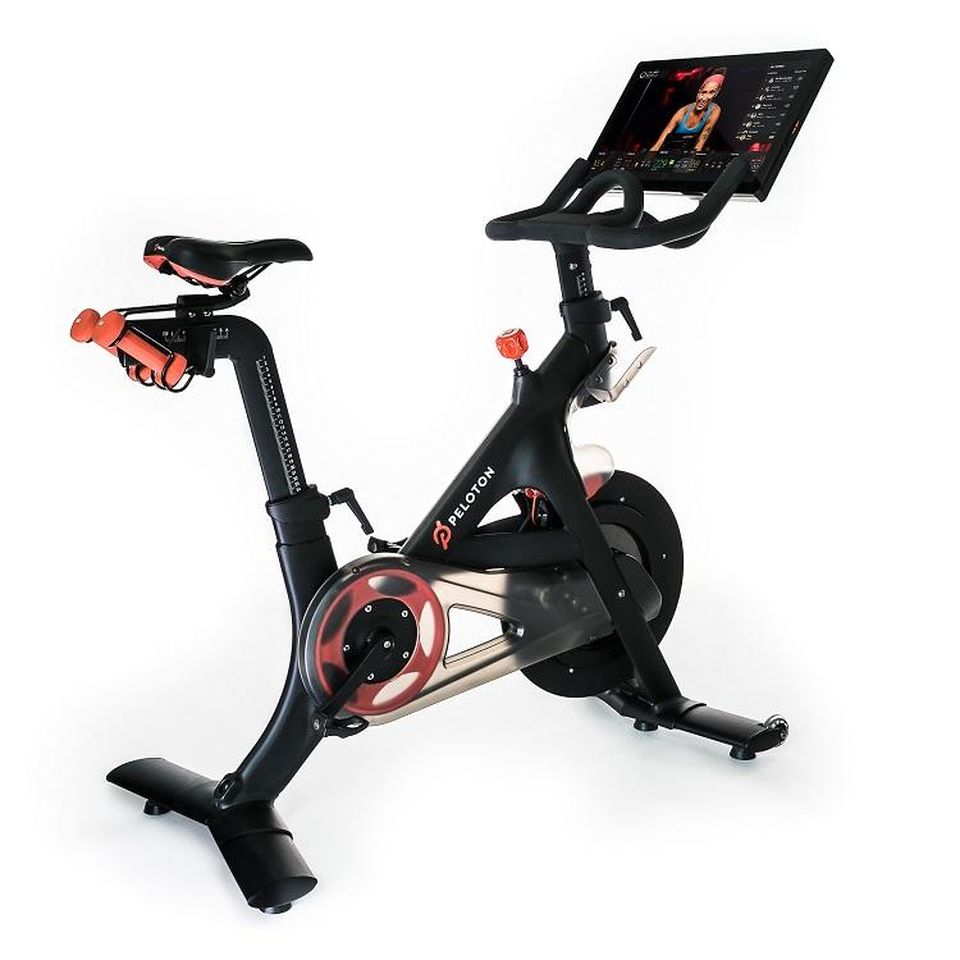 With Echelon's interactive programming, we thought it would be worthwhile to take a look at the Peloton Bike alongside an Echelon model like the EX-3.
You'll be paying more for your Peloton bike (just under $1,200), but you'll also get magnetic resistance, a 21.5" HD touchscreen, a heavier flywheel at 38 lbs, a water bottle cage, dumbbell holders, and the best interactive workout programming on the market (which is similarly priced to Echelon Premier at $39 per month, I might add). The EX-3 has just a few of these features and is $400 cheaper.
The one area I might give Echelon the upper hand is with the pedals; Peloton bikes don't have toe cages, so you might have to spend some extra money buying Peloton-compatible shoes that clip in instead of just using regular sneakers.
GGR Editor Nicole Davis spent a lot of time on the Peloton Bike, and said that though the bike itself is great, you're getting much more than the physical machine.
"What you're really paying for is the whole experience," Davis said.
To be fair, I don't think the EX-3 was meant to be the same quality bike as the Peloton. I do think that the EX-3 occupies the awkward middle ground between budget and luxury bikes.
Customer Experience
This was easily the most criticized facet of buying an EX-3, or any bike in the Echelon Smart Connect line. The biggest complaint was that Echelon customer service took a long time to respond to complaints or send replacement parts if necessary, so that's something to keep in mind.
Echelon offers a 30-day return policy for the bike, but I'm not a huge fan of their extended warranty options. You'll have to pay over $100 extra for either a 1-year or 2-year extended warranty plan, which I think is a major callout in this department.
Again, though, the critics of this model are relatively few and far between. For the most part, it seems like the bike did everything they hoped it would and there were relatively few issues across the board.
Ordering and Assembling the Echelon Smart Connect EX-3
You can order the EX-3 on the Echelon website, although it's not prominently displayed on the home page since it's an older model. If you google the model name, you'll be able to find the Echelon listing pretty easily. The bike can also be ordered on Amazon, with financing options available through both platforms (24-month plan on Amazon, 12, 24, and 39-month plan options through Echelon).
Assembly didn't seem too daunting in the customer reviews for the EX-3, and staff writer Anthony O'Reilly echoed that sentiment in his review of the similarly constructed Echelon EX-8s bike.
"Assembly is a breeze, and shouldn't take any longer than 20 to 30 minutes," O'Reilly says. "The frame comes in one piece, and you screw on all the other parts using an Allen wrench. There's even a YouTube video you can follow if you need any further explanation."
Final Verdict of Our Echelon Smart Connect EX-3 Bike Review
All in all, this is a good bike, but I'm not sure the price is right. Plenty of customers liked it. In general, the Echelon Smart Connect line seems to give its customers good value, but I just don't see it as much with the EX-3. You won't get the flashiness of a Peloton bike, and I think you're paying too much for too little.
I think interactive programming is what sets this model, and the Echelon line in general, apart from the rest. In this case, though, I don't think it makes up for what the bike is lacking. Knock $300 off the price and I would probably feel differently.
If interactive programming is important to you and you don't want to cough up Peloton amounts of money, this bike could work for you, but I think the appeal is pretty limited.
RELATED: Exercise Bike vs Treadmill
Echelon Smart Connect Bike EX-3 Rating
Echelon Smart Connect Ex-3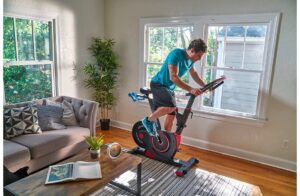 The Echelon Smart Connect EX-3 is a solid option for anyone looking for a compact bike with access to plenty of interactive programming.
Product Brand: Echelon Fitness
Product Currency: $
Product Price: 799.00
Product In-Stock: InStock
Echelon Smart Connect EX-3 Review FAQs
Is Echelon Connect a good bike?
The Echelon Smart Connect bike line is highly rated on Amazon and on the Echelon website, boasting ratings over 4 stars in both places.
Is Echelon as good as Peloton?
While Echelon offers a lot of interactive programming, our tester noted that the Echelon Fitness App isn't quite up to the standards of the Peloton platform, which is widely regarded as the pinnacle of such programming.
Is the Echelon EX3 worth it?
Priced at under $800 with 32 levels of resistance and interactive programming available, the Echelon EX-3 is a solid budget bike option.
Can you use Echelon Connect bike without subscription?
No. If you buy through the Echelon brand website, you're required to purchase an Echelon Premier subscription. If you buy through Amazon, you get a 30-day free subscription to the platform.