We test and review fitness products based on an independent, multi-point methodology. If you use our links to purchase something, we may earn a commission. Read our disclosures.
When it comes to finding the best treadmill, everyone is looking for something different. Serious runners, for instance, might look for treadmills with 12 to 15 MPH max speeds, incline/decline options, and a powerful motor. Other fitness fanatics may desire all the technical bells and whistles, like 14-inch touchscreens, Bluetooth connectivity, and trainer-led treadmill workouts.
However, some folks just want a budget-friendly, reliable treadmill with basic features that lets them walk or jog when they want to. Let's face it, everybody isn't looking to add high end ProForm or NordicTrack treadmills to their home gym. Many people, especially beginners, want an affordable treadmill they can stow in their home gym or home office. If this sounds like you, keep reading because we'll tell you about the best treadmills under $300 on the market right now.
We Test It Today So We Can Help You Tomorrow
Our line-up of testers includes personal trainers, CrossFit-L1 coaches, athletes, mobility specialists, and more. Trust me, we live and breathe fitness. We frequently talk about different types of exercise equipment amongst one another and aren't afraid to keep it real about what's hot…and what's not.
We've tested some of the most recognized treadmill brands and even those that might be unfamiliar to most. We've also had the chance to evaluate cheap treadmills with just the bare essentials and expensive ones with attractive features. Therefore, when it comes to treadmills, we know our stuff.
The 5 Best Treadmills Under $300
Best Overall Treadmill Under $300: Sunny Health & Fitness SF-T7603 Treadmill
Best Overall Treadmill Under $300
Sunny Health And Fitness SF - T7603 Treadmill
When you're short on space, finding a treadmill that can meet your fitness goals and fit into your home can be a challenge. But, the Sunny Health & Fitness SF-T7603 offers users a compact, sturdy, basic yet efficient and effective treadmill all for less than $400.00. The SF-T7603 motorized treadmill is powered by a 2.2 horsepower motor, which supports speeds up to 9 miles per hour and three levels of adjustable incline. While this motor is a bit weak for hardcore runners, it's a great option for walkers, joggers, or light runners.The SF-T7603 comes equipped with nine pre-programmed workout options, which could be useful for those looking for guidance as they work towards their fitness goals. Although the console is a far cry from the high-definition ones seen on pricier treadmills, the easy-to-read LCD monitor displays all the workout stats you need to get a killer workout; distance, time, speed, pulse, and calories. Conveniently change speeds with the quick-adjust buttons located on the handrails, which also function as a pulse grip to monitor your heart rateConstructed with a solid steel frame, the SF-T7603 has a maximum user weight of 220 pounds, which certainly falls below industry standard but, given the low price point, that number is not surprising. The shock-absorbing running deck measures 49 inches by 16 inches—this may feel constricting for those with particularly long strides. The SF-T7603 features a folding mechanism and a soft drop system to easily and safely fold and unfold. With two transport wheels, the SF-T7603 is easily moved and stored, a feature that can't be underestimated if you live in a smaller dwelling.
Pros:
Easy, 1-person assembly
Foldable
Compact
9 built-in workout programs
Cons:
220-lb user weight capacity
Must manually adjust incline settings
Narrow running deck (49" L x 16" W)
Tiny bottle holders
Sunny Health & Fitness is a brand that caters to a wide range of budgets and stands behind their motto of "fit for everyone." The Sunny SF-T7603 is an example of that, with its attractive price tag and reasonable features. It's a folding treadmill that's very easy to put together and compact enough to put in small spaces. I really like that it has transportation wheels, so you're not struggling to move it around a room.
You'll get an LCD display that shows helpful information like speed, pulse, distance, and time. Speaking of speed, this treadmill goes between 0.5 and 9 MPH, which isn't too bad for an affordable treadmill. Running is undoubtedly an option on this machine, but it admittedly might not be the most comfortable with a short 49-inch running deck.
The Sunny SF-T7603 only has a 2.2 peak HP, so it's better suited for walking. Since it's a "peak" motor, this treadmill's highest horsepower peaks at 2.2, which means it typically operates between 1 and 2 HP. To run enjoyably, you need at least a 3.0 CHP motor. Otherwise, you'll have a machine that changes speed slowly and unsteadily.
At first glance, you'll also see that this treadmill has incline capabilities, but do note that it's not automatic. You'll need to turn the machine off and lift up the far end of the treadmill to change it. For many, this is inconvenient, but it may not be a dealbreaker.. You could upgrade to the SF-T7705 for a little more money if you want an automatic incline.
The other features of this machine are a six-point shock absorption system, hand grip pulse sensors, and handrail controls. These are all convenient and will appeal to those who are looking to walk or jog on this machine. You probably won't like the narrow running deck or its 220-pound weight capacity if you're taller, heavier, or have long strides.
For more, check out our Sunny Health & Fitness SF-T7603 review.
| | |
| --- | --- |
| Price | Around $300.00 |
| Programming | 9 preset programs |
| Speed and Incline | 0.5 – 9 MPH, 3 manual incline levels |
| Other Key Features | Transportation wheels, pulse sensors, shock absorption deck, LCD display, handrail controls, emergency stop brake, 2.2 CHP motor |
Best Folding Treadmill: GoPlus Electric Folding Treadmill
Best Folding Treadmill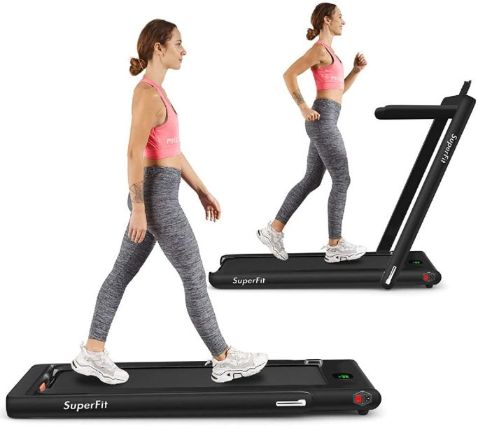 GoPlus Electric Folding Treadmill
The GoPlus Electric Folding Treadmill is a compact and affordable treadmill. This treadmill folds and has transport wheels for post-workout storage. The GoPlus Treadmill has a 1100-watt motor that can achieve 0.8-6 MPH speeds.This treadmill comes with 12 pre-programmed workouts. There is also an LCD display that can show heart rate, speed, distance, time, and calories while you workout. Your heart rate can be determined with contact grip heart rate monitors. For comfort during your workout the treadmill has a device holder and two water bottle holders.The GoPlus Electric Folding Treadmill has mixed reviews. Many users found the GoPlus to be a great value. They enjoyed the small footprint and foldable design. They also liked that there was a device holder incorporated. Taller users found it uncomfortable to run on the short running belt.Most buyers found the assembly process to be very frustrating, even people that enjoyed the treadmill. Reviewers noted that the instructions were vague and confusing. Some people even found that their boxes were missing necessary pieces. They also complained that the water bottle holders were too small and did not accommodate most reusable water bottles. There is a slight incline that cannot be adjusted as well. Users also found the treadmill not very durable.
Pros:
Foldable
Compact treadmill with space-saving design
Transportation wheels for easy portability
Cons:
Extremely short and narrow running surface (39″ L x 14″ W)
No incline capabilities
220-lb weight capacity
While we haven't personally tested the GoPlus Electric Folding Treadmill, we have tested another product from GoPlus, the 2-in-1, which gives us a good idea of the quality of product the brand makes.
The GoPlus Electric Folding treadmill is a good budget treadmill for walking and light jogging. It's easily foldable, very portable, and not a bad choice for someone in an apartment who just wants to get their 30-minute daily workout in. Users will get a multi-function backlit LCD screen that shows their heart rate, speed, calories, time, and distance. You'll also be able to efficiently change your speed, start and stop the machine, and check your heart rate using the handrails.
This electric treadmill goes up to 6 MPH and has a built-in incline. You won't be able to adjust the incline, which seems to be a common complaint from users. Some have found ways to make the treadmill more level, but I don't think that's safe and wouldn't advise others to do this. If adjusting your incline is important, it's best to take a look at other options.
RELATED: The Best Incline Treadmill Workouts
The running surface on this GoPlus treadmill is only 39" L x 14" W, which is less than ideal, even for walking. Walkers should aim to find treadmills that are at least 50 inches in length and 20 inches in width. However, this tends to be more challenging to find when you're getting a budget treadmill.
Interestingly, the motor is 1100 watts, which tells you how much electricity it uses but not how powerful the motor actually is. So, I'd take that as a sign that you're not getting a high horsepower here.
Overall, the GoPlus Electric Folding treadmill is advantageous to someone who just wants to get moving when the great outdoors isn't an option. It might not be a great piece of fitness equipment for heavy daily use, but it'll help you burn calories and get some cardio in. It's got a tablet/phone holder so you can watch your favorite shows and 12 preset training programs for you to explore.
| | |
| --- | --- |
| Price | $265 |
| Programming | 12 preset workouts |
| Speed and Incline | 0.8 – 6.0 MPH, Built-in incline |
| Other Key Features | Backlit LCD screen, hand grip pulse sensor, tablet/phone stand, safety key, handrail controls |
Best Under-Desk Treadmill: Sunny Health and Fitness WalkStation Slim
Best Under-Desk Treadmill
Sunny Health and Fitness Walkstation Slim Flat Treadmill
Looking for an under-desk treadmill from a brand you trust and know? Check out the Sunny Health & Fitness Walkstation Slim Flat Treadmill. At under $300, this cardio machine is an excellent option for those with a standing desk. It is worth noting that there isn't a handlebar to steady yourself, but the treadmill is so sturdy, it may not matter to you.
Pros:
Light-weight, only 55.1 lbs
Portable and easily storable
Can operate via remote control
Comes fully assembled
Cons:
No incline mode
Narrow running deck (39L x 14W")
No handlebar
1.5 CPH motor
The Sunny Health and Fitness WalkStation Slim is true to its name and doesn't sugarcoat what it's made for: walking! Therefore, this is a great option if you want a walking treadmill in your home gym.
This bad boy is very lightweight and has a slim, space-saving design. It's made for stowing under a desk until you're ready to go walking again. In order to achieve its slim structure, it's without handrails, but that doesn't mean you can't get the stats on your workout. It includes a 14-by-5-inch digital monitor near the motor where you can see calories, distance, steps, and time.
Quick note: The manufacturer encourages users to place the treadmill near a stable object, like a desk or nightstand, to maintain their balance. Our testers found it to be very sturdy, but assess your own steadiness to determine what's best for you.
Since it's only meant for walking, you're not going to get a huge tread deck. This one is short and narrow, but it's nice that it's shock-absorbing. What I do like is that this treadmill comes with a remote control you can wear around your wrist that lets you adjust the speed of your workout.
Given that this machine is made for walking, and that's just what it'll do: It only goes up to 3.75 MPH. You're also getting a 1.5 peak HP, so don't expect it to support heavy-duty trodding or be able to maintain heavier individuals. The max user weight capacity on this thing is 220-pounds.
In its entirety, this machine is mini but mighty. If you like to walk and it's your preferred type of cardio, we'd say give it a try. Also, did I mention that it arrives fully-assembled?
| | |
| --- | --- |
| Price | $299 |
| Programming | N/A |
| Speed and Incline | 0.5 – 3.75 MPH, no incline |
| Other Key Features | Transportation wheels, digital monitor (shows calories, distance, steps, time), shock absorbers, power saver mode, emergency stop clip, 1.5 peak HP |
Best With Incline: Zelus Folding Treadmill
Best With Incline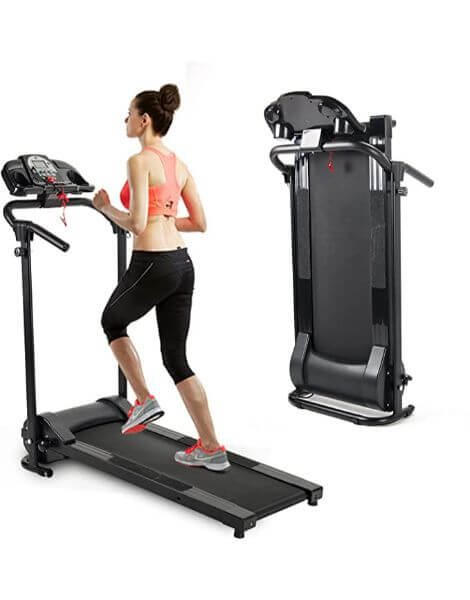 Zelus Folding Treadmill
The Zelus Folding Treadmill is an affordable and compact treadmill that can often be purchased for even less than the listed price. The treadmill has compact dimensions and also folds up for storage with a locking pin to secure the running belt once folded. There are transport wheels so you can easily move the treadmill to stow it away after your workout. The Zelus has a 750-watt motor and has a speed range of 0.6 to 6 miles per hour.The Zelus treadmill has an integrated app called the FitShow app, which connects to the treadmill via Bluetooth to help track your workouts and provide pre-programmed workouts. There is an LED display to track speed, distance, time, and calories while you workout . The treadmill has a five-layer running surface to absorb shock and minimize impact. It also has two cup holders and two speakers you can connect to via an aux cord.The Zelus treadmill has mixed reviews. Many people loved that the treadmill was so compact and affordable. They also found that the treadmill was very simple to assemble. Most of the positive reviews were from shorter and smaller people.Taller people found the running belt too short to comfortably run. Other negatives include that the running surface wasn't padded well and that the treadmill has a small incline that cannot be adjusted. They also found that the treadmill was not very durable.
Pros:
Foldable and portable
Easy assembly
Anti-skid side belts
FitShow app can control treadmill
Cons:
Short and narrow treadmill belt
Incline does not adjust
Bluetooth compatible only if you download Fit Show app
Wobbly handlebars
Did you know that the word "Zelus" in Greek mythology stands for the god and personification of zeal? Given that zeal means great enthusiasm, does the Zelus Folding Treadmill meet that expectation?
For less than $250, you're getting a machine that you can store in cramped spaces, move about as you wish, and that's relatively easy to put together. In addition, it includes an LED display and is Bluetooth-compatible.
However, there is a catch when it comes to its Bluetooth capabilities. Users have to download the FitShow app to utilize Bluetooth technology and connect it to the machine. Unfortunately, the app has very poor reviews and isn't very intuitive.
Walkers and joggers using this machine will get a treadmill belt that's 39.4 inches long by 13 inches wide. This means that it, too, is short and narrow like some of the others on this list. Although your walking space is limited, it does have a five-layer non-skid running belt that's also supposed to help with noise reduction and improve stability.
In addition, those concerned with the impact on their joints may like that the treadmill deck comes with shock absorption. Yet some purchasers left reviews on Amazon stating that it's not well-padded and it feels like you're walking directly on the floor.
The Zelus Folding Treadmill has non-slip side belts, a helpful safety feature to use after completing your workout. It also has dual speakers, but you'll need to use an auxiliary cord to connect whatever device you use for music. There's a built-in incline that you can't adjust, and it goes up to 6 MPH so you can walk or jog. If you're unsure what workouts to do, they do have 12 preset programs that you can check out.
The max user weight limit is 220 pounds on this treadmill, but several people have said that anything over 140 pounds makes it not perform as well. This is likely due to the 750-watt motor that would have a hard time withstanding a heavier weight or frequent use.
| | |
| --- | --- |
| Price | $239 |
| Programming | 12 preset programs |
| Speed and Incline | 0.6 – 6 MPH, Unadjustable incline |
| Other Key Features | FitShow app, LED display, quickstart buttons, dual speakers, two cup holders, anti-skid side belts, 5-layer running belt, transport wheels, 750W motor, Bluetooth compatible, emergency stop button |
Best With Programming: SereneLife Smart Digital Treadmill
Best With Programming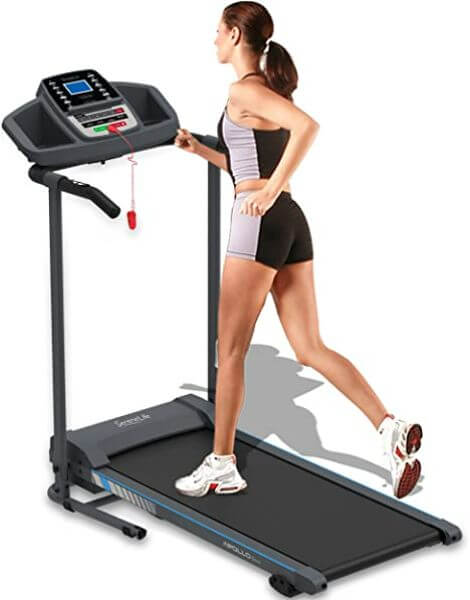 SereneLife Smart Digital Treadmill
The SereneLift Smart Digital Treadmill is a compact and affordable treadmill that also folds up for storage after your workouts, it uses a soft drop system to easily fold and unfold. There is a 1 Horsepower motor that can achieve speeds of 0.6-6 MPH. There are 12 pre-programmed workouts.The FitShow app helps you track your workouts and utilize one of the 12 pre-programmed workouts. You can monitor your workout via the LCD display which shows time, distance, speed, calories burned, and heart rate. There are also contract grip heart rate monitors, two speakers, two cup holders, and a media shelf.The SereneLife treadmill has very mixed reviews and seems to have highly variable quality. Some people found assembly to be really simple and others were frustrated by the process, stating the screw holes did not match up and pieces were missing.People that liked the treadmill found it quiet and appreciated the small footprint. Negative reviewers found the running belt too small. People noted that the treadmill came with a small, non-adjustable incline. Many users also experienced the treadmill breaking in a variety of ways, including engine failure, smoking motor, and broken buttons.
Pros:
12 preset workouts
Foldable treadmill
265-lb max weight capacity
Space-saving design
Quiet motor
Cons:
Handlebars wiggle
Running deck narrow and short
Small cup holders
The SereneLife Smart Digital treadmill is an affordable option that you can link to the FitShow app for Bluetooth connectivity. It's a lightweight machine that offers a slightly higher user weight limit than what's seen on similarly priced treadmills. Usually, you'll see a 220-pound weight limit, but this one can support 265 pounds, which is pleasant for a heavier user. But do keep in mind that it's still best for more petite individuals than taller ones due to the narrow running deck.
This treadmill has a permanent incline and a max speed of 6.0 MPH, making it best for walking and light jogging. It has a motorized treadmill power of 1 HP, so you definitely don't want to be aggressive on this particular piece of exercise equipment.
Decked out with an LCD screen, you'll be able to read helpful workout stats like calories burned, and distance traveled. Plus, you can adjust the speed of your workout and customize a fitness session with their 12 preset training modes on the console.
If watching shows while you work out is important, you can use the removable tablet holder to mount your device. You'll also get two cup holders, but be aware that they aren't big enough to hold a water bottle. The handrails come with a pulse grip but are a bit shaky.
In all, this folding treadmill will still get the job done. Users who prefer walking and are looking for something small, movable, quiet, and easy to assemble will be OK with this.
| | |
| --- | --- |
| Price | $279 |
| Programming | 12 preset training modes |
| Speed and Incline | 0.6 – 6.0 MPH, permanent incline |
| Other Key Features | 1 horsepower, LCD display, Bluetooth connectivity, FitShow sports app, emergency shut off button, safety tether key, removable tablet holder, pulse grip |
Other Treadmills Under $300 We Researched
Not every treadmill can make it to our best-of list, but some of the ones we tested came pretty close. Check them out below!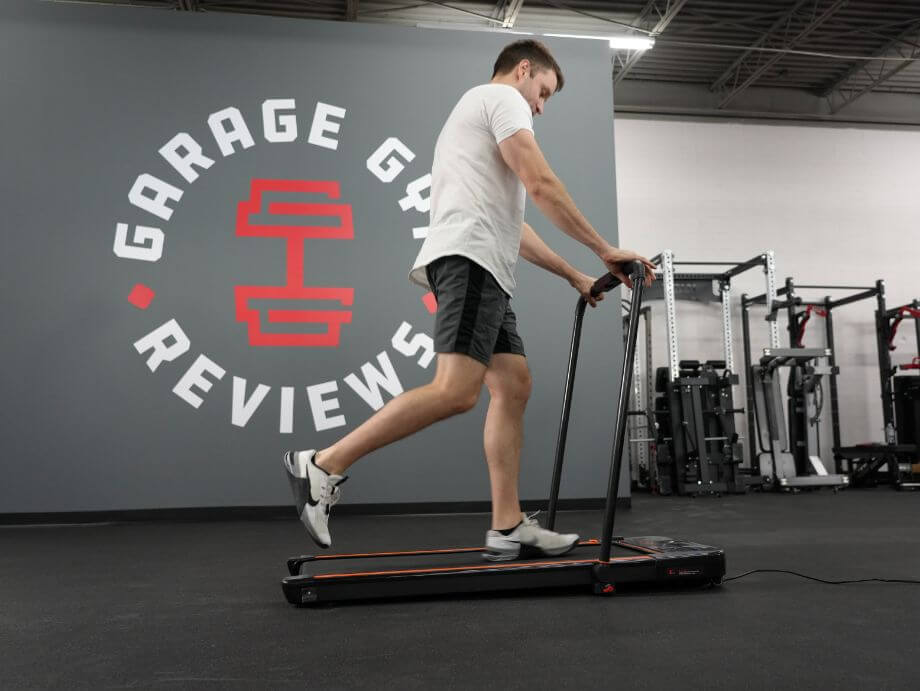 Weslo Cadence G 5.9i: Want iFIT, no problem? This treadmill is iFIT-enabled so you can enjoy trainer-led workouts with auto-adjusting settings. You'll need to connect your tablet or phone to access this feature, but it's still pretty neat. In addition, it has a 2.25 HP motor, a max speed of 10 MPH, and a 275-pound user max weight.
GoPlus 2-in-1: This treadmill checks a few boxes for power walkers and joggers who want something portable, lightweight, and straightforward to assemble. You can change the speed and instantly stop the machine with the remote control that it comes with. It also comes with a Bluetooth speaker and shock-absorbing tread deck.
UREVO 2-in-1: You can work out while you work with this treadmill, and it comes fully assembled. Suitable for users up to 265-pounds and has a shock-absorbing belt to make it easier on the joints. It's very compact but still boasts more running area (16.9 x 42.5) than some of the others.
How We Picked and Tested
When it comes to our treadmill round-ups, we really get into the nitty gritty because every machine just doesn't make the cut. Here are some of the details we evaluated for our best treadmills under $300 roundup: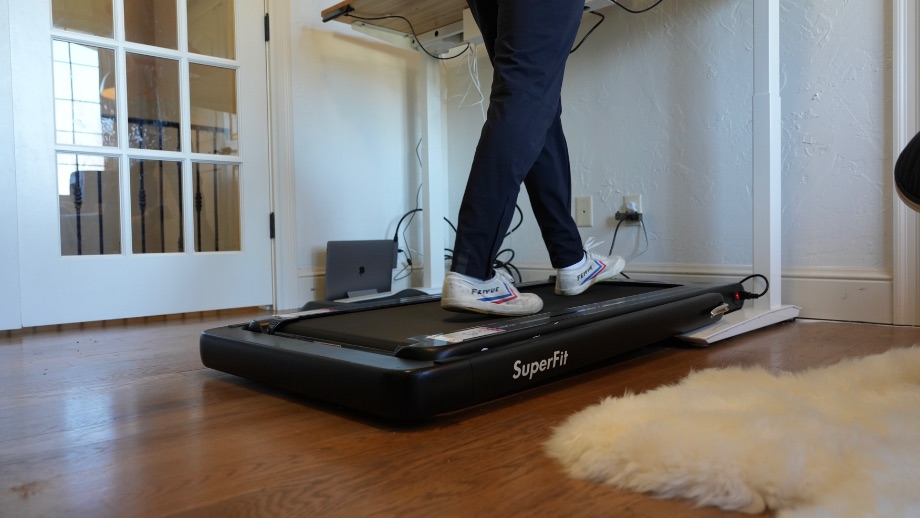 Running deck size: At this price point, many running belts are on the smaller side, but the specifications still matter. Is the running belt comfortable for heavier and taller individuals?
Speed range: What's the most you can do on this treadmill based on its top speed? Can you only walk and/or jog? Is it suitable for running?
Incline capabilities: If the treadmill has incline capabilities, is it manual or automatic? What's the incline range?
Portability: Are there transportation wheels on the treadmill that make it easy to move around? Can you store it under a desk or inside a closet? Is it light enough for one person to move it?
Display: If there's a display on the console, what kind is it? What information does it provide?
Max user weight limit: Can this machine support someone over 250 pounds?
Assembly: Does it come fully assembled? Are you able to put it together yourself? Is an expert required?
Motor: Is it quiet or loud? How well does it transition when you increase the speed and/or incline? Is it a peak HP motor or a continuous horsepower motor?
Durability: Does the frame feel sturdy? Are the handrails wobbly?
The extras: Is the machine equipped with a tablet holder and/or cup holder? Does it have Bluetooth connectivity? Did they provide a remote control to adjust speed and other settings?
Safety features: Is a safety key included? Does it have an emergency stop button?
Benefits of Ultra-Budget Treadmills
So, are there really any benefits associated with purchasing an affordable treadmill for home use? Absolutely! Here are some of those benefits:
Home Gym Equipment That Doesn't Break The Bank
One of the most attractive things about cheap treadmills is that they're cheap. The features that come with higher-priced treadmills are nice, but they aren't always necessary. The whole point of using a treadmill is to walk, jog, or run. So, as long as the machine lets you safely and comfortably do that, that's all that matters.
They Still Check The Cardio Box
If completing daily cardio sessions is what you aim to do, a budget treadmill is still going to let you do it. Of course, you're not going to get the touchscreen display or quality deck cushioning, but that stuff doesn't matter to everyone. Some people literally only use a treadmill because the weather is too bad to let them complete an outdoor run. Others might be dealing with a chronic condition and just want to get some steps in. Either way, the cardio box can be checked off daily.
Portable and Lightweight
While I can't speak for all affordable treadmills, I can say that most are pretty light. Commercial treadmills are often heavy to move around. However, these are often so lightweight and compact that you can work out during the day and throw a party at night without it getting in the way.
What to Look for in Treadmills Under $300
We understand that treadmills under $300 aren't going to have some of the qualities associated with high-end treadmills. And they're likely going to have a not-so-great warranty package. However, even at this price point, you can have some expectations. Here's what we tend to look for in these more affordable treadmills:
We Like to Move It, Move It (Portability)
One major feature we look for in budget-friendly treadmills is portability. Can it be easily moved by one person and stored under a desk or in a closet? If you don't have a dedicated home gym, you'll want something with transport wheels to take your treadmill somewhere else when it's not in use.
Safety Features
Always look for treadmills with safety features like a security key or emergency power-off button. If stability is an issue, make sure you get something with sturdy handrails. I even like the anti-skid belts because you can stand on them once you've finished your workout and wait for the running belt to come to a complete stop.
Running Surface
Cheaper treadmills often come with short and narrow running belts, so you must find one that fits your weight, height, and stride. If you overlook this, you could end up with a treadmill that completely restricts your movement.
Speed and Incline
It's very important to be realistic about how fast and intense you want your workout to be. If you plan on running, you'll need a treadmill that can go faster than 6 MPH. Those wishing to simulate going uphill will want to ensure that an adjustable incline is a feature too. Treadmills at this price range sometimes have unadjustable or manual inclines, so be careful what you choose.
The Motor
Throughout this round-up, you saw a few brands use watts to describe their motor, but this isn't very helpful. Some brands do this to hide how weak their motor really is. In addition, please pay attention to whether it's a peak HP motor or a continuous HP motor. The latter is better for consistent use.
RELATED: History of Treadmills
FAQs About Treadmills Under $300
What is a Good Treadmill At A Good Price?
What Are The Top 3 Treadmills?
What Is The Most Popular Brand Of Treadmill?