We test and review fitness products based on an independent, multi-point methodology. If you use our links to purchase something, we may earn a commission. Read our disclosures.
If you want to build up your traps, work on your grip strength, and add some unique equipment to leg day, then the Shrug Pro may be the product you need. The Shrug Pro is a pair of free weight handles that are designed to help you train the traps as well as perform other exercises such as farmer's walks and partial deadlifts. They're very specialized pieces of strength training equipment, but they can be great assets for home gym owners that want to train for power or use multiple heights for various exercises thanks to their adjustable handles.
If you don't have kettlebells or dumbbells that are heavy enough to challenge you on these exercises, or if you want an upgrade from a trap bar, then the Shrug Pro will be worth the investment. Before you place the order, check out this full LPG Muscle Shrug Pro review with all the details so you know everything that matters most about these free weight handles.
We Know Training Equipment Because We Use It
Our team at Garage Gym Reviews include certified personal trainers, CrossFit L1-Trainers, elite strength athletes, and other experts who commit a lot of time to studying the best home gym equipment in the industry. We know a lot about training and fitness products because we use a lot of them ourselves.
I personally received the Shrug Pro free of charge from Living.Fit in exchange for my honest review. I tested it with several workouts, and the opinions shared here are the same as they would be if the product was purchased.
LPG Muscle Shrug Pro
GGR Score: 3.75
Product Highlights
Holds up to 8 standard 45-lb plates each

Sold in pairs

Useful for shrugs, farmer's walk, partial deadlifts

Optional rollers for comfort and convenience

Designed for athletes 5' to 6'6" tall
Pros & Cons
Pros
Hexagon handles for easier grip
Height can be adjusted easily
Simple to assemble
Powder coat finish
Collars and keychains included
Available in silver, white, and orange
Unilateral design promotes balance
Made of construction steel
Can be used as a pair or one at a time
Cons
Limited uses for the price
Limited range of motion
No assembly instructions included
Only supports Olympic plates
Bottom Line
If you want a durable product that can specifically help you with shrugs, partial deadlifts, lunges, or farmer's walks, then this would be a great one to have in your home gym. They can also be used for unilateral movements to target the core, such as walking with one instead of both. It's a high price for a product that doesn't have that many uses, but for people who are interested in strength development and grip improvement, especially taller home gym owners, it can be a great asset to work with.
A Quick Look at the Shrug Pro
Imagine having one of the best trap bars, only you can use it one side at a time. These are handles that can hold Olympic plates and be used for exercises such as the shrug exercise (obviously) and the farmer's walk. The handles are adjustable for users as short as 5 feet tall to users that stand 6 feet, 6 inches tall.
There aren't many products like this, which makes it a unique item to have in the garage gym. They are made in the USA and very durable thanks to the steel used to produce them. The handles are hexagon shaped, and you can still use lifting straps. The powder coat finish makes them look even better.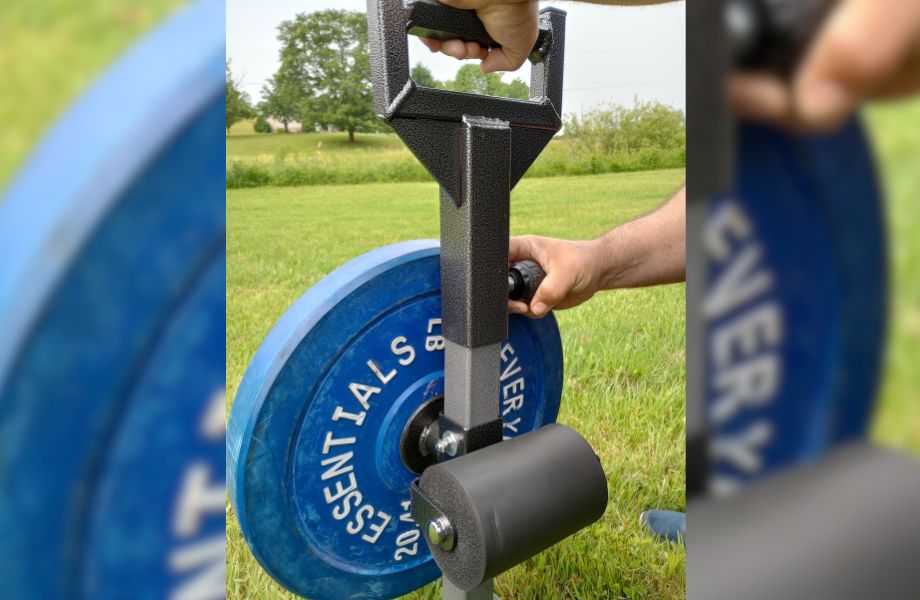 Some people may think that the best dumbbells and kettlebells could perform the same movements, and they aren't wrong, but the Shrug Pros can support much heavier weight. If you have standard size 45-pound plates, the Shrug Pro can hold eight of them. Of course, bumper plates are thicker, so keep in mind that if those are what you have, the handles won't be able to hold quite that many plates. The Shrug Pro is made by LPG Muscle and is available for purchase on their website as well as on Living.Fit.
Before You Buy
You will need a 14 mm socket or adjustable wrench for assembly
These only support Olympic-sized plates, not 1-inch plates
RELATED: The Best Bumper Plates
Is the Shrug Pro Worth It?
Starting around $270, the Shrug Pro carries a price tag similar to some of the best Olympic barbells. It is a very specific training tool that helps with certain strengths and movements, but isn't as versatile as a barbell, dumbbell or kettlebell. However, as you get stronger, then you may want something like the Shrug Pro, which can hold more than 700 pounds.
Great for:
Lifters who want to do very heavy shrugs, farmer's walks, and other exercises
Those who enjoy specialty home gym equipment
Home gym owners with space for more tools
Shrug Pro Specs
| | |
| --- | --- |
| Footprint | 26.5 – 30.5" H x 8" W x 17.5" D |
| Weight | 23.5 lbs each |
| Weight capacity | 360 lbs each |
| User Height Adjustment | 5' to 6'6" tall |
Using the Shrug Pro
The Shrug Pro arrived a few days after the order was finalized, and they were put to several tests once they did. I used them for shrugs, farmer's walks, grip holds, partial deadlifts, and side bends. I loaded them up to as heavy as 100 pounds on each side for several sets and reps. Each piece was very sturdy thanks to the commercial-grade construction steel, and they were easy to use—extremely user-friendly. The foam rollers on the sides made them more comfortable to use because they protected your legs from the impact of the handles bumping them. Note: The foam rollers will cost you extra if you choose to add them, which I recommend doing.
I'm 5 feet, 9 inches tall, and I still found the handles to be pretty tall. I barely had to bend over to pick them up at their lowest setting. If shorter users were going to use these for something like deadlift variations, they would be best served standing on plates or blocks to increase the range of motion. Taller users may be able to use them for lunges. You may not be able to use them for a large multitude of exercises, but the ones you can do will contribute to a full body workout positively.
After using these for a while, I think that Strongman athletes can benefit from having these, and they can serve bodybuilders well. Beginners may not be ready for equipment like this yet, but if you see yourself training for events like the exercises mentioned above, then you could buy these now to get started.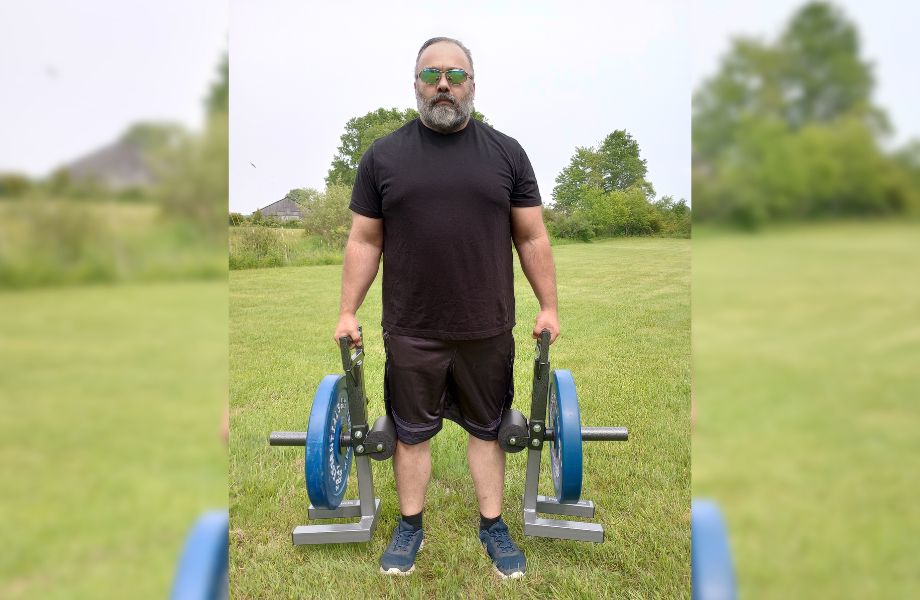 Exercises With the Shrug Pro
There are quite a few movements you can perform with these handles:
Shrugs
Farmer's Walks
Standing Holds
Partial Deadlifts
Standing Unilateral Exercises
The namesake exercise, a replacement for the barbell shrug, is a fantastic trap exercise. Using these for walks can help you train the leg muscles, including the glutes. Furthermore, you will be using your core for stabilization. You're not going to be using these to target muscle groups like biceps or triceps, but the arms will be involved in the lifts that you do perform with them. Since they're free weights and adjustable, they can be beneficial for people concerned about their shoulder joints.
Besides the previously mentioned exercises, there are few other things you can do with them. You can train the back by doing them in place of one-arm dumbbell rows on a chest support pad, similar to a T-Bar Row. If you have a seal row bench and want to do single rows instead of a barbell version, these can be used for that. You could also perform side bends to target the obliques. They are easy to store as well because they don't take much space.
Footprint
Home gym owners are often working with limited space, so the footprint of specialty equipment like this is an important consideration. Even at the tallest setting, the Shrug Pro is still less than 3 feet tall, and the handles are not very wide or narrow. This is great because you won't have much trouble storing them when you don't need them. They won't fit in a gym bag, but if you wanted to take them to a gym with you, they will fit in the trunk of a car easily.
RELATED: Best Compact Exercise Equipment
Construction and Durability
I found the handles to be very durable. They have been lifted, dropped, and moved in a variety of ways and still held up with no issues. The bolts used to put the pieces together are strong as well. I'd consider the construction of these items to be very high quality.
The Shrug Pro comes with two Olympic barbell collars so the weights stay in place. The handles are hexagon shaped to help prevent slipping, but you can still use lifting straps if you like. You can also use the best lifting chalk, and the handles can be cleaned with a basic damp cloth when you're finished. The long feet on the bottom help promote balance and keep the handles from tipping over. The foam rollers on the sides are optional, and adding them is a $30 difference, but if you train in shorts or want to minimize the impact on your legs, they are worth it.
The handles themselves can be raised or lowered by spinning the pin to loosen it. Once you have it at the desired height, tighten the pin back so it stays in place. You can use the handles so the weight is in front or behind you as well.
Customer Experience
The ordering and checkout process from both sites shouldn't be much trouble if you order the Shrug Pro. As of June 2023, they are in stock at both the LPG Muscle and Living.Fit sites. Both sites also have customer service through phone numbers and email.
LPG Muscle offers a 30-day warranty for this product, including time to ship the product back. Their policy states that the product must be in the same condition it was shipped, and they may charge a restocking fee. Living.Fit only offers a 30-day return policy if the package was unopened. Once it's been opened, it can't be returned for a refund.
Ordering and Assembling the Shrug Pro
It will take anywhere from two to seven business days for the Shrug Pro to arrive when you order it. The product arrives in a simple box with protection around the disassembled pieces of the equipment. The parts are relatively easy to put together, but there are no instructions or list of tools needed. I can tell you 14-millimeter sockets or adjustable wrenches will get the job done quickly.
Customer Reviews
As of this publishing, Living.Fit has no reviews from customers about the Shrug Pro. The LPG Muscle website only had one review of this product, and it was a positive one with a five-star rating:
"This item is absolutely incredible, sturdy and just works so well!!!! Love it!!!" – Miguel G.
Final Verdict of Our LPG Muscle Shrug Pro Review
Taller users may find the Shrug Pro to be a great way to work on shrugs, deadlifts, and farmer's walks, among other exercises. It will also be great for people who consider strength and power a priority. Conversely, shorter customers and beginners may find this to be unnecessary. As for the quality of the product and durability, it's excellent and will last the owner for many years to come.
LPG Muscle Shrug Pro Rating
Shrug Pro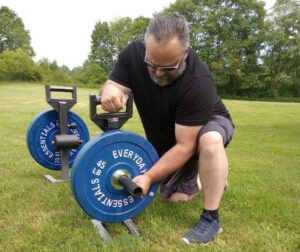 In our LPG Muscle Shrug Pro review, we'll detail how these free weight stands can help promote strength and athleticism for home gym owners of all levels.
Product Currency: USD
Product Price: 300
Product In-Stock: InStock
LPG Muscle Shrug Pro FAQs
What exercises can the Shrug Pro be used for?
Besides the obvious answer of shrugs, the Shrug Pro can be used for farmer's walks, side bends, partial deadlifts, and unilateral walking exercises for core stabilization and strength. You can also do grip holds for time and weight to improve forearm strength.
How can I use these to improve my strength?
If you have standard size Olympic plates, then the Shrug Pro can hold up to 360 pounds each. You can load them up and go as heavy as you need to in order to improve on the desired exercises such as walks, shrugs, and holds. The strength you gain from doing these movements can transfer to other movements.
How easy are they to assemble and use?
The Shrug Pro will come in pieces, and bolts are included. You'll need two adjustable wrenches or 14-millimeter sockets to assemble them. There are no instructions, but they can be assembled in as little as 10 minutes. The pieces are marked for left or right so you can assemble them correctly. There are also two collars you can place on the handles to secure and keep with the handles.