We test and review fitness products based on an independent, multi-point methodology. If you use our links to purchase something, we may earn a commission. Read our disclosures.
After researching nearly 100 barbell clamps, using 46 of them, and legitimately testing 32 of them during back exercises, squats, bench press, deadlift, and snatches, as well as dropping them, throwing them, and seeing the max weight they can hold—we believe the Rogue USA Aluminum Collars are the best barbell collars for most people. However, they aren't the only collars worth considering.
Barbell collars are one of the most essential pieces of equipment for anyone lifting in a home gym. If you're using a barbell, you should be using Olympic barbell collars.
There are hundreds of collars on the market today, so we pretty much bought them all, tested them by traditional means like lifting, dropping, and throwing them off rooftops, reviewed them, and now have compiled our recommendations to help you decide which to purchase.
The Best Olympic Barbell Collars
Video Review
Top Pick: Rogue USA Aluminum Collars
Rogue Fitness is a trusted name in all things barbells, and for good reason: They make some of the best barbell sporting equipment in the industry. The Rogue USA Aluminum Collars certainly meet that mark of excellence as they are lightweight and incredibly useful.
The Rogue Aluminum Collars are based on a design by OSO, a company they acquired. OSO was the first to market with a CNC-machined barbell collar and it took the market by storm. In fact, it was such a great idea that it's been copied a hundred times over, and the company even got bought out by Rogue Fitness.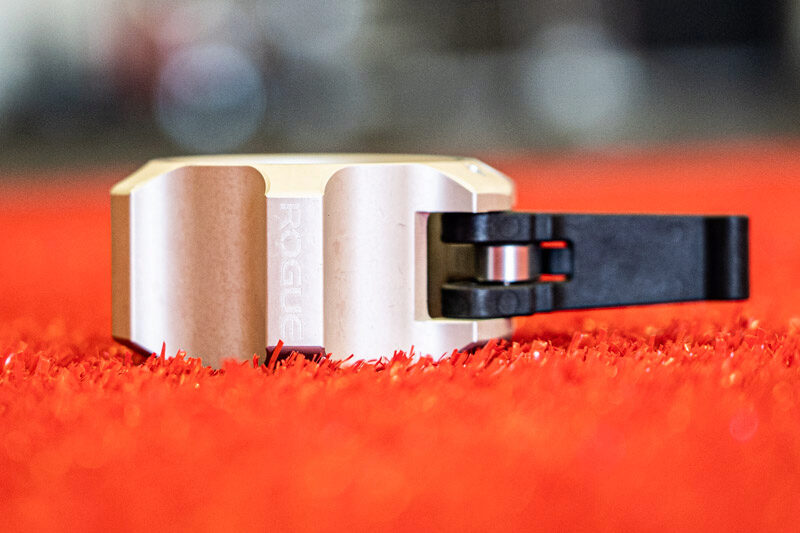 The Rogue USA Aluminum Collars are constructed out of 6061 Aircraft Grade Billet Aluminum. 6061 Aluminum is insanely strong, light, and is corrosion resistant even when scratched and banged up from abuse. It definitely feels solid and strong yet lightweight and manageable — weighing 0.25 LBS per collar and an overall width of 1.5 inches. Every pound counts, so remember to add 0.5 LBS to the total weight of the barbell when you are using these.
The outer diameter of this construction has stylish yet functional grooves so you can better maintain an ergonomic grip when easily sliding these collars onto a barbell. At such a lightweight and thickness, plus the aid of the grip ridges, it is one of the most comfortable barbell collars to handle. The inner edges are slightly rounded off so they can more easily slide onto the sleeve of the barbell to secure the weight.
Related: The Rogue USA Aluminum Collars made our Best Fitness Gifts list!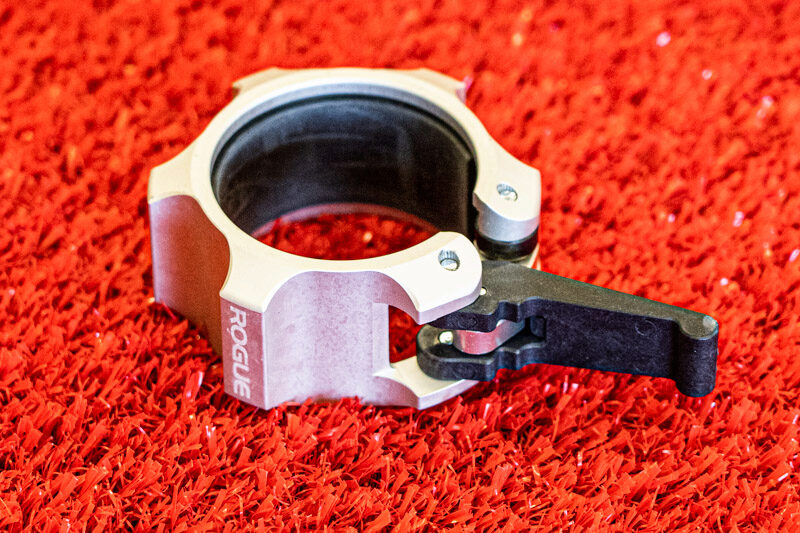 To protect the barbell, every Rogue USA Aluminum Collar is enhanced with a rubberized lining. This lining also helps provide the collar with a more secure grip to the barbell and prevents sliding. The Rogue USA Aluminum Collar uses a nylon lever that snaps from an open to closed-angle once the lock is engaged. The lever is very easy to use and snaps very quickly into place without too much effort. The lever is about a finger width, which makes it very easy to flick and secure into place with the tips of your fingers.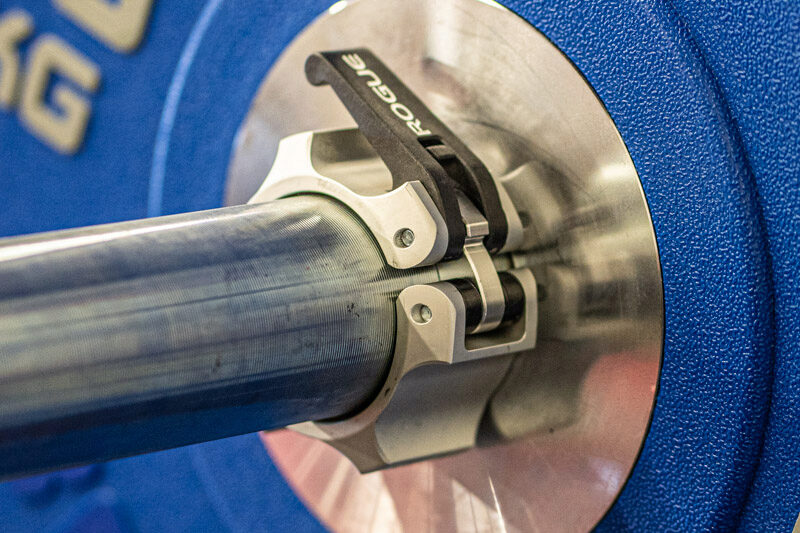 The finish on these Rogue Aluminum Collars is a clear and hard anodized silver with the Rogue logo laser etched. This gives the collar an overall professional and trustworthy look. They truly are a simple product, built with the utmost precision. When you factor in the lifetime warranty, and price, it's obvious why so many people swear by these collars.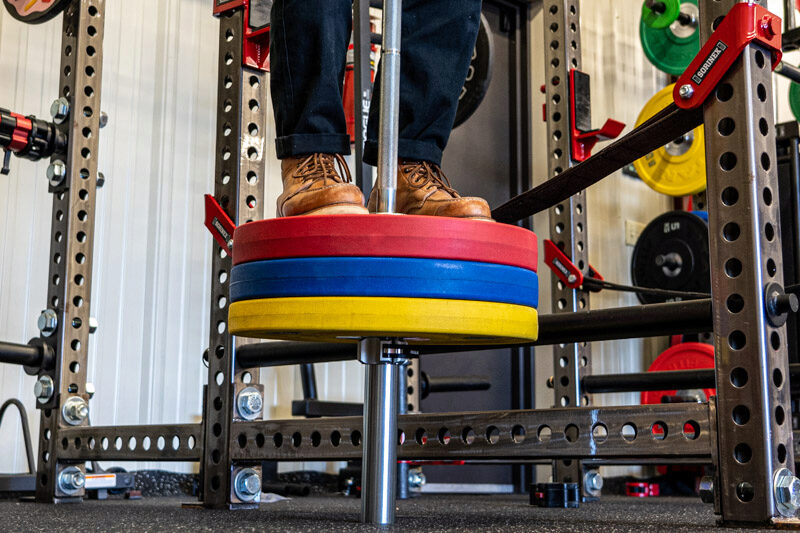 In our testing, we found the collars to be both accurate in weight and extremely durable. We've used the collars in our gym for quite a while without any major issues. The Rogue Aluminum Collars hold weight on the bar extremely well, even when dropped from overhead.
In addition, they're easy to place on the bar. Although there were other collars that seemed to hold the weight to the bar a little bit better (somewhat subjective) they were not as easy to put on the bar. Due to the combination of easy to apply and a great holding capacity, the Rogue Aluminum Collars are our top pick for the best Olympic barbell collars.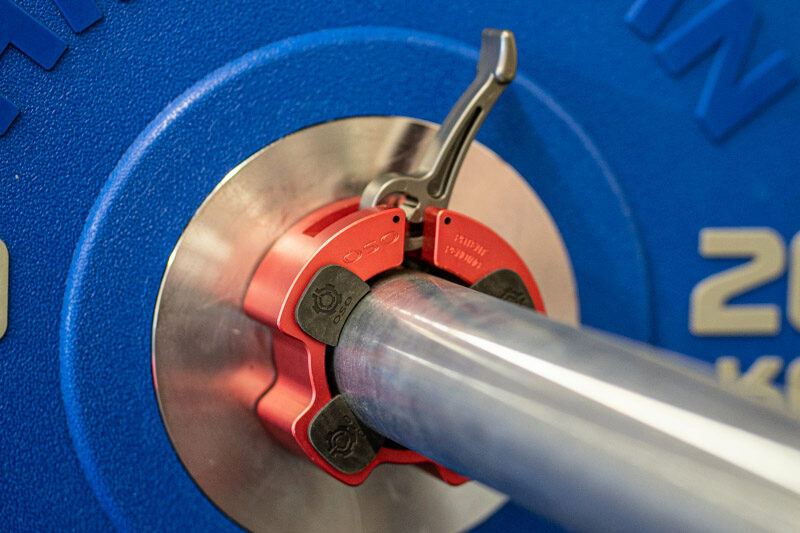 A similar model that we've found to hold up extremely well and hold plates on the bar is the OSO CM-1 Metal Collars. These work well and have replaceable rubber plugs so they always hold the bar well.
The Rogue USA Aluminimum Barbell Collars are the best barbell collars currently available for most people (who aren't on a tight budget.) Rogue Fitness bought OSO Collars a couple of years ago and although they still sell all of their original designs (we have all of them including the CP-1, CM-1, PRO, Mighty, and others) the Rogue USA Aluminum Collars are an updated and upgraded version of the originals.
They're made entirely in the USA of lightweight CNC'd aluminum, look great, have an easily swallowable price and hold weight on the bar better than any other collar we tested (they held 315 LB standing upright on the bar which included me standing and jumping on them.) If you want the last pair of collars you'll ever buy, these are them. Barbell collars are essential when it comes to strength training.
RELATED: Best Home Gym Equipment
Runner-Up: Lock-Jaw PRO 2 Barbell Collars
The Lock-Jaw PRO 2 Barbell Collars are some of the most popular clamps for good reasons – they are functional, priced well, and hold plates on the bar extremely well (they're also incredibly durable.)
The Lock-Jaw PRO 2 Barbell Collars are manufactured from very strong and slightly gummy resin. The resin used is a synthetically derived polymer and is designed to withstand repetitive usage, which we've seen over the years. This two-inch wide resin frame is easy to color and dye, so there are plenty of options to choose from. Red, blue, 2-tone, etc. — we have seen several different varieties. It's great to have so many unique colorways as gyms may even wish to buy in bulk to have multiple matching pairs.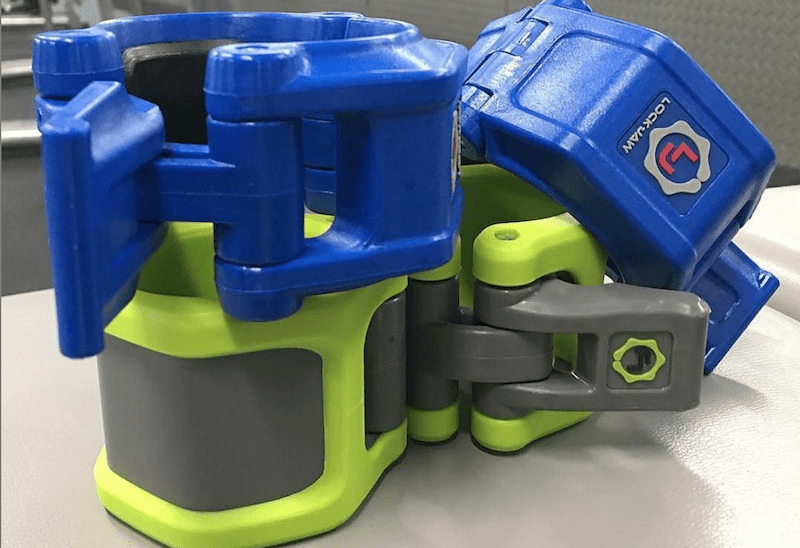 The outer diameter of the Lock-Jaw PRO 2 Collar is slightly hexagonal, which makes it easy to grab and spot when you need it handy. What we like about this hexagonal shape is that it somewhat conforms to the shape of your hands and pads of your fingers when you grasp it.
The inner diameter utilizes a rubbery elastomer padding to protect the barbell sleeve and prevent movement when secured on the bar sleeve. Although these can detach from the plastic collar, we've found them to be a great option for holding the bar and are vastly superior when compared to the cheap collars on the market at this task. The inner edges are slightly tapered as well, making it easy to grab the Lock-Jaw PRO 2 Collar with one hand and slide on and clamp with the other.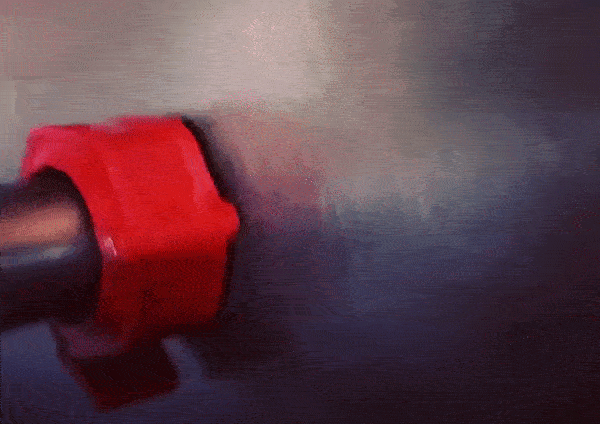 The lock aspect of the Lock-Jaw PRO 2 Collar is a spring-loaded snap latch that can easily be grasped and put into place with your thumb around the collar and your finger(s) on the latch. The clamp is about an inch wide, which makes it easy to grab onto. If you want the same collar, at a slightly lower price and without the locking latch, the Lock-Jaw OLY 2 Collar fits the bill. We prefer the latch and think it's worth the price, but if you don't and still want a tight holding collar, those are a good option.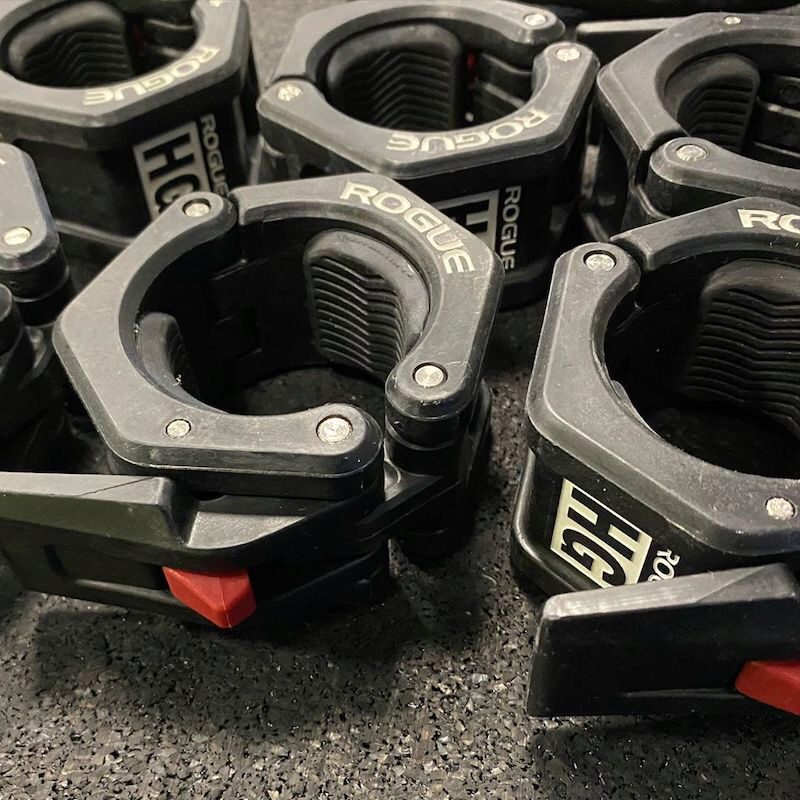 We've had the original Lock-Jaws for years and used them mainly for barbell cycling during CrossFit Metcons (the most abusive type of training for equipment.) These collars also go under the name Rogue HG Collars. The Rogue HG 2.0 Collars, also known as the Lock-Jaw PRO 2 Barbell Collars hold extremely well and are priced competitively to the competition. Rogue also has a great warranty so we'd be more likely to suggest going through them than Amazon.
Although we prefer an aluminum collar at this price point, these lock on the barbell sleeve extremely well, move very little when dropping the bar for deadlifts, power cleans, and snatches, and are easy to fasten to the bar. All in all, these are outstanding collars.
The Lock-Jaw PRO 2 comes with a 1-year warranty.
The Lock-Jaw PRO 2 Barbell Collars are one of the best barbell clamps that Lock-Jaw makes and we would imagine that Lock-Jaw has sold more barbell collars than anyone in the world. Pretty much all of the cheap collars on the market today are based on the Lock-Jaw design, and for good reason, the mechanism is easy to use and works well. We're a fan of pretty much every Lock-Jaw Collar, but think the best option for most people is the Lock-Jaw PRO 2 or the same collar under a different name, the Rogue HG 2.0 Collars.
Best for Specialty Bars: Proloc 1 Collars
Proloc 1 Collars are one of the most unique collar designs on the market. Rather than using a latch, they use a screw top that is quick to take on and off and is somewhat secure (although not nearly as secure as the competition in our testing.) The Proloc 1 Collars are made and shaped out of a high-strength nylon material. High-strength nylon is resilient and can withstand more than an occasional drop.
We've run over these in our truck, thrown them across the gym, and beat the ever-living tar out of them and they still look and work great. The frame shape is a half-circle on the outside diameter and half square where the locking mechanism is housed at. With no ridges or strategic grippiness, the Proloc 1 Collar is easier to drop when not being mindful compared to the OSO and Lock-Jaw designs.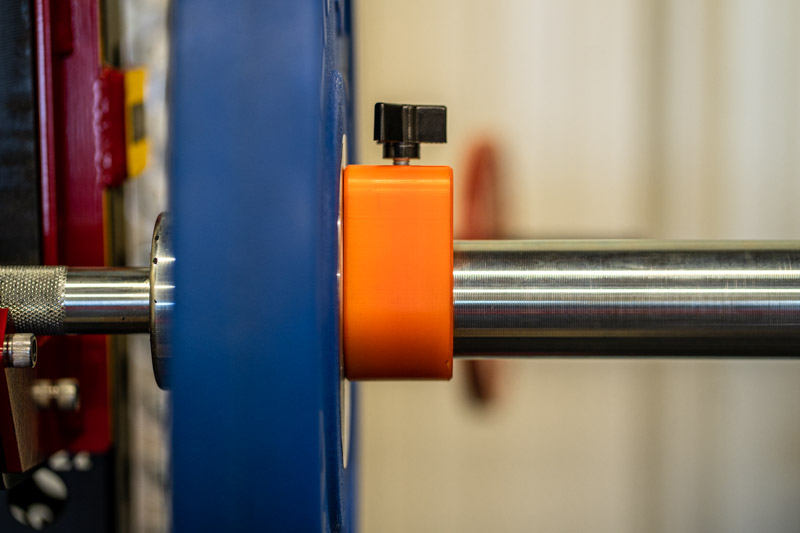 Since the frame is nylon, it can and is dyed by the manufacturer so we also have more color options available to choose from. There is even enough room and flat spaces to write on with a fabric pen or sharpie to customize or write your name on your Proloc 1 Collar.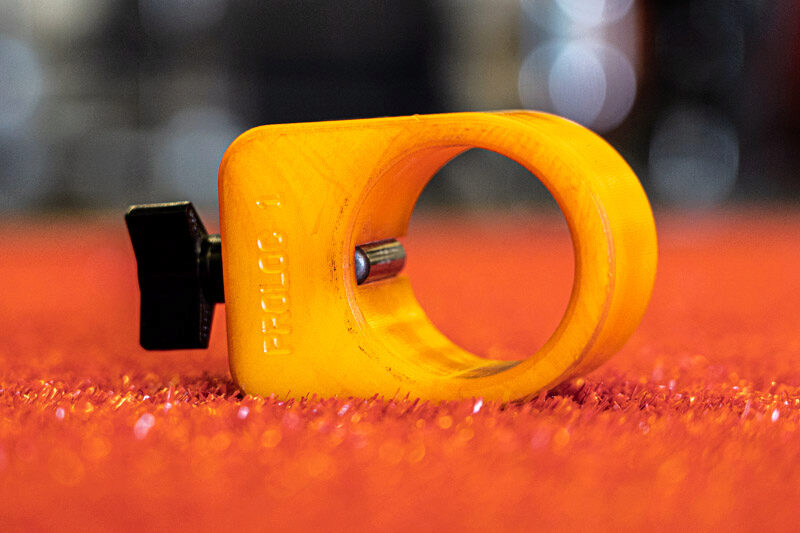 The Proloc 1 Collar has no interior padding besides the nylon frame itself. The only other aspect of the Proloc 1 Collar to touch the interior at this inner diameter area is the locking bolt itself. To secure the Proloc 1 Collar to the barbell sleeve, all you need to do is tighten the hand adjustment bolt so that the bolt presses down into the sleeve of the barbell and pulls the rest of the nylon collar up to secure tightly opposite of the bolt.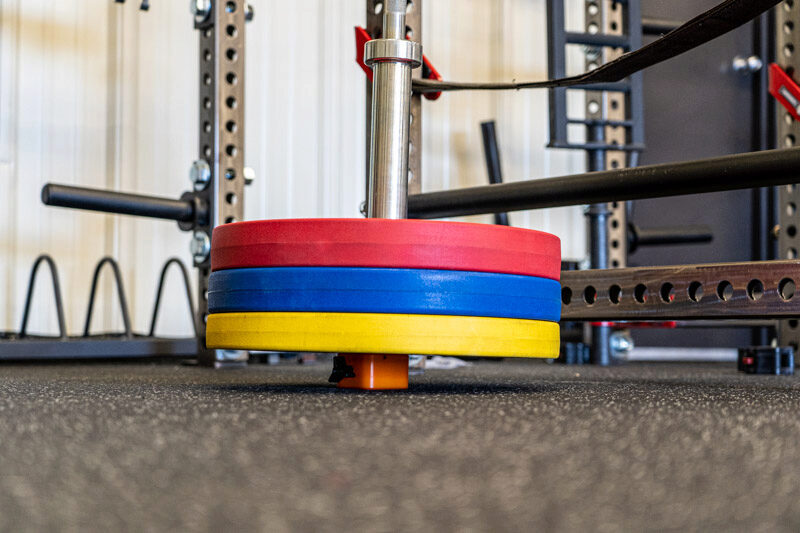 Due to there being no rubber to create friction on the bar, these slide much more than we'd like. In fact, even after cranking them down as hard as we could with our hands, they still slid to the ground when we loaded the bar up and stood it upright. These collars are unique in that they also accommodate smaller specialty bar sleeves, so that is why we're okay recommending them even though they slide on Olympic barbells more often than the competition.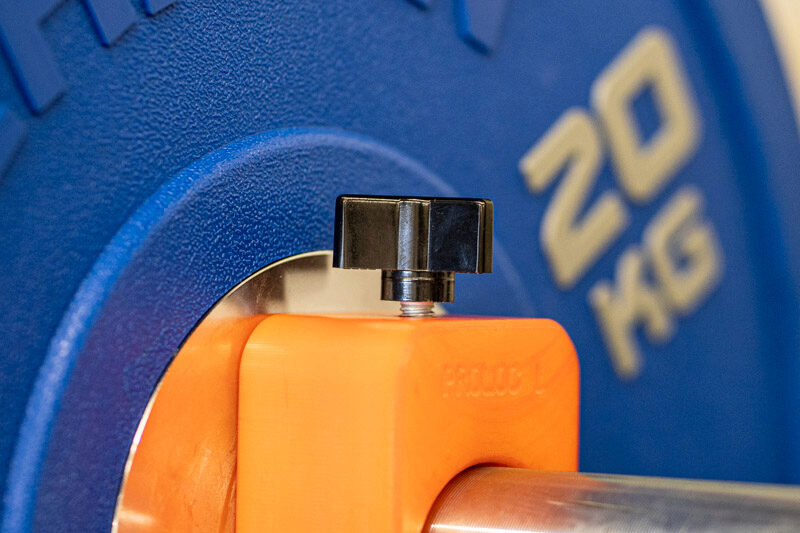 The inner diameter is slightly larger and the nature of the hand adjustment bolt so makes it so the Proloc 1 Collar can fit onto a greater variety of barbells. Many specialty bar collars are actually slightly less than standard two-inch diameters, and the Proloc 1 Collar is designed to fit anywhere between 1.937 and 2.007 inches (this is definitely a nice perk indeed). The inner diameter nylon is also slightly tapered, making it easy to fix onto the bar.
The best barbell clamps we've found for specialty bars are the Proloc 1 Collars. These are not the best collars in general, we actually found they didn't hold plates on the bar nearly as well as the competition (likely because there is no rubber on the inside of the collar for friction,) but, they are some of the quickest collars to attach and they work both on Olympic barbells and specialty bars while most others will not.
If you have a lot of specialty bars like safety squat bars, multi-grip press bars, and trap bars, then we suggest getting a pair of Proloc's, just don't expect them to hold as well as our other picks.
Best Lightweight Barbell Collars: OSO Mighty Collars
The OSO Mighty Collars take the same material as our Top Pick but use less of it in a slightly different design. They are made out of the same 6061 Aircraft Grade Billet Aluminum mentioned above, which makes the frame of these OSO collars truly feel mighty, yet light. The frame of the outer diameter is ergonomically fixed with ridges.
These ridges don't protrude as much as the Rogue USA Aluminum Collar or the regular OSO Collar, but they work and function how they should. They are slightly shorter in width compared to the Rogue USA Aluminum Collars, measuring at 1.4 inches and weighing about 0.15 LBS per collar. With them being very lightweight, it almost seems easier to accidentally drop when compared to the slightly heavier OSO or Rogue Aluminum collars.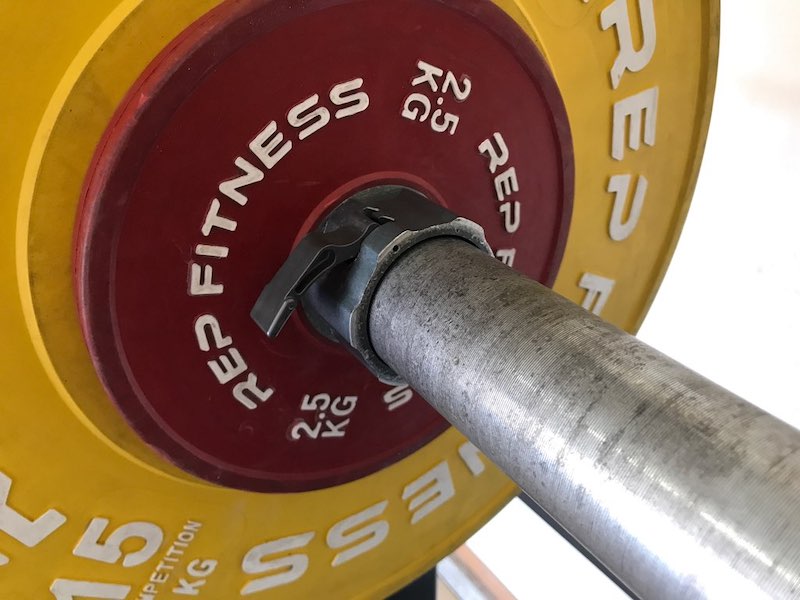 The OSO Mighty Collars utilize the same quality rubberized lining as the other OSO Collars to help prevent slippage and also to protect the barbell. The inner diameter edging is tapered to assist with easier maneuvering onto the barbell collar. The locking mechanism is easy to use and master as it is a manageable clamp. With your thumb around the OSO Mighty Collar and your finger(s) on the clamp aspect, it locks down quite snugly.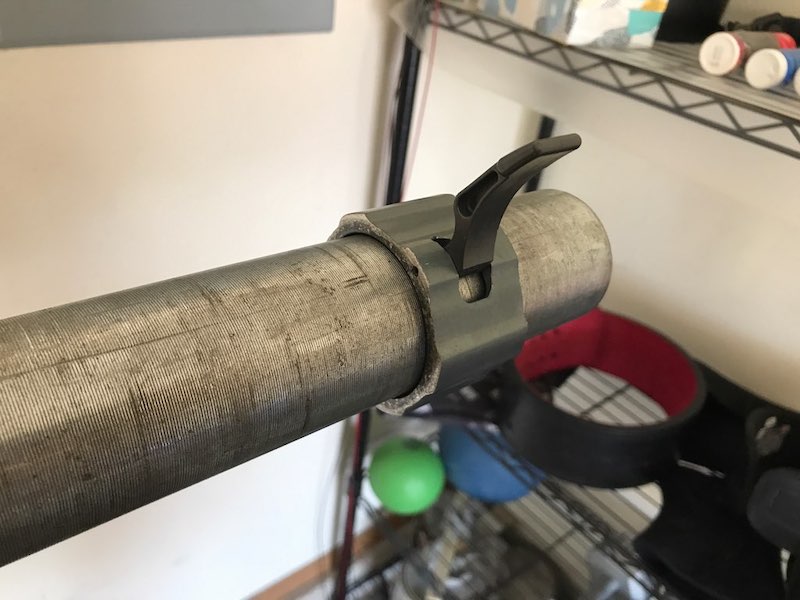 Although these don't hold as well as their more expensive counterparts, we do like the collars at the price point. For most people, we'd suggest spending a bit more, but if this is the most you want to spend on collars and still want an aluminum design, these are your best bet.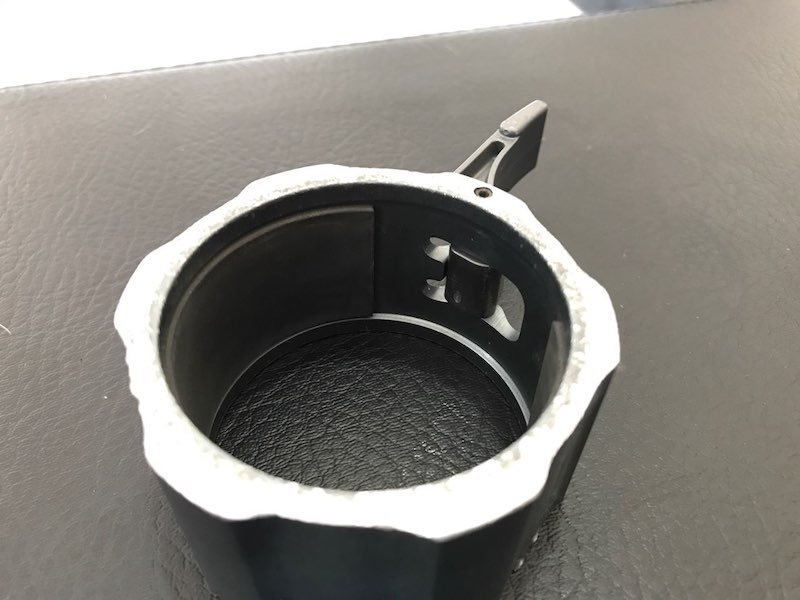 The OSO MIghty Collars come in two colorways at the moment—a standout blue color as well as a sharp-looking gunmetal color. They are priced at $60 per pair and come with a two-year warranty (we've had ours for over 5 years without any issues.)
If you're on a budget but still want a high-quality collar then the OSO Mighty Collars are an excellent option. These utilize the same materials as our top pick, but are smaller and have a slightly different latching system. These do not hold the plates on the bar as well as our top picks, but are also half the price and weigh only 0.3 pounds a piece.
Honestly, the OSO Mighty Collars may be the most underrated clamps, although one of the best barbell clips, on the market due to them being overshadowed by their older, more expensive brothers, but we've been very impressed over the past three years of owning and training with them.
Best Budget Pick: Clout Fitness Barbell Clamp Collars
Our budget option would be the Clout Fitness Barbell Collars. Barbell Collars are indeed a simple design, and Clout Fitness has utilized that to their advantage. These are highly reviewed (over 2500+ reviews) and liked with a 5-star rating on Amazon.
The Clout Fitness Barbell Collar holds up quite well but gets bruised up quicker due to the simpler plastic material used. But its price point and warranty make them a great value, just don't expect them to hold onto the bar as well as our other picks.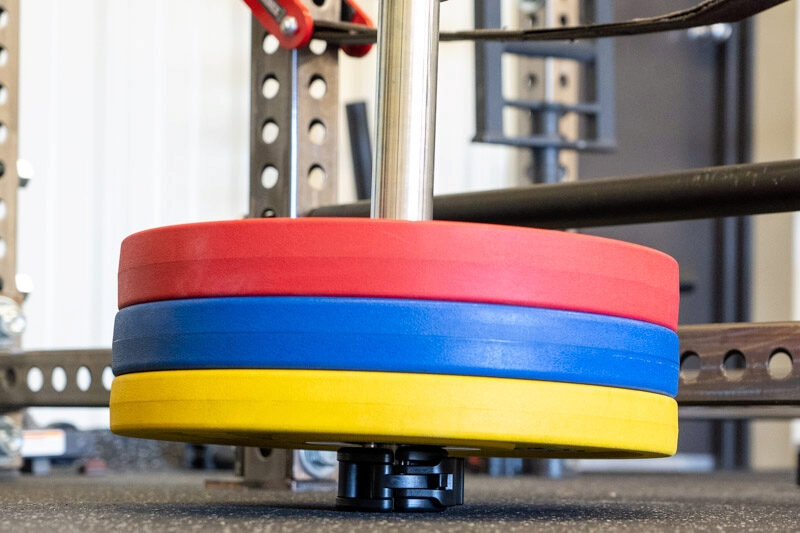 The reason the colors are so cheap is perhaps that the Clout Fitness Barbell Collar is constructed out of reinforced composite plastic. This can more easily break than aluminum, but that really depends on how well you handle and treat the collar in the first place. The composite plastic also has the benefit that it can be easily colored, so there are numerous options for picking a colorway.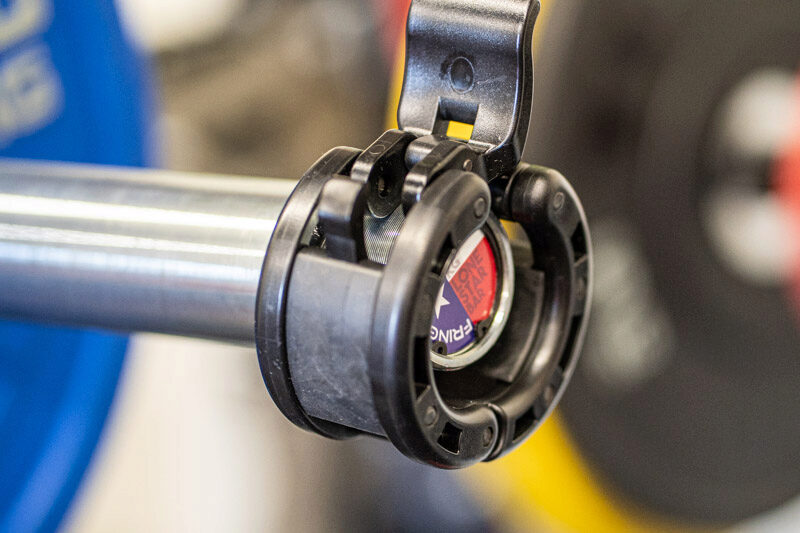 The inner diameter of the Clout Fitness Collar is lined with rubber. The rubber Clout Fitness is using holds well on the barbell. The locking mechanism of the Clout Fitness Barbell Collar is a simple latch modeled after Lock-Jaw collars. This works great but seems to be the first part of the collar that will wear out over time (it stops holding as well after a few months of use. This latch (lever) clicks when it is fully engaged.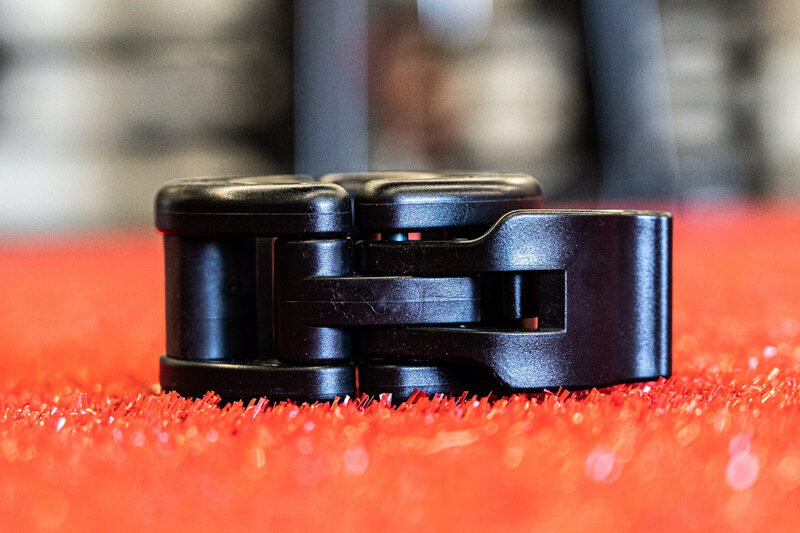 The Clout Fitness Collar can most readily be compared to the Lock-Jaw 2 Collar, as they are similar in looks. The outer diameter of the Clout Fitness Barbell Collar is mostly round. This is not as ergonomic of styling as most of the other collars on this list but honestly won't bother most people.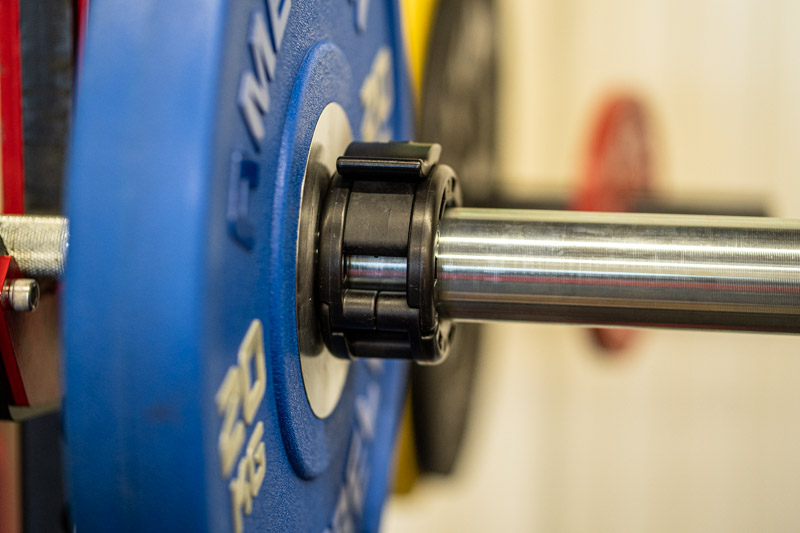 One thing to mention that I don't think many realize is that Clout Fitness has a lifetime warranty that is very seamless. When we talked to the owner of the company, he put it quite plainly that they will replace pretty much any collar for any issue. For a collar at this price, that's a pretty good feature. And, as you can imagine, we didn't take his word for it, we scanned reviews and found this to pretty much be the case every time someone mentioned something breaking.
The Clout Fitness Locking Barbell Clamp Collar are the cheapest barbell collars we recommend. At around $15 and a lifetime warranty, these are a great deal. The Clout Collars did hold better than some of their competitors at the price point like Iron Lab and Greententljs, however, not nearly as well as our top picks. These will be good enough for most people so long as you understand you get what you pay for.
RELATED: Ultimate $1,000 Budget Home Gym
What Are Barbell Collars And Why Should You Use Them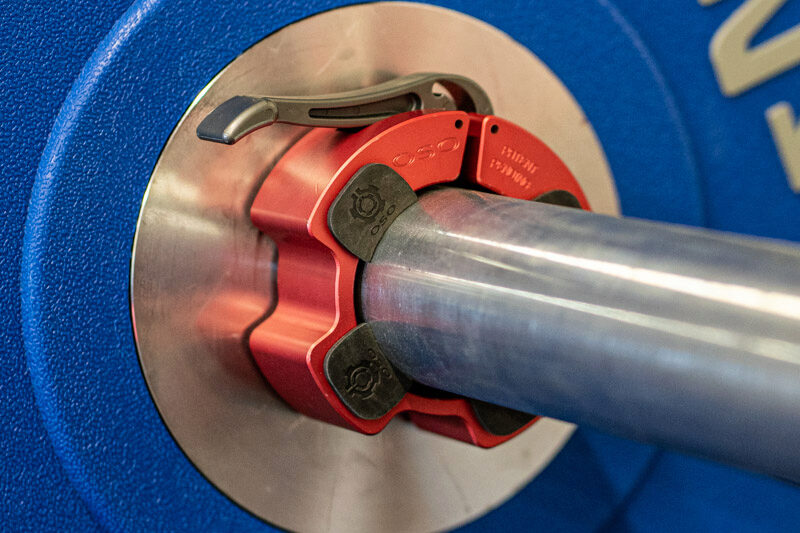 Reviewing the history of barbell security, we have come a long way in a relatively short amount of time. Only 20 years ago and pretty much your only option for securing your Olympic plates to the barbell were those often frustrating two-inch spring collars. Sure, they were better than nothing, but not only were they tricky to get on and off the bar, but they were also susceptible to breaking and didn't do a very good job of securing the plates to the bar.
Today's market, with the seemingly endless amount of equipment options truly has created a new standard for the seemingly simple way to keep your weights from sliding on the bar with the lock-style of barbell collars.
RELATED: Best Bumper Plates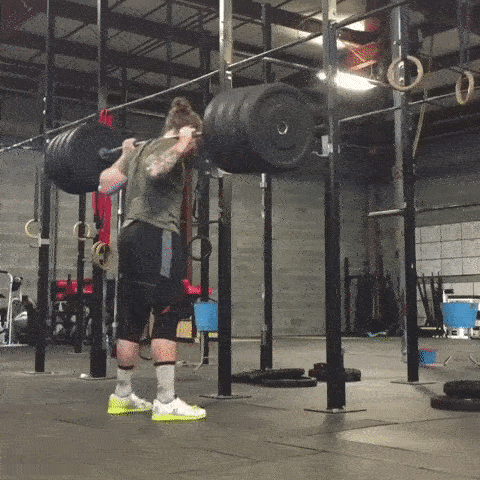 Barbell collars are a form of security. They allow you to keep your weight disc (steel plates or bumpers) in place while you perform your barbell exercises. Keeping your plates in place with some form of collar is necessary to prevent them from sliding off the bar and causing potential injury.
It also eliminates any unnecessary forces that would result from the plates wobbling and moving around while lifting. What is really great about today's standard for barbell collars is that they are manufactured with specific and tight tolerances for the collar to slide onto the barbell sleeve and be locked into place easily.
RELATED: Best Weight Plates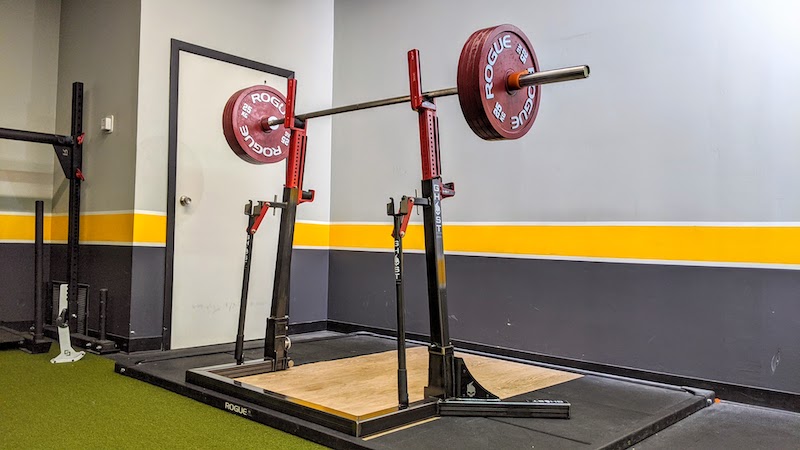 Here's the thing, getting bigger, stronger, and more fit is something we all strive for. But, if the weights fall off the bar and you get injured as a result of not using collars or using ineffective ones, you're not going to reach any of your physical goals. I like to think of collars like a bike helmet. I don't go biking or skateboarding (I still do both often) without a helmet. Neither should you lift without collars. Just trust me on this one.
How We Picked and Tested the Collars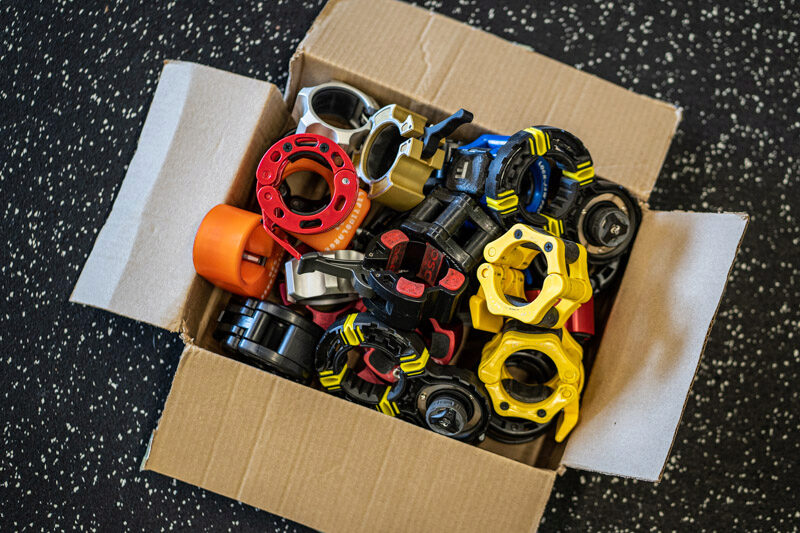 For the purpose of generating a list of the best barbell collars, we checked in on all of the major players in the industry and kept watch on social media for what is currently out there. We compiled a list after gathering and testing out what we believe are the finest options in today's market.
There are a crazy amount of collars available today. Every material from aerospace aluminum to hard plastic is used in the keeping of plates on the bar. A little over a decade ago, you had pretty much one option: spring collars. Since then, the market has been flooded with every type of collar you can imagine, even some that connect to your phone via Bluetooth to measure the velocity of the bar.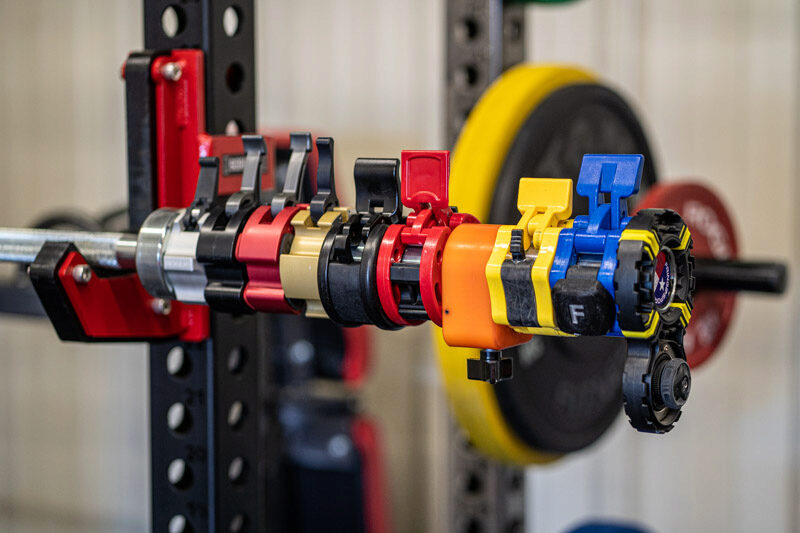 With so many options, we felt it was time to do a breakdown of all the different collars and let you know which ones we feel are the best. Although typically simple in its design, the most important thing a collar does is keep the plates on the bar.
The ultimate barbell collar is one that is easy to put on, yet doesn't move at all, even when heavyweights are dropped from overhead. Unfortunately, there's always some give and take. A collar that grips without letting go will likely be more difficult to put on than one that is more prone to sliding.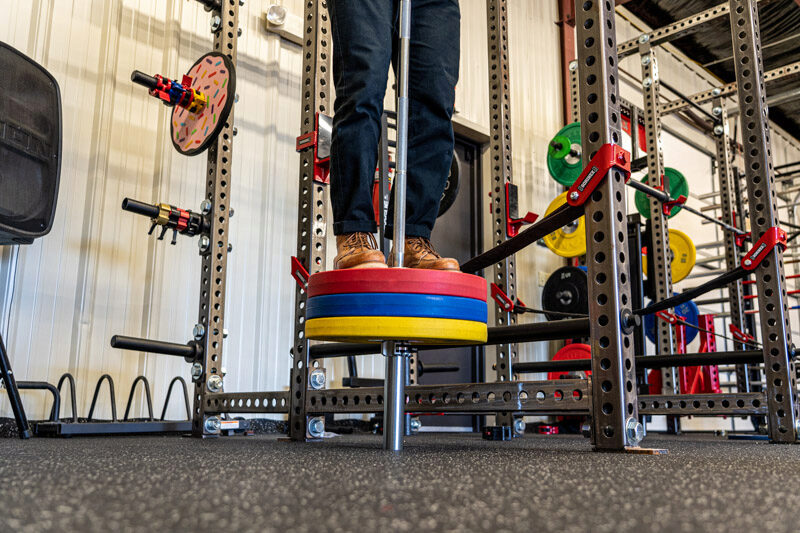 In our testing, we first off used them in a wide variety of scenarios. Everything from heavy deadlifts to heavy clean and jerks where the wait is slammed down on an uneven platform was done. We even went as far as adding collars to a loadable dumbbell handle and dropped it from overhead.
In addition to traditional type testing that would occur during training, we added weight to the end of a bar and stood the barbell up to see how much weight the collars could hold without giving way (we also stood on the plate and jumped if we felt confident enough…don't try this at home.) We found that standing the barbell up with weight on the end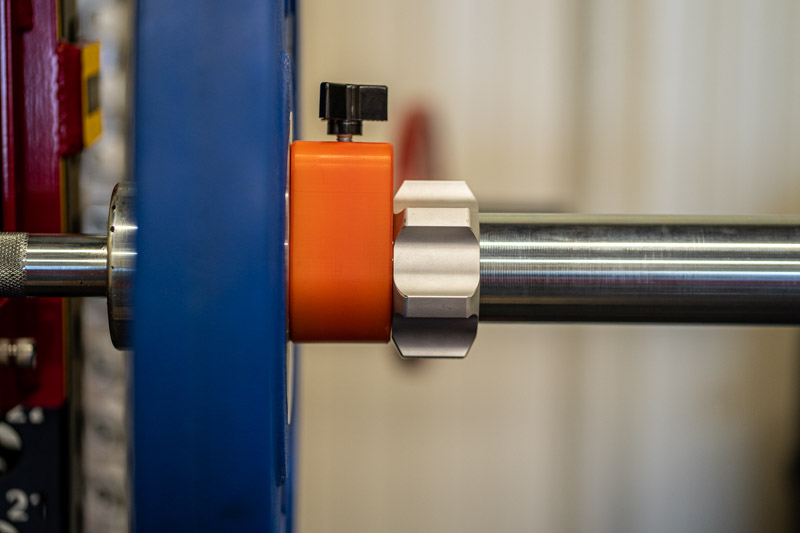 In addition to all of this, we researched and viewed what others had to say about the collars. We took the feedback of some of the most destructive abusers of the barbell, CrossFit Athletes, as well as powerlifters, bodybuilders, strongman competitors, Olympic weightlifters, and more.
RELATED: Best CrossFit Barbell
Here are the criteria we judged the collars on:
Overall Construction: Most collars are rather simple. They are meant to slide on easily and hold well. A sturdy frame, easy-to-use lock mechanism, and designed to ensure a tight fit when engaged should do.
Materials Used: Barbell collars are now made out of a wide variety of materials. A few notes are aluminum, steel, nylon, uhmw plastic, and more. In addition to these materials used for the frame, collars also use various types of rubber and plastic for gripping the bar. A proper selection of materials should lead to an enjoyable and long-lasting set of collars.
Accurate Weight: Collars should be close to their stated weight.
Ease of Use: A collar should easily be slid on the bar and secured. The longer it takes to secure, the less likely it is to be used.
Holding Capacity: The more weight a collar can hold on the bar during various drops and other scenarios will lead to a better collar. Collars are designed for safety, so the greater the holding capacity, the better.
Value: The price should reflect how well it works and holds up. Quality of material will be the main variable (perhaps) to influence the price point.
Durability: A collar should be able to be thrown and dropped and still function. A gym environment is a dangerous place for fragile equipment.
Warranty: Typically collars get thrown or dropped a little more than they should, but a good quality barbell collar shouldn't break easily. It does happen though, so it's good to have the peace of mind that it can be replaced somewhat hassle-free.
Types of Barbell Collars
Barbell collars come in all shapes and sizes, so here's a look at some of the most popular varieties:
Spring-Style Collars
These are typically the type you'd see in most commercial gyms, and they work by squeezing the collar together while placing it on the barbell shaft. They're OK in a pinch (pun intended), but won't offer the most security.
Clamp Collars
Our top pick, the Rogue USA Aluminum Collars, are a clamp-style collar. You unlock the clamp, slide the collar over the barbell shaft, and then lock the clamp in place. These offer good security, but the clamp will wear down over time (some may take a longer time to deteriorate than others, but it will happen with regular use).
Lock-Style Collars
As their name suggests, these use a locking mechanism to keep the collar in place. They're often the most expensive type of barbell collar, and are only compatible with Olympic barbells.
Why You Should Trust Us
Myself (Coop) and Garage Gym Reviews have used and reviewed a greater variety of gym equipment than just about anyone in the world. We've produced thousands of reviews, videos, and other content on home gyms and gym equipment.
We have essentially written the guidebook on the best powerlifting barbell, best squat racks, best weight benches, and much more. Related specifically to barbell collars, we actually use everything we review and get the opinions of as many people in the home gym community and world-level lifters as we can.
Rogue USA Aluminum Collars vs. OSO Collars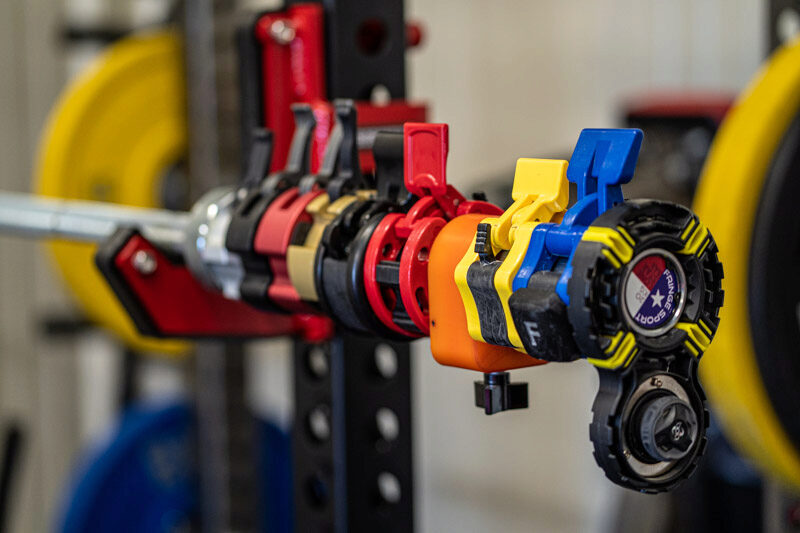 As of today, both the Rogue USA Aluminum Collars and OSO Collars are made by the same company and are manufactured very similarly. In fact, Rogue Fitness acquired OSO Barbell Collars and is able to produce them at their manufacturing plant in Ohio. The differences boil down to primarily the colors and branding, but there are a few subtleties to note.
OSO Collars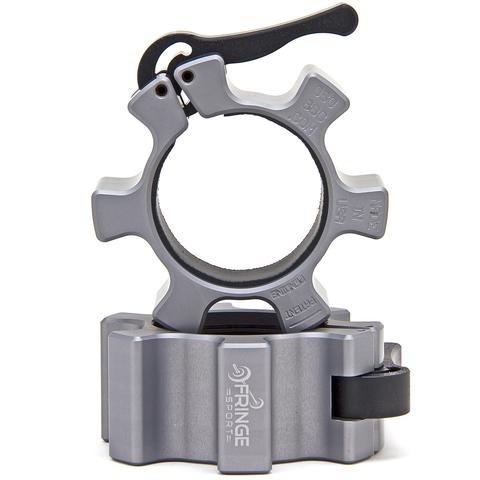 OSO Barbell Collars
OSO Barbell Collars are made in the USA from the same type of 6061 Billet Aircraft Grade Aluminum alloy used in aircraft construction. The OSO Barbell Collars deliver on functionality, too--creating a secure hold on the bar through repeated, high-impact drops, and allowing easy adjustments or removal with a simple lever and lock/unlock mechanism. All that being said, the first thing a lot of lifters talk about with the OSO Barbell Collars is how they look. Shaped like an industrial gear, the collars' old school design is paired with some bright color options: blue, green, orange, pink, purple, red, gold and gun metal. For Oly lifters, CrossFitters, or any athlete looking for an upgrade from basic spring collars, OSO Barbell Collars are a nice option. Specifications:Sold in PairsMade in the USADesigned to be used on 50MM Olympic Bar Sleeves6061 Billet Aircraft Grade AluminumWeight: 0.8LB per pairWidth: 1.5"Orange Rubberized interior lining to protect barLocking clamp mechanism for secure holdColor Options: Blue, Green, Orange, Pink, Purple, Red, Gold, and Gun Metal.
The latching system on both the Rogue Aluminum and the OSO is very similar. They are designed to be easily worked or flicked with the fingers and lock into place quite well. The latch itself is fixed on and joins 2 ridges together to form 1 large ridge. The Rogue USA Aluminum Collar has 6 ergonomic ridges total, and the OSO Barbell Collars utilize 6 (albeit they are slightly longer when compared). The difference is very much user preference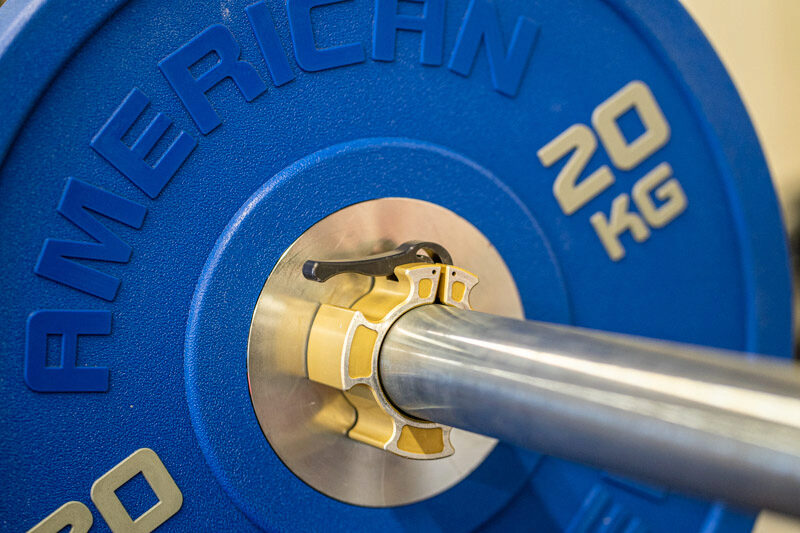 The Rogue USA Aluminum came in only the silver color option but has since been released with splatter versions as well as ones coated in Cerakote. This looks professional and very industrious. The OSO Collars have greater variety in this department, and come in the following colors:
Gun Metal
Orange
Pink
Purple
Red
Blue
Green
Gold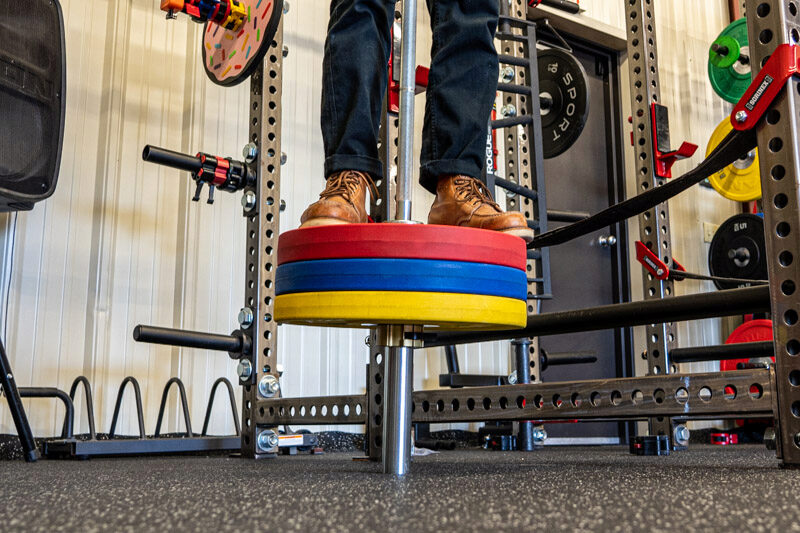 The weight difference is important to note. The Rogue USA Aluminum Collars are designed to be a precise 0.5 LBS per pair, and the OSO Collars are heavier weighing 0.8 LBS per pair. The 0.5 LBS of the Rogue Aluminum makes barbell math a little easier perhaps, but most people don't take the weight of the collars into account unless they are under competition standards.
The Rogue USA Aluminum is more expensive, but they come with the same two-year warranty. And on a good note about this (taken from Rogue's website):
Note: Rogue will continue to honor warranties on products purchased directly from OSO prior to Rogue's acquisition of OSO Barbell Collars on these same terms and conditions.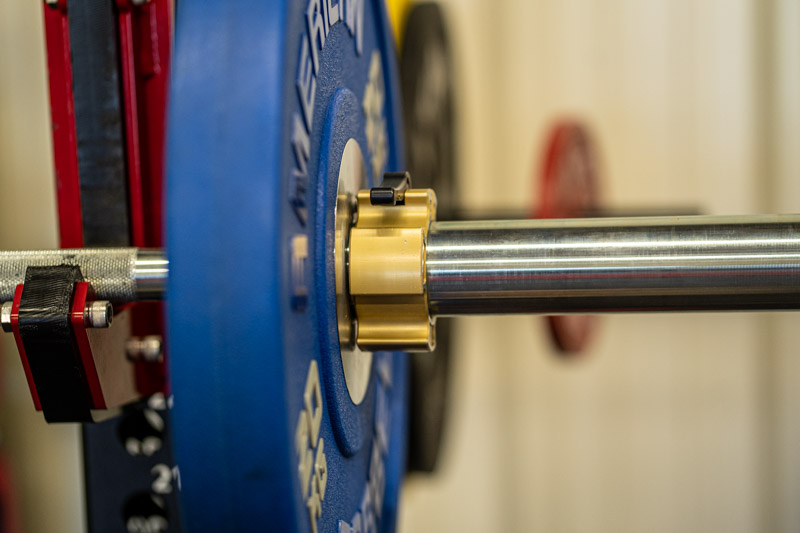 So if you purchased some OSO Barbell Collars in the past couple of years from OSO themselves, Rogue will now honor the warranty.
Other Barbell Collars We Researched and Tested
Lock-Jaw Hex Olympic Barbell Collars: These are the cheapest collars that Lock-Jaw makes. We like the design and they do hold well, however, we prefer their more expensive models as they perform better when dropping the bar by quite a bit. This said, these are a very well-liked collar by the community and should definitely be considered.
Lock-Jaw OLY 2 Olympic Barbell Collars: The OLY 2 Collars from Lock-Jaw look to be the exact same s the Lock-Jaw PRO 2. There is a difference though, and we feel it's enough to spend the extra money on. The OLY 2 collars do not have a locking latch. This makes them easier to put on, but more likely to fly off. We suggest going with the PRO 2 pair.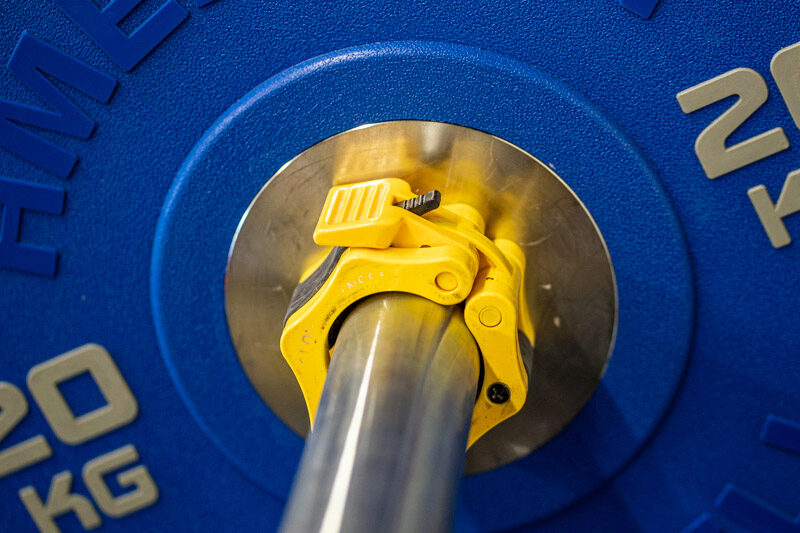 Iron Lab Olympic Barbell Collars: The Iron Lab Collars are some of the most popular on Amazon. They take the Lock Jaw Design and by using inferior materials are able to make a cheaper product. They work, but we do think there are better options at even lower prices.
Greententljs Olympic Barbell Clamps: These are the exact same as the Iron Lab collars with the same warranty. Just select whichever is cheaper. We have both and they are literally the same collar.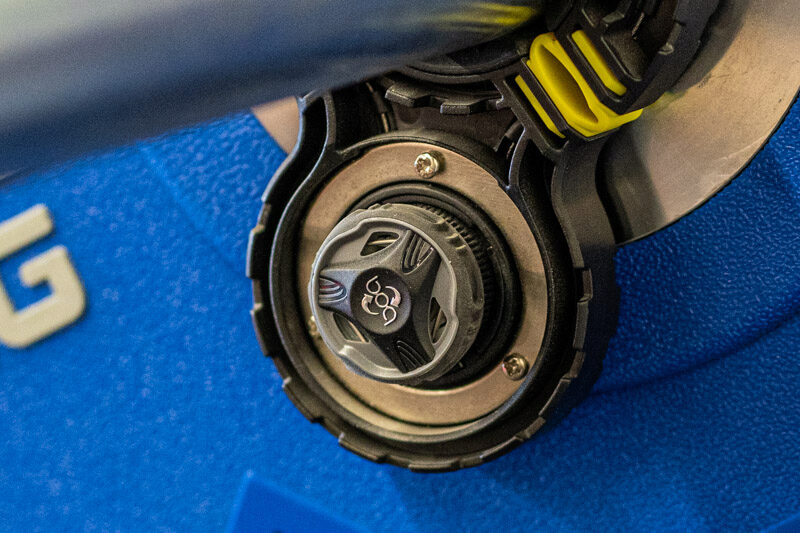 Fringe Sport SuperStrap Collars: This is actually a very cool design. The straps are made out of a flexible fiber called Cordura and are tightened with velcro. Our first impressions were that it's nice to have a strap system since you can fit it to pretty much any diameter of the barbell. Putting it into practice though, the plates end up pushing on these collars – causing them to slide and you having to adjust them every few sets depending on the exercise that you are doing. Unique design, but definitely some tweaks are needed.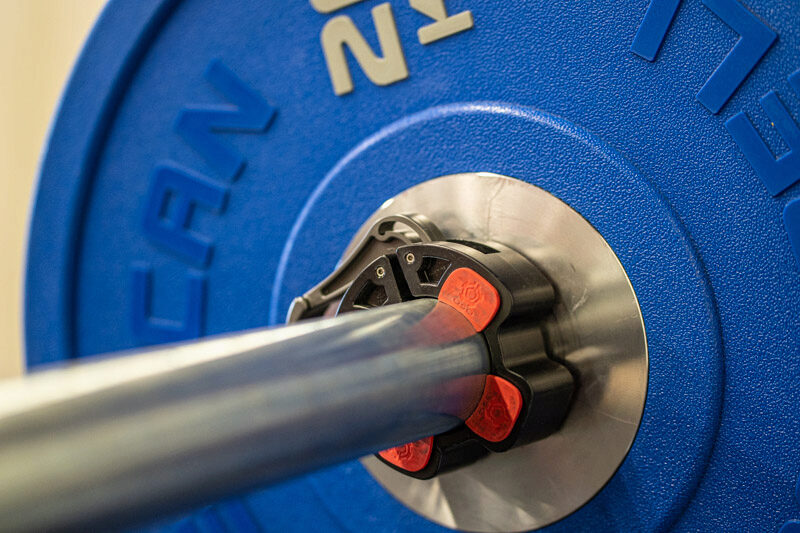 OSO CP-1 Polymer Collars: The OSO Polymer Collars are great collars indeed. The main reason they didn't make the cut is that its stronger "brothers" already made the list. The OSO Polymer Collars are pretty much the same design as the others in the OSO line-up, except that a strong synthetic polymer is used to make the frame. The price is cheaper compared to the aluminum versions, but not as cheap as the OSO Mighty Collars.
OSO CM-1 Metal Collars: These are the same design as the CP-1 Collars but are made out of aluminum instead. These are some of our favorite collars and if it weren't for the Rogue USA Aluminum Collars being our Top Pick, these would have taken the spot. We love the variety of colors, replaceable rubber plugs, and their holding power.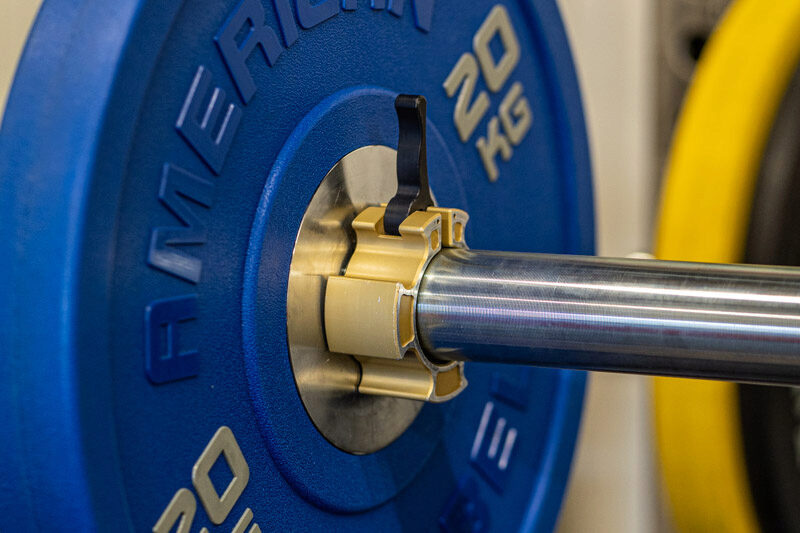 OSO Barbell Collars: These are essentially the early version of the now Rogue USA Aluminum Collars. They still work great, but we like the new design better. The pair we have from when they were first released years ago still performs well.
PRx Performance Talon Barbell Collars: These are actually some of the most unique barbell collars that we have used. They are basically heavy-duty slap bracelets (the ones that were very popular in elementary school). What you do is basically grab one end of the stiffened bracelet and slap it onto the barbell. It will immediately curl around the collar, and then all you have to do is fix the rubber lock over the hook to secure it into place.
Another cool feature is that they have magnets strategically placed on them for easy storage and for convenience in use (the magnets will stick to most barbells). The downside is that the PRx Performance Talon Barbell Collars require more frequent maintenance compared to most barbell collars as you need to clean them with soap and water to ensure it maintains its stickiness so the plates don't slide and they can be annoying to line up on the edge of the plates. They're not bad, but we prefer other designs.
SnapClips Barbell Collars: These are very similar to the PRx Performance Talon Collars, but don't hold as well. If you want this style, go with PRx's version.
Titan Weight Clamp Collars: We haven't been able to use these yet, so we can't comment on their usage. However, based upon the design, we could see them coming undone easily. However, we will withhold any further review until we test them.
Rogue HG 2.0 Axle Collars: The Rogue HG 2.0 Axle Collars are great indeed. The main reason for not making the cut is that they are more of a one-trick pony in the barbell collar world, as they are primarily made to fix onto the axle and specialty barbells. Axle collars are made to fit on specialty barbells with a sleeve tolerance of 1.9-inch (48.3 mm). Because of the smaller diameter, they cannot be used with standard 1.98-inch barbell collars. Regardless, the collar itself is well built and quite similar in looks to the Lock-Jaw and Clout Fitness barbell collars.
CAP Barbell Spring Collars: Spring collars have been around for quite some time and have been a frustration for many lifters. The main problem with spring collars is that they require much more effort to slide onto the barbell and pull off. The springs often become so used that they no longer function with the same tightness, and brand new ones often feel as if they are a grip workout themselves.
Rogue OSO Barbell Collars: These are very similar to our top pick with a slightly different design and lever but the same price. We recommend our top pick over these, although these are very similar. They also offer these in a magnetized version called the OSO Magnetic Rogue Barbell Collars. We love magnets on collars, but for $15 more dollars, we have trouble recommending the upgrade.
Muscle Clamps: These are extremely easy to take on and off, but they slide a lot and the mechanism for latching them is known to break. Therefore, we don't recommend them.
Frequently Asked Questions About the Best Olympic Barbells
What does tensile strength mean in barbells?
In short, tensile strength refers to how much weight you can load onto a barbell before the steel suffers a permanent deformation. The higher the tensile strength (measured in pounds per square inch, or PSI), the more a barbell can withstand. If you don't lift heavyweight, you can get by with a barbell that has 100-130K PSI. But if you lift heavy, you really want something in the 190K+ range.
Does whip matter in a barbell?
This really just depends on how you plan to use your barbell. If you're a recreational lifter who just likes to squat and press with light to moderate weight once in a while, then the whip of the bar doesn't really matter.
However, if you are serious about your lifting, you may want to consider the whip. I will say that you won't really feel the whip of the bar unless you can lift heavy weights.
What is a good Olympic barbell?
Generally speaking, a good barbell is one that meets your needs in terms of tensile strength, knurling, whip, and spin. For most people, I like the Rogue Ohio Bar the best for a 20kg option and the Rogue Bella Bar for a 15kg option.
What is a good price for an Olympic barbell?
Most of us shouldn't have to pay more than $400 for a barbell. The Rogue options I like are between $200-$300, just depending on the type of finish you want. There are very few barbells I would recommend that are less than $150, simply because at that point, you start sacrificing the quality of steel, bearings, and construction.
Do olympic lifters use collars?
Yes, Olympic lifters use barbell collars in training and during competition to ensure weight plates don't move on the barbell.
Are barbell collars worth it?
Absolutely! Barbell collars ensure your weight plates won't slide off the barbell mid-lift, so they're one of the most essential pieces of home gym equipment.