We test and review fitness products based on an independent, multi-point methodology. If you use our links to purchase something, we may earn a commission. Read our disclosures.
Exercise bikes like the Schwinn 170 Upright Bike provide a killer cardio workout, while developing your endurance, stamina, and strength. This Schwinn has an impressive set of features for the price. It's a screaming deal for a bike with a solid build, Bluetooth connectivity, and good seat adjustability for a comfortable ride. A Peloton it is not, but it's not trying to compete with this high-end exercise bike.
However, before you jump to get your wallet, take a look at this full Schwinn 170 Upright Bike review to get a better idea of the strengths (and a few weaknesses) of this piece of affordable fitness equipment. We've reviewed a few other Schwinn exercise bikes, including the Schwinn 230 recumbent and the more expensive (more Peloton-like) Schwinn IC3 if you've got a higher budget.
Put on Your Biker Shorts (Cause We've Got Ours)
Here at Garage Gym Reviews, we've pedaled a few miles to say the least. While we didn't test the 170 Schwinn Upright Bike in person, we've tested similar bikes and other Schwinn models, like the Schwinn IC4, which is a higher-end indoor cycling bike that's closer to a Peloton than the 170.
Our team has former college athletes, personal trainers (like me), nutrition coaches (also me) and other health professionals who prioritize accuracy in their reviews. Our team's goal is to help you make informed health and fitness decisions, including finding fitness equipment that's within your budget.
Schwinn 170 Upright Bike
Schwinn 170 Upright Bike

The Schwinn 170 upright bike could be a good option for general, low-impact fitness. Reviews say it provides a quiet, smooth ride. The seat and handlebars are both padded and adjustable, and no worries about going thirsty because there is a water bottle holder built in for your convenience. The Schwinn 170 upright bike also comes with its own fitness programs. There are 29 programs that you can choose from on the two backlit LCD screens. While using one of these programs you can take advantage of the 25 levels of computer-controlled resistance. You are also able to create four user profiles so multiple members of the family can be involved in the fitness journey.Schwinn also equips this bike with a media self that allows you to watch your device or reading material easily. There is a charging USB port and MP3 input so you can listen to your device over the speakers and keep it fully charged. This product tracks time, distance, and calorie goals and allows you to transfer these stats to your preferred device like Apple Health and MyFitnessPal.
A Quick Look at the Schwinn 170 Upright Exercise Bike
Chances are if you've ever walked into a bike shop or perused home gym equipment, you've run into the name Schwinn. That's because Schwinn has been making bikes for a long time— since 1895 kind of long time. They know their stuff, and they've managed to stay relevant in the face of rapidly advancing technology and changes in the fitness industry.
Schwinn currently makes cycling bikes, recumbent bikes, upright bikes, Airdyne bikes, and ellipticals for your home gym. The Schwinn 170 exercise bike is the better of the company's two upright models. It only costs $50 more than the Schwinn 130, but you get far more features for the price.
While this model is more basic than bikes offered by more expensive competitors, its Bluetooth capabilities connect it to popular fitness tracking apps like MyFitnessPal, GoogleFit, and Apple Health to download workout stats. It's loaded with 29 programs, including two fitness tests and four custom programs so you can develop a fitness program tailored specifically to your goals. It also has a highly adjustable seat for a better, more ergonomic ride.
My Tips
The 170 has a universal stem, which means you can swap out the seat for a standard bike seat if you want.
Connect to the built-in acoustic chamber speakers. You'll be pleasantly surprised by the sound quality.
Check all of the parts before assembling. There are a few, though consistent reports, of bikes arriving with broken parts.
Seat adjustment options and universal stem
29 exercise programs and 25 resistance levels
Bluetooth compatibility
Compact footprint, measuring 41" x 21"
Affordable price around $500
Lacks long-term durability
Light, high inertia flywheel
Media shelf blocks screen when holding media
Short 90-day warranty on labor
Is the Schwinn 170 Upright Bike Worth It?
This isn't a premium cycling bike. The Schwinn 170 Upright Bike offers an excellent range of features in a budget-friendly, beginner exercise bike. The Bluetooth connectivity is a perk you don't usually find in a bike at this price. You can connect to your fitness tracking apps and upload your workouts to better track your stats and progress.
Its seat adjusts up and down and forward and backward for a better fit. Additionally, it has a relatively small footprint for those with minimal space. In short, you get a lot for the price. That doesn't, however, make it the perfect bike for everyone.
Great for:
Families of four or fewer who need a solid family exercise bike
People with a small workout space
Beginners who want to connect the bike to a fitness app to record stats
Not recommended for:
Advanced or competitive cyclists
Those who want an integrated screen
Those who want to invest in a bike for the long-term (over approximately 4 to 5 years)
Schwinn 170 Upright Bike Specs
| | |
| --- | --- |
| Footprint | 41.3" L x 21.4" W x 55.6" H |
| Weight | 58.4 lbs |
| Weight capacity | 300 lbs |
| Price | Around $550 |
| Warranty | 10-year frame, 2-year parts, 1-year electronics, 90-day parts |
| Programs | 29 |
| Resistance | 25 levels |
| User profiles | 4 |
| Display | LCD screen |
| Bluetooth connectivity | Yes |
Using the Schwinn 170 Upright Bike
One of the Schwinn 170 Upright Bike's best features is the adjustability and versatility of the seat. Discomfort can be one of the reasons that beginners give up on exercise bikes. This bike has a universal stem that's compatible with any clamp and rail bicycle seat, letting you customize your ride. The seat also adjusts forward and backward to fit users from 4 feet, 6 inches to 6 feet, 4 inches tall.
The handlebar angle can also adjust, again, to get a better, more comfortable fit. Heart rate monitor sensors on the handlebars are there to give you an idea of the workout load. However, if you have a smartwatch or fitness device that monitors your heart rate, the Schwinn 170 can connect to many common fitness tracking apps, like MyFitnessPal and Apple Health, so you can upload your workouts to the apps. However, it can sometimes take some technical wizardry to get certain apps connected.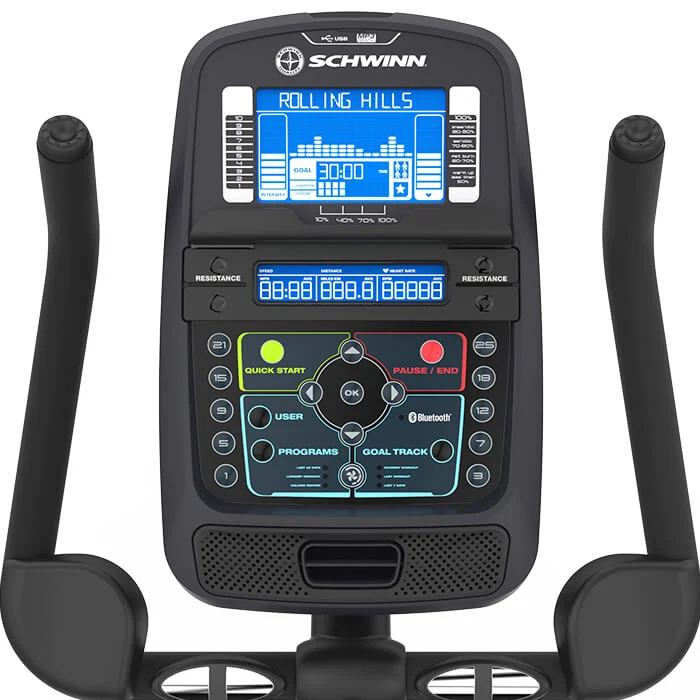 Extra wide pedals give plenty of room, and they have pedal straps to keep your feet in place and let you exert force on the up and down stroke for better efficiency and muscle activation. The bright, backlit LCD screen shows you all of the important information like your resistance level, distance, time, and if you're running a program, your progress. The only downside with the screen is that if you use the built-in media holder, the screen gets covered by the media device.
You can get started right away with Quickstart or pick one of the 28 other built-in programs, cycling through the 25 levels of digital magnetic resistance throughout your workout. If you get a little warm, turn on the built-in 3-speed fan. And don't forget to plug in your device to the built-in chamber speakers for better audio. A perk we love but that isn't absolutely necessary is the built-in USB port for charging devices. You can do workouts through the device (you'll have to change resistance settings manually) or stream shows to keep you entertained.
Footprint, Portability, Durability, Construction
As far as exercise bikes go, the Schwinn 170 is definitely one of the more compact models. It measures 41.3 inches long by 21.4 inches wide by 55.6 inches high. You need about 2 feet of clearance all the way around the bike for safe operation.
Two built-in transport wheels on the bottom make the 170 somewhat mobile within a limited space. Granted, an exercise bike isn't exactly a portable piece of equipment. However, this one can be moved in and out of place on a regular basis since it weighs less than 60 pounds.
One area where the Schwinn 170 falls short is durability. The frame itself has a strong solid build. But the lightweight, high inertia flywheel and pedals are a place of potential weakness. They shouldn't wear out before the two-year frame warranty runs out, but they probably won't last for 10 years. If you perform regular maintenance and make sure the bike is balanced when you use it, you can probably get four to five years or more.
The overall construction is impressive for a bike of this price. The frame is solid metal with PVC covers over the flywheel and a plastic control panel. The frame can easily support the maximum weight limit of 300 pounds.
The Ergonomics
A seat that adjusts vertically and horizontally is a huge plus. Getting a comfortable position encourages you to keep riding. We also like that you can change out the seat to a contoured seat or standard bike seat. Additionally, the handlebar angle can adjust to give you a more comfortable riding position.
Technology Benefits and Conveniences
The 170 has two bright, LCD displays that are easy to read with push button controls that are equally easy to manage. Bluetooth connectivity sets this model apart from others in this price range. You can connect your devices wirelessly to upload your workouts and update stats. You can also charge your devices on the built-in USB port and play your own music through the built-in speakers.
Schwinn is compatible with common apps like Explore the World, UA, GoogleFit, Apple Health, and MapMyRide. However, connecting to those apps, other than Explore the World, can sometimes be frustrating. The connection process isn't straightforward, and there aren't clear instructions on how to do it.
Comparison to Schwinn 130 Upright Bike
The Schwinn 170's less expensive sibling is the Schwinn 130 Upright Bike. The 170 is only $50 more, but we think the upgrades of the 170 make it worth the extra money, especially if you have multiple users.
Both machines are Bluetooth-compatible with similar display readouts, though the 170 has two. However, the 170 has 29 workout programs to the 130's 16, and the 170 can save four user profiles, with custom workouts in each one. The 130 doesn't have the horizontal seat adjustability of the 170, nor does it have a cooling fan, sound system, or USB charging port.
| | | |
| --- | --- | --- |
| | Schwinn 170 Upright Bike | Schwinn 130 Upright Bike |
| Price | Around $550 | Around $500 |
| Dimensions | 41.3" L x 21.4" W x 55.6" H | 41.3" L x 21.4" W x 54.5" H |
| Warranty | 10-year frame, 2-year parts, 1-year electronics, 90-day labor | 10-year frame, 2-year parts, 1-year electronics, 90-day labor |
| Resistance | 25 levels | 16 levels |
| Workout programs | 29 | 13 |
| Weight | 58.4 lbs | 58.4 lbs |
| Weight capacity | 300 lbs | 300 lbs |
Schwinn 130 Upright Bike
Schwinn 130 Upright Bike

The Schwinn 130 Upright Bike can be a great addition to any gym. It comes with 13 workout programs built in that you can follow along to on the 5.5-inch LCD screen, which helps with visibility and goal tracking. If that doesn't work for you, you are also able to connect with cycling classes on apps like Explore the World and Zwift on your phone or tablet. The bike also allows you to place your handheld device or book on a media shelf so you can watch or read while you bike. The bike itself provides a smooth, quiet ride due to its flywheel system. The product has a sturdy frame, 16 magnetic resistance levels, and a one-piece pedal crank and oversized pedals with toe straps. On the front of the bike, there is a water bottle holder so you can stay hydrated while you ride. The seat is padded and the handles are positioned in a place that is easy to reach for most. If not, they are easily adjustable so they can fit the height and placement that you're looking for.
Customer Experience
Schwinn, which falls under the Nautilus umbrella, offers a 10-year frame, 2-year parts, 1-year electronics, and 90-day labor warranty. To process a warranty claim, the bike needs to be registered or you need proof of purchase. You get the option of purchasing an additional three or five-year protection plan.
There's a $99 shipping fee, but that sometimes disappears during special sales events. The 170 generally ships within one week of purchase but cannot ship to Alaska or Hawaii.
Schwinn's customer service is spotty. Sometimes they respond, and sometimes they don't. A common customer complaint is the Bluetooth connection, which Schwinn repeatedly suggests downloading the Explore the World app and connecting to that first before connecting to other apps.
Ordering and Assembling the Schwinn 170 Upright Bike
Schwinn ships orders within a week of submitting the request. While the assembly instructions only have pictographs, most users find the bike easy to put together. Some people are able to do it on their own, while others find more success with a partner.
However, Schwinn offers in-home assembly for an additional $129. You may have to make additional delivery arrangements if you opt for the in-home assembly. There's also a financing option with no interest for 18 months if you're approved for a Schwinn credit card.
Customer Reviews
On the Schwinn website, the 170 has a 4.5-out-of-5-star rating with about 170 reviews. On Amazon it has the same rating with nearly 5,000 reviews.
Customers who love this bike say it's quiet, easy to assemble, and that the Bluetooth connectivity is a great touch. Negative reviews mentioned the seat being uncomfortable and some issues reaching customer service.
Final Verdict of Our Schwinn 170 Upright Bike Review
In this Schwinn 170 Upright Bike review, we've found that this bike has a lot to offer at a budget-friendly price. The adjustable seat and handlebars are a great way to get more comfortable and find an ergonomic riding position. And we love that you can replace the seat with a standard seat (hello, more comfort!).
Two, bright LCD screens keep you updated on all your important stats. While we like the Bluetooth connectivity, we wish it worked better with the wide range of apps that the bike is potentially compatible with. And as a budget bike, its durability isn't the same as a $1,000 exercise bike. Take a look at our final takeaways.
The 170 offers excellent adjustability, offering comfort for a wide range of users.
It can potentially connect with your favorite fitness apps to upload your workout data, if you can figure out how to get it connected.
The warranty on labor is abysmally short, while the warranty on the frame is good for the price.
A good set of programs and resistance levels works well for beginners and casual exercisers.
Schwinn 170 Upright Bike Rating
Schwinn 170 Upright Bike
The Schwinn 170 upright bike is a feature-rich bike at an affordable price.
Product Brand: Schwinn
Product Currency: $
Product Price: 549
Product In-Stock: InStock
Schwinn 170 Upright Bike Review FAQs
Is the Schwinn 170 a good exercise bike?
The Schwinn 170 Upright Exercise Bike is a good bike for the right buyer. It's budget-friendly and can save data for four users. Plus, it has a good range of programs and resistance levels. The build and durability make it a better choice for beginners and casual exercisers than gym rats and competitive athletes.
Can you stand up on a Schwinn 170 upright bike?
The Schwinn 170 is sturdy enough for most users to stand up. However, if you're nearing the maximum weight limit of 300 pounds, it may wobble or sway.
Does the Schwinn 170 need to be plugged in?
The control panel needs to be plugged in for the Schwinn 170 work.
What is the difference between Schwinn 130 and 170?
The Schwinn 170 has more programs and resistance levels, built-in speakers, and fans, as well as the option to set up four user profiles.