We test and review fitness products based on an independent, multi-point methodology. If you use our links to purchase something, we may earn a commission. Read our disclosures.
When you think of budget-friendly gym equipment, you're probably not thinking about offerings from high-profile brands like Schwinn Fitness. But what if I told you there's a piece of home gym equipment out there that doesn't only carry the big name but also delivers on performance at a reasonable price?
You may not believe me, but as our Schwinn 230 Recumbent Bike review will illustrate, there are such pieces of equipment out there. The only caveat is you need to be quick to obtain it–this bike frequently sells out, and we're about to tell you some of the reasons why.
We Know Bikes
I've been a big fan of anything that has pedals for quite some time, and I've joined the Garage Gym Reviews team in their search for the best exercise bike for home gyms. As a result, I've been on close to a dozen of these to compile the most thorough lists you'll ever find on the internet.
And like anything else you'll read on our site, this review will be honest and fair. If I don't like something, no matter how small it may seem, you'll hear about it.
Budget-Friendly Recumbent Bike
Product Highlights
Recumbent bike comes with 16 levels of magnetic resistance
Highly adjustable, contoured and ventilated seat
Bluetooth connectivity
Costs $500
Made with lots of plastic
Display isn't great
Pros & Cons
Pros
Ventilated seat to keep you cool during long workouts
Easily adjustable for people of all heights
Lightweight, at only 80 pounds
A great value in the $500 price range (with free shipping)
Cons
Sells out frequently (you may be able to find it on Amazon)
Made with a lot of plastic
The console is not backlit
Bottom Line
The Schwinn 230 Recumbent Bike offers a great value with 16 levels of magnetic resistance and plenty of built-in features. And all at $500.
A Quick Look at the Schwinn 230 Recumbent Bike
Schwinn has been in the bike game almost as long as bicycles have been a thing–they were founded in 1895, roughly 80 years after German Inventor Karl von Drais unveiled the first-ever two-wheeled cycle, a predecessor to the bicycle, which believes it or not, didn't have pedals. But unlike so many companies that rest on their laurels, Schwinn has remained a big name because they continue to innovate their products, and the Schwinn 230 Recumbent Bike is no different.
The bike is one of two recumbent bikes the company offers, the other being the Schwinn 270 Recumbent Bike. The one we're looking at today is just a more basic model of that bike. It's a great exercise bike and could be used by a variety of trainees, it just doesn't come with as many features as its bigger brother.
RELATED: Best Recumbent Bike
My Tips
For me, the power cord seemed a bit short and you may need an extension cord to plug it in
Keep this bike in a temperature-controlled room, as cold and hot weather can cause it to malfunction
Video Review
Is the Schwinn 230 Recumbent Bike Worth It?
The Schwinn 230 Recumbent Bike's $500 price tag is a pretty good deal, especially when you consider everything you're getting for it: easy adjustability, 13 built-in workout programs, Bluetooth connectivity, and a comfortable seat, just to name a few.

To be clear, this isn't the best exercise bike on the market, and we'll go over the reasons why that is in a bit), but for the money, you could certainly do a lot worse. If you're someone who's just looking to improve your cardio, or you're someone with bad knees looking for a comfortable way to workout, this bike is great for you.
RELATED: Best Exercise Equipment for Bad Knees
Great for:
Those with bad knees
People shopping on a budget
Anyone who's fine not having the best-of-the-best
Not recommended for:
Those who need all the bells and whistles on their exercise bike
Anyone over 300 pounds
Schwinn 230 Recumbent Bike Specs
| | |
| --- | --- |
| Footprint | 64" L x 27" W x 44.5" H |
| Weight | 80 lbs |
| User weight capacity | 300 lbs |
| Power Source | Wall outlet |
| Resistance Levels | 16 |
| Workout Programs | 13 |
| Warranty | Frame: 10 years / Parts: 2 years / Electronics: 1 year / Labor: 90 days |
| Resistance | Magnetic |
| Incline/Decline? | No |
| Pedal | Platform |
| Bluetooth Connectivity? | Yes |
Working Out With the Schwinn 230 Recumbent Bike
There are very few reasons why someone like me would need a recumbent exercise bike, but I could see myself using the Schwinn 230 Recumbent Bike on a regular basis. Recumbent bikes are really effective for people with bad knees or backs because of the structure of the bike.
Unlike an indoor cycling bike, recumbent bikes have the pedals placed in front of the user, and there's more back support than you'd typically see on a bike (upright bikes have a small backrest or nothing at all). This allows for a more comfortable riding experience that puts less stress on the joints, offers more lumbar support, and gives the rider a low-impact workout.
RELATED: Recumbent Bike Workout
And this is true no matter your body type. I'm 6-foot-3-inches when I don't slouch, so it's sometimes hard for me to fit comfortably on some exercise equipment. That wasn't a problem here, as Schwinn's adjustability allowed me to find a position that worked for me, but can easily be set back to accommodate my non-giant coworkers.
The Schwinn offers 16 levels of resistance that range from a walk in the park to biking Machu Picchu. You can either set the magnetic resistance to your liking or choose from one of the 13 built-in workout programs.
It uses a weighted flywheel drive system, but I haven't been able to find out how heavy it is (does anyone at Schwinn wants to help us out?). That said, I think it's about on par with what you'd expect from a $500 bike, which is to say not Peloton levels but you could certainly do worse.
It also uses magnetic resistance, which is smoother than friction and requires less maintenance (friction resistance relies on pads that come in contact with the flywheel, and those pads wear down over time).
One thing I really appreciated about the bike was the ventilated, contoured seat. It basically looks like it's been hit with a hole puncher a couple of times, but this allows for more airflow to prevent your back from getting too sweaty.
The bike also comes with a media shelf, where you can place an iPad or small laptop and stream JRNY programming. For those who don't know, JRNY is a subscription-based workout platform similar to iFIT from NordicTrack, but cheaper (at $149 per year).
There's also a set of handlebars that can be used to steady yourself during sprints or help you get in and out of the bike if needed.
Besides that, the bike's only other big feature is a decently-sized water bottle holder (a requirement on exercise bikes, in my humble opinion, though you'd be surprised how many don't offer something like that or make you pay extra).
Overall, the bike was pretty stable and I didn't have any major issues with it during use. I will say the bike uses a good bit of plastic, so heavy use may not be the best for it. By that I mean don't slam your back into the seat and be careful not to hit the bike at any time.
This might be a little nitpicky, but I felt as though the cord for the bike was a little short. I had it placed right next to a wall so it wasn't too big of a deal, but if your only outlet is behind a couch you might need an extension cord to give it power.
Monitor
The LCD display on the Schwinn 230 Recumbent Bike is pretty basic and gives you all the information you need: speed, RPM, heart rate, calories burned, distance, and time. The controls are pretty self-explanatory.
The one callout about the monitor is that it's not backlit. So if you have poor vision, or you're going on a midnight ride, it might be difficult to see everything on the LCD screen. This isn't a big problem for me, but I can understand how it'd be frustrating to some. If you fall into the latter, the Schwinn 270 Recumbent Bike comes with a backlit screen.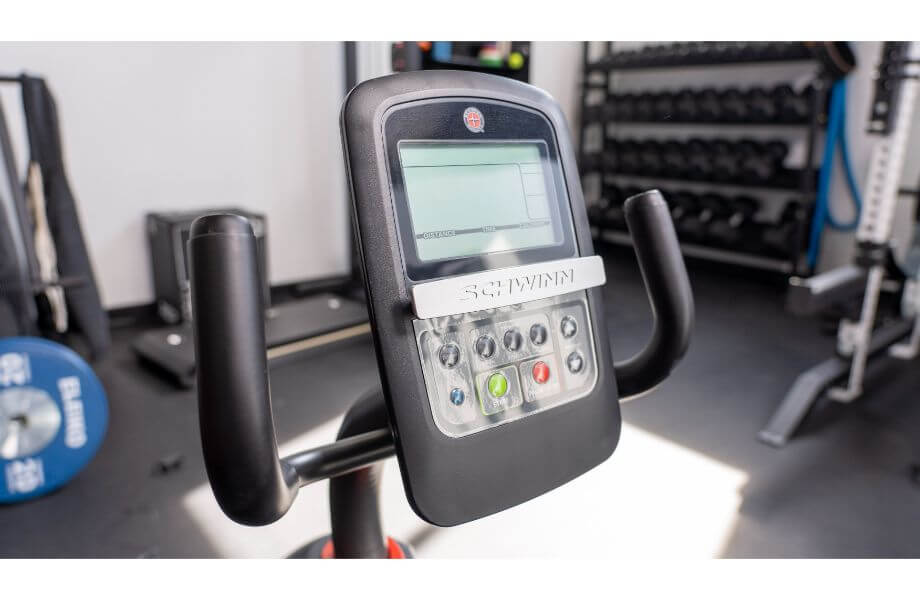 You also have the ability to create two user profiles, where you can save your favorite preset workouts or track your progress. Each user can also take a fitness test to examine what type of workouts they should do.
Technology
The Schwinn 230 Recumbent Bike also comes with Bluetooth connectivity, so you can connect a heart rate chest strap (if desired) or link it to any cycling workout programs like Zwift or Explore the World. It also comes with its own heart rate monitor, but I'm always weary of the accuracy of those.
There's also a USB port that you can use to charge your device, but unfortunately, you won't be able to play music through the bike.
Footprint and Portability
I wouldn't classify the Schwinn 230 Recumbent Bike as a space-saving piece of fitness equipment, but recumbent bikes by their very nature aren't. You can't store them upright, like a typical exercise bike, so you need to have a dedicated space to put it.
That said, this bike is 64 inches long by 27 inches wide by 44.5 inches tall so it's not like it's a bear. If you have a dedicated home gym space it should be no problem, but if you're someone like me who uses their living room as their gym you may want to bust out the measuring tape before committing to this. Again, shouldn't be too much of a problem, but it's going to be harder to find a hiding spot for it.
If you need to move it from space to space, that's easy enough to do as it weighs in at 80 pounds and comes with transport wheels to make for easy portability.
Durability
There is a good bit of plastic on the Schwinn 230 Recumbent Bike, but with normal use, it shouldn't be too much of an issue. I've read plenty of reviews that state it's held up despite near-daily use.
The one issue might be with the electronics, however. I've seen some customer complaints regarding the bike's electronics malfunctioning when left alone during hot or cold temperatures. That's to say I don't think this should be stored in a garage unless the space is temperature-controlled.
Returns, Warranty, and Financing
The Schwinn 230 Recumbent Bike comes with a 10-year warranty on the frame, two years for parts, one year for the electronics, and 90 days for labor. That's a pretty good deal if you ask me, and while I'm not the biggest fan of plastic's durability, I don't anticipate many having to take advantage of the warranty.
Schwinn has a policy where you can return any item within six weeks of delivery for a full refund (minus shipping and handling).
If you wish to finance your purchase, you can apply on Schwinn's website and pick a payment plan that works best for you.
Ordering and Assembling the Schwinn 230 Recumbent Bike
If you've ever assembled Ikea furniture, you'll probably have an easy time with the Schwinn 230 Recumbent Bike (there are fewer parts and less overall assembly needed). Essentially, you'll be adding the legs, monitor, and other parts to the mainframe by screwing or bolting them into place.
It's easily doable with one person, but there are a lot of screws so if you bring a friend it should be done in no more than 20 minutes.
I don't think it's necessary for most people, but you do have the option to pay for in-home assembly if you wish or if you're physically unable to.
Customer Reviews
As of this writing, the Schwinn 230 Recumbent Bike has a 4.3 rating (out of 5 stars) with 16 reviews. Most of the complaints are about the lack of a backlit screen, but people seem to enjoy the workout experience.
Final Verdict of Our Schwinn 230 Recumbent Bike Review
At $500, with free shipping, it's pretty hard to beat the value the Schwinn 230 Recumbent Bike offers. I'd say if you're generally just trying to improve your fitness and diversify your home workout experience, you can't do much better than this machine. It has great stability, Bluetooth connectivity, good resistance, and if well taken care of, should last a while.
But if you're someone who's serious about cycling, then I think you should consider the Schwinn 270 Recumbent Bike, which is also a great option.
Schwinn 230 Recumbent Bike Rating
Schwinn 230 Recumbent Bike Rating
Need a durable bike that's easy on the knees? Our Schwinn 230 Recumbent Bike review will let you know if this is the bike for you.
Product Brand: Schwinn
Product Currency: USD
Product Price: 499.00
Product In-Stock: InStock
Schwinn 230 Recumbent Bike FAQs
Does the Schwinn 230 recumbent bike have Bluetooth?
Yes, the Schwinn 230 Recumbent Bike comes with Bluetooth connectivity to connect to workout programs or an external heart rate strap.
How much does a Schwinn 230 Recumbent Bike weigh?
The Schwinn 230 Recumbent Bike weighs 80 pounds.
How do you assemble a Schwinn 230 bike?
Essentially, you'll screw each part into the frame and connect a few cables together. It shouldn't take any longer than 20 minutes if you have a friend to help you. Schwinn also offers assembly videos on its YouTube channel.