We test and review fitness products based on an independent, multi-point methodology. If you use our links to purchase something, we may earn a commission. Read our disclosures.
The best cable machines used to be bulky pieces of equipment, which prevented many home gym owners from accessing these versatile and joint-friendly machines. But that's not the case anymore, and many cable machines are now either portable or come in a more space-friendly footprint.
Our Surplus Strength Pulley review looks at one example of this. This universal rack mounted system attaches to any 3-inch-by-3-inch or 2-inch-by-3-inch rack to create a cable machine experience while only taking up a fraction of the space. But is it worth the $725 price tag?
Read on to find out.
We Don't Watch Cable But We Sure Do Lift With It
Cable machines often get a bad rap, but unlike cable television, they still serve a valid purpose and we don't see them going anywhere anytime soon. That's why we've tested and reviewed some of the best cable machines, from the Tonal smart home gym to the REP Ares cable attachment.
As certified personal trainers, CrossFit Level 1 Trainers, and competitive weightlifters, we recognize the value cable machines add to a home gym, and in most cases we've used these pieces of equipment either in our home gym or while training clients.
Surplus Strength Pulley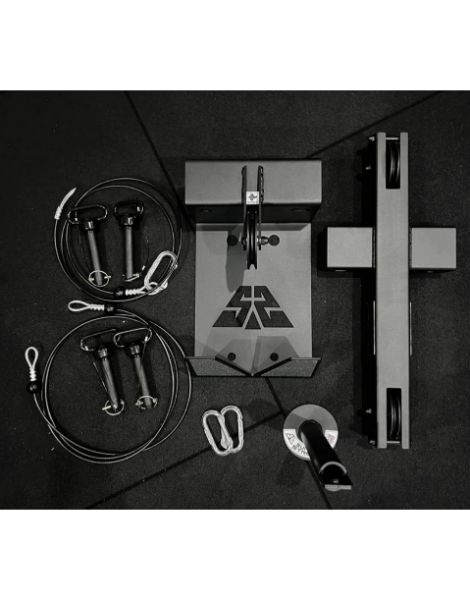 Community Score: 5
Product Highlights
Plate-loaded, rack-mounted pulley system 

Built with 11-gauge steel 

Comes with: 

Universal Pulley System (UPS) high and low 

1" or ⅝" pins and bolts

2  ¼"   cables cut to length 

Surplus Strength loading pin

3 carabiners
Pros & Cons
Pros
Fits a wide variety of racks
Only adds 2" to rack height
Cables custom-cut to your rack's crossmember height
Very positive customer reviews
Made in USA
30-day returns for non-custom orders
Lifetime warranty on welds
Cons
High price point for plate-loaded pulley system
Shipping lead time will vary as products are made to order
Foot blades on low system are small
Bottom Line
The Surplus Strength UPS is a high quality and expensive pulley system that only adds 2 inches in height to the top of your rack.
A Quick Look at the Surplus Strength Pulley
The Surplus Strength Universal Pulley System Bundle is a piece of compact exercise equipment that attaches to your rack and allows the user to perform cable machine exercises such as the lat pulldown or triceps pushdowns. As of this writing, the system only works for racks with either 3-inch-by-3-inch or 2-inch-by-3-inch uprights, and can fit racks with 1-inch or ⅝-inch holes.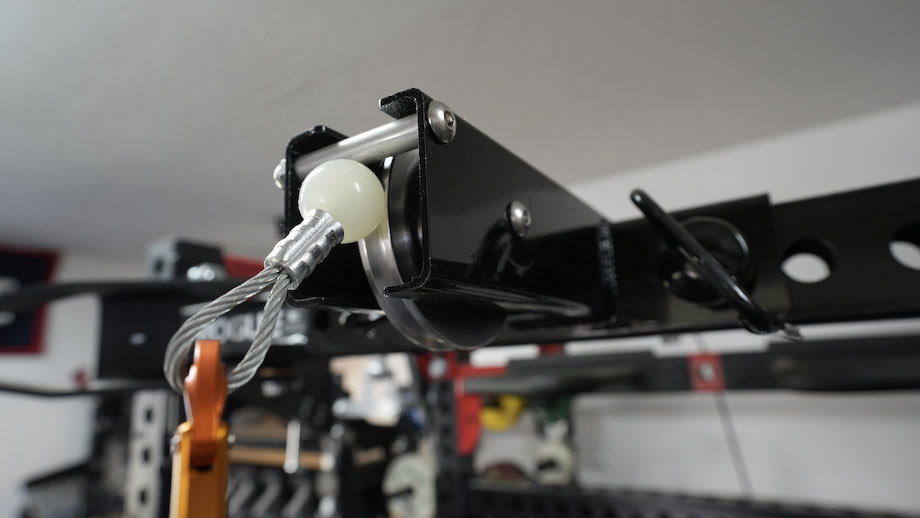 You also get to choose between traditional polyurethane pulleys or heavy-duty aluminum pulleys, and you can customize the system to match your rack's color.
My Tips
Make sure you use the proper rack measurements when ordering your system.
Some reviewers have complained that Rogue's multi-grip pull-up bars get in the way of this system.
If you're on a strict budget, there are some online guides for DIY cable pulley systems.
Is the Surplus Strength Pulley Worth It?
The Surplus Strength UPS Bundle starts at $725, and while that's not cheap, it is more budget-friendly than most standalone cable machines, plus it takes up much less space and is easier to put together.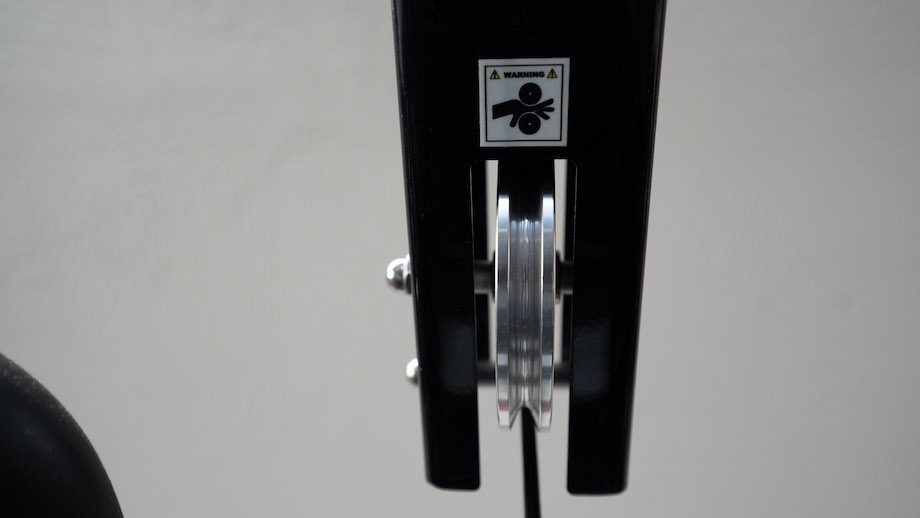 Personally, we think just about every home gym can benefit from having a cable machine—they're versatile, provide constant tension throughout lifts, and are easier on the body than free weights like barbells and dumbbells.
But everyone has their own personal favorite cup of tea and some even prefer coffee, so here's who we think would get their money's worth out of the Surplus Strength pulley system and who should go for something else.
Great for:
Those looking for space-saving equipment
Anyone looking to add a versatile piece of exercise equipment to their home gym
People who prefer American-made gym equipment
Not recommended for:
Those on a budget
Home gym owners who would prefer a separate machine for cable-based movements
Anyone who needs a cable machine in a hurry (shipping times can reach up to two months)
Surplus Strength Pulley Video Review
Surplus Strength Pulley Specs
| | |
| --- | --- |
| Hole Size | 1" or ⅝" |
| Color | Red, Textured Black, or Custom (+$100) |
| Rack Dimensions | 2×3" or 3×3" |
| Pulleys | Heavy-Duty Polyurethane Or Aluminum (+$50) |
| Handle Colors | Red, Black, Orange |
| Weight limit | 300 lbs |
| Warranty | Lifetime on welds, 5 years on pulleys |
Working Out With the Surplus Strength Pulley
Garage Gym Reviews founder and workout equipment guru Cooper "The Cable Guy" Mitchell has more than enough room in his home gym(s) for his own cable machine, but still wanted to test out the Surplus Strength Pulley system because…well, because he just likes testing workout equipment.
Let me tell you this: Coop has tested thousands of pieces of equipment and it takes a bit to impress him. That said, he was impressed by this pulley system's durability and versatility.
"Great high-quality build," he says. Pulleys are not always the most durable piece of equipment, and they typically only come with a one-year warranty. Surplus Strength offers a polyurethane pulley, which is pretty durable and should last many years, or an aluminum pulley, which is top-of-the-line material for pulleys.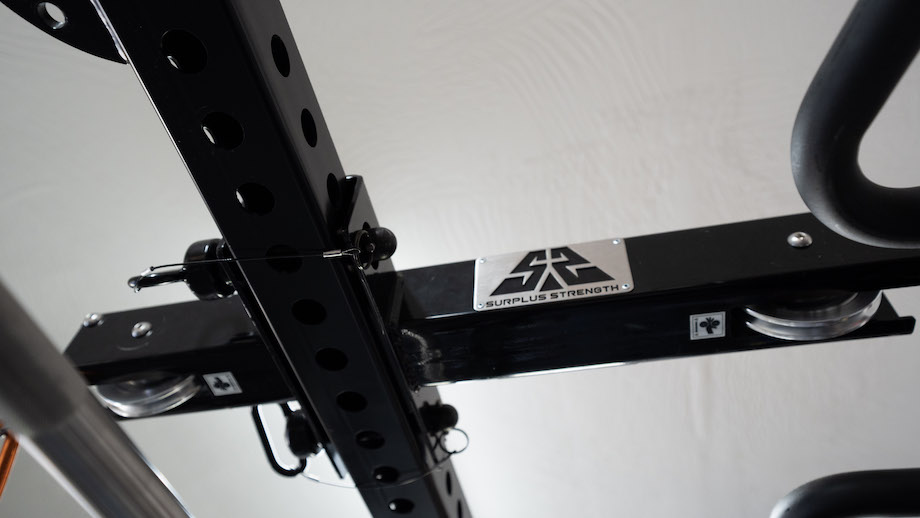 Coop and others who tried out the pulley were also impressed by the lack of sway during most movements, from low rows to cable curls, though there was some sway when people used lighter loads. Many other plate-loaded pulleys can cause the weight plates to swing, which is not only dangerous because it could hit you or someone else, but it may also impact your form.
The Surplus Strength Universal Pulley System bundle comes with a high pulley, which is attached to the top of a power rack for moves like lat pulls, and a low attachment for the bottom crossmembers, which can be used for low rows. The two can be purchased separately, but we'd recommend getting both just to get the most versatility out of this equipment.
Here's what you get when you order the Surplus Strength UPS (Universal Pulley System) Bundle:
UPS High and Low main units
1" or 5/8" clevis pins or bolts (must specify color)
2x 1/4" cable cut to length (must specify rack height in purchase notes)
Surplus Strength loading pin
3 carabiners
Heavy-duty polyurethane pulleys (or aluminum pulleys for an additional $50)
Returns, Financing, Warranty
Surplus Strength only allows returns for unused items for 30 days from the date of delivery, and all items must be in their original packaging.
There are financing options starting at $181.25 available at checkout.
The Surplus Strength pulley comes with a lifetime warranty on all welds, and a five-year pulley warranty. The weld warranty is about the industry standard, but the pulley warranty is one of the best we've seen from any fitness equipment manufacturer. Most pulleys are usually only covered for a year.
Ordering and Assembling the Surplus Strength Pulley
To order the Surplus Strength Pulley system you must choose your rack's hole size, dimensions, and height. You'll also be asked to pick what color you want and if you want the standard polyurethane pulleys or the aluminum ones for an additional $50.
The Surplus Strength Pulley doesn't require assembly—all you have to do is bolt the high and low unit to the crossmembers and then attach one carabiner to the rack attachment of your choosing and the other to the loading pin.
Customer Reviews
Surplus Strength only posts five-star reviews on its website, and it's not available on Amazon or any other third-party site. If that changes we will update this review.
Final Verdict of Our Surplus Strength Pulley Review
Many companies have created plate-loaded pulley systems that can attach to squat racks, but Surplus Strength's is unique in that it takes up very little space, can be easily detached if needed, and has an impressive 300-pound weight capacity.
Even if you have the space for a separate cable machine, this still might be a good investment for your home gym because of how durable it is and how many moves can be performed with it.
Surplus Strength Pulley Rating
Surplus Strength Pulley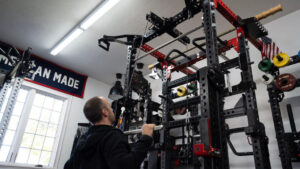 Our Surplus Strength Pulley review will let you know if this is the best choice for a cable pulley system.
Product Currency: $
Product Price: 725
Product In-Stock: InStock
Surplus Strength Pulley FAQs
Is the Surplus Strength Pulley worth it? 
Starting at $725, the Surplus Strength Pulley is an expensive piece of home gym equipment but it still costs much less than most standalone cable machines. It's also quite durable and comes with an impressive five-year warranty for the pulleys, which are usually covered for only one year by most other companies.
RELATED: Best Home Weight Machine
Is the Surplus Strength Pulley made in USA?
Yes, it is. Surplus Strength manufactures their equipment in Tennessee. 
How do I use the Surplus Strength Pulley?
The Surplus Strength Pulley is bolted into your squat rack's crossmembers. You then have one end where you place your desired attachment to the carabiner and the other where the loading pin is. The loading pin can be loaded with weight plates to make it as heavy as you want, up to 300 pounds.