We test and review fitness products based on an independent, multi-point methodology. If you use our links to purchase something, we may earn a commission. Read our disclosures.
The recumbent bike exercise is often thought of as a cardio workout cop-out. How can you sit down and pedal horizontally and reach your fitness goals?
Well, as a certified personal trainer, I can tell you that the recumbent bike is a great piece of exercise equipment for just about anyone's home gym, particularly seniors, those recovering from an injury, and anyone looking for low-impact work. Plus, the benefits of the recumbent bike rival other cardio equipment.
Here we'll dive into tips to get the most out of your recumbent bike workouts, reasons for using them, and the best recumbent bike workouts for you to get you in tip-top shape. Ready to pedal on? Then let's go.
5 Tips to Get the Most Out of Your Recumbent Bike Workout
Although it is a simple tool, there are a few things to watch out for before pedaling for life. Here are some important tips to consider to get the most out of your indoor cycling workout.
1. Adjust The Seat For Your Leg Length
Adjusting the seat only takes a second and it will increase the comfort and the effectiveness of your workout. On the downward pedal stroke, your knee should be slightly bent and not fully extended. Get on the bike, pedal, and adjust accordingly.
2. Warm Up
You don't need an elaborate warmup for the recumbent bike, but you do need it. Getting the blood moving to your legs with a three-minute light cycle at a lower intensity will get the muscles and joints ready for action.
3. Maintain Good Posture
The key for any recumbent bike and the stationary bike is not to lean too far forward. Keeping your entire back in neutral against the back seat allows for a smoother pedal stroke. It's perfectly okay to hold the seat handlebars during your HIIT bike workouts, but please remember to sit up straight.
4. Don't Go Too Hard
A lot of beginners don't know where to start when it comes to setting the magnetic resistance levels on the recumbent bike. It's all too common for beginners to set the resistance too high when starting.
There's no need to be a hero, so make sure you select a resistance that's comfortable for you and matches your intensity and duration. Make sure you can pedal long and fast enough to get your heart rate up.
5. Tune Out….Just A Little
Listening to your favorite tunes or book through the Bluetooth function on the recumbent bike could be a pleasant distraction from the uncomfortableness of your workout. This type of exercise bike has a good setup for multitasking thanks to the large seat and back support.
RELATED: Best Bike for Exercise
Why Use a Recumbent Exercise Bike For Cardio?
Let's start by saying you'll get the same cardiovascular benefits from a recumbent bike as you would from an upright bike or elliptical. For example, one 2017 study demonstrated that posture doesn't play a part in getting your heart rate up and reaping the health benefits of cardio.
Plus, recumbent cycling has leg-strengthening benefits comparable to the leg press machine. A research study involving a group of healthy males compared the use of the recumbent bike and the leg press and showed the same quadriceps strengthening benefits for both.
So, the recumbent bike is excellent for cardio and toning your thighs and your glutes too. Here are some other important benefits of using the recumbent bike for cardio.
Be Able To Do More
The reclined position takes your upper body and core out of the equation to entirely focus on your legs and heart. This reduced upper body tension means you'll save energy, which can transfer over to being able to go a little longer and a little harder in your recumbent bike workouts.
Ergonomic Support
With the pedals positioned in front of you, the reclined seating position, and the backrest seat, the recumbent bike is comfortable to use. The upright seat gives you full back support during your bike workout and helps reduce saddle soreness that comes with a smaller seat. If you've had it before, you know what I'm talking about.
Customize Your Workout
You can vary the resistance and speed on the recumbent bike, allowing you to customize your workout. You can change the incline and decline settings on the bike to simulate riding up and down hills and you can measure your heart rate on the inbuilt heart rate monitor to measure your intensity.
Joint Friendly
Weight-bearing exercise is excellent for the health of our joints, but sometimes when your joints are angry at you, you need a break. The recumbent bike is low-impact and has been found to put less stress on your joints while you still receive the cardiovascular benefits needed for your health and well-being.
Plus, the larger seat with back support and the reclined seating position is easier on the low back (lumbar spine), making it a great option for individuals with lower back pain.
For Safety
If your balance is wonky, you suffer from joint or low back pain, the total support for your upper and lower body allows you to get a good workout without the fear of falling flat on your face. And it reduces the effect of joint and lower back pain because of the reclined body position and back support.
Because the recumbent bike is an indoor cycling bike, you are also protected from the elements too.
Beginner Recumbent Bike Workouts
If you're a cardio beginner or have taken a break, it is important to build your aerobic base. Here are a few workout programs that do just that.
Aerobic Interval Training One
Warm up at a low intensity for 3 to 5 minutes
Increase the resistance 3 to 5 levels and pedal for 3 minutes
Rest for 2 minutes
Repeat 3 to 5 times
Cool down for 3 to 5 minutes
Aerobic Interval Training Two
Warm up at a low intensity for 3 to 5 minutes
Increase the resistance 3 levels and pedal for 30 seconds moderately fast
Pedal slowly for 90 seconds on a reduced resistance
Repeat 5 times and try to add an interval each week.
Cool down on a reduced resistance for 5 minutes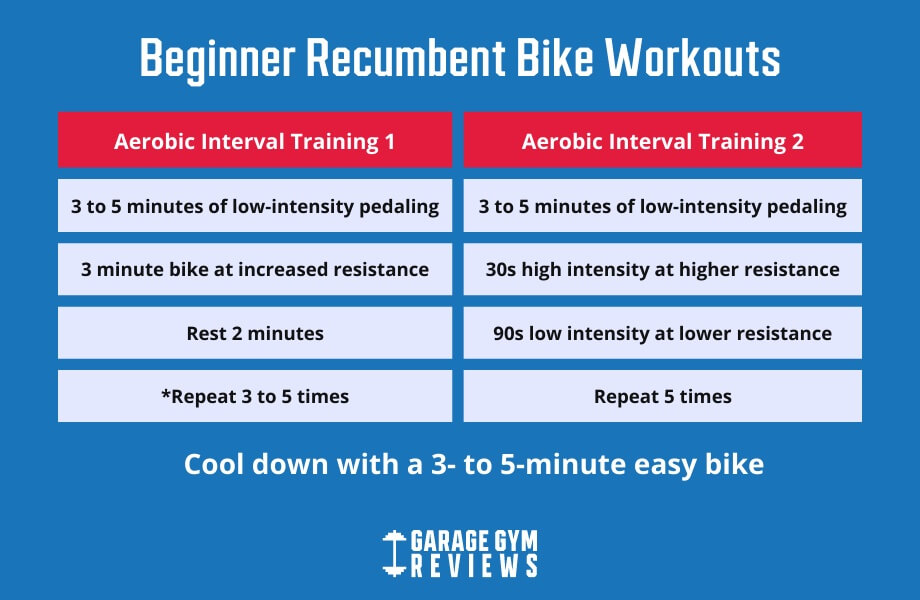 HIIT Recumbent Bike Workout
Let's suck in a little air and feel the calorie burn when you're ready to take your recumbent bike workouts to the next level.
Tabata Intervals
Warm up for 3 to 5 minutes at a low intensity
Increase the resistance by 2 to 3 levels and pedal as fast as you can for 20 seconds
Pedal slower for 10 seconds with the same resistance
Repeat this 6 to 8 times
Cool down for 5 minutes
30/30 Workout
Warm up for 3 to 5 minutes at a low intensity
Increase the resistance 2 to 3 levels and pedal as fast as possible for 30 seconds
Reduce the resistance and pedal slowly for 30 seconds
Repeat 10 times and try to add one interval each week.
Cool down for 5 minutes.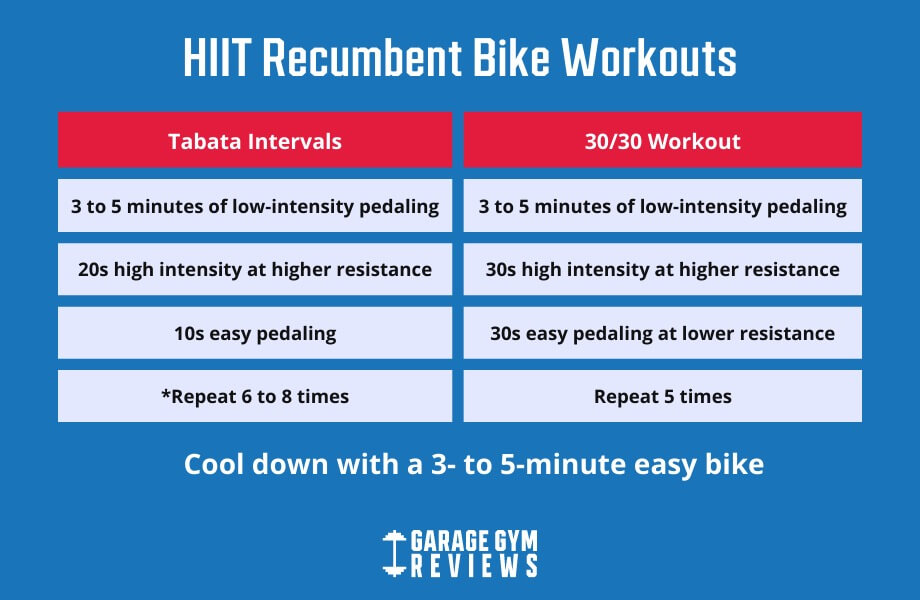 Recumbent Bike Workout FAQs
Can you get a good workout on a recumbent bike?
Yes, whether you're a beginner or advanced exerciser, the recumbent bike offers a safe and comfortable workout that you can customize to your fitness level.
How long should I exercise on my recumbent bike?
This depends entirely on your fitness level and the intensity you train at. If you're a beginner, 10 to 30 minutes is a great start, but for HIIT workouts, 5 to 20 minutes is usually enough.
Can you lose weight using a recumbent bike?
Yes, the recumbent bike will help with your weight loss goals in combination with resistance training to retain muscle and a calorie deficit with adequate protein for your body size.