We test and review fitness products based on an independent, multi-point methodology. If you use our links to purchase something, we may earn a commission. Read our disclosures.
Biking is a low-impact exercise that challenges your cardio while exerting less pressure on your joints than an activity like running. Depending on the terrain, type of bike, or resistance level, biking can also help build strength in your lower body, as well as in your arms and core.
Indoor cycling workouts at home on a stationary exercise bike can offer the significant fitness benefits and wellness of biking outdoors while helping you to avoid weather disruptions, frequent stops, or dangerous traffic.
We all start from scratch with any new exercise, and advancing our fitness level takes commitment and practice. Here, I want to use my experience and research to help you better understand the benefits of using an exercise bike in your home workouts and offer an accessible stationary bike workout for beginners to help you start your riding journey.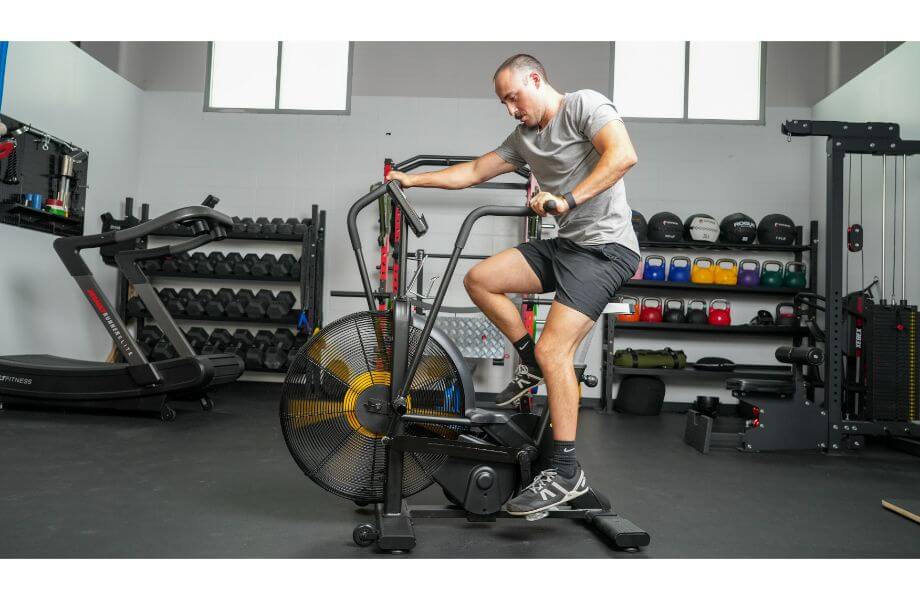 5 Key Benefits of a Stationary Exercise Bike Workout
Why should you consider using an exercise bike to meet your fitness goals? Here are a few great benefits:
1. Safer Than Road Biking
Chances are, you will meet obstacles on your bike when training outdoors. Biking in cities requires frequent stops, stressful distractions, and pollution. To get a good workout biking, it's ideal to be able to exert your maximum energy into your pedal stroke without concern for a taxi door opening up or a bump in the road.
I love biking in the countryside and even in the city. However, the ability to go from zero to 100 on an exercise bike's pedals without the worries of pedestrians, dogs, or drivers texting is something only a stationary bike can offer.
2. Low-Impact Workout
Stationary biking is a great workout that builds muscle, burns calories, and doesn't contribute to inflammation of the joints. In fact, one study from Clinical Rehabilitation found that people with knee osteoarthritis actually had improved joint function and less pain after using a stationary bike.
Unlike running, which is a weight-bearing activity, biking exerts far less pressure on your knees and joints due to the lack of stress and weight your lower body endures while training. This makes biking an excellent choice for people who can no longer run or suffer from chronic joint pain.
3. Strengthens Muscles
Stationary biking absolutely helps to build strength in your lower body. As you pedal, you activate your hamstrings, glutes, quads, and calves. Additionally, increasing the bike's resistance level may build muscle more quickly.
RELATED: Does Cycling Build Muscle?
One study took a look at how cycling affected those with rheumatoid arthritis. Researchers found that stationary bike training led to stronger muscles (and even reduced the effects of their condition).
Stationary biking can also build upper body strength depending on the bike you use. For example, a recumbent bike where you predominately only utilize your legs in your cycle motion will likely contribute very little to upper body muscle growth. However, an air bike has moving handlebars that engage the upper body as you move, providing more of a full-body workout.
4. Improves Cardiovascular Fitness
Cycling is an aerobic exercise that demands oxygen and stimulates your cardiovascular system to utilize oxygen more efficiently. Whether you are doing high-intensity interval training or going for a low-intensity ride, you reap cardiovascular benefits when cycling.
Like running or HIIT exercises such as burpees or mountain climbers, cycling offers a great way to elevate your heart rate and advance your cardio. One study even linked cycling with a lower incidence of cardiovascular disease.
5. Burn Calories and Fat
Studies by Harvard University found that moderate stationary biking can burn anywhere from 210 to 294 calories in 30 minutes, depending on your weight. I would describe moderate biking as a cycling pace where you can engage in a conversation due to the lack of demand for oxygen during your workout routine.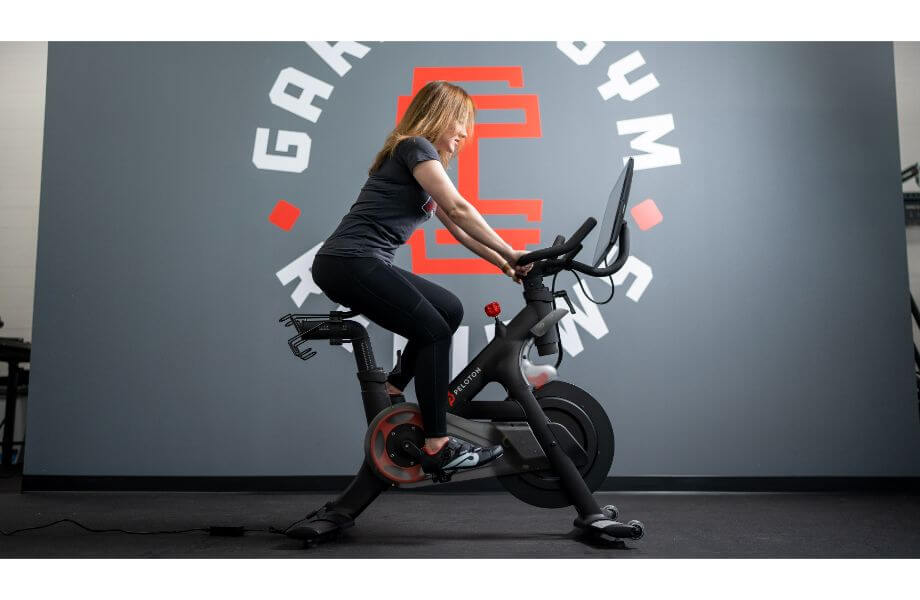 Of course, a faster pace with higher resistance on your bike will increase the demand for your cardio and inevitably burn more calories and fat.
Best Exercise Bike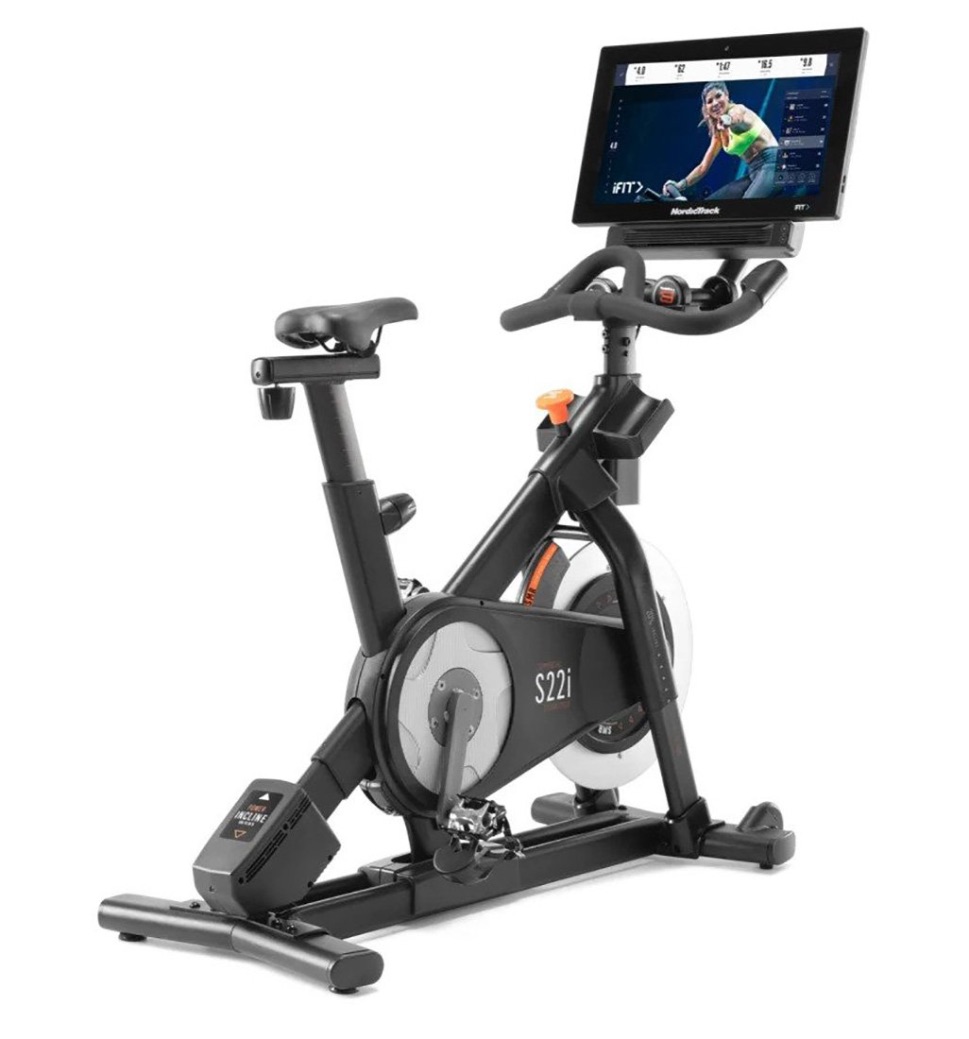 GGR Score: 4.5
Product Highlights
24 digital resistance levels
Incline and decline adjustments
Fully rotating touchscreen
Pros & Cons
Pros
Large 22" smart HD touchscreen
Incline and decline ability
Compatible with iFIT
Adjustable seat
Adjustable handles
Dual-sided pedals
Fan
Comes with 2 3-lb dumbbells
24 digital resistance levels
Cons
Expensive
iFIT membership not necessary, but most beneficial
Difficult to assemble
Can't be stored in the garage (brand states doing so will void the bike's warranty)
Hard to move and weighs more than 200 pounds
Bottom Line
This is the bike to get if you want an indoor cycling bike with interactive programming, incline and decline capabilities, and all the extras.
How to Set Up a Stationary Bike
Before you pedal, you have to make sure your bike fits your body! Here are a few easy steps to do so:
Stand next to your stationary bike and match your bike's seat height with your hip bone.
Once your seat height is arranged, get on the bike. When settling in, place your feet into the pedal's straps but make sure to put your foot into the straps so that the balls of your feet exert your leg's power to move the pedals, not the middle of your foot!
Start pedaling, and stop when your right pedal lands at a 6 o'clock position. From here, check to ensure that your leg is extended with your knee slightly bent at a 25- to 30-degree angle. If it isn't, you may need to raise or lower the seat to find that good position.
Make sure you are placed at a distance from the handlebars where your forearms can gently rest on them while your hands comfortably reach the bar's grips. From here, you should be able to utilize your upper and lower body in the cycling motion while maintaining a neutral stress-free position for your back. Many bikes will allow you to adjust the seat forward or backward in order to reach this optimal position.
Once comfortably strapped in, you're good to go!
Beginner Stationary Bike Workout
Getting started on a bike is as easy as turning the pedals. However, if you want to challenge yourself with a beginner-friendly bike workout, we have a great one for you. You can start by using light resistance and build up to higher levels as your fitness progresses.
Start with a 7-minute warm-up, cycling at a comfortable or moderate pace.
Increase to medium intensity for 5 minutes.
Increase to high intensity using your maximum cycling ability for 2 minutes.
Return to medium intensity for 2 minutes.
Catch your breath and reset by returning to your original steady warm-up pace for 1 minute.
Back to medium intensity for 5 minutes.
Switch to 3 minutes of high intensity using your full power and energy.
Finish with 5 minutes of a moderate to medium-intense pedal, continuing to stimulate your cardio workout while gradually allowing yourself to cool down to your original warm-up pace as you approach the finish line.
As you progress, you can increase the resistance levels on the bike to make your ride more challenging and encourage muscle growth. You can also increase the time of the high-intensity sets during your routine or your overall training session.
If your bike's monitor permits it, also look to set longer distance goals in shorter times with each session, constantly advancing your performance stats. Finding ways to work in cycling sets between off-bike strength workouts such as squats or push-ups is also a great way to incorporate your bike into a broader HIIT workout.
Best Budget Exercise Bike
Community Score: 3
Product Highlights
49-lb flywheel
275-lb user weight capacity
Stable
Feels like road bicycle
Under $300
Pros & Cons
Pros
Priced under $400
49-pound flywheel provides a smooth ride
Hundreds of micro levels of resistance adjusted manually
Four-way adjustable seat and two-way adjustable multi-grip handlebars
Conveniences like water bottle holder and transportation wheels
Cons
Leather pad resistance will eventually require maintenance
No monitor or display at all
No tech compatibility
No preset workouts
Bottom Line
A budget-friendly exercise bike that provides a good amount of bang for not too much buck.
Stationary Bike Workout For Beginners FAQs
Is a stationary bike good for beginners?
A stationary fitness bike is great for beginners. It offers a safe and low-impact opportunity to get moving with less concern for stressing your joints or the dangers of biking outdoors. 
Stationary bikes are incredibly accessible to all fitness levels, allowing beginners to quickly start and challenge themselves in time with higher resistance or intensity as their biking ability grows. 
Is it OK to ride a stationary bike every day?
While using a stationary bike daily is technically okay, if you exclusively use it for exercise, I suggest not training more than five days a week and having one rest day between the days you use your bike. 
If you do the same biking routine daily, your body will eventually adapt, leading to a potential stagnation in cardio or strength gains. I always suggest resting one day per week for your body to recover regardless of your workout choice. 
The best way to ensure your stationary bike experience is consistently helping you to achieve your fitness goals is to incorporate it into a broader workout plan that includes off-bike exercises. Otherwise, practice interval training on the bike, and constantly be looking to push yourself further regarding the bike's resistance or the speed and distance you accomplish during your ride. 
Does a stationary bike burn belly fat?
Like other aerobic exercises, cycling can burn many calories, leading to weight loss. However, it's impossible to spot-reduce fat from the body. So yes, the bike could burn belly fat as it burns fat across the body.
The quickest way to use your bike to burn fat is to maintain a healthy diet regimen alongside your cycling sessions. With cycling rapidly burning calories and utilizing a lot of your energy, you can expect the most efficient results if you source the energy you burn from healthy foods.
How many miles a day should you do on a stationary bike?
The amount of miles you should cycle on your stationary bike depends on your fitness level and the resistance levels you use while training.
For beginners, I would suggest starting with 5 to 7 miles and trying to reach this distance within 30 minutes. As you progress, or for advanced cyclists, I recommend at least 10 or more miles during a 45-minute to an hour session while incorporating varying resistance levels.