We test and review fitness products based on an independent, multi-point methodology. If you use our links to purchase something, we may earn a commission. Read our disclosures.
Protein bars are everywhere—in the gym, vending machines, grocery stores, and on Amazon, to name a few. But are all protein bars the same? No way.
Finding the best protein bar that helps you meet your nutrition needs while supporting your training demands can feel like an impossible task. But ONE Brands may have just what you're looking for—we put ONE Bars to the test and we're ready to share our thoughts.
In this ONE protein bar review, we'll break down the science behind the protein bars and share our experience with them so you can decide if they're worth adding to your next shopping list.
Medical disclaimer: This article is intended for educational and informational purposes only. It is not intended as a substitute for medical advice. For health advice, contact a licensed healthcare provider. GGR also recommends choosing a product that has been third-party tested for quality, if possible.
Your One-Stop Info Shop for All Things Fitness
Nowadays, it can be tough to separate fact from fiction when reading supplement reviews. Who really knows their stuff and who's just in it to make a buck on social media? Our testers get it. So, we've made it our mission to cut through the noise and provide our readers with unbiased, evidence-based reviews.
We're registered dietitians, certified personal trainers, coaches, and athletes who know that what we put into our bodies matters. We've heard good things about ONE Bars but had to find out for ourselves before sharing them with our readers.
We didn't just taste-test the product. Instead, we examined its nutrient content and noted how our bodies responded to the protein bar. We hope that by sharing our experiences, you'll be one step closer to finding the best protein bars for your needs.
ONE Protein Bar
GGR Score: 4.2
Product Highlights
20 g protein with less than 1 g sugar 

Gluten-free 

Whey protein isolate

Amazon rating of 4.7
Pros & Cons
Pros
Convenient
Affordable
Multiple flavors available
Low sugar
Cons
Some reports that new formula leaves a chemical aftertaste
Contains sucralose
Bottom Line
ONE protein bars are available in a variety of dessert-inspired flavors, and offer up a high-protein, low-sugar snack.
A Quick Look at ONE Protein Bars
ONE Brands, formerly known as Oh Yeah! Nutrition, was founded in 1999. Over the years, their product list has changed according to developing science and market demands. Still, one thing remains true—their mission is to provide protein supplements with exceptional taste, texture, and ingredients.
ONE Brands sells various protein bars, including some made with caffeine and others with only plant-based ingredients. ONE Bars, the original ONE Brand product, provides a decent amount of whey protein with moderate carbohydrate content.
Before You Buy
Each bar provides 20 grams of protein and just 1g sugar, regardless of your flavor.
Customers can choose between 15 creative flavors, including fruity cereal, chocolate brownie, peanut butter pie, strawberry shortcake, and more.
You can purchase ONE Bars in-store and online. However, all purchases online will be processed through Amazon.
Are ONE Protein Bars Worth It?
ONE Brands offers a variety of products, including vegan-friendly, vegan protein powder bars and crunchy bars with smaller portions of protein, but this review focuses on the one and only ONE Bar.
Everyone has unique nutrition needs, so we listed a few groups that we think would enjoy ONE Bars and a few that may need to consider an alternative.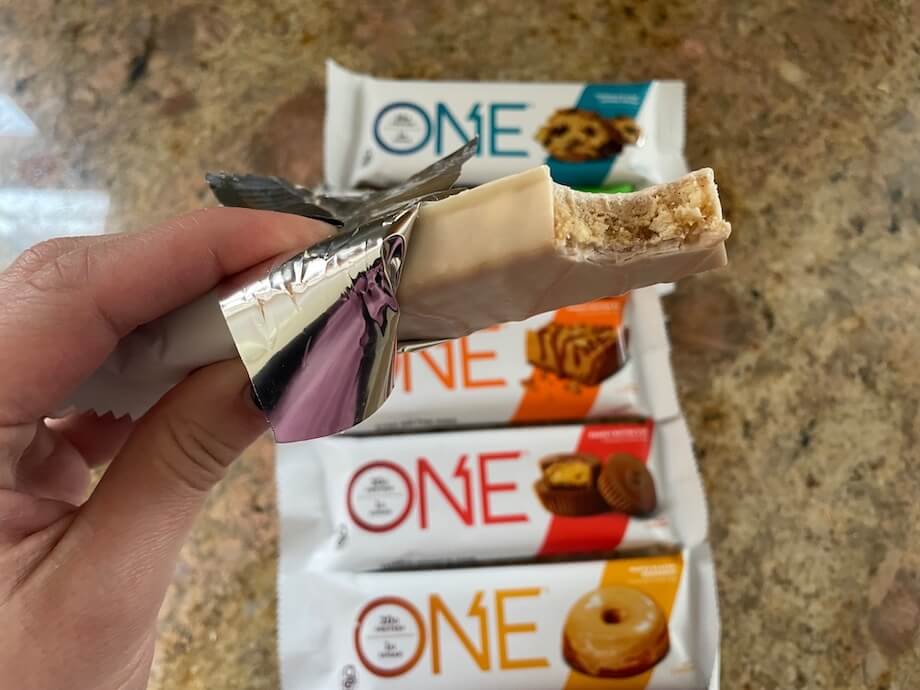 Great for:
Those who need a portable, nutrient-dense snack between meals
Those who like flavor variety
Those in pursuit of weight loss
Not recommended for:
Those sensitive to artificial sweeteners
Those following the keto diet
Vegans and people with dairy allergies
ONE Protein Bar Specs
| | |
| --- | --- |
| Price per bar | $1.90-3.12, depending on the flavor |
| Flavors | Almond Bliss, Birthday Cake, Blueberry Cobbler, Chocolate Brownie, Chocolate Chip Cookie Dough, Cinnamon Roll, Cookies and Creme, Fruity Cereal, Lemon Cake, Maple Glazed Donut, Marshmallow Hot Cocoa, Peanut Butter Cup, Peanut Butter Pie, Pumpkin Pie, S'mores, Strawberry Shortcake |
| Calories per bar | 210-230, depending on the flavor |
| Protein per bar | 20 g |
| Carbs per bar | 22-27 g, depending on the flavor |
| Fat per bar | 7-9 g, depending on the flavor |
| Protein source | Protein blend of milk protein isolate and whey protein isolate, whey protein concentrate |
| Other notable ingredients | Nonfat dry milk, isomalto oligosaccharides, maltitol, sucralose |
Experience Using ONE Protein Bars
ONE Bars have earned a reputation as a way to increase your protein intake between meals without skewing your other macros for weight loss or daily calories. But do they live up to their hype? Here's what Nicole Davis, GGR senior editor and expert product tester, had to say: "I love these…my new favorite protein bar! Although they are a bit on the higher side calorie-wise, they have a good amount of protein, which is really why I would grab for a bar in the first place. Will buy them again for sure, especially because they're not crazy expensive either."
Pricing
Pricing varies significantly between flavors, box counts, and retailers. For example, you can find boxes of four bars in-store for approximately $2.00 per bar. However, not all flavors are available in brick and mortar stores.
When ordering online through the company's website, prices range between $1.90 and $3.12 per bar, depending on the flavor. The protein bars are ordered in boxes of 12 unless you order the sampler variety pack, which comes in a box of eight.
You can also find ONE Bars on Amazon and set up a delivery subscription for added cost savings. While not all flavors are available through Amazon, you can find flavors like maple glazed doughnut, cookies and creme, lemon cake, and chocolate brownie.
Nutrition Specs and Ingredients
OK, let's look at the nutrition content of ONE Bars. That's why we're here, right? ONE Bars are gluten-free and come in 15 different flavors—but no matter which flavors you choose, each bar provides 20 grams of protein.
ONE protein bars are not intended to serve as meal replacements, but they can be a great way to increase your protein intake between meals. In addition, if your fitness goals include weight loss, research shows1 that incorporating a high-protein snack with a moderate carb content can help keep you on track.
RELATED: High-Protein Foods
Each ONE Bar provides 210-230 calories, 22-27 grams of carbs, and 7-9 grams of fat, depending on the flavor. And no matter the flavor, each bar contains only 1 gram of sugar. In place of sugar, ONE uses isomalto-oligosaccharides, maltitol, and sucralose to sweeten its bars.
Taste and Texture
I took one bite of my s'mores-flavored ONE protein bar and had to do a double-take. Was I eating a candy bar?? It was one of the best-tasting protein bars I've had recently, and the chewy texture was really enjoyable.
And as it turns out, I'm not alone. Many other customers with a sweet tooth praise the almost candy bar-like taste and texture. Nicole said, "I got the sampler pack and have tried Blueberry Cobbler, Birthday Cake, and Chocolate Chip Cookie Dough thus far. Loved the cobbler and cookie dough; birthday cake was my least favorite as it tastes the most artificial of the bunch. But overall, for a protein bar, these are really, really good. Texture is where this bar shines—it's so chewy and dense, almost like you're eating a Milky Way."
ONE Protein Bars aren't overly sweet since they only contain one gram of sugar. But, of course, these low-sugar bars must be sweetened with something. Enter sugar alcohols. Unfortunately, they do have a hint of the stereotypical artificial sweetener aftertaste, but it's not overwhelming.
Side Effects
Consuming products with sugar alcohols, like maltitol, may cause gastrointestinal disturbances,2 such as flatulence and diarrhea. If you're sensitive to artificial sweeteners, you may want to consume ONE Protein Bars in moderation to assess your tolerance.
With that said, I typically experience some GI distress when consuming products made with artificial sweeteners, but I didn't have any issues with ONE Bars. Nicole reported having no issues either.
Additionally, whey protein may cause GI symptoms for some people by modifying the gut microbiota.3 If you're sensitive to whey products, you may experience bloating and gas with chronic use.
RELATED: How Much Protein Do I Need?
Comparison to Pure Protein Bars
Pure Protein Bars
GGR Score: 4.3
Product Highlights
Low-sugar

Gluten-free

20 g of protein per bar

Great taste and flavor options

Affordable
Pros & Cons
Pros
Packed with protein that helps you feel full and reduce cravings
Great price for overall quality of product
Gives you fuel to keep an active lifestyle going
Variety of flavor options to satisfy any sweet-tooth
Tastes like candy
Cons
The specific carb and calorie count will vary by flavor
Uses artificial flavoring
Includes artificial sweeteners
Some customers felt these had a bit more aftertaste than other bars
Bottom Line
If you are trying to keep a diet that is balanced and are struggling to get enough protein in, this would be a great bar to add to your shopping cart, online or in person. Pair it with a piece of fruit, maybe a healthy carb, and a glass of water and you have a great meal on the go.
Out of the hundreds of protein bars available today, we felt Pure Protein Bars were the most reasonable comparison to ONE Bars. They offer many of the same flavors and pretty dang similar nutrition content. BUT—they do have a few differences worth noting.
Pure Protein Bars have fewer flavor options available. They include birthday cake, chewy chocolate chip, chocolate deluxe, chocolate peanut butter, chocolate peanut caramel, chocolate salted caramel, cookies and cream, and lemon cake.
GGR Head of Content, Kate Meier, tested the Pure bars and said, "I think these are probably the most candy-bar-like bar I've ever had. They are a little chalky—like VERY little—not like you taste with other protein bars. I'm someone who likes a bar for like three servings and then I hate the bar. But this is probably one bar I could see myself eating more often because I really like the taste, and it isn't dry like many other bars are (Rx, Quest, etc.)."
While Pure Protein bars offer similar nutrient content to ONE Bars, they vary slightly. For example, Pure Protein Bars contain 19-21 grams of protein, 15-20 grams of carbs, 4.5-7 grams of fat, and 180-200 calories per bar, depending on the flavor. Additionally, they contain more sugar alcohol, with 4-13 grams per bar, depending on the flavor.
If you're on a budget, you might opt for the less expensive option—ONE protein bars. Pure Protein Bars cost $2.77-3.99 per bar, depending on how many you buy at one time.
Ordering ONE Protein Bars
If you prefer to order your ONE bars online, you can add the protein bars to your cart directly from the company's website or through Amazon. However, when ordering through ONE's website, you will be required to check out through Amazon. Your cart will follow you to your Amazon account, and you'll be billed through Amazon.
You also have the option to set up a subscription delivery through Amazon for additional cost savings. Like other Amazon subscriptions, you can set up deliveries as frequently as every two weeks or as infrequently as every six months.
Customer Experience
ONE Brands protein bars can be purchased in-store at a variety of retailers or online. However, since your only option for online checkout is through Amazon, you're at the mercy of Amazon's return policies. When purchased through Amazon, ONE Bars are non-returnable unless delivered damaged or defective.
If you prefer to purchase your protein bars in-store, ONE Brands' website has a nifty store locator search page that allows you to look for specific products available near you. You simply type in your zip code and search for the products on your wishlist.
Customer Reviews
These bars have very positive reviews, with most flavors having about a 4.5-star rating on both Amazon and the brand's website.


Not everyone loves the taste, though, with some reviewers saying the product was too sweet and others calling it underwhelming.


Final Verdict of Our ONE Protein Bar Review
All in all, the ONE protein bars get this registered dietitian's stamp of approval. While they may not be everyone's cup of tea, they offer a good balance of macronutrients without added sugar. In addition, with a variety of flavors available, you can switch up your routine to keep flavors fresh and your cravings satisfied.
No matter what flavor you choose, each bar provides 20 grams of protein and only 1 gram of sugar.
ONE Bars are made with a protein blend of milk protein isolate and whey protein isolate, and they also contain whey protein concentrate.
ONE Bars are chewy in texture and contain small amounts of sugar alcohol.
Bars are sold online in boxes of 8 or 12.
Boxes of four bars are only available in-store.
ONE Protein Bar Rating
ONE Protein Bar
Looking for your next favorite high-protein snack? Find out if this is the one for you with our ONE Protein Bar review.
Product Currency: USD
Product In-Stock: InStock
ONE Protein Bar Review FAQs
Are ONE bars a good protein bar?
ONE's protein bars can be a good high-protein, low-sugar supplement to include in your well-balanced diet. With 20 grams of protein per bar, they can help you meet your increased protein needs from exercise and satiate your hunger between meals.
Is it healthy to have one protein bar per day?
The term "healthy" is subjective. We all have unique nutrition needs, so it's impossible to know if one protein bar per day could be beneficial for everyone. However, as a registered dietitian, I'm generally cool with incorporating one protein bar daily into a well-balanced diet for most people.
Are ONE protein bars a meal replacement?
ONE brand's protein bars fall a little short when it comes to acting as a meal replacement. While their nutrition facts boast a good balance of macros, the average person needs more to count it as a meal.
Are ONE protein bars tasty?
Those of us at GGR who tried ONE's protein bars found that they have great taste, and they have mostly positive reviews online. Of course, with 15 flavors, there's bound to be a flavor you like. And if you're not sure what flavor to try first, consider ordering the sampler variety pack so you can try one of everything.
These statements have not been evaluated by the Food and Drug Administration. This product is not intended to diagnose, treat, cure, or prevent any diseases.
References
Moon, J., & Koh, G. (2020). Clinical Evidence and Mechanisms of High-Protein Diet-Induced Weight Loss. Journal of Obesity & Metabolic Syndrome, 29(3), 166-173. https://doi.org/10.7570/jomes20028
Mäkinen K. K. (2016). Gastrointestinal Disturbances Associated with the Consumption of Sugar Alcohols with Special Consideration of Xylitol: Scientific Review and Instructions for Dentists and Other Health-Care Professionals. International journal of dentistry, 2016, 5967907. https://doi.org/10.1155/2016/5967907
Vasconcelos, Q. D. J. S., Bachur, T. P. R., & Aragão, G. F. (2021). Whey protein supplementation and its potentially adverse effects on health: a systematic review. Applied physiology, nutrition, and metabolism, 46(1), 27–33. https://doi.org/10.1139/apnm-2020-0370