We test and review fitness products based on an independent, multi-point methodology. If you use our links to purchase something, we may earn a commission. Read our disclosures.
A Slam Ball is an incredibly versatile piece of equipment for any garage gym. However, it's also often pretty expensive. Thankfully, we found a way to make a DIY Slam Ball that can weigh all the way up to 100 pounds.
The best training tools are often the most simple.
The slamball is the epitome of a simple training tool that can completely wreck you. Unlike a barbell that requires maintenance and evenly distributed plates, and can't be thrown down, the slam ball is always ready to be picked up and thrown to the ground.
I've taken my slamball all over, whether that be a football field, stadium runs, when I go out of town and want to have something heavy to workout with, and most often just to use in my front yard (neighbors love me.)
Ross Enamait of RossTraining.com (check it out) has a phrase he uses a lot and it is "you are never gymless." It's a very simple phrase that applies directly to DIY equipment.
If you want it bad enough you will make it happen. This slam ball is very cheap to make if you know how to do it and can be one of the best training tools in your garage.
Supplies
Tools
Total Price $15 – $30
Instructions
Take the Xacto Knife and cut a hole just big enough for the end of the funnel to fit in.
Insert funnel in the hole and begin pouring sand. (takes about 5-10 mins, much easier with two people.)
Once the slamball is at your desired weight take your sandpaper and sand around the hole to allow the tire patch to stick.
Apply rubber cement that comes with the Tire Patch Kit and place the largest tire patch over the hole making sure to press and stick the entire patch to the ball.
Let rest for 5 minutes.
Slam dat' ball!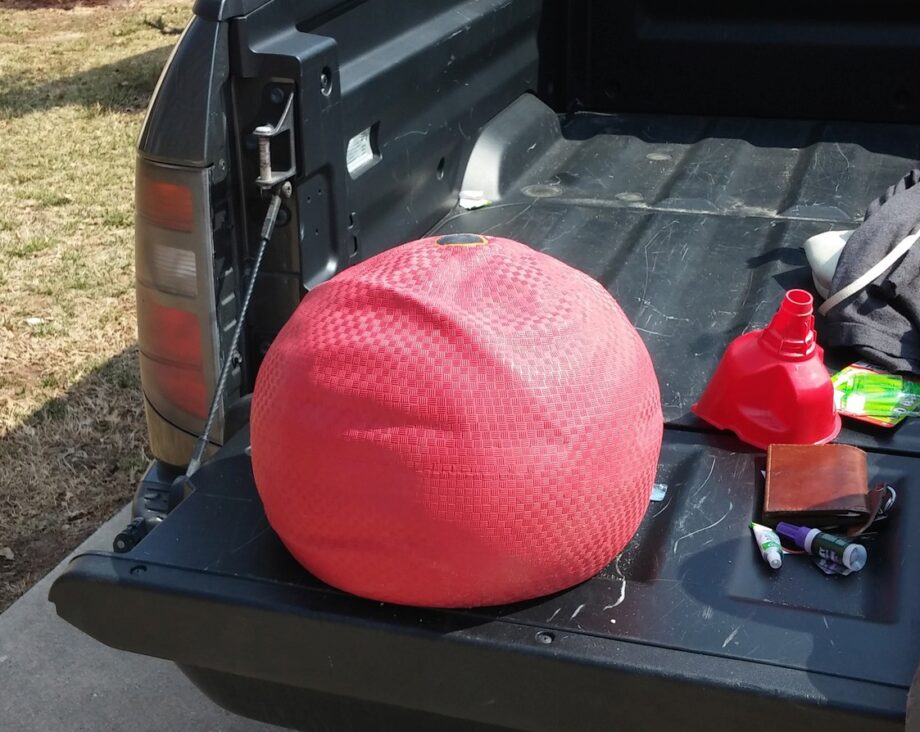 Workout Examples
Do 100 med ball squat cleans and EMOM (Every Minute on the Minute) do 5 burpees.
Do 1 power clean with theslamball, 1 squat clean, 1 squat clean and jerk slam EMOM for 15 minutes.
AMSAP (As Many Slams As Possible) in 10 minutes.
Do 1 wall ball (trust me, you won't be able to do one 😉 )
Final Thoughts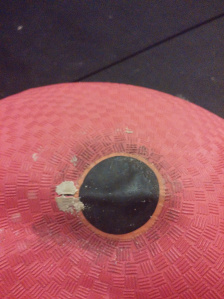 Honestly, this ball can take quite a bit abuse.
I don't like to be careful when I train and I don't think you really should be. You should be focused on your form and your effort, not your equipment.
If you were to buy a 100 pound slam ball online you'd pay around $300 mainly because shipping 100 lbs. of anything is expensive. If you don't believe me on the cost look around.
Make this ball, use it, abuse it, and become stronger. IT'S THAT SIMPLE.