Do 100 med ball squat cleans and EMOM (Every Minute on the Minute) do 5 burpees.
Do 1 power clean with the slamball, 1 squat clean, 1 squat clean and jerk slam EMOM for 15 minutes.
AMSAP (As Many Slams As Possible) in 10 minutes.
Do 1 wall ball (trust me, you won't be able to do one ;) )
Final Thoughts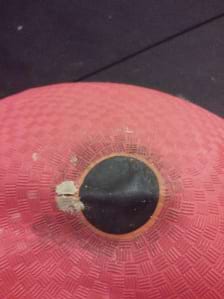 Honestly, this ball can take quite a bit abuse.
I don't like to be careful when I train and I don't think you really should be. You should be focused on your form and your effort, not your equipment.
If you were to buy a 100 pound slam ball online you'd pay around $300 mainly because shipping 100 lbs. of anything is expensive. If you don't believe me on the cost look around.
Make this ball, use it, abuse it, and become stronger. IT'S THAT SIMPLE.