We test and review fitness products based on an independent, multi-point methodology. If you use our links to purchase something, we may earn a commission. Read our disclosures.
We know nothing in this life is free, but we like the sound of "free" when it comes to home gym equipment. Right now, you can commit to a four-year iFIT family membership and have your choice of a treadmill, bike, rower, or elliptical through the NordicTrack Plus program. The offer only applies to certain models, but each one has some nice features worth considering.
Although there are four options included in this "free" cardio machine deal, we're going to focus on just the elliptical option offered under the NordicTrack Plus program. In this NordicTrack Commercial 9.9 review, we'll cover the ins and outs of this machine and figure out who will benefit from having this elliptical in their home gym.
We Test Ellipticals So You Don't Have To
You might be wondering: Why should I trust what Garage Gym Reviews says about a commercial elliptical? Well, our expert product testers have had their hands on hundreds of cardio machines, including ellipticals. We're picky and seek out high-quality and high-value fitness equipment. We're also a team of athletes, CrossFit coaches, nutrition coaches, and certified personal trainers. We've owned, used, and coached others to use various cardio machines and we think that collective knowledge is worth listening to.
For this NordicTrack Commercial 9.9 review, our GGR editor, Nicole Davis traveled to the iFIT headquarters in Utah to put the pedal to the metal. She put this machine to test with a rigorous workout and combed over every feature.
NordicTrack Commercial 9.9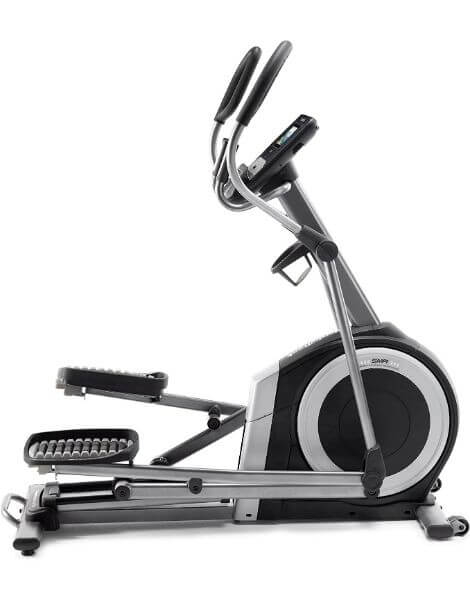 GGR Score: 3.6
Product Highlights
Front-drive elliptical offering different resistance levels

Large library of workouts with iFIT trainers

Smart HD touchscreen

AutoAdjust technology for remote resistance control
Pros & Cons
Pros
Large workout library
22 different resistance levels
Adjustable stride length
Trainers can automatically adjust resistance
Cons
4-year iFit family membership required
Reviews state technical issues
Touchscreen is only 7"
Bottom Line
The NordicTrack Commercial 9.9 is a front-drive elliptical with a workout fan, comfortable grips, oversized cushion pedals, and an array of workouts to choose from for your best at-home workout.
A Quick Look at the NordicTrack Commercial 9.9
NordicTrack has a long history in the cardio equipment industry, getting its start in the '70s with a machine that mimicked cross-country skiing. From humble beginnings, NordicTrack has exploded into home gyms and commercial gyms alike.
What sets NordicTrack apart from many other brands in today's market is the iFIT app, which allows you to partake in interactive training and on-demand workouts. If you're interested in having a personal trainer coach you from the comfort of your own home, the iFIT app might be the best thing that will happen to your workout program.
RELATED: Elliptical Workouts for Beginners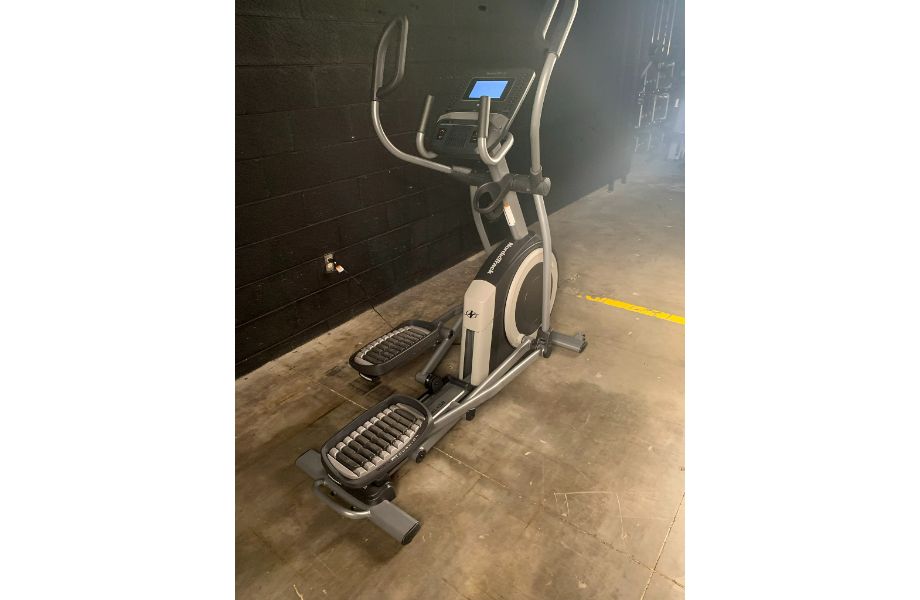 My Tips
The current deal to get the machine for free with the purchase of the 4-year iFIT family membership is a valuable option if you have family members you plan to share the account with.
NordicTrack offers 0% financing options for $39 for 48 months if you qualify.
This machine has a fairly short stride length, which, if you're taller, could feel more like a stair-stepper than a walking motion.
You'll want to grab a friend to assemble the NordicTrack Commercial 9.9; it won't be easy alone.
Pros:
Incline options to get your heart rate soaring
Built-in HD touchscreen with iFIT interactive programming
Price of the 4-year iFIT family membership includes a free elliptical
Cons:
7" touchscreen display is small for the robust iFIT programing
No EKG heart rate monitoring handlebars
No option to select an individual iFIT membership
Is the NordicTrack Commercial 9.9 Worth It?
We think the NordicTrack Commercial 9.9 is a solid cardio machine for families who want to expand their home gym. The current NordicTrack+ program offers you a really cool deal to commit to a four-year family membership and get the cardio machine for free.
The machine and the iFIT subscription together can add value to your home if multiple people in your family take advantage of using the iFIT app for either training on the elliptical or utilizing the multitude of other strength and yoga programs. You'll be able to log in on multiple devices and each family member (up to five accounts) will have their own personalized account.
You have the option to pay full price for the machine + four-year iFIT membership upfront—$1,872—or see if you qualify for 0% financing at $39 per month for 48 months with the NordicTrack+ program.
Great for:
Anyone who likes the idea of iFIT interactive workouts, but doesn't want to commit to the family membership price in addition to the price of the machine
Families who want to share the five accounts on the iFIT membership
Anyone who can invest in a commercial machine with a solid build
Not recommended for:
People who are not interested in iFIT interactive programming
People over 6-feet tall; the stride length in addition to the front drive could limit a natural gait and make it feel like a stair stepper
Anyone looking for a no-frills or budget machine
NordicTrack Commercial 9.9 Specs
| | |
| --- | --- |
| Price | $1,872 |
| Footprint | 68.25″ L x 28.75″ W x 68.5″ H |
| Weight | 244 lbs |
| Weight capacity | 350 lbs |
| Stride length | 17.5"-18.7" auto-adjustable stride |
| Display | 7" smart HD touch screen |
| Flywheel | 25 lbs |
| Resistance | Magnetic |
| Resistance levels | 22 levels |
| Warranty | 10-year frame, 2-year parts, 1-year labor |
Working Out on the NordicTrack Commercial 9.9
Nicole loved that NordicTrack Commercial 9.9 held up to the standards you might expect from a commercial machine. The elliptical trainer felt solid and "had absolutely no play while using," Nicole says.
The 350-pound user weight capacity is well above the 275-pound standard we like to see in ellipticals. Additionally, the 25-pound flywheel adds a lot of value to the way it feels while pedaling and helps keep the machine stable and running smoothly, which ultimately leads to a longer lifespan of the cross trainer.
Overall, Nicole really enjoyed testing and training on the Commercial 9.9. She noted that the stand-out features were the solid steel construction and the heavy flywheel that gives you a locked-down feeling even during rigorous workouts. The stability is paired with a few nice-to-have features like oversized cushion pedals and soft touch handlebars. Nicole also appreciated the 20% incline capability to give you more variety in your workouts.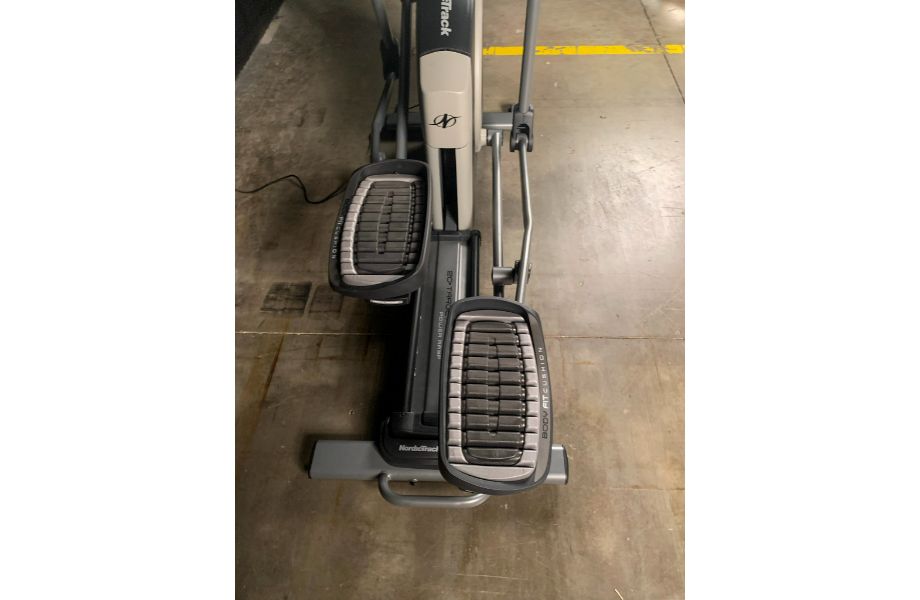 For even more variety, the NordicTrack Commercial 9.9 can be pedaled both forward and backward. The auto-adjustable stride length ranges from 17.5 to 18.7 inches, which falls in the industry standard for home ellipticals, however anything below a 20-inch stride is not optimal if you stand over 6 feet tall.
The one feature Nicole noticed the most was how small the 7-inch touchscreen felt during use. You can see the videos with clarity, but the small size is hard to use while you're bobbing up and down. Nicole has tried other NordicTrack cardio machines with large, 14-inch displays and recommends the larger screen to get the full iFIT experience, as seen on the NordicTrack AirGlide 14i.
Commercial Machine With A Reasonable Footprint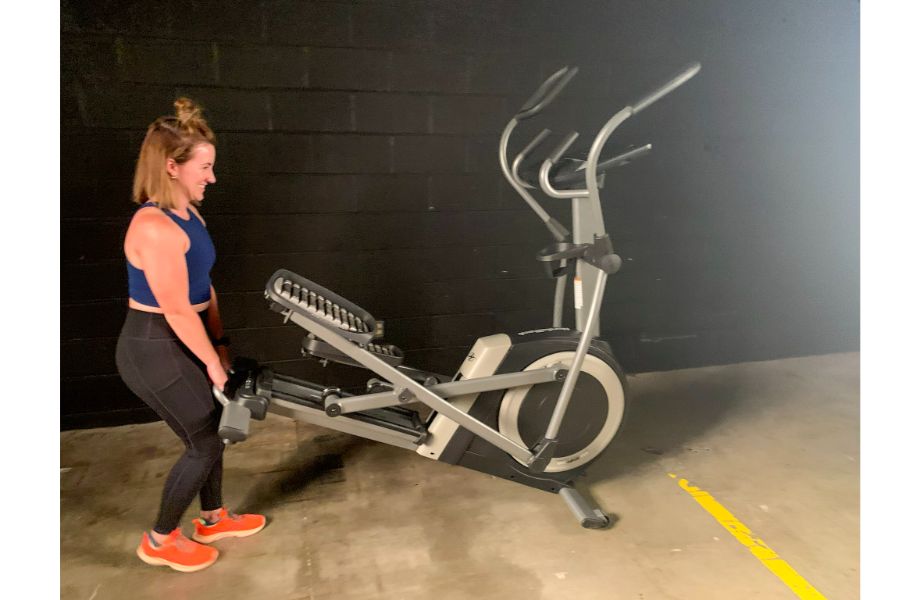 Front-drive ellipticals like the Commercial 9.9, often have a smaller footprint than rear-drive machines. That said, it's still not a petite piece of machinery. It measures 68 inches in length, almost 29 inches in width, and 68 inches in height. For reference, it is about 12 inches shorter and more narrow than the NordicTrack Commercial 2450 treadmill, but it sits about 10 inches taller—which is similar to what you'd find in your local commercial gym.
Although you'll have to make room for your new gym equipment, it does have transport wheels and a handle on the back of the machine for moving purposes. However, at 244 pounds, you could be better off asking for a hand when you need to decide to move it. We recommend having a dedicated space for the Commercial 9.9.
An Elliptical Built to Last
The commercial steel construction on the NordicTrack 9.9 allows a solid user weight capacity of up to 350 pounds. We like seeing higher numbers here, allowing more people to consider the purchase.
Along with the solid build, the 25-pound flywheel is well above industry standard and will help limit any shaking. According to Nicole, there was absolutely no movement side-to-side or shaking from the machine. The oversized leveling feet will also help reduce shaking and allow you to find the most neutral position in your home.
Your Comfort in Mind
The pedals are cushioned with a foam-like material, which we like to see on the ellipticals we review for extra comfort. The pedals also adjust with a small lever to tilt slightly up, down, or remain neutral.
We liked that this machine has two sets of handlebars: one set for stability getting on and off the machine, and one set that moves at the same time as the pedals. The moving handlebars allow you to get a full-body workout experience.
Even though you can get a full-body workout, you can change your focus to target different muscle groups. For example, you can slightly relax your legs in the foot pedals and let your upper body take over the back and forth motion, and the same goes for relaxing the arms and letting the lower body take over.
A few additional comforts that you will enjoy is the water bottle holder, the media shelf, and the built-in workout fan. Nicole enjoyed the Autobreeze built-in fan but warned that for taller folks, this won't be a gentle breeze in the face, more like a breeze to the torso.
Touchscreen With iFIT Technology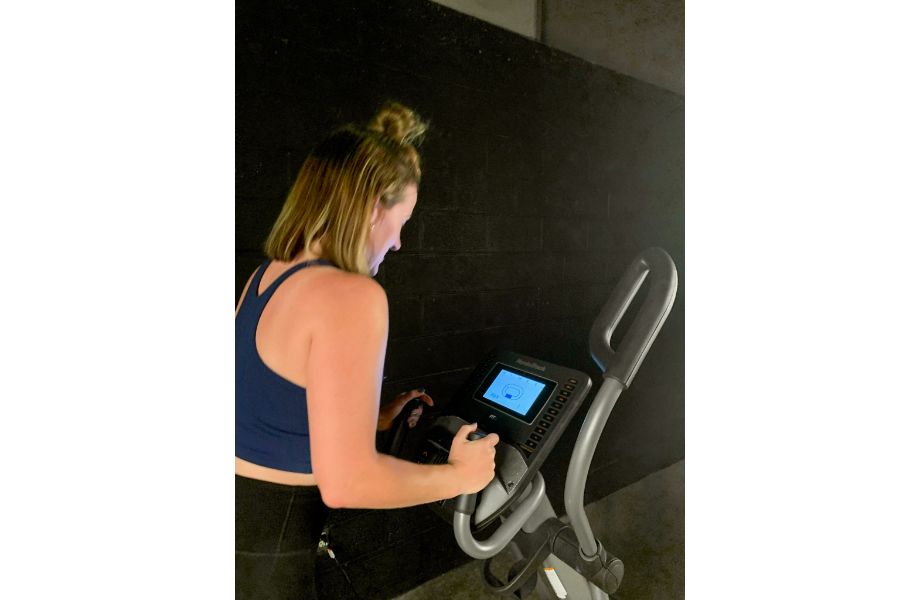 Other than having a super solid build, the distinguishing feature of this elliptical is the built-in 7-inch HD smart touchscreen with iFIT technology. The built-in touchscreen is what takes this equipment up a notch.
You will be able to navigate through the iFIT workout library of trainer-led studio sessions, outdoor workouts, and workouts off of the elliptical like strength training sessions and yoga. Participating in a trainer-led workout will automatically adjust the resistance and incline levels according to the trainer's instructions—completely hands-free.
Overall, Nicole is a fan of iFIT interactive programming and thinks it's a robust and engaging option for home workouts. She also enjoys the Google Maps feature that allows you to drop a pin nearly anywhere in the world and design your workout amongst brand-new scenery. That said, she was disappointed that the 7-inch touchscreen felt a little too small for the price point this machine comes at.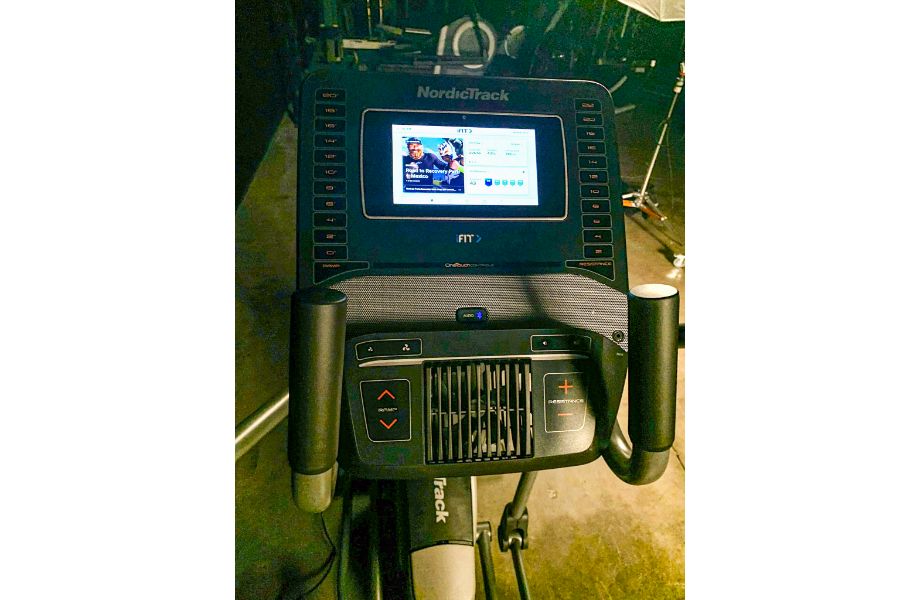 In addition to a four-year iFIT family membership, which includes five unique profiles for the whole family, you will also like the Bluetooth-enabled speakers for your own music and the ability to connect a fitness tracker, like the Apple watch, to monitor your heart rate. This feature is in place of built-in EKG monitors.
Comparison to Sole E55
The Sole E55 elliptical does not come with a built-in touchscreen and interactive programming at your fingertips, however, the machine itself is comparable to the NordicTrack Commercial 9.9 elliptical. The Sole E55 is also compatible with the Studio fitness app, which has over 3,000 classes when you sign up for a membership sold separately. If a touchscreen isn't important to you, consider the Sole E55 model as well.
| | | |
| --- | --- | --- |
| Elliptical | ProForm Carbon EL | Sole E55 |
| Price | $1,873 | $1,499 |
| Footprint | 68.25″ L x 28.75″ W x 68.5″ H | 71" L x 27" W x 71" H |
| Stride length | 17.5" – 18.7" auto-adjustable stride | 20" |
| Display | 7" HD touchscreen | 9" LCD screen |
| Warranty | 10-year frame, 2-year parts, 1-year labor | Lifetime for frame, 5 years for parts and electronics. 2 years for labor |
| Weight capacity | 350 lbs | 375 lbs |
| Machine weight | 244 lbs | 214 lbs |
| Resistance levels | 20 | 20 |
| Flywheel | 25 lbs | 20 lbs |
| Programming | iFIT 4-year membership included | 6 standard, 2 custom, and compatible with Studio fitness app |
| Drive | Front | Front |
| Incline | 20% grade | 20 levels |
Sole E55
Sole E55 Elliptical
The Sole E55 elliptical is a sturdy and thoughtfully designed product from a highly reputable manufacturer. Like Sole's other ellipticals, the E55 is equipped with 2-degree inwardly sloped adjustable foot pedals designed to reduce stress on the ankle and knee.Featuring six standard, two custom, and two heart rate programs, users have a lot of variability in training options. Twenty levels of power incline enables a wide range of intensities suited for beginner and experienced cardio junkies alike. In conjunction with all this, the 15-inch pedals have a generous 20-inch stride length and glides both forward and backwards so users can target different muscle groups. The Sole E55 comes equipped with many notable conveniences. Built-in cooling fans, a water bottle holder, Bluetooth speakers, an integrated tablet holder, and USB port keep you cool, hydrated, and entertained. Monitor your fitness metrics on the 9-inch LCD backlit display then download the Sole app for free and transfer the information to FitBit, Record, MapMyRun, or Apple Health. Users find that the Sole app is not very user-friendly but still a nice perk.Weighing over 200 pounds, this compact machine supports a maximum user weight of 375 pounds.The E55 is not easily assembled so you may consider recruiting some friends or hiring a professional.
Customer Experience
NordicTrack offers a 10-year frame warranty in addition to a two-year warranty on parts and one-year on labor. We like to see at least a 15-year warranty on the frame for ellipticals, so this falls just short of that, but it's probably not a dealbreaker for most people.
When, or if, you do run into problems, the NordicTrack customer service can be hit or miss. The live chat function is helpful for simple questions, but with more complex issues, the live chat directs you to call the customer support line.
Getting Your NordicTrack Commercial 9.9 Elliptical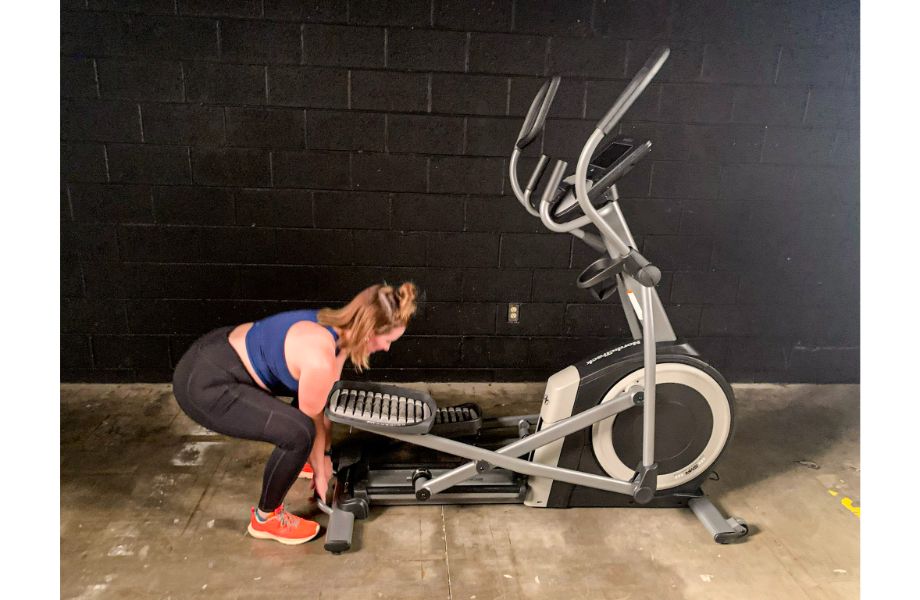 When ordering the NordicTrack Commercial 9.9, the NordicTrack + program will give you two payment options. You can pay outright for $1,872—it would be a $3,171 value if you purchased the machine and iFIT separately—or you can opt for a payment plan with 0% financing at $39 per month for 48 months, for qualified buyers.
We like that NordicTrack gives you options, making this a more reasonable option for home gym owners. Once you get the machine ordered, make sure you recruit help for the assembling process. This machine comes with a lot of pieces and is heavy enough to require two sets of hands to complete the job.
Customer Reviews
NordicTrack does not disclose individual reviews on their website, but we were able to get a jist of what people are saying from Google reviews, which aggregate from various retail sites. The Commercial 9.9 has an overall 3.1 out of 5 stars with 19 reviews available to read.
The reviews are all over the place, but in general, people have complaints about customer service and the iFIT membership. We also want to note that at the time most of these reviews were written in 2021, NordicTrack had not started the NordicTrack+ program with the four-year iFIT membership.
Final Verdict of The NordicTrack Commercial 9.9
Overall, this is a solid elliptical machine with commercial qualities that you can enjoy in the comfort of your own home. The current NordicTrack+ promotion adds a lot of value to the purchase of the elliptical because you'll get a four-year iFIT family membership and a free cardio machine. We like iFIT and think it's engaging enough for your whole family to find a way to exercise—on or off the elliptical.
NordicTrack Commercial 9.9 Elliptical Rating
NordicTrack Commercial 9.9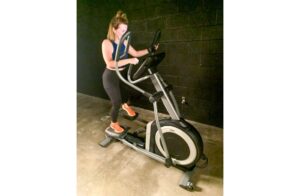 In our NordicTrack Commercial 9.9 review, we'll let you know who will benefit from committing to a four-year iFIT membership to receive a free elliptical machine.
Product Brand: NordicTrack
Product Currency: USD
Product Price: 1872.00
Product In-Stock: InStock
NordicTrack Commercial 9.9 FAQs
Do NordicTrack ellipticals fold up?
Although folding ellipticals are rare, some NordicTrack ellipticals can fold, like the SpaceSaver SE7i. However, the NordicTrack Commercial 9.9 does not fold.
Is an elliptical good for knees?
Elliptical workouts are generally a little more gentle for your knees and hips compared to running or walking on a treadmill, which is considered high-impact. The low-impact movement on an elliptical is possible because your foot stays on the pedal, reducing how your knee joint absorbs the landing contact. 
How do I lift my NordicTrack elliptical?
The NordicTrack Commercial 9.9 can be lifted under the back side of the machine with the grab bar. Once lifted, the transport wheels make it fairly easy to wheel it to your desired location.
Is 20 minutes of elliptical enough?
This answer will depend on your fitness goals. If you're brand new to exercise and your goal is to get started to increase stamina, don't be afraid to start with just 10 minutes and gradually increase from there. That said, the American Heart Association recommends that adults get 150 minutes of moderate to vigorous exercise per week. However, regularly scheduled short bouts of exercise throughout the week can certainly help you reach the 150-minute recommendation.