We test and review fitness products based on an independent, multi-point methodology. If you use our links to purchase something, we may earn a commission. Read our disclosures.
This Nautilus E614 Elliptical review takes an in-depth look at a discontinued cardio machine so you can decide if it's worth buying used. Plus, we have some alternative ellipticals in mind that offer better (and updated) durability, warranty, and features. The E614 is part of Nautilus' E-line, which still includes the E616 and E618. However, if you like what you see with the E614, we recommend the Schwinn 430. The two have similar specs and features, though the Schwinn (which is also made by Nautilus) has better durability and performance.
The E616 replaced the E614 and brought tech upgrades, more workout programs, and additional resistance levels. The E618 goes even further by adding automatic incline, suspension adjustment for the footplates, and an included wireless heart rate chest strap. Of course, the price for either of these current upgraded models is (much) more than the E614. But we'd still point you to the Schwinn for a basic machine that doesn't require WiFi or Bluetooth to give you a killer workout.
Testing Ellipticals and So Much More
The team at GGR takes our jobs as testers seriously. We bring together the joint experience of personal trainers, CrossFi-L1 trainers, nutritionists, and competitive athletes across many disciplines to provide expert insight and years of experience. Collectively, we've spent hours on ellipticals, treadmills, rowing machines, weight benches, and more. While we haven't tested the Nautilus E614, we've got enough experience (and research know-how) to give you a pretty accurate view of this discontinued machine.
We also use our experience with models we have tested to help inform our recommendations. For example, we've tested the Schwinn 470, a model that's similar to our alternative recommendation, the Schwinn 430. While every model is different, brands and lines within brands have similarities that help when it comes to comparison and understanding how well the machines function.
Looking for an Alternative to the Nautilus E614 Elliptical?
Best Alternative to Nautilus E614 Elliptical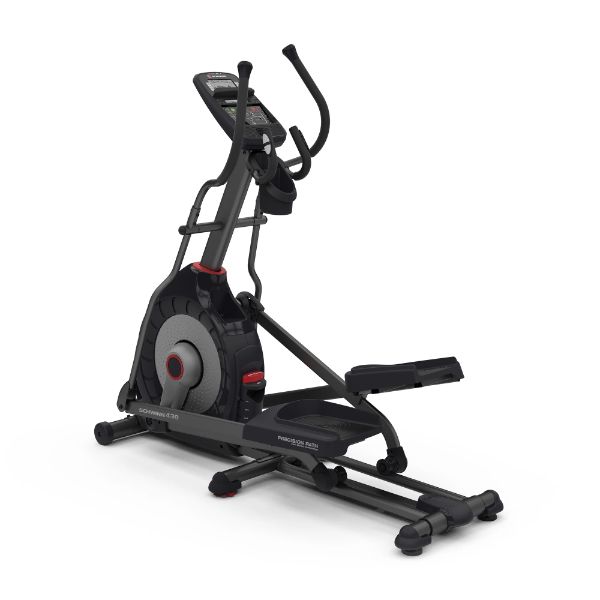 GGR Score: 3.2
Product Highlights
Front-drive elliptical

20" stride 

20 levels of resistance 

6 levels of incline

22 built-in programs 

Dual LCD screens
Pros & Cons
Pros
20 levels of magnetic ressistance
Cheaper entry price compared to other similar ellipticals
Longer stride length compared to other ellipticals in this price range
Manually adjustable incline levels
Cons
No Bluetooth connectivity
Big footprint
Bottom Line
If you're looking for an economical option for an elliptical, this could be a good choice. While it does not have all the bells and whistles of the higher-tech ellipticals, you'll still get a good workout in.
The Nautilus E614 was a viable, basic, budget-friendly option when it first came on the market. However, even then it lacked reliability and durability. Today, you can find the E614 for around $600, but there are better, more high tech and more durable machines readily available, like the Schwinn 430. It might cost a couple hundred dollars more than a used E614, but you're getting a better quality machine with similar features in a price range that's comparable to the E614's price when it first came out.
The key features to consider with the Schwinn 430 are the:
20 resistance levels
6 manually-adjusted incline positions
Media shelf with USB charger
22 preset workout programs
6-week return period
20-inch stride length
2 user profiles
We want to highlight that six-week return period because that's two weeks longer than most return periods, and Schwinn upholds it well. If you don't like this machine, you can return it on Schwinn's dime.
The 430 has magnetic resistance like the E614 and includes six manual incline levels, also like the E614. Manual adjustment means you can't change the incline while you're on the machine, but it keeps the price affordable. While manual incline is far less convenient than digital, it still lets you focus on different muscle groups. For example, bumping up the incline to the highest level isolates the glutes and hamstrings for a more targeted workout.
We like the 20-inch stride length, which is long enough to fit taller users and can work for those who want to use the machine to better mimic running. The warranty matches the E614 with a 10-year frame, two-year parts, one-year electronics, and 90-day labor. However, Schwinn has a better track record when it comes to durability. Reviews praise the assembly process and the solid build, which doesn't shake or wobble (an issue the E614 has). It's not the quietest machine out there, but you can get a good workout without destroying your budget.
A Quick Look at the Nautilus E614 Elliptical
The Nautilus E614 Elliptical Trainer is a basic elliptical that doesn't try to be more than it is. It doesn't have bells and whistles like Bluetooth or WiFi, so you can't connect directly to popular fitness apps, like JRNY, iFIT, or Peloton, but it does provide 22 preset workouts. Those workouts range from custom and fitness tests to heart rate controlled using the heart rate sensors on the stationary handles. Consequently, you don't need to have a separate heart rate monitor to use the machine's heart rate-based workouts.
The E614 also has six manually-adjusted incline levels. Yes, manual incline isn't anyone's favorite, but many ellipticals, even expensive high-end models, don't have an incline feature at all. This model gives you that option at an affordable price.
Where you might be disappointed in this machine is the frame quality. It originally came with a 10-year frame warranty, but even when repairs fell under the warranty, customers reported subpar customer service, and missing and delayed parts are common complaints.
Pros:
22 preset programs
20 levels of resistance
6 manual incline levels
Built-in USB port
Cons:
Reports of subpar frame quality
Can be wobbly
Low on tech upgrades
Nautilus E614 Elliptical Specs
| | |
| --- | --- |
| Footprint | 71.5″ L x 26.7″ W x 63.2″ H |
| Weight | 167.3 lbs |
| Maximum user weight capacity | 300 lbs |
| Stride length | 20″ |
| Type of resistance | Magnetic resistance |
| Resistance levels | 20 |
| Display | DualTrack LCD displays |
| Pre-programmed workouts | 22 (12 profile, 9 heart, 4 custom, 2 fitness tests, 1 recovery test, 1 quick start) |
| Extras | Built-in USB port, MP3 input port, built-in speakers, adjustable fan |
| Warranty | 10-year warranty on frame, 2-year warranty on parts warranty, 1-year warranty on electronics, 3-months warranty on labor |
Key Features of the Nautilus E614 Elliptical
For the price, the E614 offers a decent number of resistance levels, preset programs, and manual incline levels. The assembly and operation are simple enough that most people can get it set up in 1.5-2 hours.
Footprint, Portability, and Durability
The E614 is 71.5 inches long by 26.7 inches wide by 63.2 inches high, which makes it a bit of a beast for small workout spaces. In general, ellipticals are tough to fit in small spaces. The pedals of this model and other ellipticals reach beyond the frame so you have to clear a longer space than you would for a treadmill or exercise bike. The E614 is long and requires at least two inches above the peak pedal position plus the height of the user, so if your space is cramped, this probably isn't the machine for you.
At 167.3 pounds, it's heavy but not so heavy you can't manage it on your own. The transport wheels on the front support help, allowing you to tip the elliptical onto the front support and push it around the room. However, it's not the type of cardio machine that wheels in and out of your home gym every day.
Durability can be an issue with the E614, which is one of the more common complaints. Those complaints also come with noise issues—apparently it's not a quiet elliptical. There are also fairly regular reports of parts missing upon arrival and breaking within a few months. We might be able to look past that if customer service was good, but that seemed to be a problem, too.
Ergonomics
The E614 has stationary and moving handlebars. The stationary handlebars have heart rate sensors, so you can track your heart rate or use the heart rate-based preset programs. The angle and position of the handlebars work well for average size and tall users. However, shorter users may find the handlebars uncomfortable. The 20-inch stride length also accommodates average to tall users well, but again, shorter users might find it a bit of a strain—though not as much as the handlebar position.
Technology Benefits and Conveniences
The E614 isn't trying to be a tech-packed elliptical. There's no connectivity of any kind, no Bluetooth or WiFi. That doesn't mean it's devoid of all technology, though. The 22 workout programs are pretty impressive, with 12 profile programs, various hill workouts, HIIT workouts, plus basic cardio thrown in. The programs also include two fitness tests, a recovery test, and a quick start.
The dual track console has one display that shows your chosen program, intensity, fitness goals, and heart rate zones. The smaller display shows the speed, distance, and calories burned. A media shelf lets you watch a streaming service on a separate device, though it will cover the top display. You can keep your device charged using the built-in USB port.
We like that it has resistance control buttons on the sides of the display. It's easy to go directly to a new resistance level. The E614 includes a few conveniences like adjustable fans, built-in speakers with an MP3 input port, and a water bottle holder beneath the console.
Final Verdict of Our Nautilus E614 Elliptical Review
The E614 wasn't the most souped-up machine in its prime. Now that it's discontinued, you'd only want to add it to your home gym if you find it for a screaming deal. But make sure to check out the condition of the frame and pedals. Squeaks and wobbles aren't uncommon, especially on a used machine, so make sure any noise is at a level you can live with.
However, it has some definite perks that make the E614 worth considering for the right price. A few notable features are the:
22 preset programs
20 resistance levels
6 manual incline levels
Nautilus E614 Elliptical Rating
Nautilus E614 Elliptical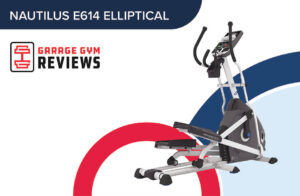 In this Nautilus E614 Elliptical review, we'll take a look at this discontinued model and offer alternate options with updated (and better) performance features.
Product Currency: $
Product Price: 899
Product In-Stock: InStock
Nautilus E614 Elliptical Review FAQs
Which elliptical brand is the best?
NordicTrack usually takes the prize as the best elliptical brand. Their machines often top "best elliptical machine" lists with their high-tech upgrades, such as large built-in screens, connectivity options, and syncing with fitness apps. However, they're not the only brand that puts out a good elliptical. Horizon, Bowflex, and ProForm are also among the reliable and durable elliptical brands worth considering. Nautilus' E618 is also worth looking at if you've got a bigger budget.
Who makes Nautilus ellipticals?
Nautilus makes Nautilus ellipticals. Nautilus also owns popular fitness brands Bowflex, JRNY (a fitness app), and Schwinn. 
How much does the Nautilus E616 weigh?
The Nautilus E616 Elliptical weighs 173.3 pounds. 
Which elliptical has the smallest footprint?
The Sunny Health & Fitness Magnetic Elliptical Machine has one of the smallest footprints at 55 inches long by 23 inches wide by 64.5 inches high. It also happens to be a budget-friendly machine that costs around $500. On the downside, this elliptical has a short 15.5-inch stride length.