We test and review fitness products based on an independent, multi-point methodology. If you use our links to purchase something, we may earn a commission. Read our disclosures.
Nautilus is the parent company and manufacturer for popular home fitness brands like Bowflex and Schwinn. Nautilus also has its own line up of bikes, treadmills, and ellipticals. The Nautilus E618 elliptical could be your next home gym purchase—it has a fairly simple design with some customizable features that make it stand out from the competition.
In this Nautilus E618 elliptical review, I'll cover the details of this machine, who it will be good for, and if it's worth being priced just over $1,000.
Fitness Pros Here to Help
Our team of expert product testers has not only spent hours testing cardio machines with everything from HIIT workouts to steady-state cardio but we also have the experience to back it up. We're a group of certified personal trainers, CrossFit Level 1 Trainers, nutrition coaches, and former college athletes. 
Our expert product testers have used dozens of different ellipticals from today's top brands. Although we haven't had our hands on the Nautilus E618 elliptical, we've had experience with the Nautilus brand in addition to Schwinn and Bowflex—both subsidiaries of Nautilus.
Nautilus R618 Elliptical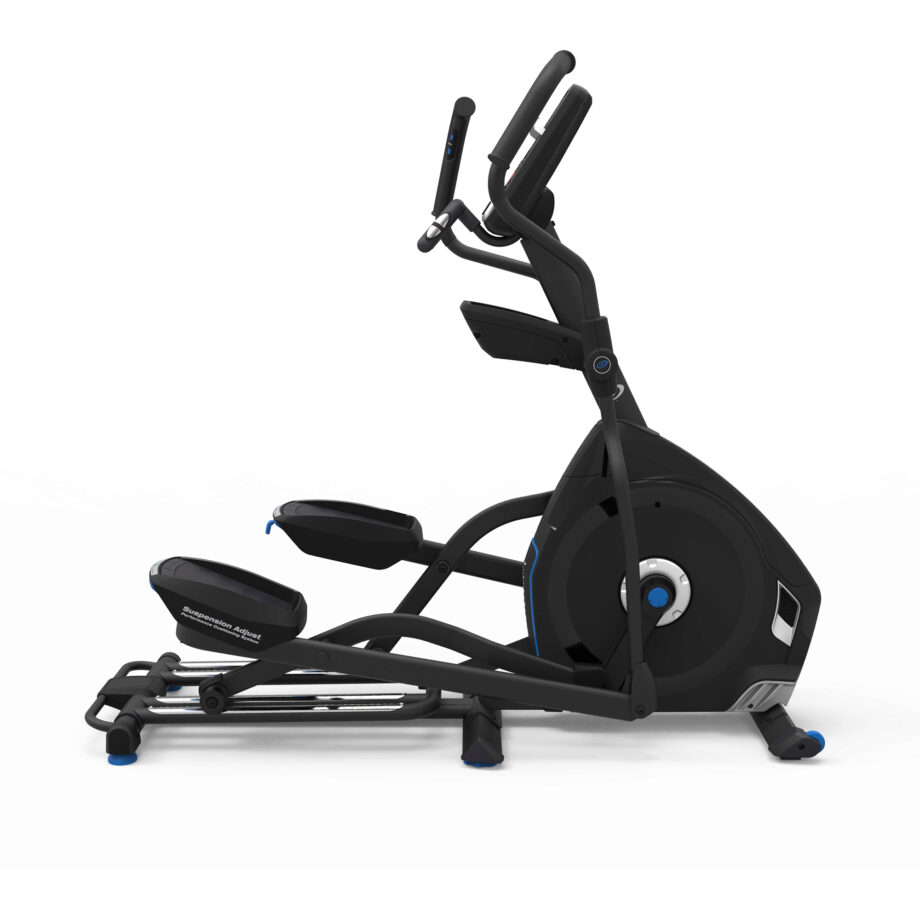 Nautilus E618 Elliptical
From the Nautilus Performance Series comes the E618 Elliptical Trainer. Designed for serious competitors looking to up their game, the E618 is fully loaded with dozens of training programs, Bluetooth® connectivity and free app-based tracking tools that help maximize motivation and power up performance.
A Quick Look at the Nautilus E618 Elliptical
Nautilus has a long history of manufacturing fitness equipment, getting its start in the 1980s. The brand started with commercial gym equipment but shifted to designing and manufacturing at-home gym equipment in 2011.
Nautilus currently offers two home gym elliptical trainers: E616 and E618. The E618 is the brand's more expensive option with a heavier weight capacity, longer stride, and longer warranty.
Nautilus is certainly not low-tech, but you won't find a touchscreen or built-in interactive programming like you might on other brands like NordicTrack and ProForm. However, there are plenty of other redeeming features that might convince you that the E618 is your best choice.
My Tips
You can monitor your heart rate with the sensors on the stationary handlebars or use the included chest strap.
Syncs with Explore the World, a free app from Nautilus offering scenic destinations for your workouts.
You can adjust the tilting console for your sight line according to your height, even with your phone or tablet on the media tray.
Pros:
Comes with a wireless heart rate chest strap
350-lb user weight capacity
Ample 22" stride length
Cons:
No built-in touchscreen
No speakers or audio features
Large and heavy machine
Is the Nautilus E618 Elliptical Worth It?
If you're in the market to buy a low-impact cardio machine but you're not committed to the idea of having a built-in touchscreen and interactive programming, the E618 cross trainer might be for you.
Great for:
Low-impact full-body workouts
Anyone who wants basic built-in programming
Taller or heavier folks
Not recommended for:
Those looking for high-tech touchscreens
Anyone seeking built-in interactive programming
Anyone who needs a compact cardio machine
Nautilus E618 Elliptical Specs
| | |
| --- | --- |
| Price | About $1,000 |
| Footprint | 73" L x 27" W x 67" H |
| Weight | 210 lbs |
| Weight capacity | 350 lbs |
| Warranty | 15-year frame, 5-year parts and electronics, 2-year labor |
| Display | Blue backlit LCD screen |
| Resistance levels | 25 |
| Stride length | 22" |
| Incline | 0-10 degrees |
| Bluetooth | Yes |
| Flywheel Weight | 17.3 lbs |
Customer Reviews
I went to Amazon to get a better idea of what customers are saying about the Nautilus E618. On the Nautilus website, there are only two fairly positive reviews. However, on Amazon the E618 had an overall rating of 4.1 out of 5 stars. Although it rated fairly high, the number one theme I noticed was that customers were disappointed with the tech features for the price point of the machine.
Workout Experience on the Nautilus E618 Elliptical
The Nautilus E618 might not have an integrated touchscreen like some of the newest cardio machines hitting the market right now, but the E618 is a terrific cross trainer if having a high-tech machine isn't your highest priority.
The specs on this machine will allow a wide range of users to enjoy a low-impact workout, including taller folks who would benefit from an above-average stride length at 22 inches and an ample weight capacity of 350 pounds.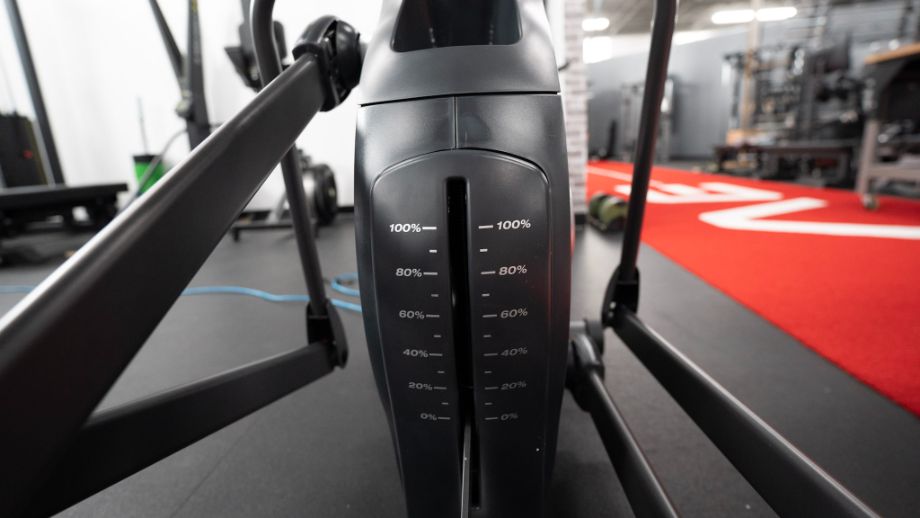 The E618 also features power incline options from zero to 10 degrees, which can be controlled from the console or the integrated incline and resistance controls on the handlebars. Incline options paired with 25 levels of magnetic resistance will give you endless combinations of heart-pumping workout challenges.
The media shelf allows you to use your own smartphone or tablet for streaming entertainment or the free Explore the World app from Nautilus. Using the media shelf won't cover all the metrics on the LCD display because there is an upper and lower display. When the media tray is in use, you'll still be able to see the lower display, which can be customized to display the metrics that are important to you, including your heart rate, speed, distance, level, and RPM.
The E618 features an optimized drive train with a 17.3-pound perimeter flywheel. All that means is that this elliptical was designed, balanced, and weighted for an easy start up and smooth workout experience (and a fairly quiet one as well). Speaking of a smooth ride, the E618 also features 22-inch dual slide rails that provide an even glide every time you pedal.
Footprint And Portability
The Nautilus E618 measures 73 inches long, 27 inches wide, and 67 inches tall—which is a big machine and even larger than the NordicTrack 14.9 elliptical, one of our favorite picks for home gyms. The E618 does have transport wheels so you can roll this monstrous machine into another room, however it weighs 210 pounds, making it a little bit of a hassle to move.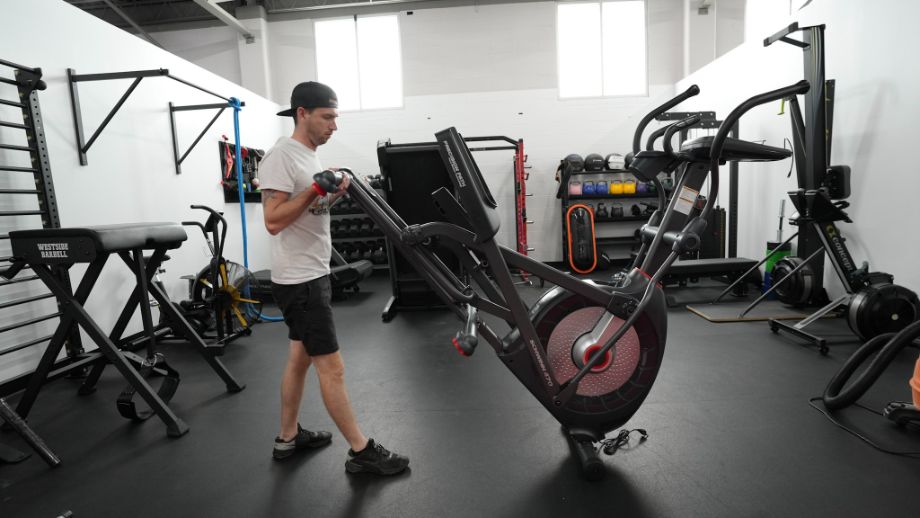 Machine Durability
The 17.3-pound flywheel falls within the industry standards we like to see on home ellipticals of 16 to 20 pounds. The heavier the flywheel, the less shaking you'll get from the machine which not only gives you a smooth ride, it helps the overall longevity of the elliptical machine.
The heavy flywheel paired with the 350-pound user weight capacity will give this machine a locked-to-the-ground feel. Additionally, the E618 features adjustable leveling feet to help with any unnecessary rocking or shaking.
Comfort And Ergonomics
One feature I like on the E618 are the two sets of multi position handlebars. On the stationary set under the console, you'll be able to monitor your heart rate on the pulse grip sensors.
On the moving set of handles, you won't miss a beat during your workout with integrated controls on the handlebars for resistance and incline. Additionally, there are multiple places to position your grip and target your upper body.
You will also be able to customize the angle of the foot pedals, which Nautilus has coined as a "suspension-adjust performance cushioning system." It basically allows you to tilt the footplates from zero to 10 degrees to get the heel support to your liking and the ability to engage different muscle groups. This is a nice feature for not only comfort, but targeting the hamstrings or quads more effectively.
Lastly, I will mention that the entire console tilts so you can adjust to your sightline—whether you're tall or short. Also found in the console is a built-in workout fan with three speeds. Directly under the console, you will find a good-sized water bottle holder that won't get in the way of the display or console buttons.
Technology And Conveniences
The Nautilus E618 offers Bluetooth connectivity that allows you to wirelessly connect with the Explore the World, which not only gives you scenic routes to add interest to your workout, but the app also allows you to track time, distance, speed, calories, and heart rate.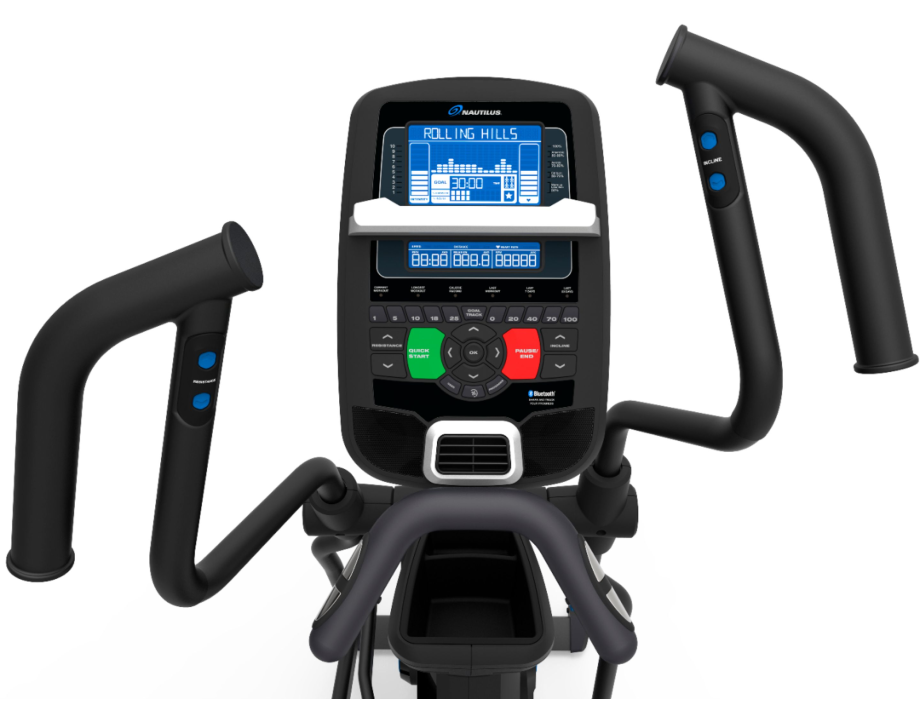 It's worth mentioning that although E618 is Bluetooth-enabled, the cross trainer can't actually receive information from your smartphone or tablet, it only exports your workout data. The exception to this is the wireless chest strap to monitor your heart rate, that comes with the E618, and does relay information to the cross trainer. However, you can export your data to other popular fitness apps like Apple Health, MapMyRun, Strava, and UA Record.
Regardless if you use the Bluetooth connectivity feature, you will be able to access 29 different workout programs that are hard-wired into the E618 elliptical trainer—no internet connection required. According to Nautilus, programs include 12 profile programs, nine heart rate workouts, four custom programs, and two fitness tests, one quick start option, and one recovery test.
Comparison to Schwinn 470 Elliptical
The Schwinn 470 elliptical is not only similar to the Nautilus E618, they are both manufactured by Nautilus, so the specs and aesthetics are pretty comparable.
The main differences are that Schwinn 470 has a slightly smaller footprint, weighs less, and has a lighter 300-pound user weight capacity. The Schwinn 470 also has a 20-inch stride length, which is two inches shorter than the E618.
Both ellipticals have incline training up to 10 degrees, 25 levels of magnetic resistance, 29 built-in training programs, and dual LCD screens. Neither machine will put you in awe with tech features, but both are solid options for durable cardio machines.
| | | |
| --- | --- | --- |
| | Nautilus E618 | Schwinn 470 |
| Price | $1.399 | $1,099 |
| Footprint | 73" L x 27" W x 67" H | 70.1" L x 28.2" W x 63.2" H |
| Weight | 210 lbs | 164 lbs |
| Weight capacity | 350 lbs | 300 lbs |
| Resistance levels | 25 | 25 |
| Incline levels | 0-10 degrees | 0-10 degrees |
| Preset workouts | 29 | 29 |
| Display | Dual LCD screens | Dual LCD screens |
| Stride length | 22" | 20" |
| Warranty | 15-year frame, 5-year parts and electronics, 2-year labor | 10-year frame, 2-year parts, 1-year electronics, 90-day labor |
Schwinn 470 Elliptical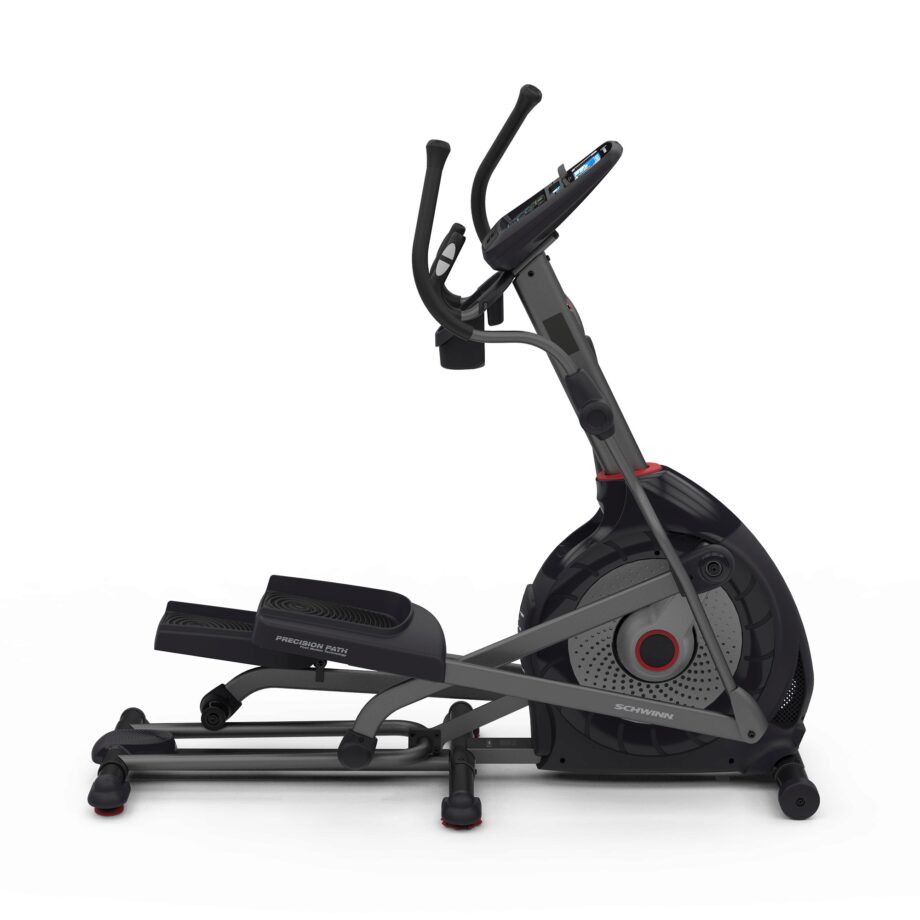 Schwinn 470 Elliptical
The Schwinn® 470 Elliptical is our top-of-the-line trainer, due to its premium quality, fluid motion and innovative features. Every inch of the Schwinn® 470 is designed to keep you inspired and motivated–from Explore the Worldâ"¢ compatibility to easy data tracking. With the 470, you'll get the training experience you need for the strength, endurance and weight loss you want.
Customer Experience
The Nautilus E618 has a warranty that meets our expectations for home gym ellipticals: 15-year warranty on the frame, five years on parts and electronics, and two years on labor.
Nautilus also offers a satisfaction guarantee, meaning that if you're not 100-percent satisfied with your purchase, you can contact customer service within six weeks of your purchase to request a return. If this is the case, you'll be on the hook for shipping and handling fees to send the product back to the manufacturer.
Ordering and Assembling the Nautilus E618 Elliptical
Although our expert product testers have not assembled the Nautilus E618, the user's manual laid out fairly clear instructions and illustrations to help the process run smoothly.
Like I mentioned before, Nautilus is the parent company for Bowfelx and Schwinn—and we've actually assembled and put together the similar Schwinn 470 elliptical. The process was better with two people, but overall wasn't a major headache by any means.
You can opt to add in-home assembly service for an additional $249 fee. Additionally, if you would prefer financing options for this purchase, you can apply for a Nautilus credit card that won't charge you interest if you pay for the product in full within 18 months.
Final Verdict of Our Nautilus E618 Elliptical Review
Overall, the Nautilus E618 will be a fantastic purchase for home gym owners who are not particular about high-tech features. These are the features that stand out the most to me about the E618:
22" stride length
350-lb user weight capacity
Chest strap heart rate monitor included
Bluetooth connectivity to track workout data
Incline training options
25 levels of resistance
Nautilus E618 Elliptical Rating
Nautilus E618 Elliptical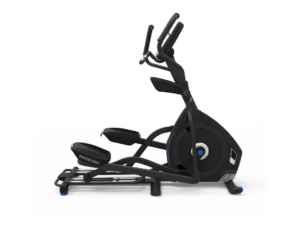 In this Nautilus E618 elliptical review, we'll cover the specs and who will benefit from this at-home, low-impact cardio machine.
Product Brand: Nautilus
Product Currency: $
Product Price: 1299.00
Product In-Stock: InStock
Nautilus E618 Elliptical FAQs
Is Nautilus a good brand of elliptical?
Nautilus offers quality fitness equipment; determining if the brand is right for you will depend on your budget, fitness goals, and allotted space. Nautilus products don't feature touchscreens, so if an interactive workout experience is a must-have, this will not be the best brand for you.
How much does a Nautilus elliptical weigh?
The Nautilus E618 weighs 210 pounds, while the E616 weighs 173 pounds.
How do I reset my Nautilus elliptical?
To reset a user profile on a Nautilus elliptical, follow the instructions on the user manual. You will need to start from the power-up mode. You'll have to select the user profile you wish to reset and choose the "edit" prompt. The console will display a "reset" prompt and the current user profile name. Select "OK" to start the rest option. 
From there, the console will confirm the reset request—use the up and down arrows to adjust the selection (the default selection is no). Select OK to make your selection, and then the console will take you back to the power-up mode screen.
What is the flywheel weight on the Nautilus E618?
The Nautilus E618 has a 17.3-pound flywheel.