We test and review fitness products based on an independent, multi-point methodology. If you use our links to purchase something, we may earn a commission. Read our disclosures.
Personally, I feel a little bit like Rocky Balboa at the top of that staircase whenever I perform my best during a cardio elliptical workout. But with a home gym, the way your equipment performs is just as important as the way you do.
The Sole E95 can be categorized as a higher-end elliptical priced at just under $1,800. The question is, does it perform like one? Is it worth your hard-earned money?
In this Sole E95 elliptical review, we'll take you through this product from top to bottom to see if you should make it the heart and Sole of your home gym (hold your applause, please). While we haven't been able to personally test the E95, we were able to get our hands on the Sole E25, which should give you a good idea of what it's like to use this model.
Dozens of Ellipticals Tested
"Cardio machines are like a box of chocolates, you never know what you're gonna get."
That's how the quote goes, right? While we here at GGR love Forrest Gump as much as the next home gym equipment review site, we disagree with Tom Hanks' sentiment here. We think you should know exactly what you're getting before you buy a piece of fitness equipment.
That's why we've spent hundreds of hours testing out all kinds of ellipticals from brands like Sole, NordicTrack, Sunny Health & Fitness, and more. We know our stuff, and our experience will be an asset to you as you navigate the elliptical buying process.
Sole E95 Elliptical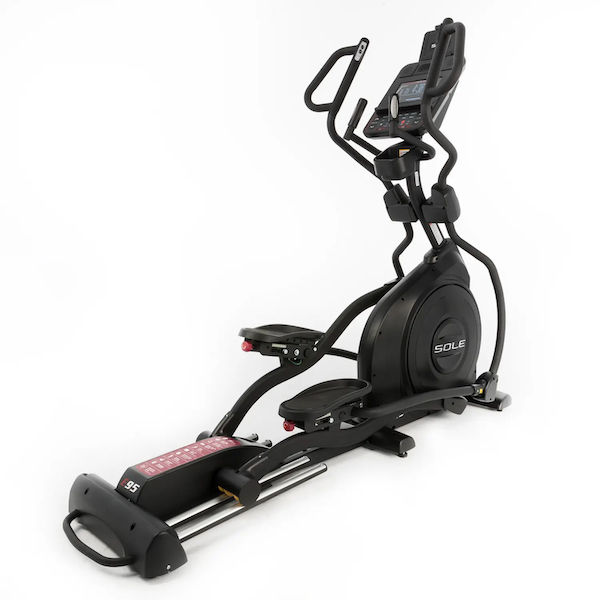 Sole E95 Elliptical
The Sole E95 elliptical is a substantial machine at 82 inches long and 71 inches high. It comes equipped with 20 different levels of incline and resistance, you're able to target different muscle groups and vary your workouts. The Sole E95 comes with competitive additions such as a 10.1-inch TFT display used to track metrics, and a tablet holder with a USB port to charge your device. If none of that works for you, there are also Bluetooth audio speakers that you can use to listen to music. The machine itself provides a fluid and natural motion all while remaining quiet due to its heavy, 27-pound flywheel. The machine can also move in both forward and backward motions. Sole highlights the E95's pedals, which use a "worm drive." This feature allows you to adjust the pedal angles to fit how you specifically walk, which supposedly can help reduce injury.
A Quick Look at the Sole E95 Elliptical
Sole Fitness is a brand that specializes in all types of cardio machines, including ellipticals, bikes, rowers, and treadmills. Their line of ellipticals falls within the mid-range to high-end category, with models falling within the $1,000 to $2,500 price range.
Sole Ellipticals are generally highly reviewed, and the E95 is no different with a 4.5 star composite rating on the Sole website and a 4-star mark on Amazon. Priced at just under $1,800, the Sole E95 is a front-drive elliptical that boasts a number of add-ons to give you a luxury workout experience.
All that said, $1,800 is a considerable amount to pay—is this model worth the price? We'll take you through everything the Sole E95 has to offer so you can come to the right decision and reap the benefits of an elliptical workout.
My Tips
Rest your phone or tablet on the E95's built-in device holder so you can stream workouts or other content while you exercise.
Use both forward and reverse motion so you can alter the nature of your workout.
Take advantage of the E95's included chest strap so you can monitor your heart rate during your workout.
Pros
20 different resistance incline levels
Comes with add-ons like water bottle cage, tablet holder, USB port, and a built-in fan
Heavy 27-pound flywheel
Preset workouts available
Quiet due to Sole's whisper quiet drive system
Compatible with Studio, Sole's streaming workout program
Bluetooth-enabled speakers
Cons
Not the most budget friendly at $1,800
Large footprint
Access to Studio app interactive programming costs an extra $20 per month
Is the Sole E95 Elliptical Worth It?
The Sole E95 is a pretty high-end model at $1,800. As a result, it probably isn't worth it for people looking for a budget option. However, if you're willing to spend extra for add-ons and a luxury workout experience, this could be the elliptical for you.
Great for:
Those with a larger budget
Those looking for add-ons like built-in fan, water bottle holder, speaker, etc.
People with plenty of space in their home gyms
Not recommended for:
People looking for a budget option
People facing a space constraint in their home gym
Sole E95 Specs
| | |
| --- | --- |
| Footprint | 82" L X 31" W X 71" H |
| Weight | 236 lbs |
| Weight capacity | 400 lbs |
| Warranty | Lifetime frame, 5 years electronics and parts, 2 years labor |
| Display | 10.1" TFT |
| Bluetooth Compatible | Yes |
| Add-ons | Tablet holder, USB charging port, water bottle holder, built-in cooling fan, foam-cushioned foot pedals, chest strap, audio speakers |
| Maximum stride length | 20" |
| Incline | Power adjustable, 20 levels of resistance |
| Flywheel weight | 27 lbs |
| Step-up height | 14" |
| Workout programs | 6 standard programs, 2 custom programs, access to 3,000+ workout classes with Studio membership |
Workout Experience on the Sole E25 Elliptical
Though we haven't personally used the Sole E95, GGR Head of Content Kate Meier did test out the similarly constructed Sole E25, a more budget-friendly ellipictal in the same line from the brand. She had a lot of good things to say about this model, praising its quietness, sturdiness, and value.
"This is a great elliptical for under $1,100," Kate says. "You have great built-in workouts, as well as a place to hold a tablet if you want to watch something. Conveniences like a fan and Bluetooth speakers are amazing. It also comes with the wireless heart rate strap, which works great."
She also mentioned that the lack of noise is especially impressive for such a big elliptical, which just adds to the machine's overall value.
We think it's safe to say that the Sole E95 will perform similarly, as the machines share an almost-identical construction.
Customer Reviews
Something I think you should always take into account before you buy any piece of fitness equipment: what are other buyers saying about it?
The first place I usually look for customer reviews is the brand website, though I always take them with a grain of salt as I think it's difficult to find critical testimony there. In this instance, there are only about 40 reviews for the E95 on the Sole website, and very few are negative.
One satisfied customer rated the product 5 stars and headlined their review "Wonderful Workout!"
"Ordered online, delivery was quick," user markandlisapinel said. "Assembly was straightforward though it took a little time. We are both using the machine and loving the workouts. It is smooth, nearly silent and has a very solid feel to it."
One of the few somewhat negative reviews I could find had its criticisms centered around the Studio interactive workout program that Sole pushes with most of its products. The review is labeled "Great machine, horrible app."
"The elliptical itself is great: smooth and sturdy, and the heart rate programs work well. The fan could be a bit stronger, but that's pretty minor. The app is a different story. A big reason I bought the E95 was because it had Bluetooth and could record workouts to Apple Health. It doesn't record calories, making it pretty useless. It also had other quirks and generally looks like it was made as a school project. I really hope they get their act together on this!"
As usual, Amazon provided easy access to both positive and negative reviews, although over 70% of users rated the machine 5 stars. One such customer praised the look and feel of the machine, as well as its low noise level.
However, several customers also complained that their models made a loud clicking noise during use. User Roberto noted this and also cited poor customer service in their one-star review.
I'll mention that though the critics of this model (and most pieces of fitness equipment) are outspoken, they represent the minority of users. In this case, 1-star reviews make up just 14% of the total reviews left on Amazon.
Footprint and Construction
Simply put, the Sole E95 is a beast of an elliptical. It's not a compact elliptical with a length of over 80 inches, but if you do choose to buy, you're getting a well-built machine.
The frame is sturdy, endowed with a heavy elliptical of nearly 30 pounds, and a weight limit of 400 pounds exceeds a lot of industry standards. Most customer reviews say the machine functions smoothly, quietly, and efficiently. However, keep in mind that this machine might be difficult to move due to its increased size and footprint.
The Ergonomics
I think this is one of the model's strengths. First of all, the presence of 20 resistance levels allows you to change the intensity of your workout with ease, bringing HIIT elliptical workouts into the equation.
The foot pedals are cushioned and can also be adjusted to 10 different positions to maximize comfort during your workout. They also have an inward slope that's meant to remove pressure from your lower body joints as you exercise.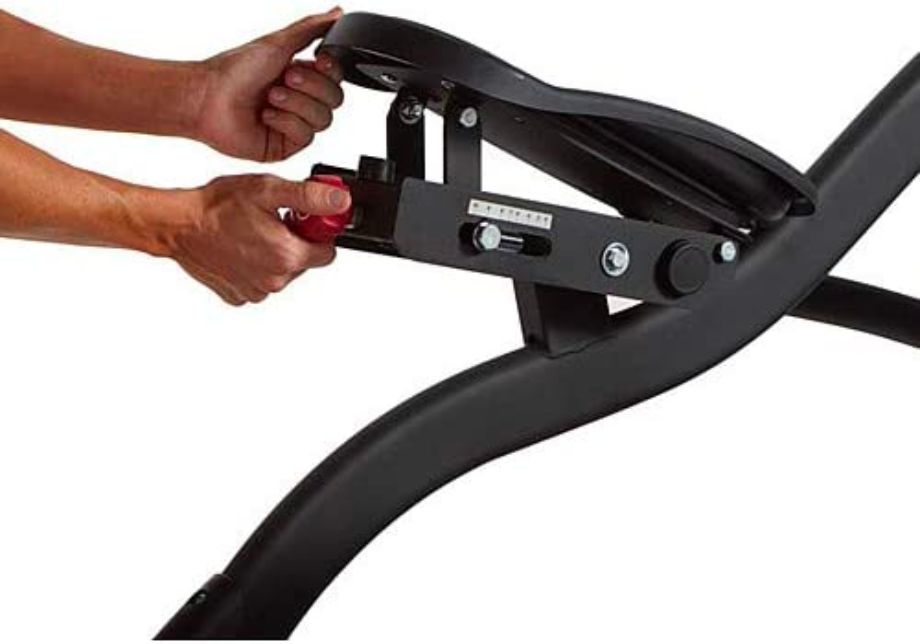 Technology Conveniences
The Studio app is Sole's Peloton alternative fitness app, offering access to over 3,000 workouts and the frequent release of new content. The Studio membership costs around $20 per month and can be purchased along with your E95 through Amazon and the Sole website.
The E95 itself also comes with some preloaded workout content, including 6 standard programs, 2 customizable programs, and 2 heart programs that can give your workout some guidance.
The 10.1" LCD display is backlit and there are pulse grips in the handlebars that allow you to keep track of your heartbeat during your workout. The Bluetooth speakers are another nice touch, giving you the chance to connect your own device to the E95 and listen to music or a live workout.
Sole E25 v Sole E95
Sole E25 Elliptical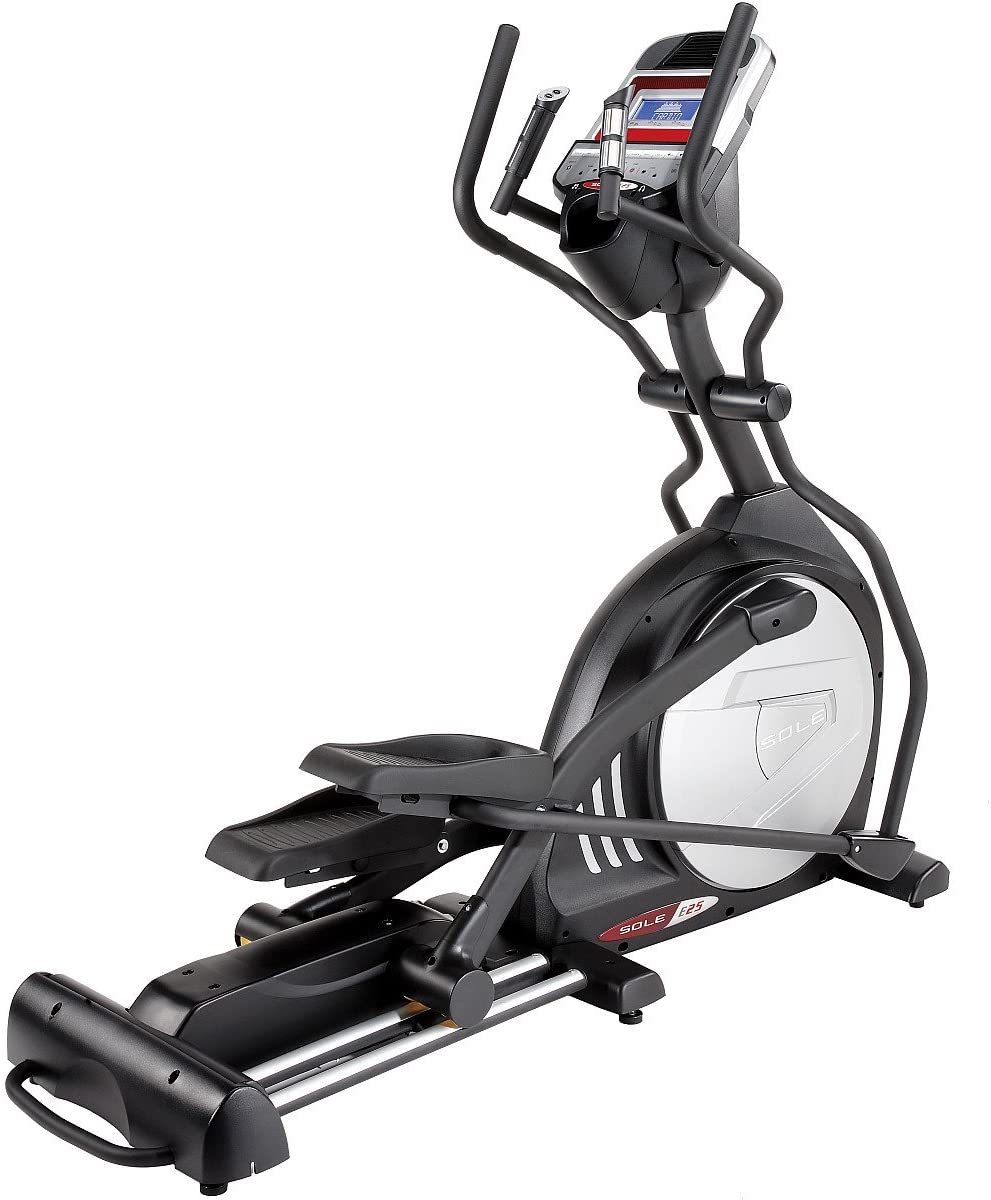 Sole E25
The SOLE E25 Elliptical provides effective workouts through its use of comfort and natural feel. The quiet front drive system, inward foot pedal design, and heavy duty steel frame all create a smooth, effective workout. In addition to the challenging workout programs, the E25 also now includes blue tooth audio and technology. Plus, enjoy a 30-day free trial of STUDIO with the purchase of a a SOLE machine. STUDIO is $19.99 per month and allows users to view a variety of workout classes on-demand.
Though the E95 and E25 come from the same line of ellipticals, there are some things about them that are different. The most obvious difference, of course, is in price, where the E25 is about $700 cheaper at $1,099.
Primarily, the E25 is a bit smaller, sacrificing about 10 inches in length compared to the E95. Both the flywheel of the E25 and the machine as a whole are noticeably lighter, and the LCD display is about 3.5 inches smaller. The maximum user weight of the E25 is 50 pounds lighter than the E95, and the pedals don't have the same customizability or cushion.
However, the two models come with a lot of the same add-ons: cooling fans, water bottle holder, USB port, Bluetooth connectivity, and the same number of preset workout plans available.
Overall, I think the E95 is pretty comparable to the E25, just one step upwards in terms of luxury. The E95 is a bit more imposing with a heavier flywheel, a larger footprint, and a more advanced TFT display. You're paying for a little more sturdiness and smoothness, and, as a result, a more boutique workout experience. However, I'm not sure the $700 price gap between the two models is indicative of how different they are; I'd like to see the E95 priced closer to $1,600.
Customer Experience
Sole is offering a lifetime warranty on the frame of the E95, which we always love to see. The multi-year parts, labor, and electronics warranties are also satisfactory.
In terms of customer service, some of the reviews were hit or miss. I encountered users saying Sole support responded instantly to their requests, and others said that it was nearly impossible to get someone to call them back. Definitely something to keep an eye on if your E95 malfunctions or causes you any issues.
Ordering and Assembling the Sole E95
You can order the Sole E95 through Sole's website, Amazon, as well as major chain stores like Dick's and Walmart, though I didn't see it on the Best Buy website. Sole offers free shipping in most cases and if you order on Amazon, for example, you can expect to have the product delivered within a few weeks. You can also finance your purchase through the Sole website ($97 per month) and Amazon (around $64 per month). Dick's also offers a financing plan for around $62 per month.
Sole also offers an assembly service with your purchase, although it will cost you around $300 extra. For this price, personnel from a company that Sole partners with will come in and put together your elliptical machine right in front of you to save you the hassle of doing it yourself. I saw a few customer reviews saying the technicians they hired installed something wrong, but most of the time it seemed customer service was quick in fixing the error.
Amongst those who opted to assemble the machine themselves, I found that the process often took at least a few hours, which isn't uncommon for a machine as large as the E95. Most people seemed to think the process wasn't that difficult, just time consuming. At the end of the day, it's up to you whether you want to shell out the extra few hundred bucks to save yourself the assembly time.
Although, Kate said she had a lot of trouble assembling the Sole E25 herself and that the instructions were unclear and that it was difficult to follow the order of operations outlined in the directions for assembly.
"Took more than two hours to assemble," Kate said. "The instructions are so bad. This is definitely one to opt for professional assembly if/when possible."
Final Verdict of Our Sole Fitness E95 Elliptical Review
By most accounts, the Sole E95 is a functional, smooth, quiet, state-of-the-art elliptical trainer. At $1,800, you're paying for a large, solidly built product with plenty of add-ons to enhance your workout experience.
If you're on a strict budget or have a space constraint in your home gym, I don't think I would recommend this product for you. However, if you have the money and the space, you'll be getting a high-quality machine with a lot to offer.
At the end of the day, it's up to you if you want to pay for the slightly enhanced E95 over something like the E25, which is noticeably more affordable. Sole is a quality fitness brand, though, and I think in the right situation that the E95 would help you step your cardio game up in a major way.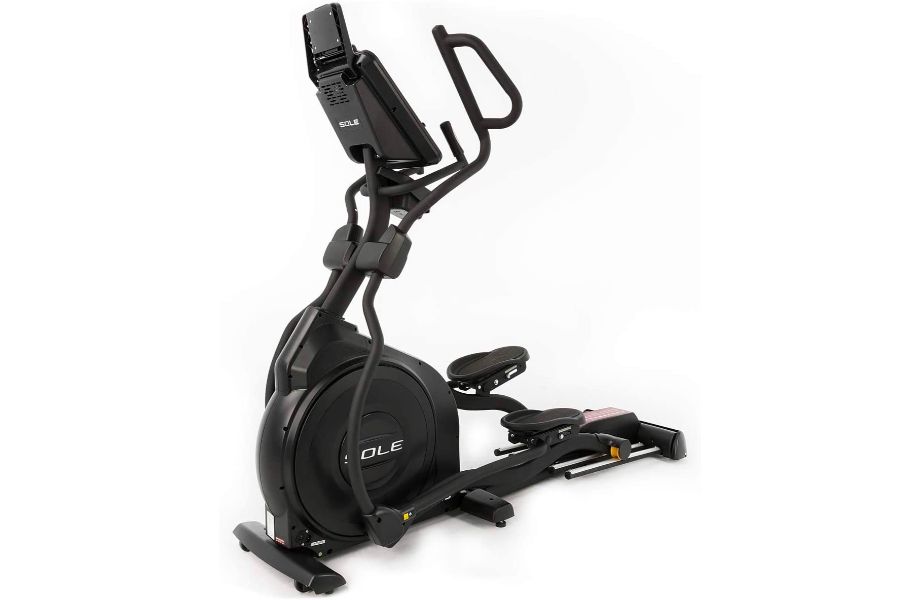 Sole E95 Rating
Sole E95 Elliptical
The Sole E95 Elliptical is a great option for those with a large budget and plenty of space looking for a luxury workout experience.
Product Brand: Sole Fitness
Product Currency: USD
Product Price: 1799.00
Product In-Stock: InStock
Sole E95 FAQs
Is Sole E95 good?
The Sole E95 is highly rated on both Amazon and the Sole website, netting composite ratings of over 4 stars in both places.
Are Sole ellipticals good?
Sole is a very popular elliptical brand, with highly rated products available in a multitude of price ranges.
Is Sole or NordicTrack elliptical better?
Sole and NordicTrack are both very popular elliptical brands. No one brand is better than the other, it just depends on what you're looking for in terms of price, footprint, adjustability, add-ons, etc. Both brands produce ellipticals that will give you a low-impact, full body workout.
How long is the Sole E95?
The Sole E95 elliptical has a length of 82 inches.