We test and review fitness products based on an independent, multi-point methodology. If you use our links to purchase something, we may earn a commission. Read our disclosures.
Ellipticals are a great alternative to a treadmill when you want to improve your cardiovascular health. They're low-impact, yet still give you the ability to get your heart rate soaring.
But what about buying an elliptical for your home? With so many brands and models to choose from, we're going to help by providing the most in-depth and current information we can to help you make an informed decision on the best elliptical for your situation.
In this NordicTrack SpaceSaver SE7i review, we'll cover the important specs and who we think will benefit from having a NordicTrack SpaceSaver SE7i at home.
You Can Trust Our Cardio Machine Testing Process
Here at GGR, we have gathered expert product testers who have the knowledge and experience to back up claims on all things fitness. We're a team of certified personal trainers, nutrition coaches, CrossFit coaches, and overall gym-obsessed weirdos.
We've tried a lot of cardio machines, from basic designs to high-tech machines. We're able to take a deep dive in this NordicTrack SpaceSaver SE7i review after sending our editor, Nicole Davis, to the iFIT headquarters in Utah to get an up-close experience with this elliptical trainer.
NordicTrack SpaceSaver SE7i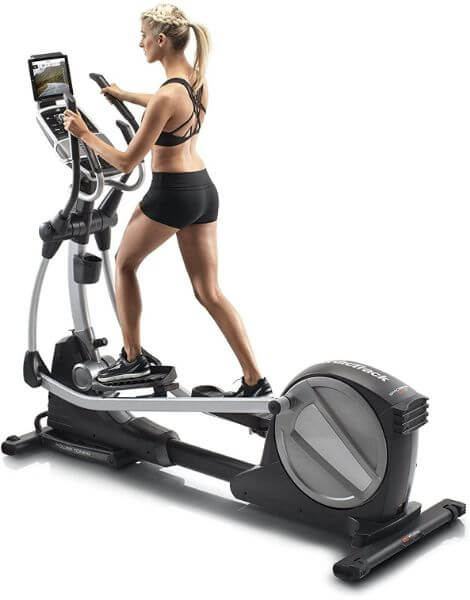 NordicTrack SpaceSaver SE7i
The NordicTrack SpaceSaver SE7i is a low-impact, multi-functional elliptical that is made to offer a gym-like workout from the comfort of your own home.With more than 17,000 workouts to choose from on the iFIT app, 22 resistance levels, and on-demand workouts with a trainer, you are bound to get a good workout every time. There is also a 325-pound weight limit and adjustable strides so most anyone can use the machine.It also has silent magnetic resistance (SMR) so you won't disturb other people in your home when it's in use. When you're not using it, fold it down for easy and convenient storage.
A Quick Look at the NordicTrack SpaceSaver SE7i
This is a sturdy machine that can offer you a silent, smooth, and low-impact workout in the comfort of your own home. We think you'll want to know that the name SpaceSaver is a little misleading. It does fold in half, but the base still takes up a lot of space. We recommend purchasing this elliptical only if you have a designated space for it; it's heavy enough that it will be a hassle to roll in and out of storage every time you use it anyways.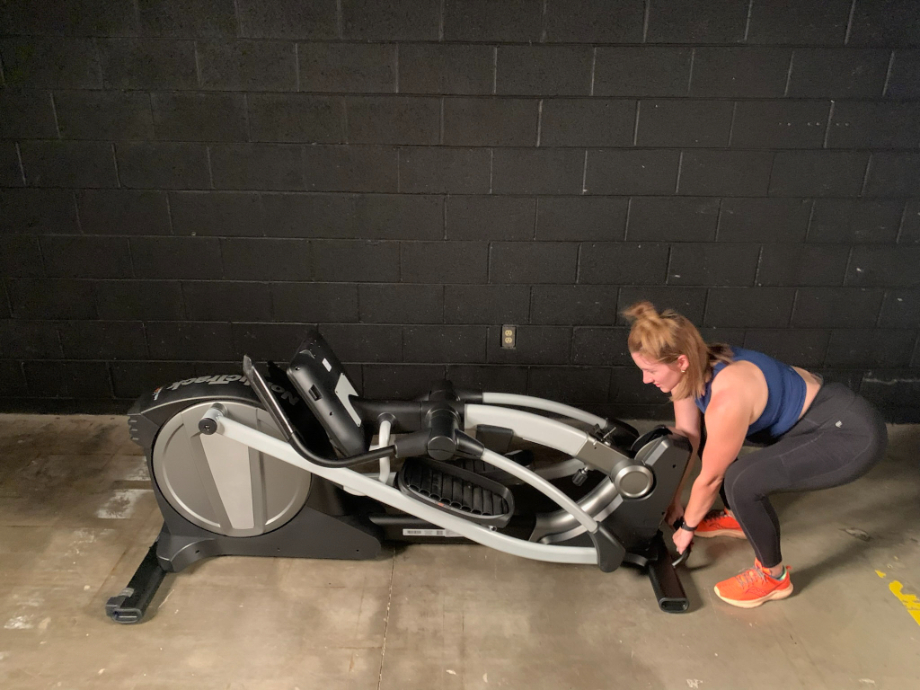 My Tips:
Despite its name, the SpaceSaver SE 7i is pretty big—we recommend a designated space for this cardio machine.
Although the elliptical is priced over $1,000, you can opt for 0% financing directly through NordicTrack if you qualify.
Utilize the iFIT interactive programming to get the most out of your cardio workouts.
Pros:
Offers a low-impact cardio solution
Padded and adjustable foot pedals
Fully integrated with iFIT on the built-in HD touchscreen
Foldable design
Cons:
Not a budget-friendly elliptical
Large footprint even in the folded position
No incline options
Is the NordicTrack SpaceSaver SE7i Worth It?
The NordicTrack SE7i elliptical will be a great option for some, but not all, home gym owners. We think that the price range of this mid-tier elliptical is fairly steep for what you get. It is an iFIT-enabled machine, which is a big selling point, but we had some concerns about durability and the actual compactness of the machine.
Overall, there are plenty of benefits you'll reap from owning an elliptical. We generally recommend ellipticals for people looking for low-impact workouts. We also like that ellipticals have the option to turn your cardio session into a full-body workout by grabbing the pair of handles that are attached to the pedals and engaging your upper body to complete the striding motion.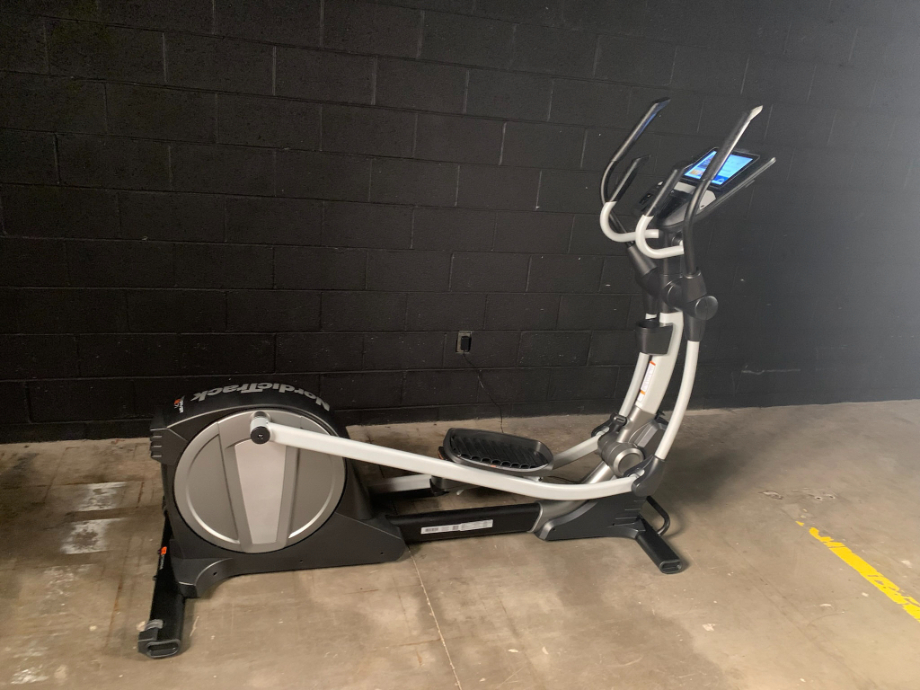 Great for:
Someone who needs a low-impact cardio workout
Anyone concerned about noise during their workouts
Anyone looking for dynamic interactive programming
Not recommended for:
Anyone who has a small, compact space
Anyone who plans to store the elliptical after every use
People who don't feel comfortable lifting 200 lbs
NordicTrack SpaceSaver SE7i Specs
| | |
| --- | --- |
| Price | $1,299 |
| Footprint | 80" L x 32" W x 67" H |
| Weight | 215 lbs |
| Weight capacity | 325 lbs |
| Stride length | 18" auto adjustable stride length |
| Display | 10" HD touchscreen |
| Flywheel | 18 lbs |
| Resistance | Magnetic |
| Resistance levels | 22 |
| Warranty | 10-year frame; 2-year parts; 1-year labor |
| Type of resistance | Digital |
Using the NordicTrack SpaceSaver SE7i
One thing our expert testers agree on about ellipticals is that they are low-impact and great for beginners. Ellipticals function slightly differently than treadmills; while a treadmill allows you to control the speed of the belt and the incline, an elliptical is controlled by the resistance setting. This means that when you use an elliptical, you decide how fast to go. A stronger resistance level will inherently slow down your stride speed, but ultimately, you are in control. 
RELATED: Elliptical Workouts for Beginners
It's worth mentioning that some ellipticals do have incline options, like the NordicTrack SE9i, where you can not only change the resistance levels, but the incline levels, too. The SpaceSaver SE7i does not have the same option to incline. You can, however, pedal both backward and forward on the SE7i.
The SpaceSaver SE7i is equipped with an 18-pound rear-drive flywheel and 22 levels of digital magnetic resistance. Nicole loved how quiet this cross trainer was even when changing the resistance levels. This is definitely enough resistance to efficiently get your heart rate up and start sweating.
What she did not like was the slight shifting of the upright and console area. "With a 325-pound user weight capacity, I didn't expect to feel any shifting, as I'm nowhere near the weight limit," says Nicole.
Nicole also noticed the built-in workout fan blew air directly at her face. Although this might sound great, she warns that she's only 5 feet, 4 inches tall on a good day, "so anyone taller wouldn't get much use out of it," she says.
We also liked the two sets of handles: One moving and one fixed. The stationary handles add value for getting on and off the elliptical safely.
Lastly, we have to mention the incredibly user-friendly and dynamic workout app that you will be able to enjoy on this elliptical. The 10-inch smart HD touchscreen is enabled with iFIT technology and makes the machine more compelling.
With a monthly iFIT subscription—which you will pay for separately—you will have access to hundreds of classes and programs to follow. You'll have your choice of personal trainers and indoor or outdoor classes at the touch of your finger. During trainer-led classes, the digital resistance levels will automatically change according to the coaching cues—a perfect way to keep your focus on the workout.
Portability: Folding And Moving the SE7i
Overall, the SE7i has a lot of positive features, and perhaps most important is that it's a folding elliptical, which is pretty rare. When the SpaceSaver SE7i is folded and stowed, you will regain your space because the upright portion with the monitor folds down onto the base.
The NordicTrack SpaceSaver SE7i measures 80 inches long, 32 inches wide, and 67 inches high. When it's folded you can eliminate the length of the machine by storing it in an upright position, but that also means you'll need 80 inches of ceiling height to store it that way.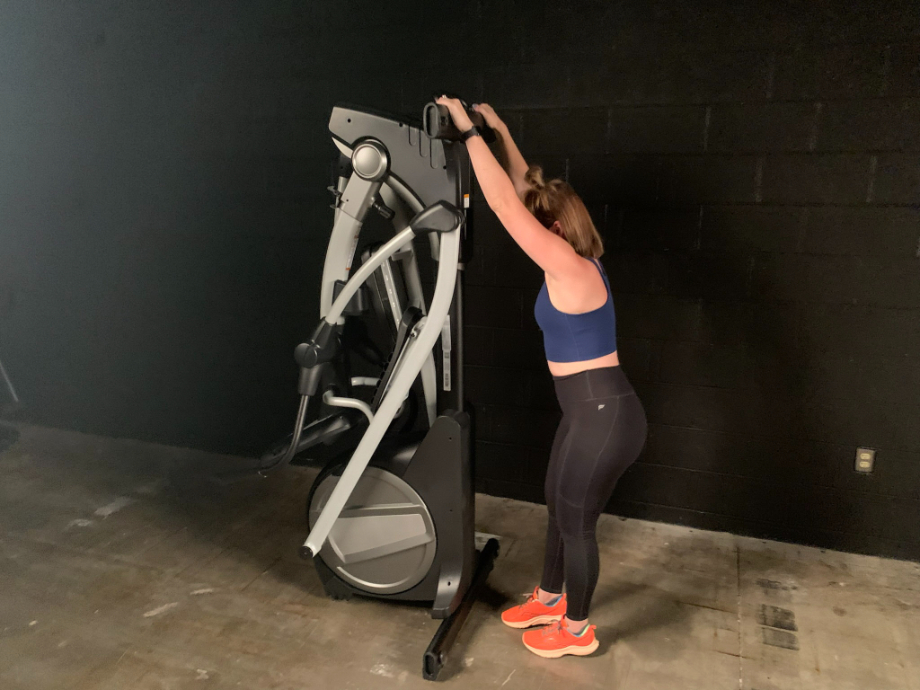 To fold, loosen the knob on the upright, near the base of the machine. After loosening the knob, you'll release a lever on the opposite side of the upright. Once those two steps are complete, you're ready to gently let the top half of the machine fold down onto the base. There is no locking mechanism for the folded position but it didn't seem to be a problem.
The machine has transport wheels on both front and back stabilizers, but the front grab bar makes it easy to squat down, grab the bar, and tilt upward until the back wheels land. From here, it's fairly easy to roll the elliptical on the wheels.
We'd like to mention that the space-saving design will most likely still need a designated area in your home gym space. The machine weighs over 200 pounds, making it difficult (but not impossible) to move in and out of storage everytime you want to use it.
Nicole was able to fold, pick up, and wheel the elliptical around on her own. That said, she still thought it would be annoying to move back and forth for everyday use, and potentially prohibitive for some people. However, once folded, you can store this in the upright position, highlighting the brand's vertical space-saver design, or leave the base flat on the floor.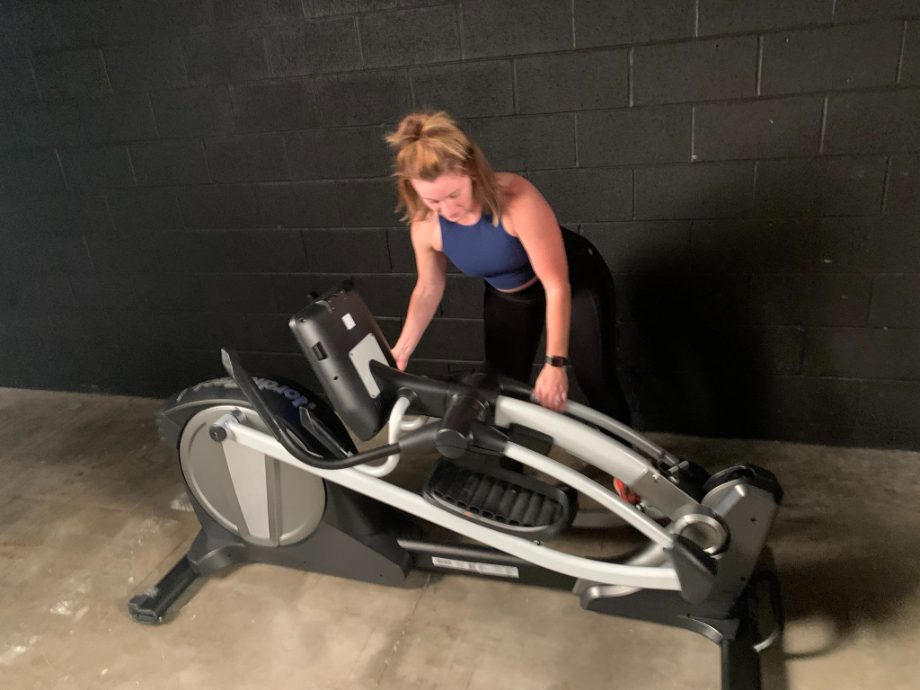 Durability And Construction
The base is the heaviest and sturdiest part of the NordicTrack SpaceSaver SE7i, constructed from alloy steel. The uprights are also made from steel, but according to reviewers and Nicole's hands-on experience, the uprights and the monitor wobble back and forth a little. They are built from solid material, but we think because the machine is foldable, it creates a little wobble.
It didn't hinder Nicole's workout, rather just something she noticed. However, in general, a rear flywheel gives you the most balance during an elliptical workout because your bodyweight balances the weight of the machine. Overall, this machine offers a smooth (and silent) ride.
The Ergonomics
We like the 15-inch cushioned foot pedals to increase the low-impact feeling of an elliptical workout and allow a wide range of shoe sizes enough room on the pedals. Also featured on the foot pedals is a lever that allows you to adjust the pedals to slight incline or decline for comfortable foot and ankle positioning.
Because the SE7i is a rear-drive elliptical, the flywheel is located at the back and allows for a longer stride length. We like rear-drive machines to simulate walking. The SpaceSaver SE7i has an auto-adjustable 18-inch stride length, which falls within the industry standard of a 16-to-20-inch stride length.
One thing that isn't a huge deal, but worth noting: The water bottle holder is really narrow and does not fit the standard-size Blender Bottle. Other than that, when you're actually moving, the screen is easy to reach and the stationary handles are helpful for getting on and off the elliptical and switching between programs.
Technology Benefits and Conveniences
We think the biggest selling point to NordicTrack equipment is the built-in touchscreen that comes with a lot of the new models. Having iFIT at the tip of your finger makes the machine fun and interesting to use.
In addition to iFIT, here are some other features you'll like:
10" smart HD touchscreen
Two 2" digitally amplified speakers
Bluetooth audio capabilities
Google Maps™ technology
AutoBreeze cooling fan
Automatic trainer control
iFIT
iFIT is a dynamic online programming platform you can use on and off your elliptical machine. You can even sign in to your iFIT account from any device and get more than cardio workouts—yoga or strength training sessions are offered, too. You will want to account for the additional monthly subscription cost for iFIT because it is not included in the purchase of the NordicTrack SpaceSaver SE7i elliptical.
With the purchase of your NordicTrack SpaceSaver SE7i, you will also receive a free 30-day trial of iFIT membership. After your trial ends, here's what you expect for an iFIT membership cost and a quick breakdown of the billing frequency and how to get the best price:
Individual plan: Billed $15 per month or $180 per year
Family plan (up to 5 total users): Billed $39 per month or $396 per year
You can choose from studio classes or outdoor workouts, multi-session workout programs or a single workout of your choice. The built-in fitness app tracks your goals and stats to help you reach your fitness goals. iFIT is known for its team of celebrated trainers and athletes in addition to the high-quality videos that are often filmed in exotic locations all over the globe.
Comparison to Sole E25
After testing the NordicTrack SpaceSaver SE7i, we wanted to find a comparable elliptical to help your home gym buying process. The Sole E25 elliptical is one of the most similar ellipticals we've tested. However, there are a few key differences.
Specifically, the drive systems: The Sole E25 is front-drive while the SE7i is rear-drive. Front-drive systems can often feel more like a stair-stepping machine versus walking. However, we do like that the Sole E25, equipped with the front-drive system, has the ability to incline. Additionally, the Sole E25 does not feature built-in interactive programming, but comes with 10 preset programs.
Sole E25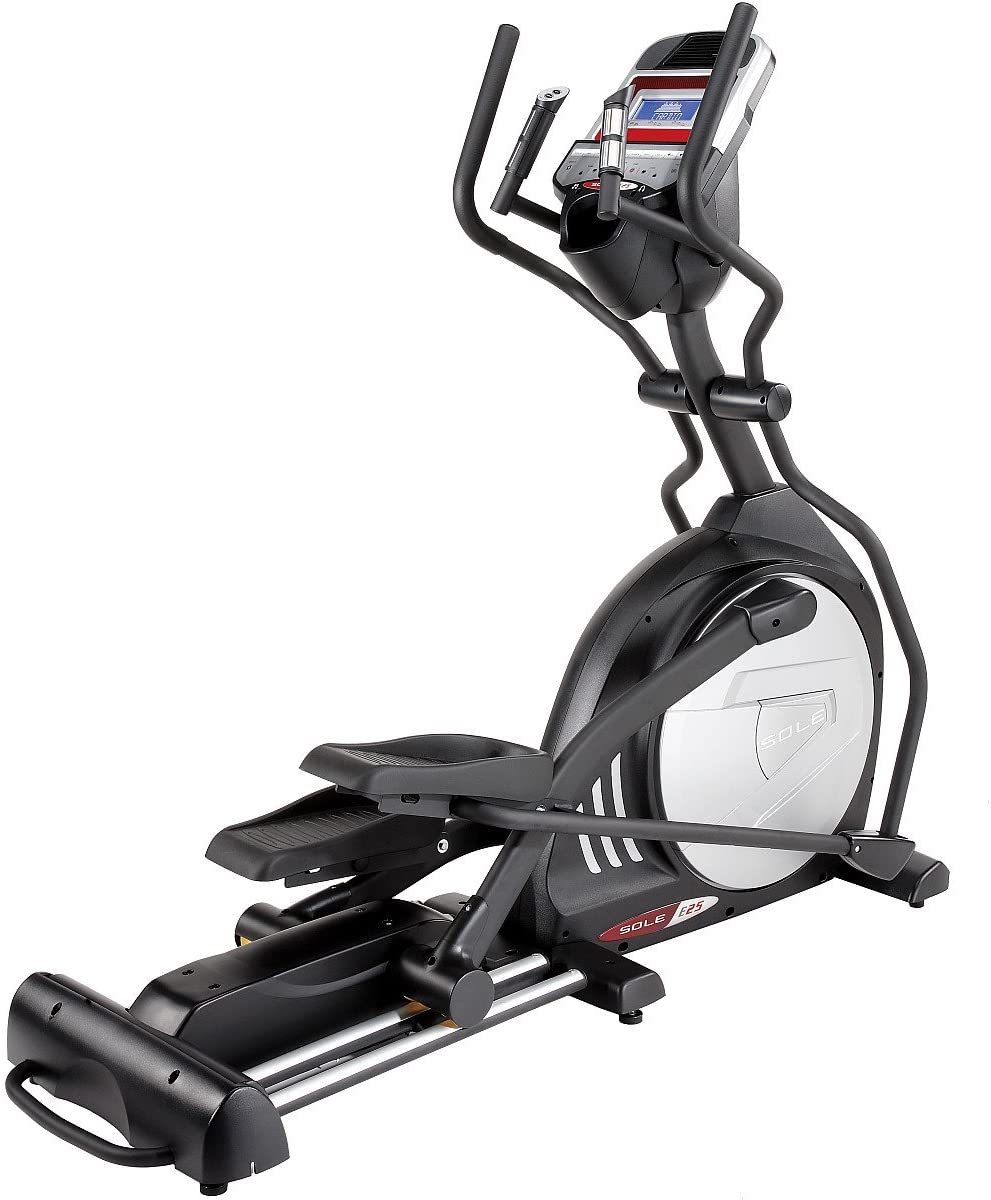 Sole E25
The SOLE E25 Elliptical provides effective workouts through its use of comfort and natural feel. The quiet front drive system, inward foot pedal design, and heavy duty steel frame all create a smooth, effective workout. In addition to the challenging workout programs, the E25 also now includes blue tooth audio and technology. Plus, enjoy a 30-day free trial of STUDIO with the purchase of a a SOLE machine. STUDIO is $19.99 per month and allows users to view a variety of workout classes on-demand.
| | | |
| --- | --- | --- |
| Elliptical | NordicTrack SpaceSaver SE7i | Sole E25 |
| Price | $1,299 | $1,099 |
| Footprint | 80" L x 32" W x 67" H | 70" L x 24" W x 71" H |
| Stride length | 18" auto-adjustable | 20" non-adjusting |
| Display | 10" smart HD touchscreen | 6.5" LCD backlit display |
| Warranty | 10-year frame; 2-year parts; 1-year labor | Lifetime frame warranty; 3-year parts; 1-year labor |
| Weight capacity | 325 lbs | 350 lbs |
| Machine weight | 215 lbs | 212 lbs |
| Resistance levels | 22 levels | 20 levels |
| Programming | iFIT interactive membership (sold separately) | 10 preset workouts |
| Drive | Rear drive | Front drive |
| Incline | No | Power adjustable incline |
Customer Experience
NordicTrack offers 0% financing for 39 months at $34 per month if you qualify. This is a great option if you don't want to fork out over $1,000 all at once. That option is easy to choose when you're checking out on the NordicTrack website.
With your purchase, you will also receive a decent warranty: A 10-year frame warranty in addition to two years on parts and one year on labor.
NordicTrack also offers a 30-day window for returns. If you come up against trouble with your machine, NordicTrack has a live chat through the website and a support line you can call. Our expert product testers have mentioned this before, but it's worth stating again: NordicTrack has a slow response time and can feel hit or miss.
Ordering and Assembling the NordicTrack SpaceSaver SE7i
One of the highlights to this cross trainer is not only the ease of use during exercise, but the ease of assembly. "Our NordicTrack rep said this is the easiest of all ellipticals—or cardio machines—that they have to assemble," says Nicole.
"The base is basically already put together, you'll just have to add a few screws," adds Nicole. Keep in mind this machine is heavy, so assembling in the location you plan to have your elliptical will be your best bet.
Customer Reviews
At this time, NordicTrack does not have any reviews of this product on its website, so we headed over to Amazon to get a feel for what other people are saying. With an overall rating of 4.1-out-of-5 stars, most reviews are positive and customers are enjoying their SpaceSaver SE7i. However, one customer didn't think it was a good fit for tall people, and the other had qualms with NordicTrack customer service.
Final Verdict of Our NordicTrack SpaceSaver SE7i Review
The NordicTrack SpaceSaver SE7i is overall a fairly solid machine. We don't think an elliptical is meant for every home gym owner, though. Here are a few things to note:
You can use iFIT programming on and off this elliptical via the touchscreen.
The SE7i does fold, but it's still bulky.
It's a great option for people who need low-impact workouts.
NordicTrack SpaceSaver SE7i Rating
NordicTrack SpaceSaver SE7i
We tested a low-impact and high-tech cardio machine we think you'll like. Find out more in this NordicTrack SpaceSaver SE7i review.
Product Brand: NordicTrack
Product Currency: $
Product Price: 1299.00
Product In-Stock: InStock
Can you use the SpaceSaver SE7i without iFIT?
Yes, but you will be prompted to create an iFIT account during the initial unboxing and setup. You can cancel before the 30-day trial ends
How do you fold up a NordicTrack SpaceSaver SE7i?
There is a knob where the upright meets the base of the machine. Loosen the knob and release the lever on the opposite side of the upright. Once the locking mechanism is released, gently let the top half of the machine fold down onto the base.
What is the stride length on the NordicTrack SE7i?
The SE7i has an 18-inch auto adjustable stride length.
Is a NordicTrack elliptical worth it?
This depends on your personal preferences and goals This cross trainer is a mid-tier model with a nice 10-inch touchscreen with iFIT capabilities. This machine does have a great 325-pound user weight capacity, making it inclusive for a lot of people, but with the 18-inch stride length, it may be harder for tall people to fall in love with this machine.